Undercuts are trending among Asian men because they can uplift your look instantly. Not only it's a sleek hairstyle for any event, but it can also be styled in various ways. It is great if your hair is short, long or even medium length. You can customize Asian undercuts to match your taste, an event, or any hair length.
Modern Undercut Styles for Asian Guys
Check out the guide below for the 23 popular undercut hairstyles that Asian guys are adopting.
1. Classic Undercut with Side Part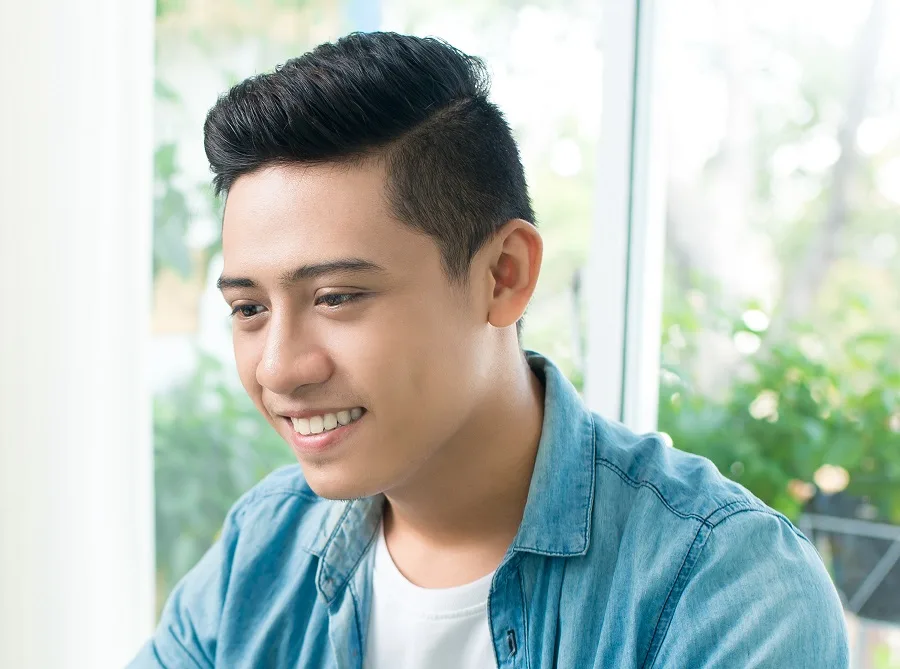 Asian undercuts are all about combining style with versatility, and this classic undercut hairstyle is no exception. The shaved sides and neat side part give you a sharp, sophisticated look that's perfect for any occasion. It's like the haircut version of a little black dress!
2. Disconnected Undercut with Quiff
For a bolder look, try the disconnected undercut with a quiff. This Asian guy with an undercut hairstyle rocks shaved sides and a long top styled into a statement-making quiff. It's edgy, daring, and adds height to your overall appearance – a surefire way to stand out from the crowd.
3. Undercut with Long Fringe
This undercut is all about embracing a laid-back, casual vibe. The tidy, shaved sides contrast with the longer, tousled fringe on top, creating a style that's effortlessly cool. Perfect for when you want to look stylish without trying too hard!
4. Undercut with Slicked-Back Top
Looking for a polished undercut hairstyle? This one's for you. The shaved sides and slicked-back top create a sleek, modern look that's perfect for any setting. This is the go-to undercut hairstyle for Asian men who want to keep it classy and timeless.
5. Undercut with Pompadour
Rock a showstopping Asian guy with an undercut hairstyle by going for this pompadour style. The sides are shaved clean, and the top is styled into a dramatic, voluminous pompadour. It's a head-turning look that's all about making a statement – and looking fabulous while doing it!
6. Undercut with Spiky Top
Add a playful twist to your undercut with this spiky top style. The clean-shaven sides and the spiky top make for a unique, fun look that showcases your personality and creativity. It's the perfect way to stand out while still rocking a trendy haircut.
7. Undercut with Faded Sides
This Asian guy with an undercut hairstyle is all about subtlety and refinement. The faded sides blend seamlessly into the longer top, creating a sophisticated, understated look. It's the ideal choice for when you want to keep it low-key while still staying stylish.
8. Undercut with Curly Top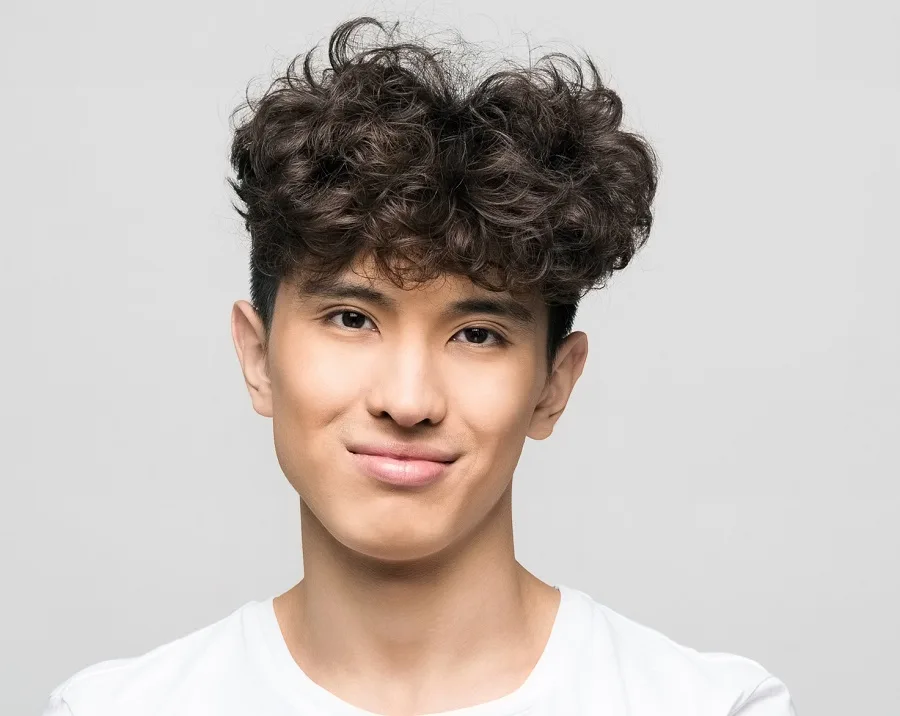 Asian undercuts aren't just for straight hair – this curly top style proves it! Embrace your natural curls with this undercut hairstyle, featuring shaved sides and a curly top. It's a versatile look that's great for any occasion and highlights your hair's texture in the best way possible.
9. French Crop Undercut
For this Asian men's undercut hairstyle, the back of your hair would be shaved into an undercut. The undercut has to be sharp and edgy to give the "Cropped" look.
Then, you would keep the top portion heavy with hair. If your hair falls between short or medium you would comb a portion of it to lay along the forehead. Ensure that your barber cuts that portion bluntly.
Awesome Hairstyles for Asian Boys
10. Cropped Undercut with Bangs
The difference between the previous and current styles is the bang. This style is ideal for Asian men with long hair. You would be able to achieve long bangs that fall above your eyebrows. You can cut it shorter or longer if that's your style. Lastly, ensure that your bangs are cut sharply.
The slicked-back Asian undercut is great for a formal event. Your hair would be shaved into an undercut with the back low while the sides and top have more hair. The top has more hair than the sides because this portion is used in the sleeking process. The hair is sleek to accentuate your sleekness for the event.
This unique Asian undercut hairstyle is trending because of the disconnected undercut. The model's undercut as shown on the left isn't complete yet it's still neat.
The heavier the top is the better. It allows your hair to have sleeker, waves as well as texture. Adding mousse, foam or a styler to your hair will enhance the texture as well as shine to tit.
For this undercut hairstyle for Asian guys, the back would be tapered. There will be less hair on the sides than there is in the middle. Then, the middle, as well as the top portion, will be combed over to one side. You can sleek down the side swept portion to keep it laid. Or, you can let it blow in the wind if you so desire.
14. Angular Crop Undercut
With this Asian undercut, the top portion is in a French crop. In addition, the French crop is shaved angular. The sides and layers are cut bluntly. It adds edginess to the hairstyle. As well as, keeping you looking sharp. Daily maintenance is needed to keep your hair neat and edgy.
15. Brushed Up Undercut
If you don't want the fancy hairstyles, then this is perfect for you. It's a simple Asian undercut style with little to no maintenance. The top-heavy is brushed or combed up.
It's an easy hairstyle to maintain because you just wake up, brush/comb then go. If you want to achieve the triangle at the front, similar to the model you would need a little mousse to shape it accordingly.
16. Side Swept Quiff Undercut
This side-swept undercut for Asian guys is styled similarly to a quiff. The only difference is he used less mousse. You can brush, comb or even use your fingers to comb the hair to your favorite side. If you want your hair to be spiky like the model you would ask your hairstyles to cut it accordingly.
17. Angular Fringes Undercut
Another trendy spiky cut that can be achieved with your hairstyle cutting your hair accordingly. In addition, hair gel will keep the hair in it's the rightful place. The angular cut as well as have will have you looking ready 24/7. Once the hair starts to grow out then you will have to cut it often.
18. Wavy Asian Undercut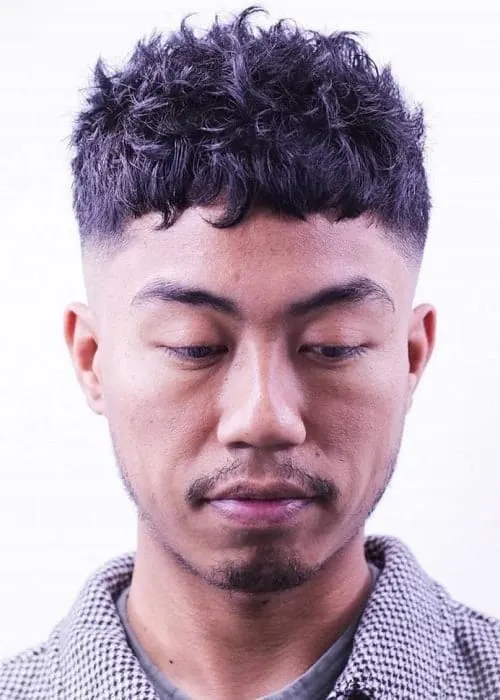 This Asian undercut is a casual hairstyle. The waves are achieved if the person is missed. As well as, with hair products.
This Asian undercut hairstyle is similar to a pompadour. Once the undercut is done, the top portion is combed up. You can use your fingers, comb or even brush to get it into moisture.
Ensure to some a styling product this will allow your hair to be malleable as well as keep the style for the day. Daily maintenance is required to keep the top portion styled every day.
20. Tousled Spiky + Bangs Undercut
The model's undercut is very sharp but gets spiky as you get to the top. Then, he added bangs that lay bluntly across his forehead. You can adjust the style by letting the bang to fall shorter or longer if you so desire. The touseled spike will be achieved through the use of hair products as well as a comb.
21. Burst Fade Undercut
For this undercut Asian hairstyle, it is shaved to go seamlessly from little to no hair to thick hair. This is what the "burst" effect gives off for the hair. Then, the model parted their hair to add flair.
Then, combed the top layer into mini pompadours that drop in his face. The style is perfect if you want a new look that will have all eyes on you. This look could be a trendsetter within your community.
22. Low Fade Undercut
The back is kept low then transitioned into a tapered cut. The top cut is kept low and tousled. This low fade undercut hairstyle for Asian men does not require much maintenance. You would just wake up, lightly comb then go about your day. Then, every week you would see your barber to keep the undercut sharp.
23. Asian Undercut with Fade
For this Asian undercut with fade, the top portion of your hair is all kept at one level. It's a trendy yet casual look. Maintenance would be required once your hair starts growing.
Out of these amazing Asian undercut hairstyles for men whether you are Chinese, Japanese or even Korean, which will you choose?