Searching around for new ways to refresh your hairstyle but not ready for something elaborate? The combination of bangs and headbands can give you the fresh look you're searching for.
Headbands are back and don't look childish anymore. They are ideal for adding some edge and personality to your hairstyles, making your bangs look even cuter.
Coming towards bangs, well, bangs need no introduction and suit every face shape and hair texture. So sit back and go through the following hairstyles to learn how to rock your bangs with headbands this season!
Bangs with Headbands
We bet you are going to chop off those front strands and get a bunch of headbands after going through the below list of bangs hairstyles with headbands.
1. Thick Middle-Parted Bangs
Show the world those fresh bangs by placing the headband right where your hairline meets the top of your fringe.
Couple the look with a layered bob and flip out the ends with a round brush and hairdryer. Part the strands slightly in the middle for an edgy appeal.
2. Wispy Fringe with Bandana Headband
A soft pixie haircut with wispy bangs is a must-try this winter. Fold a bandana into a hairband and place it right over the ears keeping all the attention on the face. Fold the front strands slightly inwards with a straightener and done!
3. Birkin Bangs + Ponytail
You can't take your eyes off from this ponytail with bangs, right? A high ponytail coupled with a bandana hairband and eye-grazing bangs will surely get you noticed from a distance. Opt for thick Birkin bangs, some soft layers, and highlights, and set the look on fire with red lips and winged eyes.
4. Pineapple Bangs
Curly beauties can rock fake bangs with headbands before getting a chop. The trick lies in gathering the curls at the top back of the head, allowing the strands to fall all over the face at the front. Set the curls into place like a fringe on the forehead using pins where needed.
5. Metal Diadem for Weddings
Brides are seldom spotted rocking bangs on their big day but those who do are sure to make a style statement worth remembering. Recreate the look by assembling the tresses in a simple low bun with a delicate hairband matching those jewels. Eye-catching!
6. Feathered Bangs
Ladies getting on in years can also sport bangs with headbands as an everyday hairstyle. Get a shoulder-length lob with light feathery bangs. Place the headband on top and push it back slightly behind the ears. Simply stylish!
7. Bumper Bangs + Polka Dots Sweatband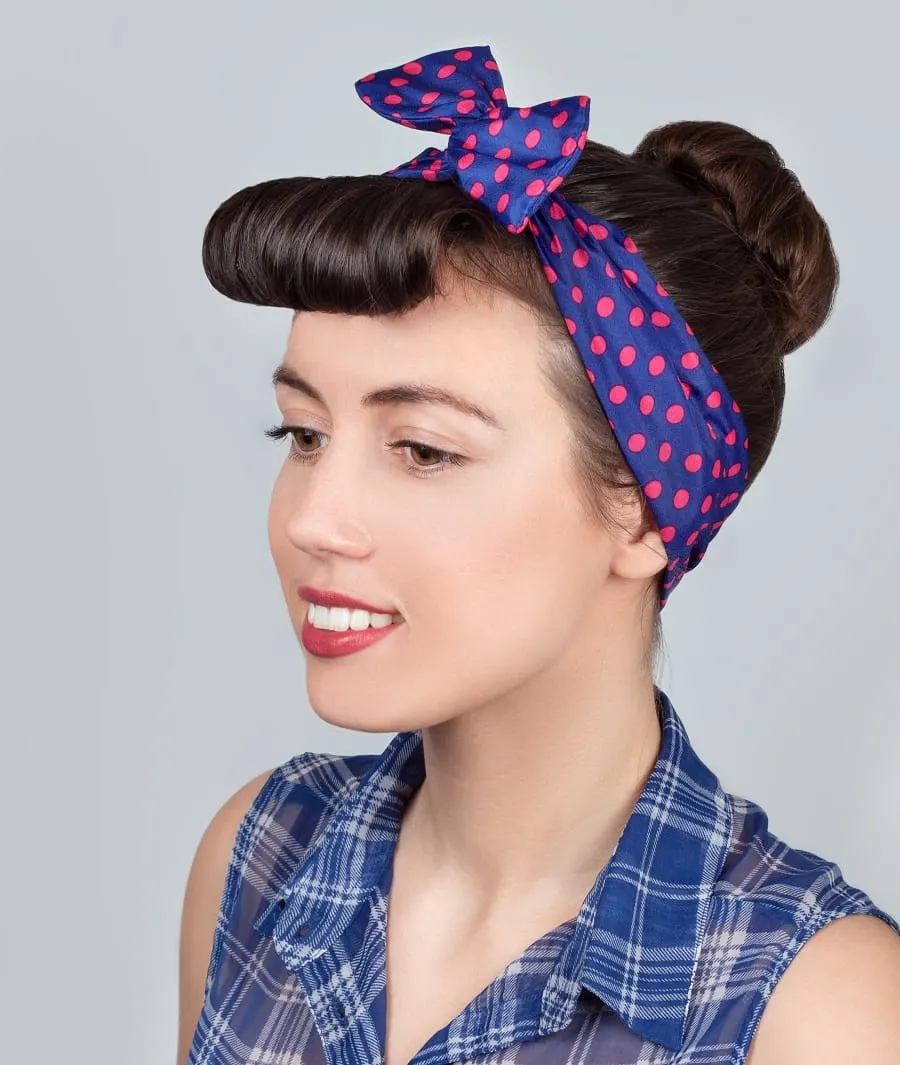 Recreate these iconic 1940s bumper bangs by taking the front strands and folding them inward using a round brush or your fingers and fix them in place with pins. Style the remaining hair in a bun with a bowtie headband at the front.
8. Multi-Textured
African-American ladies can play around with different textures to drop some jaws wherever they go. Push back those kinky curls away from the face with an elastic hairband, pull out the shorter strands at the front, and straighten them for a funky appeal. How about getting some highlights too?
9. Sleek Baby Bangs
Baby bangs look bold and are far more attention-seeking than usual bangs. They are ideal for those who don't want to conceal their entire forehead but still want a change in their look. Cut the strands straight across and separate them from the remaining mane with a headband.
10. Betty Page Style
If you have decided on sporting bangs with headbands why not try Betty Page's all-time famous hairdo? These rockabilly bangs are rounded being longer in the middle and shorter along the sides focusing all the attention on the forehead and brows. Sexy!
11. Side-Swept
A throwback to those good old school days when almost every girl combs out her bangs intricately on one side of the face.
Separate them from the remaining tresses with a leather hairband. Though this look doesn't surprise anymore, it still looks cute without a doubt.
12. Headband with Fringe Extensions
Considering the lazybones who don't have the time or energy to cut their bangs or even create fake ones, get those clip-in extensions in any length you desire and cover them up with a polka dot hairband. Complete the look with curls or loose waves.
13. Blunt Cut
Blunt bangs are in full swing these days and can be paired up ideally with bangs to breathe some life into your boring tresses. Experiment with a short bob or lob with thick eye-grazing strands covering the forehead. All you need now is a stylish headband and tada!
14. Turban Style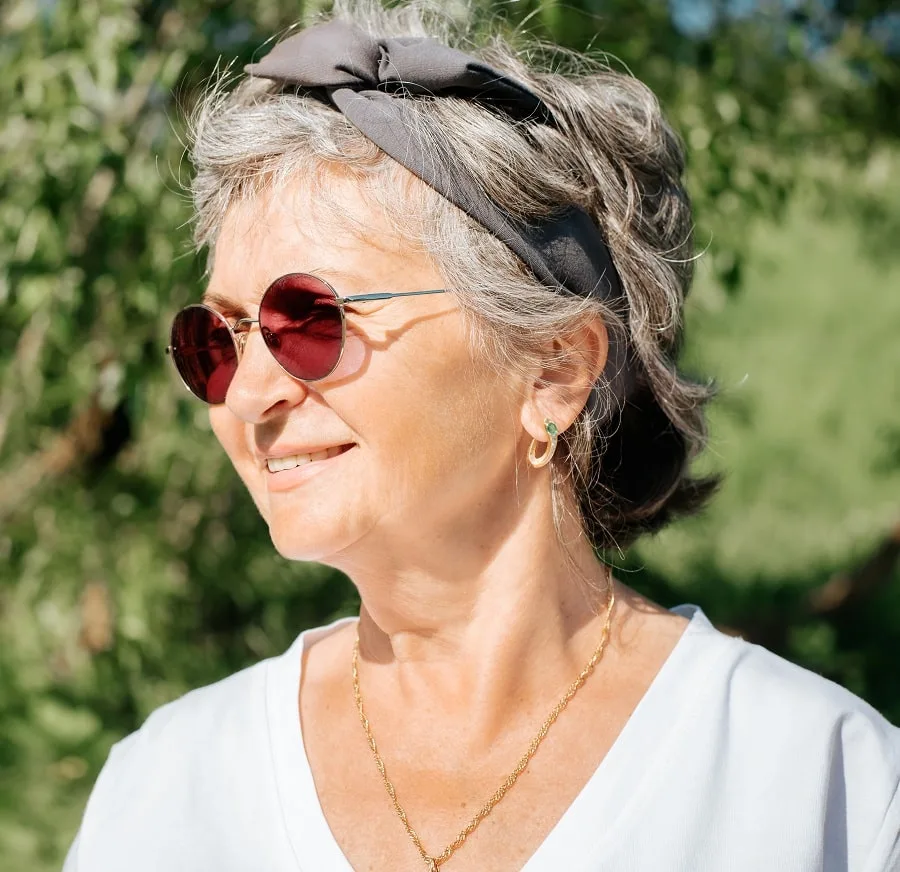 Messy is sexy and here is a look to prove it. Elderly ladies can show off their salt and pepper locks while delaying a haircut for some time by coupling their overgrown pixie with a fabric hairband placed roughly on the head. Hand-tousle the strands and you are ready to rock!
15. Vintage Vibes
Try this vintage hairdo when experimenting with bangs and headbands. The strands at the front are wrapped into a victory roll sitting on the forehead with pins on the underside. Curl up the remaining locks and keep them away from the face with a headscarf.
16. Asymmetrical
Asymmetrical bangs are a thing and perfect for those who want to stand out from the crowd. Cut the hair at an angle for the strands to elongate from one side towards the other across the forehead. Put on a rope hairband and see heads turn around you.
17. Braided Headband
Turn yourself into an ethereal princess by separating a chunk behind one ear, plaiting it down, and placing it over the head behind the opposite ear creating a headband from your own hair. Add loose curls and get ready to wow everyone on the way!
18. Curtain Bangs + Statement Headband
Curtain bangs have been the biggest trend this year. They suit almost all face shapes and are suitable to refresh your look. Opt for loose waves and place a knotted headband matching the outfit on top of the head. Recreate the look with a loose messy bun and you won't hate it!
19. Curly Beauty
Who says bangs are for straight hair only? Black ladies can flaunt their natural coils confidently by coupling bangs with soft layers falling flawlessly around their faces. Keep in mind to chop the curls slightly longer as they'll shrink significantly when left loose.
20. Arched
Wear those blunt bangs with a chic twist. How? Turn them into an arched fringe to accent the face. The strands are kept shortest in the middle, elongating gradually towards the sides.
Complete the look by placing a braided headband on top of the forehead rather than the hairline for some bohemian vibes.
21. Top Knot with Faux Fringe
Women who are itching for fringes but know they'll regret their chop instantly can recreate this look featuring the most perfect bangs with a headband.
Gather the strands into a top knot bun and position the ends on the forehead. Cover any imperfections with a hairband and nobody will ever know!
22. Silk Scarf as Headband
Another way to avoid a snip involving the same technique as mentioned above but this time featuring curly locks.
Style half of the tresses in a top bun and pull the ends over the forehead just above the eyes producing instant bangs. Secure in place with pins and create a jumbo bowtie with a silk scarf.
23. Embellished Circlet
Steal the show at formal events by entwining the hair into a loose fishtail braid swept on one side to fall at the front. Pull some chunks out to accompany your bangs and put on a fancy hairband featuring flowers, pearls, and chains. No further jewels are needed!
24. Messy Updo with Velvet Hairband
It's amazing how a single accessory can make a messy hairdo look professionally done. When hurrying for a special event, create a ruffled updo with a teased pouf. Place a headband right behind those bangs and see eyes follow you everywhere you go. Easy-breezy!
25. Choppy Bangs + Fabric Bandeau
Bangs with headbands and some good beach waves, what more to ask for? Opt for blunt bangs, curtain bangs, or slightly arched ones with a choppy medium-length lob. Not enough? Take things up a notch with a blonde balayage.
26. Afro Puff
Look the hottest in your group by gathering all that thick afro fluff in a ponytail and twisting it towards the front resulting in a puffy fringe that will attract a lot of attention. Fix the hair in place with an elastic headband and put on some chic hoop earrings. Gorgeous!
Hairbands are called versatile for a reason. Being available in every size, color, and pattern to match your outfits, they are ideal to put those bangs on full display or keep them away from the face for a change. So what's the waiting for? It's time to get some bangs with a headband!