Copper ombre is one of the hottest trending hair colors now. It is a unique combination of something simple yet stunning and attracts attention wherever you may go. The versatility and the functionality of this hair color also add to its charm. No wonder, it is making waves in the fashion world.
In fact, you can gauge the popularity of this hair color and the impact it has on styling from the fact that you now have a term called Ombre-ing. The speciality is you get a shaded effect. The part of the hair closer to your root has a darker shade compared to the part that is near the bottom.
How to Get Copper Ombre Hair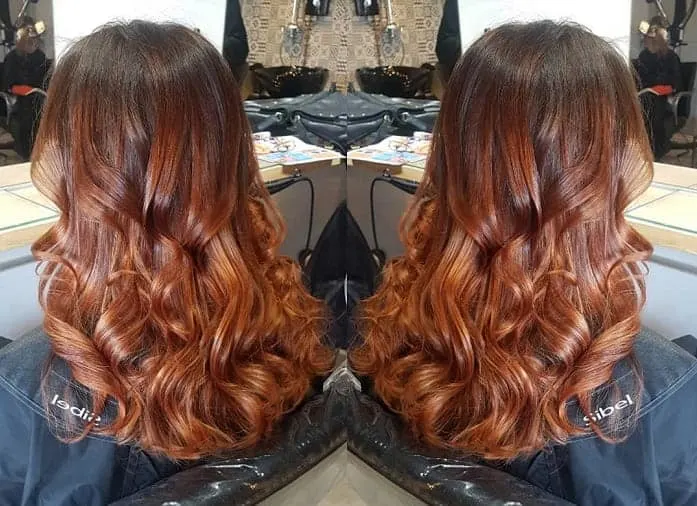 So are you keen about getting your own variant of copper ombre hair? Well, the good news is you can even try it at home with little precision and care. Remember that you will have to follow the instruction carefully for the best results.
First, prepare your bleach as per the instruction.
Brush your hair smooth and remove all tangles and knots. It is better to wear an old t-shirt, so you don't have to worry about ruining what you are wearing.
Part your hair at the middle right till your nape.
So you get two broad sections. Now divide these into small sub-sections as per your convenience.
Tie each one into small ponies and make sure the rubber band is at least a few inches below the roots.
Start by applying bleach to each of these tiny sections
You need to start from the end and work your way towards the root
The application amount will keep changing. It is maximum near the ends and minimum at the roots.
Keep checking the bleach every 10-15 minutes to decide on the right shade
Once you are done, wash your hair with shampoo and blow-dry.
Now again, re-divide the hair into separate subsections. It is now time to apply the hair color
Prepare the hair color and apply it as per instructions.
Wash off the color after the stipulated period and apply conditioner to moisten the hair naturally.
Different Copper Ombre Shades for Different Skin Tone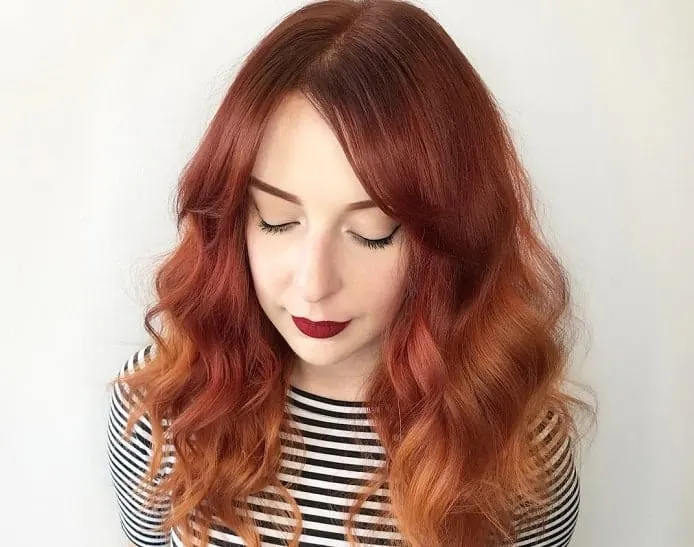 But you are mistaken if you think copper ombre is limited to just one shade. There are many variants, and you can apply them based on your skin tone and hair quality. Typically copper ombre shades work best on warm skin tones. But in some shades, they can also look very striking on olive and neutral skin tones too.
Dark Skin: Shades of honey and dark red copper ombre will work best on this type of skin tone. It brings out the natural glow of the skin and makes your skin look vibrant. The brown or chocolaty shades of copper and gold effects too blend in really well.
Light Skin: Typically cool shades work better on those with light skin tone. So, go for lighter shades of copper ombre closer towards light brown. Also, copper shades veering towards dark striking red also work well. They contrast against the pale skin tone and bring in a dash of excitement in your whole personality.
Olive Skin: This is a relatively neutral skin tone. Both dark and light shades of copper look equally striking. You can also go for copper shades that are slightly more orangish than brown.
Caramel Skin: This natural skin tone is perhaps closest to the base copper color. So, always opt for darker shades in your hair. That will highlight the contrast and make you stand out.
Wheatish Skin: Cool shades of copper are best suited for this type of skin tone. Depending on how dark or light your wheatish skin shade is, you can go with combinations meant for dark and light skin tones.
Trendy Copper Ombre Hairstyles
Here are some interesting and eye-catching styles for those with copper ombre hair.
1. Wavy Bob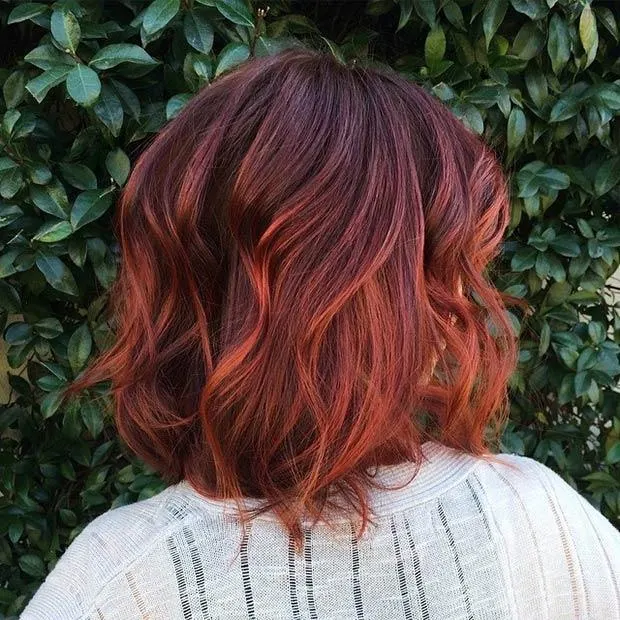 This effortless style plays with three different shades of copper ombre and highlights the natural waves attractively.
2. Ombre on Loose Waves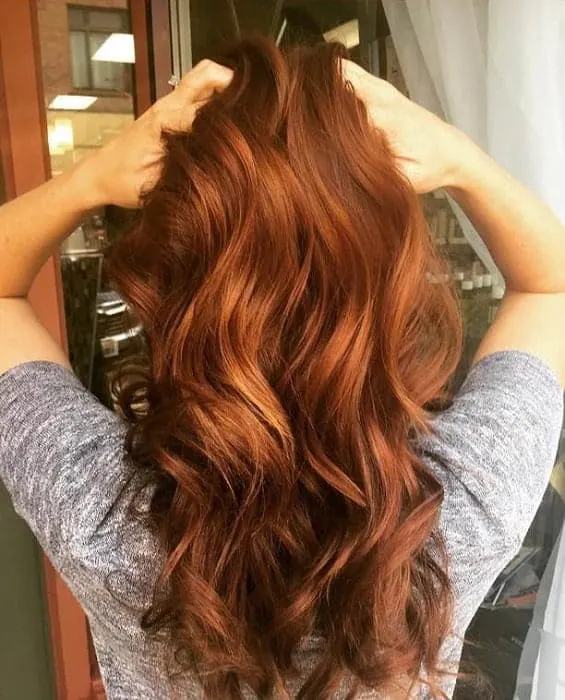 If you like to wear your hair long, this style brings in an effortlessly stylish edge to your copper ombre hair. The waves accentuate the ombre undertones and packs in subtle understated grace.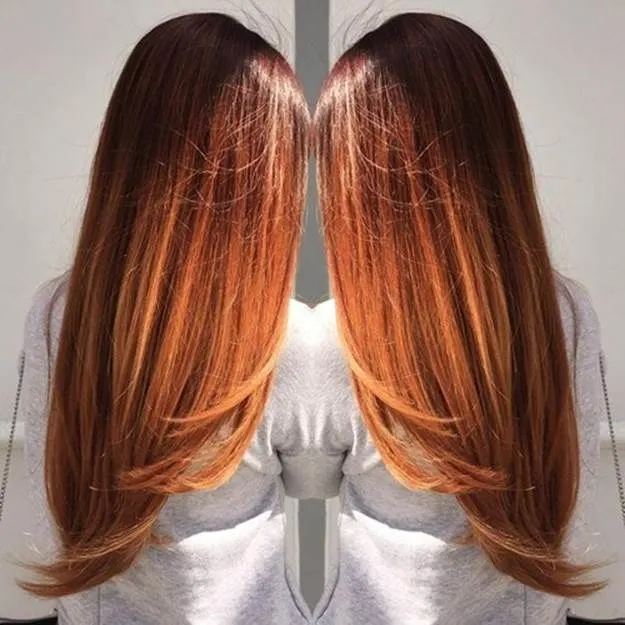 This is a complete no brainer but an absolute hit. It is a straightforward and simple style that always brings out the best in you. It is graceful, elegant and absolutely gorgeous.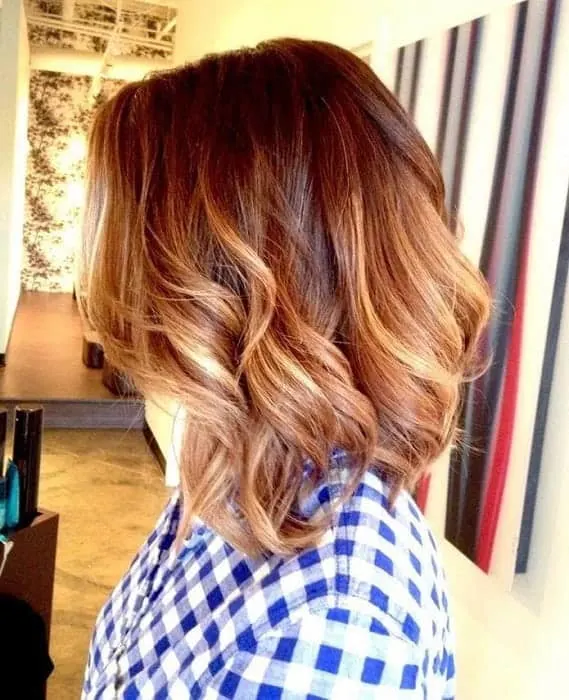 This is undeniably one of the most versatile copper ombre bob hairstyles. Whether you have a long or a round face and whether you have a darker shade of copper or lighter, this works equally effectively.
This is a chic, low-maintenance and attractive hairstyle that complements the ombre of various copper shades.
6. Sleek Straight Cut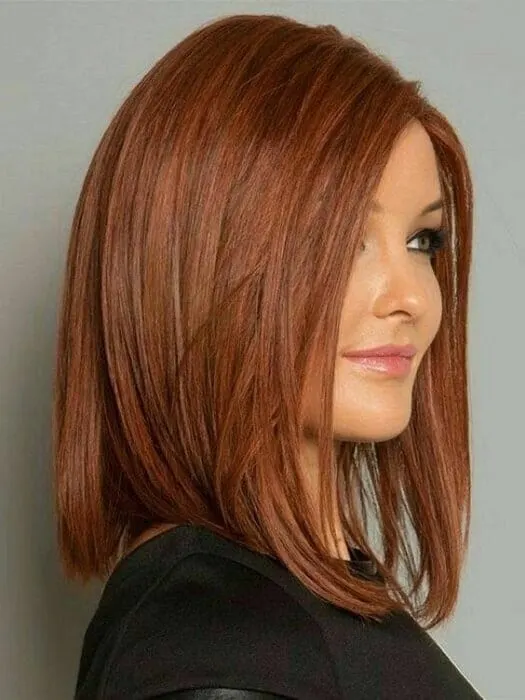 If you are in a corporate job and miss the opportunity to experiment with your hair and looks, this is a style created especially for your copper ombre tresses.
7. Copper Ombre with Accents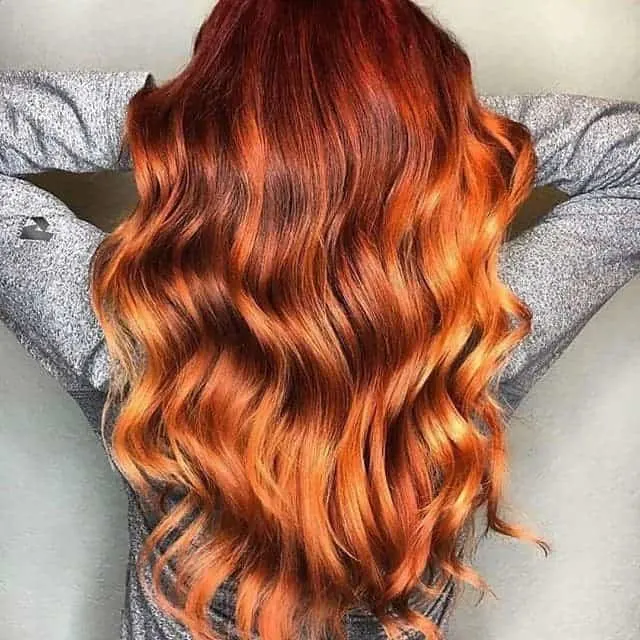 It is rich, vibrant and dynamic. The lightening shades of copper ombre with orange hue accentuate your grace and add a charming and appealing element to your personality.
Copper Ombre Vs. Burnt Orange Ombre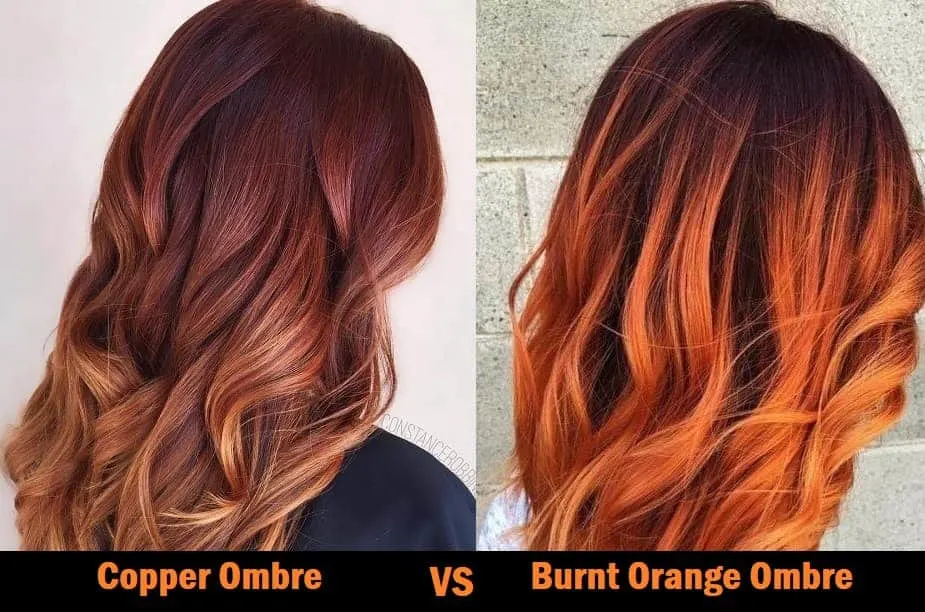 Often we see copper ombre and burnt orange ombre can be easily mistaken. Both have streaks of the bright red tint. Though these may be similar, they lend a strikingly different personality to your overall fashion sense.
Copper ombre is a relatively more subtle and strong shade while burnt orange ombre is a radical one
If your skin tone is slight of the lighter shade, copper ombre helps in bringing a dreamy understated beauty. In comparison, burnt orange ombre can often look too bright.
Burnt orange ombre also comes across a very fresh and sprightly color. So if you do not like to attract attention, you will have to give this shade a pass and go for more subtle shades.
However, maintaining copper ombre shades needs an appropriate hair-care regimen. That is how you can make sure the hair does not become dry and remains smooth as silk. This texture brings out the best sheen and subtle elegance of the copper ombre hair color.