You may be thinking that although you have a fat face and/or a double chin that there are no hairstyles for you to rock. On the contrary, there are many suitable short haircuts for fat faces and double chins to choose from.
You can wear your hair short, long or even medium length. As well as, in different colors that are suitable to your liking. Before you start to freak out about what hairstyle to wear to your next event, check out the guide below.
Best Short Hairdos for Women with Fat Faces and Double Chins
Women with round fat faces and have double chins should wear suitable hairstyles that will fit their face shape.
This is important because the double chin might be an obstacle for many, but with a proper hairstyle, its look can be hidden. Here are 23 short hairstyles that you can rock for your fat faces and double chins.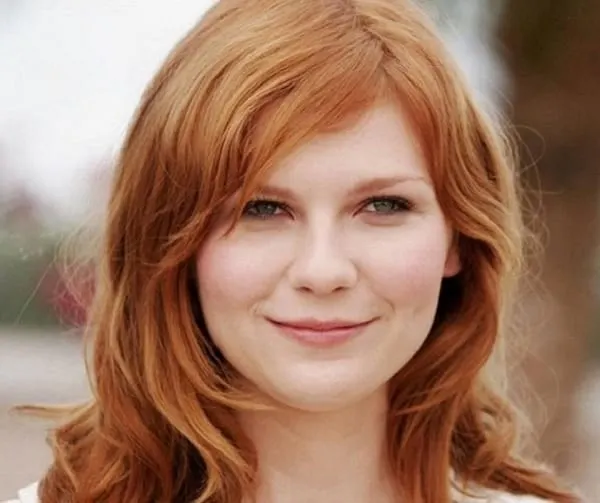 Ideal for: A special event such as a wedding, graduation, job interview, etc.
How to style: For this style, the length of your hair would be cut into layers in order to add body to your hair. It will give the effect that your hair is fuller than it actually is. Also, the side bangs that fall along your face will frame your double chin and/or fat face very beautifully.
All eyes will be on you especially if you have a striking color like red, orange, or even silver! As opposed to the black or brown, the brighter colors will accentuate your look. Before you decide on this hairstyle, there are 11 more beautiful ones to choose from.
2. Simple Pixie Cut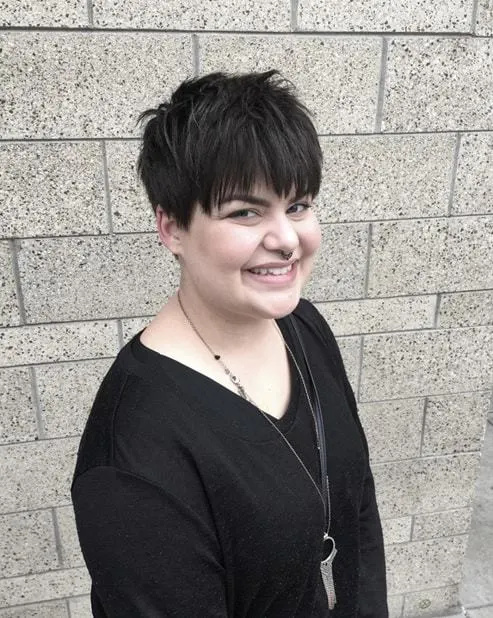 Ideal for: School, Work, and Parties.
How to style: For a pixie cut for women with fat face and double chins, the sides and back are kept really low, while the top has the most hair. If your hair long then you will have to let go of your inches, however, the end result would be cute. Then, the top portion is combed into your face.
Ensure to cut the top portion evenly so that it frames your face well. The bangs will ensure that your eyes pop at all times. Also, you can get your pixie cut down in any color you choose such as brown, silver, blonde, red, or even green!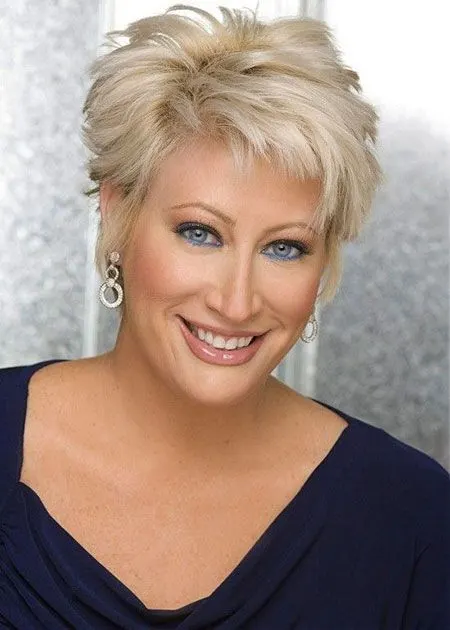 Ideal for: That time in your life where you still want to look gorgeous that requires little to no maintenance.
How to style: This hairstyle doesn't require constant styling. You may need a flat iron or perm rods to apply to your hair. Then the next morning you just fluff your hair and go! Yes, it's that simple.
However, it will require frequent washing if you do use a lot of product for your maintenance throughout the week. You would keep the back low and the top with just enough hair to frame your forehead well.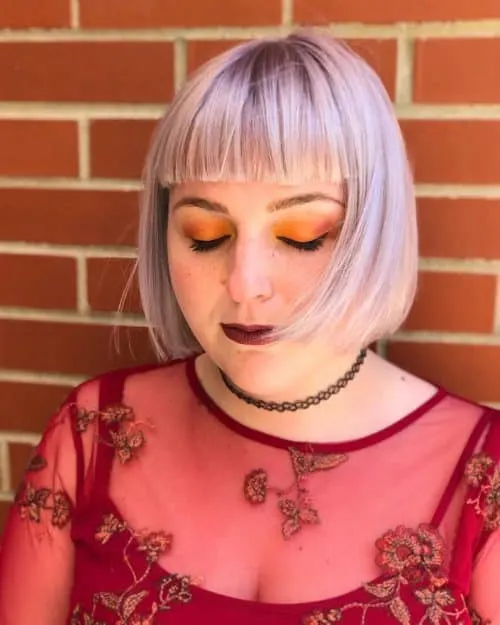 Ideal for: Any time of the year that you are feeling festive for example the near year, Christmas or even summer you can go with this short haircuts for fat faces and double chins!
How to style: Your hair would be cut to chin length bob with bangs. Instead of bangs, you can do fringes if you so desire. Also, you can choose to do other colors such as red, pink or even silver!
Bobs are great for round faces with double chins because it makes your face looks chiseled. If you don't want to commit to cutting your hair then you can choose to wear a wig.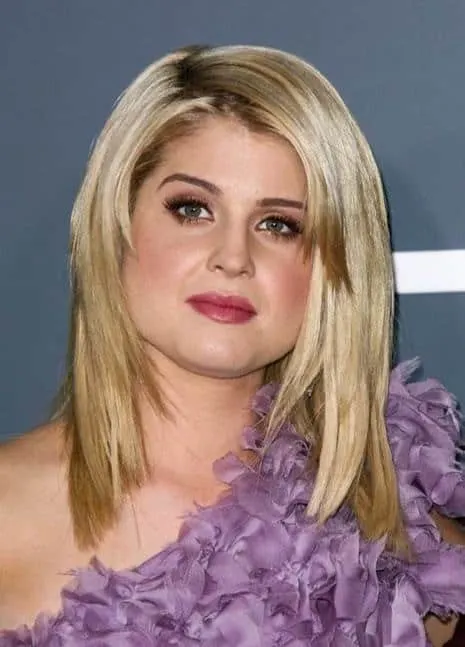 Ideal for: Any event where you want to impress without being over the top.
How to style: Styling your hair for this particular hairstyle is very quick and easy. You can cut your hair into layers. Or, you add extensions to add layers to it.
The layers will fall along the frame of your fat face which will make it look slim. Also, you can add fringes or bangs to accentuate the look. Lastly, ensure to flat iron your hair to keep your hair frizz free and sleek as always.
6. Side Part with Wavy Top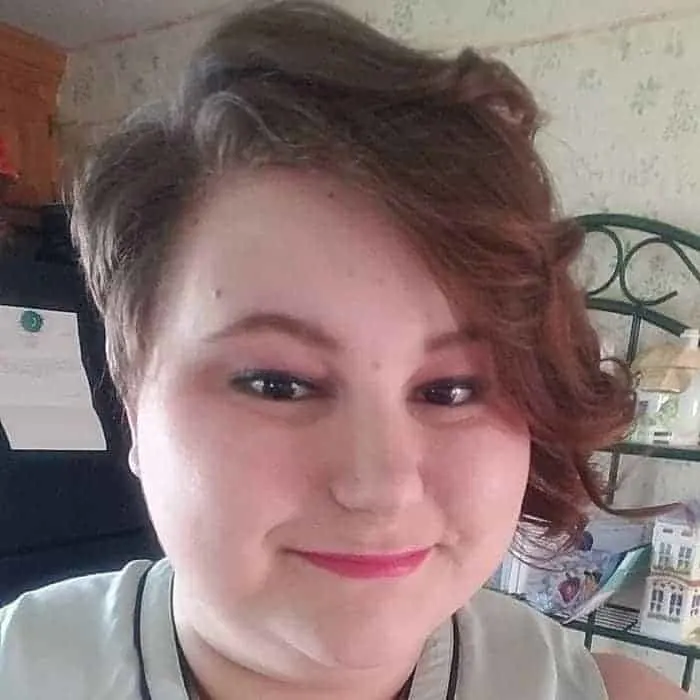 This hairstyle presents a look that is not short. Why it is important with the round faces is the need for layering. The layering makes the face longer and less round.
With this cur, the sides are short and the middle part divided the hair. The top portion of the hair is wavy, long and styled to fall to the side.
7. Side-Swept Relaxed Top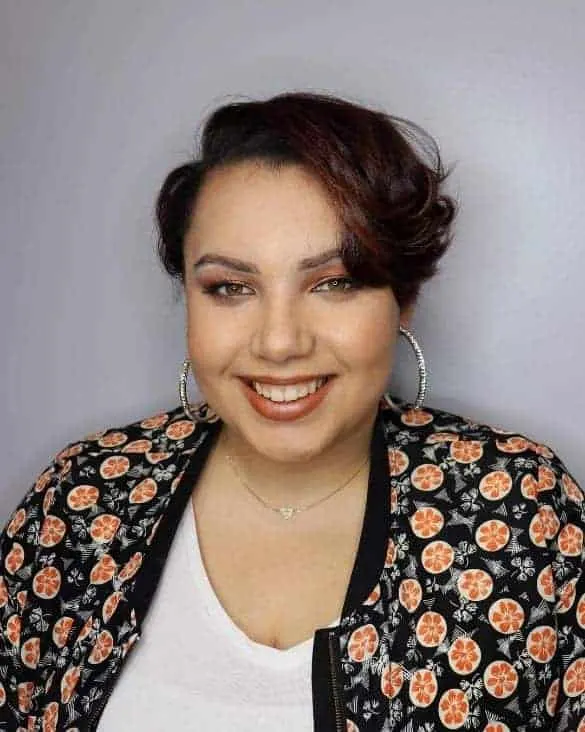 This hairstyle is similar to the first one, with the difference in hair length and styling. The sides are not very short; they cover the ears. the entire portion that comes from the other side of the side part is swept to the side, styled outer wards. The forehead is clear and the front part is a bit styled upwards and high.
8. Wavy Boyish Cut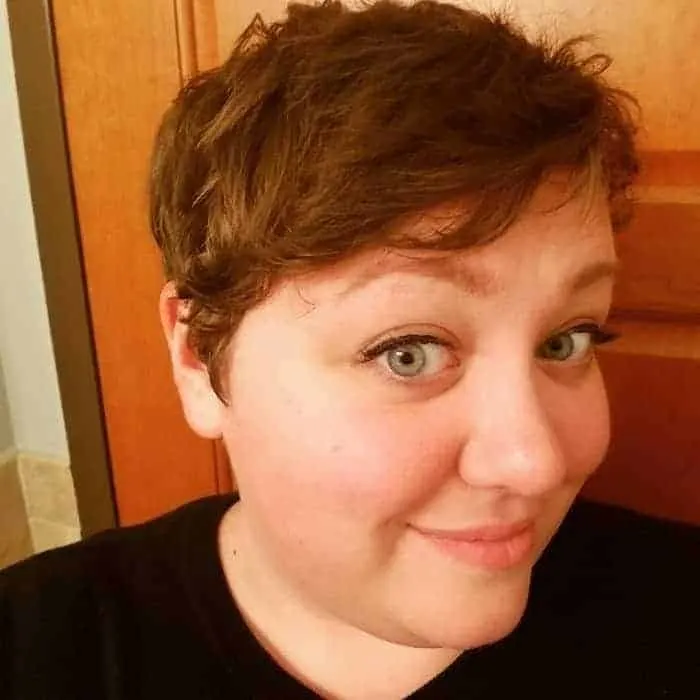 Finding the perfect short hairstyle for the round face can be hard. It is important not to cut the hair very short. This boyish cut has just the appropriate length which allows the hair to style itself in waves or to curl. Whichever it is, the styling is done to the sides which will soften the look of the double chin.
9. Wavy Bob with A Straight Cut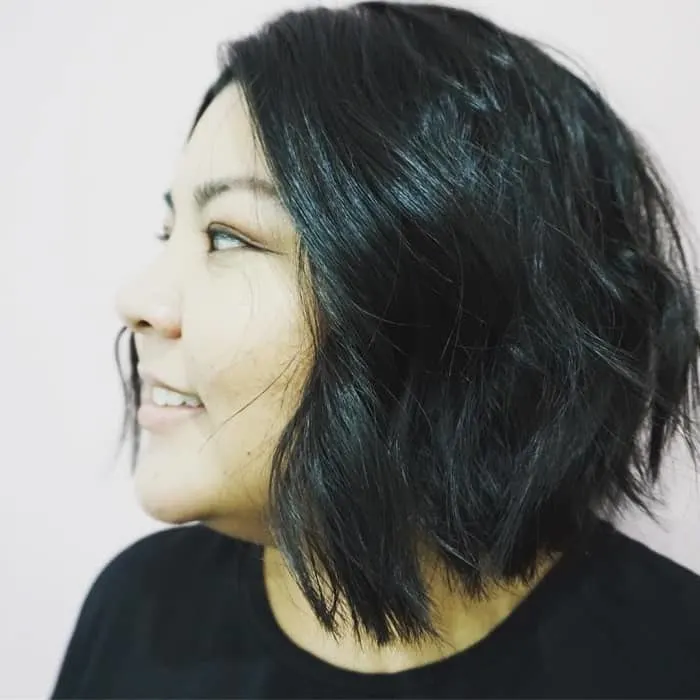 Cutting the hair in bob shape falls under the appropriate double chin hairstyles. The hair can be parted in the middle or on the side. There are no bangs, just loose waves that come on the ends. The cut is straight which allows the hair to be worn both straight or wavy.
10. Sharp and Voluminous Cut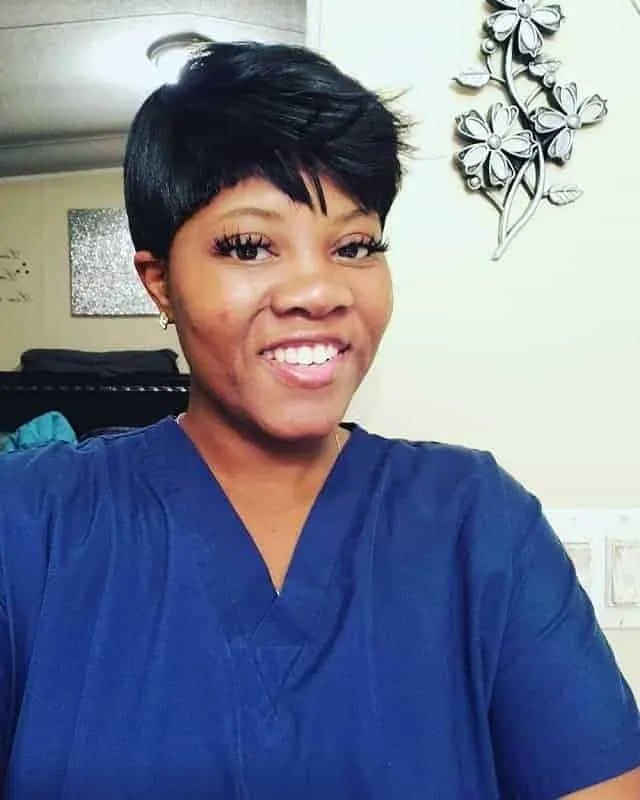 This short cut is perfect for women with sharp and thick hair. The top layer of the hair is longer, directed to the front with sharp edges falling over the face. The lower parts are short, cut in a round and precise line that falls the face shape.
11. Asymmetric Choppy Bob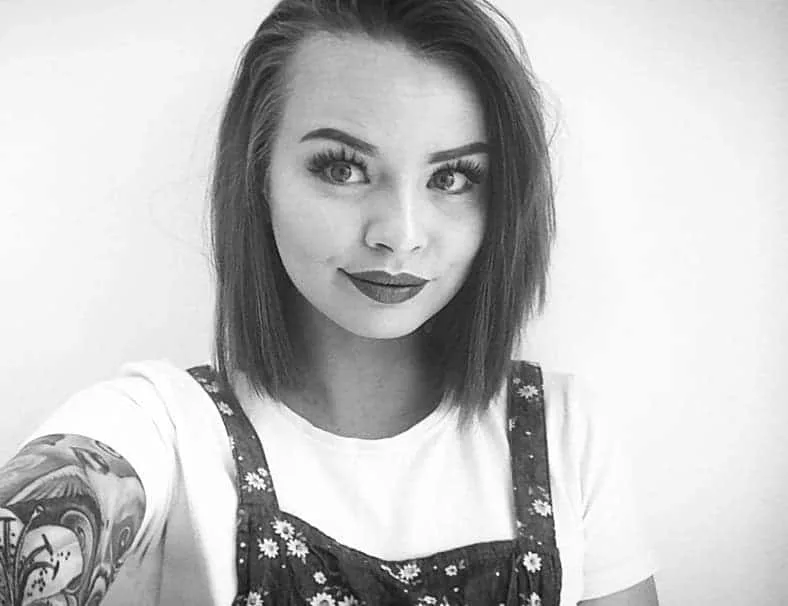 This hairstyle can be considered also as a hairstyle with a medium length. The hair falls from all the sides on the round face. it is layered to give the face more elongating effect. Some parts are longer, some are shorter. The back is cut quite short.
12. Blunt Bangs on Straight Bob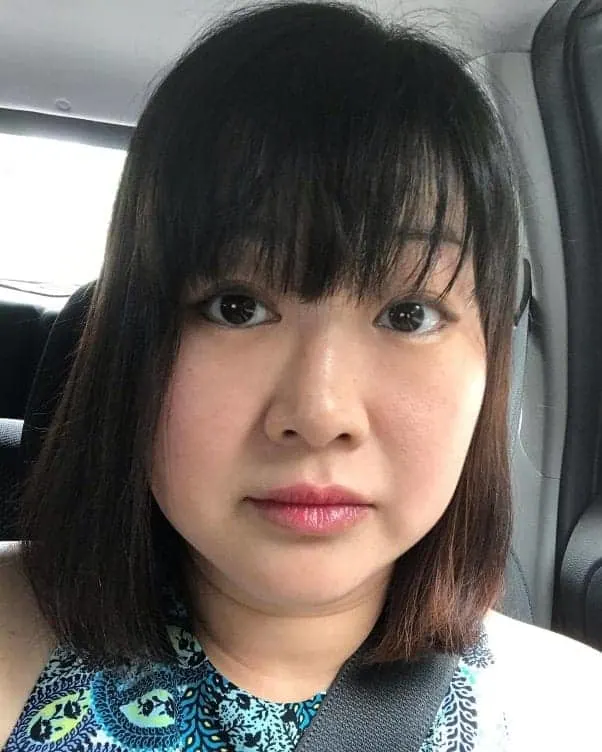 Another look with a bob hairstyle is this one, involving the long blunt bangs. The bangs are deep, starting almost at the middle of the head. Their cut is straight. The bob is straight, reaching chin length and softening the look of the round face.
13. Shaved Sides with Afro Curly Top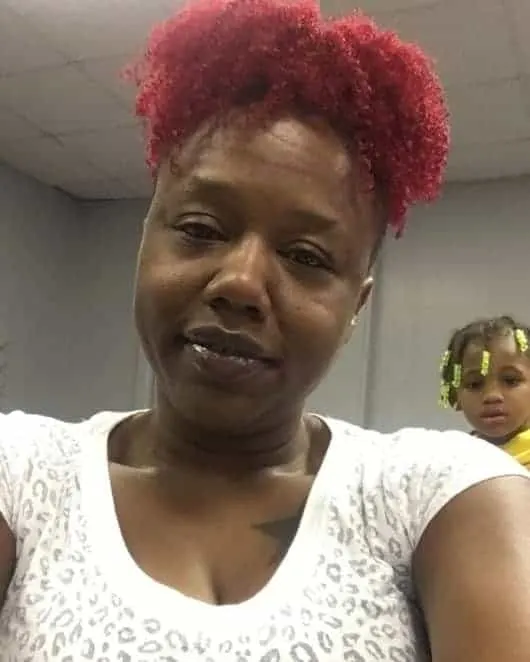 The shaved sides and the afro curly top are quite a daring look that not many can pull off. Especially if the top comes in another hair color. The fade of the sides is high and bold, while the top is long and the curls fall over the bald fade. This hairstyle provides many different styling options like a top knot, top pony or top bun.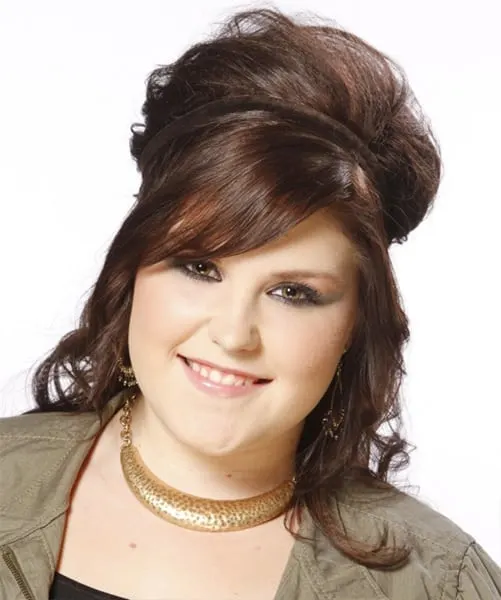 Ideal for: Another bun style that is great for a special event.
How to style: This style involved placing a portion of your hair into a bun while leaving the layers at the front to frame your face. It's like all peaceful and calm in the back but a party in the front. For this style, you would leave out some layers at the front to frame the side of your face.
As well as, some hair needed for your bang. The layers along the side of the fat face aids in emphasizing the roundness of your face while hiding the double chin. You can keep the layers wavy like the model or straight depending on what you like and the occasion.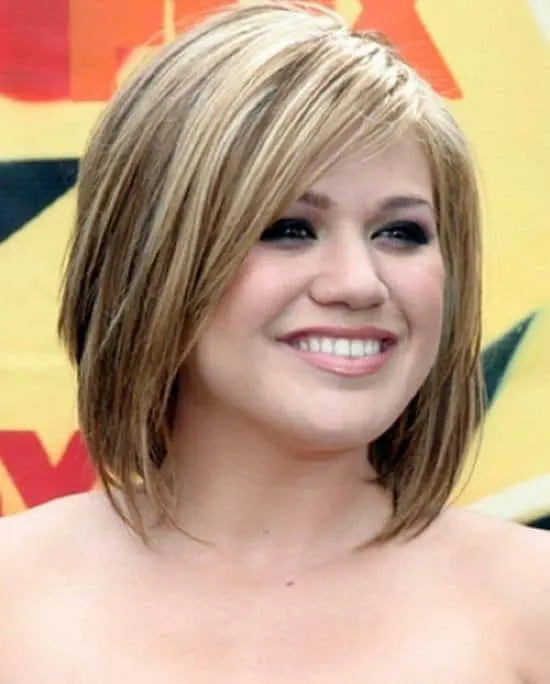 Ideal for: Another event that you will be attending where you want to impress without being over-styled.
How to style: If you have long hair then you will be cutting it to your shoulder into a long bob style. Or, you can install layers to shape into a bob that falls along to your shoulders. You can add highlights so it looks just like Kelly Clarkson's hair.
Bobs are another perfect short hairstyle for double chin and fat round faces that will hide it. As well as, it emphasizes your other beautiful features such as your eyes, cheekbones, smile and so much more.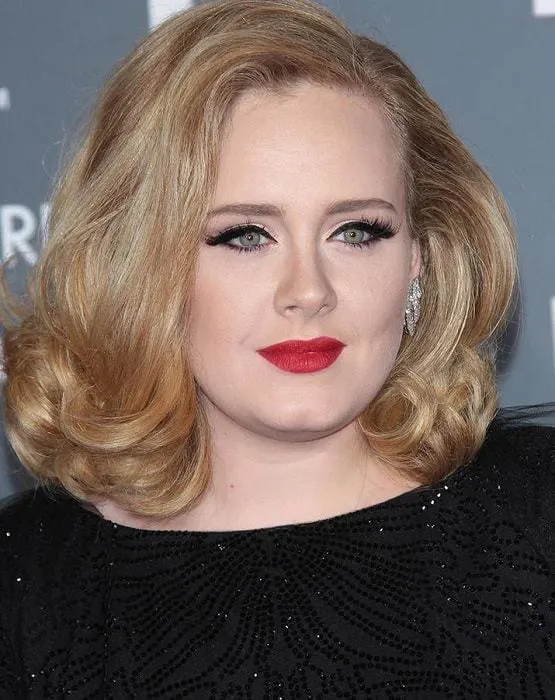 Ideal for: Any event where you are going to be awarded just like at the Grammy's when Adele walked away with the most Grammys that night.
How to style: For this style, you need to get your hair mousse, hairspray and roller sets out. Also, you can use your curling iron for the finishing touches. For this style, you would part your hair to your best side. Then, use the roller sets to add elongated curls.
Depending on the length of your hair, your hair will fall accordingly. Ensure to sleek your edges down with edge control. Ensure to get your face done by your professional makeup artist so that you will look fabulous for the night.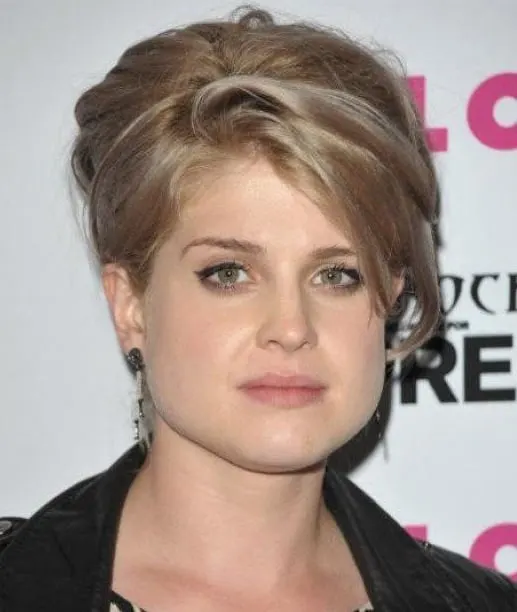 Ideal for: A red carpet event that will allow you to look poised throughout the day. An elegant hairstyle for fat face women with short hair.
How to style: All of your hair would be pinned back using hair jewelry. This allows your hair to be pushed up to elongate the length of your face. Then, a portion of your hair would be taken to frame your double chin.
Depending on your best side or preference, the side bangs will fall there. Also, adding highlights such as blonde, brown, or red will keep you looking smashing for the event. If you don't like your hair in any ponytail style, then you can choose from our other styles when your hair is flowing.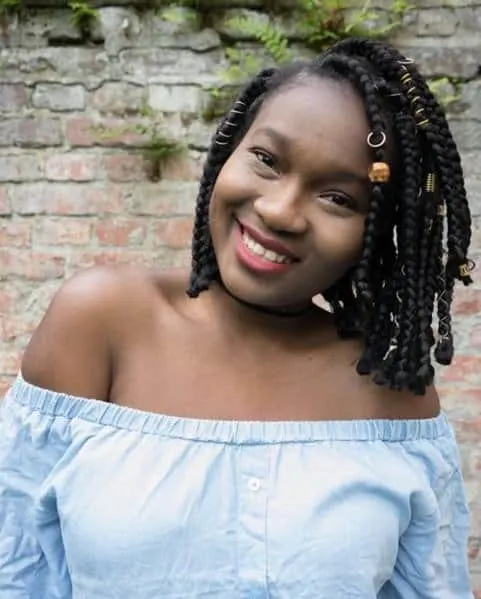 Ideal for: Another short hairstyle for women with fat faces and double chins for a festive event that you have to attend. Or, if you want to protect your natural hair underneath.
How to style: Your natural hair would be braided into smaller braids that fall a little below the chin. You can add hair accessories such as hair rings, beads, and even shells.
Also, you can wrap hair thread around each braid to spice up the look. Luckily this style does not require daily maintenance. However, after 4 weeks you should take the bob box braids down.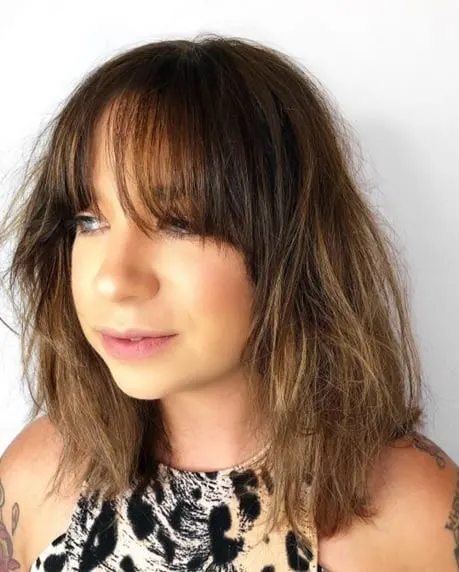 Ideal for: Any casual event.
How to style: This style requires cutting your hair to shoulder length or adding weaves in order to add length to your hair.
Then, cut your bangs to lay symmetrically along your forehead. You can let the outer portion be heavier than the middle because it adds a beautiful transition to your hair.
Also, add waves using water, product or even a flat iron to the hair that falls along your shoulder. It will add texture to your hair as well as your look. Your hair will not be straight and boring.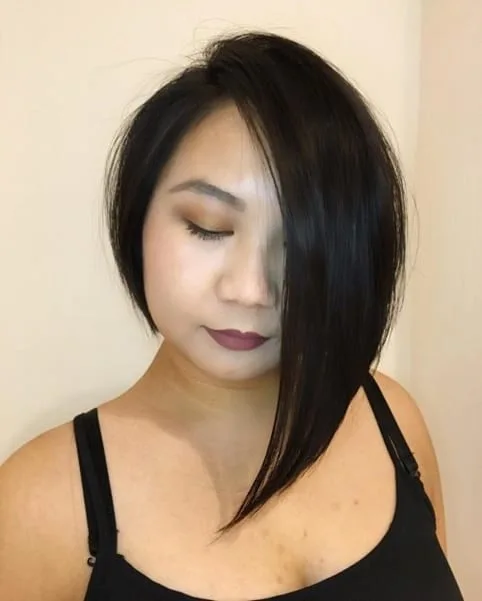 Ideal for: Any social event where you want to turn heads.
How to style: Another bob, however, the cut is asymmetrical. One side is longer than the other with a precise cut. You can let the hair fall on your right or left side, it depends on which side is your better side. You can even let it fall along the side of your face that you think is rounder in order to make it look slimmer.
You can add streaks on the asymmetrical side to add more flair to your hair. Also, you can do it in your favorite color. This short haircut for fat faces and double chins will stand out because it is not your typical bob. Lastly, get your face beat by a dope professional to win everyone's heart at your next social event.
The bob is a hairstyle that looks on every face shape, especially on those faces that have a double chin. The length of the hair should exactly reach the chin, and the cut is straight. The styling is round and the bangs are curtain-like and long. The hair is divided by a middle part.
Like the previous hairstyle, this wavy bob one involves the side bangs. The parting is on the side, and the bangs are long, wavy and swept to the side. They come over the forehead. This is one of the trendiest short hair look for women with a round face and double chin.
The difference in the cut and the styling is seen in this edgy and cool hairstyle. The front line of the hair around the head is cut short, which on the front looks like baby bangs. The rest of the hair, on the top, is long, styled swept up.
The fat face with double chin with proper styling and cut can be softened and the look is going to be trendy and fashionable. However, whichever you choose to wear should fit your face shape and follow the lines.