Faux hawk braids will give you an edgy, stylish and bold look. Each braid is intricately designed and woven to add panache to your hair as well as style.
Faux Hawk Braids
Each faux hawk braided hairstyle doesn't require cutting, trimming or even chopping a lot of your hair off. Here are some examples of this hairstyle for you.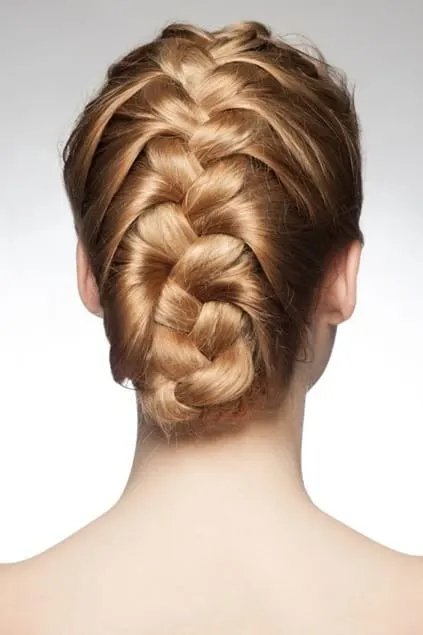 Ideal for: Any formal occasion or event that you have to attend. It could be worn to a bridal party, staff party, business meeting, etc.
How to style: For this braided faux hawk style, you would comb your hair back, then braid it down. After you have braided it down then you would tuck the ponytail underneath the braid.
This style would have taken you less than 5 minutes, so you'll look classy in such a short time. Ensure to add some hairspray to add sheen or enhance the natural sheen of your hair.
Ideal for: Any fun event that you're going to attend within the year such as your kid's birthday party, Christmas party, etc.
How to style: The fishtail braid does take some time to master because of the intricacy of doing the braid. You can watch youtube videos or ask your hairdresser to it for you.
Then, you can put the remaining hair in a bun like the model which will keep your hair from off your back. Or, you can put it in a ponytail if you want to look flirty. It really depends on you.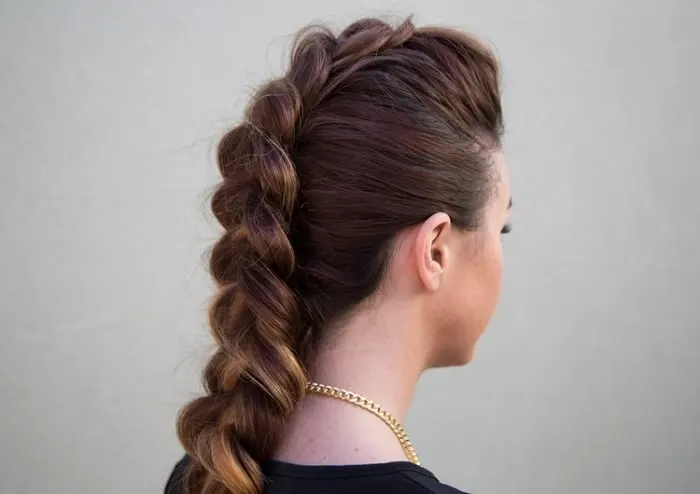 Ideal for: Any extravagant event that you have which could be a fashion show and so much more.
How to style: If you're good at braiding then you can try this faux hawk style at home. However, if you aren't, please ensure to get it down by a professional.
They will braid your hair back without tugging at your scalp. Then, they will pull the braid up to give the illusion of big hair. Then, the remaining hair is pulled back into a ponytail.
Ideal for: A casual event such as a night stroll, girls night out, or to run errands. Your hair will be neatly combed without being too extravagant for a regular event.
How to style: In order to style you would need to split your hair in half. Then braid your hair down each side. Each side will look like a mini Mohawk on either side. You can pull out the hairs at the side to add flair to the faux hawk hairstyle with braids. It will look like you put effort into it when you really didn't.
Ideal for: Any party that you will be attending this year. In addition, you can even wear to events that your friends invited you to such as barbecue, movie night, etc.
How to style: If your hair is short like the model you would need to add extra hair in order to get your faux hawk braided hairdo to be big and long. Ensure to use weaves that are similar to your hair type so that the hair looks flawless.
6. Pompadour and Single Braid Faux Hawk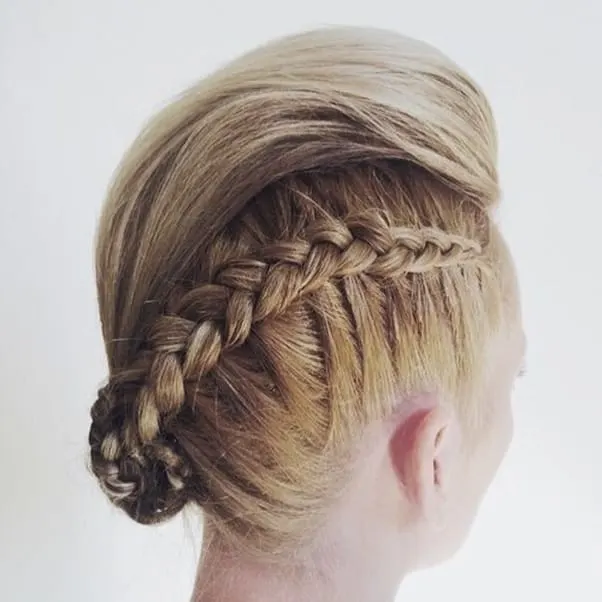 Ideal for: This hairstyle idea is great for any red carpet event, a bridal party, or even a fashion show.
How to style: This faux hawk style requires that you split your hair into two halves. Then, braid down one section. Then, the next section is pulled into a pompadour then pulled into a mini bun. You can use hairspray to maintain the volume of the pompadour. As well as, hairspray to maintain sheen in the braid.
Ideal for: Any time that you want to switch up your look.
How to style: You would separate the middle part of your hair then do a fishtail braided faux hawk downwards. Ensure to not braid on the scalp so that the braid will lift up. Also, you can tug at it to keep it up. Then place, the remaining hair into a low ponytail.
8. Braided Faux Hawk Updo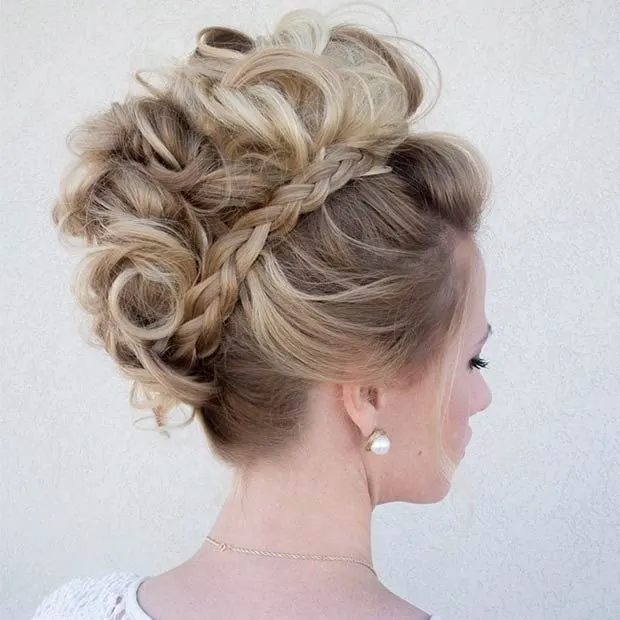 Ideal for: The Bride or any wedding occasion.
How to style: Styling will take some time especially if it is for a wedding day. As you can see her hair is pulled upward and the sides are braided down. Then, the excess hair is pinned into pin curls for texture. Also, a mini pompadour is added to enhance the bride's look.
Ideal for: Any fashionable event where you have to stand out for fashion shows, Halloween, etc.
How to style: Ask your local hairdresser for the fohawk braids because it may take some time for you to master especially if you have an event to go to that night. Please make sure that she stylist adds hairspray and edge control to keep your hair shiny and flyaways at bay.
Ideal for: A day at the beach or a walk in the park or go bike riding or to run some errands.
How to style: For this faux hawk style with braids, you would need to pull the hair back and braid it down loosely. Then, pull it into a messy ponytail. When your hair is slack it gives off the messy look. Also, pull down the hair at your sideburns to enhance the messy look. Although your hair is messy the braid makes it look fancy.
Ideal for: An event where you want to dress to impress.
How to style: This is an intricate faux hawk braids design that will take some time to be done by your hairstyle. A portion of your hair is braided down in the middle, then the remaining hair on either side is pulled over the braid and folded. Daily maintenance will be needed to keep the hair sleek and poised for the upcoming days.