A female undercut for long hair sounds like so much work. You don't have to worry if everyone can get it, so can you. There are so many cool and versatile hairstyles that will help you put that short section on display. Tag along to find out the many options, how to cut it, style it and how to grow out an undercut.
Preparation/Consideration before Getting Undercut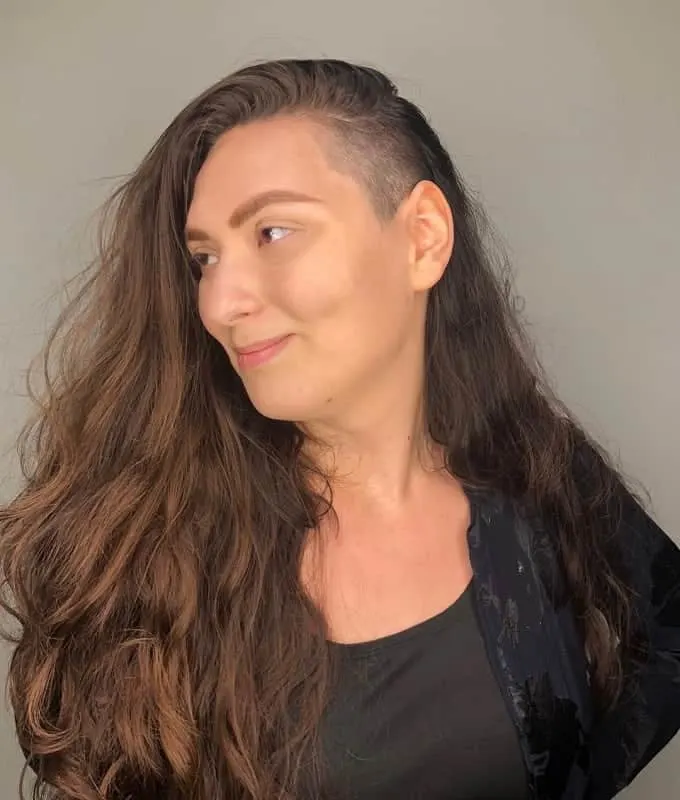 Getting a female undercut for long hair is a tough decision, especially for women. This is an unconventional hairstyle that features shaving a part of your hair. And it is not a strand or two, but it is a whole, very visible section. Of course, like with any new hairstyle, there are things that you have to consider.
The main one is to prepare mentally that this is not like a bob, lob, or any other short cut that you've had. It's much shorter, and you'll need to wait quite a while to grow it back. The second thing to keep in mind is that you will have a hard time while it's growing back because it will go through all the different stages.
If you decide to keep it for quite a while, you will need to take trips to the hairstylist very often. Make up your mind on the location, whether it will be in the back, one side, or both sides. These are the considerations that should not discourage you, but you still need to know. When you really like this hairdo, you should do it, because let's face it- an undercut is so cool.
What most women don't even think of is that they can decorate the long undercut with so many shapes. It is on the positive side of considerations that will make you fall in love with it even more. This is not an expensive cut to get, but it can get hard to style when it starts to grow. In general, it's a very positive experience and all the ladies that got it are so happy with it.
How to Grow Out Undercut
This is probably the hardest part of the whole hairstyle, but it is totally worth it. The happiness that a long hair undercut will bring you doesn't even compare to the waiting period you'll have to do. These basic tips can help you figure out how to grow out an undercut.
You will find it much easier to hide it while growing the hair if you change up the part. This is very important with side undercuts. If it's in the back the long hair will cover it anyway. Rock a deep side part to the opposite side and no one will even notice that you have an undercut.
The second and more dramatic thing to consider is cutting the rest of your hair short as well. A pixie cut can be so flattering for numerous face shapes. That way the drastic difference in length will be more subtle and you'll eventually grow it out. The process is much faster compared to if you would wait with a long hairdo.
Forget about your regular visits to the salon. Even if you were in love with the undercut, if you decide to grow it, make sure you're not tempted to get it cut again. You can only visit the hairdresser for hair treatments that will help the growth or for advice. The third reason why you can visit is to cut the rest of the hair shorter.
Treat your hair right ladies and it will give back. Start shopping quality products that stimulate the growth of hair, including shampoo, conditioner, oils, and supplements. Avoid styling it with hot tools and dying it.
If you are desperate to get that long hair back, you can always buy extensions. These days there are affordable versions that are also high-quality and provide a very natural look. Use hair accessories often, to hide the shorter section in the mane If it's winter, beanies and other winter hats can become your best friend.
Last, but not least, be patient! Things can't happen overnight.
How to Style Undercut on Long Hair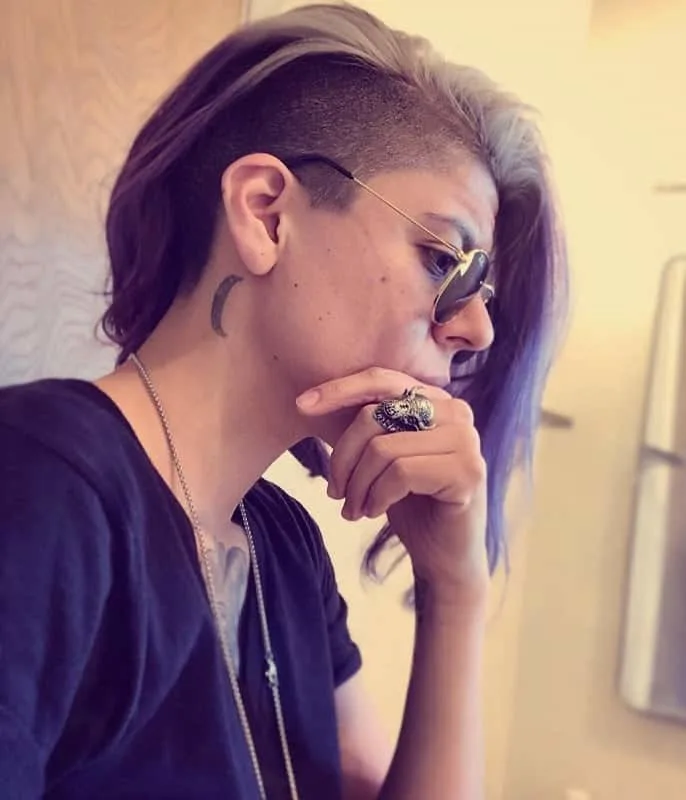 There are literally hundreds of ways to style an undercut with long hair. The first thing is the decision on the location. It can be in the back or on the side. Once you've dealt with that part, you have to decide whether it will be a simple undercut, or it will feature and patterns.
One of the most important parts of styling is the shape as well. Choose between triangle, square, rectangular and more. From there on, you will also find ways to style long hair. You are probably interested in how exactly a hairstylist achieves this hairdo.
They use a hair clipper, that comes with different extensions. Some will cut the hair very short, others will give a bit more length. You can sometimes even opt for a shaved cut when there is no hair at all.
The hairdresser should have a very clear idea of where you want the undercut, the length of the hair and the shape. Once you let them know, they will turn on the clipper and do their magic. The trick is to create parts where this detail will be located.
Professionals use clips to separate the rest of the hair to avoid mistakes and better visibility. If there are any patterns that you like, the hairdresser can use a drawing with your vision or a picture.
When it's done, all that's left is for you to decide how to style the hair. You can have it down in waves, curls, or straight. Updos are much more versatile because you can do a single bun, double buns, braids, twists and so much more.
Watch The Following Video to Learn How to Get Undercut on Long Hair
Stunning Long Undercut Hairstyles
We have curated a list of 25 most gorgeous female undercuts for long-haired divas here.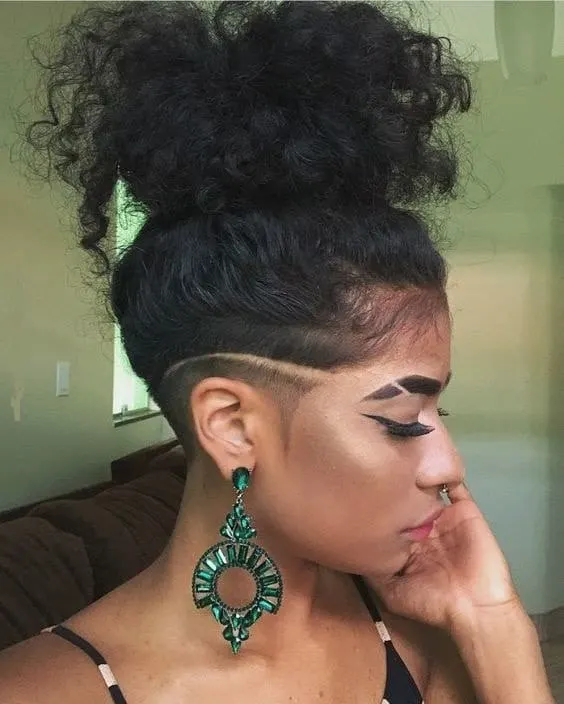 Women with curly hair can also get a long undercut wherever they want to.
Ideal For: Great for the summer days when the hair tends to create extra heat.
How To Style: This style is done on two levels. The first is very short, while the second one is longer. They are divided with a sharp line. Ask that from the hairstylist and you can now gather the curls in a messy topknot.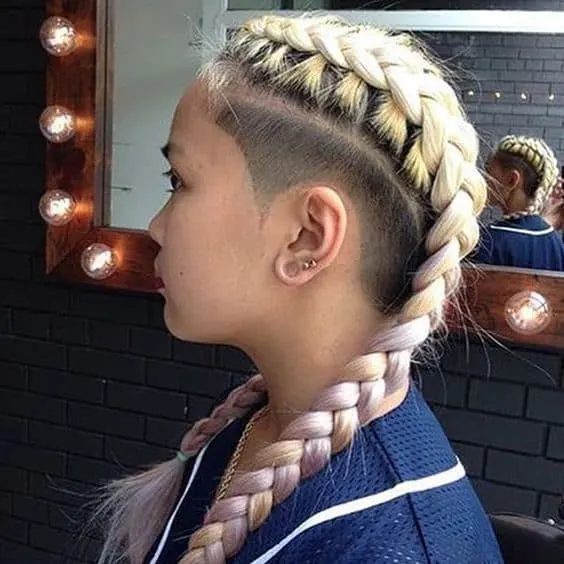 Single or double, French or Dutch, braids are pretty, easy and efficient when it comes to showing off a female undercut for long hair.
Ideal For: Everyone with long hair can try out so many types of braids.
How To Style: Go for the braiding technique that is the easiest for you. If you have a friend to help you out, even better.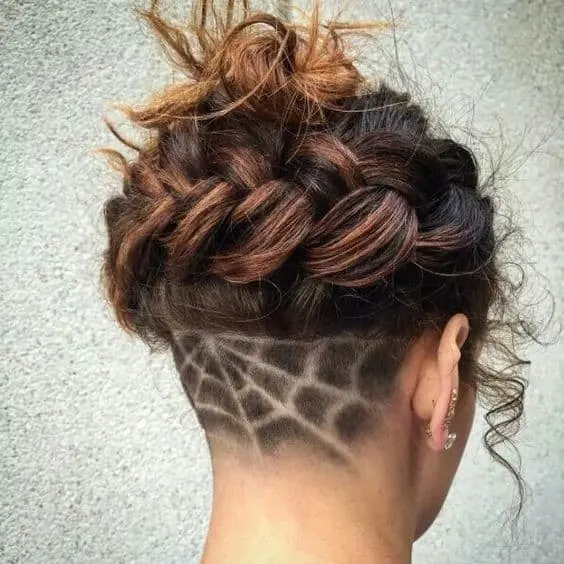 When we said that every pattern you can think of can become a part of your hairstyle, we really meant it.
Ideal For: Great for different occasions, thanks to the sophisticated nature of the updo.
How To Style: The women's long hair undercut style features a stunning oversized braid done horizontally. If you can't do it yourself, ask for help.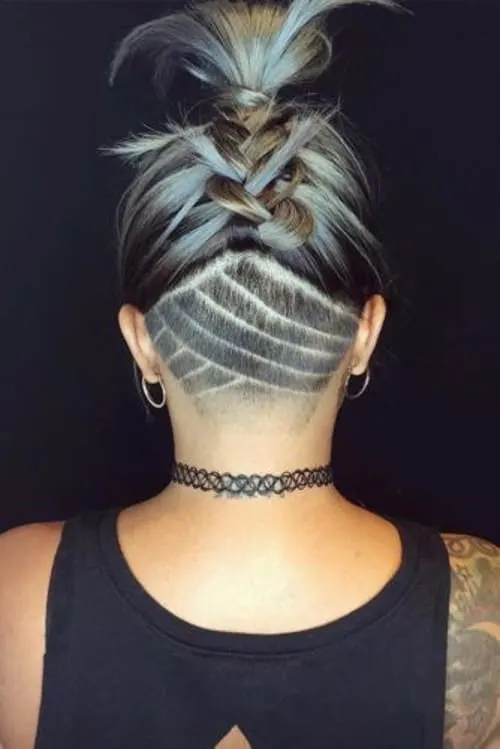 The gorgeous hair color, in a combination with the braid and undercut, will score you the trendiest long hairdo of the year.
Ideal For: Innovative gals who are ready for a change won't be able to resist it.
How To Style: Instead of starting the braid in the front, start it right above the undercut. Finish with a topknot.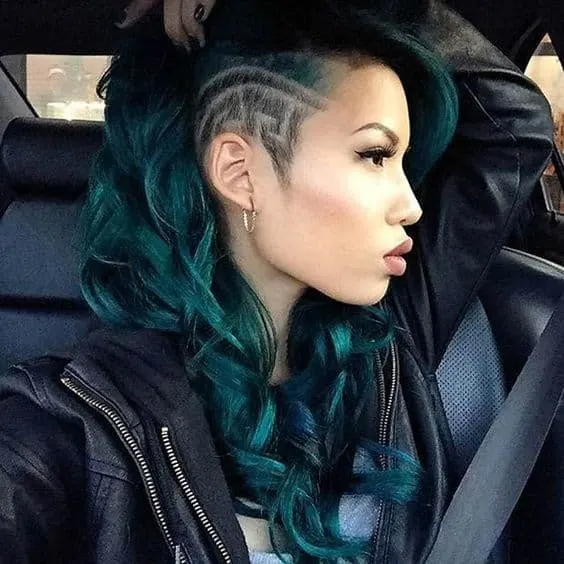 Undercuts for long hair are often so edgy that they work best when paired with a unique hair dye.
Ideal For: Women with long hair can upgrade the undercut with a color change as well.
How To Style: These curls are love at first sight. Get your curling wand it's time for a makeover.
6. Hairline Design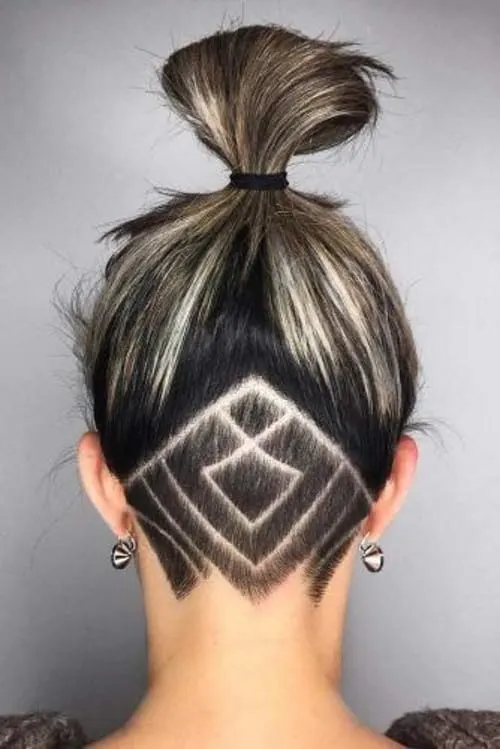 So many ladies opt for geometric shapes when doing this kind of hairstyle.
Ideal For: From youngsters to adults, this is a universal style.
How To Style: You will only want to wear your hair up so that everyone can see the art in the back.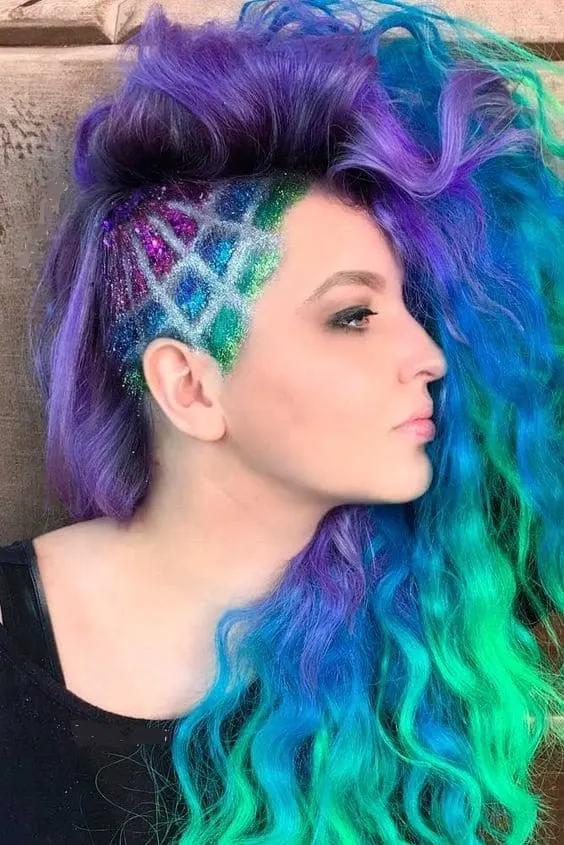 Glitter and neon shades are synonyms for fun.
Ideal For: Pick this vibrant look only if you are completely convinced that you'll be rocking it for a while.
How To Style: Style the long undercut with hair glue and glitter on top.
8. Fine Lines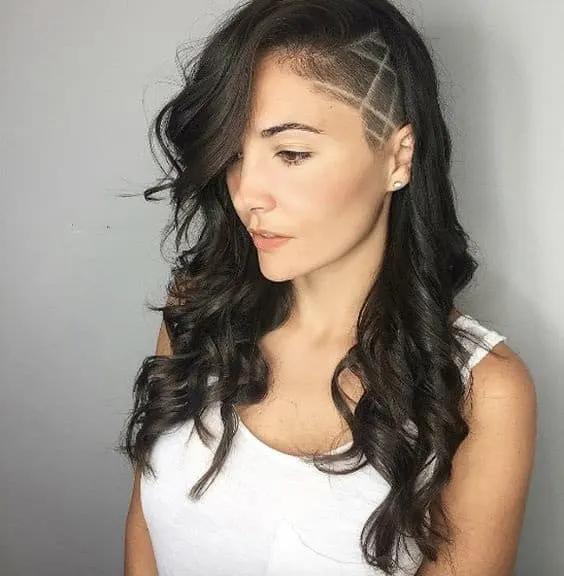 Decorate the mane with some lines and you'll be the happiest girl around.
Ideal For: If you are planning to get a side undercut, these soft patterns are so beautiful.
How To Style: Imagine how you want the lines to look, and let your hairstylist know. Do as many as you want and wherever you want them.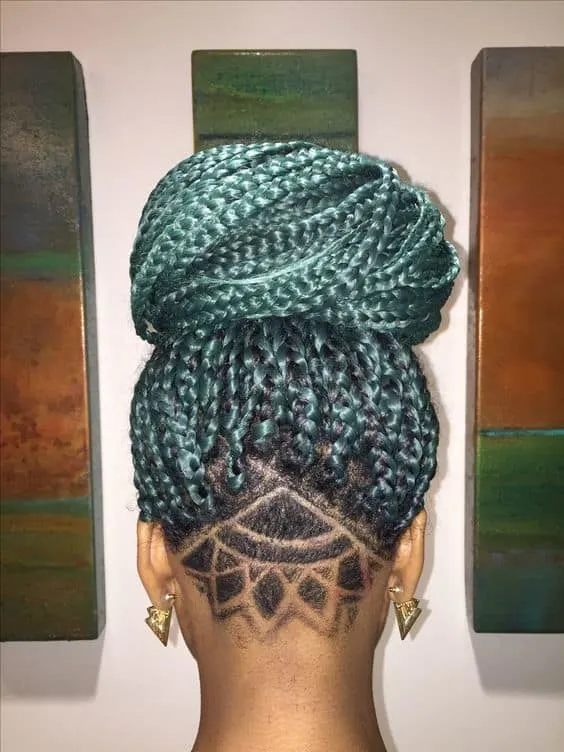 If you get tired of having your braids down, turn them into a statement topknot.
Ideal For: All women with braids can easily recreate the female undercut for long hair look.
How To Style: The only accessory you need is a hair tie.
A braid can make such a big difference in your hairdo.
Ideal For: Perfect for women with shaved sides.
How To Style: Try creating a voluminous Mohawk braid with the long hair undercut in the middle.
11. Deep Side Part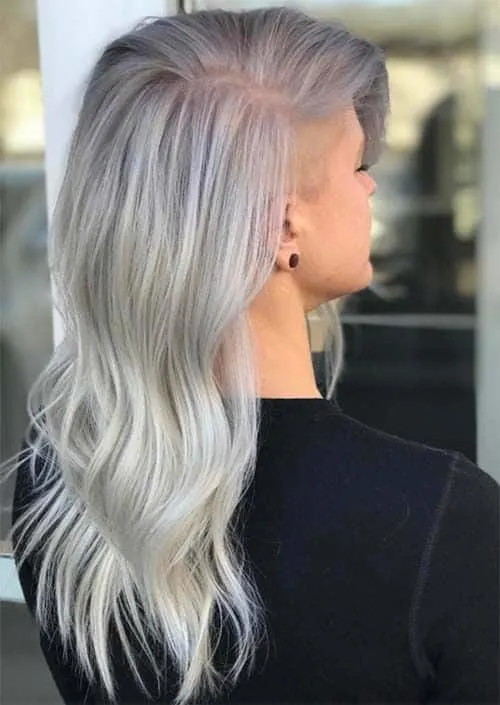 Trying to keep it very simple and adorable? You just found your new do.
Ideal For: Long hair is so flattering when matched with a side part.
How To Style: Do the undercut on one side to create that deep side part. Finish with waves.
12. The Side Braid
Rich red tones are flattering for many skin tones.
Ideal For: Everyone can try this very easy braid in only minutes.
How To Style: Top the long undercut hairstyle with a braid and add volume to the rest of the hair.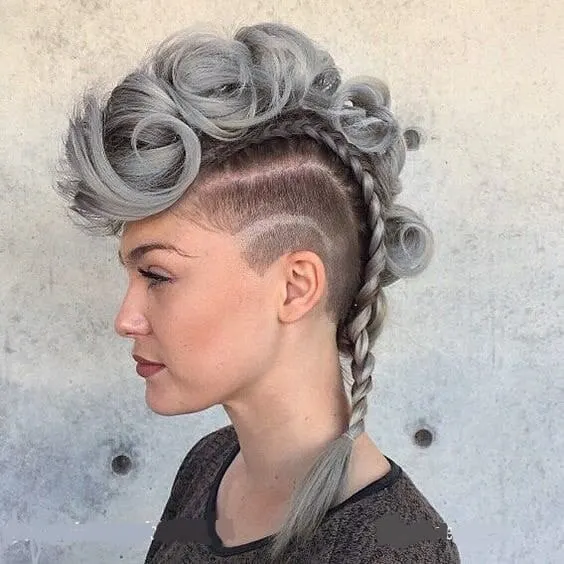 There is no such thing as too much.
Ideal For: Not everyone would dare to go out with such an eye-catching mane. It is more appropriate for a wedding.
How To Style: You might need the help of a hairstylist to pull the whole look off.
Mix a few shades and you won't be sorry.
Ideal For: The ones who like vibrant tones, will want to get this look.
How To Style: Aside from dyeing the hair, make sure to color the undercut as well.
15. Boho Vibes
Everything's beautiful, starting with the flower, colors, to the dreads.
Ideal For: Adventurers will be immediately in love with this mane.
How To Style: Get someone to do these chic dreadlocks to really compliment the flower-shaped undercut with long hair on the side.
Space buns will keep the long hair off the women's undercut.
Ideal For: When you need a very easy, effortless hairstyle, this is what you do.
How To Style: Divide the hair with a middle part, and twist each side in a bun. Secure it with a tie and bobby pins.
17. Hair Accessories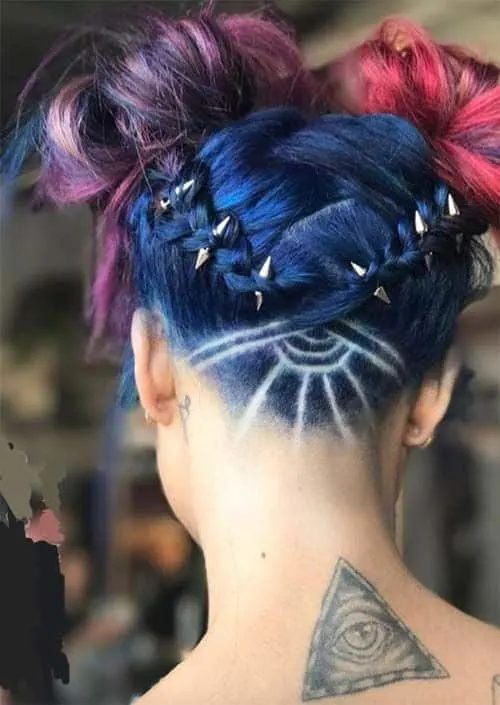 Accessories can make even the simplest braided space bun with undercut hairdo for women with long hair very special.
Ideal For: A very smart idea for literally everyone.
How To Style: It doesn't have to be the same accessories as on the picture. Do clips, bobby pins, or whatever you prefer.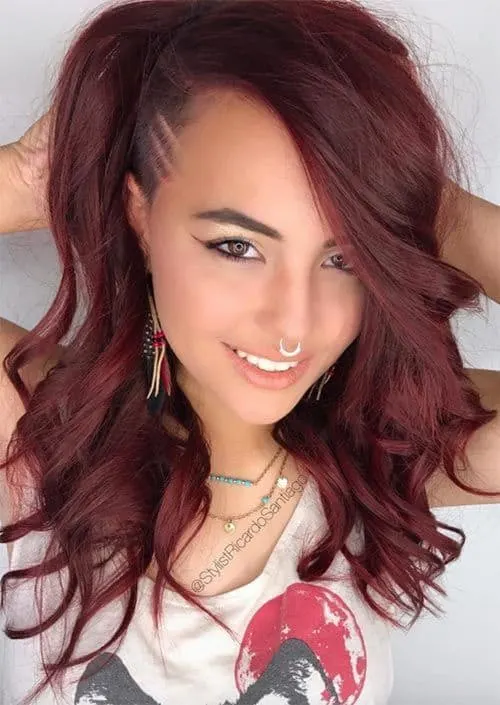 Sometimes, a change in hair color is all you need. The dark red tone shown on the picture can freshen up the mane together with a side undercut.
Ideal For: If you're debuting an undercut, you should go for this simpler version that is done on a smaller section of hair.
How To Style: This hairstyle usually goes with a deep side part, but you can decorate it with lines as well.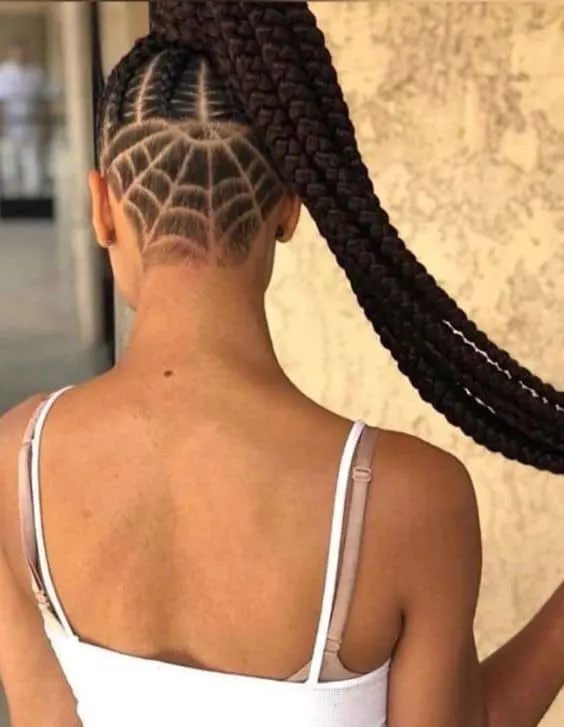 Women with curls can tame the locks with cornrow braids, plus a chic female undercut for long hair.
Ideal For: Perfect for gals with curls, both to protect the hair and achieve a gorgeous mane.
How To Style: Find a good braider and let them know which style you want.
20. High Bun with Patterns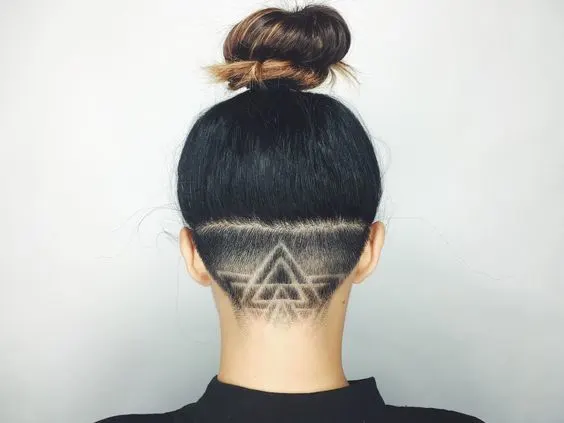 What better way to showcase your brand new pattern, than by putting the hair in a high bun? Let the trendy long undercut hairstyle be on display.
Ideal For: If you are still hesitant, you can always opt for a simpler mane such as this.
How To Style: It will only take minutes and a hair tie for the messy bun.
There are so many amazing ways to make a topknot chic, with this one high up on the scale.
Ideal For: So cool for special occasions.
How To Style: The undercut includes both the sides and the back part. The side-swept fringe is a very important part of the hairstyle, don't forget about that. After you've done a slick topknot, secure the bangs on the side with wax or pomade.
Who says that you can't include multiple hair trends in a single look? Combine the undercut with waves, highlights and you'll have the most fashionable mane.
Ideal For: If you've been planning a huge change in the way your hair looks, you just saw the best idea.
How To Style: Relaxed waves will keep the hair away from the long hair undercut.
If you get this shaved undercut hairdo, you will literally wear your hair in a high ponytail all the time.
Ideal For: A low-maintenance hairstyle great for girls who are getting an undercut for the first time.
How To Style: All you need is a hair tie and a fine comb for a sleeked high ponytail.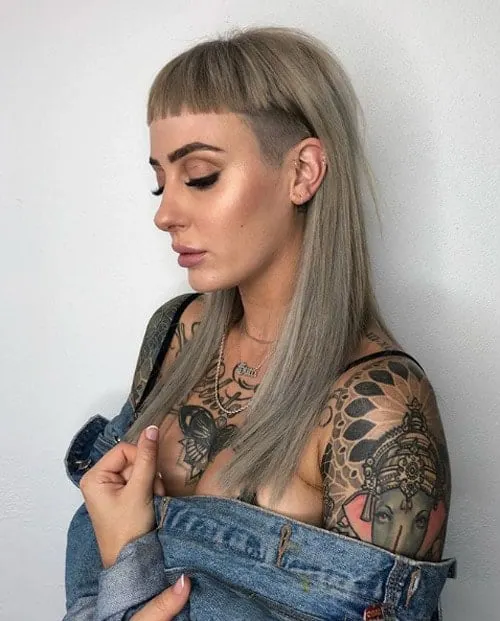 There is a way to combine micro fringe with an undercut, and we found it.
Ideal For: Great for ladies who want to do a subtle undercut, but are obsessed with bangs.
How To Style: This is a hairdo that calls for straight hair.
25. A Real Star
The shape every single lady will like for her long hairstyle.
Ideal For: If you can't decide on a pattern to try, these symmetrical are both chic and feminine at the same time.
How To Style: You can feel free to leave the rest of the hair straight and simple, let the stars do all the talking.
Getting an undercut with long hair is a very dramatic change not all ladies are ready to do. That is why you should always explore everything you're interested in before making a commitment. All these hairstyles are so easy to copy and ideal for long hairdos.