The halo braid is a beautiful and ethereal hairstyle that looks incredibly impressive but is surprisingly simple to create. It looks both elegant and bohemian, which is why it is frequently chosen as the hairstyle of choice for young and fashion-forward celebrities on the red carpet.
Love the look but not sure how to achieve it? Here are some simple steps to create the perfect halo braid without any hassle.
How to Do Halo Braid
A halo braid can be created using any length of hair, but it'll look better and be easier to create the longer your hair is. Start the process by brushing through and detangling your hair, then add a texturizing spray throughout its length to give your tresses grip.
Split your hair into a central parting and then take a 3 inch thick section from one side of your parting and start braiding (if you're not sure what braiding is, this is a simple process that involves separating the segment into three sections and weave each side over each other to create a thick strand). As you braid the hair, bring in additional strands from either side, creating a thicker braid as you progress
Move the plait around your head, using your hairline as a guide. Continue to braid around the hairline and across the nape of your neck until you reach your other ear. If you want your finished style to look neat then keep your braid as tight as possible: use a looser braid for a more textured effect.
Once you have reached your ear, plait the rest of your hair using a standard three-strand braiding effect, continuing until all of the hair is plaited, then secure it in place using a small hair elastic.
Wrap the length of your braid across the front of your head to create a halo effect, and tuck it in place behind your first ear. Secure the halo in place using bobby pins and, if you want to create a neat effect, also use bobby pins to secure any loose or stray hairs.
Spritz your hair with hairspray to hold it in place and then you're ready to go, with a perfect halo braid to be proud of.
Our Favorite Halo Braid Hairstyles
Halo braids are a beautiful style that will look fantastic no matter what the color or texture of your hair. You can also create halo braids with hair of any length, although they are much easier to create in longer hair, as you will rely on the length of your hair to create the thickness of the halo at the front of your head.
Once you've mastered the basic technique you can begin to experiment with different styles of halo braid, all of which are best suited to different occasions.
Here are 25 fantastic halo braided hairstyles designed to inspire you, whether you're looking for a look for work, home, or play:
This is the most simple and classic style of halo braid, created by ensuring that you pull each braid as tightly as possible, and include all of your hair in the braid, before securing it neatly behind your ear. The two-tone blonde balayage hair color of this look serves to emphasize the braid, giving it more of a halo effect.
2. Chunky and Textured Wrap Braid
If you have very long hair then you can create a chunky and textured braided halo hairstyle by starting your plaiting process behind your ear and using loose strokes to create your braid. This will ensure the fullness of your hair is at the front of your head, and enable you to work with its natural texture.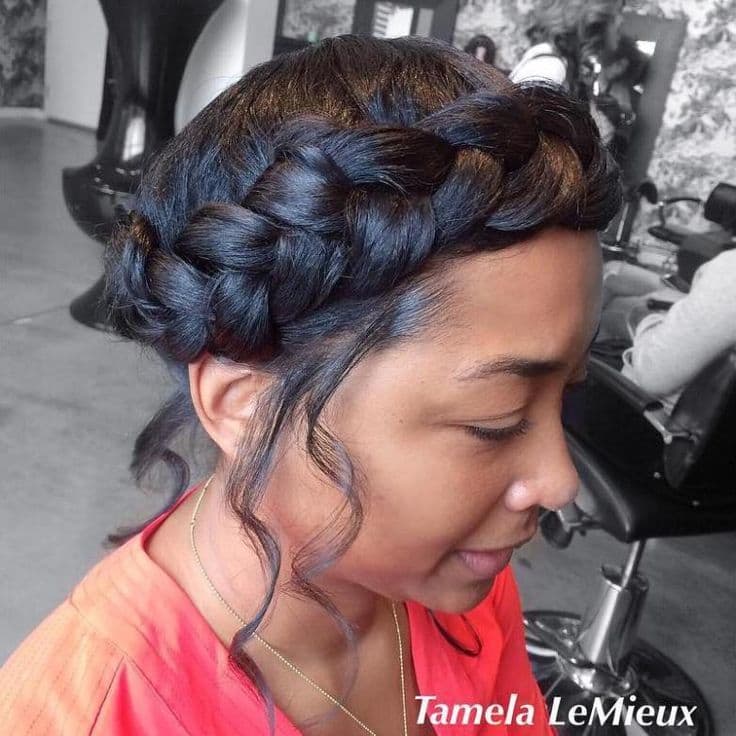 Pulling curls out of your braid is a great way to soften your style and inject it with extra femininity. Having curls around your face will create a natural frame and lend softness if you have a square or oval face shape.
4. Braid With Flower Embellishment
The halo braid is the perfect style for evening events and formal occasions. To inject a little glamor into your look for after dark, add flowers, gem barretts, and other feminine accessories to ensure your style really stands out from the crowd.
If you have a long face shape and rely on bangs to create softness and shorten your forehead then don't worry: you can work these bangs into your style and still wear a beautiful halo braid on natural hair.
To create this side bangs, separate out any hair you don't want to include in the braid and hold it in place with a hair clip before you begin working on your style.
If you are blessed with ultra-long hair then you can amp up your style by creating a double Dutch crown braid! Simply continue wrapping your hair around your head until all of the lengths has been distributed: this will make your halo hair look much fuller and more impactful.
Love the look of halo braided hairstyle but still want to show off the length of your hair? It is possible to have the best of both worlds! Use the length of your hair to create a braid without working to your nape then wrap this around your head to create a demi-halo effect.
Though it is much harder to create a classic halo braid if you have short hair, you can nod to the style by creating a demi halo from the front of your hairline. Simply braid your hair on either side of your parting and sweep it to the back of your hair, securing in place with bobby pins.
9. Vibrant Red Halo Braid
Whilst most images tend to show braids on angelic blonde braids, they look just as fabulous if you rock a brighter and more vibrant hair color. The braid style is a great way to show off the incredible red tone of this beautiful length of hair.
Rocking blunt bangs doesn't mean you can't also experiment with a halo braid. It's easy to incorporate your bangs into a halo, alternatively, create your halo around them and use them to create a frame for your bangs, lending your look a modern and rock-chick inspired feel.