If you have green eyes and blonde hair, chances are you are always busy responding to compliments. Not only is this combination relatively rare, but also terribly striking.
Green is such a gorgeous eye color and the blonde hair is almost a natural fit to it. As a result, those who are blessed with it have a relatively wide range of options to try out.
Epic Blonde Hairstyles for Green Eyes
These are our 30 hottest blonde hairstyles and haircuts that will suit the women with green eyes perfectly.
1. Golden Blonde Hair for Green Eyes
Golden blonde is the most natural-looking hair color you can choose to match green eyes. They'll make you feel like the hot version of Goldilocks when worn on long wavy hair.
2. Dirty Blonde Hair for Green Eyed Girl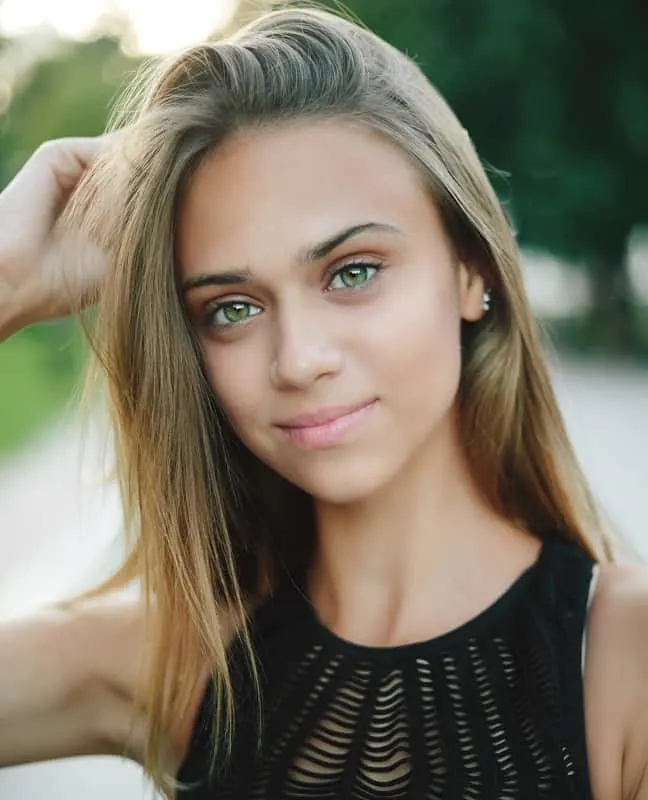 Despite its name, dirty blonde hair is actually beautiful. It's another natural color that will give long straight hair a slight edge.
3. Honey Blonde Hair for Green Eyes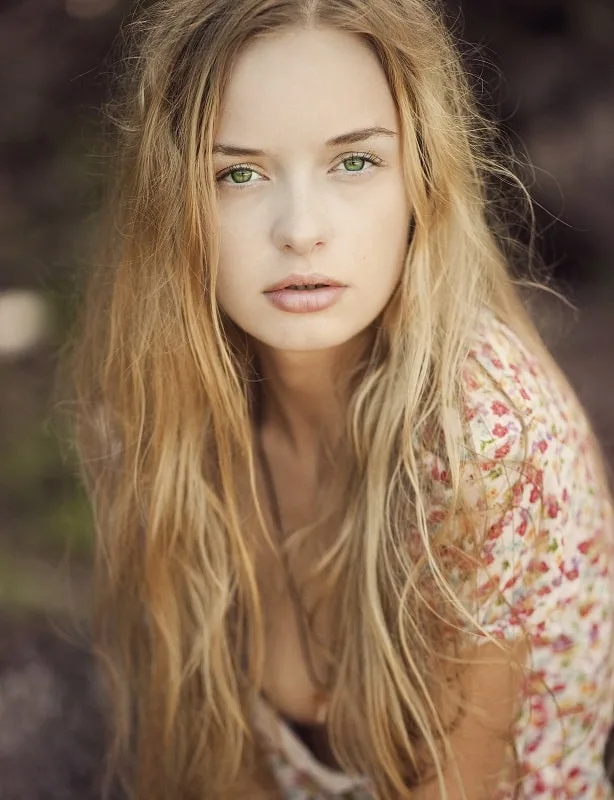 Rock a honey blonde hair color on long slightly messy hair. You can easily get this style by using fingers to comb in hairspray.
4. Platinum Blonde Hair for Green Eyes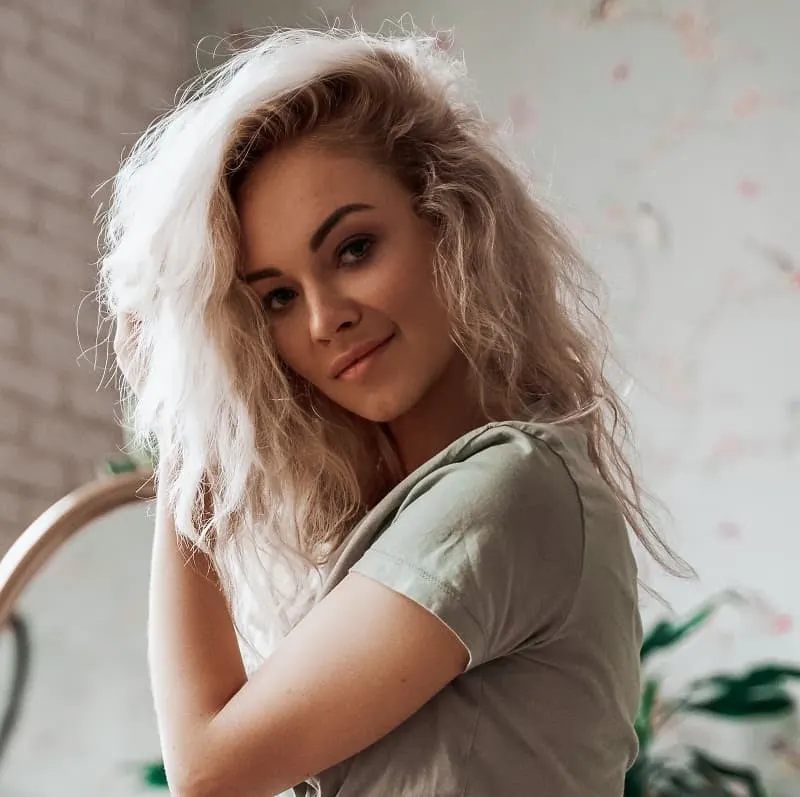 While platinum blonde may never look natural, it does look amazingly gorgeous on women with green eyes. Add in lots of spiraled curls or wear straight.
5. Girl with Light Blonde Hair and Green Eyes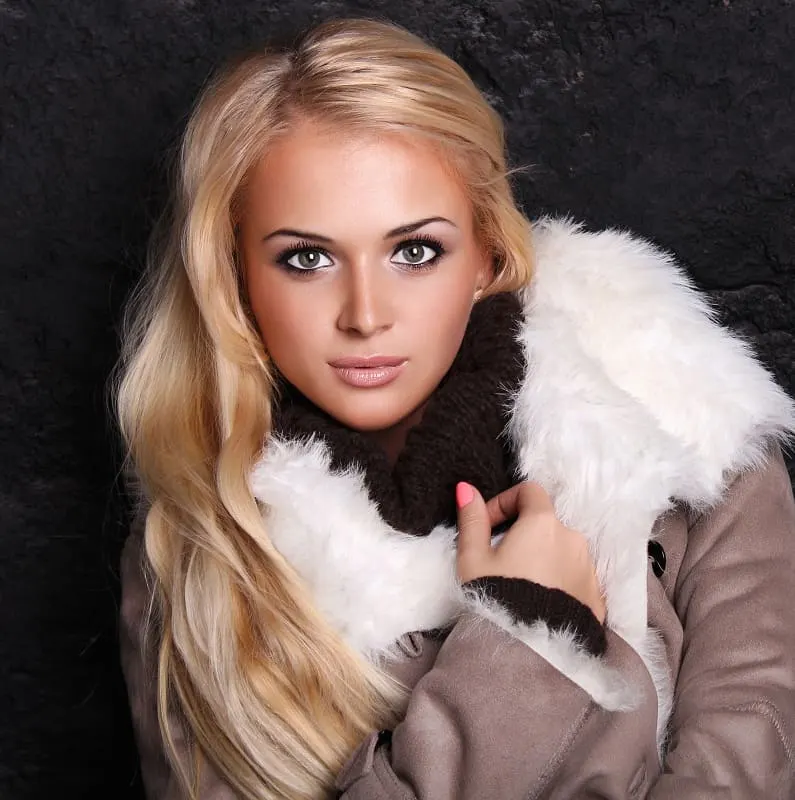 This light blonde shade of hair color is similar to celeb Paris Hilton's. Get her look for your green eyes by adding in long layers and wearing your hair mostly straight with a little wave action.
6. Beige Blonde Hair for Green Eyes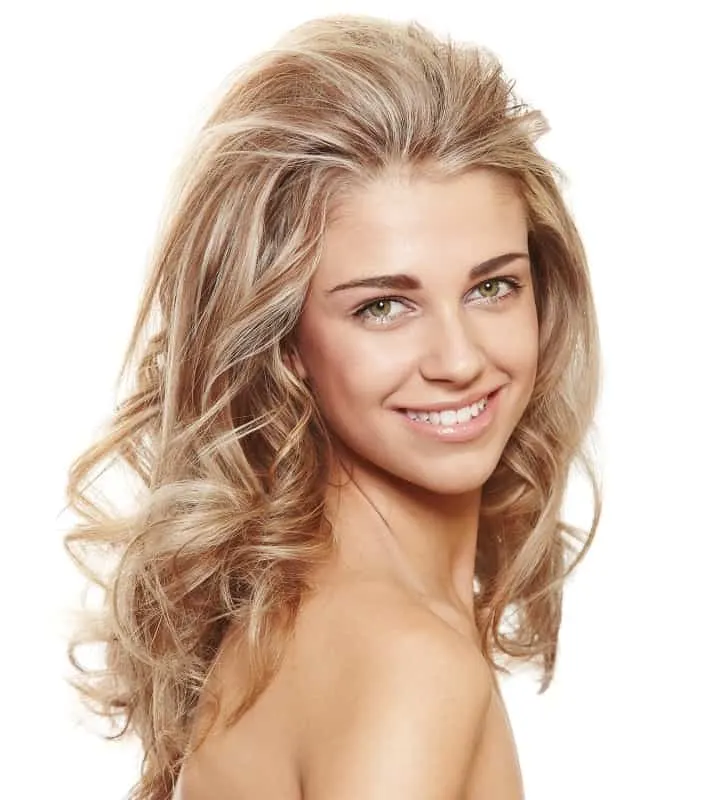 Beige blonde has a slight vintage look to it. On green eyes, make it more updated with a layered hairstyle and curly body.
7. Dark Roots
No doubt a blonde hair color is best for fair-skinned ladies to make their green eyes stand out. This style features a vanilla blonde mane falling on the shoulders with emerging dark brown roots adding up to the look. Achieve loose curls using a large barrel curler.
8. Milky Blonde Hair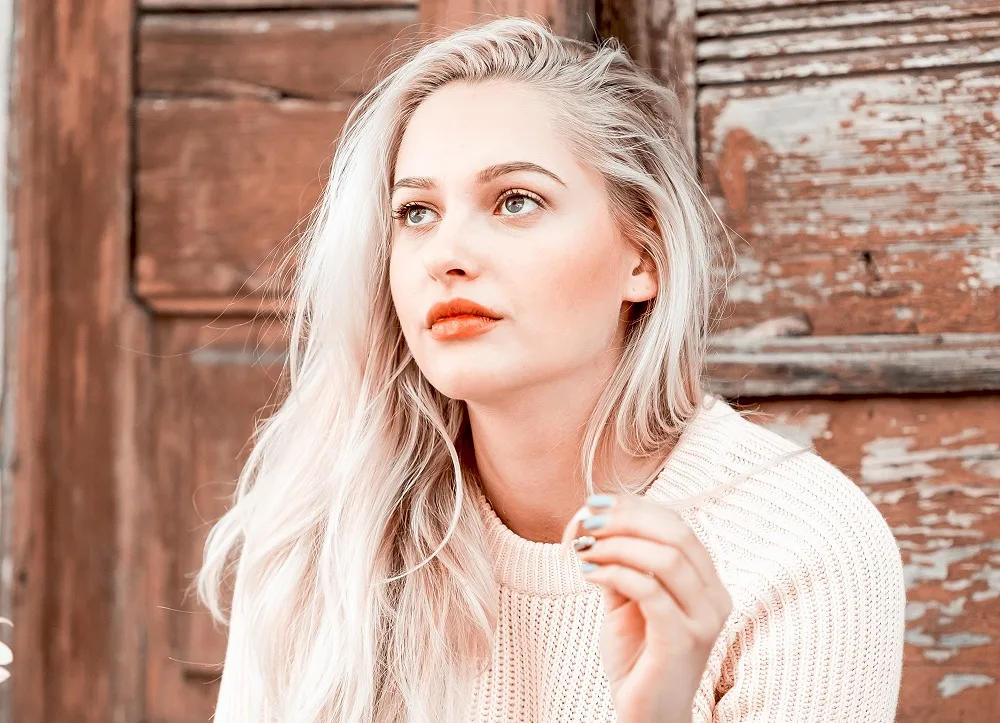 The milky blonde shade is one of the lightest tones of blonde that adds an instant gleam to the face. Add subtle layers to the hair and hand tousle it for a carefree appeal. This look however requires a touch-up to the roots every few weeks.
9. Subtle Gradient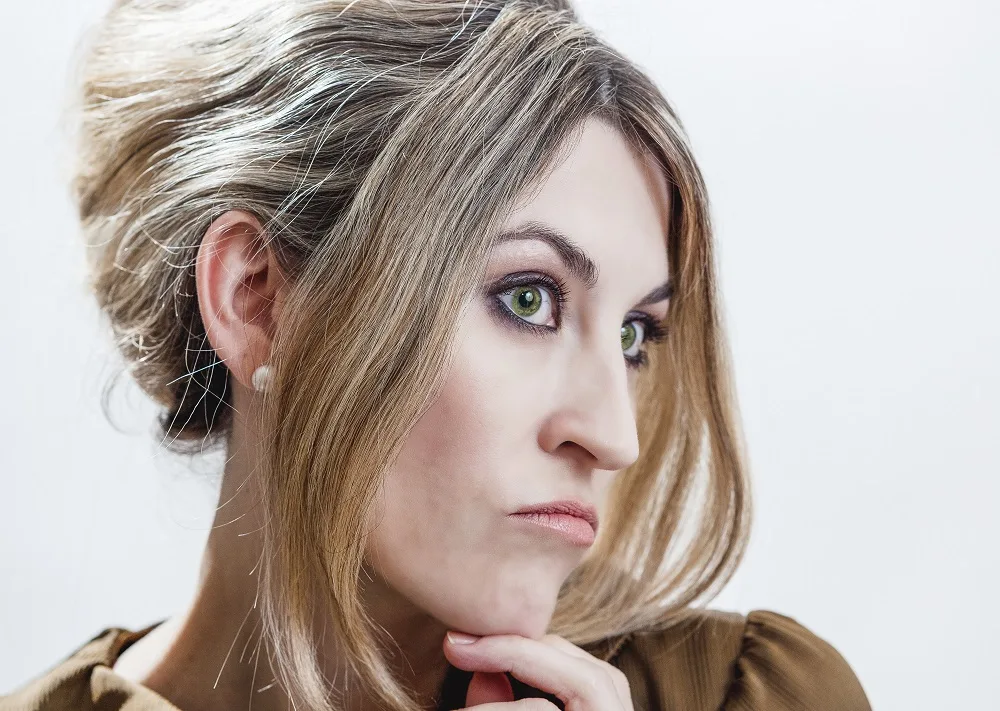 Keep it natural by going for a barely-there gradient effect. The dirty blonde top lightens into a sandy blonde hue reaching the ends. Style the hair in a French roll updo with chunky face-framing strands at the front accentuating those piercing green eyes.
10. Short and Stylish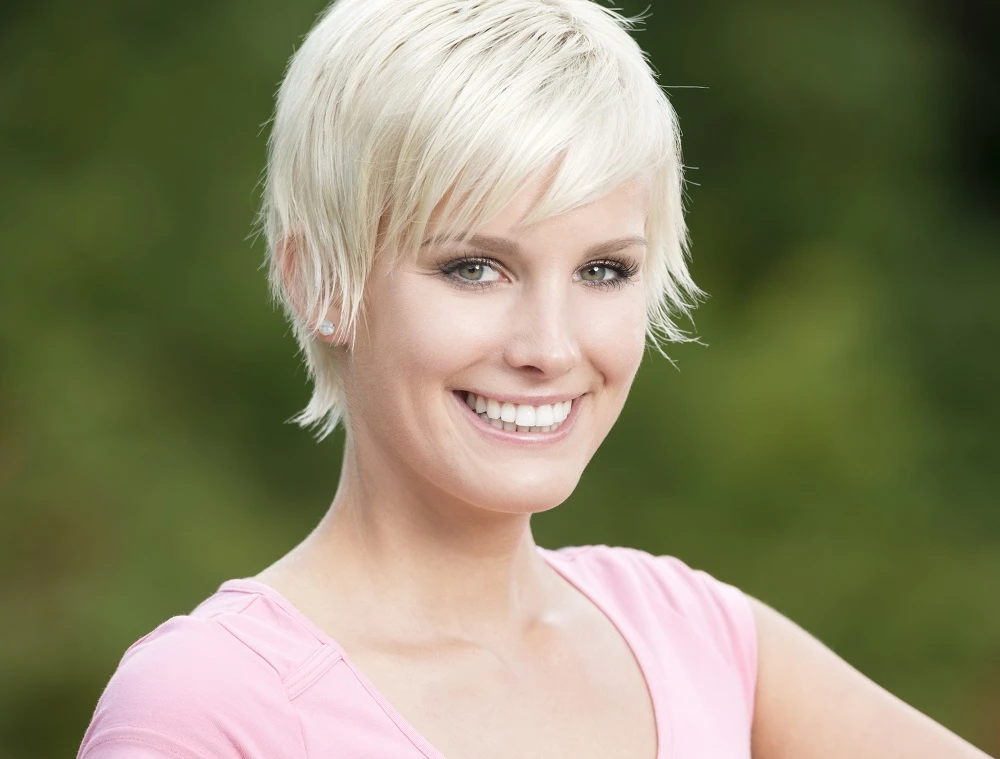 This blonde hairstyle is ideal for women with green eyes who are looking for a short and sassy look. Chop the hair into a textured pixie cut with wispy side-swept bangs falling on the forehead. Finish off by dying the mane in a cool platinum blonde shade.
11. Caramel Curls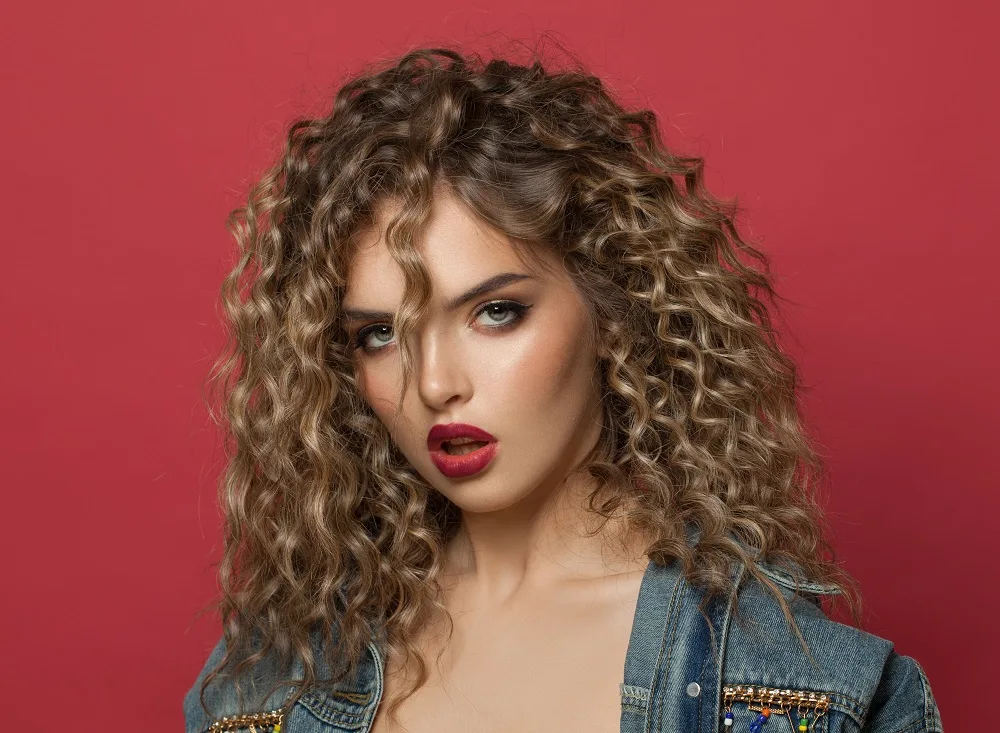 Turn around some heads with these sexy curls. Go for a hot toffee blonde base with caramel highlights creating a balayage that just looks natural. Add spiral ringlets to the hair using a cone-shaped barrel and hand tousle them resulting in a hot curly mess.
12. Blonde Babylights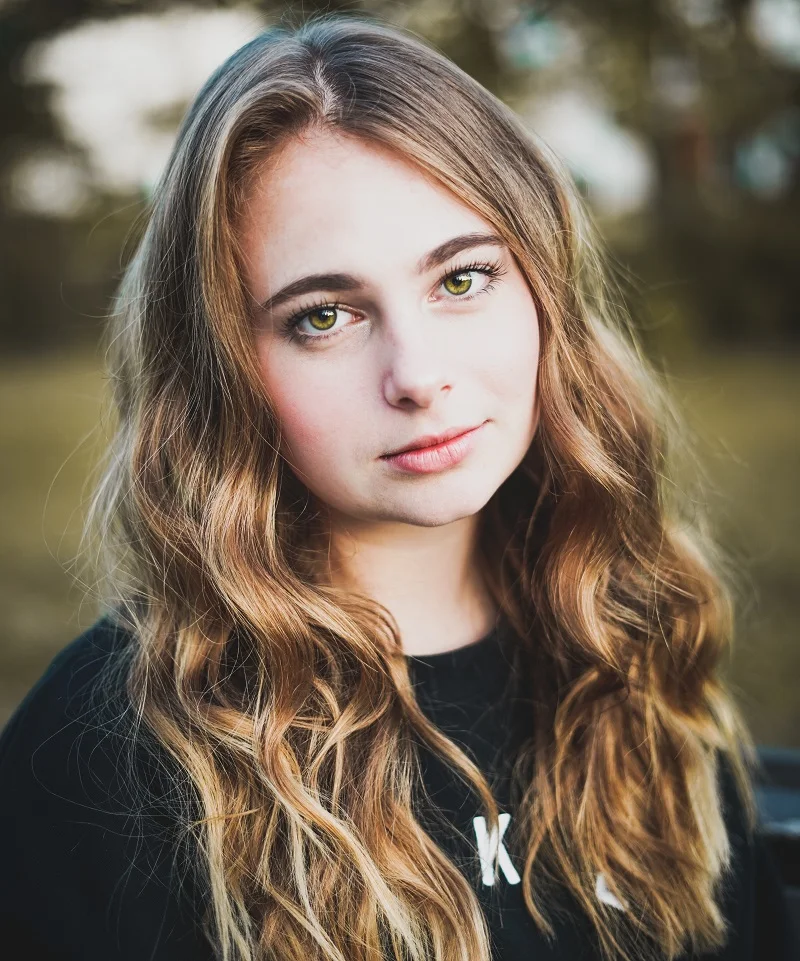 Those who want to refresh their look while keeping it low-key can consider these babylights. The armpit-length tresses are tinted in a butterscotch blonde hue with fine streaks of light blonde in between. Loose bouncy waves accentuate the style further.
13. Gorgeous Ombre
Make those beautiful green eyes more noticeable by coupling them with a dark to light ombre look. The medium brown roots transition into a light sandy blonde hue while reaching the tips. Wear the lob with a deep side parting and the gorgeous style is done.
14. Light and Bright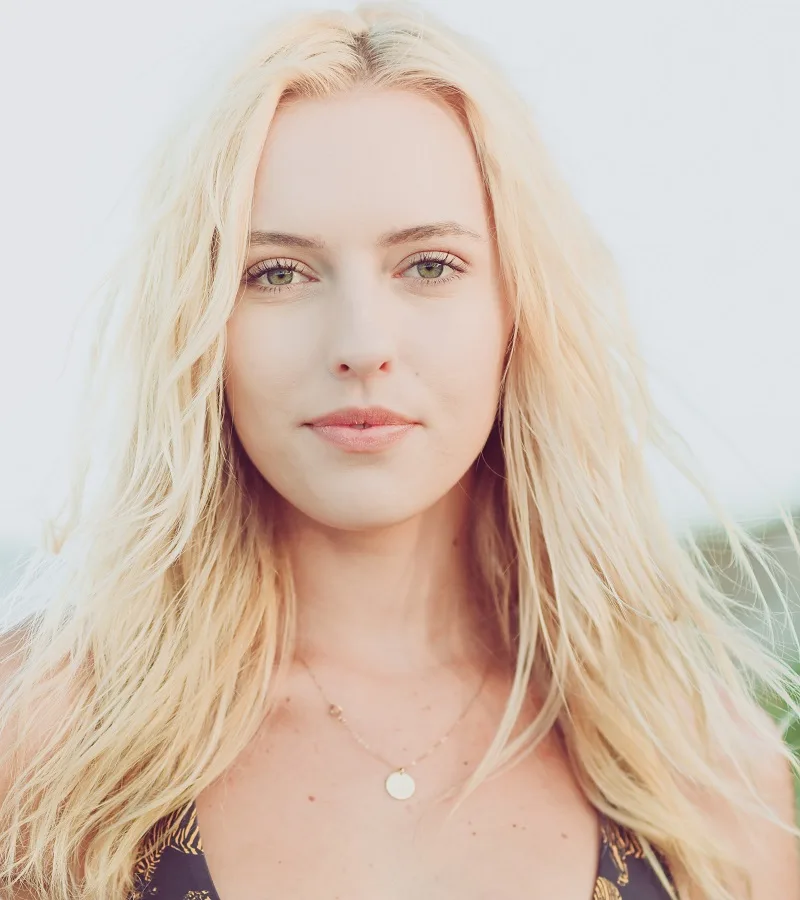 Add an instant brightness to the face by dyeing the hair in a light butter blonde shade. Amp up the look by going for subtle platinum highlights giving it further dimension. Finger-tousle the layered mane for an undone appeal.
Look like a Rapunzel by dyeing those long tresses in a golden blonde tinge. Couple the side-swept bangs with a hair puff and a messy side braid with strands sticking out for a messy appeal. Top it off with flowers.
Here is another epic blonde hairstyle for ladies with green eyes that is defined by a short lob with choppy layers dangling above the shoulders. Style the hair with a deep side parting and add bouncy curls for a glamorous finish.
In case you wear your hair medium, this is one of the easiest options to try for. It helps you highlight the natural grace of blonde hair coupled with green eyes.
The hair falls beautifully on the face and adds sparkle to the green glow of your eyes. This is one of the best examples of effortless styling done right.
Stunning Hair Color Ideas for Green Eyes
Blonde hair with bangs is decidedly one of those naturally charming hairstyles that are hard to ignore. It is cool, casual and absolutely gorgeous. In fact, it keeps the natural charm of this style intact.
It is effortless, stylish and easy to maintain. What makes it an outright winner is the fact that it clearly highlights the natural green eyes in the best possible light.
If you like to wear your hair rather long and keep it open, then you must go for this styling. Apart from the fringes in the front, it is pretty much a conventional classic style to wear your hair.
It is one of those styles that will always keep you a step ahead of peers and give you the much need edge on beauty and grace.
When you step outside with these light blonde hair and the deep green eyes nestled in between, it is hard to resist the charm of beauty beyond convention. I am sure you will be used to it by now.
Nothing complicated about this style, it is all about a cool countenance and a casual air around. Naturally, beautiful features do not need a lot of embellishments. This blonde hairstyle with dark roots is one of the best examples of the same.
This natural blonde hair is offset beautifully by the green eyes and makes for an extremely attractive combination. This is a style that you can carry well in formal as well as casual occasions.
But if you want the further emphasis of the green color, the ends can be highlighted with a green shade matching your eyes. It brings in a brand new dimension in cool and edgy hairstyling.
Hottest Brown Hair Color Ideas for Green Eyed Girls
For those who like to keep their hair rather simple, this top knot in dirty blonde hair perfectly complements the eye color. It is cool, casual and extremely easy to maintain.
Moreover, this is a style that can easily pass off as formal if you tie the bun a bit carefully.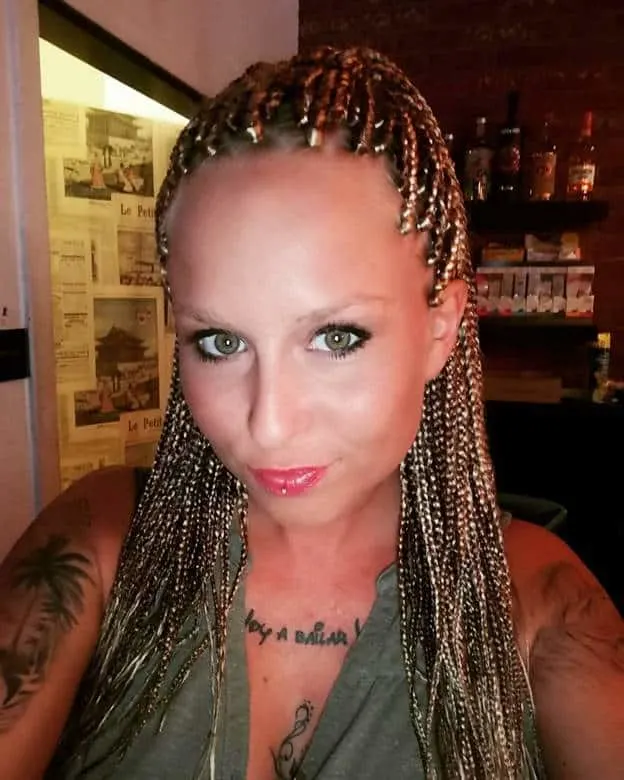 If you are a fan of elaborate hairstyles, then this is a style tailor-made for you. It is easily one of the best ways to show off the natural sheen and shine of the blonde hair.
It brings in a naturally bright glow to the whole face and highlights the delicate features to the hilt. It is, however, a style that suits Friday night parties the best.
When you have naturally good looking hair color, all you need is a style that highlights it. The long bob works brilliantly for this blonde balayage haircut.
When paired along with her green eyes, it offers just the right kind of background to show off the beautiful eye color in a meaningful way.
Most Unique Black Hairstyles for Green Eyes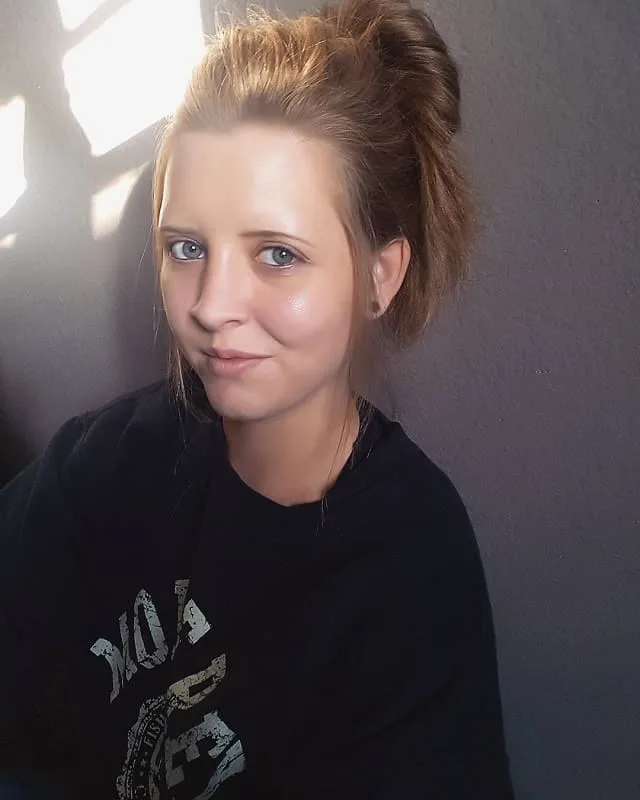 If you are comfortable in keeping your hair open completely, the messy bun offers a middle path for you. This again helps in highlighting the natural grace and glamour of the sandy blonde hair color.
It is also easy to maintain the style that does not require a strict care regime.
26. White Blonde Hair for Girl with Green Eyes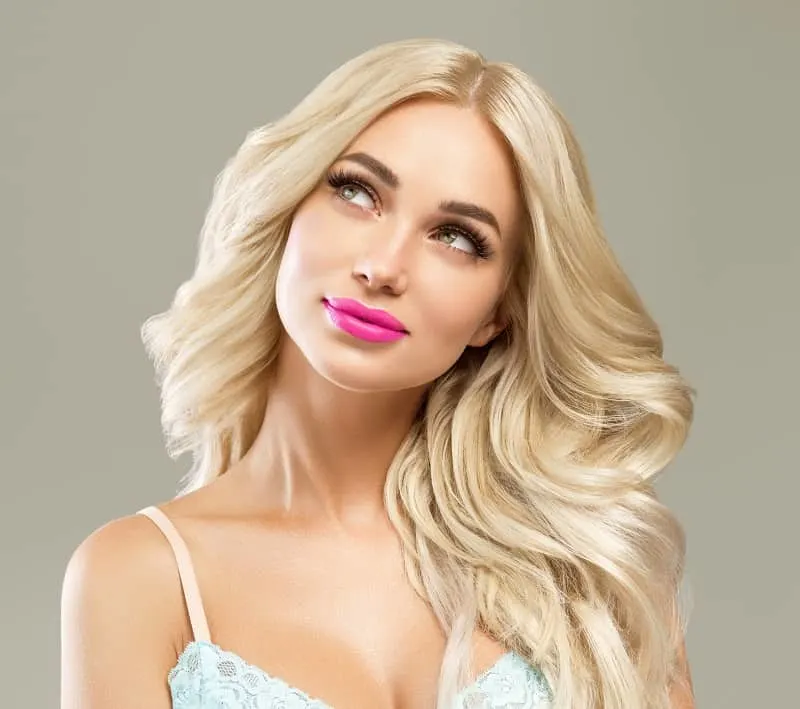 While it's not exactly platinum, white-blonde hair color is still pretty light. For a youthful look, add it long hair and comb in a center part.
27. Green Eyes and Sandy Blonde Hair
If your goal is a beachy girl-by-the-sea hairstyle, combine sandy blonde with long hair. Use sea salt spray and fingers to get these gorgeous mermaid waves.
28. Ash Blonde Hair and Green Eyes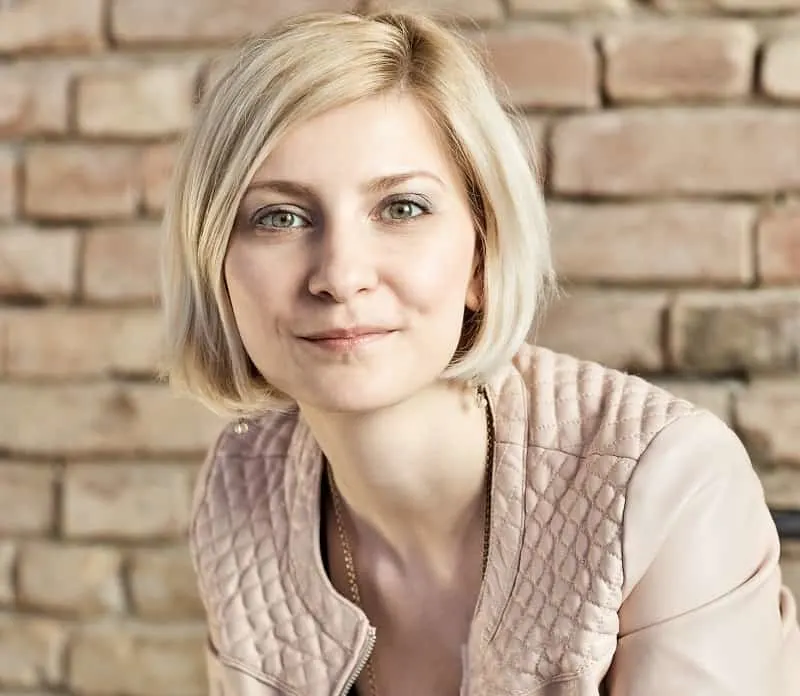 When you add ash blonde hair color to a short straight bob, you'll totally mimic Kirsten Dunst's cheerleader look a la Bring It On.
29. Light Golden Blonde Ponytail
Make a statement look for your green eyes with a long wavy ponytail in light golden blonde. Flat iron bangs straight and part them in the middle for softness.
30. Beach Blonde Hairstyle
Beach blonde mixed with warm golden blonde is a stunning combination for green eyes, one that will look amazing on long wavy hair parted in the middle.
Conclusion
Green eyes with blonde hair is a match made in heaven, but for the style to come out well, proper execution is important. That is what will bring out the true essence of the styling.
Natural and simple styling is the buzzword when you are dealing with such absolute and naturally complementing elements. All of it together makes for a compelling style that will always stand out.
Frequently Asked Questions
Here are the answers to some of the most frequently asked questions about blonde hair and green eyes.
Where do blonde hair and green eyes come from?
The pigment amount your body produces determines the color of your hair and eyes. Your genetics control this. Hair with less pigmentation will appear blonde, while the irises of the eyes will appear blue or green.

Green eyes and blonde hair color are more common traits in Scotland and Northern Europe, but this feature appears throughout the world. For instance, a high concentration of people with green eyes and blonde hair exists in Liqian, China.
How rare are strawberry blonde hair and green eyes?
Strawberry blonde hair and green eyes are a rare combination. Only 2% of the population has green eyes and only 4% of the population has blonde hair, creating a 0.08% chance probability of someone having both these traits.
What colors suit blonde hair and green eyes most?
Many colors suit blonde hair and green eyes. Rich jewel tones will emphasize the drama of your features, while red and purple shades can help enhance the green in your eyes.
What blonde shade goes well with green eyes?
Warm shades of blonde look best with green eyes. Look for strawberry blondes and honey blondes when selecting a hair color to go with green eyes.
You May Also Like