Side bangs are the black turtleneck of hairstyles; everybody looks good in them. How you wear them specifically, however, is completely up to your face shape and personal style.
As for layers, this style makes little sense without this cohesive feature that leaves your hairstyle feeling pulled together and chic. This haircut has so much flair and requires little effort, so for women who lack daily dedication to styling, it's a must.
Layered Side Bangs
Below are 35 gorgeous layered looks with side bangs to suit every individual style out there.
1. Medium Straight Hair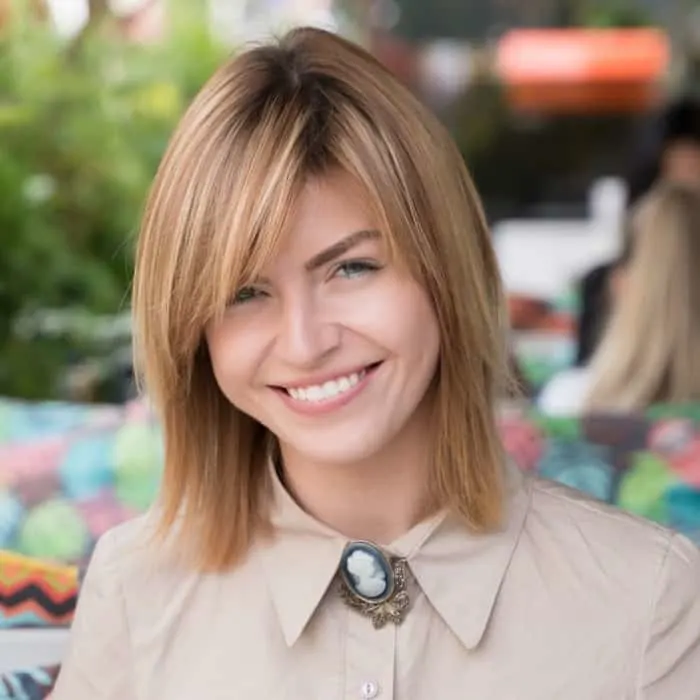 Medium-length blonde layered hair with side bangs works as a transitional style or as the main event of your look. Soft, face-framing layers pair perfectly with long side bangs that feed into the rest of the hair.
2. Textured Inverted Bob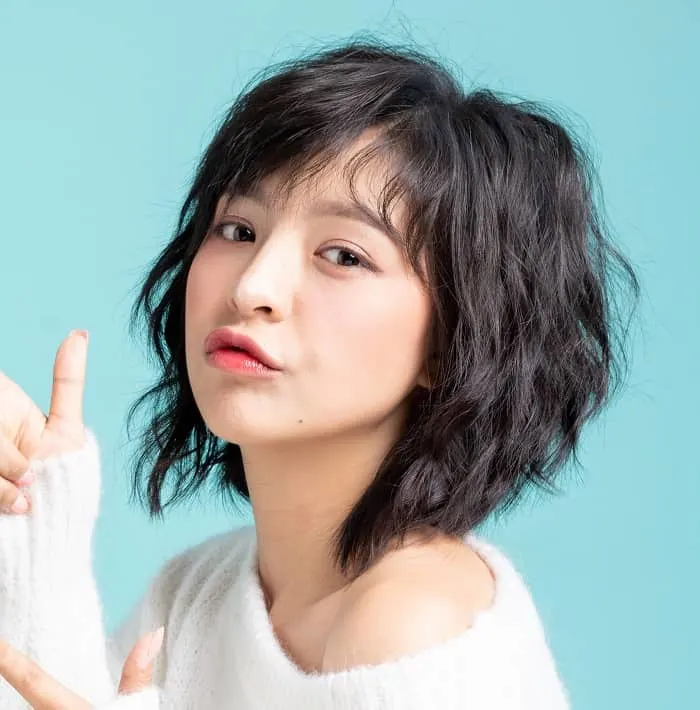 Break up the bulk of thick asian layered hair with side bangs on a subtly inverted bob. Layers should be shorter on the outside of hair and the longest point should be at the collarbones. Sexy, piecey side bangs finish off the look.
3. Rounded Bob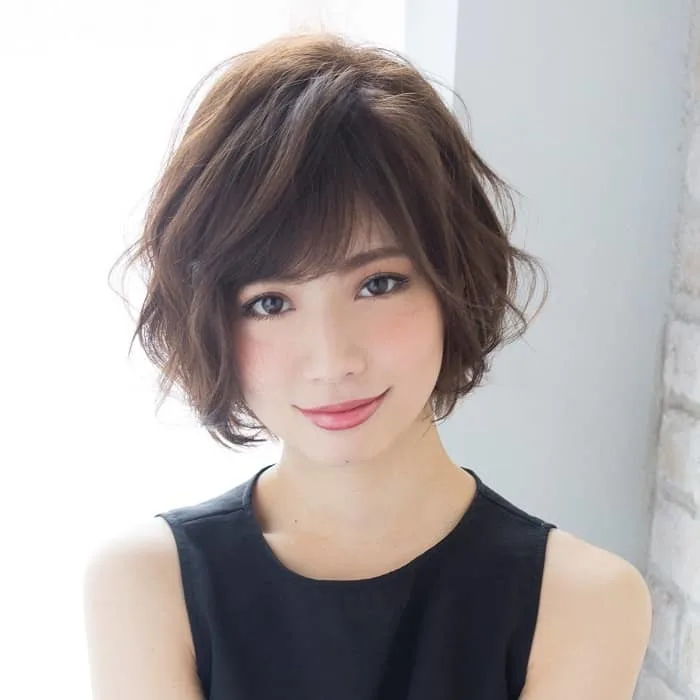 Lovely on a sweet face, layered side bangs for round face enhance the look of a rounded bob. To keep it from looking cartoonish, give hair tousled waves and create height at the crown of the head when blow drying.
4. Long Layers
Don't get us wrong, we love lengthy straight locks, but long layered hair with side bangs adds so much to a rather simple look. Ask your stylist for long layers to mirror the stylish effect from pretty, framing side bangs.
5. Punk Style for Thick Hair
Express your rebellious side with this cool, thick layered hair with side bangs look. Hair should be thickest at the top of the head while long and sweeping side bangs are cut down to the cup underneath the cheekbone. Hair should thin as you move down the head.
6. Choppy Layers
If your hair is neither thin nor thick but somewhere in between, then this choppy layered hair with side bangs is for you. Layers cut all around the hair add energy and movement to locks that would fall flat otherwise.
7. Rounded Lines for Thick Hair
Super thick yet straight hair becomes magical with loads of face-framing layers. A deep part and sweeping side bangs feed into this style like a charm, all while maintaining a sleek and stylish feminine feeling.
8. Triangle Long Bob
Ladies with small faces should consider this shoulder-length layered hair with side bangs. A triangular shape helps to add weight to the top portion of the face where you could use a little more attention.
9. Curly Bob
This pulled-together style is perfect for any woman, but especially for the professional babe. Sweeping side bangs conceal a large forehead and soften an oval or oblong face shape. Add delicate curls to your long bob for a truly feminine vibe.
10. Long Layers for Thin Hair
Long hair can be counterintuitive for thin hair as makes it look stringy and limp. Incorporating strategic layers, however, fill out hair where it's lacking.
Side bangs also add to the feeling of fullness, especially as this portion frames the face. Styling tip: use a round brush when blow drying for oomph.
11. Side Bangs for Aging Hair
Even aging hair can rock this stylish look. In fact, layers are perfect for hair that has grown more brittle as it grays. They can be cut to maintain but also to conceal breakage. Side bangs have an instantly soft, youthful effect.
12. Bombshell Blowout
This hair looks so soft and touchable. A sleek blowout is totally sexy and stunning on long, healthy hair and thick side bangs. This fringe should hit the top of the cheekbone for the best face-framing effect.
13. Layered Balayage Bangs
To brighten and help open up your face against thick bangs and flowing long locks, add balayage highlights along the outermost portion of the fringe and strategically throughout hair. This light and bright effect has such a natural feel.
14. Choppy Baby Bangs
Even baby bangs can be cut on an angle. In fact, they should be if you desire a softer appeal for your face. Cut them short and with lots of layers for added height and an artsy, hipster vibe.
The long bob, also known as the lob, is nothing but a combination of the bob cut and long hair. Add side bangs to this layered hairdo and you have the chicest hairstyle in town!
This hairstyle adds a little playfulness to your overall look by making your face appear slender and long. They accentuate your eyes better by successfully drawing attention towards the upper portion of your face.
Being perfectly crafted for formal events, the low messy bun hairstyle which complements the best features of your face depending on your face type. For this layered hair with side bangs style, you need to use a curling iron and a bun-maker to create soft rings as curls.
Make a tight yet messy bun just at the base of your head right above your neck and let loose your bangs at the side. You may use a hair spray to keep your stray hair in place.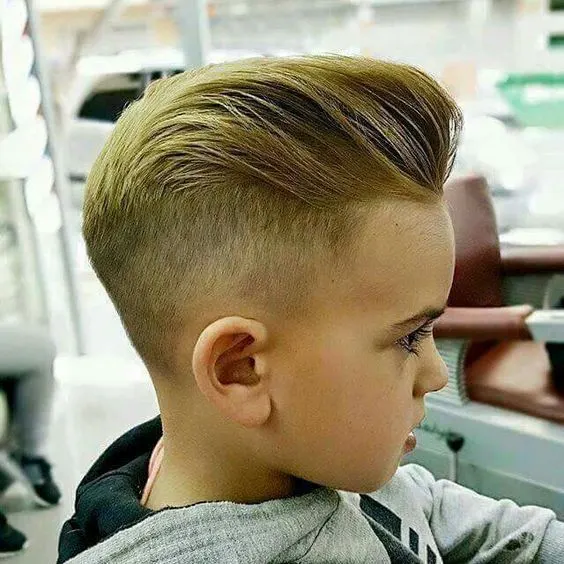 Using a curling iron, just curl the side of your hair and shape them into soft curves that hang loosely around your face.
If you have sharp features, these will soften them. And if you have a round face and more curved features, these bangs will add a little depth to your overall look.
18. Wavy Bangs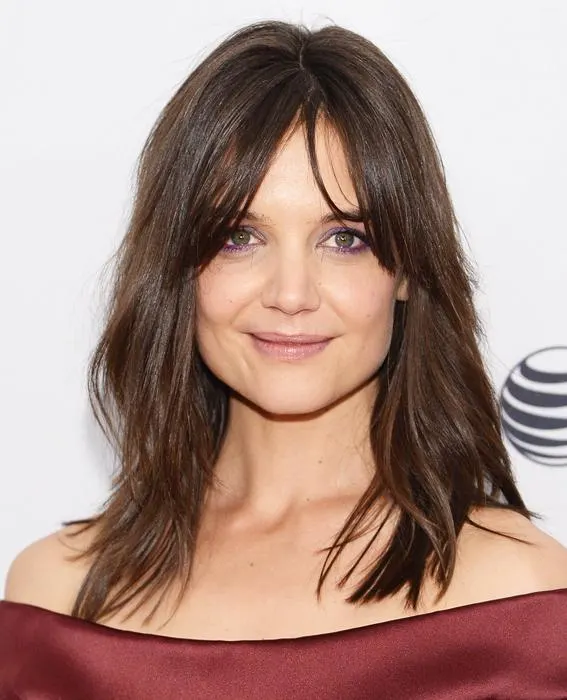 Wavy hair has plenty of perks of its own. Add to it side bangs with layers and you've one of the best hairstyles that you can rock for a beach-day-out!
Not only that, include curly ends to this hairdo and you'd have instantly amped up your chic look for the day.
19. Coloured Hair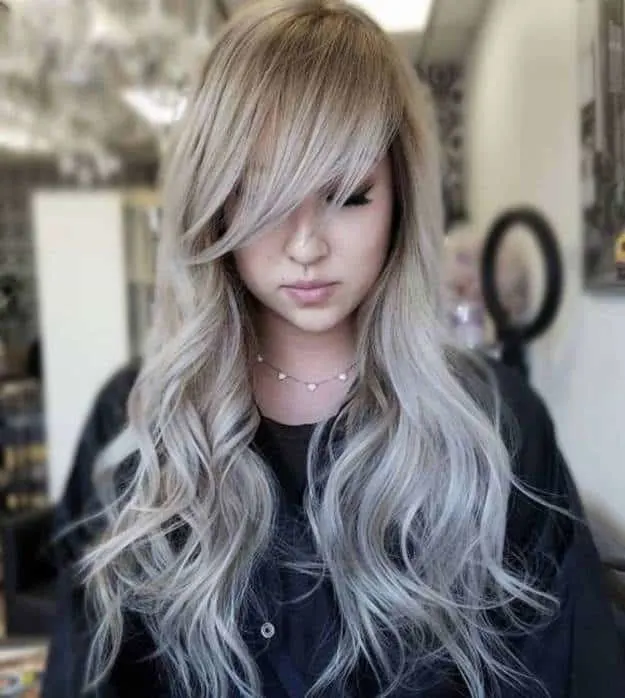 Go for hues 2 shades lighter or darker than your natural hair color. Once this happens, you can style your long hair with side bangs and layers as you wish or even let it loose.
This not just makes your eye color stand out but also brings your jawline and cheekbones into the limelight thereby enhancing your features better.
If you have long and deep side-swept bangs, a fishtail will work exclusively well on your face. This hairstyle is designed for a diamond or square-shaped face making it appear longer.
For this side bangs with layers look, leave out your bangs freely on the side while the rest of your hair makes its way into a side fishtail braid.
In simple words, this hairstyle has one side of hair shorter than the other. Asymmetrical hair is all the rage these days. It is completely customized to your own length and side preferences.
In addition to that, an asymmetrical layered haircut with side bangs gives you face a lateral depth bringing attention to your eyes and mouth. This works best if you're looking to create a long face with side bangs.
22. Roughened Short Layers
This layered hairstyle with side bangs, simply put, is short layers creating a tussled and ruffled overall look being complemented with a pair of side swept bangs on either side of your face.
23. Blunt Cut With Deep Side Bangs
A blunt and choppy haircut coupled with layers and side bangs works amazingly well for naturally long and square-shaped faces. For people with a round face, this hairdo puts your forehead and jawline into the limelight.
Dyeing your hair a trendy hue, especially the bangs, also adds a little mystery and carefree look your overall style and gives out fashionable vibes around you.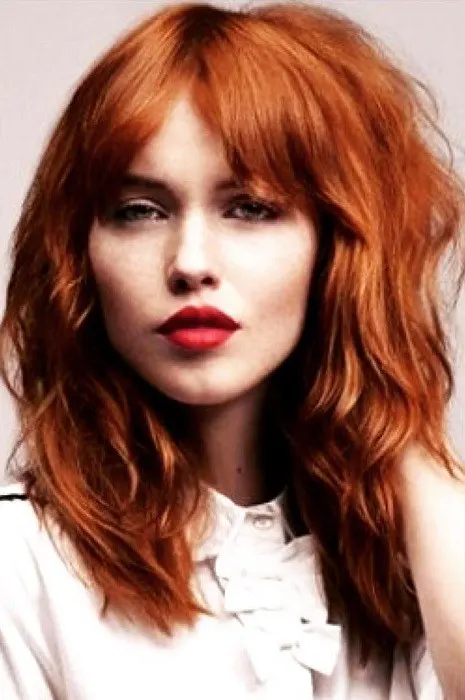 All you need is some hair serum and a mild blow dryer to achieve this party-cum-casual look. If you have side bangs, just part them at the center and let your hair fall freely on the sides of your face giving it a soft and subtle look. This hairstyle looks cute for an evening occasion, a casual party, or even just for the beach.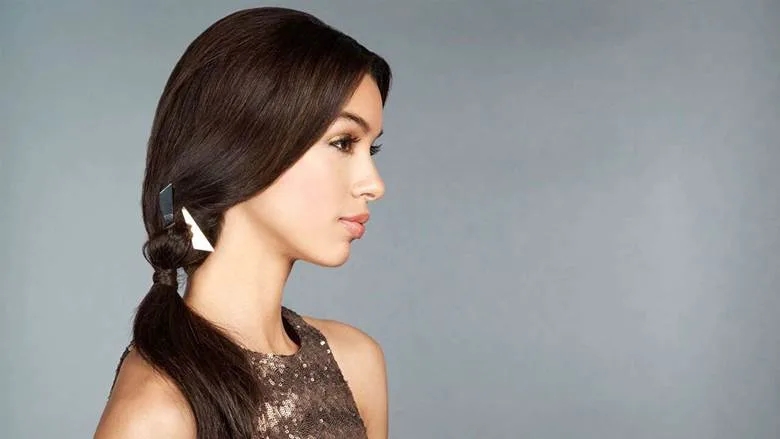 A half pony sits beautifully well with side-swept bangs, especially long ones. If you have an oval or round face with broad jaws, this hairstyle will complement your strong features especially well by completing it with soft, long layered hair with side bangs falling delicately along the side of your face.
Clip the rest of your hair into a hair tie and you're good to go!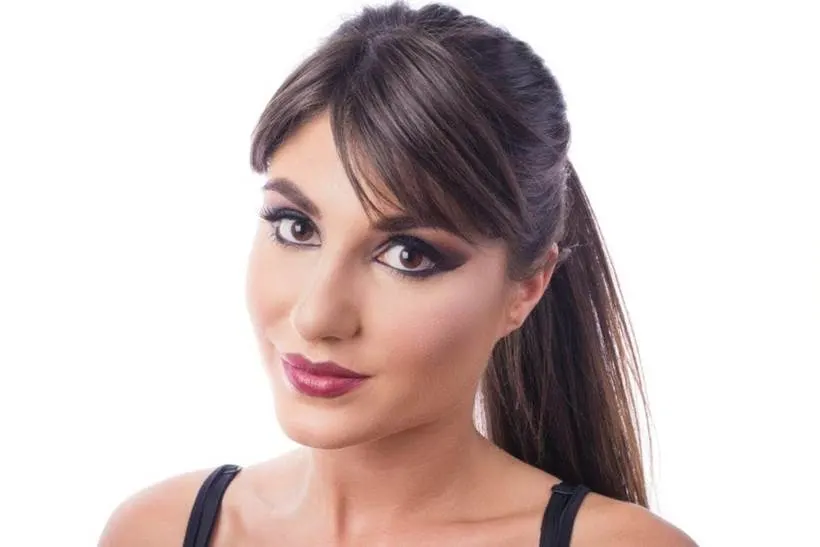 A high ponytail works great for both casual as well as formal occasions. This is the best side bangs with layers hairstyle for people with a broad and long forehead.
A high ponytail with bangs falling delicately on the side adds a little softness to your forehead thereby enhancing your feminine features. You can even pin the bangs loosely on the side with a hair clip to avoid inconvenience.
27. Low Pouffe Pony with Side Bangs
For this long hairstyle with layers and side bangs, allow your bangs to fall naturally along the side of your face while you pull the rest of your hair into a low ponytail.
The variations include making a side pony, puffing up the pony, creating a messy party-look, or using a few locks of hair to wind them around your hair tie.
28. Side French Bangs with Straight Layers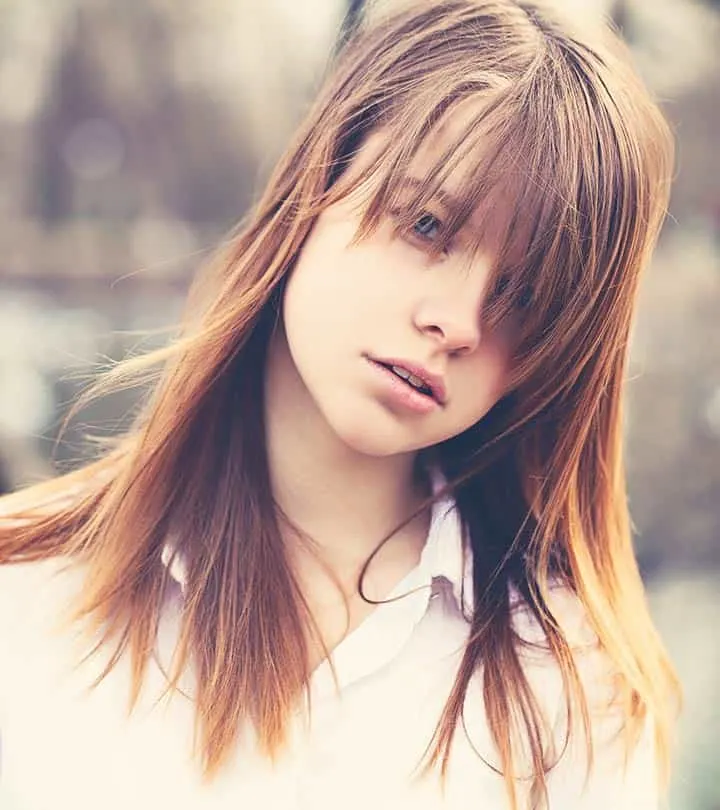 Brownie points for this side bangs with layers hairdo if the maximum length of your hair falls below your shoulders.
Let your bangs delicately graze the top of your eyes and cheekbones while the rest of your hair falls straight softly alongside your face up to your shoulders.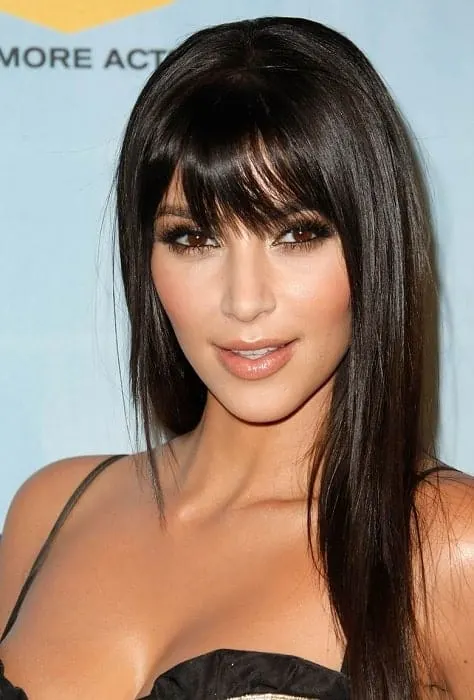 For this, you need straight hair. If not, you can heat style it is using some leave-on conditioner and after-shower serum.
Brush your hair and gently blow dry it until it's smooth and evens out. Sweep your blunt or wispy bangs on the side of your oval or long face for an instantly chic look!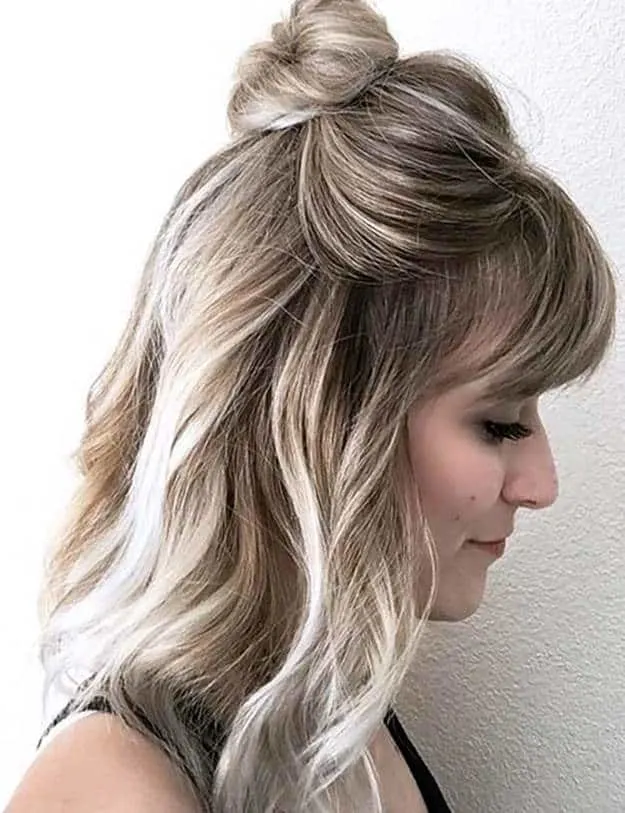 Top-knots are 'in' these days. Couple them with layered hair and side bangs grazing across your forehead and face.
Use a mild hair spray to keep your bangs in place while your stylish and dyed layered hair held in a top-knot does the job of making you stand out!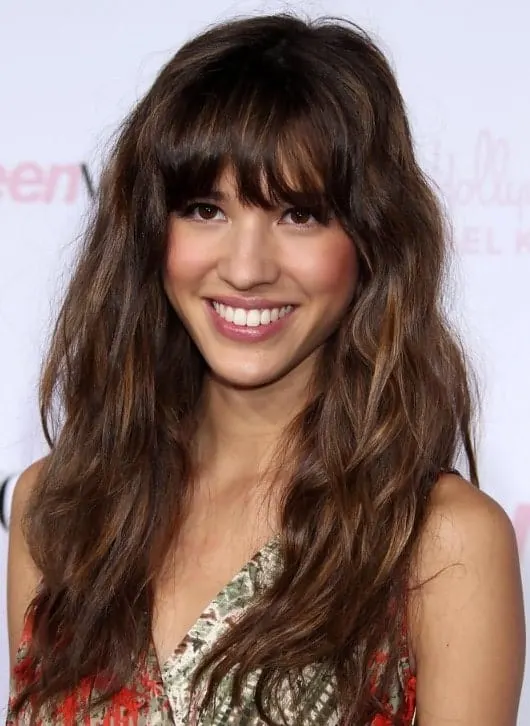 Tight ringlet curls sure do appear beautiful, but nothing beats the look of loose curls accentuated by long layers and side bangs.
These are just what you need to amp up your face. And day! The longer your hair, the better this hairstyle will suit your face, especially if you have a long or sharp face type.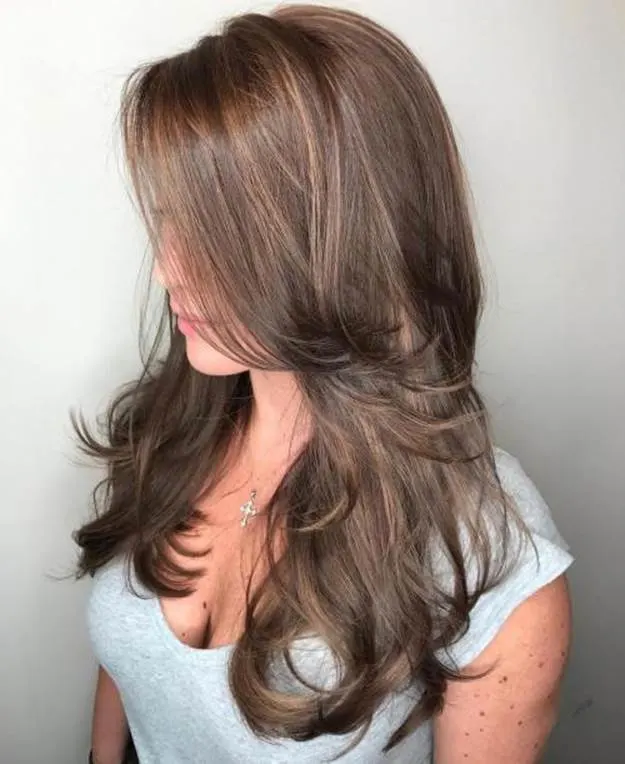 Long layered hair with side bangs style works the best especially if it is feathered & if there's a pop of funky color in them.
Better still, use a curler or a blow dryer with a curved brush and give your bangs a soft curl so that they fall near your jawline.
33. Puffed Up Bangs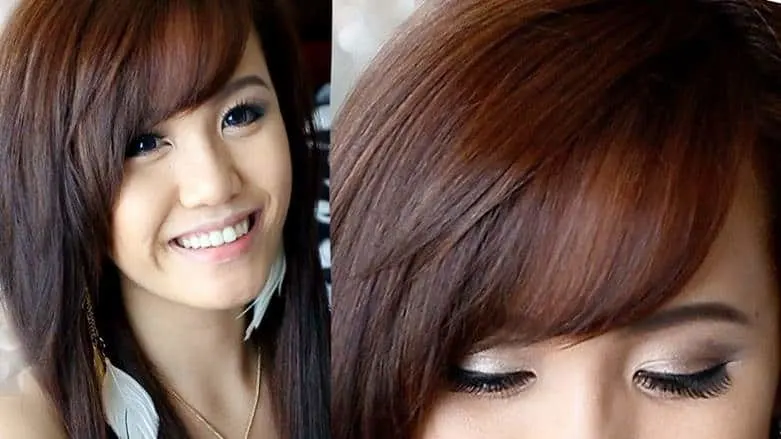 For this side bangs with layers look, take the most of your middle bangs, pouf them up, and place them across your forehead. You can now leave your hair open, make a pony, or tie it up in a messy braid.
34. Fine Layers with Voluminous Bangs
As the name suggests, this style brings maximum attention to your side bangs since they boast of a good volume of hair. The rest of your hair is chopped into short and fine layers that only complement your overall look.
Wavy hair might seem impossible to manage, but the layers can do the job. Classic wavy bob with side bangs and layers makes this look complete.
How to Style Layered Hair with Side Bangs
The first step is to understand the face type you possess. Square, oval, diamond, round, long, and heart shape are some of the brad categories your face type must fall into. Post this, decide what type of layered hair with side bangs accentuate your strong facial features better.
For example, if you have a sharp and defined jawline, you might want to soften it a bit and draw attention to the upper portion of your face. Seek help from a professional to understand what kind of side bangs suit your layered hair, and then move accordingly.
Short Hairstyles With Layers and Bangs
Styling your hair is an art. And you'll take practice before you start pulling off this artsy look. Especially if you have side bangs with layers. Having said that don't limit your style to only the above-mentioned layered hairstyles with side bangs.
Create a mix and a unique style of your own, play around with your hair and hair colors, and you'll never again have to go with just a boring and mundane look each day!
FAQs on Layer Hair and Side Bangs
How to frame my face with layers?
Let your layers loose by the side of the face. It is best if you curl them softly and create a ring shape to accentuate your facial features better.
Which face shape is perfect for side bangs?
An oval face is the best face shape to pull off side bangs with layers. Shorter bangs work better for long faces while long and deep bangs are meant for square and triangle faced girls.
Do I need to use hair products to keep hair in shape?
It is better if you use a curling iron and hair spray if you're going to pull off that look for a long time. It will help keep your stray hair in place.