Flat top fades are becoming immensely popular among men as they appear to be the first choice to come in mind nowadays. Nevertheless, the history of flat top points to the hairstyle as worn mainly by black men, be today's view has changed that. It is now a popular option amongst all men folks, and they seem keen to embrace it.
What Is Flat Top Haircut
The term "flattop" refers to a type of short haircut with hairs on top of the head are typically made to stand upright and cut to form a flat-looking deck. The deck may come in levels or may assume the downward or upward slope. The flat top haircut is popularly known for its flat hair layer across the head top.
It typically has sided with high skin fade, and the top taking a box or rectangular shape dependent on how high you wish the hair to be on top. Such designs have made the flat top hairstyle take other known names like box fade and high top.
The flat top usually represents two types of cuts, the longer hi-top fade, and a short flat top. Its angular cut regularly makes it stands out, irrespective of its modern use. It still finds relevance in its hip-hop roots and military background. The haircut remains popular for straight hairs, doing a curly flat top fade cut is always a possibility.
Suitable Fade for Flat Top Style
The beautiful flat top fades offer a leading variation that is usually gaining popularity from its hip-hop roots. The fades that are suitable for flat top style include:
Black Faded Flat Top
Fade with Flat Top Haircut
High Top with Faded Sides
Full High Top with Faded Sides
How To Style Flat Top Fade
To design and maintain the flat top fade hairstyle, you would need top-quality hair products and time to achieve this. A high curly fade with flat top hairstyle may be more tough to style, so ensure you own a hairdryer and a strong-hold product. To style a flat top fade hair, the following directions are to be followed.
Begin with damp to towel-dried hair.
Start working with the application of small product size while pushing the hairs up.
Apply brush or comb through your hair up and back.
Use a hairdryer where required, to improve hold.
For curly hairs, make use of some high-hold styling product to maintain the neatness and sleekness of the style.
Watch The Following Video about How to Do Flat Top Fade Hair 
Best Flat Top Fade Hairstyles
The flat top fade haircuts always live up to its hype. The haircut styled to stay up vertically to form a flat deck can be leveled to slope down or up. The flat top and fade could have angled sides, rounded edges, or even straight sides. It is always a classic style yet ageless that guarantees the look good feeling. Below are the best 10 hairstyles for men available today.
1. Angled Front Flat Top
The angled front flat top with zero fade offers a precise angle above your head, and a fade cut to highlight the difference.  This flat top fade hairstyle blends in two types of haircuts to deliver a perfect outcome.
2. Asymmetric Top
The asymmetric top offers an artistic and funky look. It takes a modern approach to provide a flat top fade hairstyle. You can go for a nice asymmetric cut that leaves you with a spectacular look.
3. Black Faded Flat Top
The black faded flat top is, without doubt, a distinct haircut that suits every man out there. It takes advantage of using our natural textured hair. It is also much easier to maintain and reuse for a more extended period.
4. Bald Fade
The clean flat top with fade has a long middle patch with clean sides that feels edgy in every sense of it. It's a unique style with bald fade and beards that also allows the addition of different hair designs.
The flat top Hawk offers new and different essentials to be added to the flat top fade haircut. It uses a combination of flat-top and low fade undercut style. The long mid-section provides a nice contrast to side parts.  The flat top hawk is always some style to try out!!
6. Flat Top for Light Brown Hair
This flat top for light brown hair features a hairstyle that is fit for men with light brown hair. With it, you get a flat top fade that is fashionable enough to get you glowing all day.
The mini faded flat top hairstyle uses completely shaved sides parts and a top section that allows a low cut. The mini flat top with fade hairstyle remains a top style and is indeed easy to maintain!
8. Flat Top Fade with Line
The modern flat top hairstyle with a line on side applies a technique that makes the most out of short hairs that's not too thick. Without any form of a resort, this flat top fade style can work with dye tricks and other color altering process.
9. Precision Flat Top Fade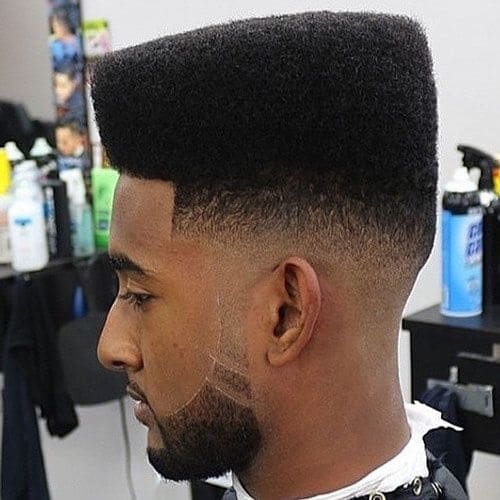 This is amongst the best flat top hairstyle with shadow fade that parades a skillfully cut off the flat top. Above the forehead, it also creates the perfect right angle.
The part offers a better flat top hairstyle to stand out with different personalization for the flat top fade with part hairstyle. The addition of a side part to this flat top haircut leads to social outcomes.
The fabulous flat top with fade ideas gathered are the best 10 flat top fade haircuts for men that can make you stand out every time. The flat top haircut is no more a mystery, so ensure you select a style that defines your style, variation, and look best on you!