In recent years, mohawk designs have become very popular with almost every other celebrity getting one! There are many variations of the mohawk out there, which means you probably know at least one guy who has tried it!
The mohawk haircut trend has hit the hair industry by storm and barbers who are specializing in mohawk cuts have made a name for themselves by introducing unique twists. Keep reading to see the many ways to rock a mohawk!
Types of Mohawks
A simple mohawk can be displayed in a variety of styles and types, some of which are shown below: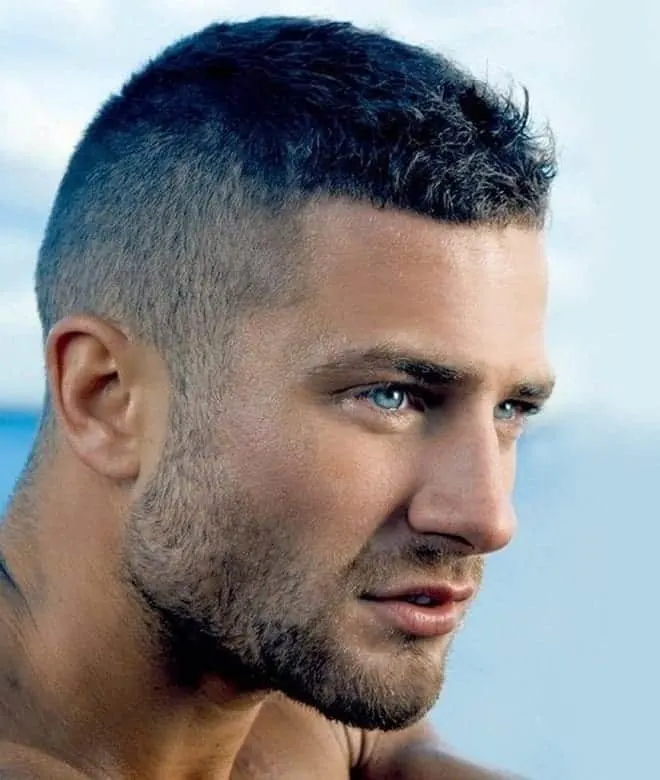 In a short mohawk, the hair at the front is very short and it becomes even shorter at the sides and at the back. The hair at the front eventually tapers off at the back to meet the length of the sides.
In a buzzcut mohawk, the hair at the sides is completely shaved off.
In a half-mohawk fade, the hair at the sides eventually tapers off so that halfway down the sides, the hair is completely shaven and only the skin can be seen. However, the skin doesn't show at the back of this type of mohawk.
High Fade Mohawk
In a high-fade mohawk, the hair starts to fade away at the top of the sides! This means that most of the sides are completely shaved off, revealing skin.
In a long hair mohawk, the hair at the middle of the mohawk is extremely long, so much so that it can cover your entire face! The hair on the sides is, however, pretty short, like a typical fade mohawk.
Funky Reverse Mohawk Hairstyles for Men
Best Mohawk Haircut Designs for Men
Here we have handpicked 25 best mohawk haircuts with the design for your next funky look.
1. Sides with Wavy Braids
Thin intertwined braids decorate the sides of a thin mohawk and trail down the neck. Draw attention to the intricate detail by adding jewels in between the braids.
2. Green Braids and Shaved Lines
This long braided mohawk is definitely not short on detail. Everything from the green coloring, smooth braids, and shaved web design on the fade makes this a style no one will be able to ignore.
3. Spiked Hawk
Looking for a more punk, edgy style of mohawk? Even without the tattoos, a bald fade is a great way to get a statement style. The spiked top should be a short length to stand up easily without a lot of product.
4. Multicolored with Side Design
Dark blue, light green, and yellow are three colors that look amazing on a mohawk. If you want to be able to play with texture, opt for a thicker strip of hair down the middle that you can shape with fingers. Use the sides to rock a cool shaved design or scene.
5. Dreads with Line Design
Black men who like twists or dread hairstyles should consider this style of mohawk, which features a man bun of blonde dreads. Start with tiny twists or dreads to make a thicker top. Dress up the sides and back with curvy line designs.
6. Criss-Cross Pattern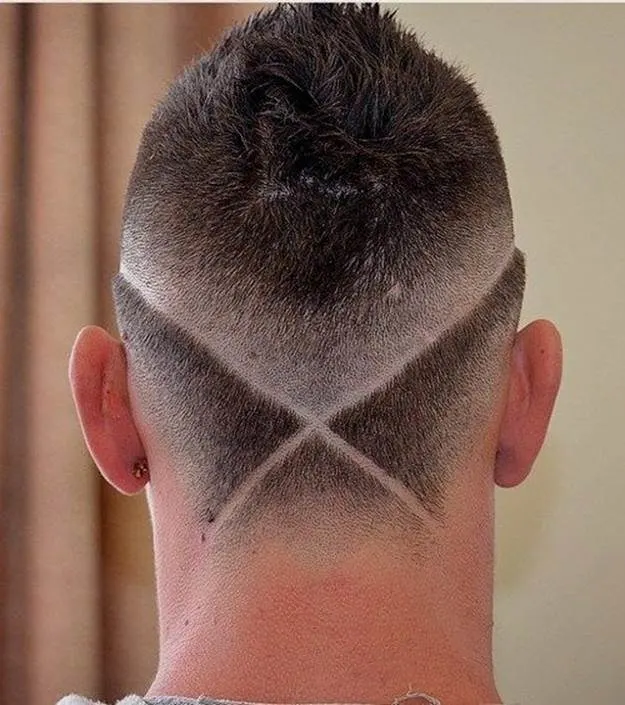 This Mohawk design with a cross at the back is a very unique and creative design! It's ideal for those who don't want a Mohawk haircut design that's too fancy. This hair design also allows for a pretty good symmetry to develop.
7. Z-Style Mohawk Design
This inverted Z-style Mohawk design gives a very sharp and crisp finish! The spikes with a dash of color only add up to the crisp look!
8. Tiny Double-Dash Design
This Curly Mohawk design with a tiny double dash gives off pretty classy vibes to your afro hair! This Mohawk for black men is easy to obtain and looks great.
9. Double-Line Mohawk
This is another double-lined Mohawk that looks stunning and is also very easy to obtain. It's a simple and decent haircut for men with a line on side! If you want a Mohawk but you don't want a design that's too strong or fancy, then you should go with this one.
10. Cute Airplane Design
If you love aeronautics, then this one is especially for you! This airplane design on Mohawk haircut is unique and it's something that's worth getting. After all, how often do you see a plane imprinted on someone's head?
11. Mohawk Pattern with Skin Fade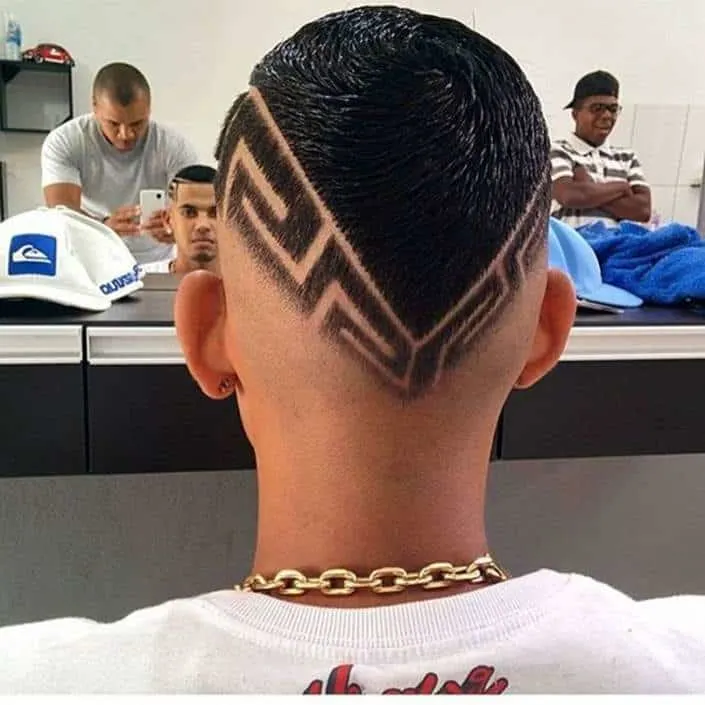 This Mohawk fade design is a geometrical design that is symmetrical on both sides. The geometrical design gives a very soothing effect and is great to look at! This design is a rather complicated design and isn't simple like the other ones listed till now. However, it's worth getting!
12. Star Mohawk
The star Mohawk haircut design is shown in the photograph above actually looks pretty great! It's a well-done design with sharp and fine edges. Indeed, the barber has done his job pretty well in this case! If love stars or they represent an important part of your life, you should try getting this star mohawk as well!
13. Tree Mohawk
This tree Mohawk design is an inspirational design and truly looks stunning. If you're an environmentalist or love nature, this design is especially suited for you. This design represents a lot and it's absolutely beautiful!
14. Spider-Web Mohawk Design
This is for all of the Spider-man fans out there! If you're looking to get a Mohawk, this taper fade with design should definitely be on your priority list! It gives a very classic and stylish vibe!
After Spider-man design, here comes out batman design! This Batman Mohawk design looks great and classy! If you're a Batman fan, you should get this Mohawk with design. It's also easy to keep up with and doesn't have complicated structures or designs!
16. Faded with 360 Waves
Another haircut for Black men that packs a lot of detail is this faded mohawk. It features waves at the front, a small ponytail at the nape of the neck, and a taper fade with various line designs.
17. Thick Spikes with Detailed Fade
A style like this will certainly take more time, but for men wanting a look no one else will have, it's worth it. The thick spiked middle is framed with faded sides. Choose a combination of thick and thin curves and straight lines for edgy contrast.
18. Wide Curly Mohawk
Afro hair or thick tight curls stand out handsomely in a wider width of mohawk. Detail up the sides with a thicker curved zig zag.
19. Green Curls and Shadow Fade
Light green color 'mists' the top of these short tight curls. A shadow fade with thin shaved lines is a creative way to help a shadow fade seamlessly lead the way to the mohawk.
20. Orange and Black
If you have black hair and you're open to an addition of bright color, we recommend orange. The less common color will no doubt help a short mohawk stand out, as well as the sharp line faded sides.
21. Spooky Ghost Design
Unleash your scary side with this ghost shape Mohawk design! It's an eye-catching design with slicked back hair that is bound to have everyone stunned. You might also be able to scare away your younger annoying cousins with this Mohawk design style!
22. Zigzag Mohawk Design
This Mohawk haircut design is indeed eye-catching and looks pretty stylish! This curly high top fade hairstyle is a pretty good option for men.
23. Leaf Mohawk Design
This fierce leave design on Mohawk combined with a full beard gives a fierce and bold look! This undercut haircut gives a very masculine look so if that's what you're aiming for, you should definitely try this one out!
24. Nike Mohawk Design
Become an unofficial brand ambassador for Nike with this Nike Mohawk haircut design! If you're a huge Nike fan, this one's for you!
25. Waves with Low Skin Fade
Where there are various Mohawk designs, there has to be this Mohawk with design too, right? This one is for all the guys out there! This hairstyle will go well with low skin fade.
FAQs on Mohawk Haircuts with Design
How long does it take for the Mohawk designs to grow out?
Mohawk designs can grow out anywhere from 2 weeks to a month, depending on the growth rate of your hair! The faster your hair grow, the easier it will be for the Mohawk to grow out!
Which looks better, a Mohawk undercut or a Mohawk fade?
The Mohawk fade is the Mohawk in which the sides gradually taper off to become bald. On the other hand, in the Mohawk undercut, the sides don't taper off but become abruptly shorter!
Mohawk haircuts are a pretty popular fashion trend and there are so many different types of mohawks out there that it's impossible to list all of them down! If you've found yourself interested in getting a mohawk, choose your favorite design and then go with it!
It doesn't take long for a mohawk haircut design to grow out, so even if you do a risky mohawk, you can start over relatively quickly.
So, what are you waiting for? Visit your barber and ask for your favorite mohawk design!