Though thinning hair for men over 40 years are difficult to style but once managed and kept properly they give a charismatic and handsome look.
Turning 40 signals the end of thick lustrous locks and the beginning of a receding hairline and lifeless hair that refuses to behave. This, however, doesn't mean that you have to adopt a boring hairstyle.
Best Men's Hairstyles for Thin Hair Over 40
Here are some styling options for men over 40 with thin hair.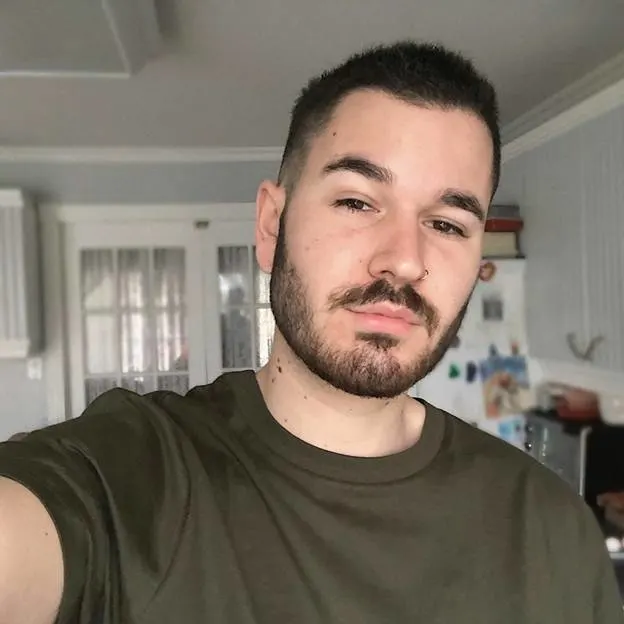 If you are dealing with baldness or simply love short hair you should definitely go for a buzz cut. It's a short hairstyle perfect for men with thin hair usually designed with electrical clippers. Men over 40 with thinning hair and a receding hairline can easily rock this look.
This classically masculine and low maintenance style looks great with a little salt and pepper in the hair. Men can couple it with beards and mustaches as well.
Perfect Haircuts for Men with Receding Hairline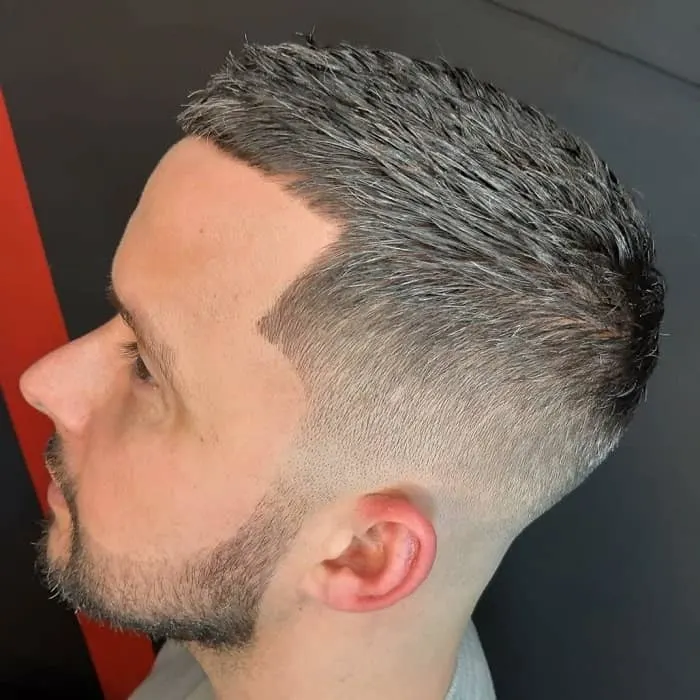 Because of its simplicity and ability to cover hair loss or a receding hairline, Caesar hairstyle is a great option for older men with balding scalps and thinning hair. This men's hairstyles for thin hair over 40 features a short length and is characterized by hair that is styled forward.
This is truly a no-fuss style that requires only the most basic of maintenance. It walks a fine balance between high fashion and a low key and is a versatile cut.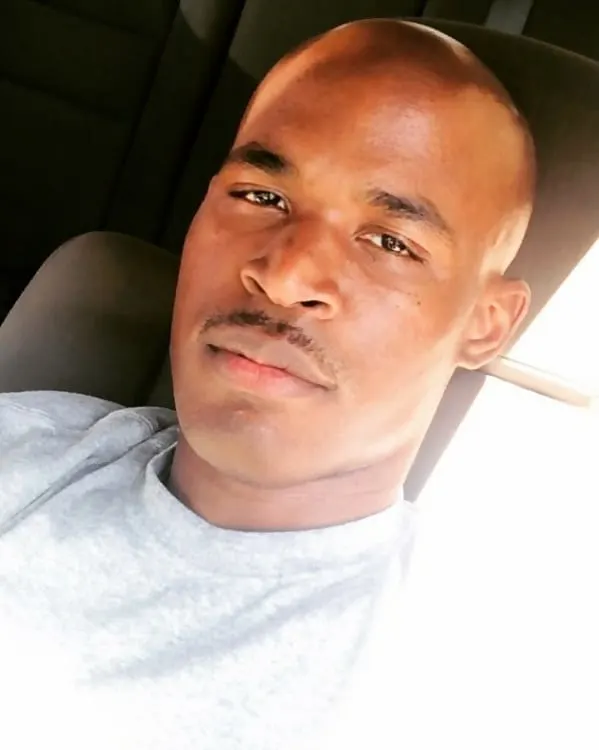 Congratulations gentlemen! Now you can turn your balding scalps into an impressive and stirring style. Men over 40 years old with thin hair or balding scalps should adopt a bald look. Combining the bald head with a beard will lead to an ultra-masculine and craggy look.
You no longer have to worry about balding genes and bald spots. No extra effort is required to style it, just get out of the bed and you are good to go. All you need is a premium quality scalp moisturizing cream.
Ideal Hairstyles for Men's Balding Crown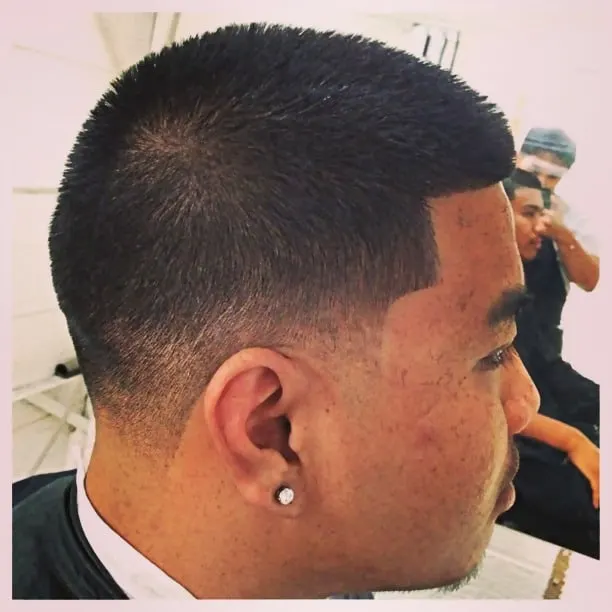 A timeless hairstyle, the ivy league has been in fashion for decades and is a superb styling option middle-aged men's hairdo. It cleverly blends an aristocratic look with an attractive and alluring look. A short ivy league gives men a casual look and is completely appropriate for formal and casual events.
This men's hairstyles for thin hair over 40 is very versatile and can be complemented with modern techniques. Its main peculiarities are a short cut back and temples, a neat parting, and an asymmetrical fringe. Low maintenance is a bonus feature of this haircut. All you need is a comb and some hair gel to keep the style intact.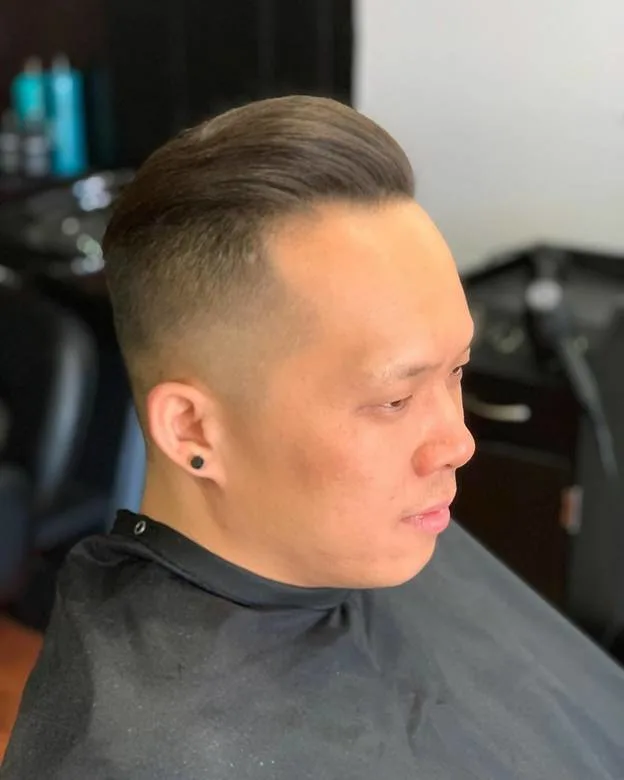 It is a perfect thin hairstyle for 40-year-old men who are willing to spend a few minutes working on their hair. The hair on the top is slightly longer than the sides and is styled in such a way that it gives volume to the thinning hair. The sides may be tapered or may have a fade or an undercut.
The pomp looks amazing when coupled with a side part. This hairstyle definitely requires a blow dryer and some hair product such as a hair spray or gel.
6. Thin Curls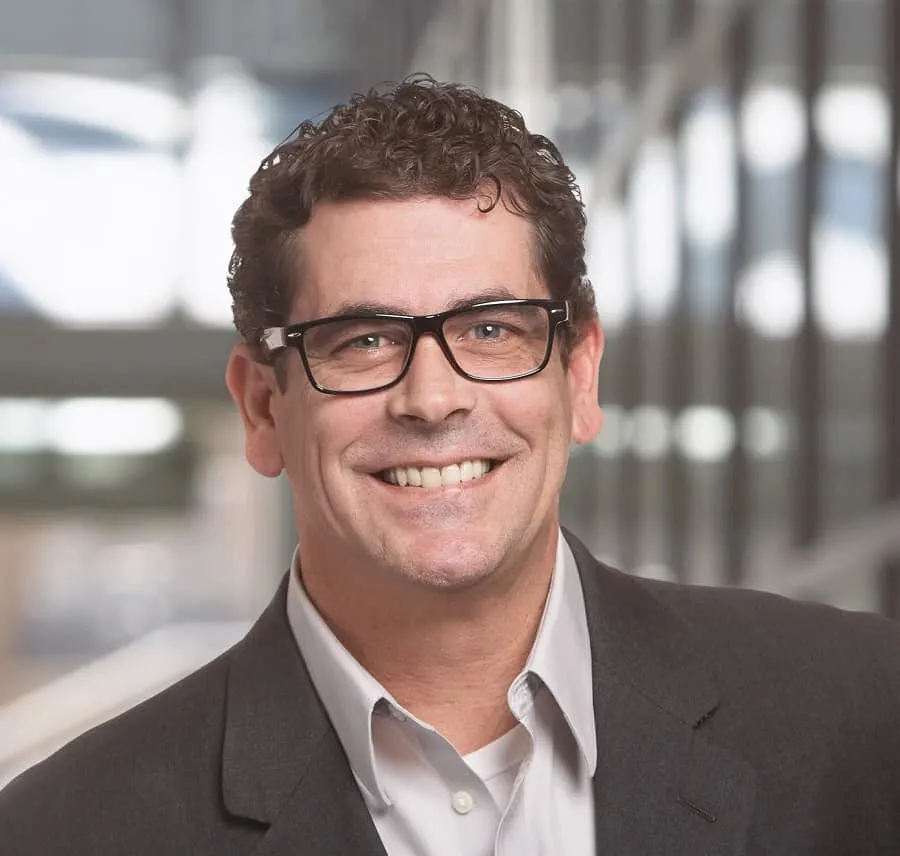 If you have thin curly hair, you may find it difficult to style properly, but with the right techniques, you can achieve a sleek.
You can just cut your hair short to medium and use a strong hold gel to keep your curls in place all day. It is great for men over 40 who have a big role in a corporate office.
7. Short Comb Over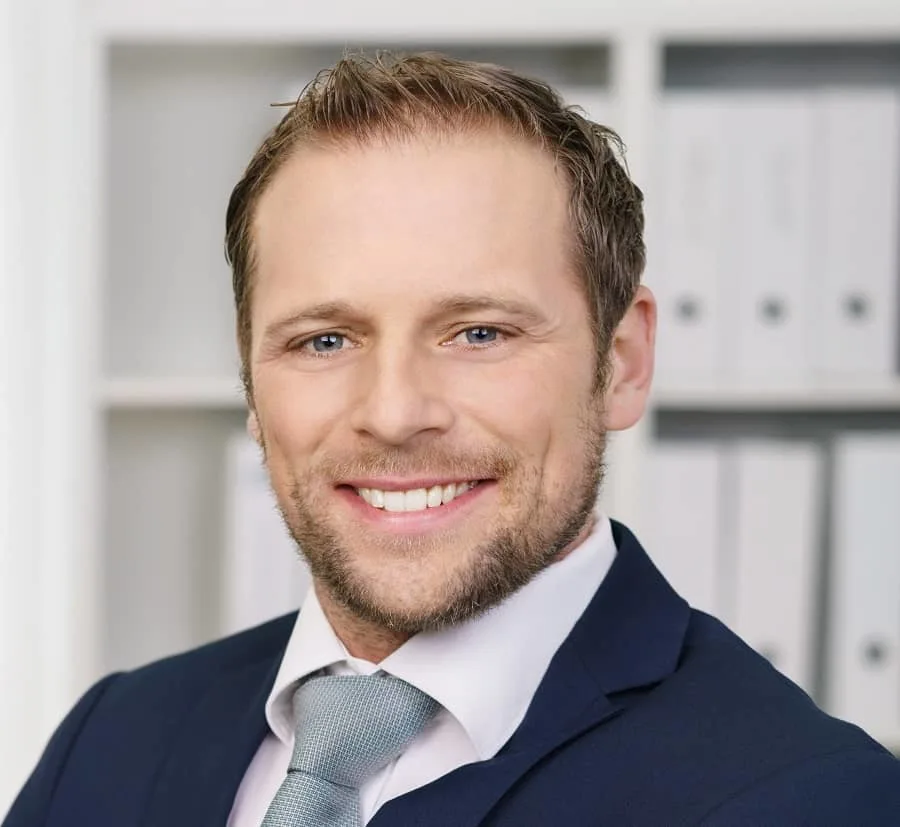 This style suits the guys who are losing their hair because it can add volume and depth to the hair. It can be achieved by using a medium-length comb, overlapping the hair at the top and across the forehead, and styling it into a high piled-up hairstyle.
8. Thin Messy Hair
As men get older, the natural hair on their heads becomes thinner. To style this, you can just keep your hair medium and don't comb or use any products. You can keep your hair messy to look younger.
9. Middle Parting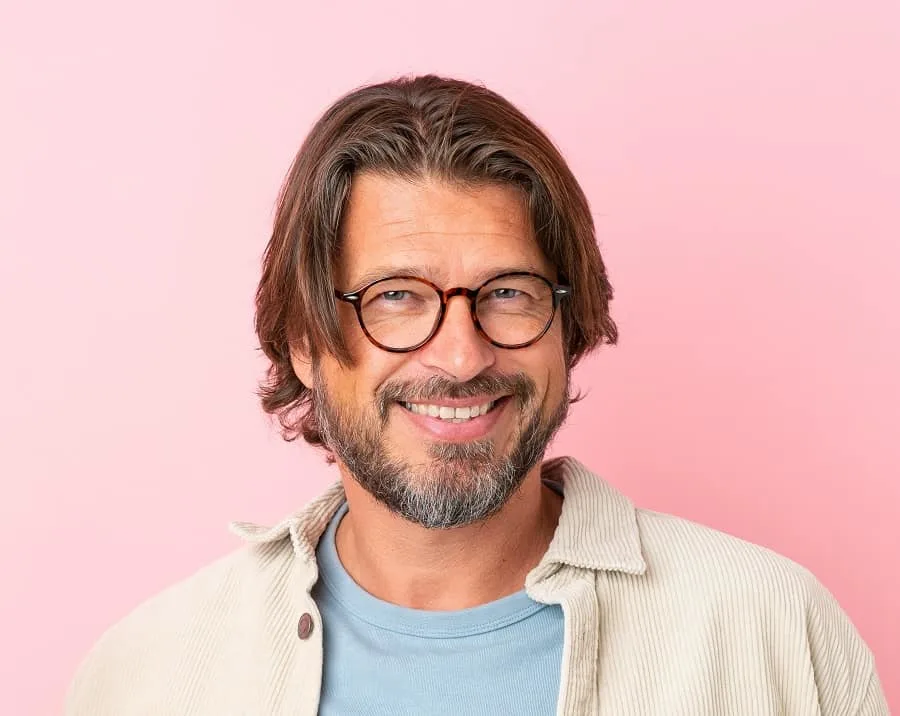 Medium thin hair parted in the middle is a good option if you want to keep your bangs looking natural. This style is perfect for men who want to maintain their style while having less hair on their forehead.
10. Burr Cut
It is cut very short, usually no more than an inch, and the ends are then carefully trimmed to create a smooth, even surface. This type of haircut can help to minimize the appearance of a receding hairline and make the hair appear fuller and thicker.
11. Long Curtain Bangs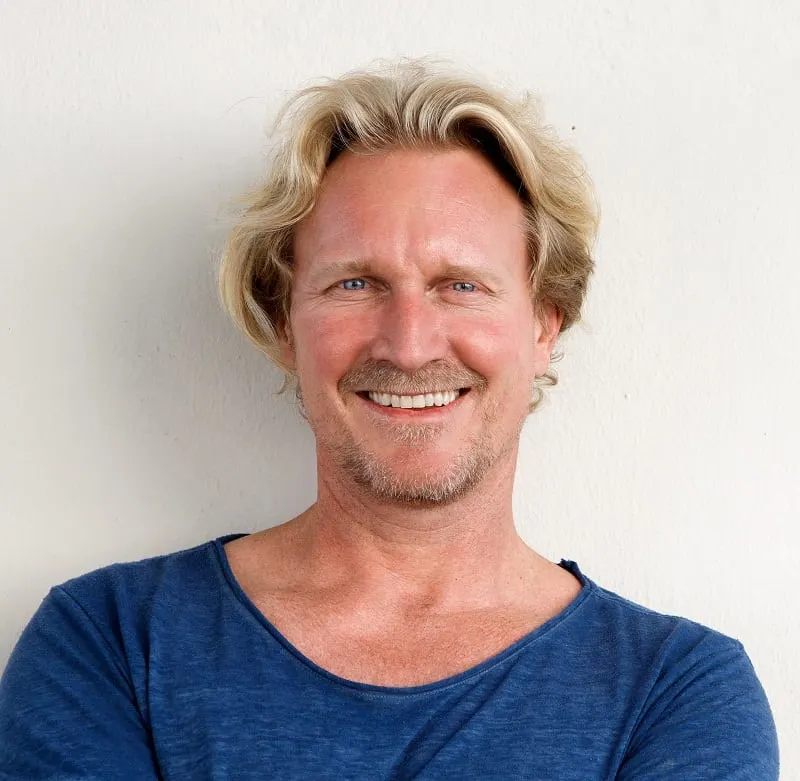 This medium-thin hairstyle for men over 40 is perfect if what you need is more volume. In the nape area, set your length because it will help you create a nice shape going from shorter one niche hair to about 4 inches at the top. The key to this haircut is to build a beautiful transition from the short back to the curtain bangs.
12. Salt and Pepper Look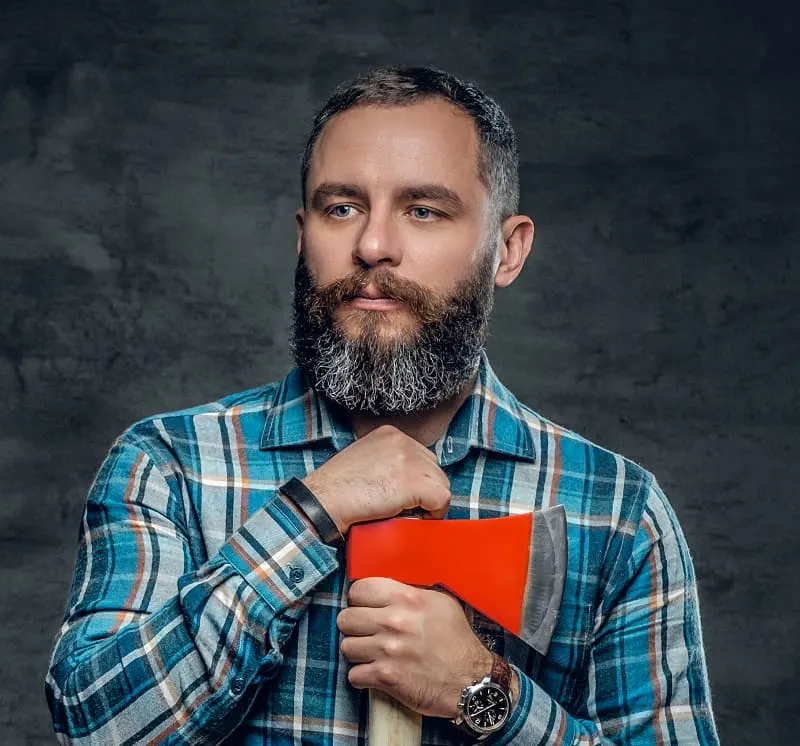 Among the best short thin hairstyle for men over 40, you will find this long buzz cut that looks fabulous with a rounded beard. Remember that fine and thin hair needs support, and the best way to get that is by using a volumizing shampoo, sea spray, or dry shampoo.
13. Short Quiff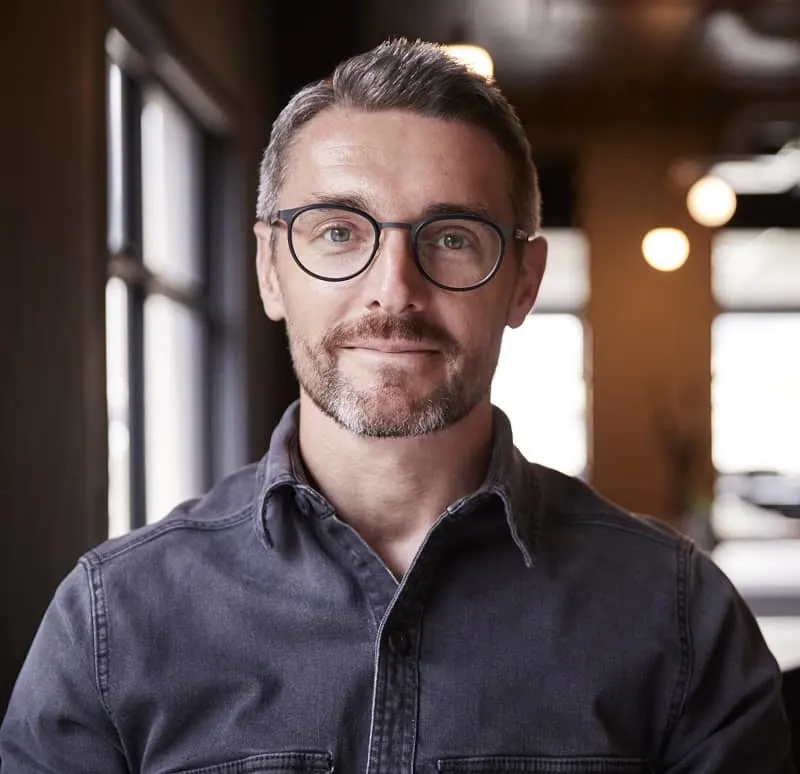 Sweep back the hair over your head and slightly direct it on one side. This long crew cut is one of the best options for you if searching for an over 40 thin hairstyle. It looks good with glasses and it de-emphasizes thin hair by reducing the level of contrast between the temples and the sides.
14. Side Swept Hair
Receding hairline is a common problem for men over 40 with thin hair. A side part hairstyle will help you draw all the attention away from those bald corners of your forehead. It is versatile, and you can also transform it into a high Pompadour comb-over.
15. Tapered Sides and Long Top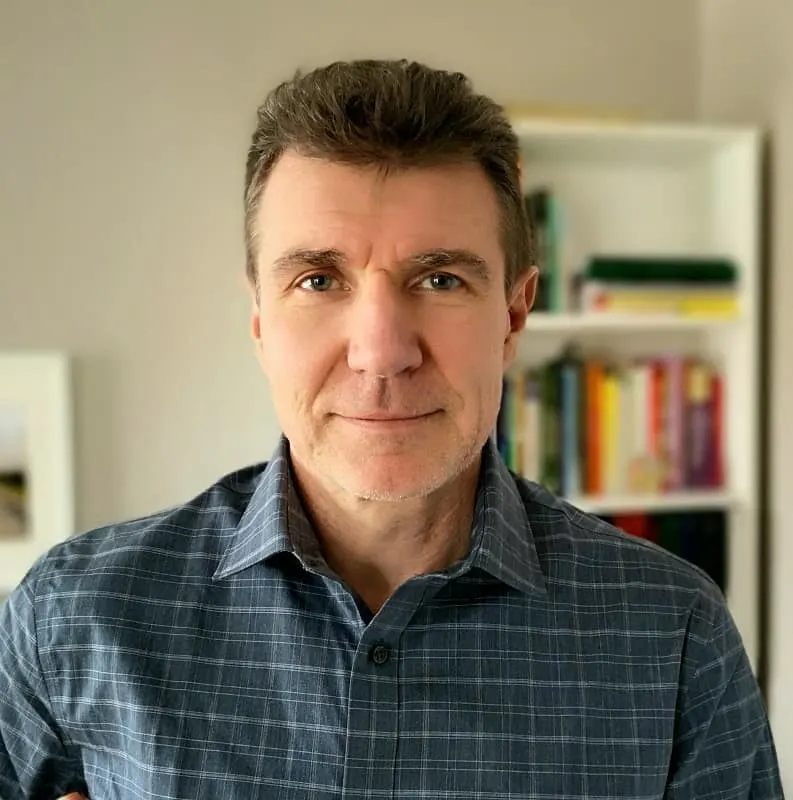 Use the clippers for the sides and get a tapered fade, while for the top, you will need to create more volume. Using the blow dryer will give you that most wanted dimension. Remember that you must avoid hair gel and oils because they will clump your hair together and make it look even thinner.
So even if you are growing old, losing hair pigments or suffering from thinning hair, it doesn't mean that you have to throw out the trend-seeking nature that you perhaps once had when you were younger.
You can always go to your barber and ask him to style your hair in any one of these men's hairstyles for thin hair over 40 to look charming and classy.