If you're anywhere between your early 40s to late 50s, you are considered as mid-aged men. You probably have started facing hair related problems as many men struggle with rapid hair fall, others have problems like thinning, whitening & many more in this age.
Classy Hairstyles for Middle-aged Men
Considering your growing age and the amount of pollution present in the world today, these issues shouldn't come as a surprise.
However, there is another problem associated with this, 'What kind of hairstyle would suit me now?'. You probably have tried many hairstyles, but none of them seem to suit you. Well, you don't have to worry anymore, because we have a list of hairstyles just for you.
Here are 35 hairstyles for mid-aged men that are worth a try in 2023.
1. Afro Salt and Peeper Hair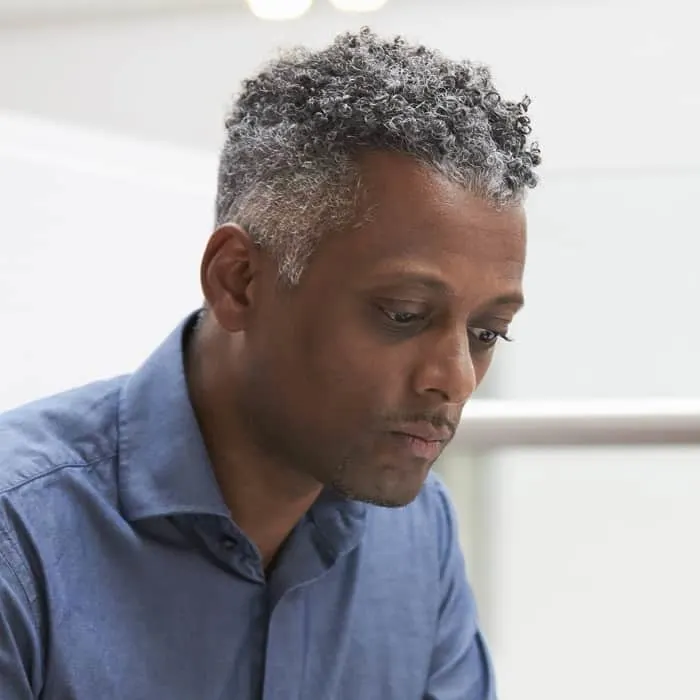 Older men can embrace their white threads, especially if they have Afro hair. The darker hairs will beautifully blend with the depigmented threads, creating a salt and pepper look that is absolutely fabulous.
2. Short Haircut with Beard
This short hairstyle makes such a fine job for middle-aged men who want to look professional. A long beard that is perfectly groomed will make such a fine pair with that short haircut with gray threads.
3. Short Haircut for Receding Hairline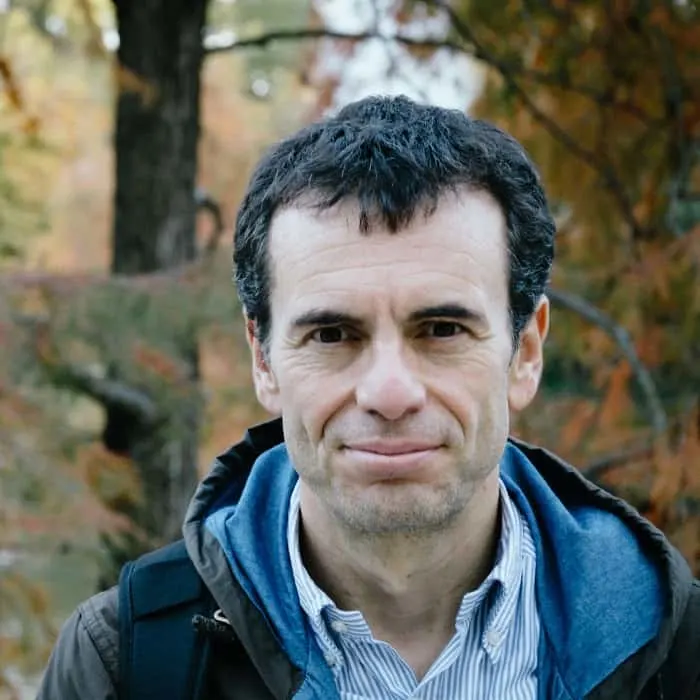 When you have a receding or a V-shaped hairline, there are loads of haircuts that you can pull off. You can try this short haircut with bangs and go for a 1-day stubble beard.
4. quiff + Patchy Beard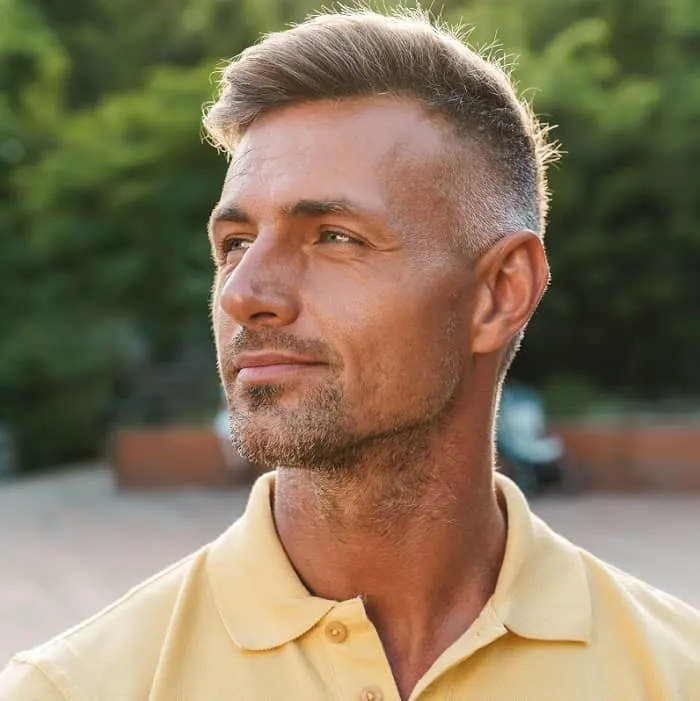 Nail a sexy masculine look with a quiff and a patchy short stubble beard. On sides, you can opt for a high fade while your long top is beautifully arranged upwards and on one side.
5. Curly Long Hair
This long hairstyle is one of the best approaches for middle-aged men with curly hair. Get a layered haircut that will help you avoid that triangle-shaped hair.
6. Pixie Bun
Pixie buns are a versatile and stylish hairstyle for mid-aged creative men. Start with clean, dry hair. Apply a small amount of gel or pomade to your hair, and use a comb to tease the hair at the nape of your head. Next, gather your hair into a ponytail and twist it into a bun. Secure the bun with a hair tie, and you're done.
7. Buzz Cut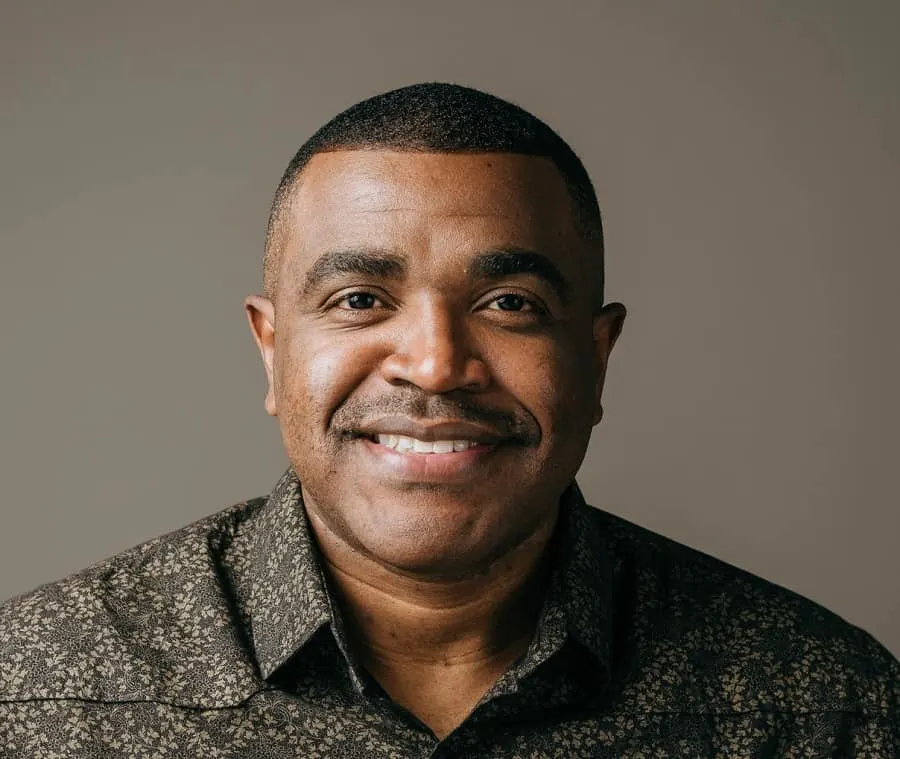 It is a great style for men in their mid-40s who don't want to put in too much effort. To style a buzz cut, simply use a clipper to trim your hair to the desired length.
8. Thick Curls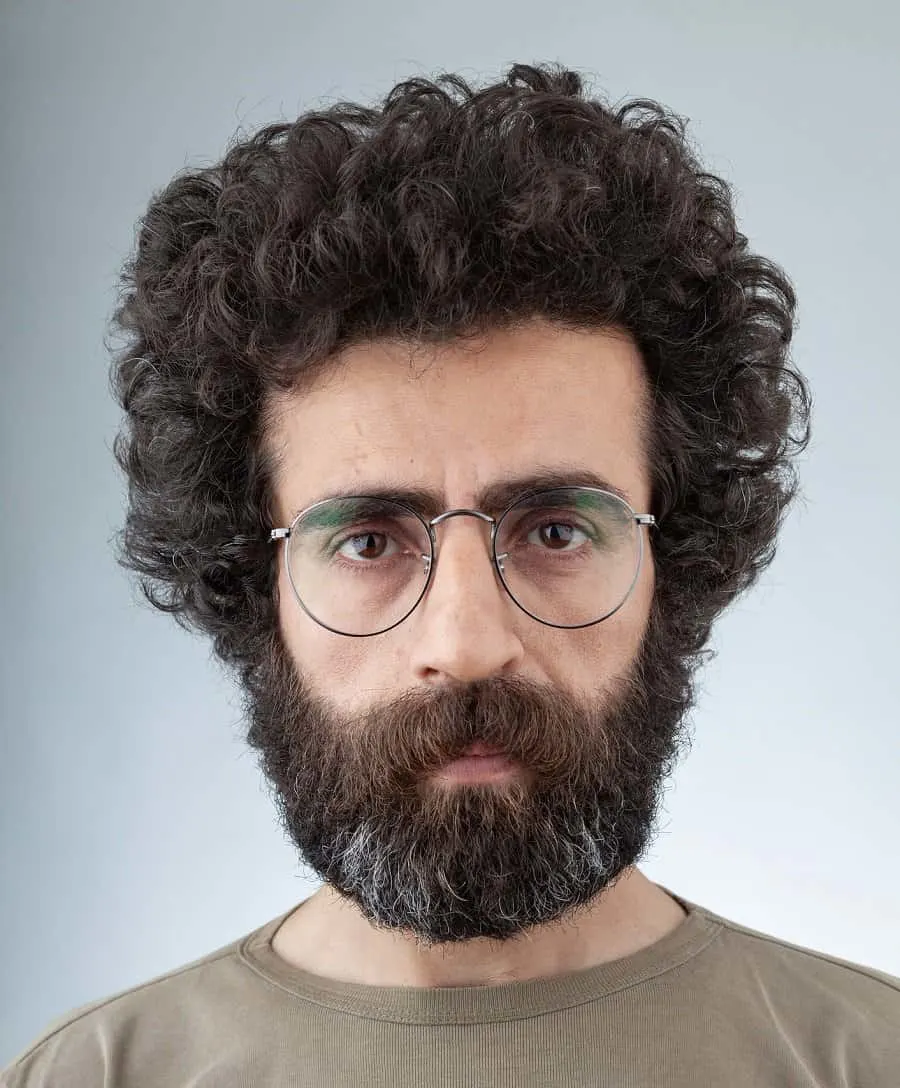 If you have curly hair, you can use a diffuser when blow drying the hair to enhance the natural curls. This style is perfect for men who want to have a nerdy and cleaver look. The key to this style is using light, airy shampoo and conditioner to avoid weighing down the hair.
9. Dreadlocks
If you love or already have dreadlocks, you can just make them thin to keep your hair out of your face and allow you to show off your locks. This style is perfect for formal occasions or days when you want to feel careless.
10. Messy Grey Hair
Styling messy grey hair may seem like a daunting task, but with a bit of hair cream and a little bit of patience, it can be easy and fun. We recommend using a light pomade or wax to add some texture and definition to your hairstyle. Apply it evenly throughout your hair, then use your fingers to style it into place.
11. Asian Men's Style
Recently, mid-aged Asian men are opting to wear their natural hair down in a stylish way. This is a great way to embrace your natural hair texture and show off your personal style. Make sure your hair is clean and well-conditioned. You may also comb it occasionally.
12. White Wave
If you have semi-curly wavy hair, you can keep it simple by just brushing it back or to the side. Or, you can get a little more creative with it by using hair spray to give it some texture and hold. It looks great on a rectangular face shape.
13. Mullet
This retro hairstyle is great for middle aged guys who want a style that is easy to maintain. To get the perfect mullet, comb your hair back from your forehead and sides. Then, use a comb to create a short, blunt wavy fringe in the front.
14. Ponytail
It is a classic style for older men. Just brush back your long hair and tie it with a band at the back of your head. However, if you have thinner hair, you may want to avoid a tight ponytail, as this can make your hair look even thinner.
15. Short Hair
This style is great for corporate people who want to keep their natural look. To achieve this look, just trim your hair evenly so that it looks sleek and professional. You may also keep a sideburn to get a serious look.
16. Retro with Sideburn
If you are looking to add a bit of retro flair to your hair, look no further than sideburns. You can just comb over your medium hair while keeping the ear-length sideburn.
17. Slicked Back
This style is characterized by a sweep of the hair to the side, creating a medium mane that is sleek and professional. Slicked back sweeps are usually styled with the basic undercut.
18. Short Spike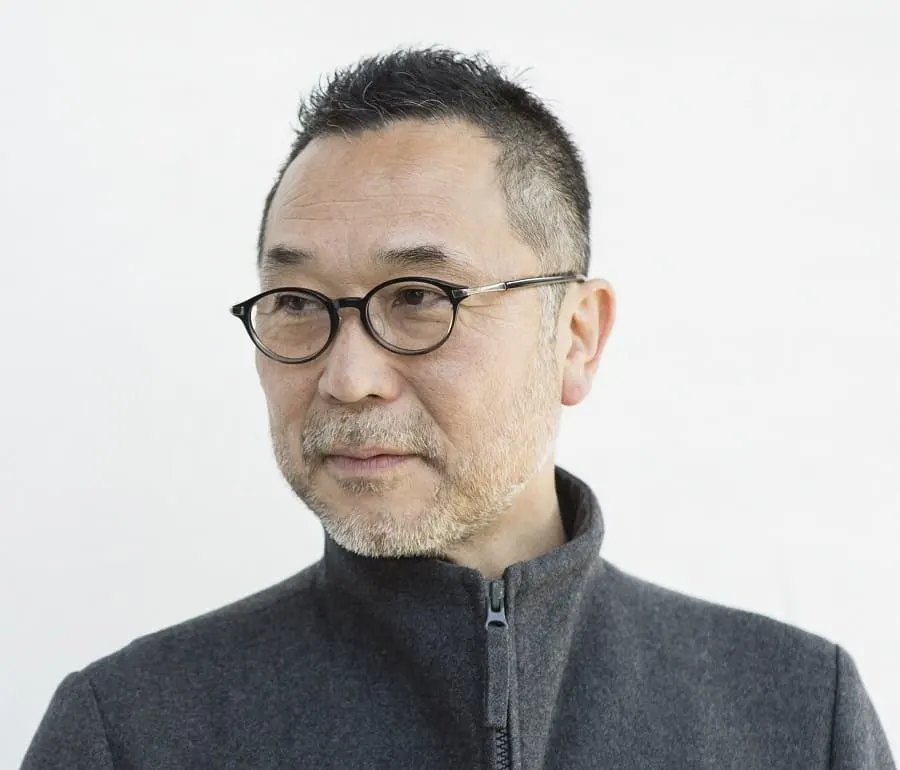 This hairstyle is a great way to give a middle aged man an added edge. Just cut your hair short and start by spiking your hair up in sections. This will create a more volumetric appearance and make your head look larger.
19. Comb Over
If you're looking to add a touch of class to your messy hair, then a comb over style is the way to go. The key to this style is to keep your hair as straight as possible. This will help to control the shape and look of your hair. Additionally, use a little hair gel to help control the frizz and create a more sleek appearance.
20. Curtain Bangs
This hairstyle is perfect for men of middle age because it adds volume to their hair and helps keep it out of their face. The first step in styling is to wash and dry your hair. Then, you should use a round brush on your wet hair to comb it down to both sides. Then use a blow dryer to get rid of any excess moisture.
21. Samurai Hairstyle
This Samurai high ponytail is a striking choice for any man with long hair. Use a ribbon and wrap it going upwards to create that height. A long extended goatee will certainly make your face look elongated.
22. Wavy Bowl Cut
Bowl cuts make any older man look young and fresh. If you have wavy hair, that's even better! You can go for manly curtain bangs, revealing your forehead and amazingly framing the face.
23. Undercut + Jawline Beard
Undercuts are daring hairstyles that will make stunning pair with a long top pinned in a bun and a thick jawline beard with an extended goatee.
24. Fully White
You probably have guessed it by the name already. If you haven't, snowy day is a hairstyle you'd like to adopt if more than 80% of your hair has turned white.
People with thin hair and balding problems in the sides, snowy day is a close-cropped hairstyle that lets you live your youth a little longer. Don't let the young blood in you fade away just yet.
Cut your hair short and make sure the front is well shaped. Now groom your hair in a way that the front portion stands a little. Combine this middle-aged men's hairstyle with a white beard, and you are good to go.
25. The Wet Look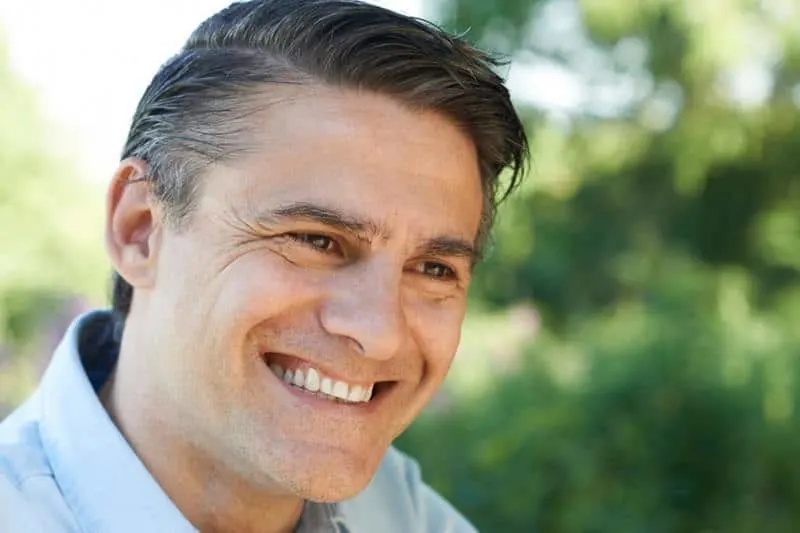 Thin but long hair with patches of white can be a little tough to tame. But the wet look is an easy solution to a difficult problem.
People who have thin and long hair with white hair on the sides, the wet look can work well in covering your bald spot and make you look younger.
Make sure you trimmed your hair a little to make it even on all sides. Now, use some product like hair wax to set your hair, splitting it from one of the sides. This simple trick will not only hide your bald spot but will also make you look younger than you actually are.
26. Messy Look
Maybe all your hair hasn't turned white. The uneven white patches make your hair look weird. In situations like this, you're probably looking for a decent hairstyle. The messy look, while being messy (like the name suggests) can make you look well-groomed and work on the white patches.
People with white hair on the sides and a broad face with a sharp and long chin, this hairstyle will take you back to your days of youth.
All you have to do is shape your sidelocks and the hair above that. Use some product to groom your hair, and you should be good to go.
You probably haven't started to go bald yet. You still have strong and lively locks, but the problem is your hair is no more in your control. You find it very hard to groom. Well, the messy look combined with an undercut is a simple yet brilliant hack for you.
People with dense, curly hair and a round face, the messy hairstyle with an undercut can make you look and feel younger, returning you your days of youth.
Trim the sides of your hair completely, like an undercut. You can either cut the hair on top or just let it be, depending on your preference. Using some product, groom your hair in a way that it has a messy finish.
28. Basic Groom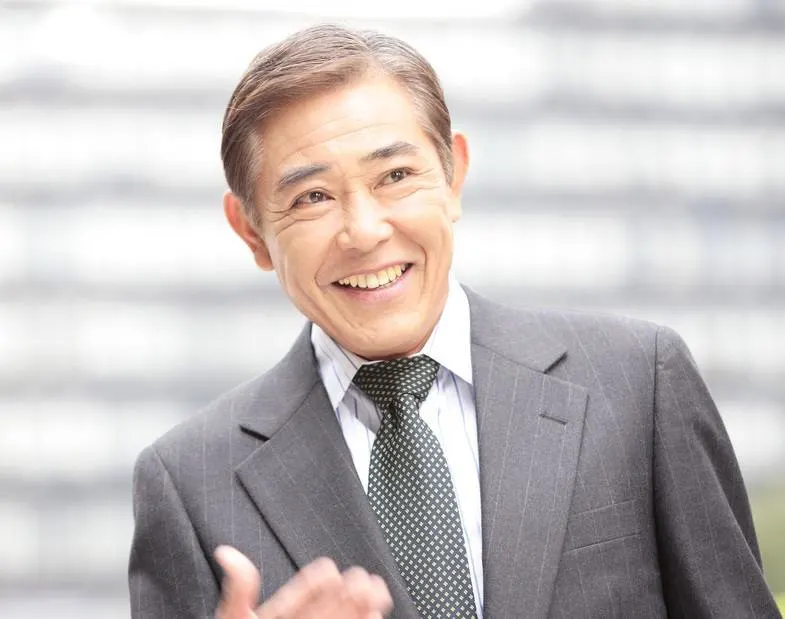 This is probably the most common middle-aged men hairstyle. This hairstyle isn't too tough to obtain, hence is so popular among men of this age.
People with dense hair, a broad face and wide ears, this hairstyle will make you look like a gentleman and remind people that chivalry is not dead.
This hairstyle doesn't need a lot of effort. First, get your hair under your control by applying some product. Next, comb your hair in a way that there is a side partition on either the left side or the right side (based on your preference). These few simple steps and you have achieved your hairstyle.
29. The Puff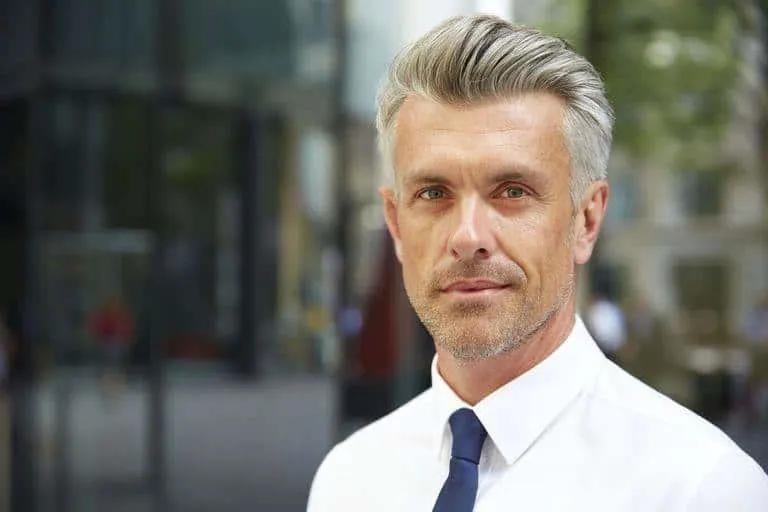 Here is another possibility. All your hair is still intact. In fact, it's at its best condition. However, all your hair has turned white. Well, if that's the case, the puff would be a wise choice.
people with long, dense hair and a well-defined face structure, the puff will help you look younger, fresher and active.
Achieving this hairstyle is a little tough. All you have to do is use a little product and groom your hair backward. After a while, the puff will automatically appear when the product finally does its trick.
30. Salt n Pepper
Popularised by famous Hollywood actor George Clooney, the Salt n pepper look is a wise choice if you have a mix of white and black hair.
Middle-aged men struggling with hair whitening, the salt n pepper look will help you look chivalrous, young, lively and active.
Just like the basic groom, all you have to do is use a little product and comb your hair in a way that there is a partition on any one side of the head. The true essence of this men's middle-age hairstyle can be achieved if you compliment it with a dense, white beard.
31. Paul Rudd
Let's say you don't have problems with your hair. There's no hair fall, thinning or whitening. The only problem is you don't have control on your hair. A wise decision would be to copy the hairstyle of the famous Hollywood actor, Paul Rudd.
People with dense, brown hair and a narrow face, the Paul Rudd hairstyle will perfectly compliment your face structure and make you look livelier.
Use some hairspray and groom your hair properly so that it doesn't look very messy. This hairstyle for middle-aged men doesn't require a lot of effort. You can add a stubble to make this hairstyle look better.
32. Wavy Style
You might have reached your mid-life, but you still wish to rock it like the youth. Well, the wavy hairstyle would be a good choice for you.
People with a broad, well-defined face and long and wavy hair, this hairstyle is a perfect choice if your hair is turning white or has turned white.
Using a product like hair wax, set your hair by grooming it backward and giving it a little weave. Add a light stubble to this hairstyle, and you should be good to go.
33. Long Waves
This hairstyle for middle-aged men is definitely going to give you the feel of a gangster/badass. Jeff Bridges, famous Hollywood actor, has been seen flaunting this hairstyle in more than one movie where he had a tough guy role.
People with long hair, this hairstyle makes you look very classy and gives a gangster vibe to you while making you look livelier.
Make sure the sideburns are well shaped. Groom your hair backward in a way that it stays there. Accompany this hairstyle with a dense beard and a thick mustache and you should be able to grab anyone's attention in a room.
34. Biker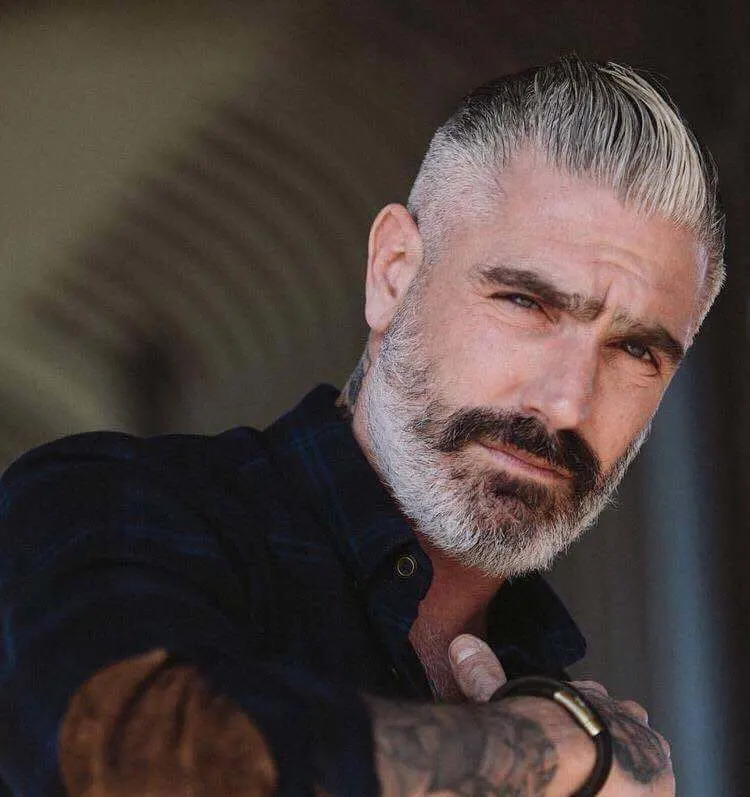 This hairstyle is called the biker because it gives the same vibe as a middle-aged biker from the United States. If you own a motorcycle or are actually a biker, this is a hairstyle you should consider equipping.
People with a well-defined face and sharp eyes, this hairstyle will definitely make you look livelier in a crowd, and you can get along with the younger generation easily
The first step would be to make sure that your sideburns are shaped properly. Next, trim your beard a little and grow a thick mustache and groom your hair backward. You can also grow your hair long and tie a man-bun to increase the essence of this hairstyle.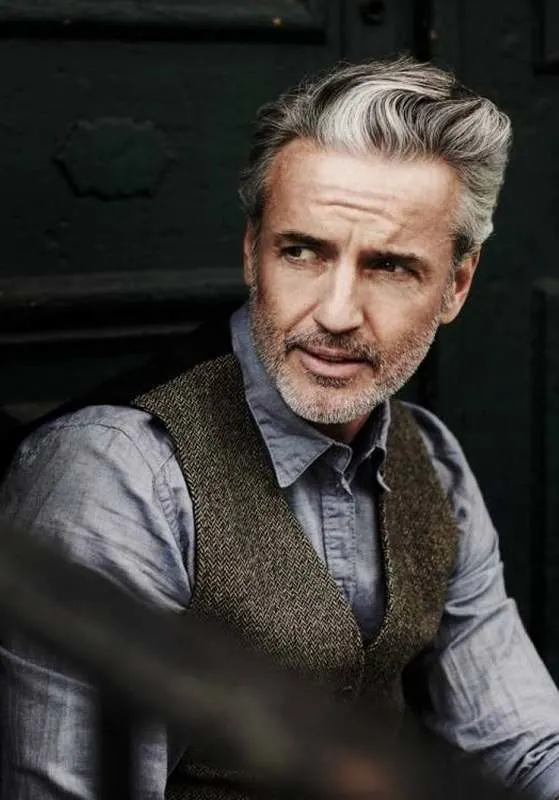 This hairstyle is the perfect gentleman look. Giving you an approachable, yet a badass vibe, nothing will scream out "I'm still young at heart" like this hairstyle.
People with a well-defined facial structure and long, dense locks, this hairstyle is an upgrade to the salt n pepper look.
You need to make sure that your sideburns are properly shaped. After this, use some products like hair wax to set your hair properly. You can grow a stubble if you wish to in order to complement this hairstyle.
This list of hairstyles for middle-aged men is a combination of hairstyles that shows your intellect and your youth simultaneously. You don't have to worry about your age or hair problems anymore. 35 middle-aged men hairstyles, just for you.