Little or no hair left on your head? Shave it all off and pair your bald head with a beard to get a look that is sexy, stylish and very "now." Bald is an opportunity to draw attention to your facial hair style and handsome features. This of it as an opportunity, not a liability.
Best Beard Styles for Bald Men
Let your bald shine with hot beard styles. Below are the top 40 beard styles for bald guys to rock.
#1. Long and White
If you're a pro at growing facial hair and have several inches to work with, grow a wizardly beard! Its long length will contrast nicely with a bald head.
#2. Stubble with Mustache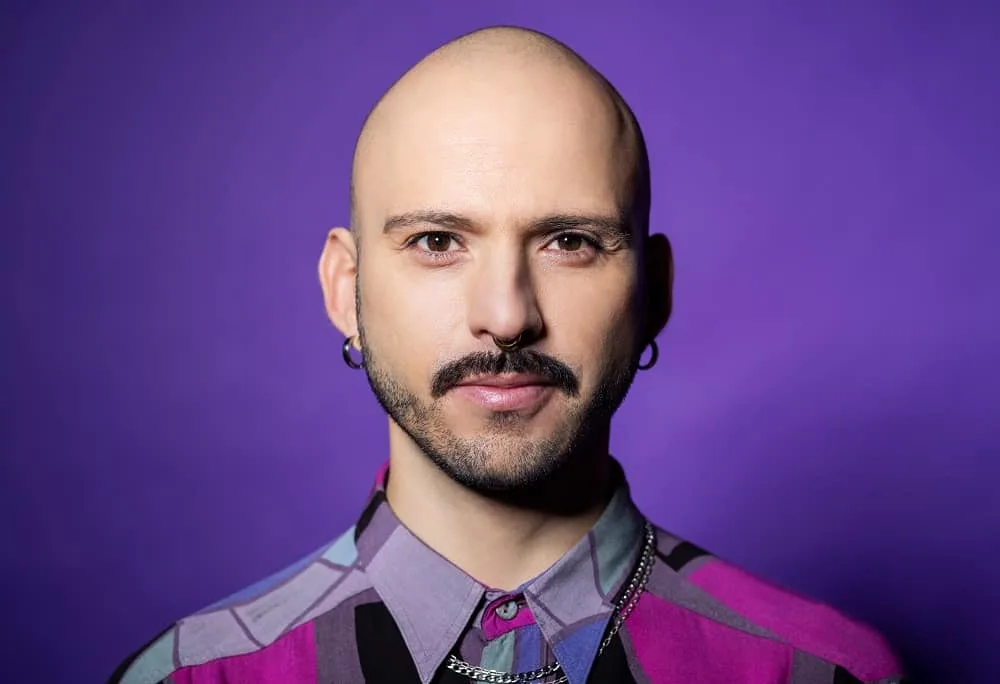 This curved mustache is a flattering shape for bald men with round faces. It's stands out prominently among a shaved or short stubble beard.
#3. Thick Anchor Beard
The anchor beard is a great choice for facial hair because it can be styled thin or thick. For men with no hair, we recommend being bold and trying the thicker version.
#4. Cheekline Beard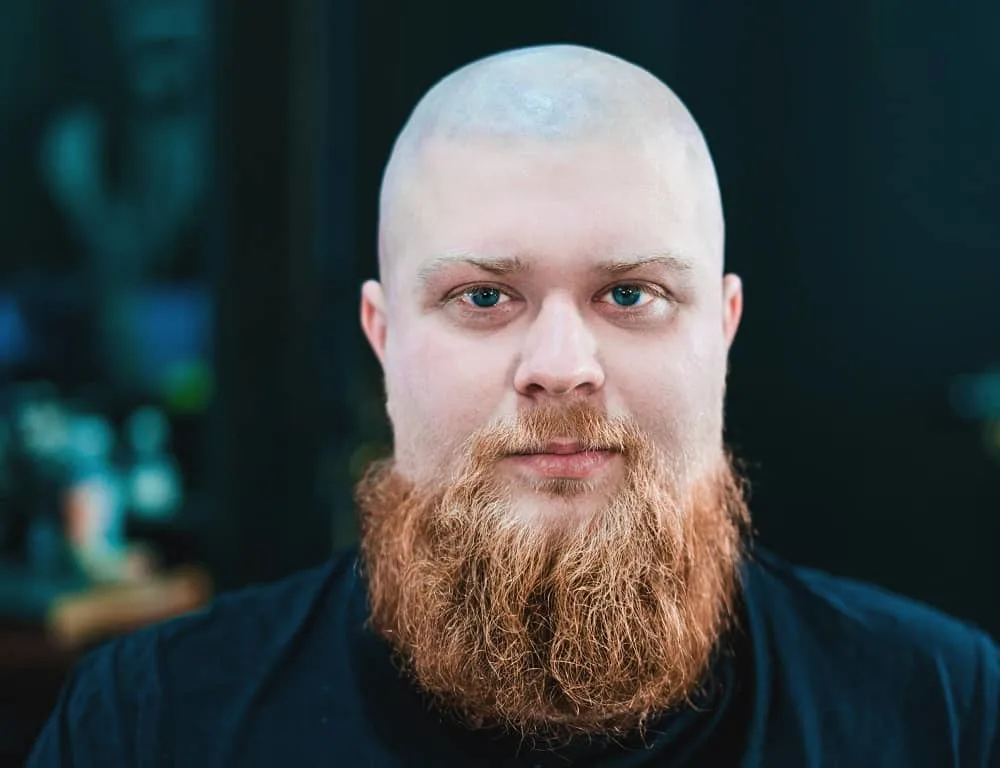 To style a thick, bushy or scraggly beard, give it some shape by buzzing or shaving it so that it lines up with just the bottom of your cheek line. Shape the hair under the chin so that it's round instead of straight. Pair with a short mustache to complete the look.
#5. Thin Anchor Beard
Black men with an oval face and bald head will look especially handsome with a thin anchor beard. This is a great choice for guys who don't want a lot of facial hair to maintain.
#6. Handlebar Mustache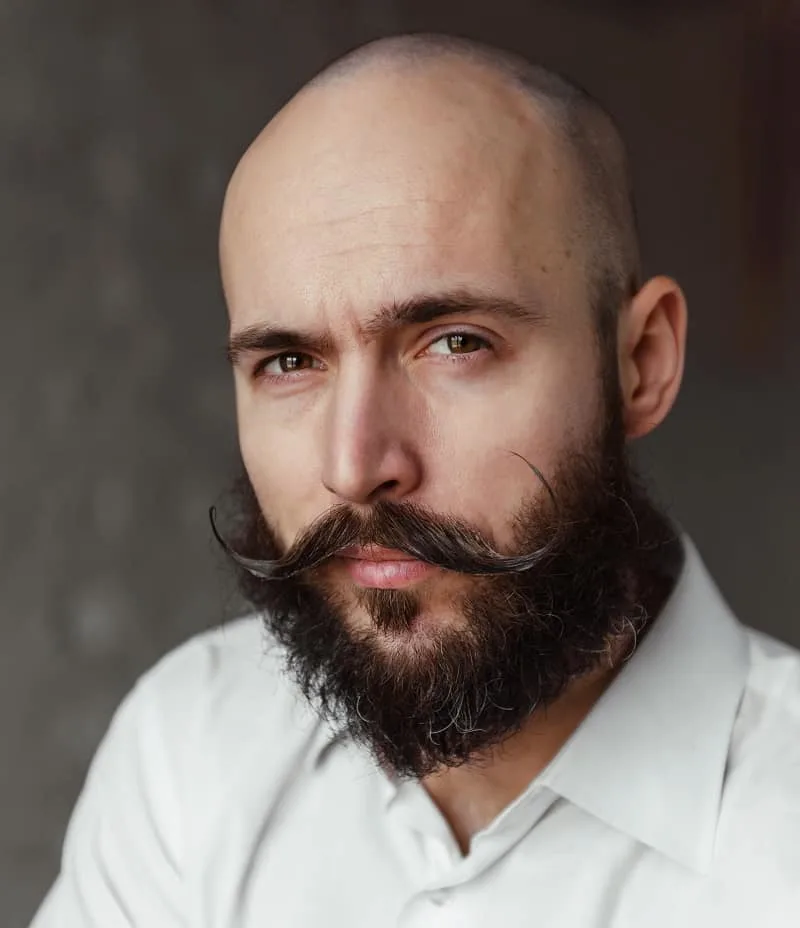 Among the many beard styles available to men, a handlebar mustache falls into the vintage-dapper category. It's a great complement to a full beard. Just be sure to use beard wax to shape those handlebars!
#7. Thick Viking Beard
If your goal is a Viking look, there's no better beard style to rock with a bald head than a super thick, full beard and mustache. Bonus: you don't have to spend too much time grooming or shaping.
#8. Extended Goatee
The extended goatee beard is a favorite for men and it's easy to see why. It's low maintenance and simply requires touching up to maintain lines. This one features longer chin hairs which flatter a smooth bald head.
#9. Disconnected Chin Strap Beard

If you're a bald Black man seeking a professional, minimalist beard style, consider a thin disconnected chin strap beard. Hair is sparse along cheekbones and at the mustache, but shapes up nicely in its detail.
#10. Full Beard with Low Cheekline
Older bald men usually want at least a full beard, but there's no reason it can't have a little modern style to it! For this look, focus hair along the lower cheek line.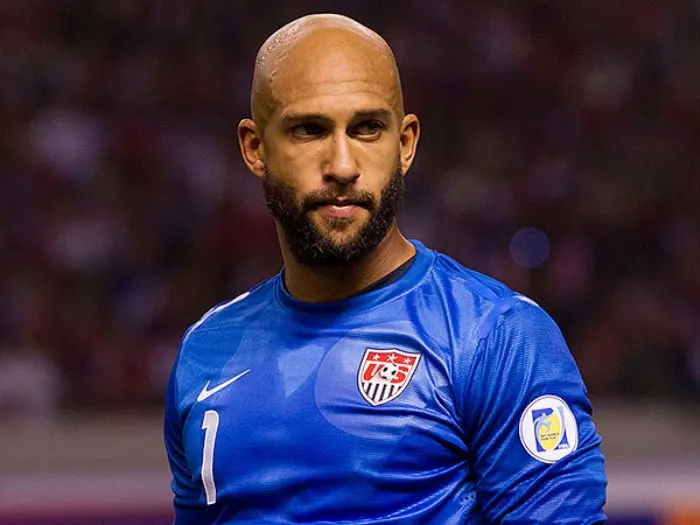 For a polished but easy look, let your facial hair grow in on your cheeks, chin, jaw and upper lip, then trim to an even length. Don't take it too short. This style works well if you have especially full facial hair. It's stylish but requires only minimal effort and is a good choice for either professional or casual occasions.
Most Popular Type of Beards for Men to Explore
#12. A Bushy Beard with Hints of Grey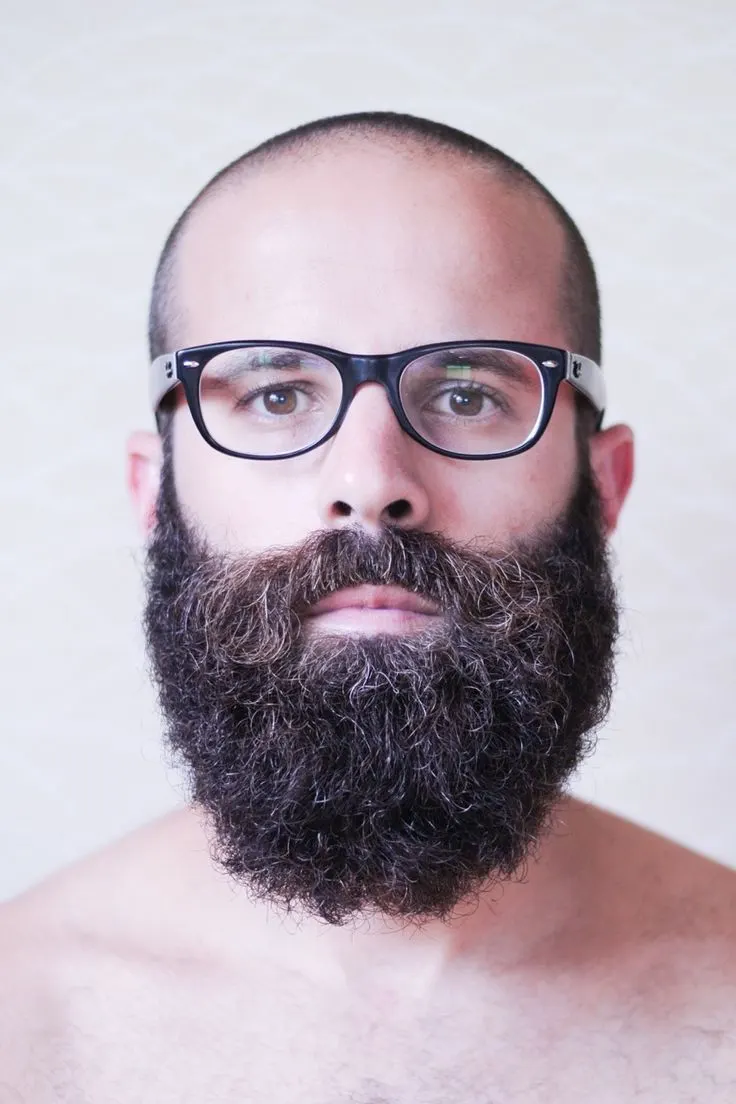 Grey in your beard? No problem with this sexy, masculine look. Wear a full, mid-length beard that is carefully trimmed and let your grey show. You'll get a look that is refined yet still manly.
#13. Bald with a Hint of Beard
Sometimes, you want just a hint of a beard. This look is like a 5-o'clock shadow on the next level. It works well if you have medium to full thickness and gives you a look that is sexy but not overly groomed. Men will want to be you, and women will swoon.
#14. A Mid-Length Beard and Long Mustache
Let your full beard grow out to a natural mid-length and pair it with an updated, shaped mustache to get this hipster beard look. The beard can be a bit messy; it's offset by the shaping and grooming of the mustache. Don't hesitate to wax your mustache for a more intentional look.
#15. The Natural Look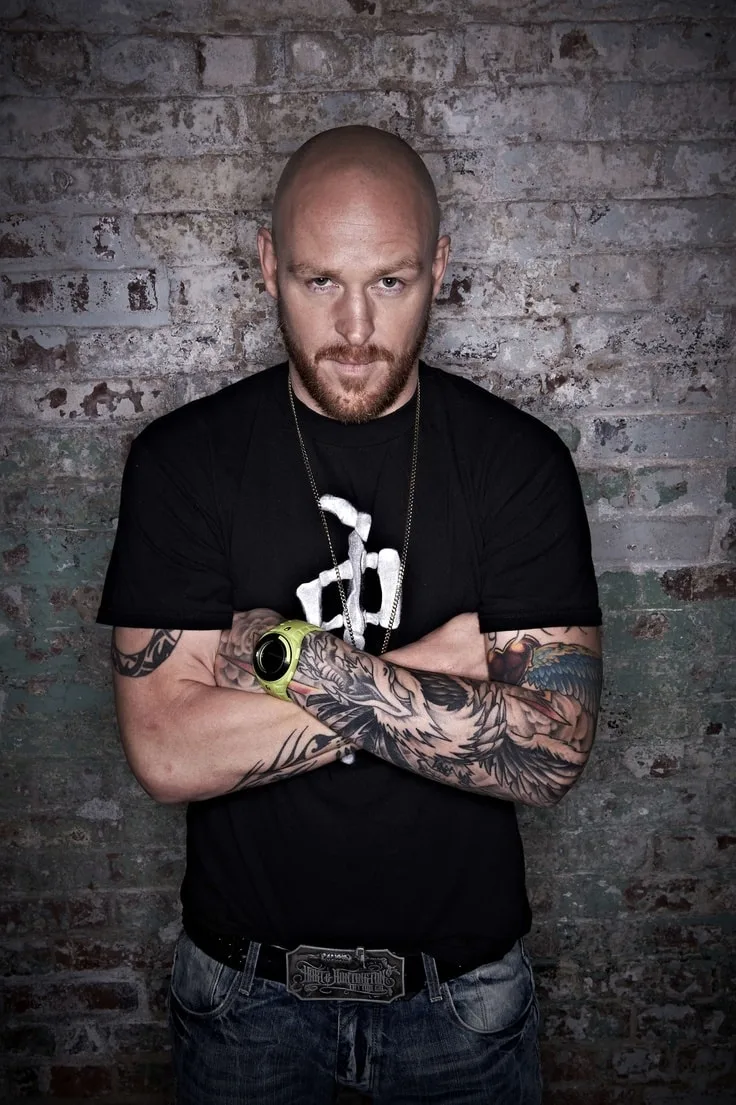 Here, we see a natural look. Embrace your bald head and use a natural beard style in an all-over length for this natural but still sexy look. Keep it neatly trimmed but allow your facial hair to fill in where it naturally grows.
#16. Bald with a Full, Short Beard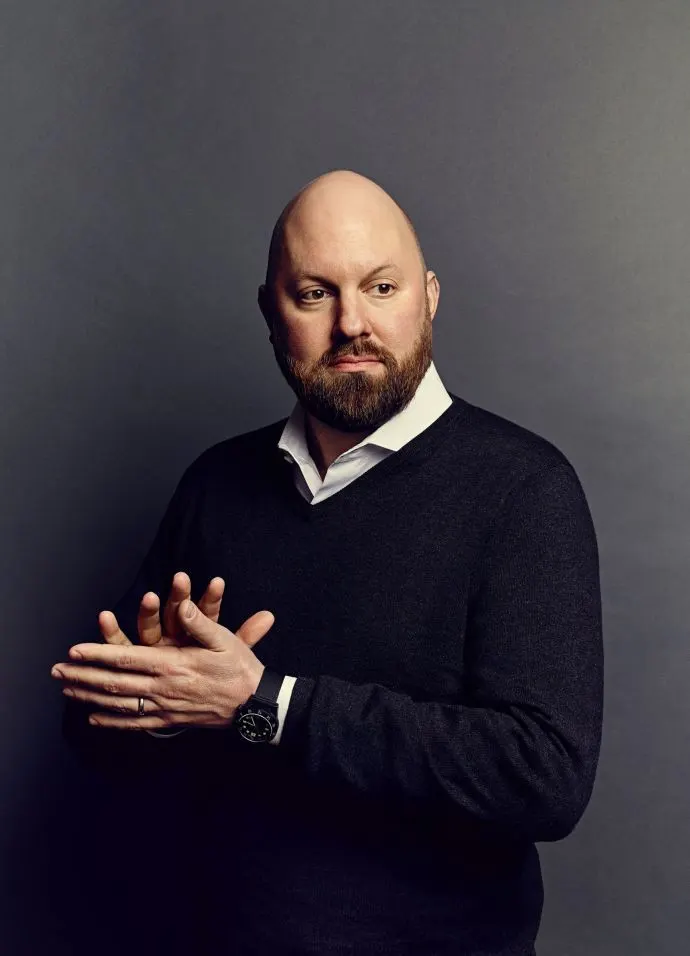 Use a very full, short shaped beard to draw attention to your handsome facial features as we see here. Bald is beautiful when balanced by the weight of the beard style. This look works best for men who have full facial hair.
#17. Mid-Length Shaped Full Beard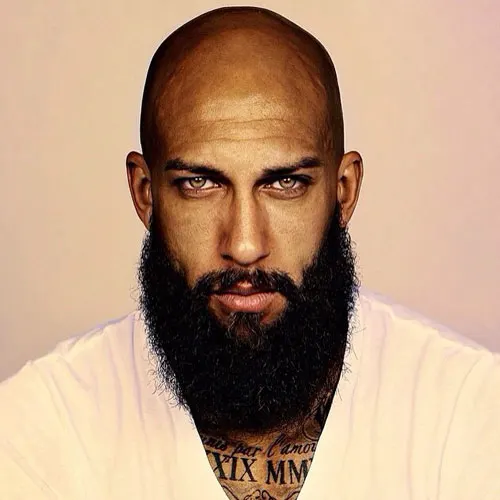 Let your full beard grow to a mid- to long-length, then shape to get this look. It's a style that suggests virility and intensity.
#18. Bald with the Classic Goatee
The classic goatee looks good on any man, bald or otherwise. For this look take off any sideburns or hair on the cheeks and opt for a shortly trimmed beard on the chin which connects to a mustache. This look is traditional yet still up-to-date.
#19. Goatee with Attached Sideburns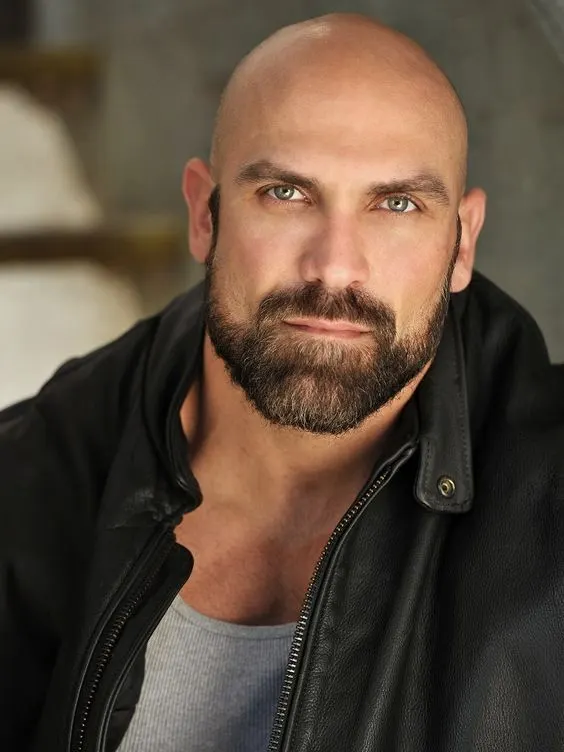 Wear a defined goatee that is connected to sideburns and a beard for this look that is always a winner. If you have full facial hair and desire a beard style that is low maintenance, this look is for you!
#20. The Casual Look
To get this casual but stylish look, trim your beard and remaining hair to about the same length. You can have a full but trimmed beard in a definite style that requires minimal upkeep. This Joe Rogan inspired beard is a perfect look for the weekend when you don't want to bother with too much grooming.
#21. Bald Head with Medium Ginger Beard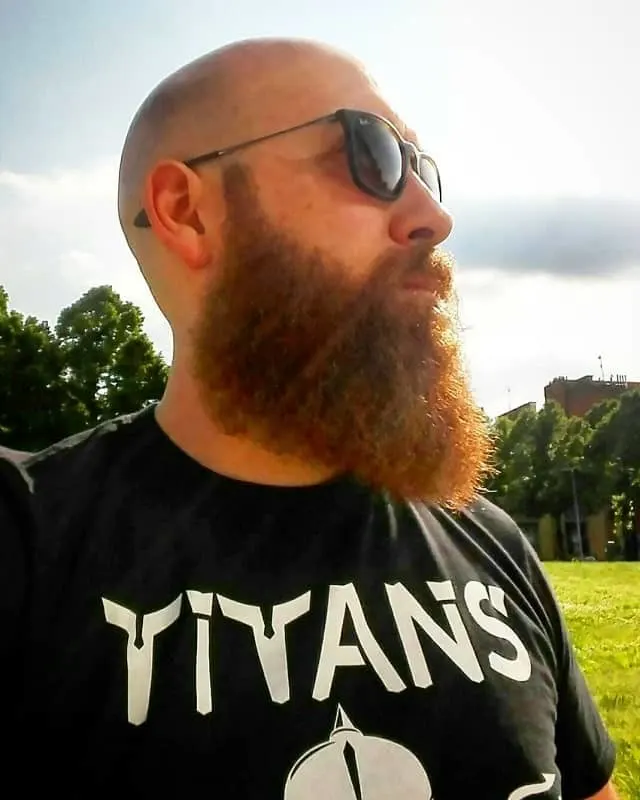 Often bald men with beard appear attractive when the beard is of a contrasting shade. In this look, the ginger beard offsets the dark tone of the bald head creating a striking contrast. It is an effortlessly striking style.
#22. Bald Men with Hard Stubble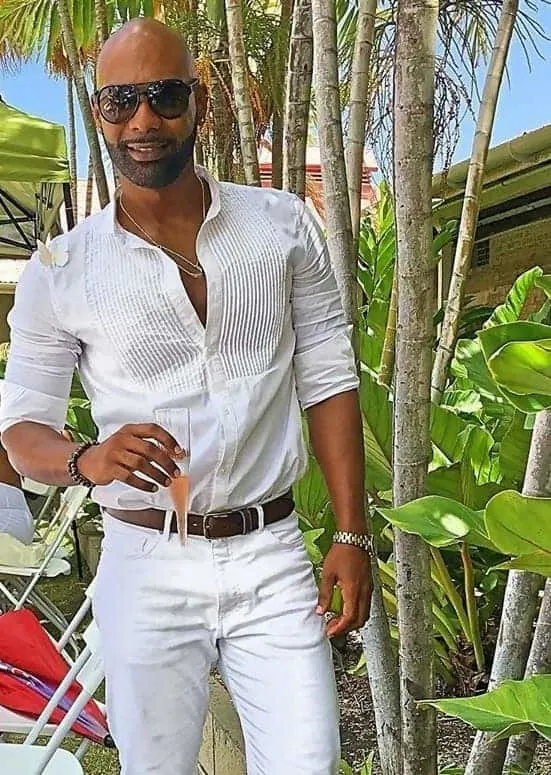 This bald with beard style simply uses the simple appeal of the dark long beard paired with a shining head. It creates an intensely rugged look and exudes subtle masculinity about your personality.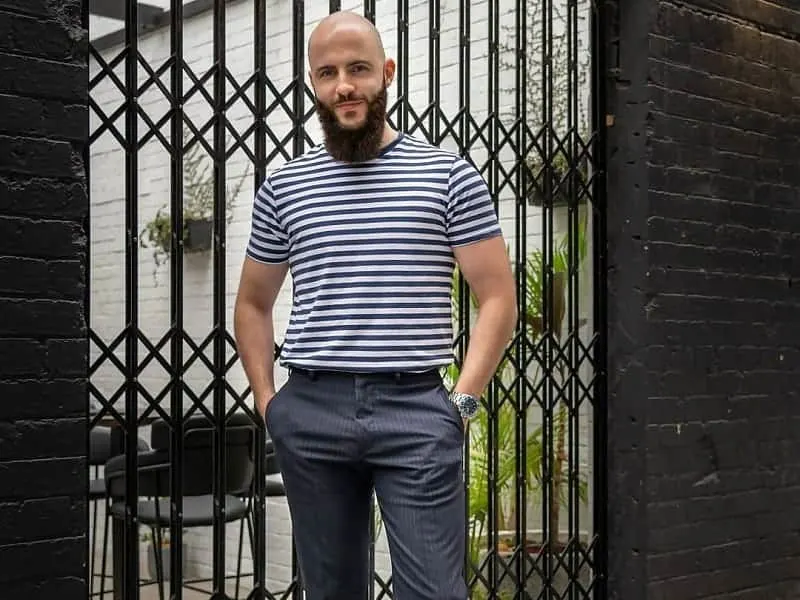 The thick bushy chinstrap with connected mustache becomes the focal point of this beard look for bald men. It is attractive and imposing and absolutely stylish.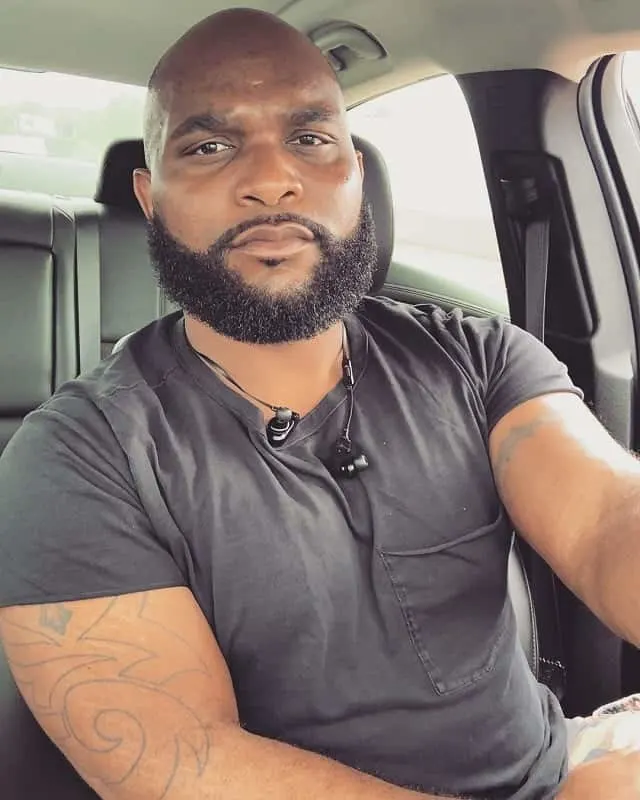 This is one of those bald guys with beards who are extremely comfortable in their skin. The bald head is offset by the bushy curly beard growth that is both attractive and appealing at the same time.
If you are looking for a well-balanced and harmonious style, this bald hair and beard is an ideal example. The bald head, hard stubble contrast the chinstrap beard and creates a distinctive styling.
Popular Celebrity Beard Styles to Copy
The long goatee in this bald head hair look is slightly longish and creates an impression of understated styling and absolute machismo. It highlights a go-getter image that is always striking.
Call of understated and a rugged style statement and this is one of those hot guys with the beard that you will think about. The tattoo and the hard stubble intensify the image in an emphatic manner.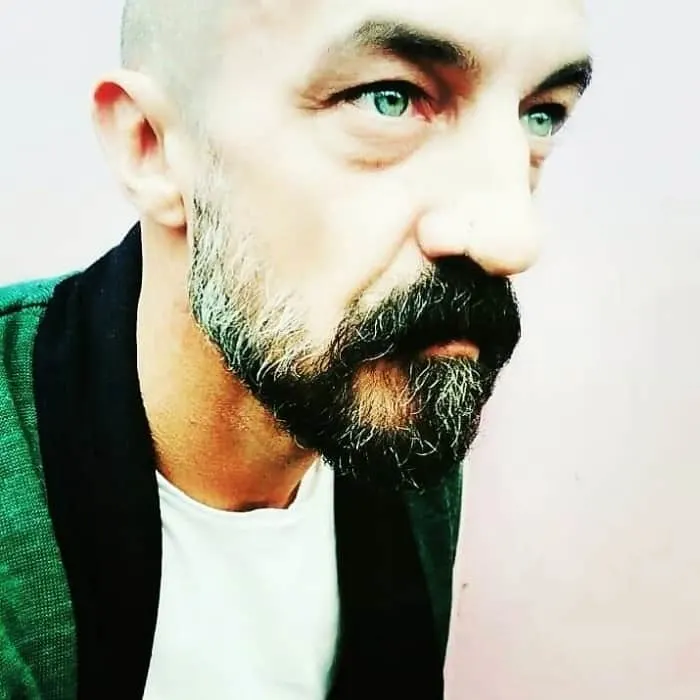 This is a cool and creative shaved head with beard style. The eye color and the salt-pepper beard contrast each other and together complete the look in a creatively curated look.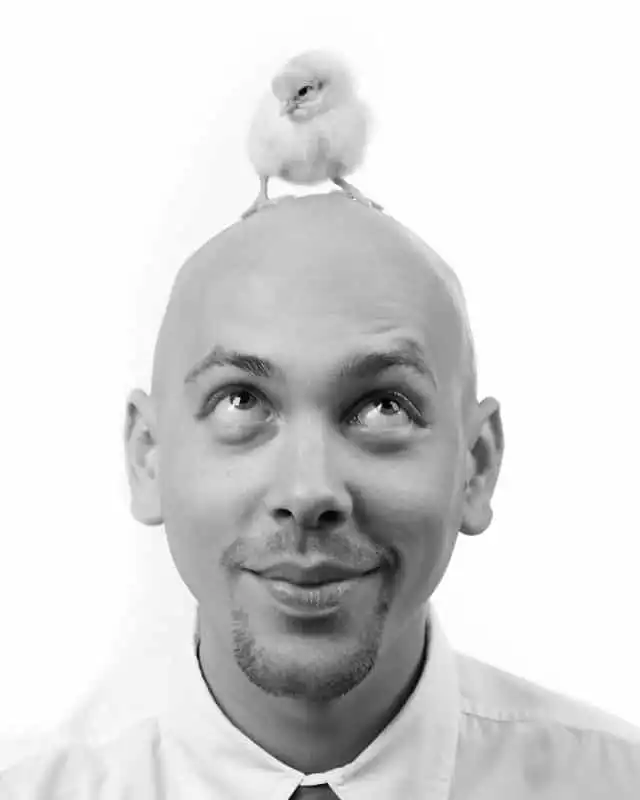 If this is the type of bald guy with a beard who appeal to you, I don't blame you. This is an absolutely stylish way to wear the beard and celebrate the bald head. It is simple and understated and almost always attractive.
This is a rather extreme type of styling. A bald head and the rather wildly rugged lumberjack beard style is an absolute play of contrasts for anyone experimenting with the bald and beard look. It is imposing and chic and gives a rather classy image.
#31. Pencil Line Beard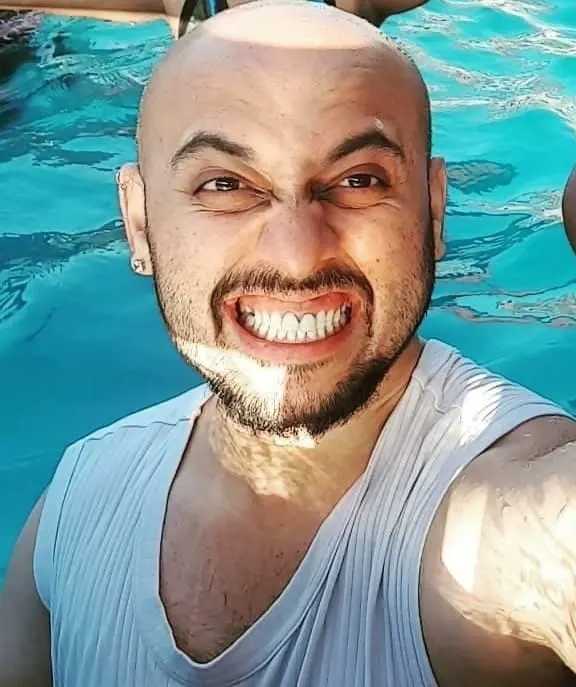 The pencil line beard with a connected mustache is all about the minimalist look. The bald head along with this beard adds to the whole impact. It is rather cool and strikingly imposing.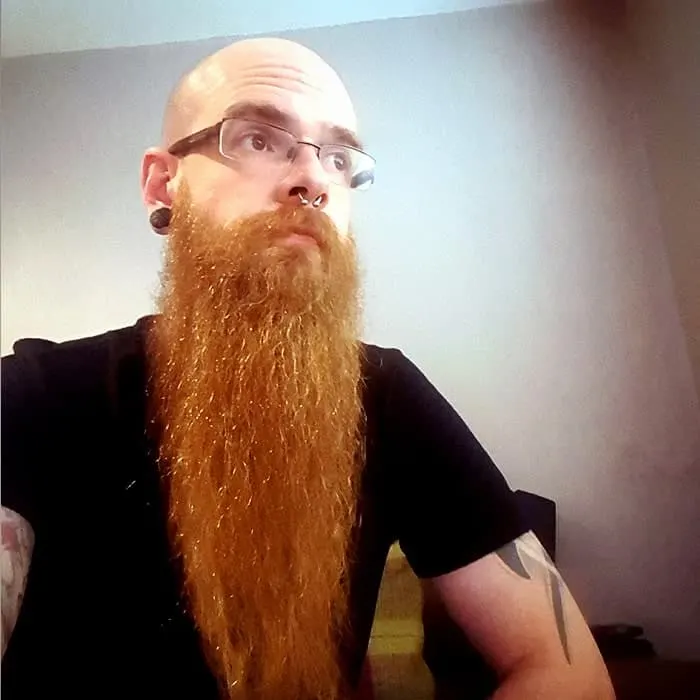 The bald hair and beard look is stretched to absolute extremes here. The beard is allowed to grow to a considerable long length. That is what makes it so striking and attractive in ways too. But remember this also involves regular and long care regime for the beard.
Simple, aesthetically presented, sober and absolutely formal, this is a beard for a bald head man that makes for a winning combination. It is effortlessly stylish and will make anyone stand out despite the bald head in almost any event whatsoever.
#34. Petite Goatee
Are you amongst ones who can't wish away the bald head but at the same time don't know how to makeover? Well, this is a beard style that helps retain the youthful vibrancy of your face intact.
This petite goatee beard, however, needs a reasonable amount of care and tending. You have to carefully clean the rest of the chin and the cheek areas to create the clean and well-groomed look.
Iconic Mexican Mustache & Beard Styles
#35. Pointy Beard with Bald Haircut
This is a rather rugged bald with beard style that makes for hot guys with beard look. It is intense, extremely striking and undeniably intense. It highlights the positive masculine energy and raw wild machismo to the hilt.
This is a type of style that is best suited for those with a round face. It lends an angular charm that gives the face a lot more structure and base. It is a casual and relaxed beard styling option that works equally effectively on formal occasions.
#36. Soul Patch & Paintbrush Mustache
If minimalism is your mantra that this is the type of beard styles for bald head men that can be an absolute game-changer. He may not conform to your regular impression of hot guys with beard look, but at the same time, it is difficult to deny the appeal of this soul patch. It meaningfully enhances the intense appeal of the entire face.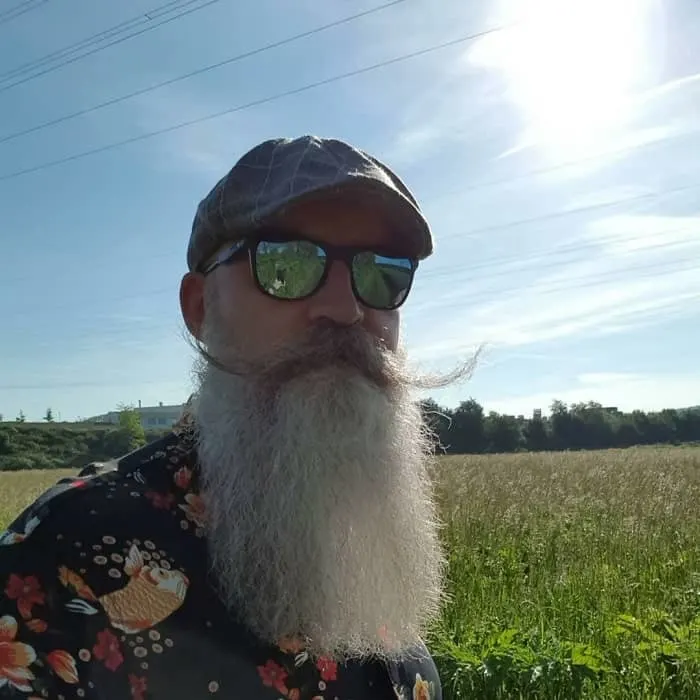 The shaved head kind of shifts away from the focus when you have this emphatic a beard and a mustache style to flaunt. If you are okay with the regular care that it needs, the beard and the stylized mustache makes this one of the most stunning combinations. The silver shade of the beard further accentuates the impact.
#38. Bald with Stylized Thick Beard
This is amongst the top favorite styles of bald men look with a beard. The beard, however, takes up a lot of time and energy if you want it to continue to look as great and lustrous as this one.
The Amish beard for a bald head man is one of the most iconic style statement. This beard style is about staying connected with your roots in a holistic and comprehensive way.
#40. Thin Beard and Tattoo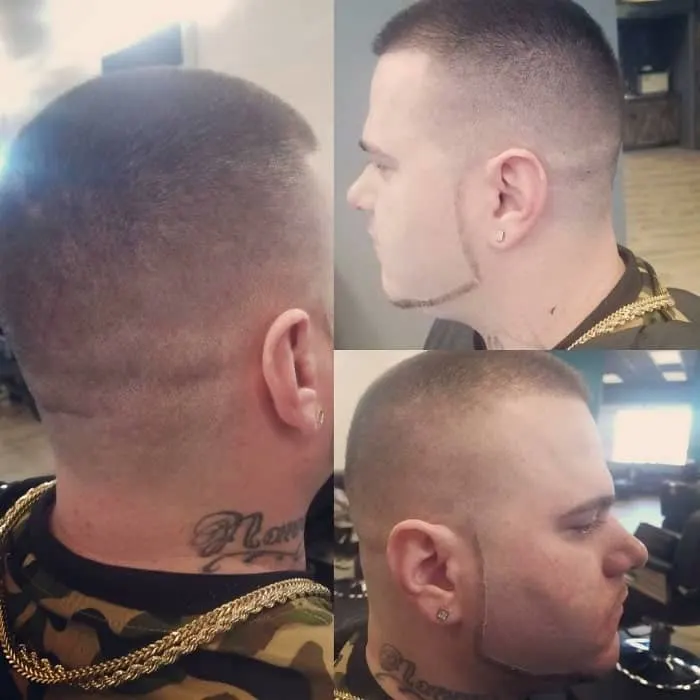 The thin beard line with the tattoo makes an intense bald with beard style. It is rugged, edgy and at the same time, a fairly easy maintenance option. Don't let your bald head hinder your style. Pair a bald head with an upgraded beard, and you are ready to roll.