When you are growing older, you have two choices: embrace your long gray strands and opt for a hair color that beautifully makes them blend with the still pigmented threads, or go for full coverage.
No matter what you select, we have prepared 23 long hairstyles for older women that will certainly flatter you!
Stunning Long Hairstyles for Older Women
Check out the images below and discover how to create a long-hair look for older women. Get ready to receive all the compliments for your elegance and style!
1. Long Blonde Hair for Older Women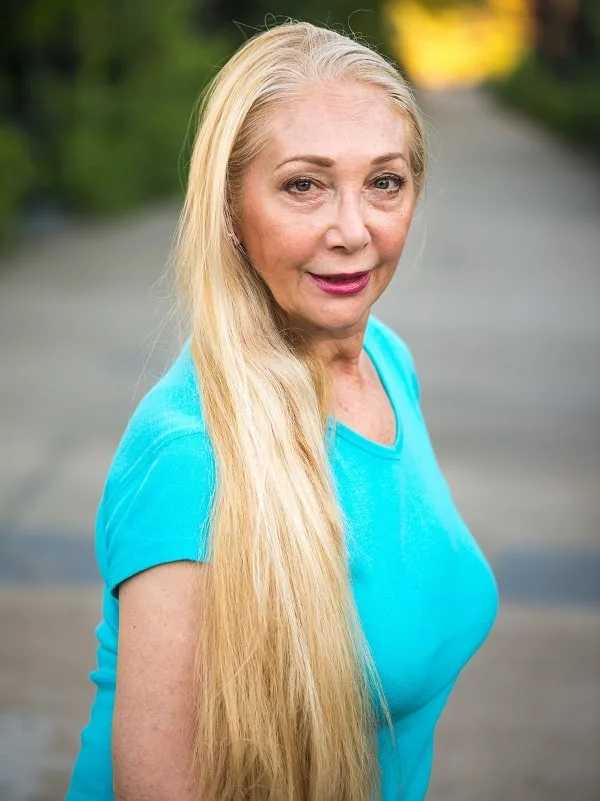 Older women with very long hair can easily hide those white threads by opting for a platinum blonde color. Wear the whole mane on one side and get ready to break some hearts and look eye-popping.
2. Wavy Gray Hair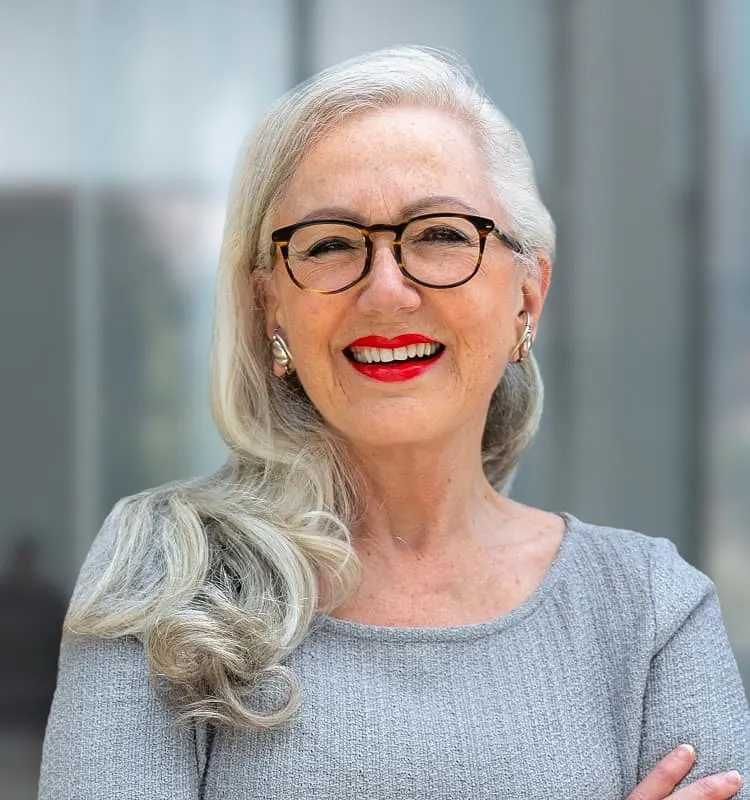 One of the best long hairstyles for older women with glasses is this gorgeous hairdo that keeps all your hair on one side. Wave your ends, wear red lipstick, and smile because you'll look fabulous!
3. Bun for Older Women with Thin Hair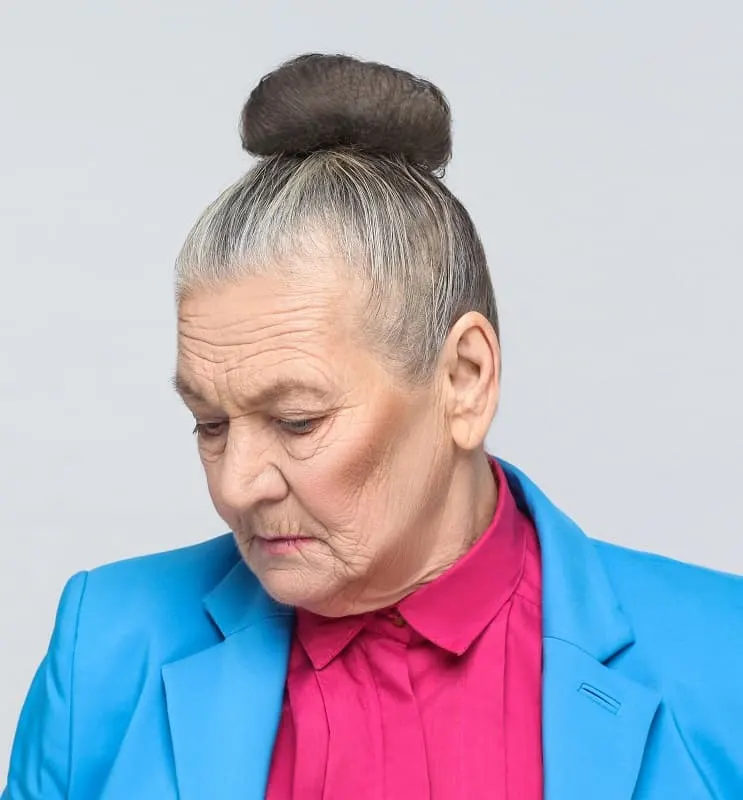 This hairstyle is perfect for older women with fine hair. It can be easily achieved by rolling your hair in a sock bun accessory. Place it on the top of your head to elongate your face.
4. Cornrows for Aging Black Women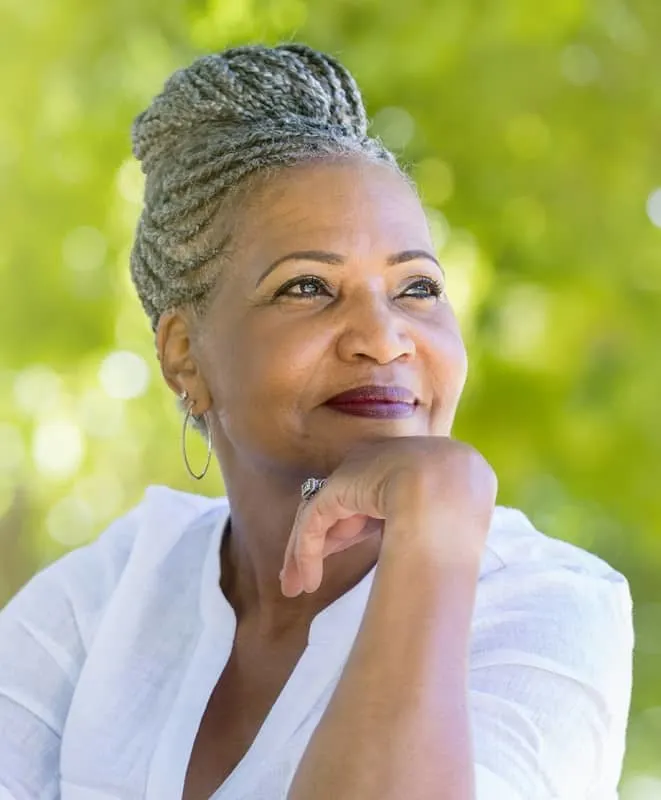 Older black women with long hair will look fantastic if they opt for cornrow braids that can be styled in a big bun on top of the head. Don't mind the grays, they will astonishingly mix, and you'll obtain a salt and pepper look.
5. Messy Bun with Bangs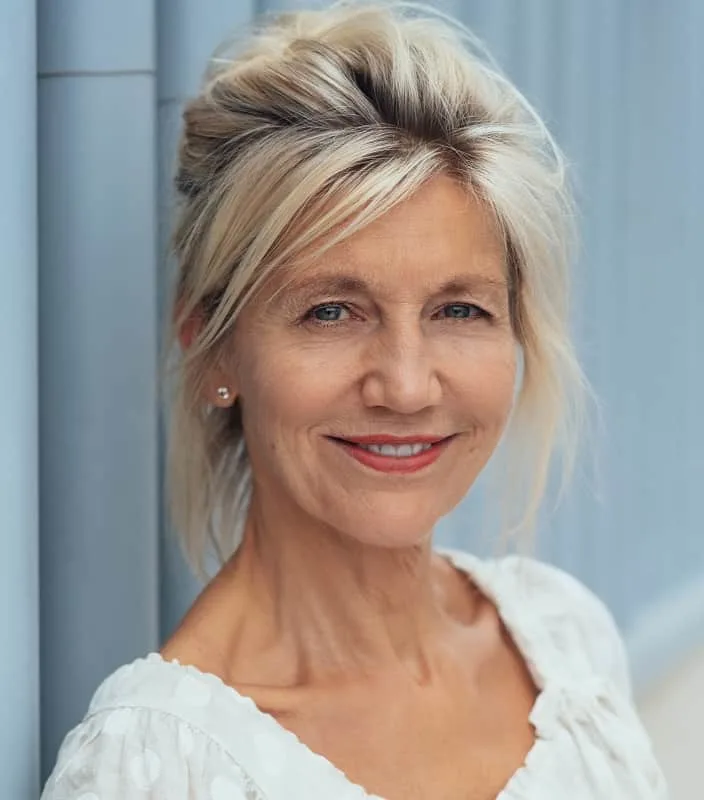 A long hairstyle with bangs for older women is certainly a look to go for because it will give you that modern and fresh glam. Keep the roots just a tone or two a darker, and pin a bun on top of the head.
6. Long Gray Hair for Long Faces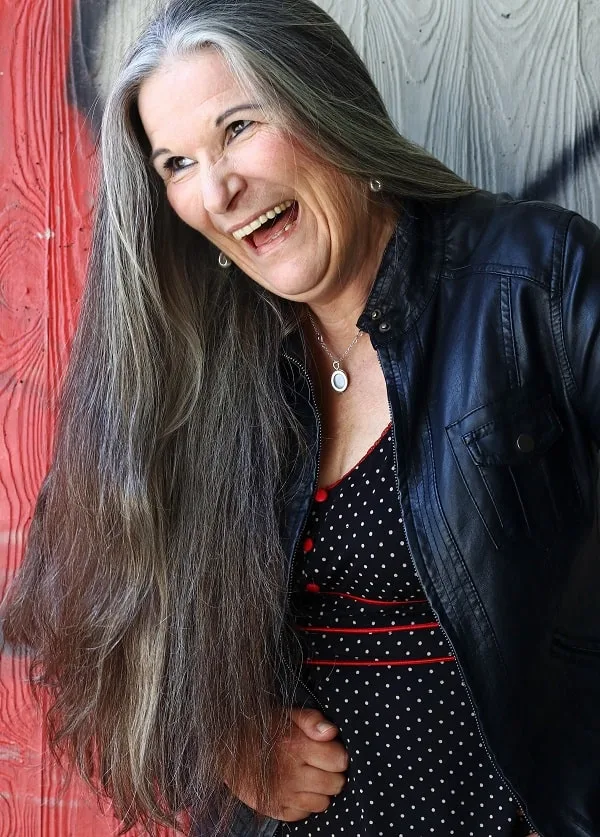 A long hairstyle for older women with long faces will draw all the attention on your fabulous locks. If your bangs started to become white, keep them that way and layer the tips of the mane.
7. Caramel Curls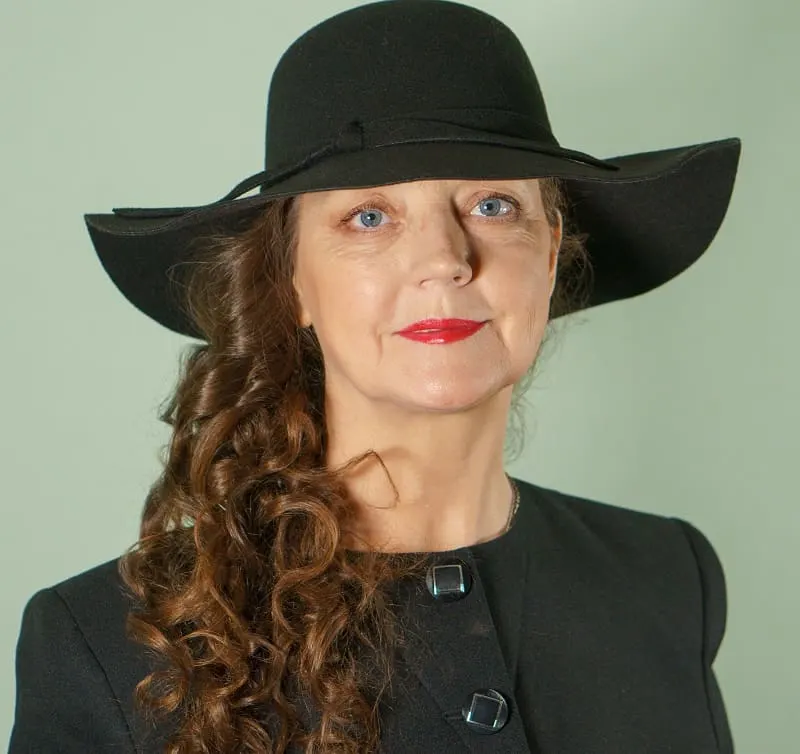 A long curly hairstyle for older women is ideal when you want to keep your ringlets well defined. Keep the whole mane on your shoulder, on one side, and wear a hat. Everyone will notice how ravishing you are.
8. Layered Hairstyle with Waves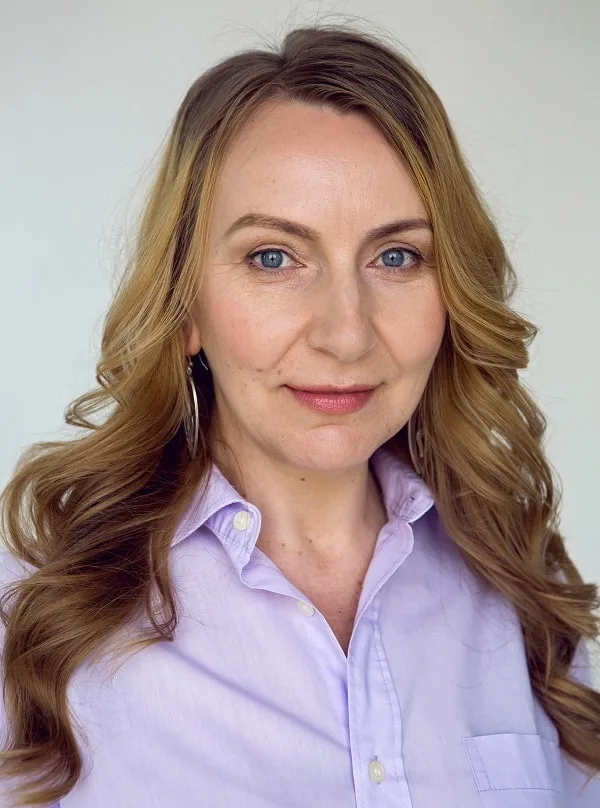 Go for an ombre and a long layered hairstyle for older women that will also look fantastic with some waves. Toss your bangs on one side and wear long silver earrings that will give you that elegant touch.
9. Long Hairstyle For Older Women with Round Faces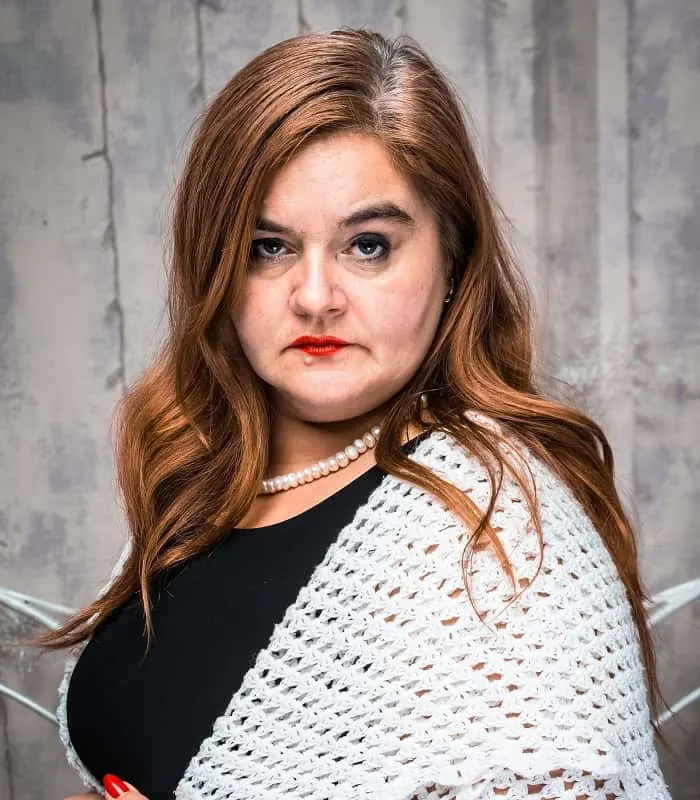 One of the best long hairstyles for older women with round faces is one that keeps the bangs tossed on one side and provides excellent feature framing. You can also style some loose waves that will give you that fabulous volume.
10. Braided Low Ponytail for Women over 70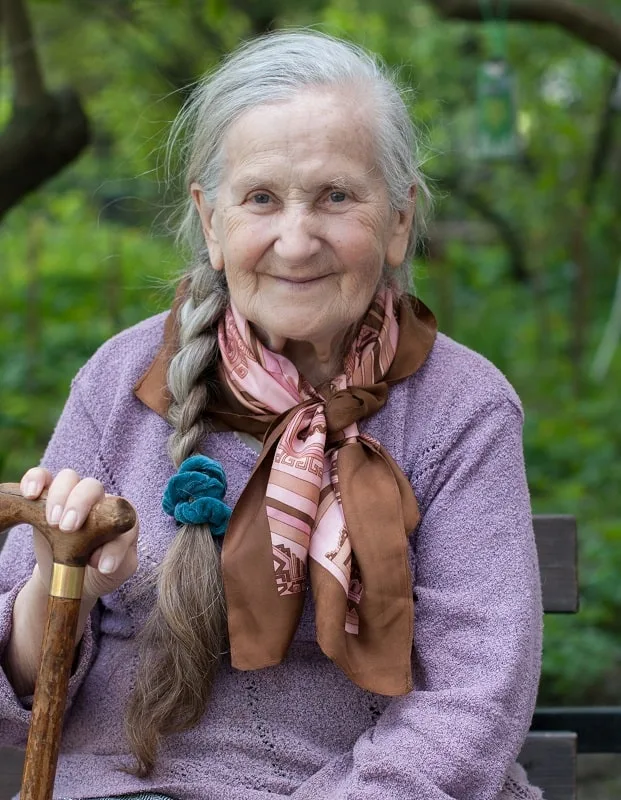 If you're blessed with long hair in your 70s, this older woman with long gray hair can be an inspiration for you. Make a braided ponytail on one side and secure the hairdo with a scrunchie.
11. Ombre Updo for Older Women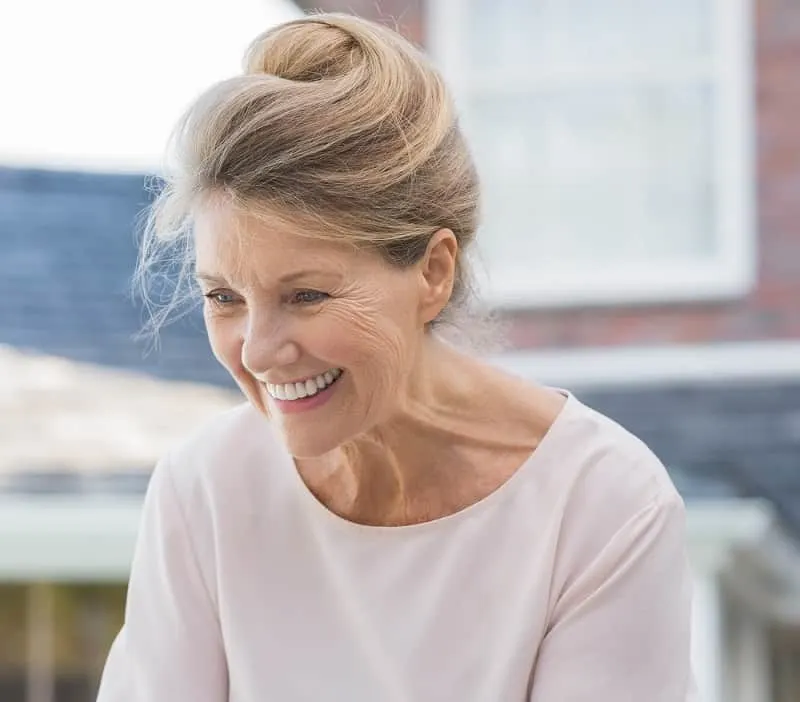 Every time you want an elegant long hair updo, roll your hair in a bun on top of the head. A blonde ombre will make you look both glamorous and modern.
12. Low Ponytail for Older Women with Thick Hair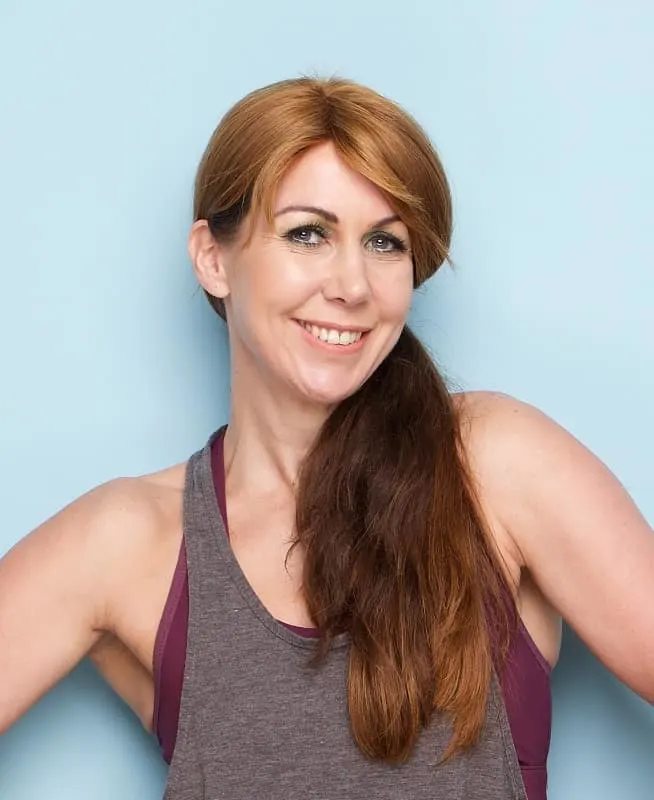 This older women's hairstyle with long thick hair will add a lot of value to your mane. Create a sombre that uses a dark grain blonde for the top and brown shades for the tips. Create curtain bangs and pin the hair on one side in a ponytail.
13. Platinum Blonde Side Braid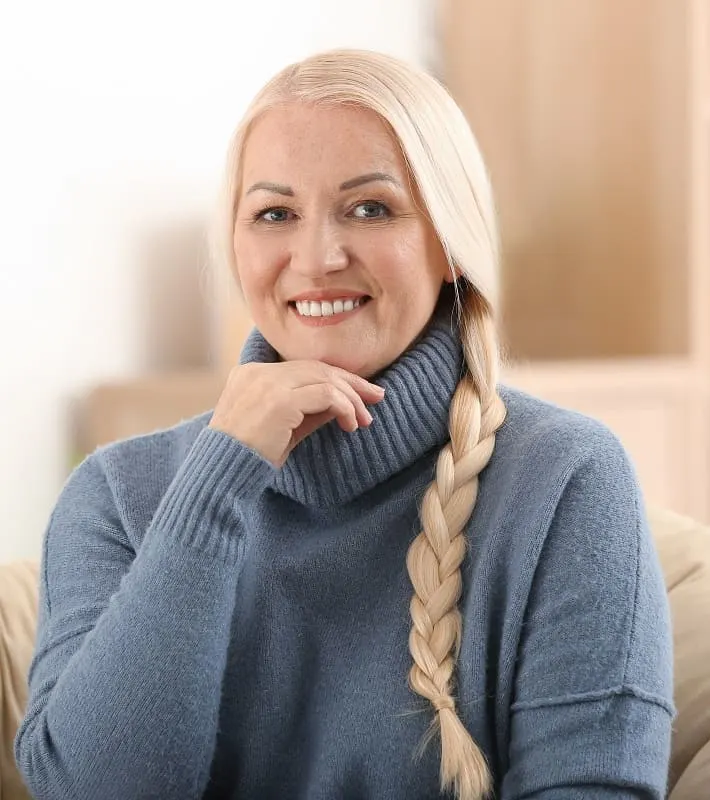 Pull your hair back to one side to create this long hairstyle for women over 50. Style a braid and use a thin strand to secure the braid at the end.
14. Long Wavy Hair for Women Over 60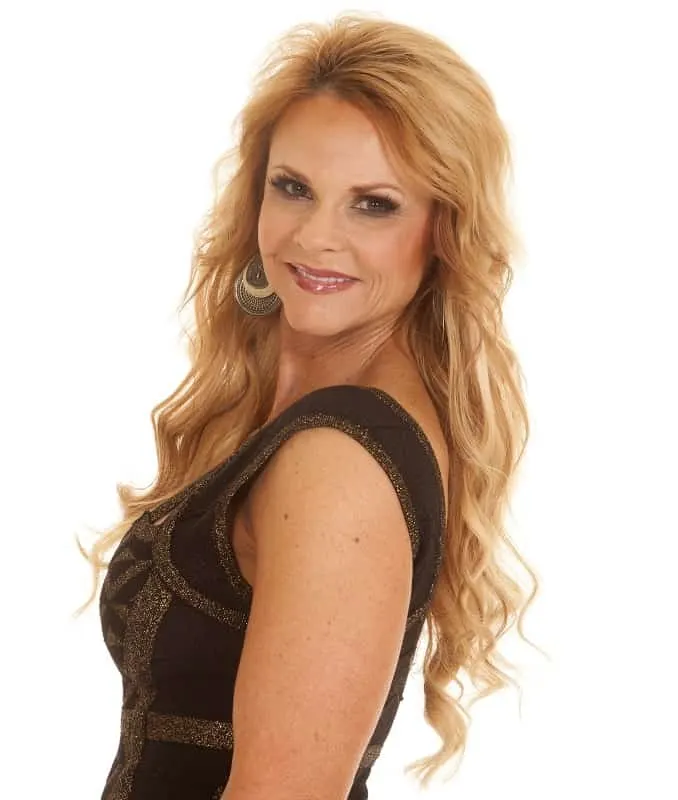 This long hairstyle for women over 60 gives your hair a lot of volume. Use a curling iron to recreate this look and toss your bangs on one side. Use hair spray to offer the top more dimension.
15. Low Ponytail For Older Women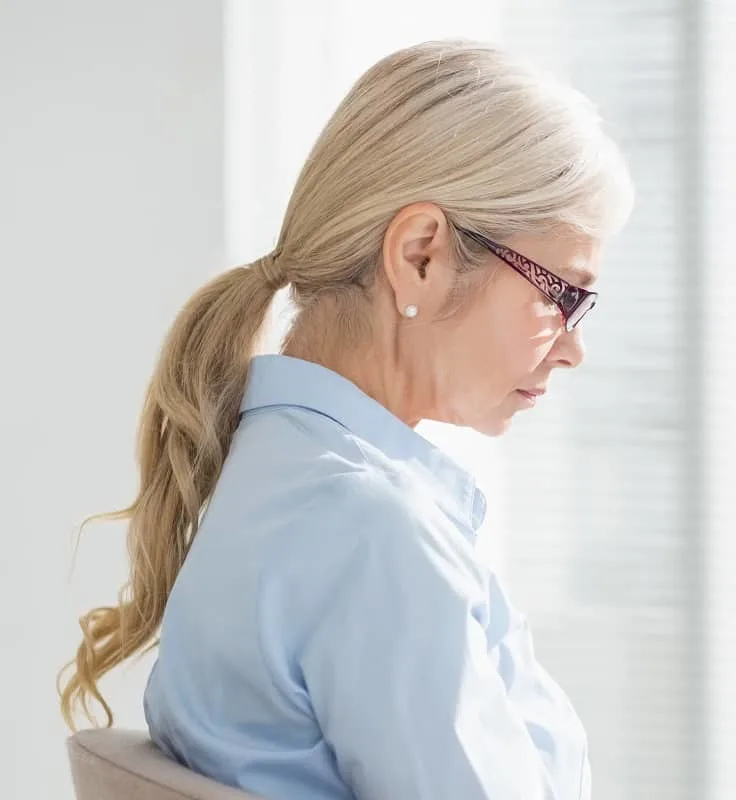 To make your white hair beautifully blend, go for a platinum blonde color that will make you look astonishing. Tie it in a low ponytail and use a strand to wrap it at the base.
16. Low Bun for Older Women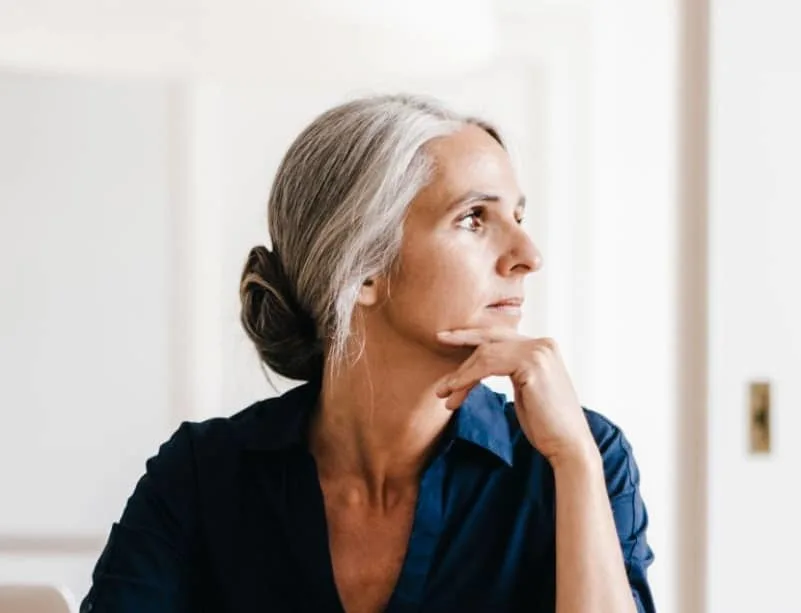 Create an elegant appearance with a simple a braided low bun. Spare a few strands from the temple hair and let them frame your face. Don't dye your white hairs, make them blend with the black strands.
17. French Braids for Older Women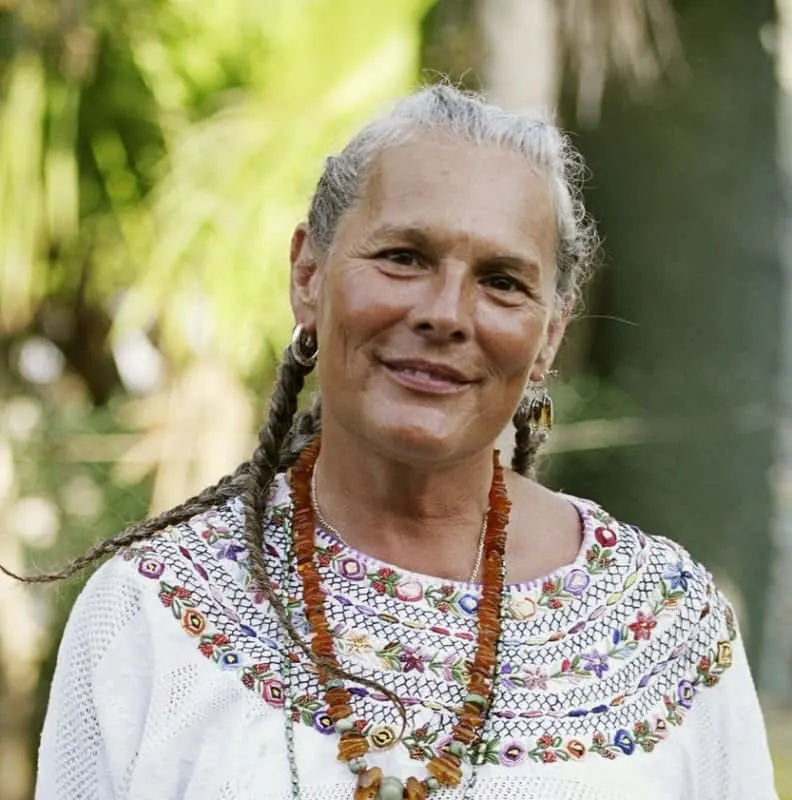 When you want a traditional look that keeps your hair in one place, split your mane into four sections and style French braids. Don't secure them; just dip them in hot water or use transparent hair elastics.
18. Blonde Long Hair with Curtain Bangs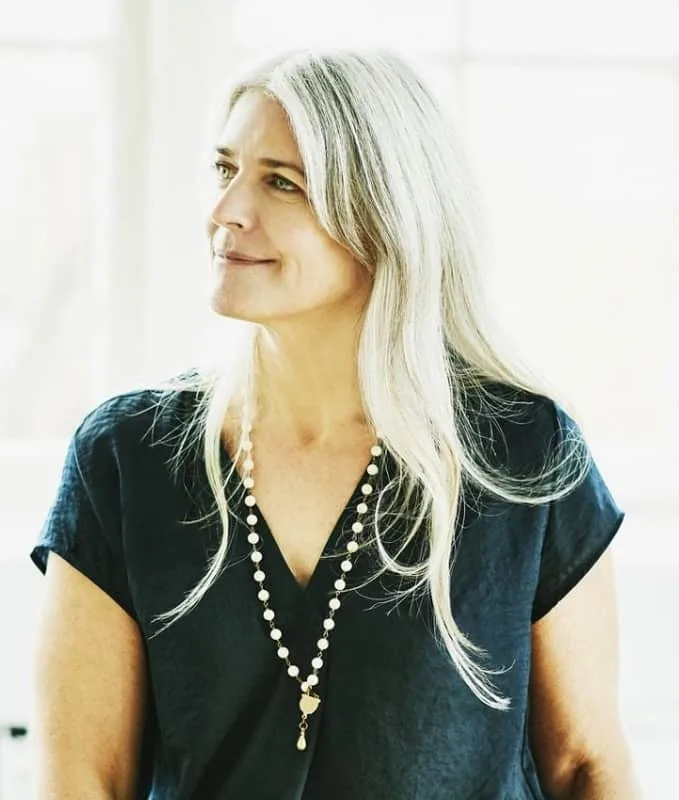 Layer your hair and create curtain bangs that beautifully frame your face. Pull off a platinum blonde hair color that will make all the white threads disappear by magic.
19. Wedding Bun for Older Women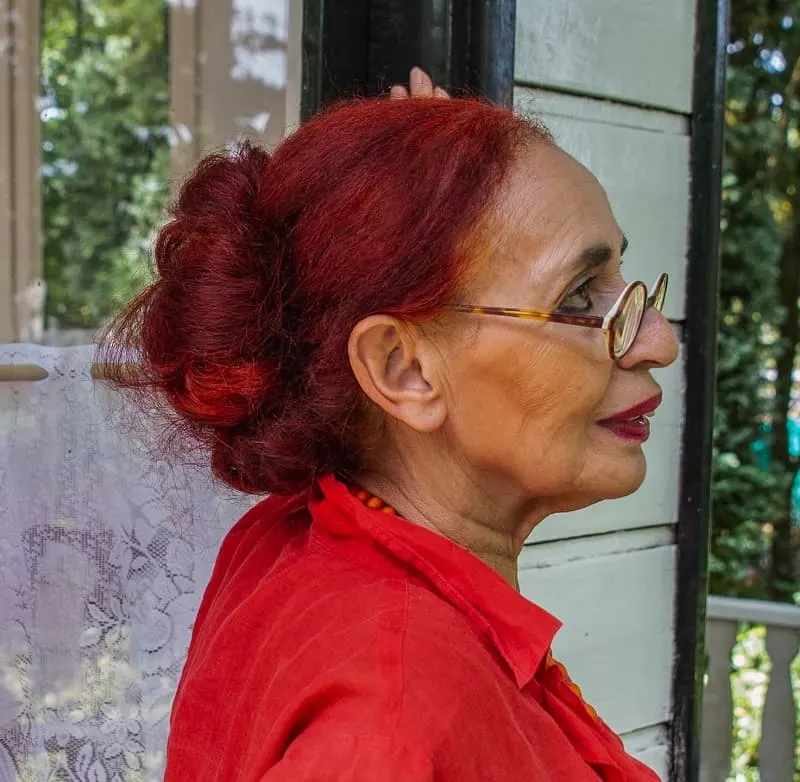 If you are a mother in law or the mother of the bride, you need to look ravishing for the wedding. Get a red hair color and style a big bun in the back. This hairstyle will beautifully work with your glasses.
20. Long Layered Gray Hairstyle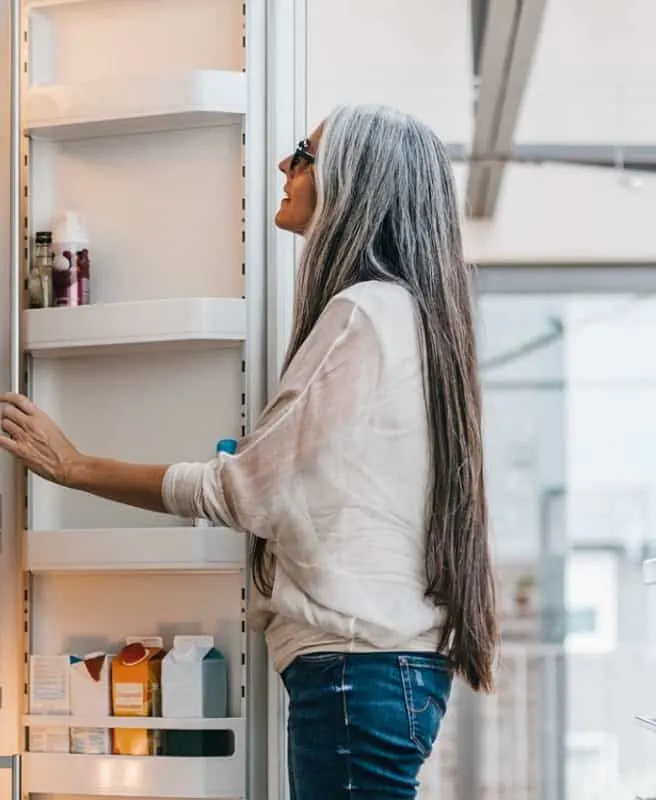 If your hair starts to lose its pigment, don't cover the white threads, let them blend with the black strands. Keep the hair long, reaching your hips, and style a V-cut. Wear a pair of rounded glasses, and you'll be able to master a retro hippie look.
21. Red Hairstyle with Curls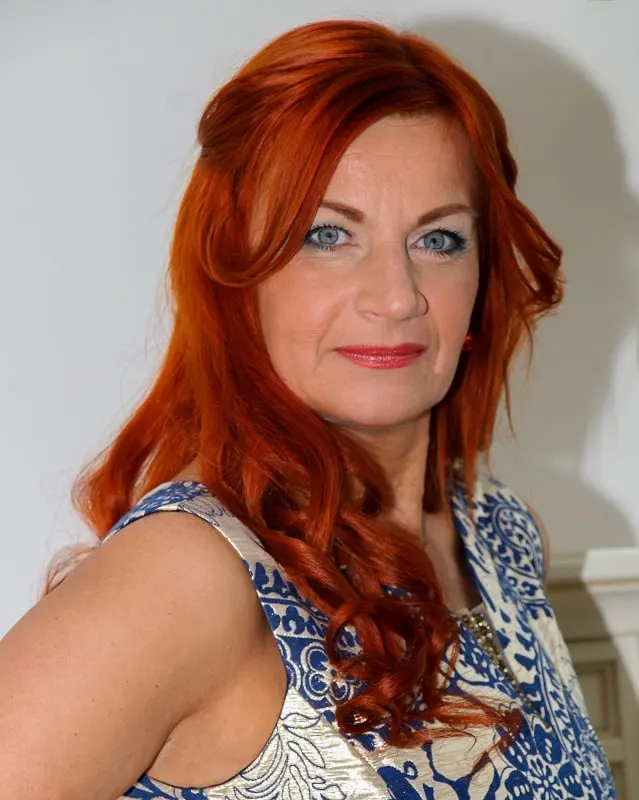 Every time you want an elegant hairdo that makes your eyes pop, get a red ginger hair color and create curls for half of the hair. Take the top hair and pin it in the back while sparing two strands from the bangs. You will show off the fire in your heart and you'll become fierce.
22. Themed Party Hairstyle for Older Women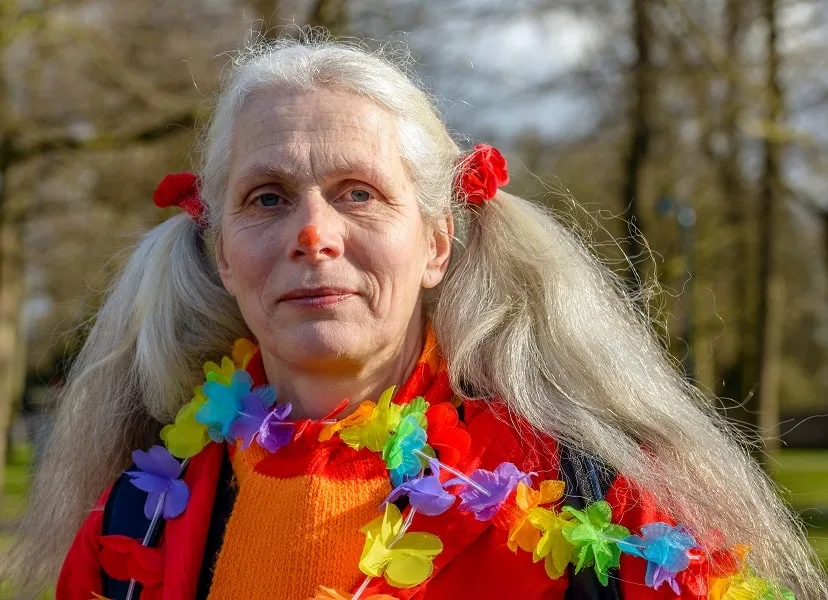 When you're attending a themed party where you need a crazy hairstyle, opt for keeping the hair white and part it into the sections. Make two ponytails and use flowered scrunchies to tie the hair.
23. Wavy Low Bun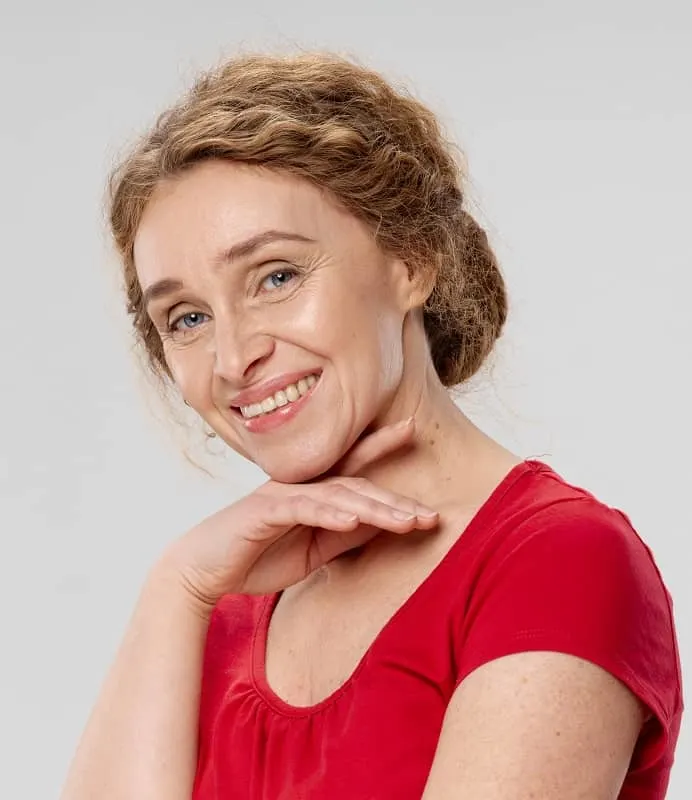 If you are above 50, try this look and you won't be disappointed. Keep your hair wavy and pin it in a bun in the back. Pull off a few strands and make the hairdo a little bit messy.
Long hairstyles make older women look elegant and give enormous styling possibilities when it comes to color dyes and haircuts. With age, your style changes and you start to love other hairdos.
This way, you'll get the possibility to mix and match modern and retro elements into your hairdo. Write to us in the comments which were your favorite hairstyles and what tricks and tricks you use to build a fabulous hairstyle!