In the last few years, medium haircuts have been extremely popular and are considered very fashionable among older women. However, fashion is not always the reason, at least not the only reason to opt for this hair length.
Many women, once they've reached a certain age, opt for a medium length hairstyle. Sometimes it's because they feel that cutting their hair short is a radical change they are not yet ready to take.
In some cases, it's because they feel that their long hair doesn't suit them anymore, or even because they feel it's too boring. But most of the time it's because they want to try something different, new and fresh.
Elegant Medium Hairstyles for Older Women
We are happy to present 40 medium-length hairstyles that are great for older females as they are a great option for almost any age.
1. Layered Chocolate Brown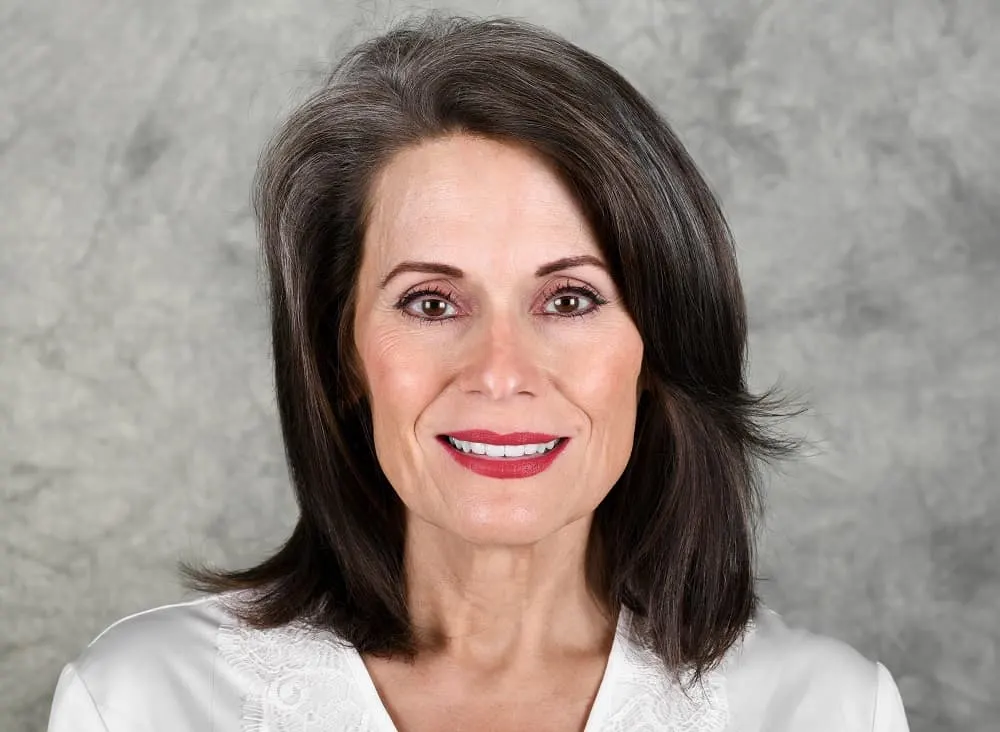 Older women with pale or light skin tones would do well to opt for dark-colored hairstyles, like this chocolate brown shoulder length cut! The medium length is layered and parted off center to beautifully switch up the dimension of your face shape.
2. Wavy Bob with Short Bangs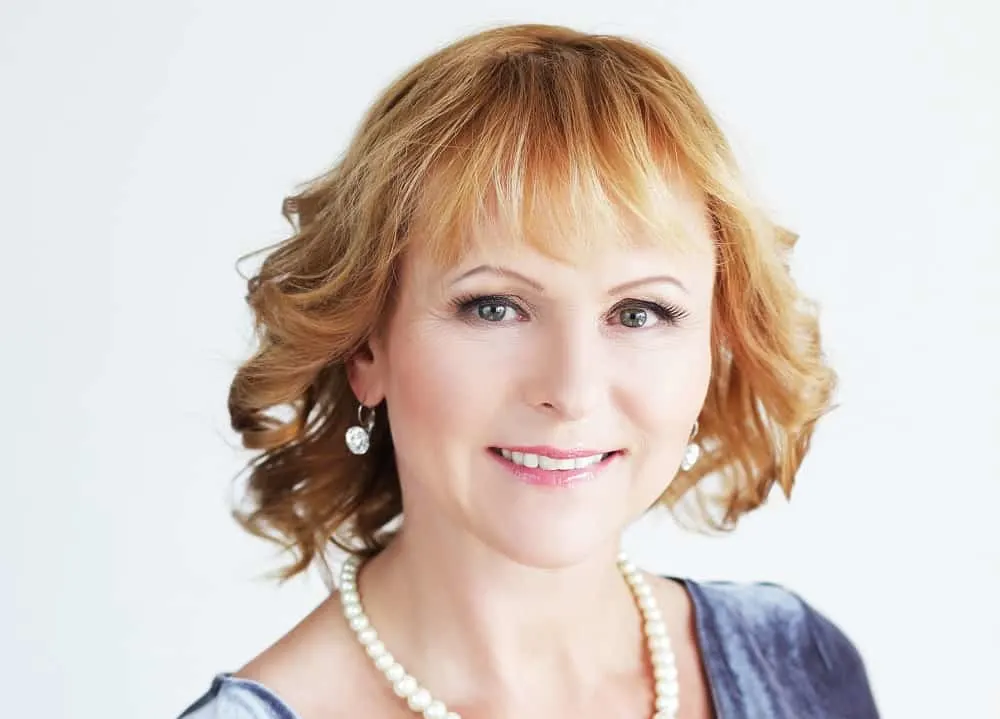 Bangs aren't just for young women! Older women seeking that perfect medium hairstyle can just as beautifully flaunt short bangs to bring attention to their eyes. Try short straight bangs paired with a wavy bob.
3. Light Brown Ponytail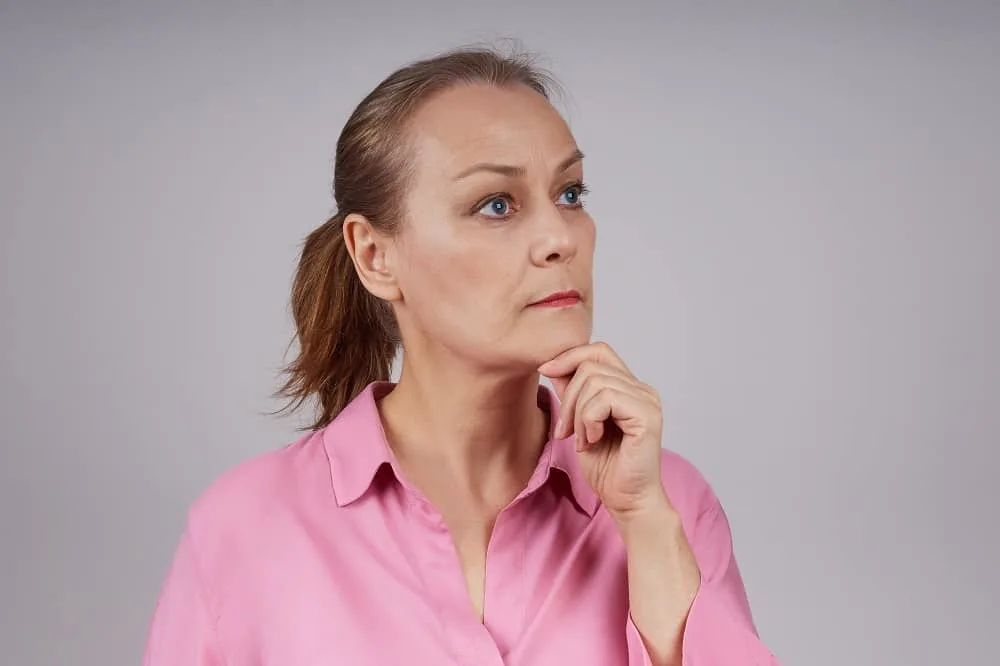 If you want to be able to sweep back your locks into a cute updo, go with a medium length hairstyle that is about the same length all over. A light color like brown or blonde will lighten up your skin tone and disguise any grey hairs you aren't liking!
4. Shoulder Length Salt and Pepper
To embrace that grey or white hair in a youthful way, go with a salt and pepper medium hairstyle for older women. This cut features mostly straightened hair that is flipped at the ends for a little perk. It's parted off center and the white streaks nicely break up a dark base.
5. Caramel Natural Curly Hair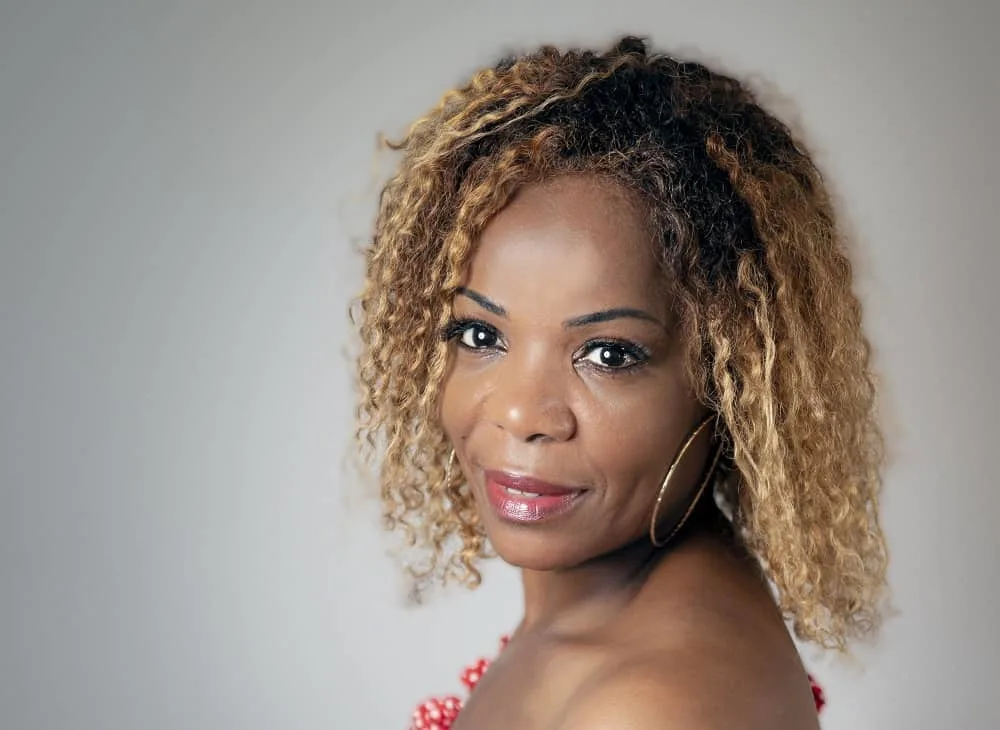 If you're an older woman of color whose hair is naturally curly, make sure it's the first thing people notice! A medium hairstyle with blonde or caramel ombre will look lovely against your dark skin tone. Add short layers near the top for extra body.
6. Short Layers with Side Bangs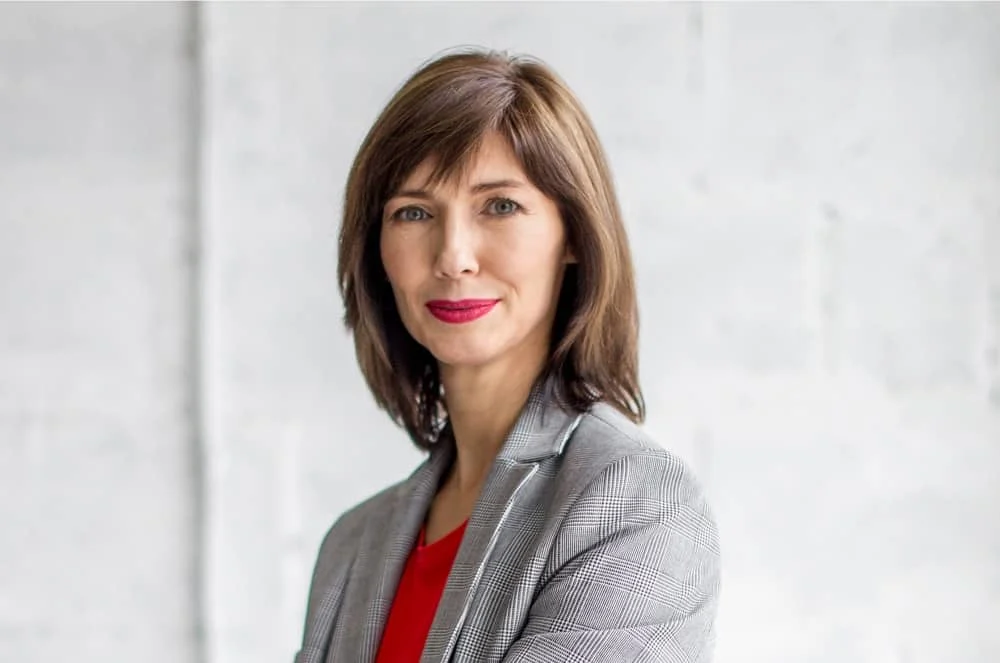 The easiest way to add movement and shape to a medium length hairstyle for older women is with layers! So ask your stylist to cut in short ones, especially around the face for framing. A short, straightened side bang will round out the look.
7. Platinum and Light Blonde Waves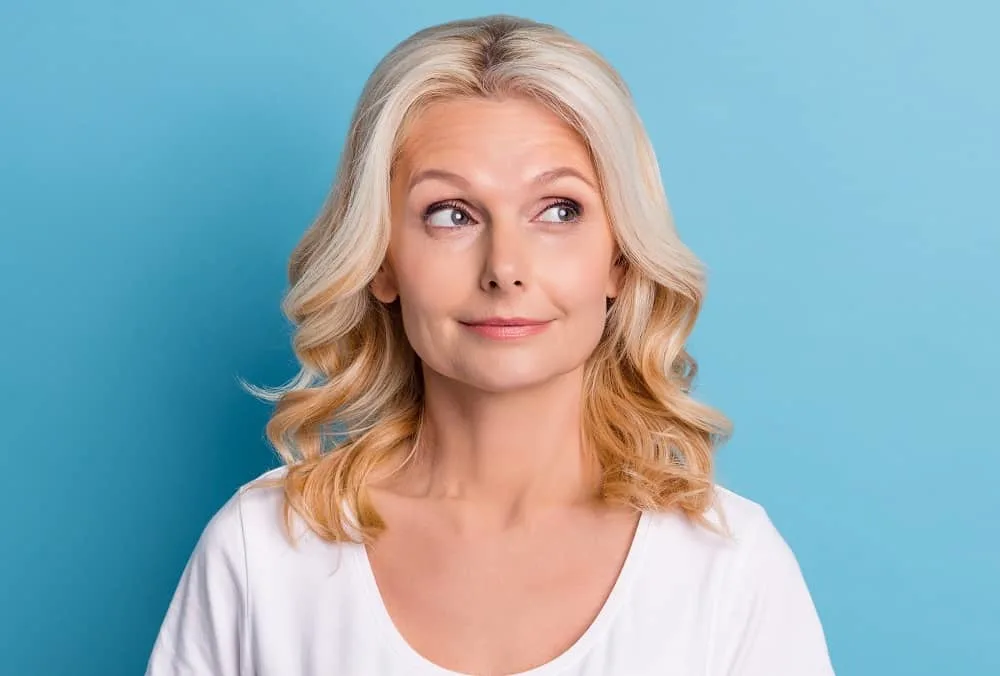 If you're an older woman who still feels like she's 16 years old, convey that with a medium hairstyle! Go with two shades of blonde, wearing the darker shade at the bottom half of the hair. Part hair in the center and fill the body with lots of large waves.
8. Thick Hair Half Updo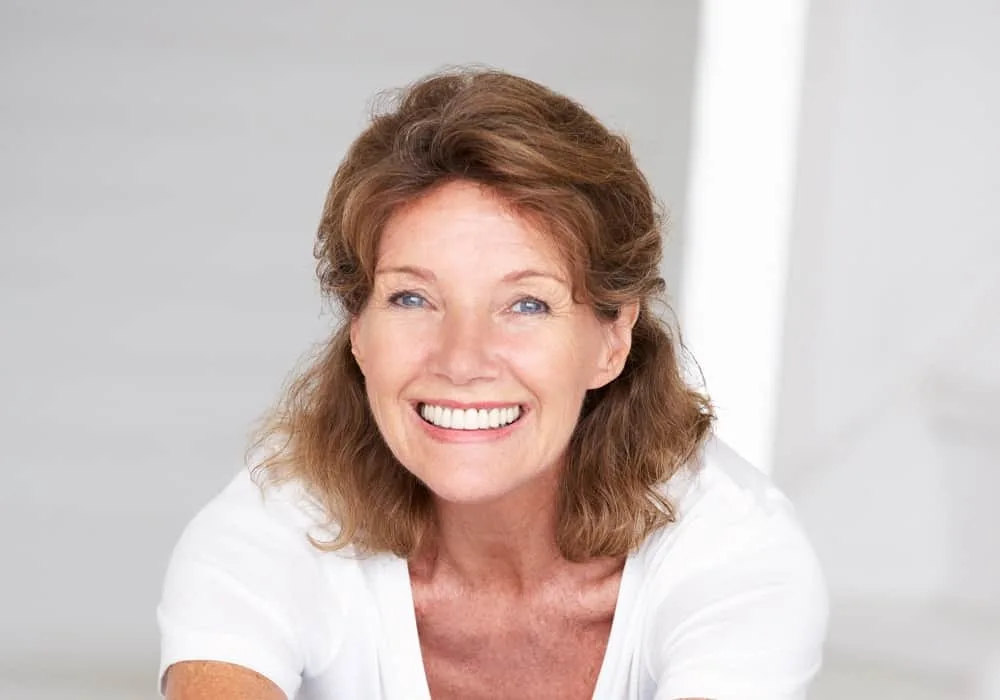 Searching for a way to get those bangs off the face? Gather your medium length hair into a loose half ponytail. This style takes only minutes to create and is great for lifting bulky thick hair off the shoulders.
9. Grey Micro Braids
For older women with natural hair who are going grey or silver in hair color, we recommend a micro-braided medium hairstyle. For chic style, use a colorful headband to gather back hair away from the face.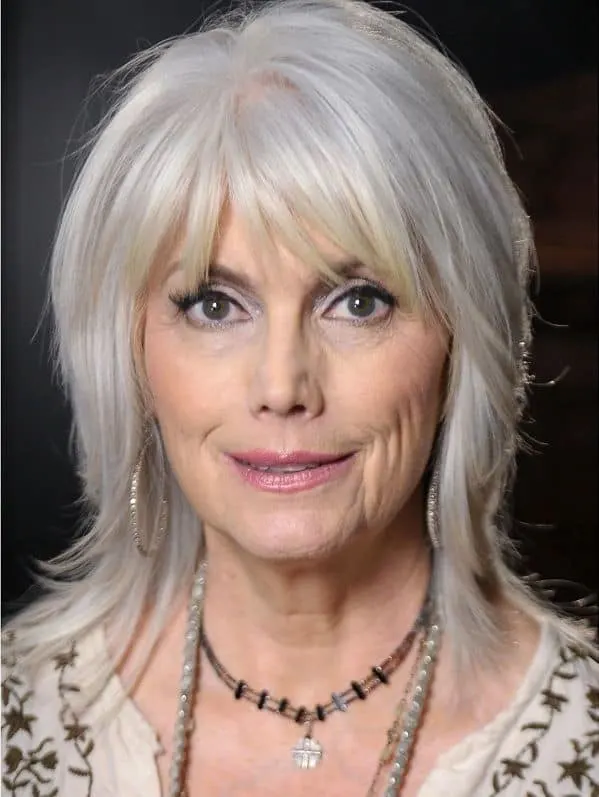 You are happy to embrace your naturally gray hair, because, let's face it – it looks absolutely great. But you don't want to look like a grandma. We have some good news – it's possible.
Ideal for: Oval and round-shaped faces.
How to style: Cut your hair to shoulder-length, add some layers and cut your bangs. Your gray hair will shine to the fullest and you will still look youthful and edgy.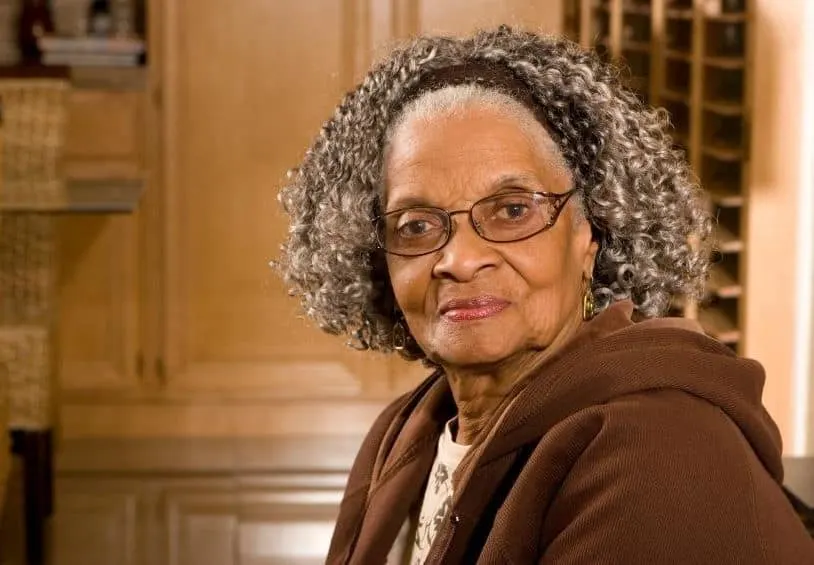 Old ladies who have natural short grey afro are really lucky. Many women are ready to pay good money to have curls like that.
Still, you feel that it doesn't look exactly like it did when you were twenty. While that may be true, it certainly doesn't mean that it cannot look good.
Ideal for: All face shapes.
How to style: You can cut your hair into a nice medium length cut and spice the hairstyle up with a headband to tone the hairstyle down and make it a little bit less wild.
Best Haircut & Style Ideas for Older Women
12. Classy Bob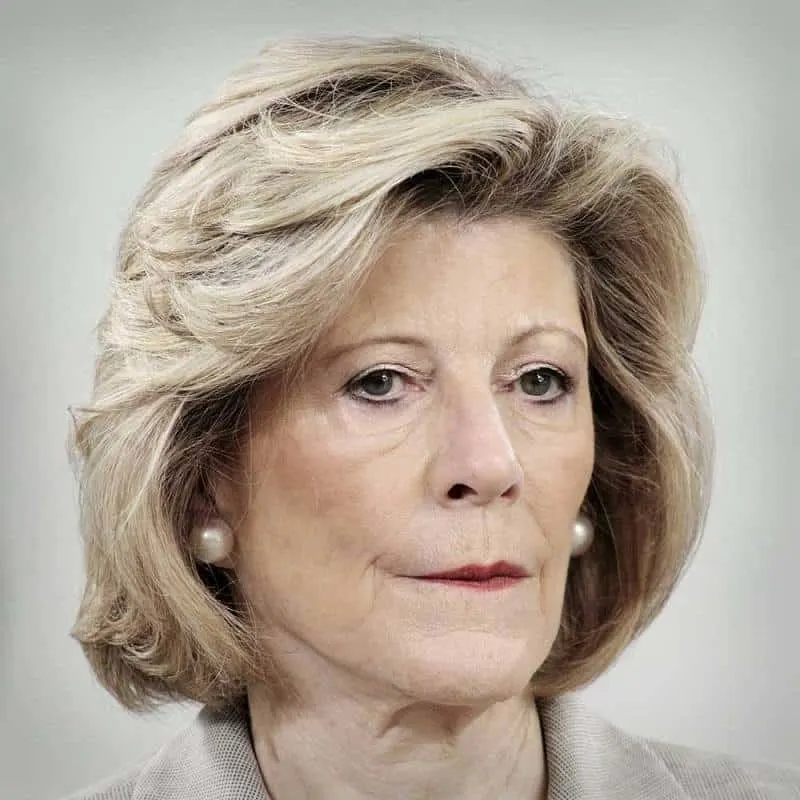 This bob hairstyle is a classic. Every day you see those classy businesswomen, actresses, and politicians and you can't stop thinking about how great they look wearing it. Well, you're right.
Ideal for: Oval and square-shaped faces.
How to style: The hairstyle is fairly simple to achieve. It's a slightly longer and layered bob enhanced with a good blowout and a little bit of teasing. To match the color with the haircut, we suggest a natural and neutral hair color that best suits your skin tone.
13. Elegant Updo
A few years ago you may have been trying to hide your age by using various different tricks you've heard from your friends, on television, or in different articles, but now you are starting to embrace the elegance and wisdom you've gained with age. And it reflects on your hairstyle choices.
Ideal for: Oval and square-shaped faces.
How to style: For an everyday hairstyle we suggest this great elegant natural hair updo. Keep in mind that it shouldn't be too sleek.
14. Simple Updo
Age has taken away some thickness from your hair. While you may be sad about that, the truth is that it's a natural occurrence and a part of life. And it's not like it doesn't have any good aspects to it.
Ideal for: Oval and round-shaped faces.
How to style: It takes just a couple of hairpins to hold a nice updo in place and make your hairstyle look sophisticated. This is a perfect hairdo for women over 70 with mid-length hair.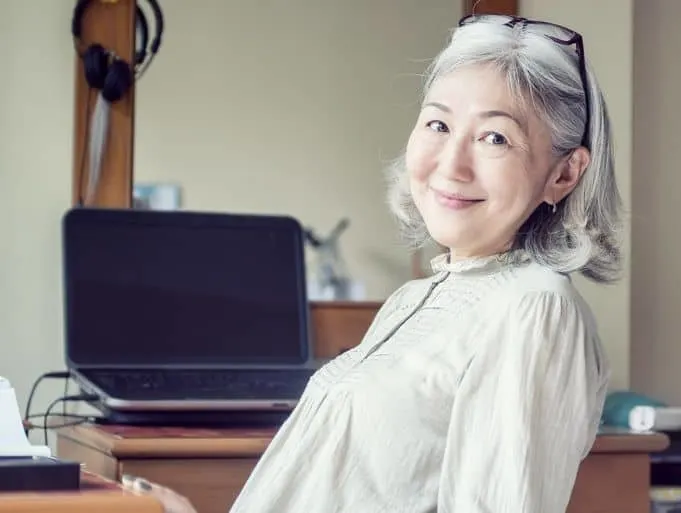 There are a lot of different ways to style a bob. And they are all equally pretty. Any women over 50 can easily rock this medium haircut.
Ideal for: All face shapes.
How to style: If your hair is not perfectly wavy or perfectly straight you can always take a few minutes to curl the tips outwards. It gives your hair dimension and a more youthful appearance to your face. You can also add a hair clip or a headband to keep the bangs away from your face.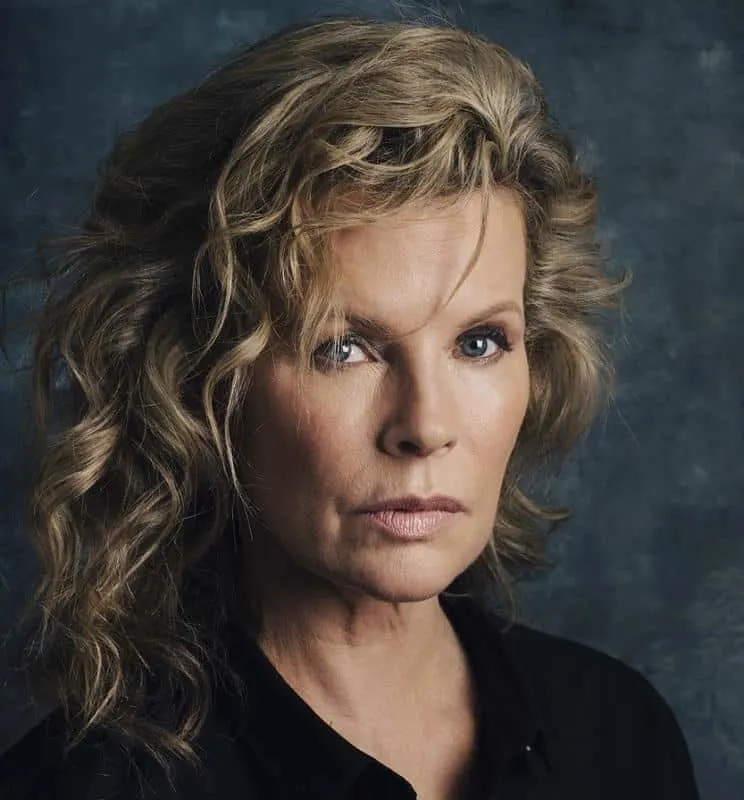 Curls are a great way to keep your otherwise boring hairstyle interesting and edgy. They also add a lot of volume and texture. First, divide your hair into smaller sections.
Ideal for: Square-shaped faces.
How to style: Take time to curl small strands of hair with a curling iron. Don't forget to use products that will help prevent hair damage.
Once you're done you can use your favorite styling products and even sweep your bangs to the side to achieve a desired relaxed and modern look.
Classic Short Hairstyles for Older Females
Yesterday your hairstylist made beautiful curls and a beautiful, elegant updo that made you look like a star on that special gala dinner. When you got home it was time to take off all the bobby pins and go to sleep.
Ideal for: All face shapes.
How to style: Still, you can make a great look from those medium curls the next day. Comb your hair gently, and your hair will look as if that's the exact look you were going for.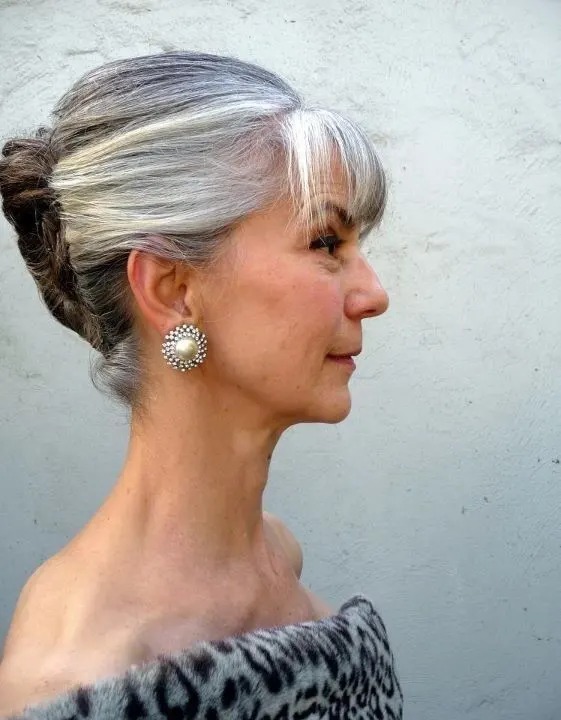 There is no better way to make those natural highlights that you got after growing your gray hair grow out pop than by making a nice updo. It will just emphasize the texture from all the different colors.
Ideal for: Oval and round-shaped faces.
How to style: A nice fringe will just add a little bit more edge to the look.
19. Lob with a Blowout
It is not such an uncommon occurrence that after a woman has reached a certain age, her hair that used to be completely straight starts getting some natural curls, especially on the tips. But there are no reasons not to enjoy it and embrace it.
Ideal for: All face shapes.
How to style: When you're blow-drying your natural hair, use a brush to curl those tips a little bit more to achieve the desired texture.
You were always a modern and chic lady that has a huge passion for fashion. And now you need a hairstyle that matches that bold red lipstick that you love wearing. We think that different shades of red look great on older ladies.
Ideal for: Square-shaped faces.
How to style: Just choose your shade of preference – bright orange, copper or red like a flame – they are all equally gorgeous. Don't be afraid to let your youthful soul shine.
There are some hairstyles that only look more beautiful with age. And a long wavy bob is one of them. You can never go wrong with a hairstyle like this. It looks sensual and enchanting.
Ideal for: Square and round-shaped faces.
How to style: Enhance it with honey blonde highlights.
22. Layered Straight Gray Hair
Grey hair has become such a statement in recent years. Girls and women are crazy about it. Perfect grey hairstyles for over 50 women who has medium length hair.
Ideal for: Heart and oval-shaped faces.
How to style: You can only imagine how many eyes will be on you when you straighten that naturally gray hair. The effect that you will achieve is that of a red carpet looking hair that much younger girls will envy.
If you don't feel comfortable wearing a messy hairstyle but still don't want to wear a classic updo that will only add a few years, you can always choose the option of a half updo.
Ideal for: Heart and square-shaped faces.
How to style: Just use a straightening of a curling iron to make nice waves. Brush your shoulder-length hair gently so that it looks more relaxed and use a hairpin to hold a few strands of hair at the back of the head and tame the overall hairdo.
This one is one of our favorites. Mainly because it's a good inspiration for women of any age. It's so simple, so sophisticated and it shows that a good hairstyle doesn't always require constant effort and a lot of trouble. It also shows that any hair color of your preference can look good and completely appropriate.
Ideal for: All face shapes.
How to style: When doing a blowout curl your hair with a styling brush.
Age Appropriate Hairstyles for Women Over 60
25. Simple Hairstyle with Gray Hair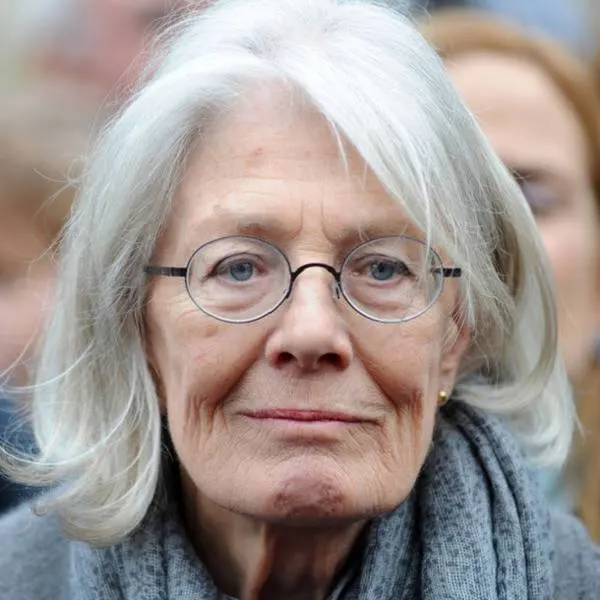 You like to keep it simple. You don't feel like spending time at the hair salon and you want to seize every day by doing other things that make you happy.
Then you need a practical haircut that won't require a lot of time maintaining. And a longer bob is perfect for that.
Ideal for: All face shapes.
How to style: Even if you don't color your hair it will look great with minimum effort put into it.
26. Messy Updo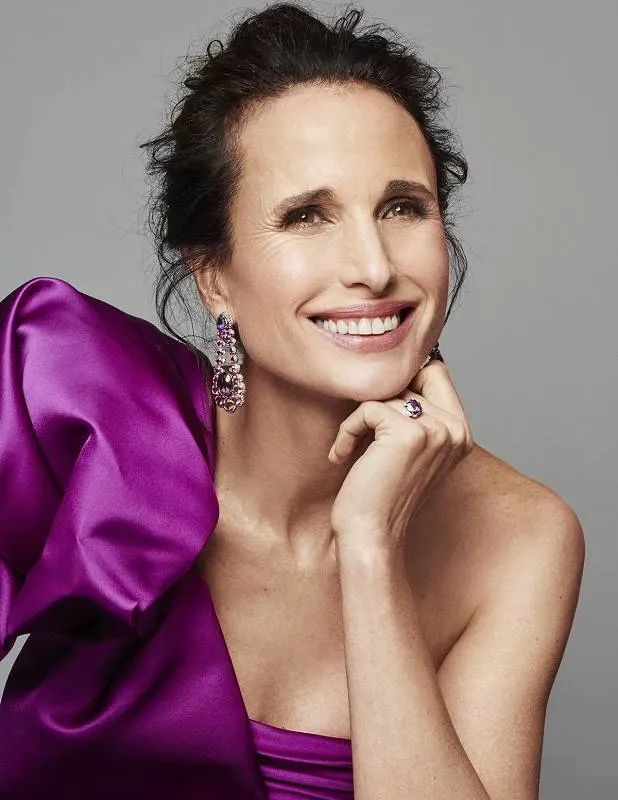 Andie MacDowell is an icon. In this article we want to pay a tribute to this beautiful woman that is a true inspiration in so many ways. And her hairstyle is an inspiration for many older ladies as well.
It is a perfect example of how a simple messy updo that didn't require a lot of attention at all can look breathtaking.
Ideal for: Oval-shaped faces.
How to style: As your simplest messy everyday updo.
You are organized and neat. You don't want anything that is over the top but you want your hair to be nicely done.
Ideal for: Square-shaped faces.
How to style: We suggest a nice mid-length haircut with layers that you can style easily at home using a styling brush to curl the tips inwards. With a little bit of effort, it will look smooth and neat. Bangs swept to the side are also a good option.
A perm is definitely one of the hairstyles that were so popular when you were younger. And now it's back again.
Ideal for: Square and oval-shaped faces.
How to style: If you decide to get a perm you can always brush through your hair every time you blowdry it to get a more modern and voluminous effect.
This one is another classic. By now we have made it clear that, if we're talking about medium hairstyles for older women, we are definitely fans of all kinds of bobs. But it wouldn't be fair not to show you all your options.
Ideal for: Heart and oval-shaped faces.
How to style: In this example, you can see that a nice bob can only be enhanced with short bangs. If you like it, go for it!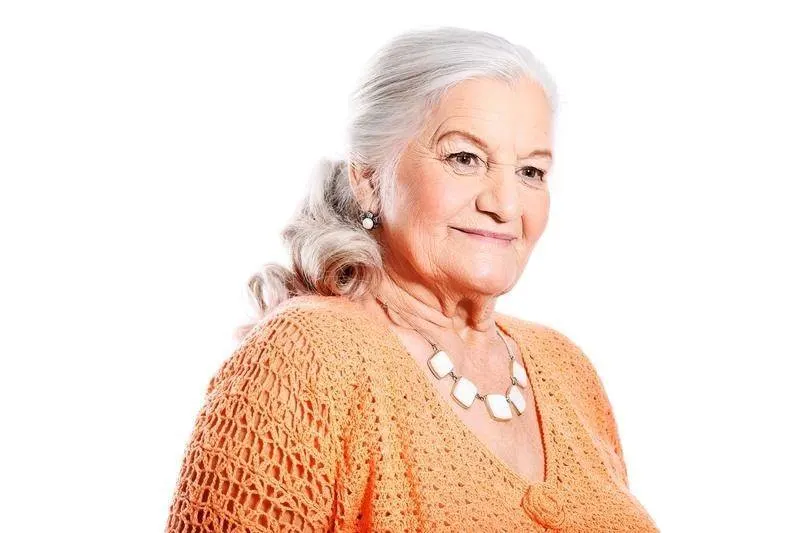 Women can do anything! And true ladies never stop taking care of themselves. And that includes giving your hair the attention that it deserves.
Ideal for: Square-shaped faces.
How to style: Here is a great tip for all the older ladies who like classical big curls – you can tie them into a low ponytail.
31. Teased Sophisticated Updo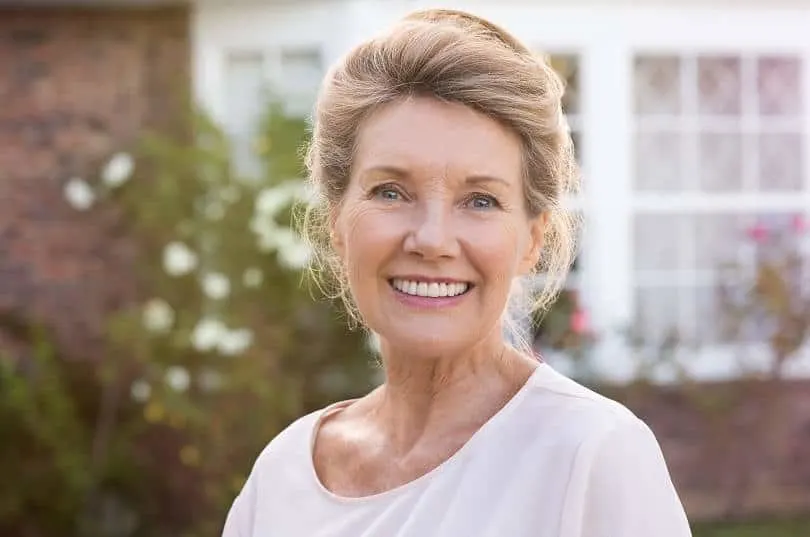 Updos suit every woman. Sleek updos, however, don't suit everyone. Plus, they can pull out some hair and damage it.
Ideal for: Square and heart-shaped faces.
How to style: First take some time to tease the hair on the top of your head and then create your favorite updo.
32. Natural Lob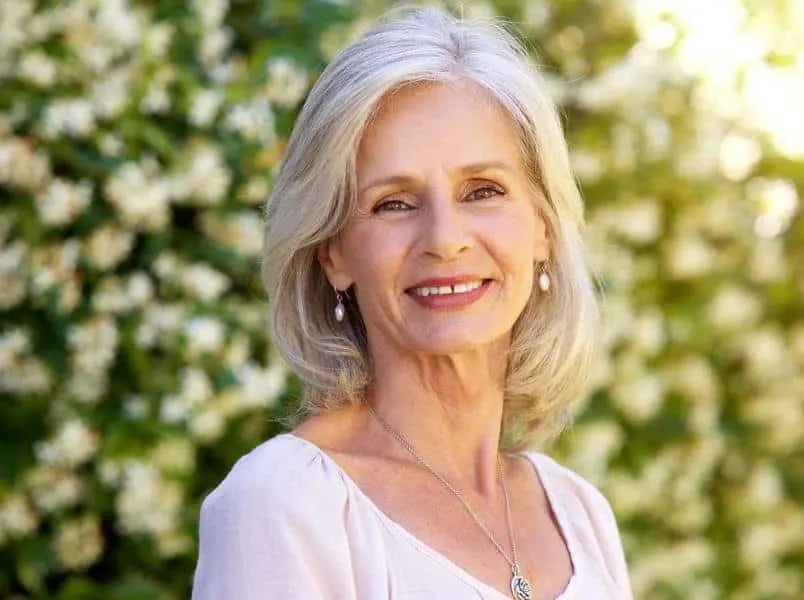 Just like a natural bob, a natural lob also looks very pretty. If your face is a little bit more round and you have a longer neck, chances are that a lob will suit you slightly better than a short bob. And once you realise how easy it is to maintain, it will become your favorite hairstyle.
Ideal for: Heart and round-shaped faces.
How to style: No styling needed.
For those old age women who still like to do something extra to that lob, a wavy blowout is a terrific idea. It is a little bit more formal, so it's a great option for work or different social events.
Ideal for: Oval-shaped faces.
How to style: Use a styling brush while blow-drying your hair.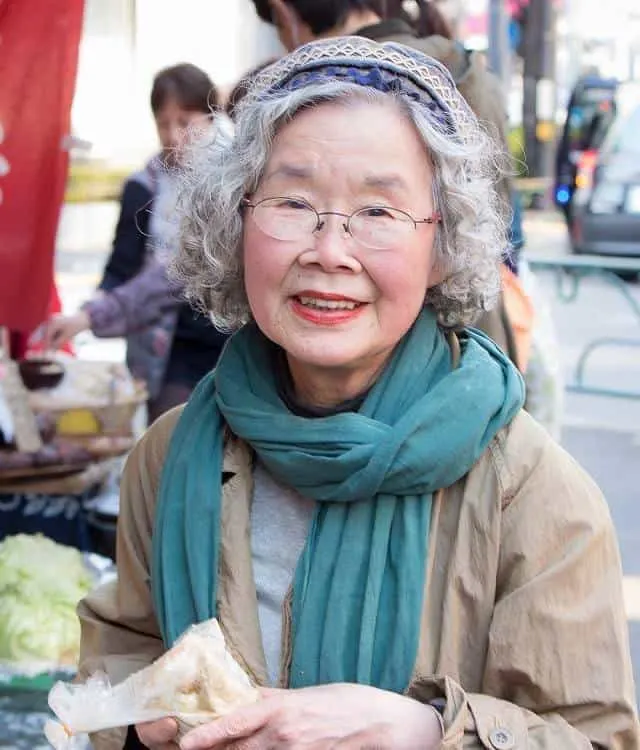 Remember what we said about perm? It's back and it looks great even on a bob.
Ideal for: Square-shaped faces.
How to style: You can decorate it with hair accessories of your preference.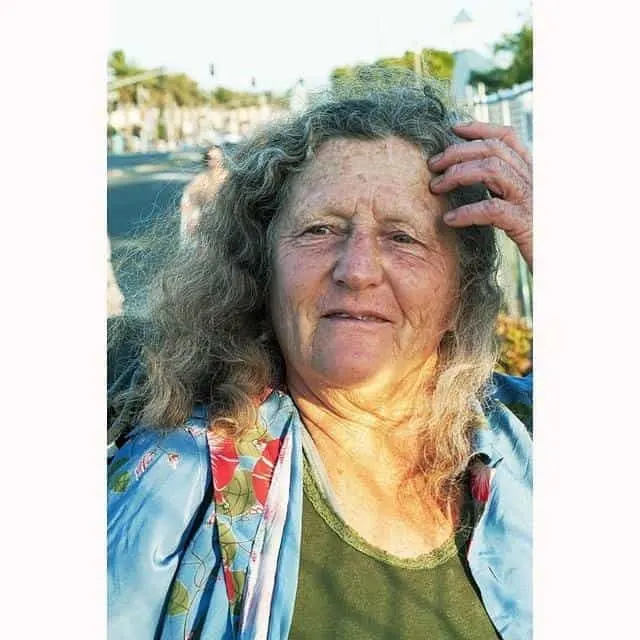 It's not only ladies with straight or slightly wavy hair that can enjoy their natural hairstyle. Ladies with curly hair can too!
Ideal for: Square-shaped faces.
How to style: Those curls deserve some rest. You can use a little bit of product to nurture them look shiny.
Madonna is the queen of pop, but she is also the queen of wavy, voluminous blonde hair. And if you like it, you can be too.
Ideal for: All face shapes.
How to style: Just make sure that you're hair is healthy enough to dye it blonde and style it in glorious big waves.
Top-notch Medium Hairstyles for Women over 40
37. Edgy, Extra-Teased Updo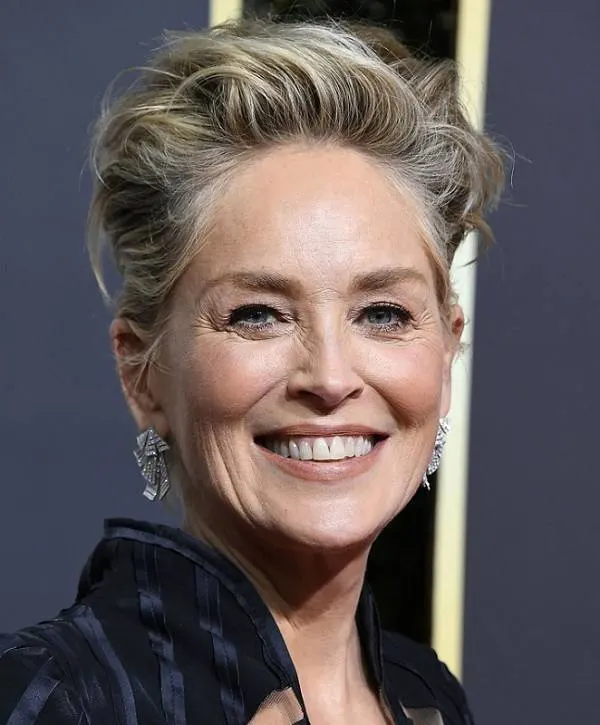 A great idea for older women with shoulder-length hair for any special event is a simple updo at the back.
Ideal for: Oval and round-shaped faces.
How to style: The hair on the top of your head should be teased and voluminous, while the hair on the sides should be a bit tighter to complement your oval face shape.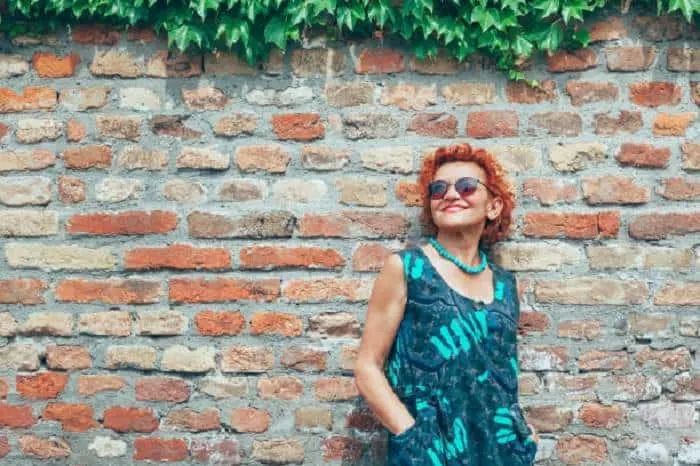 Women with naturally curly hair are no exception when it comes to the enchanting powers of red hair.
Ideal for: Square-shaped fces.
How to style: If rollers are too much of a hassle to you, have a perm.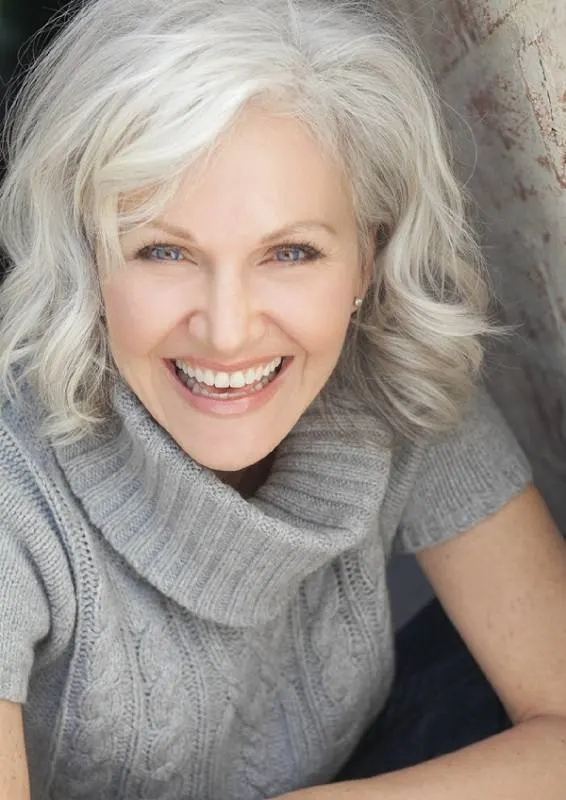 There is something truly special about white hair. Even more so if it's naturally white.
Ideal for: All face shapes.
How to style: Enhance it with waves.
40. Natural Blonde Waves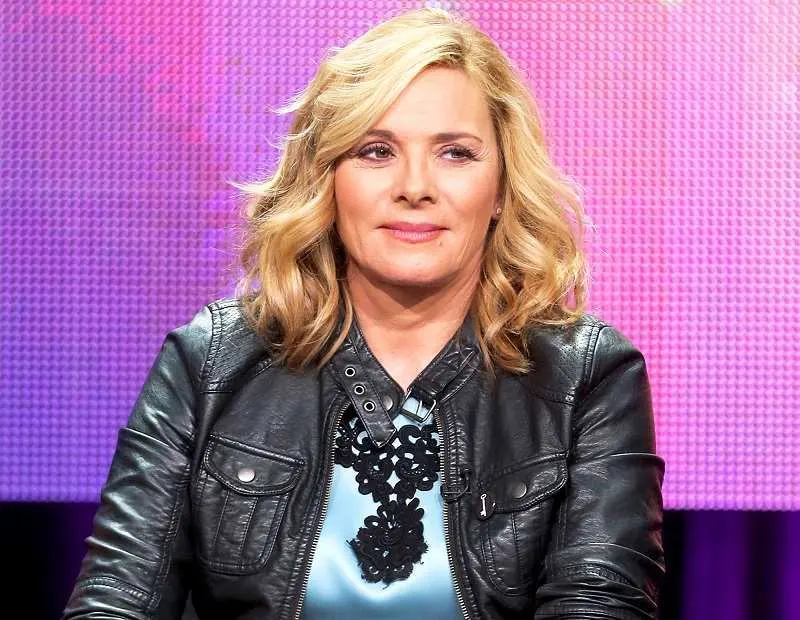 You don't have to stop being faithful to that honey-blonde hair. It can only make you look younger, especially if it is combined with natural looking waves.
Ideal for: All face shapes.
How to style: Use a curling iron or a hair straightener to curl the waves.
At no age are you old enough to not be modern and trendy and to stop trying to look good! Live life to the fullest and be a wise, gorgeous woman that you are. Check these amazing medium length hairstyles for older women and pick one for you.