In the last years, platinum silver hair colors skyrocketed all hairstyling trends and all for the right reasons. Celebrities pull them off, and they look better than ever. The perks of this hairdo are countless: they work their magic on any hair length, from pixie haircuts to long cascade tresses.
Also, anyone can choose to get platinum silver hair colors, no matter their skin color. Just select a darker shade or opt for an ombre that uses a gorgeous gradual fade. If you are ready to try this brilliant hue, scroll down to discover the best platinum silver hairstyles.
1. Bob Platinum Silver Hair
Opt for a bob haircut with choppy ends and part the hair in the middle. A platinum silver-blonde hairstyle will make you look fabulous, and everybody will notice the new look.
2. Platinum Silver Hair for Pixie Cuts
A pixie haircut is ideal for women who crave for a feminine short silver platinum hair. Wear your strands over the ears and go for a comb-over for the bangs. Make it last with some of your fav fixing products.
3. Wavy Platinum Silver
Girls with pale skin and blue eyes will love this platinum, silver-white hair! Go for a bob haircut and style waves to give your tresses high definition. Wear your fringe on one side and put a big smile on your face.
4. Platinum Pink Lavander Silver
If you have pale skin, short platinum silver lavender hair is something you certainly need! Opt for a bob haircut, tousle the hair and opt for a half cap that will make you look even cooler and modern.
5. Platinum Silver Hair with a Braid
Platinum silver-grey hair offers your tresses an unforgettable color that everybody will admire. If you have long, luxurious hair, go for a French braid that you can wear on one side.
6. Platinum Silver + Curtain Bangs
If you want icy platinum silver hair, keep in mind that it's a complicated procedure that needs a lot of bleaching and can't be easily obtained with only one visit at the hair salon. But in the end, it worths all the struggle because it will look fabulous.
7. Ombre Platinum Purple Silver
Silver platinum ombre hair looks genuinely mesmerizing! Go for dark silver roots and make an ombre that will transform that shade into a gorgeous platinum silver shade. Let it fall on your back and take two strands and knot them.
8. Asian Ombre + Platinum Silver
Asian platinum silver hair can make any girl look ravishing. Keep the tresses in medium length, layered and with darker roots. Style waves and accessorize the look with earrings that go along the earlobe.
9. Platinum Silver Hair Color + Inverted Bob
Brave enough to style a unique hair color? Platinum silver hair with dark roots looks gorgeous on all skin colors. In this case, if you want a brilliant modern look, style an inverted bob haircut and get an iron that will perfectly straighten your hair.
10. Platinum Silver Hair for Black Girl
As we previously mentioned, this color will suit anybody! Platinum silver hair for black girls can be achieved easily by getting a high-quality wig or using weaves. You can dye your own hair in this hue, but it will require a lot of bleaching.
Other Popular Hairstyles:
11. Platinum Silver Balayage
A platinum silver balayage hairstyle is ideal for girls with pale skin and blue eyes that want to look romantic and diaphane. Pin your tresses in a messy bun, and you'll look ravishing.
12. Platinum Silver Long Hair with Waves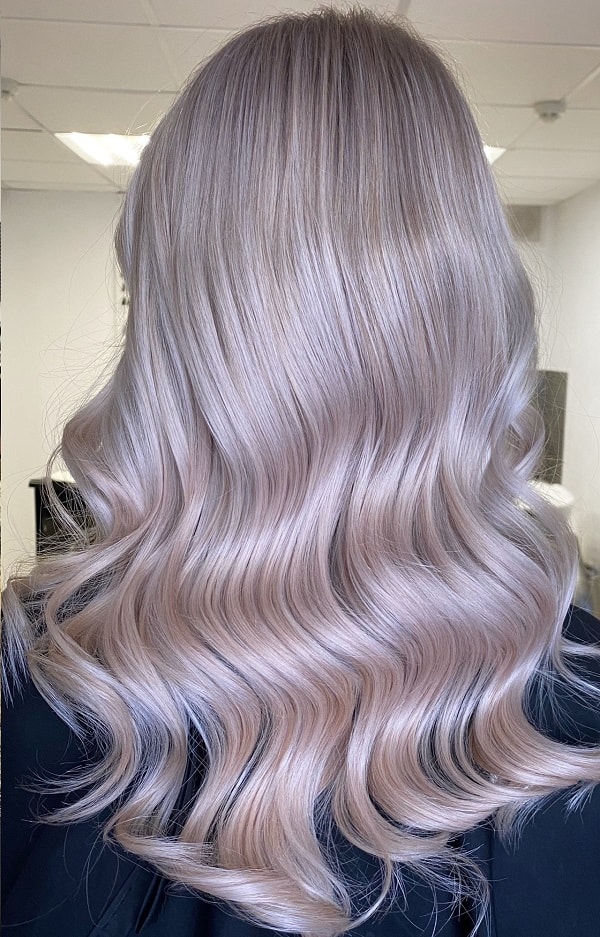 This astonishing platinum silver color with purple faded hues look absolutely fabulous on long hair. Go for a V cut and use an iron to create waves. There's no chance of walking on the street without turning heads!
Are you ready to pull off a look that will make everybody say WOW when they see you? Platinum silver shades are very trendy and women all over the world pull them off and combine them with purple, white or pink tints. Why not adopt a change that will take your styling game to a whole new level?