Medium layered bob hairstyles are not only perfect to make your hair look thicker by adding some dimension to your haircut, or for helping you grow out your hair that's not perfectly straight, or perfectly even, they can also make you look younger and very trendy.
How to Cut Medium Length Layered Bob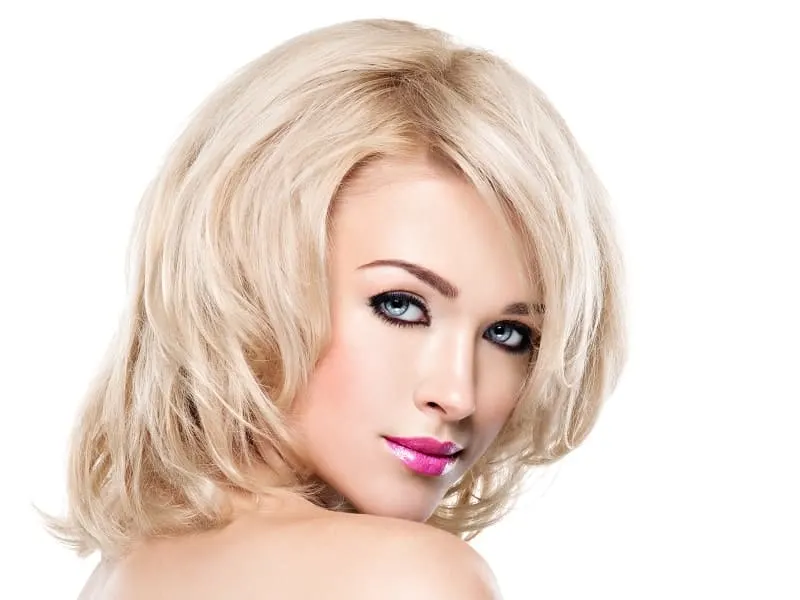 These are the step by step process of cutting a layered medium bob.
Step 1: There are some essential tools if you want to cut your hair. Professional scissors, hair clips, and lots of patience.
Step 2: Dampen your hair. It will be easier to cut layers on wet hair because they will be more even.
Step 3: Comb through the hair. Part it where you usually would and section it. Use hair clips to hold the sections in place.
Step 4: Start cutting from the layer right above your neck. What you should keep in mind is to take things slowly and be careful not to cut the hair too short because you might have to cut it additionally later to even it out and also because when the hair is dry, it will lift up naturally.
Step 5: Cut the sections one by one. If your hair was already layered, cut an equal length on all layers, if not, then cut off based on the desired look and depending on whether you want the layers to be only at the back or everywhere.
Step 6: When cutting the bangs, make sure they are cut on the same level as the top layer.
Step 7: Blow dry your hair and check if everything is even.
Step 8: Use a styling brush to style the hair further. You can style it inward, outward, or back-swept.
Step 9: Use hair gel or hair mousse because they will help hold the hairstyle in place.
Watch Following Video Tutorial to Learn How to Cut Medium Layered Bob with Waves
Layered Medium Bob Hairstyle Ideas
Our experts have curated a list of 10 glamorous medium-length layered bob hairstyles for all women. Have a look and find yours.
Let's start off with a classic mid-length bob with layers. If you have thick hair, you should consider layering it at least a little bit so that it's easier to style later.
Ideal for: Square and heart-shaped faces.
How to style: Section your hair first. Then use a styling brush to straighten it section by section.
Back swept layers in a medium layered bob are so good for emphasizing highlights.
Ideal for: Oval and heart-shaped faces.
How to style: Use a styling brush while blow-drying your hair to curl the strands towards the back. If you want, you can additionally tease the hairstyle. Spray it with hairspray.
The point of a medium length layered bob is to be practical and easy to maintain. If that's what you're looking for, this is the hairstyle for you.
Ideal for: Oval-shaped faces.
How to style: When your hair is almost dry, you can use a styling brush to slightly curl the ends and to straighten the bangs. Wear it side-swept.
Messed out hairstyles are so trendy regardless of the length or the style. And this gorgeous messy bob proves it.
Ideal for: Square and round-shaped faces.
How to style: Add some mousse and mess it out while blow-drying it.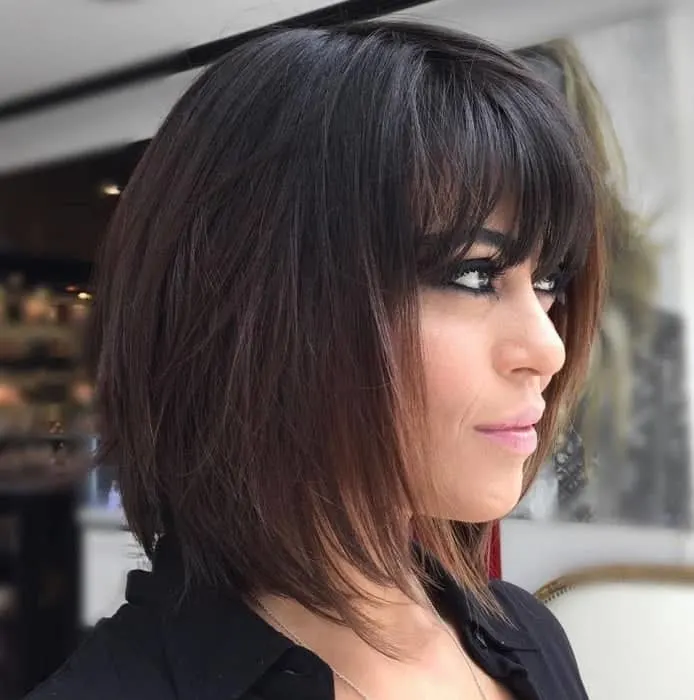 Some cute Korean bangs will give you a youthful appearance that you will absolutely love. This an absolute and classic medium bob with bangs and layers.
Ideal for: Square and round shaped faces.
How to style: When cutting your hair, don't forget to layer the bangs too. While blow-drying your hair just curl the ends inward using a thinner styling brush.
One of the most effective ways to make your hair look thicker than it is is to style it outward. The subtle, messed out strands will give the medium layered bob haircut dimension.
Ideal for: Round and oval-shaped faces.
How to style: First section your hair out. Then style it outward layer by layer using a styling brush and a blow dryer. Part the last layer on the side. When you're done, spray a little bit of hairspray.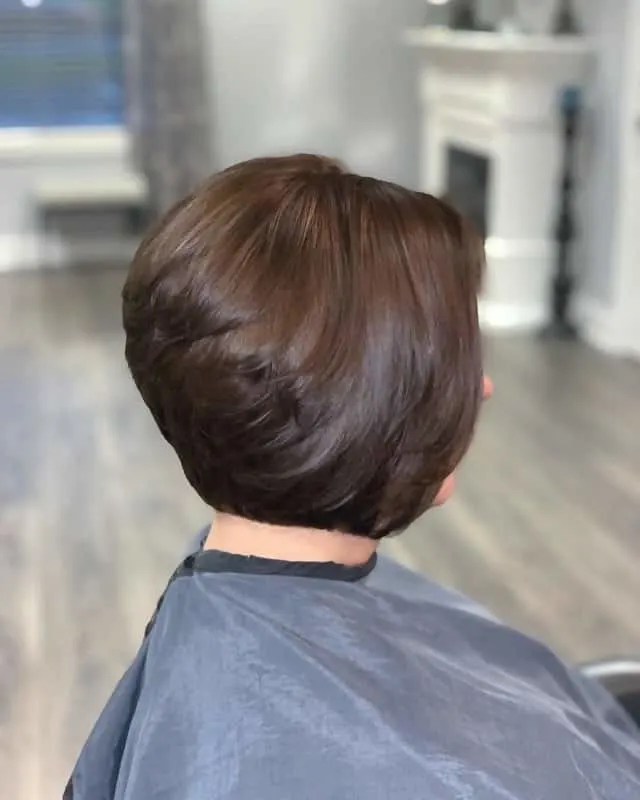 This chin-length bob hairstyle is so simple and you will love how easy it is to maintain.
Ideal for: Oval and heart-shaped faces.
How to style: Section your hair and clip the sections with hair clips. Use a styling brush to curl the ends of your hair inward. After that, use a little bit of oil to make the hair soft and shiny.
We all love volume in our hair, but curls can sometimes be so voluminous that they make the face look wider than it is. So it's not always easy to find a flattering medium length layered bob hairstyle. But layering your hair might help.
Ideal for: Square and oval-shaped faces.
How to style: Once the haircut is properly executed, the rest is very simple. You just need to put some hair mousse in your hair to help define the curls, blow-dry your hair, and you will be good to go.
This blonde messed out, almost spiky medium bob with layers is one of our favorites. Not only does it make the face look so fresh and youthful, but it also makes the hair look thicker and full of volume. Even though it looks very casual, you can see how well it looks in a formal context as well.
Ideal for: All face shapes.
How to style: The hair is very heavily layered. You should wear it parted on one side with the messy bangs swept across the forehead. Use some hair mousse to make it look messy, a little bit wavy, and naturally voluminous.
Taylor Swift has worn her bangs with so many different hairstyles. One of them was this beautiful natural, medium layered bob hairstyle. The champagne blonde hairstyle made her look younger and it made her eyes and facial features pop.
Ideal for: Oval and heart-shaped faces.
How to style: The French bangs should be cut in the shape of a crescent. If they are cut straight, they won't blend well into the hairstyle. Blow dry your hair from below so that it doesn't fall flat on the sides. Use some mousse and squeeze the hair gently with your fingers while blow drying it. If it still doesn't have enough volume, you can always tease it a little bit.
If you don't know what to do with your hair, go for one of these medium layered bob hairstyles. Not only are they really practical and easy to maintain, but they also look beautiful.