Slick back fade is a classic hairstyle that can turn you from looking average to looking like a real-life gentleman, and today, we got you not one or two, but ten slick back hairstyles with fade for you to try on! Are you ready?
Slick Back Fade Hairstyle Ideas
Fade haircuts on slick back hair are a modern trend for men. Check some of these trendy haircut ideas here and rock this season.
Let's start this list off with a bang! Don't worry, you don't need a huge skull tattoo to rock this particular haircut, however, you will have to ask your barber to run the razor on the lowest setting down your sides and back of your head.
Remember not to touch the top part, since this will be the part of the slick back fade that you'll style, pushing it back with the help of hair gel and some hot hair from the blow dryer.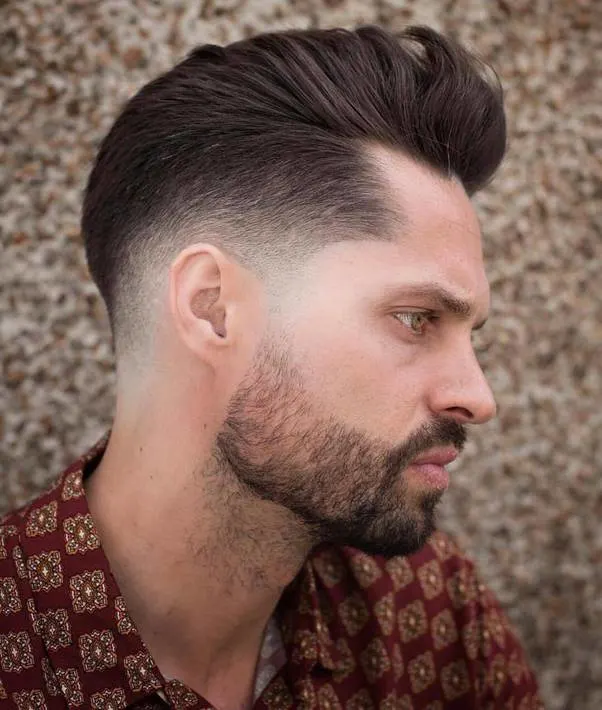 For those of you who aren't as bold but still want to get slicked back hairstyle, you can try this particular faded undercut style. To get it, your barber will still have to fade out the sides and back of your hair, however, there should be enough hair that your scalp isn't completely see-through.
This time, make sure that as you reach the top of your head your hair starts to get thicker, and finally simply style the top part with a round comb, pushing it back and slightly off to the side.
To recreate this particular fade hairstyle with beard you'll have to let the top part of your hair grow for a little while, then, with the help of a wide comb push your hair to the back and puffed it up (you'll need a blow dryer as well!), last, but not least, apply hair spray to make sure your hair stays on place throughout the day.
This is another great take on the side faded slick back hairdo, and it's very simple to do. Of course, your barber will have to fade out the sides, and then slick your hair slightly back with the blow dryer, but instead of pushing it all the way down to your scalp, run your fingers through it to push the tips up and create this 'spiky' style.
5. Slick Back Undercut
If you already have long hair, then this slick back haircut with fade is for you. Ask your barber to leave the top part untouched, and fade out the sides (it should be a subtle fade, and your scalp shouldn't be seen). Then, while your hair is wet, push back and apply hair gel to make sure it will stay like that and you're done!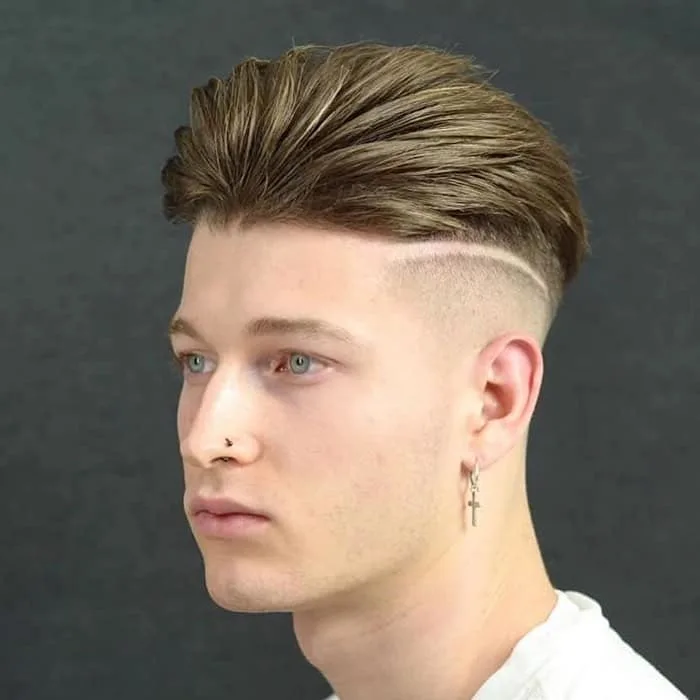 This medium skin fade is so edgy, however, instead of puffing your hair up and then pushing it right to the back you should slick back the top part and then run your fingers through your hair to create the same volume and effect this hairstyle has! Apply some hairspray as well if you feel like it.
This is a great twist to the classic slick back fade style. Simply ask your barber to fade out the sides of your head, but as you get closer to the top, ask him to give you a sharp line cut that divides the long part of your hair from the short one. The transition between the mid taper fade and the top part should be smooth as well.
Then simply style your hair back with the help of a blow dryer and a big round comb to give it the volume you see in this picture.
Like we said, this low fade on slick back hair is all about playing with the top part of your hair. Once you get the fade done, wash your hair and while it's wet slick it back with the help of some hair gel to create soft waves on your hair, let it dry naturally and then simply top it all off with some hair spray and you're done.
This is a classic example of what fade haircut on a slicked back hair looks. Your sides should be lower as they reach the neck area and longer as they reach the top. You should part your hair down to one side, slick the longest part down and slightly off to the other side and use hair gel all over to make sure it stays like that throughout the day.
10. Side Fade with Slick Back Top
Last, but not least, let's finish this list with another classic. This is very similar to the previous slick back fade hairstyle, but instead of going for the 'wave' effect, try pushing the top part of your hair completely to the back using only your fingers and hair gel.