Round faces are equal in length and width. Their defining features include a rounded jawline and chin with the cheekbones being the widest part of the face.
Updos are a classic hairstyle that can elevate any look for a formal event or a special occasion.
However, it can be challenging to find an updo hairstyle that'll suit your round face.
When you've got a round face, choose a hairstyle that makes it appear slender and long while adding definition.
Apart from bangs and long layers, high updos, volume at the crown region, and full curls/waves can help make a round face look slim and small. Steer clear of sleek pulled-back hairdos though.
Keep your tresses tucked away from the face without making it appear big with the following updos for round face shapes.
Gorgeous Updos to Flatter Round Faces
To help you choose the perfect updo for your round face, we've compiled the below list of updo hairstyles that'll surely bring your soft facial features under the spotlight in the most elegant ways.
1. Vintage Victory Rolls
The best updos for round faces are the ones that add height on top. Victory rolls can prove to be suitable in this regard, especially for those who dislike bumpy poufs at the front. Roll the strands inwards with a middle/side part and repeat for the remaining hair at the back.
2. Curly Chignon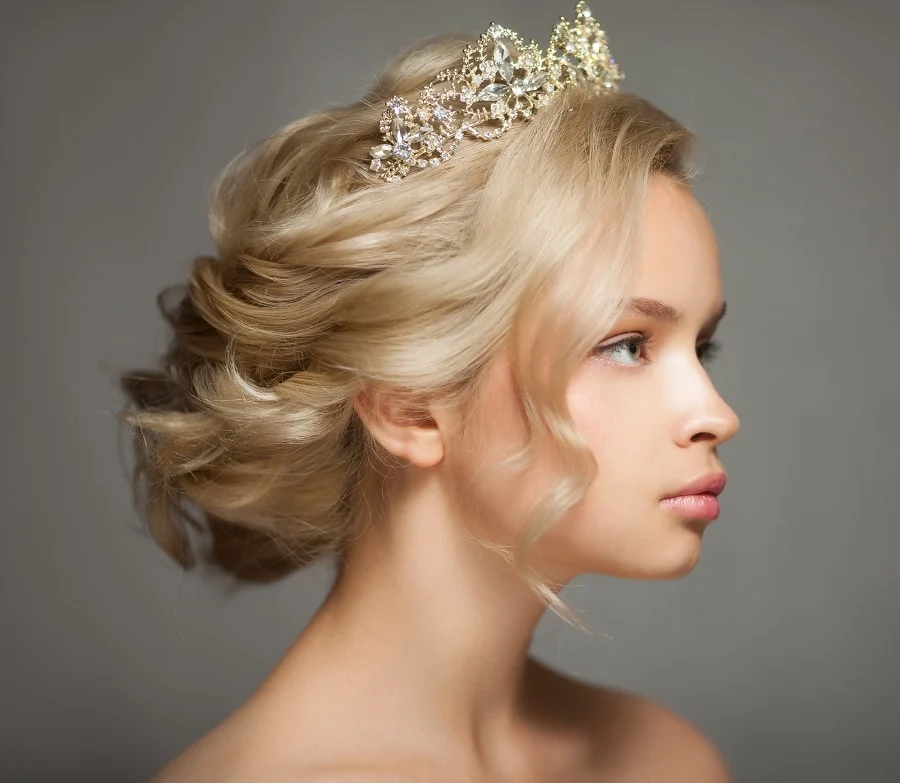 Chignons are fancy French buns that lie low at the nape of the neck. Although they seem difficult to master, the one depicted here is effortless to achieve.
Add curls to the hair and twist back the chunks leaving a few loose to frame the face. Don't forget the crown!
3. Space Buns
Looking for something more lively and playful rather than elegant? Space buns have got you covered.
Whether going to a party or enjoying your happy days, frame your cute round face by creating two ponytails and wrapping them around into buns to look just like Princess Leia from Star Wars.
4. Half-Up Style
Black beauties who wish to make their chubby round faces appear somewhat slimmer can try a half-up bun.
Opt for whatever length you want when getting box braids and let the bun sit at the front instead of the back to prevent your circular face from looking big.
5. Ballerina Bun
Ballet buns are not meant just for ballerinas. Anyone with a round face can dance around with them while showing off their best features.
Use a donut bun maker to create the perfect updo or twist your ponytail tightly before wrapping it into a bun. Simple and elegant!
6. Messy Crown Braid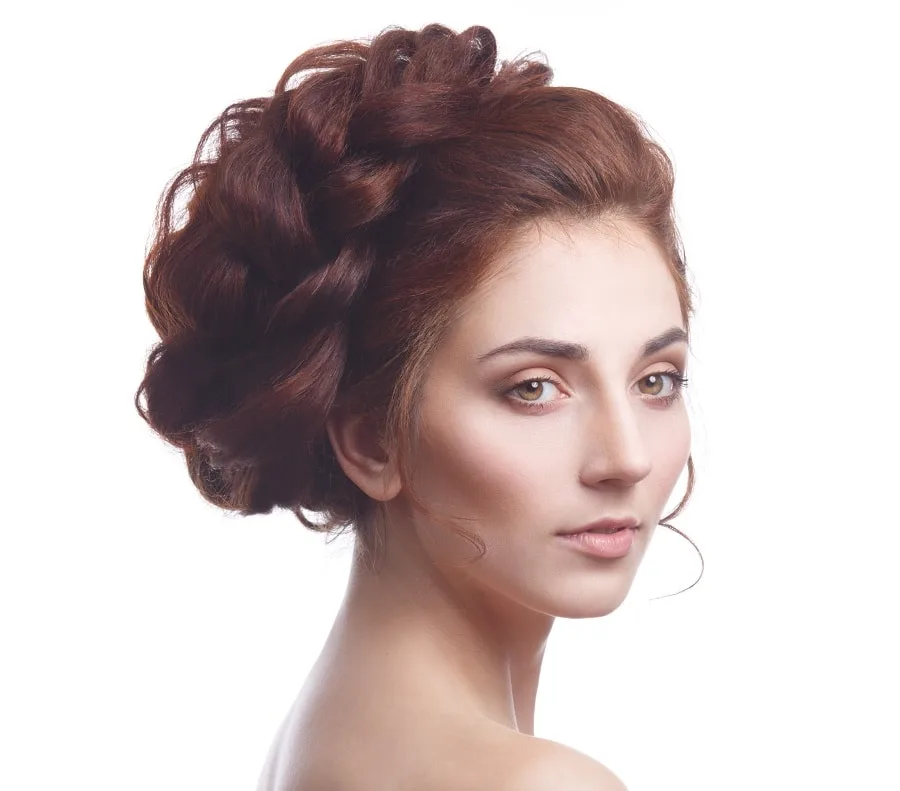 Balance out those wide cheekbones with a crown braid updo. Although the crown braid is meant to sit on the forehead, that wouldn't be suitable for a round-faced woman.
Instead push it a bit back from the face and pull the strands loose for a messy appeal.
7. Plaited Low Updo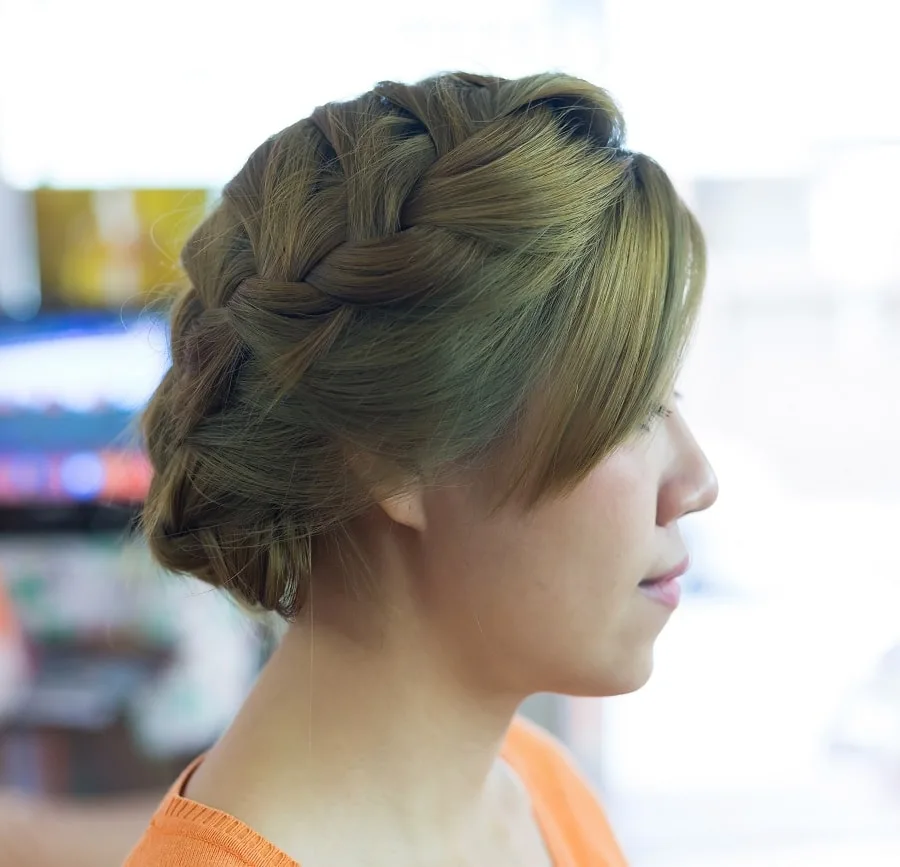 Low updos and buns tend to elongate round faces, which is exactly what you need. Plait both sides while sparing your bangs at the front creating loose French braids and wrap them around at the back.
How about adding some tiny flowers? You won't regret it!
8. Top Knot with Bangs
Bangs conceal the unnecessary width of the forehead, making a round face look slender. Opt for side-swept ones to achieve some definition and while blunt bangs are a big no you can still go for their softer version i.e. wispy bangs. Complete the look with a simple yet sexy top knot bun.
9. Updo for Short Hair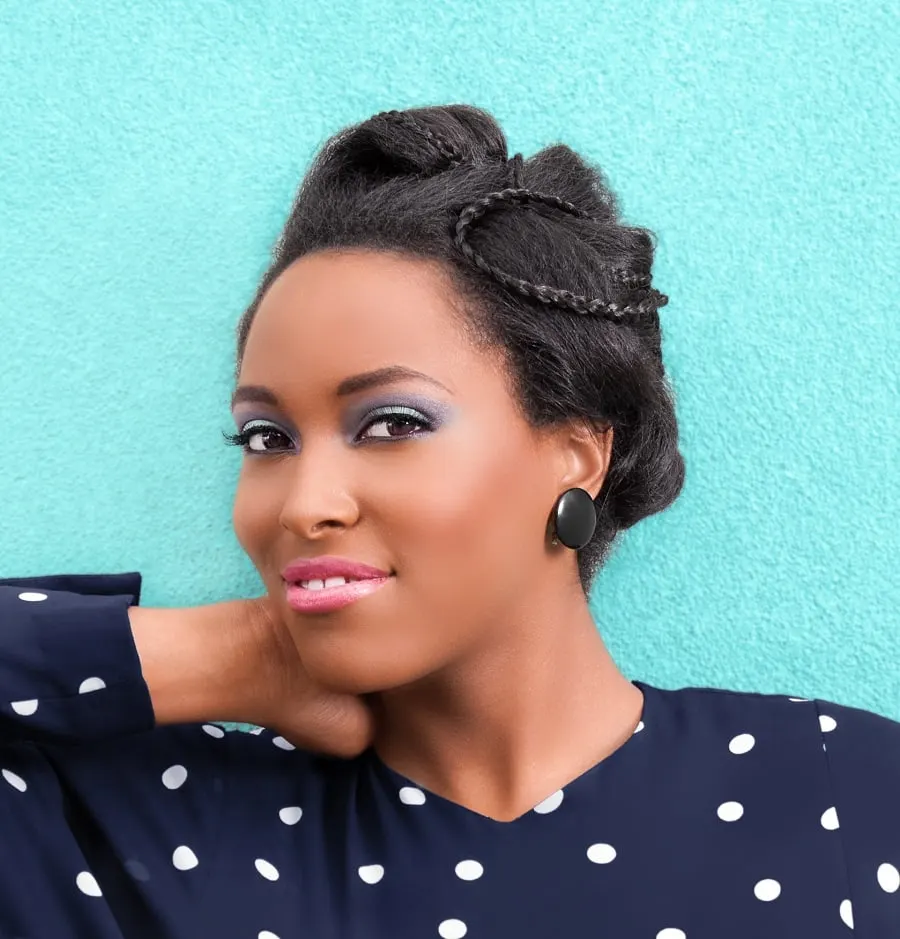 Ladies with short tresses can still sport an intricate updo hairstyle to flatter their round faces.
Curl the ends inwards and secure them in place with pins producing layered folds that are sure to grab some attention.
Position a synthetic braid on the head in a swirling pattern and done!
10. Forward-Tilting Jumbo Bun
A perfectly round updo for a perfectly round face! African-American ladies can rock a top knot turban without using any fabric at all.
Tilt your head to tousle all those braids at the front and swirl them around into an oversized bun. Plenty of hairpins needed though!
11. Pigtail Puffs
Use the impossible-to-tame fluffy texture of your afro curls to produce gorgeous pigtail puffs within a few minutes.
Carve out a middle part and secure the hair in rubber bands on both sides of the face. Tease the strands with your fingers and that's it!
12. Dutch Milkmaid Braid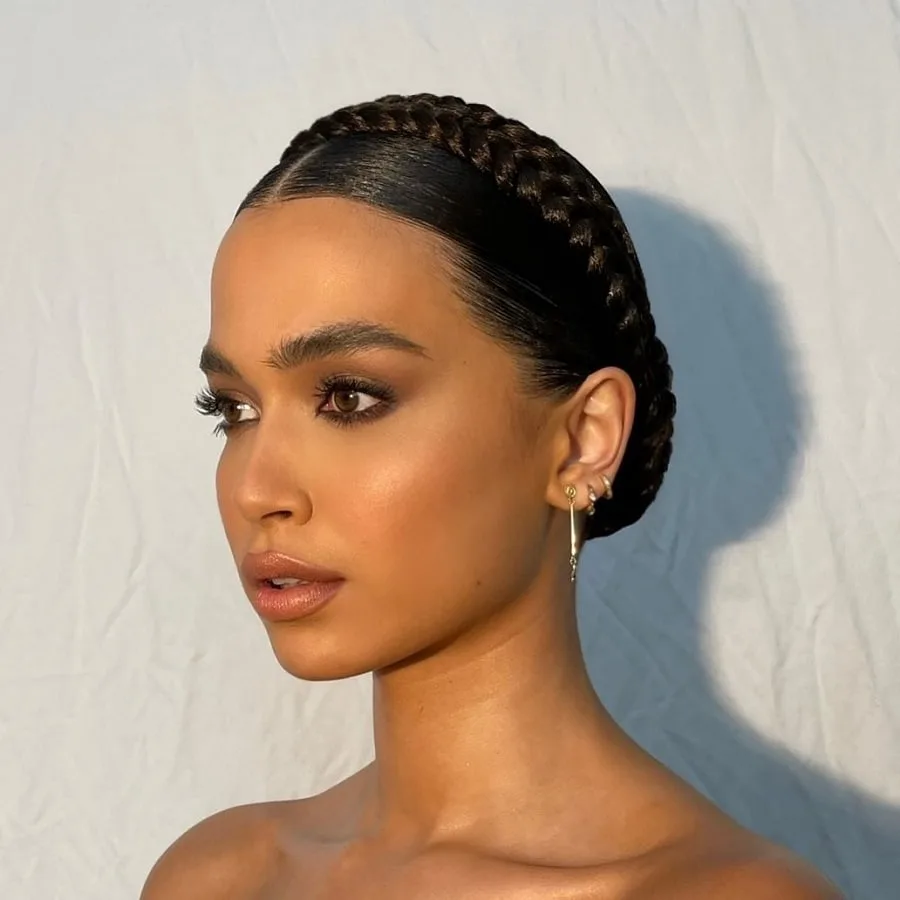 Here's the only sleek updo hairstyle that looks good on round faces. Slick down the hair with a neat middle parting and braid it while moving around the head.
An easier way to achieve this exact look is by placing a synthetic braided headband, matching your natural hair shade, on top of a middle-parted low bun.
13. Braided Bouffant
The timeless bouffant is recognized by hair raised high on the crown region that makes any face appear longer automatically.
Backcomb the strands to create a characteristic pouf on top accompanied by bubbly side plaits and a messy bun at the back. Frame the face with some gorgeous curtain bangs.
14. Box Braided Bun
Make your box braids stand out by carving out triangular sections and incorporating extensions in any color of your choice while plaiting the hair.
Tuck the knits away for a change by twirling them into a casual jumbo bun. Accessorize with hair cuffs and put on some chic hoop earrings too.
15. Plaited Swirls
Try this updo hairstyle if you're a woman with a round face. Plait the hair and keep on adding strands along the way just like a crown braid, but instead of moving around the head only once, continue doing so several times until no hair is left out ending in the middle of the head or near the nape.
These updo hairstyles for round faces can turn you into a princess in no time. All of them are easy to recreate and don't need to be perfect to prevent a circular face from looking too wide. Rock them during formal events or even on casual days to turn around some heads!