An edgy pixie is a pixie cut that'll give you an edgy look with flair. The flair is usually in the form of color, different layers, bold colors, shaved sides, waves, curls, and so much more. With an edgy pixie cut, all eyes will be on you complimenting your beautiful hair.
How to Style An Edgy Pixie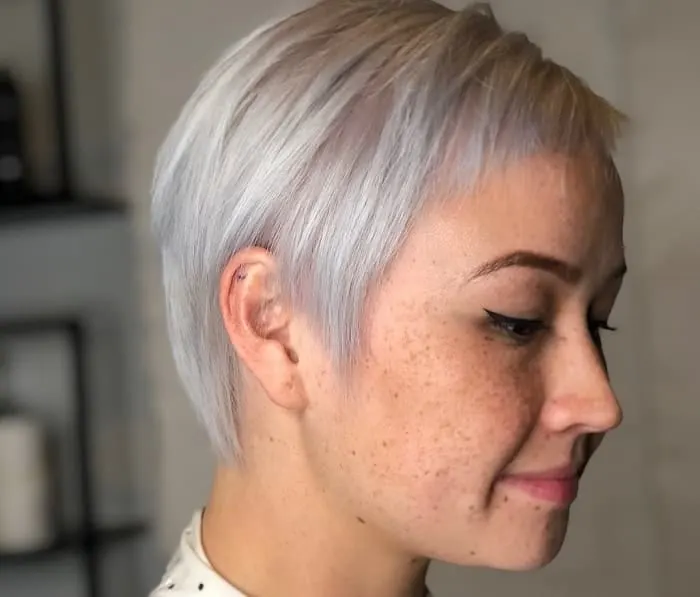 The style will take time to get used to especially if you're not a bold individual. You can style your edgy pixie cut into various versions. You can apply gel or mousse to give your haircut a sleek look. You can wear bold earrings, necklaces, bracelets, and even makeup!
You will need to wear those hoops or chandelier earrings. As well as the humongous necklaces that will have all eyes on you. Next, the bracelets that are colorful, eccentric or make noise when shaken.
Lastly, wear bold and beautiful eye makeup. You have to wear the statement pieces to make a statement ladies.
Best Edgy Pixie Haircuts
Here are 15 edgy pixie haircuts for bold women to choose.
1. Edgy Choppy Pixie Cut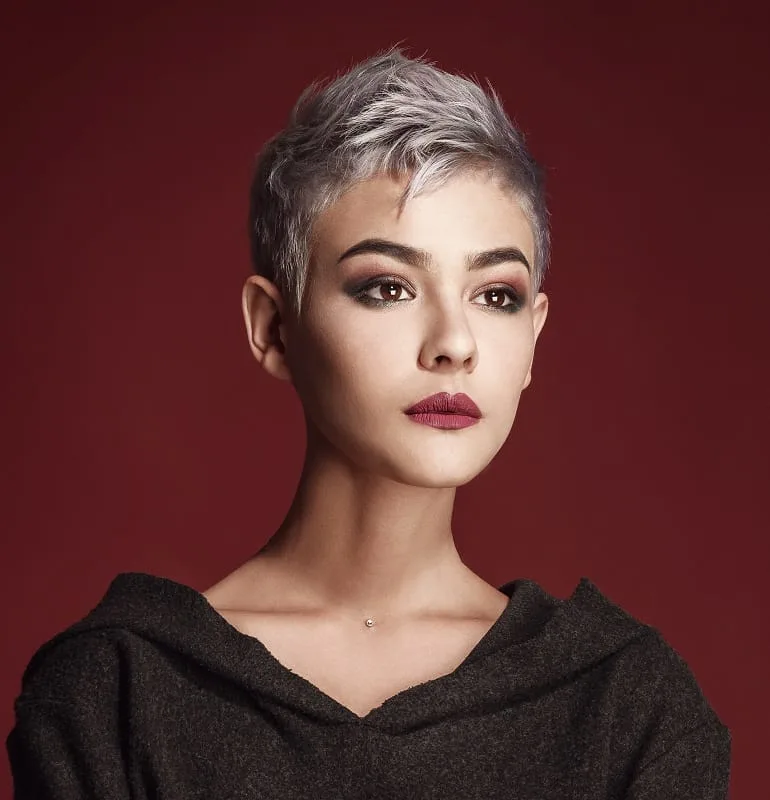 Blonde hair color is ultra chic on an edgy pixie cut. Keep the top long so you can cut in choppy layers.
2. Edgy Pixie Cut for Thick Hair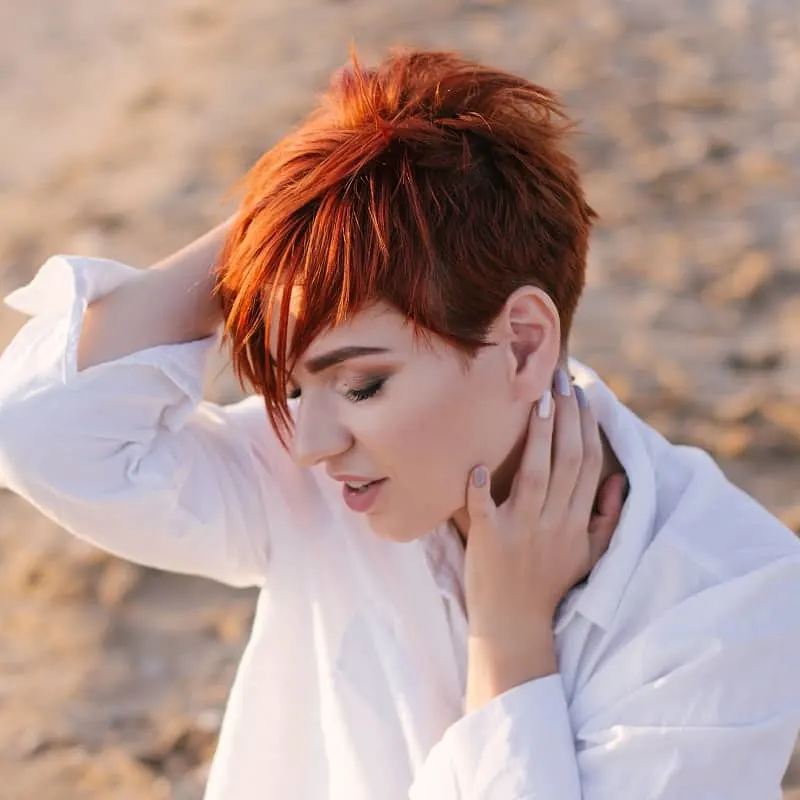 On a longer pixie, the long layers create tons of texture and movement while a bold red color adds an edgy result.
Rihanna showed us how edgy a long black pixie can look on Black women. Keep the hair up front longer so it creates a cool side bang.
Zendaya slew this edgy pixie cut at the Grammy Awards which isn't her typical look. Yet she stepped out boldly with this cut. Bear in mind that this look is a wig, but it can still give you some inspiration for style.
All of the hair is combed to all the sides of your face then cut accordingly. The front is cut into short and long layers to add texture to the look.
5. Silver Swept Over Undercut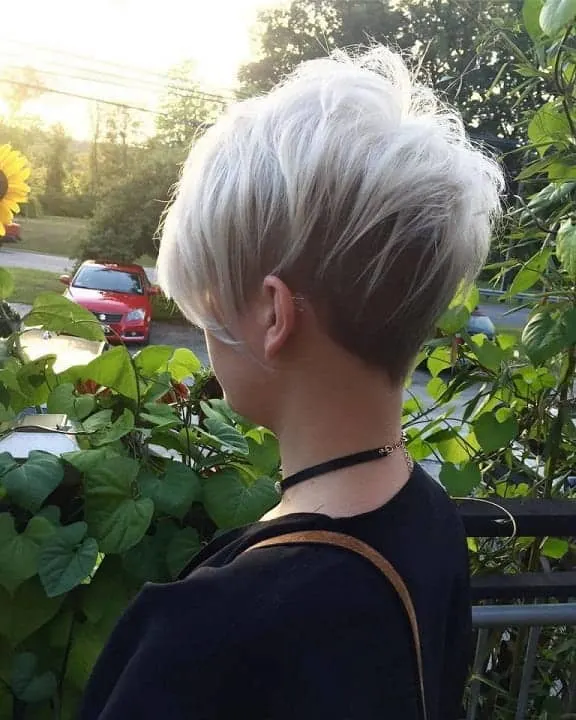 For this style, the undercut is a different color than the side-swept bangs which is a beautiful contrast. This is bold because you'll be wearing two different hair colors which aren't the norm.
You would comb the top portion of your hair to your favorite side to enhance your favorite features about yourself. You can add layers to the swept over the side to add texture to your hair.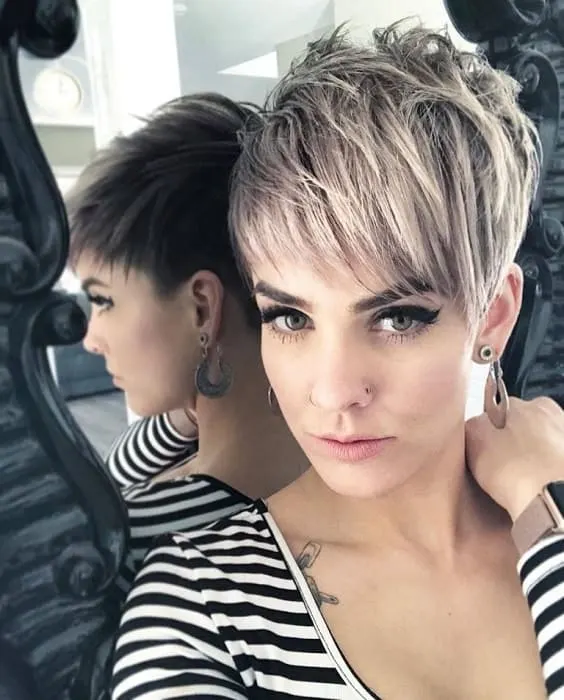 For this edgy pixie hairstyle, the model has an undercut while the top is kept heavy. The top is combed over to fall along the forehead. Then, cut into layers to add edge to the look. You can let the layers look like a bang or fringe, depending on what you want from it.
7. Wavy Textured Pixie Cut
Very similar to a side-swept pixie cut, however, the top layer is textured. If your hair is naturally wavy then this is perfect. However, you can create waves using hair mousse and rods.
This edgy pixie style requires maintenance in order to maintain the waves/curls for the upcoming days. As well as to keep the undercut looking sharp on a daily basis.
When you push all of the hair to the front, it will create an illusion of having a lot of volumes. This is why many women who choose edgy pixie cuts for fine hair style it this way. Nape undercut will give your hairstyle a great twist to your look so you will look unique.
9. Silver Fox Pixie Cut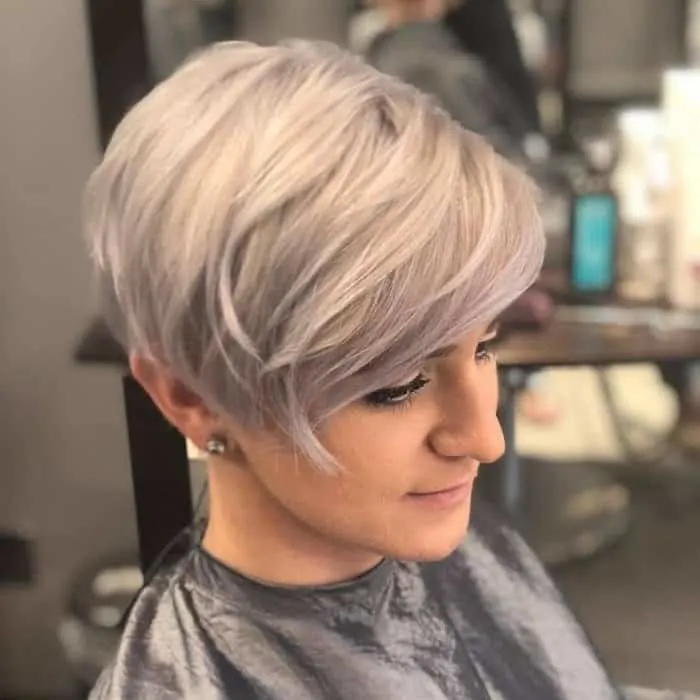 Last but not least is the silver fox layered side-swept pixie cut. For this style, you would dye your hair grey, silver or really light.
If you have grey hairs already, then that is perfect. You would get an edgy pixie haircut with the top portion heavy. The top portion will be cut into layers.
The layers add texture to the overall look. The boldness comes from the color because it isn't the norm. In addition, the layers that are with the side swept hair.
Short Silver Hairstyles for Women to Rock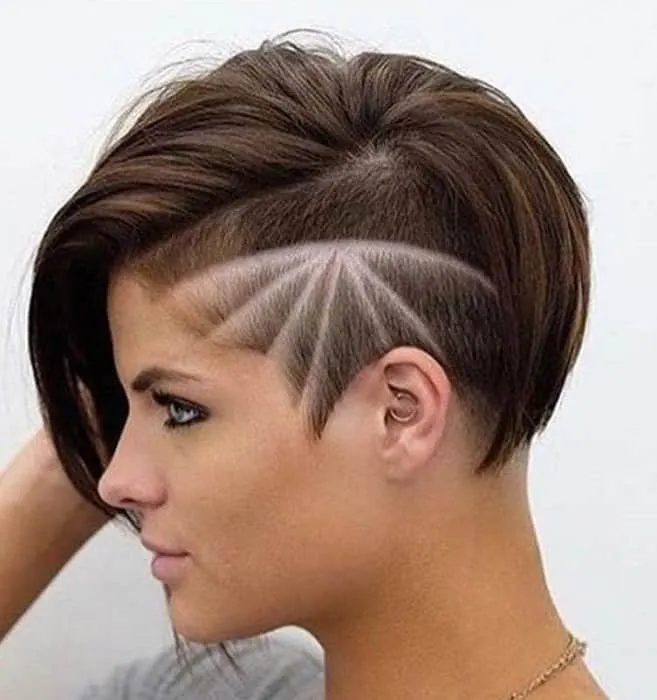 This hairstyle is a very bold look. The half shaved sides have a spider web design which will half all eyes on you. Next, the side swept will conceal features you don't or enhance the ones you love. Lastly, the undercut allows your hair to stand out.
This isn't the typical pixie cut which has a low cut, but it has layers between short and long hairs. You can your special touches such as braids, colour, cut lower and so much.
11. Patterned Pixie Cut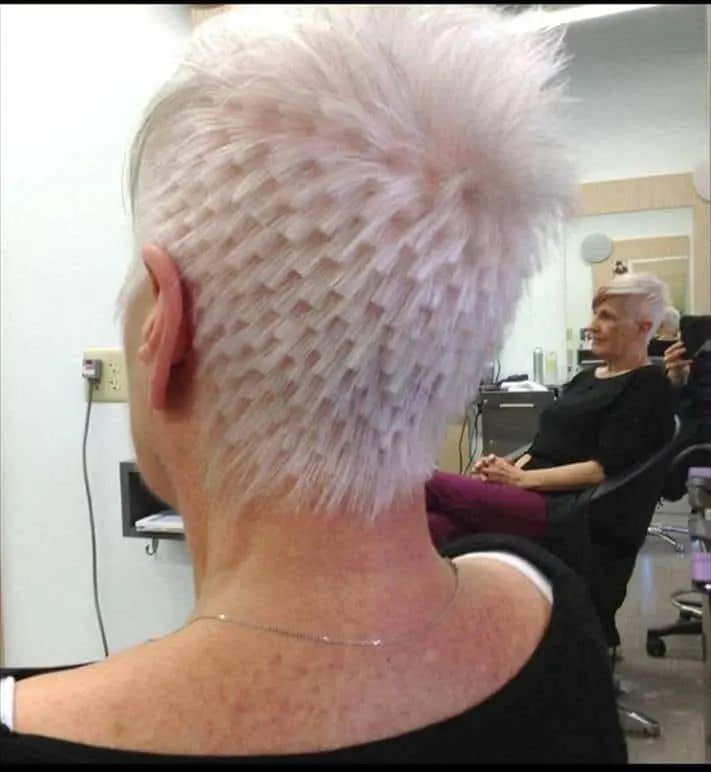 Another edgy pixie cut that will have all eyes on you. The design is unique and the first of its kind. Have you ever seen it before?
Not us. It will keep you bold while still looking youthful. You can add layers such as fringes and/or even bangs to emphasize the look.
You can tell why the style has the name, right? Another mind-blowing hairstyle that anyone can pull off with confidence. The hair is combed over then cut into a helmet cap.
The back is kept extremely low to highlight the front. Ensure to let the front fall like a bob to highlight your eyes, eyebrows, nose, smile or even cheekbones.
13. Deep Side Pixie Cut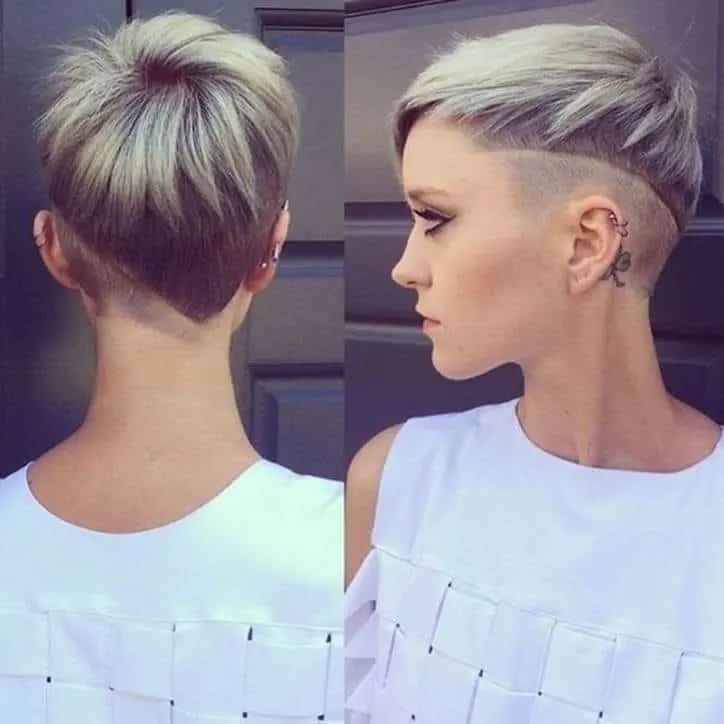 The unique feature of this edgy pixie cut is the deep sidecut of contrast from really low to hair to thicker hair. As well as, keeping the top heavy with color contrast. Then, combining layers to frame along with your face.
This style will take some time to achieve because of the various contrasts. In addition, it is a high maintenance style because you have to restyle before heading out the door. As well as, you would need frequent salon visits if your hair grows fast in order to maintain the length.
14. Snow Flaked Shaved back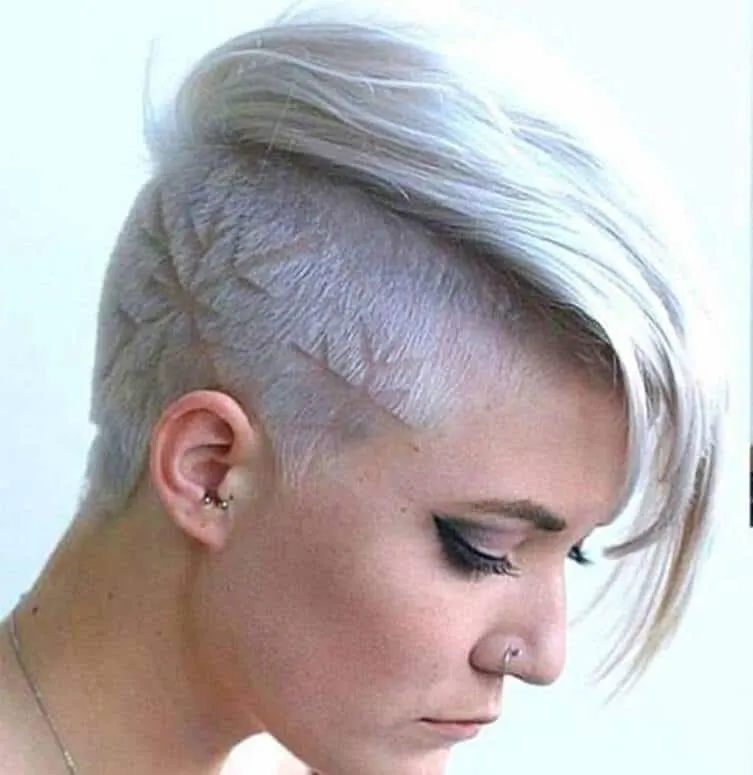 This shaved undercut keeps the sides and back low while the top is heavy. The beauty of this hairstyle is the top has various styles to be styled into.
You can transition from this look to a bun or combing it towards the back or split the section is two to fall along the sides of your face. Which do you prefer?
15. Edgy Pixie for Fine Hair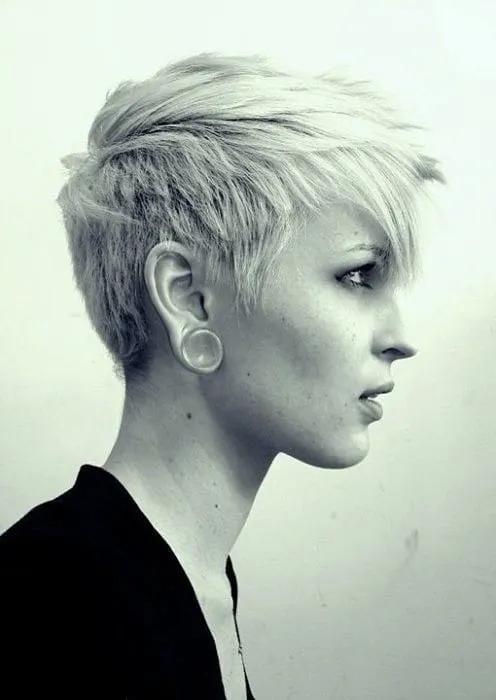 If you have plugs or any other huge earrings, you'll be able to draw attention to them by getting an edgy pixie cut. Many women who are into rock and metal music love this hairstyle because it's very cool and laid back.
These top 15 edgy pixie cuts will offer inspiration for your next visit to the hair salon. Which one edgy pixie cut do you like?