Zig zag braids are so cool for both guys and girls. These patterned hairstyles can really bring a fresh vibe to your hair game. There are so many ways to do them, plus these braids work for both sexes. If you ever get bored with the regular patterns, you can get creative and copy one of these options.
Big, small, long, or short, there really is too much to choose from. When you don't know what to do with your hair next, just go through the inspiration below.
Amazing Zig Zag Braided Hairstyles
Here are the 20 best zig zag patterned braiding styles which are flattering and will help you get the most unique mane you've ever had.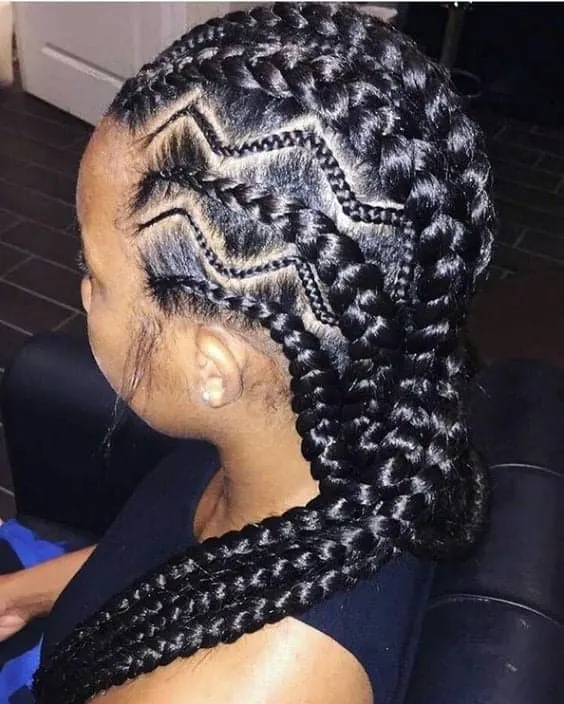 Use chic feed-in braids to create that zig zag look. You can always mix them up so that the hairstyle becomes even more eye-catching. The great thing about feed-in braids is that they are very popular at the moment, so you'll be flaunting the top trending hairdo of the season.
Ideal for: It is perfect for anyone who is into fun patterns which really stand out. You don't need a specific reason to have a unique hairdo.
How to Style: Make sure to find a great hairstylist that will be able to copy the whole look. You need someone experienced, so get recommendations from your friends.
2. Statement Zig Zag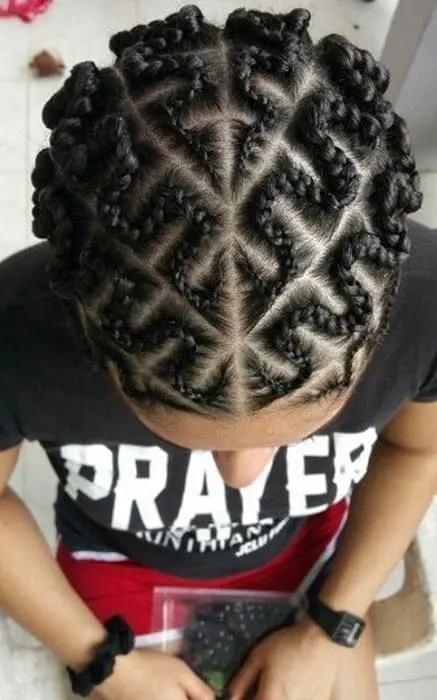 The more impactful your zig zag braids are, the better. This is a style that both guys and girls can do. In other words, it is a unisex mane.
Ideal for: Great for all hair lengths. These braids are also appropriate for all ages, so that's another thing you might want to consider.
How to Style: The braid hairstyle features a middle part that helps in accenting the fun design of the braids. They are absolutely fabulous.
3. Fun Zig Zag Part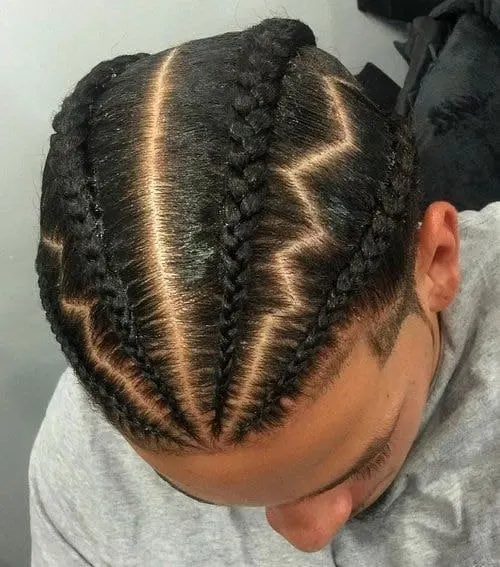 By adding zig zag pattern braiding in your hairstyle you will really be different from everyone else. That's the whole point of getting braids, isn't it?
Ideal for: Men and women can absolutely rock this do, especially the ones with short hair. Four braids should be enough to create such a vibrant hairstyle.
How to Style: The bigger you make the braids, the more you'll be able to see the zig zag part. If you like, you can still add more braids on the sides.
Individual Braids Styles for Men
These are some of the biggest zig zag style braids we've seen and we are so in awe.
Ideal for: Ladies will definitely love this look much more than men.
How to Style: Get the biggest possible braids for a standout hairstyle.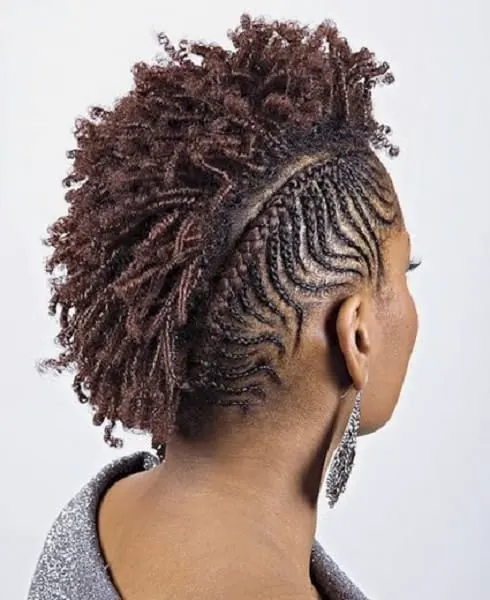 You don't have to include braids with zig zag parting everywhere. A very cool idea is to just add them on one side.
Ideal for: If you are not sure whether this braiding pattern works for you, you can test it out by just doing it on one side. That way you'll know for next time.
How to Style: Get the braids (for both guys and girls) on the side with a dramatic side part. Leave the rest of the hair curly and natural.
6. Funky S-Braid
How about a single jumbo zigzag braid rather than multiple knits?
Ideal for: Funky ladies with long luscious tresses.
How to Style: Start plaiting the strands behind one ear and continue to the end while moving around in an S shape. Incorporate vibrant extensions for a pop of color.
7. Plaited Hearts
Celebrate the love around you with these cute braided hearts.
Ideal for: Valentine's Day or as a romantic everyday look.
How to Style: Alternate zigzag, crisscross, and straight-back scalp braids at the front with adorable hearts on both sides above the ears. Leave the remaining plaits loose at the back.
8. Zigzag Updo
Steal the show at formal events with an eye-catching updo.
Ideal for: Women who want both an edgy and elegant hairdo.
How to Style: The look features two overlapping zigzag braids creating a crisscross pattern on top with slicked back sides and a perfectly round donut bun at the back.
9. Snake Braids
Another unisex zigzag braids style that is sure to drop some jaws.
Ideal for: Those who are looking for a low-maintenance yet ultra-stylish protective hairstyle.
How to Style: Create perfect snake braids by curving around precisely while plaiting the strands with straight-back cornrows in between.
10. Boho Crown Braid
Who said crown braids are for ladies only? Men can rock them too with just a bit of confidence.
Ideal for: Anyone who wants to make eyes pop wherever they go.
How to Style: Style two Dutch braids along the sides with a zigzag middle parting and secure them at the back in a mini bun.
11. Frontal Cornrows
Half-done cornrows are ideal to keep hair away from the face while keeping it loose at the back.
Ideal for: Ladies with long kinky curls.
How to Style: Opt for curvy frontal scalp braids and add colorful beads at the ends. Set the look on fire with a curly weave to boost your natural volume.
12. Half-Up Style
Sport a classic half-up hairstyle with a chic twist.
Ideal for: Both formal and informal events.
How to Style: Knit the strands while curving around from one side to the other producing a snaky Dutch braid that is sure to grab some attention.
13. Perfect Symmetry
These chunky cornrows are all about picture-perfect symmetry.
Ideal for: An exceptional zigzag braids hairstyle like this is not bound to any occasion and gender.
How to Style: Divide the hair into six geometrical sections on both sides of a middle parting with the front and back plaits originating in the center of the head.
This is another zig zag pattern created with oversized braids. When you have the chance, make the braids big, and you'll see how everyone will be complimenting your look.
Ideal for: Ladies can work the same medium box braids with long hair, while gents will probably want to keep it short and neat. No matter the length, the pattern can still be exactly the same.
How to Style: All you need for this mane is a hairdresser who knows their way around braids. If you have a friend who can help, ask them if they could replicate the hairdo.
Lovers of interesting patterns will really become obsessed over this look. There is no need to copy it in every detail, but the long man braids in the front are so cool.
Ideal for: Chic designs such as this one will always be fashionable, so if you are into them, feel free to try the hairstyle out.
How to Style: Ask for a mix of smaller and bigger braids. But, the first thing in your mind should be finding someone who actually knows what they're doing. It's a complicated hairstyle that asks for a professional.
Hottest Two Braids Hairstyles for Men
This is a type of zig zag braids styles for both guys and girls where the braids are done parallel one to another. They are all divided with parts and that's the whole beauty of the mane.
Ideal for: The hairstyle will work for everyone, as long as they have the patience to sit down and wait for the braiding to be done.
How to Style: Opt for the cool braids and finish up with classic braids in the bottom part. Men can keep the hair short or long, it's up to them.
The zig zag design braiding does not have to be in the front. It's actually a great idea to do it in the back for a change.
Ideal for: Ideal for guys and girls who like to keep it simple.
How to Style: You can decide whether you want the pattern to begin in the front and continue in the back, or simply be only present in the back.
18. Center in The Front
This cornrow braid pattern starts in the front and is distributed all over. So much fun and such a unique look.
Ideal for: Both women and men will be so allured by the zig zag parted braids on the picture.
How to Style: When you get to the hairdresser ask them for this particular design.
19. So Many Patterns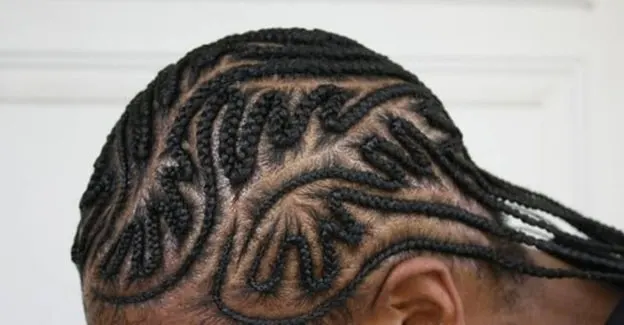 The best thing about this lemonade braid hairstyle is that the zig zag designs are intertwined in such an eye-catching look.
Ideal for: Perfect for all hair lengths and ages.
How to Style: Get a side part and decorate the sides with some cool braids.
20. Round And Round
It all stars in a single point and forms parallel braids around the scalp.
Ideal for: The is no limit when it comes to who can rock these chic braids.
How to Style: Choose a spot where you want the zig zag braids to begin and relax on the chair.