Silver hair is the color for nannies but who knew that black hair with silver highlights is going to gain popularity amongst ladies? Regardless of age, silver hair looks just as amazing as any other color would.
The right selection of hairstyle is going to unleash beauty within you and the confidence you need to carry your hairstyle. There are different shades of silver to choose from which means that you can choose any color in the silver spectrum that perfectly suits your face.
If you're a black head and wish to know which hairstyle you should go for, keep reading as we're going to list down top 7 silver highlighted black hairstyles.
How to Get Silver Highlights on Black Hair

Unless you're born with pale blonde hair, it's not easy to achieve silver highlights on dark hair be it black, brown or any other dark shade. You'll have to use bleach to strip off the natural color. Speaking of bleach, it can harm your hair but using the right products meant for your dyed hair, you can save your hair from any damage.
If you want to perform the hair dye process at your home, follow the step by step procedure and get the black hair with silver highlights of your dreams!
Step 1: Wash your hair before you apply the application and then comb it with a teeth comb to remove any tangles.
Step 2: To prepare your hair for the bleaching process, divide your hair into parts until no more sections can be made.
Step 3: Mix bleach and the contents of the developer. Developer comes in different volumes (10, 20,30, etc.) You can choose 10 or 20 volumes for highlights. Not more than that.
Step 4: Grab a pair of gloves and pick out the applicator because it's time for bleaching your hair. Start bleaching your hair from the tips, all the way towards the desired line. Don't be in a hurry while you're applying the bleach. Take your time and don't miss out any area.
Step 5: Remember the longer you've applied your bleach, the better the results would be. If you've washed off the beach and see shades of orange or brown hair color, re-apply bleach again until your hair turns pale blonde. You've to bleach twice if you've got black hair. When you apply the bleach for the second time make sure you do it after a week since the first bleach application.
Step 6: After successfully bleaching your hair, start applying the silver dye to the bleached section of your hair. Don't miss out any spot. Once you've detected the color change,e wash your hair.
And you're all set to flaunt your black hair with silver highlights!
Tips to Maintain Silver Highlights
Getting silver highlights on black hair is high-maintenance because you've to use the right type of products recommended by your hair stylist that suits your hair.
Washing your hair frequently means that your highlight might fade over time. Therefore, you need to go to the hair stylist every 6 weeks to start the process all over again.
For healthy and shiny hair, go for a deep-conditioning treatment.
You might want to invest in a purple shampoo that renews your faded silver highlights.
Chic Black Hairstyles with Silver Highlights
Following are the list of trendy silver highlights on black hair ideas that you can opt this season.
This black hair with silver highlights looks ethereal and stunning. The hair transitions smoothly from dark to light and look majestic. Complete the look with a bold lip shade and subtle eyes and you're all set to go.
2. Wavy Bob with Silver Highlights
Transform your ordinary hair into this edgy haircut and look daring. The silver highlights blend flawlessly with black hair and give an icy princess vibe.
This hairstyle gives us natural vibes. It's a fairly simple hairstyle that looks dazzling and can be easily managed. Black roots with silver highlights can give major competition to other girls.
Another black hairstyle with silver highlights idea that looks trendy yet absolutely adorable. The striking silver complements the dark shade. You wouldn't mind going for side-swept bangs with this short silver hairstyle.
5. Smokey Silver Highlights Underneath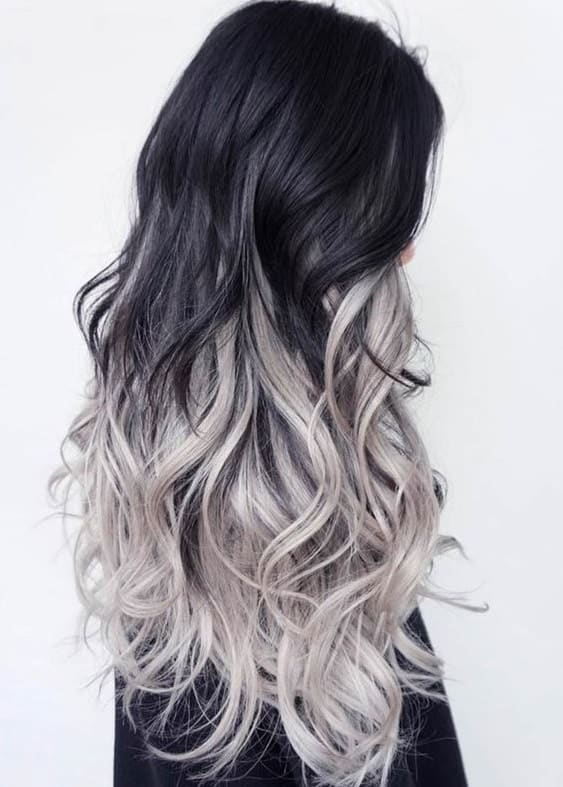 For long hair beauties, you can never go wrong with a highlight look. Look how beautifully silver blends with the black base color. It gives a smoky yet flawless look to your hair.
6. Pixie Bob with Silver Highlights
No one could flaunt the silver highlights the way Rihanna does. If you want to go for a short bold black haircut and add a hint of silver, go for this style.
If you've got wavy black hair and you want to rock silver highlights, look no further and try out this style. The silver ombre look smooth and sultry with the natural color.
This guide must've helped you in making up your mind for getting silver streaks for all the good reasons. Try out these amazing silver highlights on black hairdos and feel superior.