The goatee has been a timeless style for black men. Its versatility and adaptability make it perfect for African-American men's facial hair.
There is a wide range of goatee styles. Some are precise and neat, while others are fancier, combining mustache or sideburns. And it becomes difficult to choose the right one from so many options.
So, if you're considering a goatee or thinking about a switch-up, we've lined up some top choices for you.
Top Goatee Looks for Black Men
Since you have the opportunity to choose your preferred style, here are some stunning goatee beard styles for black guys with different face shapes and personalities.
1. Bushy Goatee
This goatee has full growth on the chin, which is connected to the soul patch below the lower lip.
However, the mustache is kept short and remains disconnected. Black men with oval face shapes can rock this style confidently.
2. Short Chin Puff
Think about having a neatly trimmed and well-groomed patch of beard on your chin. It is like adding a little charm to the shaved face.
So, if you are looking for a subtle yet impactful style, it is the way to go for daily life.
3. Circle Goatee
The beard is carefully and neatly shaped in a circle around the mouth, making it super refined. The well-crafted, tidy 3-5mm clean beard enhances your face's natural shape.
Additionally, it also gives a professional and mature vibe.
4. Goat Patch
It is a unique look containing a strap of facial hair connecting the soul patch to the chin. Eventually, it draws attention to the chin area. Adding a pencil mustache makes the overall look even more awesome.
5. Long Silver Goatee with Salt-and-Pepper Mustache
This long goatee has a curly beard on the chin area, which resembles maturity and wisdom due to the grey beard. The connected mustache is also a part of this appearance, but it is trimmed up to the upper lip.
The mustache and beard flow together beautifully with a seamless connection.
6. Stubble Goatee with Glasses
This beard style for black men has a stubbly goatee connected with a mustache. And this style really draws attention to the chin and jawline. It looks great on the rectangle to oval-faced men.
Pair metal frame glasses with this style. The beard and glasses combination will provide a nerdy look to the African-American men.
7. Short Beard with Big Hair
It is a minimalist beard style with voluminous Afro hair on the top. The short beard focuses on the chin area only and the rest of the face is kept clean.
It is an excellent choice for young black men with bushy hair looking for a sleek look.
8. Thin Circle Beard for Bald Men
This cool goatee features a small soul patch and a very thin line of facial hair around it. If you are an African American with no hair on the top, this beard style will complement your bald head perfectly.
9. Curly Goatee
The curly goatee gives a carefree appearance as the beard grows, and you don't trim at all. But the patchy mustache extends the goatee's appeal. Overall, it gives a natural look to black men's curly beards.
10. Extended Goatee
The beard on the chin is extended to the jawline and gives a masculine look to any aging man who loves goatee. It includes a cool-trimmed mustache too. This specific style looks good with a professional outfit.
11. Inspired by Kanye West
Kanye has a small patch of neatly trimmed beard on his chin. He combined it with a disconnected soul patch and pencil mustache. You can copy this style by using a trimmer with a #2 guard.
12. Pencil Goatee
This particular goatee for black men features a neat pencil mustache that smoothly connects to a thin goatee on the chin.
The clean line and sharp edges make the look elegant and refined. Hence, this little detail makes a big difference.
13. Long Petite Goatee
You have to grow your beard for a few months, extending 2-3 inches beyond the chin. Style your dreads and grow a thin mustache for a traditional African-American look that is both carefree and striking.
14. Chopped Goatee with Braids
This ungroomed natural curly beard is intentionally chopped in the middle. With a short beard and long parted and tied-back braids, you will look like those cool black rappers.
15. Handlebar and Goatee
Combining the handlebar mustache with the goatee creates an appealing contrast to show off the facial features.
While the goatee accentuates the chin area, the thin handle on the sides of the mustache gives a cool and exceptional detail to the whole look.
16. Patchy Goatee
Having some patches of hair scattered around the chin area is less conventional. But, still, it can give a slight rugged charm to any young black man.
You will need to grow it for a few weeks and keep it like that.
17. Long Curly Goatee
While the mustache is well groomed with a thin pyramidal shape, the goatee is long enough to hold with your palm. This facial hair will surely give any face shape an unforgettable and attractive look.
18. Grey Beard with Short Grey Curly Hair
A grey goatee beard paired with short grey curly hair makes it look amazing against the darker skin tones. It is a perfect beard style for black men over 60.
19. Rap Industry Standard
This beard style mainly combines a goatee with a chin strap. The chin strap is neatly trimmed with a thin line accentuating the jawline, while the thin line on the chin area gives a defined look.
Many hip-hop and rap singers, such as 50 Cent, styled this in their early days.
20. Classic Goatee
The classic goatee can complement a black man's facial features and highlight the chin area. The length of this beard remains around 5-6mm, giving a clean appearance.
You can rock this flexible style in any formal or casual event.
21. Goatee + Thin Pyramid Mustache
This black men's goatee style looks good on a medium chubby face. The look combines a regular goatee and a thin pyramidal mustache. Further, a thin beard line connects the chin area with the upper lip.
22. Petite Chin Puff
Young black guys under 20 have often seen growing small chin puff. It is a friendly option to embrace that new adulthood. Wearing this beard with dreadlock hair complements the overall style.
23. Professional Goatee Beard
This beard style will suit black men looking for a neat and official appearance. It has thin facial hair on the chin connected with the mustache with a thin line.
Additionally, the thin pencil mustache gives a natural yet powerful expression.
24. Triangle Goatee
This distinctive goatee features a carefully shaped upward pointing triangle, with the base of the triangle on the chin. It portrays creativity with a personal touch and makes a stylish facial hair trend.
25. Extended Long Goatee
Black men in their early 50s often embrace the natural aging process, and the extended long goatee complements this period with grace and elegance.
With eyeglasses, this beard style reflects maturity and humbleness.
26. Grey Chin Strap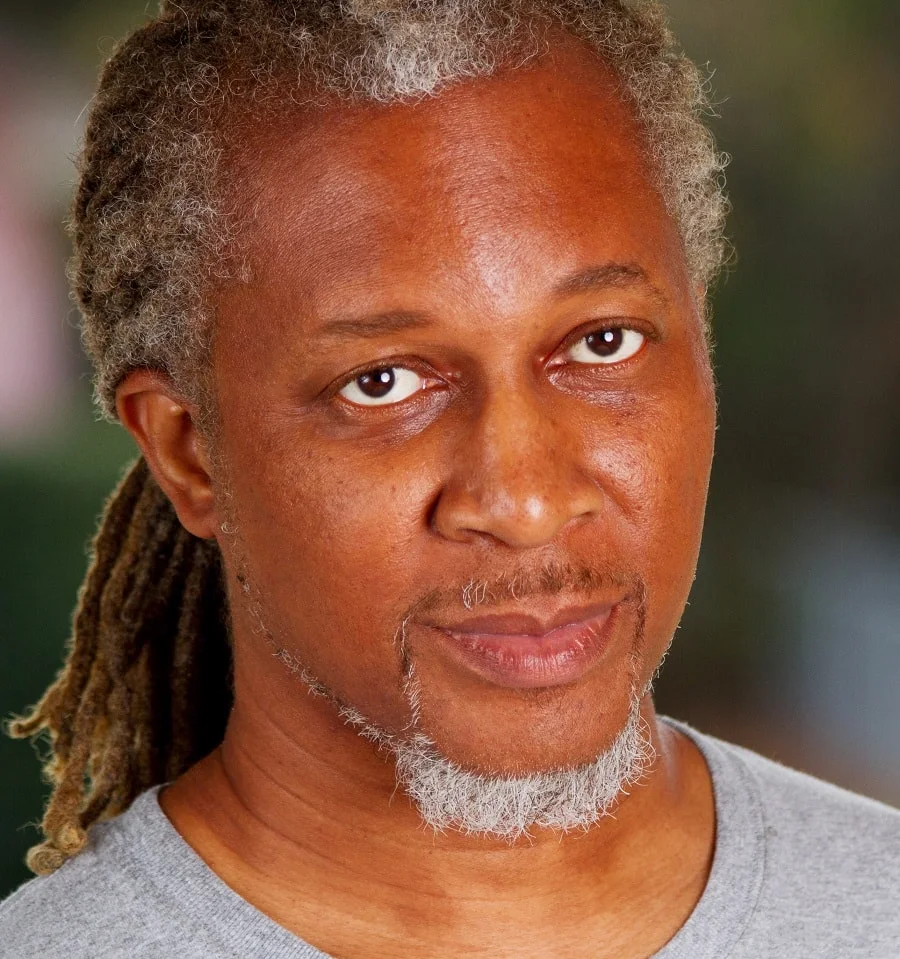 The combination of a grey chin strap with a goatee offers an elegant yet rugged appearance.
Further, the thin pencil mustache connected to the chin puff generates a well-defined appearance, enhancing the overall facial symmetry.
It is a fantastic choice for black men who want to embrace aging with style.
27. Chin Puff with Mustache
The chin puff under the lower lip makes the chin look more manly. Then, the well-groomed mustache on the upper lip adds a subtle touch and these together make a perfect match for dark-skinned men.
28. Uneven Goatee
This uneven goatee embraces the natural length of the curly beard. It looks perfect on black men with a rectangular face shape.
However, the ungroomed style gives the usual yet eye-catching appearance.
29. Square Beard
The precisely groomed line around the mouth creates a well-defined square shape. However, it requires regular maintenance, making it time-consuming.
Although a square beard looks good on formal dress-ups, you can try it with casual outfits too.
30. Short Goatee
When you put a short strap of chin beard and thin mustache together, it creates a simple yet striking appearance.
Although the chin puff is not well groomed, the nicely trimmed mustache makes the overall appearance polished.
So, if you like any of these black men's goatee styles, try them on your face and rock them with confidence.