A blonde mustache is an enchanting way of styling a mustache that gives men a very bold and attractive look. Some men are lucky because they can grow blonde facial hair naturally, such as Irish men. Men who can't grow a blonde mustache naturally use alternative methods, including blonde dye products.
Explore the best ways of darkening, styling, dyeing a mustache blonde, and the best mustache dye products available worldwide below!
How to Dye a Mustache Blonde
Here's a step by step process on how to dye a mustache blonde:
Blonde Dyeing Prep: it involves three major steps: shade decision, dye product selection ,and washing/ cleaning a mustache. Don't worry, we'll discuss each step in detail!
Shade Decision: you can't achieve a flawless blonde mustache without deciding on the most suitable shade of blonde. There are several shades of blonde color – dirty blonde, strawberry blonde, silver blonde, golden blonde, brownish blonde, and platinum blonde. You can choose any of these according to your preferences.
Choose Dye Product: selecting a quality hair dye is critical. Choose the product according to its ingredients. We recommend using a chemical-free product or one with natural ingredients with no side effects.
Washing: once you're done with the above steps, you're ready to achieve your dream colored mustache. Start by washing your mustache to remove any beard oil or balm. Pat your mustache dry, then comb it for a smooth dye application.
Apply Dye: First, prepare a dye according to the written instructions of the product. Apply petroleum gel or oil around the skin of mustache. Apply the dye to your mustache using a brush.
Wait for at least half an hour or check the mustache after 10-15 minutes to see whether the mustache color has turned into your desired shade of blonde. If not, give it more time. The time may vary from product to product so it's better to follow the time written on the product instructions.
Thorough washing: Now wash your mustache thoroughly with herbal shampoo. Apply the conditioner for a soft texture. Pat dry the blonde colored mustache and apply beard oil for a glossy look.
If you do not have natural blonde facial hair, you'll have to bleach your mustache first before following the above steps.
Bleaching: wash and dry your mustache. Prepare a mixture of bleach cream and developer according to written instructions on the pack of bleaching product. Apply it on your mustache and wash it off thoroughly after 10-15 minutes when you observed a change in mustache color.
Moisturize it to for a soothing purpose. After a gap of a few days, you can dye your light-colored mustache. Before bleaching, apply petroleum gel on the skin around the mustache to avoid skin irritation.
How to Darken Blonde Mustache
After washing, always dry your mustache with a towel or blow-dryer as wet mustache can give the blonde even lighter appearance for a particular time.
Apply beard oil. It will give some thickness to your mustache texture making it a bit darker than its original shade, with the passage of time.
Do not spend a lot of time under the sun or you can cover your facial hair while taking a sunbath. The heat of the sun can make your mustache to become lighter in shade.
Grow your mustache long as length can give prominence to your blonde mustache. You can also grow a beard to add a strong feature to your mustache.
Dye your mustache in any shade of blonde according to your skin and mustache color. The blonde dye will give thickness which ultimately makes your mustache to look dark. Do not apply a black dye. Kindly have a look below at the best mustache dye products for amazing results.
Best Mustache Dye Products to Buy
It is the best-selling product that contains no ammonia. It has many natural ingredients such as Aloe Vera, chamomile and Vitamin E. It involves easy application and has long-lasting results.
It is easy to apply and does not involve any mixing. Its application takes very less time, hardly a minute. Apply it on a daily basis. It is safe to use and does not cause any allergy to the skin.
It does not contain any harmful chemicals. It is totally chemical-free. It works on all types of facial hair color. It does not cause any skin irritation, rashes or allergies. It is available in many shades, you can pick up whatever shade you want to have.
Styling Blonde Mustache with a Beard
Check out the following tips to style blonde mustache with beard:
Grow your Facial Hair Tolerantly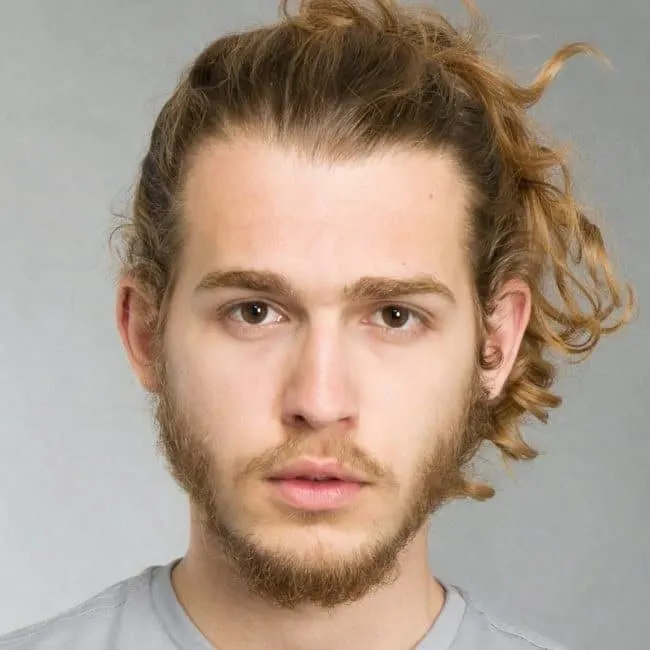 Growing a blonde mustache can be challenging and styling it with a beard takes a lot of passion, hard work and patience strength.
Once you made a decision to grow a beard, grow it at the same time when you start growing your mustache otherwise you have to wait for one to two years more for it which may decrease your morale. Do not trim your facial hair at all during this growth phase.
Trimming
Once you achieved the desired length and thickness of beard and mustache, you can trim it for styling purposes. Shape the beard into any style you like such as Verdi, ducktail, short beard, and Garibaldi, etc. You can style the beard into goatee as well if you have a thin beard texture.
Trim the mustache into the desired shape. Trim the cheeks line nicely to achieve curve cut or line up shape. Trim the neckline hair as well for a neat look.
Grooming
Once you are done with trimming, now it's time to groom blonde colored mustache for a presentable look. Apply a good quality mustache/beard wax or balm on your facial hair.
To achieve a handlebar or French mustache, twist the ends of the mustache and turn it into a curvy shape (in case of handlebar) or twist it in an upward direction (in case of French).
Maintenance
Maintain the style on a regular basis. Wash your mustache and beard with shampoo two to three times a week. Always apply beard oil to add gloss and thickness to your facial hair.
This styling may involve a hectic routine, but it surely is worth a try.
Striking Blonde Mustache Styles
Below are some unique blonde mustache styles that you can actually try:
1. Curly Handlebar Mustache
For men with an eclectic personality, the curly handlebar mustache is the perfect style for your blonde mustache! We love the way it looks with a medium-length full beard!
2. Skinny Handlebar with No Beard
If you have very short hair and are comfortable rocking no facial hair, except for a mustache, go for a skinnier handlebar 'stache. This style especially suits men with small faces, so if you're a guy with a larger head, go with a different style!
3. Trimmed Thin 'Stache
Those short blonde waves of yours will be perfectly complemented by a trim, blonde thin mustache that ends at the corners of your mouth. Younger guys will look best with just the mustache and no beard. If you must, a little stubble will be okay!
4. Thick Blonde Mustache for Older Men
A chevron or thick lampshade mustache is a flattering style for older men. If you have medium to long hair, consider this a top pick! Help it look its best by sporting it without any surrounding facial hair.
5. Stringy Horseshoe
Does your mustache hair have a rough, scraggly texture? You'll be able to easily style it into a horseshoe mustache with a little beard oil! Leave the hair right above your top lip thick and trim, but let the ends go longer, using beard oil to shape and slim.
6. Imperial or Handlebar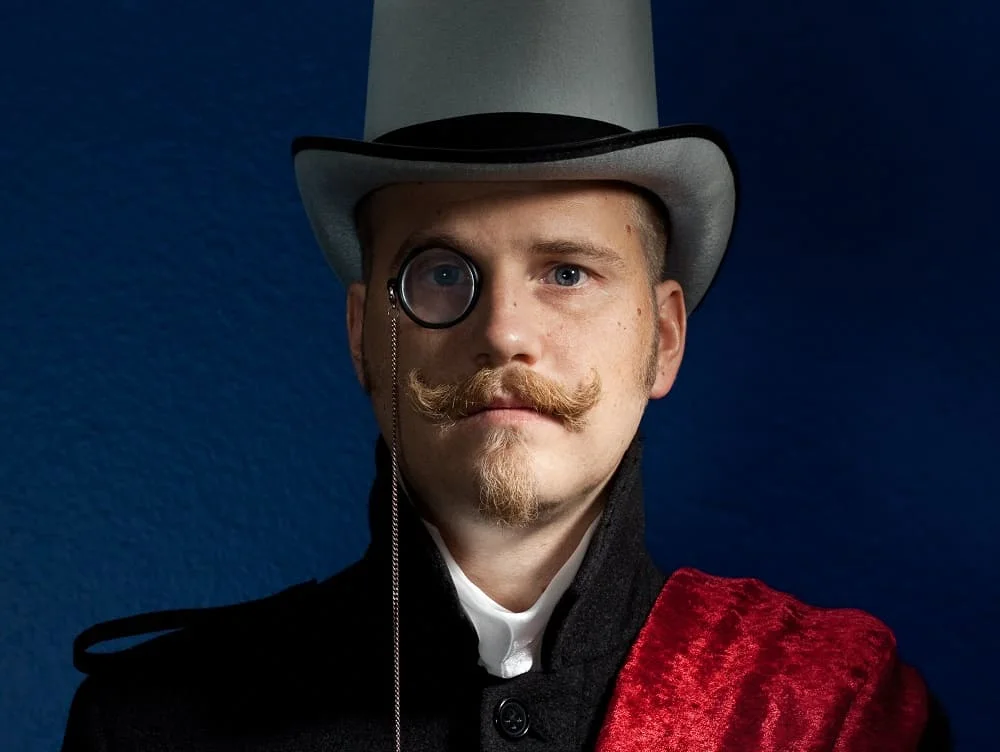 If you feel the need to rock a little goatee with your blonde mustache, we like this take on the imperial mustache that looks pretty similar to a horseshoe style. Feeling artistic? Pair with a classy hat for a dapper look!
7. Chevron with Full Beard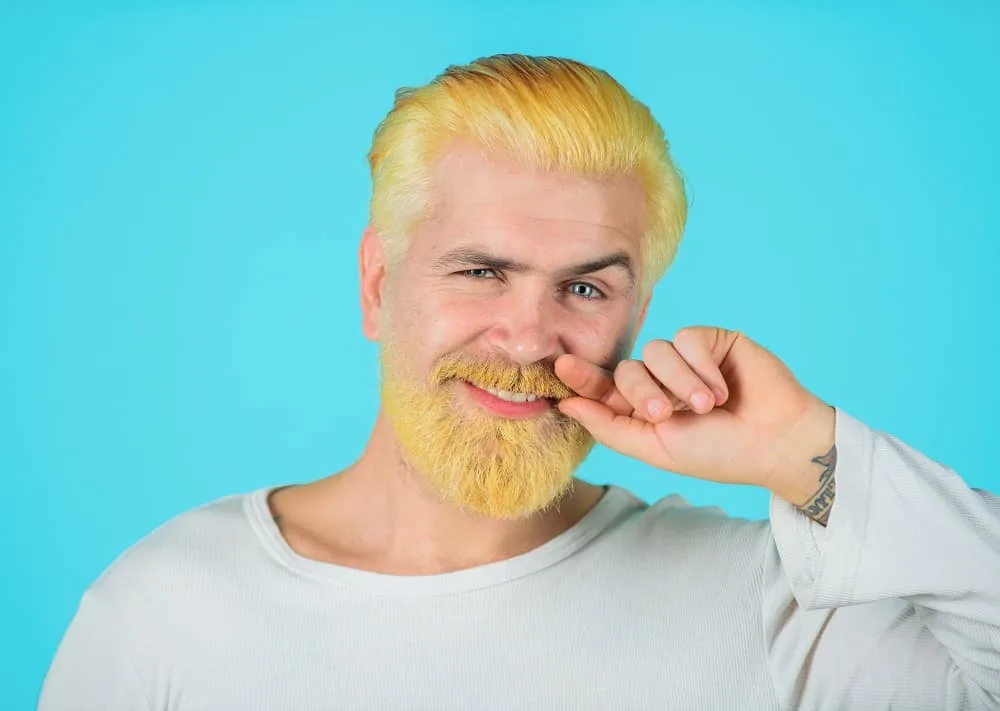 If you're the type of guy who is comfortable with bold style moves, play the matching game and color your mustache the same blonde shade as your haircut!
This look features a thick chevron mustache with a full beard, both of which match a blonde combed back haircut.
8. Blonde Mustache with Chin Strap
A thin chin strap is a popular style of facial hair for many younger guys. You'll be happy to know a blonde mustache looks nice with it! For best results, keep it at about the same length as the chin strap hair.
9. Professional Blonde Handlebar Mustache
Another great mustache style for blonde older guys is this very professional-looking handlebar style. With a neatly combed haircut and no surrounding facial hair, it's a simple but classy style without much maintenance involved.
10. Blonde Painter's Brush Mustache
If you currently rock a medium-length blonde haircut, we recommend this painter's brush mustache in blonde to match! It's a youthful look that is low maintenance, and it will look good with or without a goatee or beard.
11. Scruffy Handlebar
Scruffy can be a handsome look on men, especially when it's in reference to facial hair! With a full beard and fuller-textured hair, a scruffy blonde mustache in a handlebar shape is quite good-looking!
12. The Bold One
It is really giving a bold statement. Perfectly curved mustache and thick, well-groomed blonde beard make an awesome beard style called Verdi.
In addition to its unique beard and cool Faux Hawk undercut haircut combination, it is looking ultra-mannish and striking on the above guy. The mustache is golden blonde while the beard includes platinum blonde chin hair, yellowish cheeks area, and reddish-brown jawline area.
13. Afro Special
It is an innovative and creative mustache style for those afro guys who want to blonde their mustache for stylish and funkier personality. The Zorro mustache looks golden blonde, some people may confuse it with silver blonde shade, but it does not matter as both shades of blonde looks cool on afro guys with a mustache.
You can accompany the mustache with a soul patch and a creative beard design for masculine and strong features.
14. Incredible Blonde Horseshoe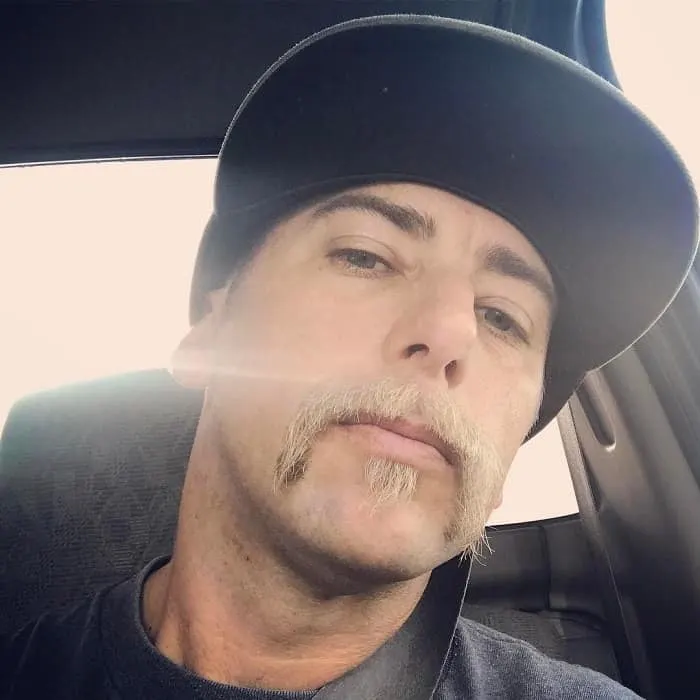 It looks carefully and professionally shaped. The mustache looks turned into the blonde shade by bleaching method. The mustache has dark black edges. There is no need to grow light stubble even as blonde long mustache is giving a very polished look.
15. Distinctive Blonde and Black Combo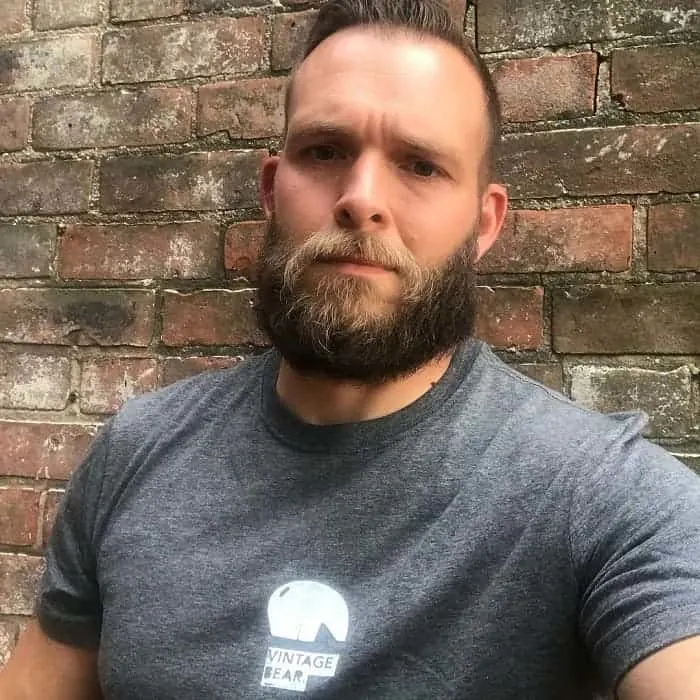 It is one of the most debonair mustache and beard combinations. After a lot of hard work and patience, you get this masterpiece as a reward. The blonde mustache and soul patch give a horseshoe resemblance.
While the whole beard and mustache look makes a Garibaldi beard style altogether. It needs maintenance. It requires regular combing and beard oil application as well.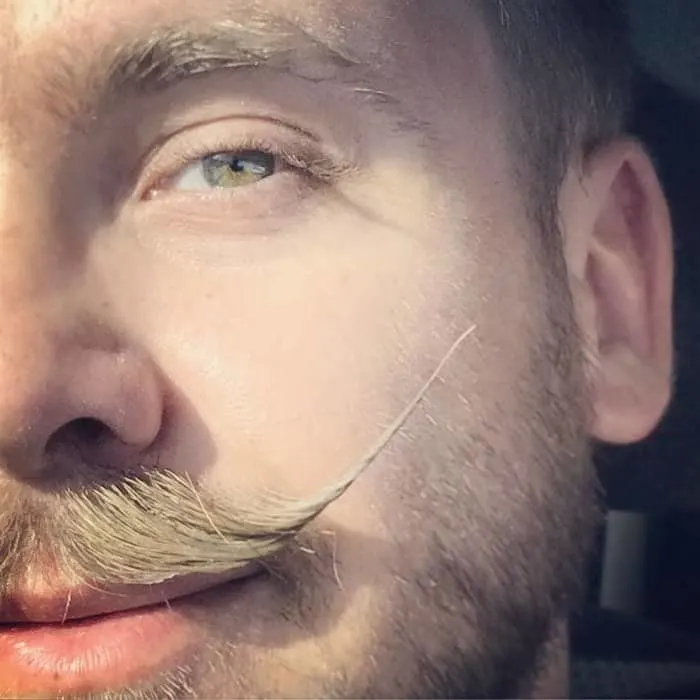 It is one of the most magnificent blonde mustache styles. It is extra-long, extra-pointed and ultra-masculine. It is the natural blonde color of facial hair making the man's personality alluring.
Apply a mustache wax and start twisting the mustache ends in upward, pointed direction. It needs regular maintenance and requires some time in styling. Combine this long mustache with a short beard or medium stubble to add more effectiveness.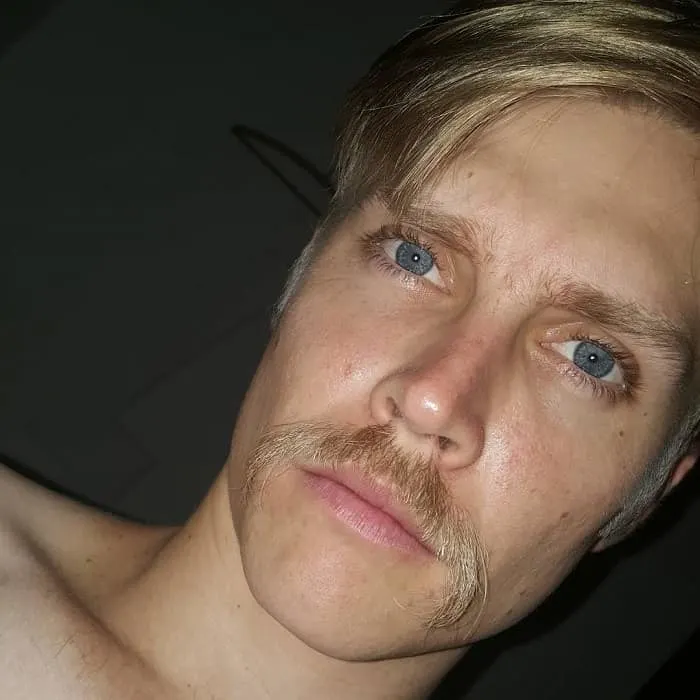 Yes, it is a handlebar shaped mustache style without the mustache wax application. When you do not shape the handlebar mustache into a curvy or pointed curl, it looks exactly the same as the above image. It may resemble Zappa mustache as well, but without a soul patch. It has a golden blonde shade.
Keep the cheeks and chin area clean-shaven. So, when you are in a hurry or lazy for a day to shape your handlebar you can go with this particular style for a macho look.
18. Manly and Cool
It is like thick painter brush mustache. It is yet another amazing way to style a blonde and thin textured mustache that gives a relatively thick appearance when grown fully. You can grow 5 o'clock shadow beard for a virile look.
Is It True that Blonde Mustache Takes Longer to Grow?
Yes, it is true that blonde dyed mustache takes longer to grow. It requires a lot of patience. You have to wait for 90+ days or more to grow your mustache longer. In two to three months it becomes slightly visible and it takes two to three months more to get a manly mustache.
Do not trim your mustache at all during the growing phase, comb it regularly in a downward direction and soon you will observe a blonde spell of your mustache on your face. After that, you can style it into whatever style you want.
So, what are you looking for now? For a motivational start? Hope you get it too from here. You might be among those guys who were disappointed for having a naturally blonde mustache because of its low growth and light texture, now after going through the above-discussion; you might surely be thinking to embrace your natural flawless facial hair shades.
Stick to four rules; just be patient, grow your mustache long and thick, style it with a graceful beard (if you want) and dye your mustache with the best and well-known products. We bet you won't regret it.
HairstyleCamp is a participant in the Amazon Services LLC Associates Program, an affiliate advertising program designed to provide a means for sites to earn advertising fees by advertising and linking to Amazon.com.