We are not the only ones who irreversibly fell in love with the choppy lobs! Actresses, singers, influencers, all adore and wear it. You can find it on every cover magazine or red carpet, and there's no doubt that this hairstyle won everyone's heart.
And there are so many reasons why: they provide texture to any hair type, work on any face shape or skin color and hair can be dyed in any nuance and still good phenomenal with the lob!
If you want to get a long choppy bob, be ready to do some research because there are so many ways to cut a lob and you want to get the one that fits you best, right?
From short bangs or long fringe to A-Line, Asymmetrical or inverted lobs! All these are fabulous options, and if you continue scrolling, you will discover 40 examples from which you can pick your favorite!
1. Long Choppy Bob with Bangs
Choppy ends give your hair a fabulous texture! A blonde color for your straight bob haircut is going to make a lot of fuss wherever you go. For a modern fashionable look, try some messy waves and short, uneven bangs.
2. Choppy Straight Lob Haircut
Long bob haircuts look fabulous, especially if adopting a choppy trim for the layers. Keep the roots in their natural shade and make sure you style a perfect pale red ombre with blonde highlights. Also, bangs swept on one side will give your hair a unique touch.
3. Long Choppy Thick Bob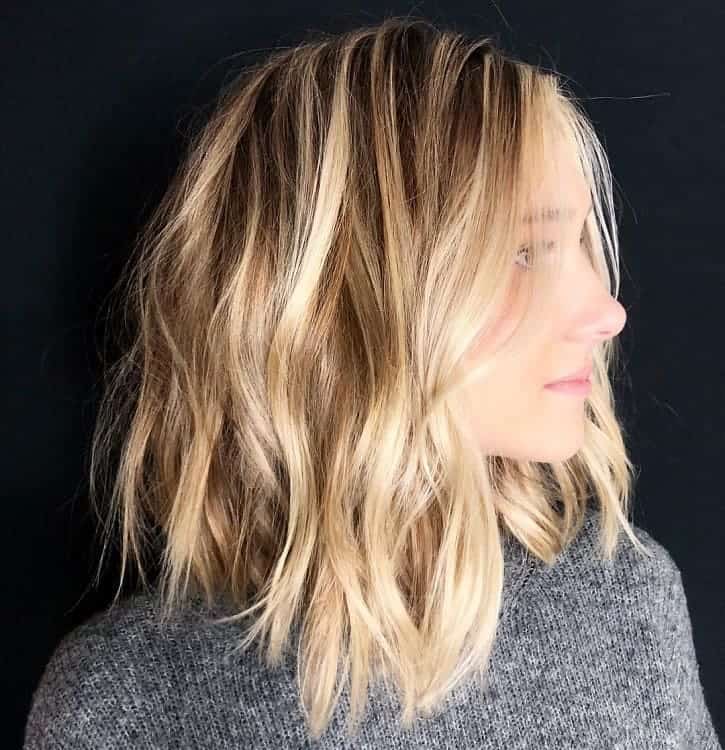 Inverted bobs keep the nape hair short and the bangs longer. A fabulous grain blonde will enrich your color, and some messy waves will add value to your sophisticated haircut. For a beautiful face frame, create a middle part for the fringe.
4. Choppy Long Bob for Fine Hair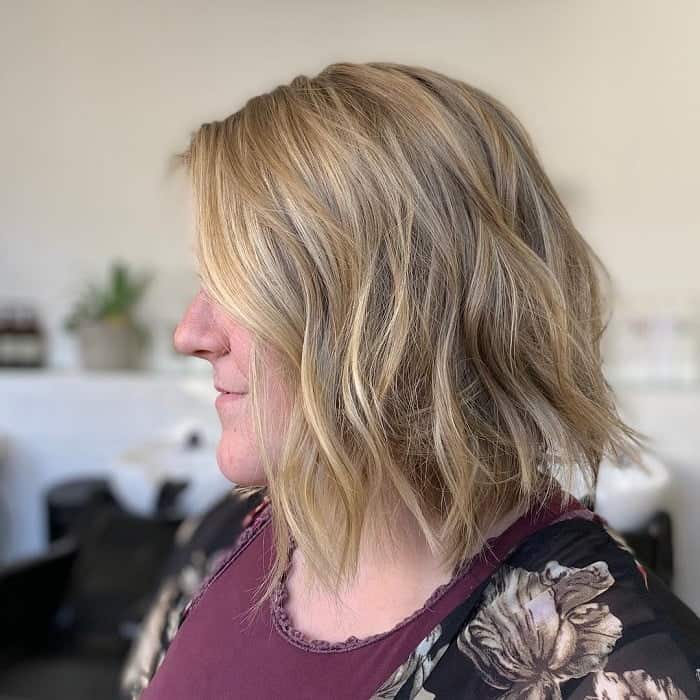 When you have fine hair, the best thing you can do to hide that is to style a choppy bob with lots of highlights. These blonde overtones will add texture to your locks, and your hair will look perfect every single day.
5. Long Choppy Brunette Bob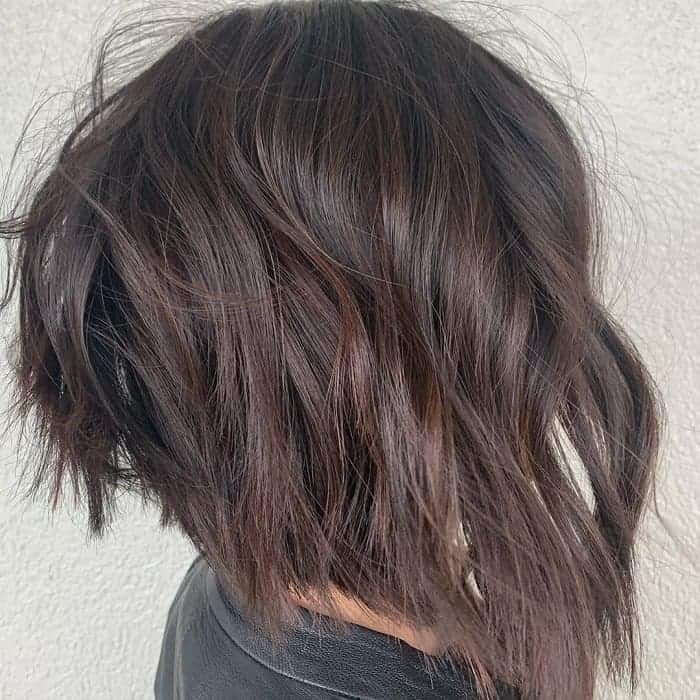 Maintain your natural hair color, and for the tips, opt for a lighter brown shade. This choppy inverted bob haircut will not only enrich your thick hair but will also give it even more volume. Remember that in 2022 waves are always welcomed!
6.
7.
8.
9.
10.
11.
12.
13.
14.
15.
16.
17.
18.
19.
20.
21.
22.
23.
24.
25.
26. Choppy Inverted Lob
Tired of getting dull looks? Try something eye-popping like this stunning ginger color. Also, opt for an inverted bob with choppy ends to give the hair more dimension. Toss your long bangs on one side and style a few curls in front.
27. Choppy Textured Lob
Lobs are very popular and we can certainly understand why! They give your face a beautiful frame and allow you to style a large variety of hairdos. Recreate this messy look by using pale blue highlights and giving your hair a wet look.
28. Choppy Asymmetrical Long Bob
Asymmetrical bobs are very modern because they don't follow any rules. You can get a romantic sun-kissed look by styling a long hairdo with loose waves and bangs flipped on one side.
29. Choppy Long A-Line Bob
Every time you want your hair to get a beautiful texture, a honey blonde ombre that ends in a bright nuance will make real miracles for you! Layers, waves and choppy ends are a great team when it comes to making you stand out, so consider these choices when arranging your hair!
30. Choppy Long Asian Bob
Asian girls look fabulous with choppy bobs or lobs! Create loads of layers for the tips, style wide loose waves, and go for a middle part. Tousle your hair before you go, and you are ready to conquer the world, girl!
31. Choppy Lob for Round Face
When having a round face, a lob with bangs slept on one side will create the perfect illusion. Tousle your mane and wear round glasses if aiming for a look that is both retro and modern.
32. 80s Long Choppy Bob
We all remember those '80s moms and their haircuts, right? Well, they are back in trends, and if you are a woman over 50, you can look pretty cool with that old haircut. Loads of layers, straight bangs, eye-popping color, and you are ready to rock!
33. Choppy Blonde Lob
When you want to give your hair texture, a sombre will not only make your blonde color pop but will also make you look stunning! Style choppy ends and a few waves to obtain that sophisticated look we all adore!
34. Choppy Brown Wavy Lob
If you aim to look adorable, this long choppy bob on dark brown wavy hair is the perfect style one could ask for to add texture to their hair.
Ideal for: The cut is best for people looking for a happy go lucky style. It is a great, on-the-run cut that you carry at your convenience. Moreover, you can also wear it to formal occasions, as it gives you the best of both worlds.
How to style: A good cut is essential for the style. Add in some light waves with a curling iron and spray on some hairspray to make sure it lasts the day.
This extra long hairstyle is a great cross between shoulder length and lob haircut. The balayage highlights add the dimension needed to give you that chic look.
Ideal for: The choppy long bob style suits most people and is best for a number of different occasions. The good thing is that you can freely wear it to almost any event and look appropriate! A big win if you ask us!
How to style: Start by prepping your hair with some conditioning serum. Add in light waves to draw attention to your highlights. The different shades give you a dazzling finish!
Get on board with this casual style that gives you a feminine touch. The style is more on the rougher side but nevertheless stands out in the crowd.
Ideal for: The style goes well with the teenage lifestyle. The messy do, with the carefree locks, requiring minimal maintenance is a teenage dream come true.
How to style: If you wish to wake up with a well-done head of hair, this choppy long bob style is for you. All you need to do is make sure your blonde is in good shape and add in a few short beach waves here and there for a messy look.
You can merge this long choppy bob style with any of your bob cuts. It is an interesting way to carry your bob and give it some character.
Ideal for: The style is perfect for a trendy business look or perhaps an important get together. Although it looks great with a natural tone too, some highlights can really slide it up a notch.
How to style: Start by adding some highlights to your hair. Remember to add them such that they show on the side you will part. Part your hair at one side and neatly style your hair across. You can also add some waves at the tips to complete the look.
Of course, the long choppy bob hairstyle isn't limited to the straight hair alone. You can get a pretty style with curls too. Try out this style to stand out.
Ideal for: The girl next door vibe is great for everyday routine and perfect for the office too. The style is easy to make and complements most face cuts.
How to style: Go the extra mile for your choppy lob and add that modern look with a curling iron. The messy curly hair is perfect for the summer.
You can also play around with your bob with bangs by adding some layers to your cut. They add dimension to your hair and revitalize it instantly.
Ideal for: This cut is best suited to the teenage years. Women with an edgy style and a love for something different can rock this style too!
How to style: The cut gives you extra layers to work with. The choppy lob style is unique and is easy to work with. Go out with straight hair or add some waves to lift up the cut.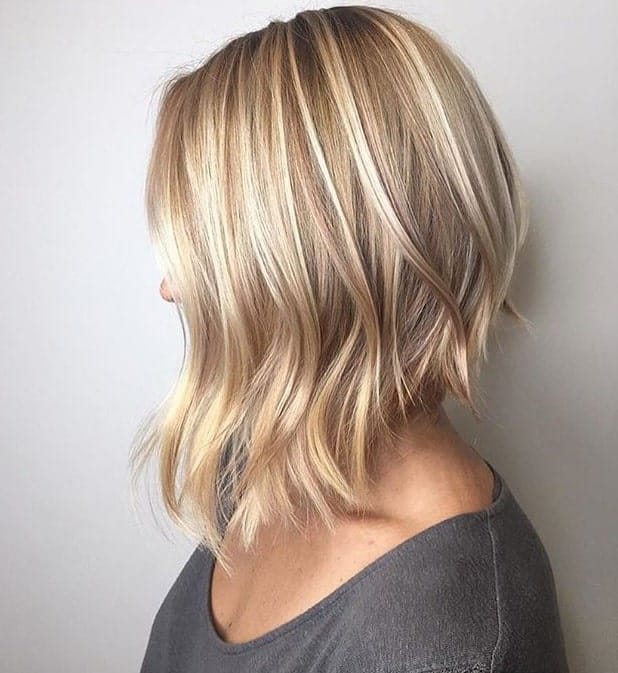 Style your hair with some chunky highlights. You will be surprised by how well it can turn out. The long A-line cut to complement the shade as well.
Ideal for: The style is best for busy mothers as well as women looking for a stylish change in hairstyle. The long choppy bob is certainly different and the A-line adds even more character.
How to style: Wear your hair to the side. Start with a good blow dry so that your hair has that lift needed to stand out.
This long choppy bob hairstyles now have become the raging new fashion and the ideal style turnover for the ladies. So hurry up and try your favorite hairstyle to stand out from the crowd!