The long choppy bob is the new sensation of the fashion world. The style has been making an appearance on the red carpet as well as on the runways, up and down the country. We sure think that the style is eye-catching and gives you that eye-grabbing moment, perfect for making a statement!
Amazing Long Choppy Bob Styles
No doubt, managing, and styling such a lob cut can be trouble. To make your life easier here we have 7 long choppy bob hairstyles that will inspire your inner fashionista!
1. Choppy Brown Wavy Lob
If you aim to look adorable, this style is for you. The long choppy bob on dark brown wavy hair is the perfect style one could ask for to add texture to their hair.
Ideal for: The cut is best for people looking for a happy go lucky style. It is a great, on-the-run cut that you carry at your convenience. Moreover, you can also wear it to formal occasions, as it gives you the best of both worlds.
How to style: A good cut is essential for the style. Add in some light waves with a curling iron and spray on some hairspray to make sure it lasts the day.
This extra long hairstyle is a great cross between shoulder length and lob haircut. The balayage highlights add the dimension needed to give you that chic look.
Ideal for: The choppy long bob style suits most people and is best for a number of different occasions. The good thing is that you can freely wear it to almost any event and look appropriate! A big win if you ask us!
How to style: Start by prepping your hair with some conditioning serum. Add in light waves to draw attention to your highlights. The different shades give you a dazzling finish!
Get on board with this casual style that gives you a feminine touch. The style is more on the rougher side but nevertheless stands out in the crowd.
Ideal for: The style goes well with the teenage lifestyle. The messy do, with the carefree locks, requiring minimal maintenance is a teenage dream come true.
How to style: If you wish to wake up with a well-done head of hair, this choppy long bob style is for you. All you need to do is make sure your blonde is in good shape and add in a few short beach waves here and there for a messy look.
You can merge this long choppy bob style with any of your bob cuts. It is an interesting way to carry your bob and give it some character.
Ideal for: The style is perfect for a trendy business look or perhaps an important get together. Although it looks great with a natural tone too, some highlights can really slide it up a notch.
How to style: Start by adding some highlights to your hair. Remember to add them such that they show on the side you will part. Part your hair at one side and neatly style your hair across. You can also add some waves at the tips to complete the look.
Of course, the long choppy bob hairstyle isn't limited to the straight hair alone. You can get a pretty style with curls too. Try out this style to stand out.
Ideal for: The girl next door vibe is great for everyday routine and perfect for the office too. The style is easy to make and complements most face cuts.
How to style: Go the extra mile for your choppy lob and add that modern look with a curling iron. The messy curly hair is perfect for the summer.
You can also play around with your bob with bangs by adding some layers to your cut. They add dimension to your hair and revitalize it instantly.
Ideal for: This cut is best suited to the teenage years. Women with an edgy style and a love for something different can rock this style too!
How to style: The cut gives you extra layers to work with. The choppy lob style is unique and is easy to work with. Go out with straight hair or add some waves to lift up the cut.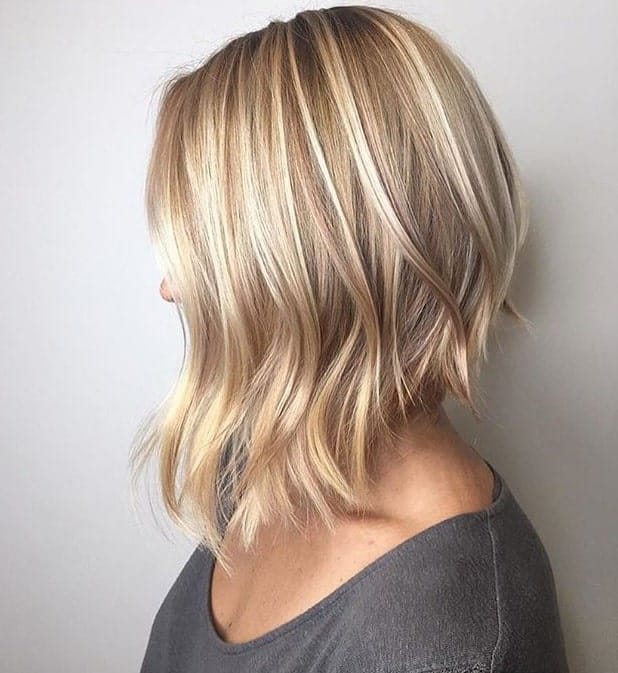 Style your hair with some chunky highlights. You will be surprised by how well it can turn out. The long A-line cut to complement the shade as well.
Ideal for: The style is best for busy mothers as well as women looking for a stylish change in hairstyle. The long choppy bob is certainly different and the A-line adds even more character.
How to style: Wear your hair to the side. Start with a good blow dry so that your hair has that lift needed to stand out.
This long choppy bob hairstyles now have become the raging new fashion and the ideal style turnover for the ladies. So hurry up and try your favorite hairstyle to stand out from the crowd!