A crown braid for short hair sounds like an impossible idea. This is where you are completely wrong. If you're flaunting short hair, you have more than enough options to create crown braids. The ones we chose below are so diverse and completely different. We encourage you to try each one until you figure out which type works best for you.
Popular Crown Braided Short Hairstyles
These are the trendiest crown braid hairstyles that you can try on your short hair without any worry!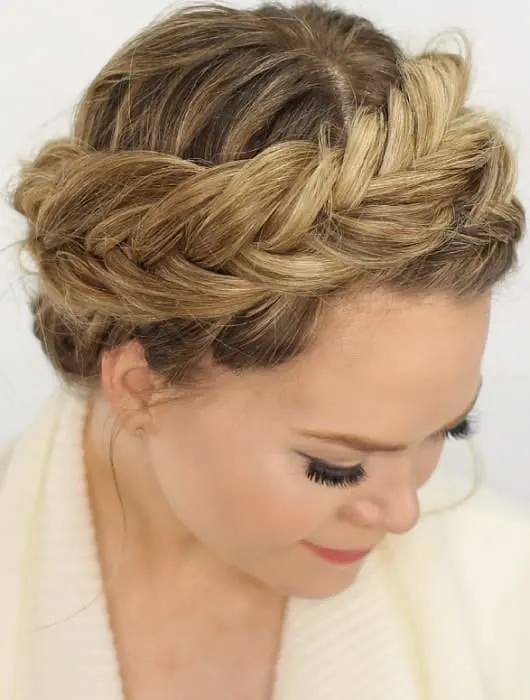 The fishtail French braid is so popular because it doesn't have to be perfect. On the contrary, the messier it is, the better it looks.
Ideal for: This is an elegant crown braid for short hair option that you'll want to rock with a cocktail dress and makeup. Next time you're going out, you can give it a test run.
How to Style: Begin with your fishtail braid and make a crown of it. If you still have hair left, you can always put it in a low messy bun in the back. Take some strands in the front and curl them to finish off.
2. Boho Crown Braid
We sure love boho hairstyles. They are cute and the perfect option for the summer.
Ideal for: Ideal for weddings, parties, events, especially during the summer days.
How to Style: Boho braids give you the space to experiment with so many looks. For this one, you will need an imperfect oversized Dutch crown braid and several additional smaller ones. Leave many strands and curl them at the end. For the whole look to be bohemian you are also missing flowers.
Why go for a single one, when you can always opt for two? The more braids your crown has, the cooler it will be. Get into action and do two braids on each side.
Ideal for: It's such a fun crown braid hairdo for short hair because it's done in a few minutes. You don't even have to worry about making it look perfect.
How to Style: Start by braiding two braids on each side and connect them in the back.
4. Starburst Crown Braid
This hairstyle is one of those types that you rarely see but you immediately fall in love with. The starburst crown braid is the prettiest mane on the list.
Ideal for: This is a hairdo that works for all ages, starting with the youngest up to adults.
How to Style: Start watching some tutorials and after a few tries, you'll be able to make the perfect starburst crown braid for short hair.
This half-up mane is one of those simple ideas that never go out of style.
Ideal for: It is perfect for short hair because it looks beautiful no matter how you do it.
How to Style: Start by braiding double Douch braids from the front and tie them together in the back. Create soft waves on the rest of the hair.
6. Bushel Crown Braid
The bushel crown braid with short hair is a very unique and new trend that everyone will be obsessed with. You can be the first one to rock it and all of your friends will also want to get one.
Ideal for: It is best for occasions such as weddings. It can be the lucky bride, her best friends or the bridesmaids. Women of all ages can copy the mane.
How to Style: There are several great tutorials that will help you do the exact same braid like the one on the picture.
The waterfall braid is one of the prettiest braids ever. The good news is that you can do it on short hair and even create a crown with this braid type.
Ideal for: Perfect for short hair and for all ages. You can flaunt this crown braided short hairstyle at work, and for going out as well.
How to Style: Start doing waterfall braids from both sides and connect them in the back. This hairstyle is much more beautiful if you do waves on the rest of the hair.
The classic milkmaid braid is made of a French braid that goes around the head.
Ideal for: Even the laziest ladies will be able to recreate this crown braid for short hair. All you need is 10 minutes of your time.
How to Style: Braid your short hair into crown braid and secure it when you're done. If you have any other favorite types, you can also experiment with those.
9. Mix Them Braids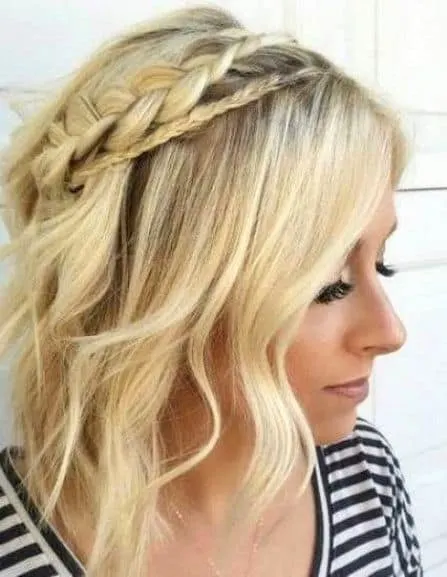 When you don't have too much time on your hands you can always braid several classic braids and copy this look.
Ideal for: A very simple crown braid hairdo, perfect for women with short hair.
How to Style: Mix the types of braids that you like and do them on both sides. Start somewhere in the middle of the part and take the braids to the back. Some of the options are the classic, French, Dutch, lace braids and more. You can also make them different in sizes.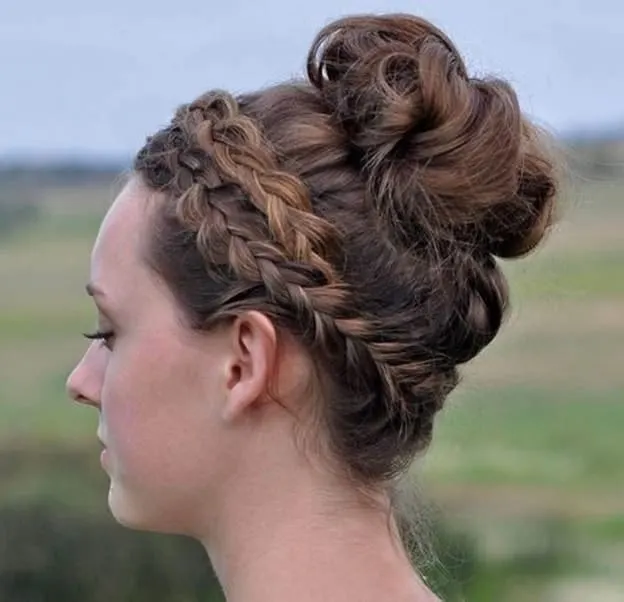 After you finish the crown braid, you can put the rest of the short hair in a messy bun.
Ideal for: Great for all lengths of hair.
How to Style: Once you finish the braid, it is time to do an updo. It can be a fun bun that is not too elegant or classy.
The bigger your crown braid for short hair is, the more attention you'll attract.
Ideal for: It's perfect for short hair and anyone can do it.
How to Style: A pull-through style is the one you choose when you're opting for a really big braid. Make sure that you do this crown braided short hairdo in a messy way, it looks much better like that. Feel free to add accessories, including flowers.