Naturally, short curly hair goes well with any event. To enhance your elegance, you can try styling an updo. In this article, we will give you the 20 most trending short curly hair updos.
Updos for Short Curly Hair
When you need to step out in style, you need a perfect dress and a stunning hairstyle to match. Besides, you have to style your hair to fit the occasion. As such, you should know what goes well with your facial features and the shape of your head.
Check out these sassiest short curly hair updos to rock this season.
1. Crazy Coils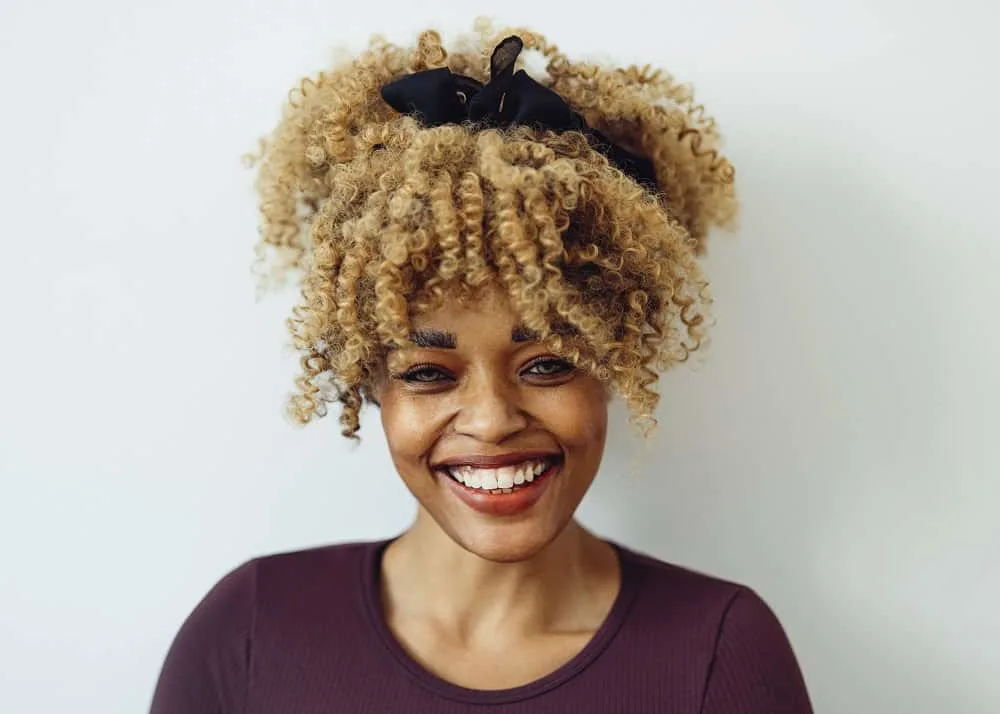 Give your neck a break from the crazy coils with this hairstyle. Tie the blonde strands at the back in a high updo using a headband or bandana. The front fringe is kept loose to cover the forehead for a wild appeal.
2. Messy Cascade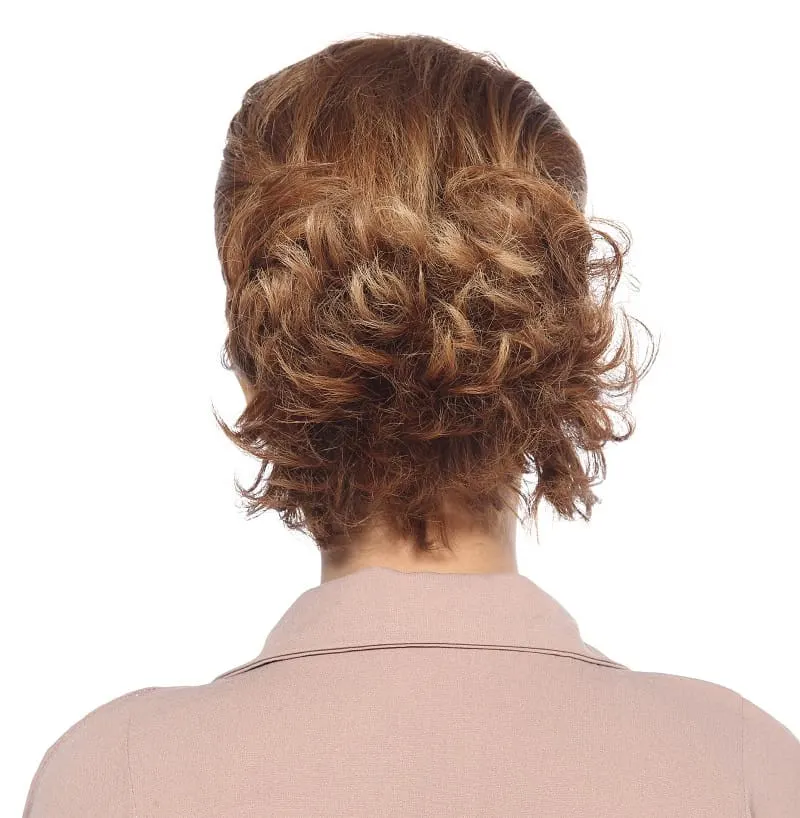 For the women who want a carefree hair look, have a glance at this messy hairstyle. To create it, the short strands are pulled back and secured with bobby pins leaving the curly tips out. This feathery updo can be worn both casually and formally.
3. Side-Parted Curly Bun
A low bun is the most elegant way to rock your short curls on any occasion. The hair is combed down with a side part and secured at the back into a bun. Use some setting spray to keep the style intact the entire day.
4. Braided Updo
Women belonging to all age categories can rock this mesmerizing updo on their short curly hair. The side-parted front is braided with the braids merging into the tousled updo at the back. The naturally curly strands sticking out from the updo top off the look.
5. Retro Pineapple Updo
This timeless look is easy to pull off at any event. It is created by pulling the curls at the back to the top and securing them with a hair clip. The careless and curly front fringe frames the face beautifully. A vivid headband finishes off this style.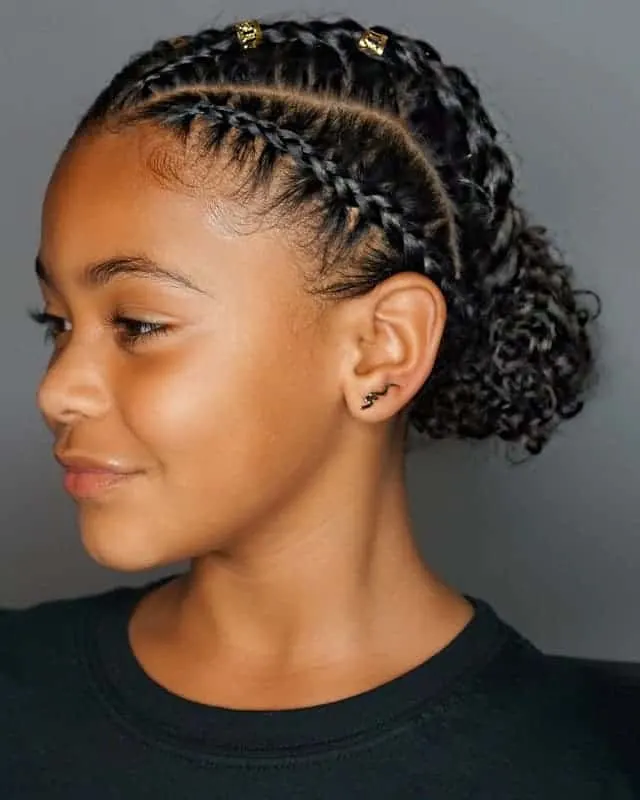 This characteristic style is noticeable for its large braids. Naturally, the updo style has four or five braids. They are easy to do with minimal maintenance.
An elegant style for any occasion, it goes well with all ages. Important to note, you need your naturally curly hair to craft the style. Top it up with a hair spray for that glossy sheen.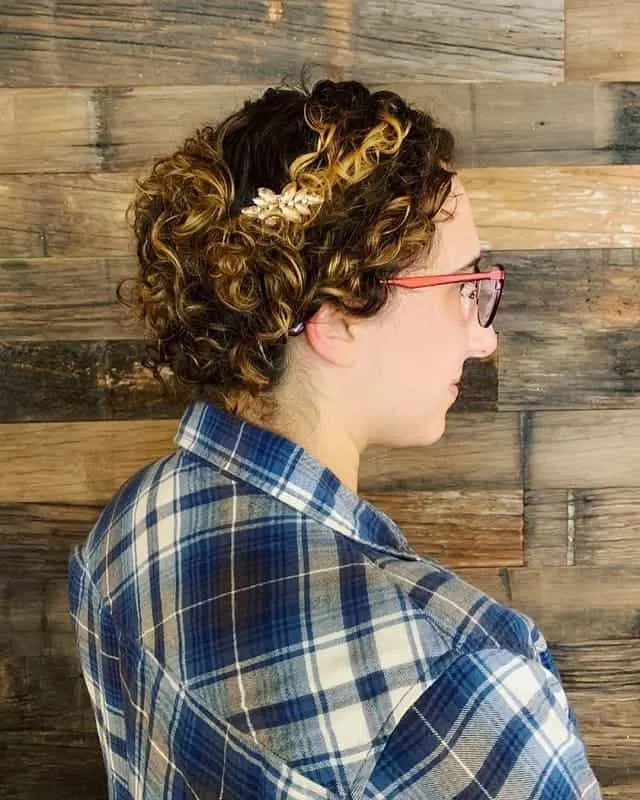 The fascinating thing is this style stems from ancient Greece. To have this braided updo, you have to make two side braids and then curl them around your head.
The result is around crown on the sides of your head. This is perfect for the conservative women with short curly hair who keep close to her traditions.
8. Bleach Top Frohawk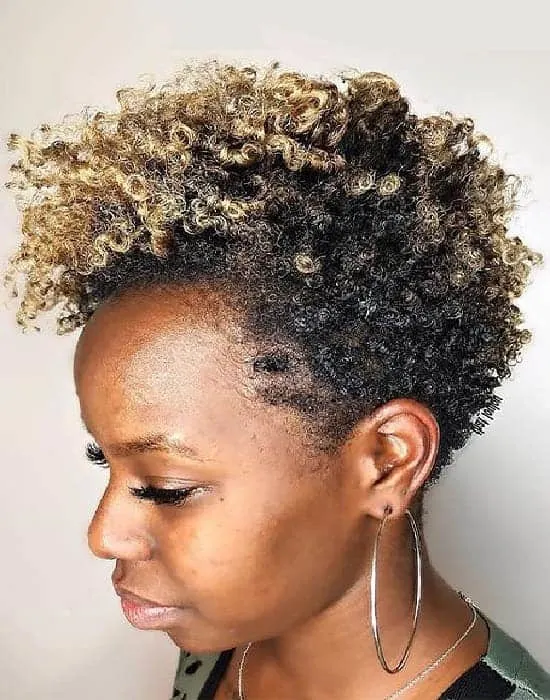 I like the hairstyle for creating a frohawk with curly hair. This shows that you can achieve anything with your short curls. To add on that, the top edges of the curly hair have some blonde highlights.
The gradual mix from the black underneath to the blonde shade makes a perfect blend. Furthermore, it is for that corporate woman who earns from her toil.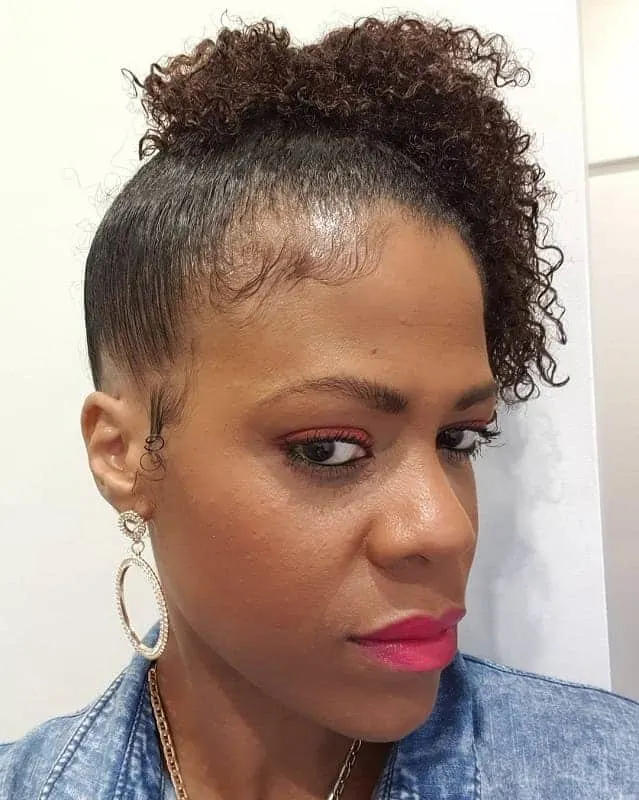 This cute curly hair updo resonates with the college student. It needs less time to style. Apply gel on the base of your head. Push your short hair to the middle and hold a pony slightly to the side.
The edges of the hair will flow sideways giving you that sexy, cheeky appearance. If you are not into permanent styling, this is for you.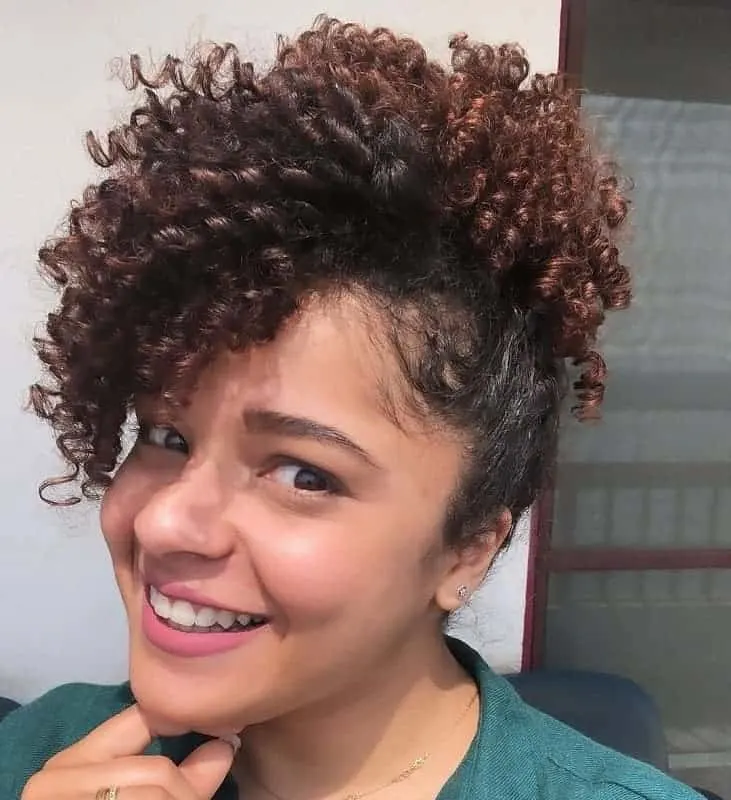 This is another short hair updo for that young high spirit woman looking to experience her upcoming feminine side. It is easy and simple to do.
You gather your natural curls to the center of you your crown and tie a knot around. Then release the hair to form some bangs on the side of your head. It is a versatile fashion for any event.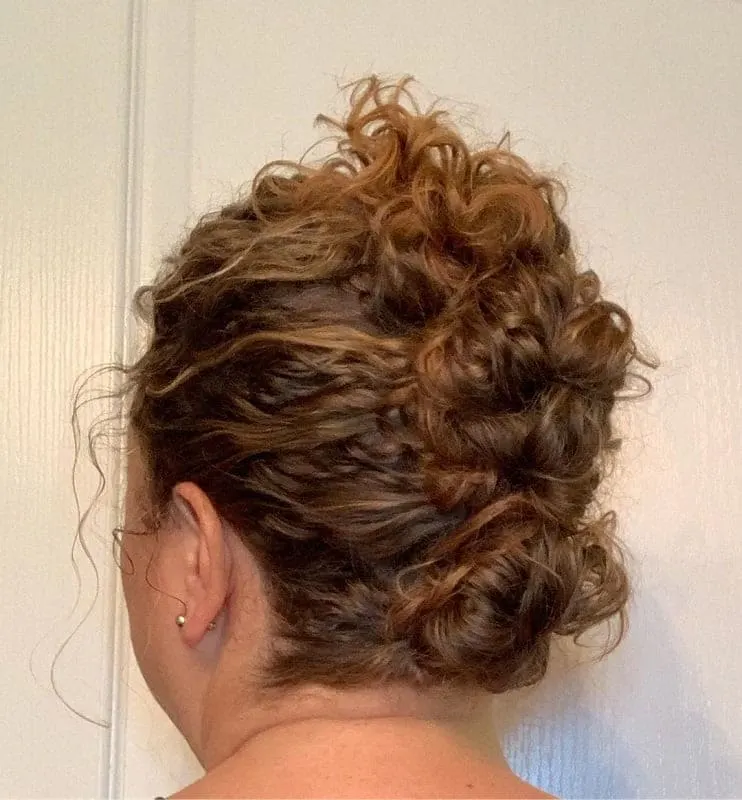 Curly messy bun is one of the most amazing styles you can get. Its simplicity is second to none. To have it, make a mohawk. It should not be too neat.
Then turn the braid upwards and fasten it to the back of your head. It appears untidy, but that is what gives it the unique flare.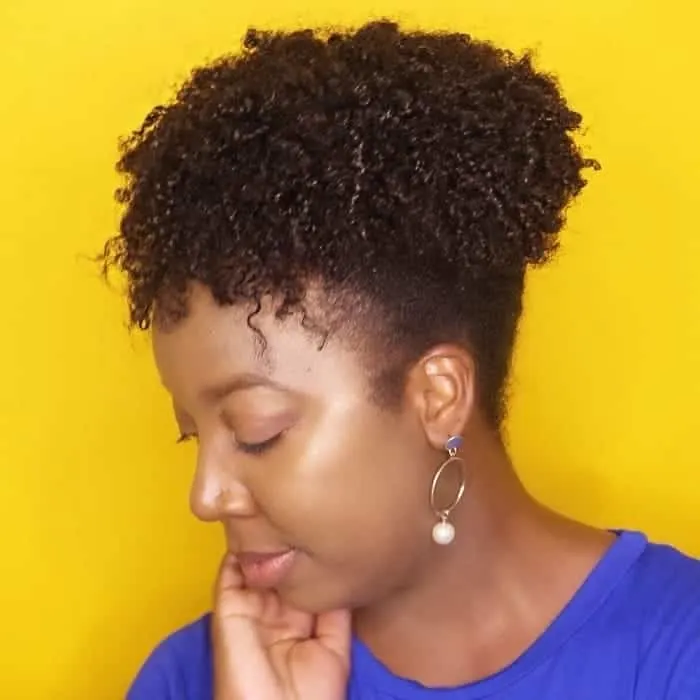 For the fast-living woman who has little time in the mornings. This distinct short curly updo style takes the mark of elegance in modesty.
Pull the sides of the hair upwards and fasten them with hairpins. This leaves the top with bushy curls. The protruding curly bangs give the updo that down to earth girl personality.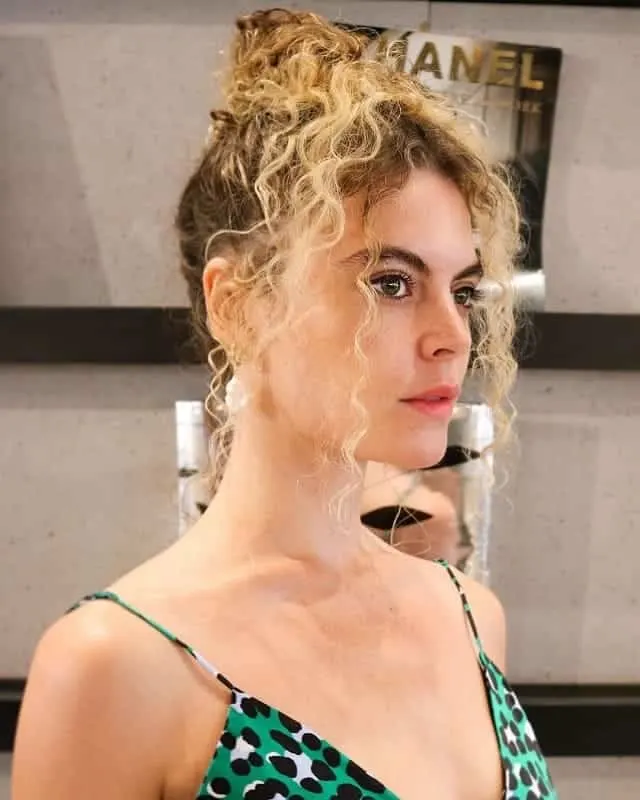 Do not let the name mislead you. This is the updo of a ballerina. The messy bun at the top of the head helps to highlight the shape of the head.
With side flowing threads of curly hair, you are sure to create a facial dimension that appeals to many. If you want to boost your confidence levels without spending much, this should be your choice.
14. Twists with Curly Donut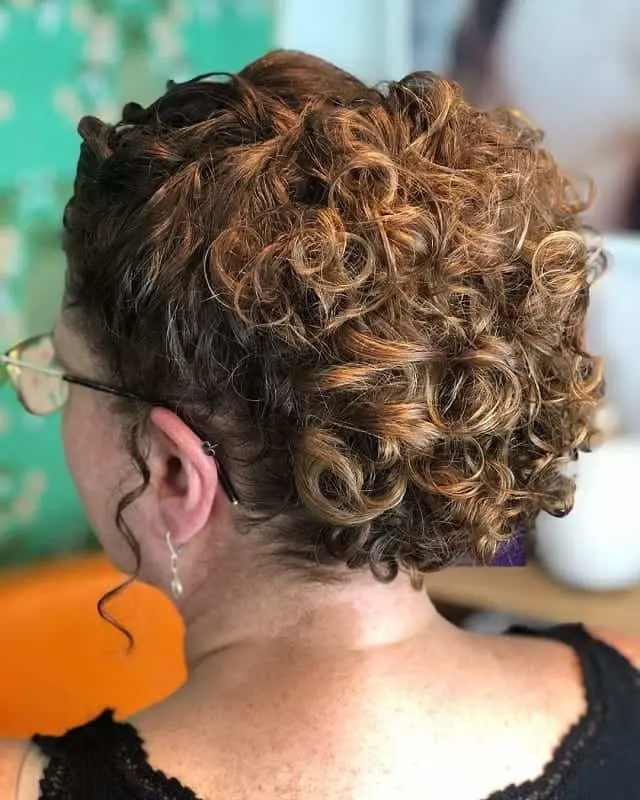 One thing stands out in this natural updo hairstyle for short curly hair is the hair twists seamlessly transform to create a curly donut. This piece of artistry is a must-have for any woman who wants respect. It gives you a level of maturity that other people will respect.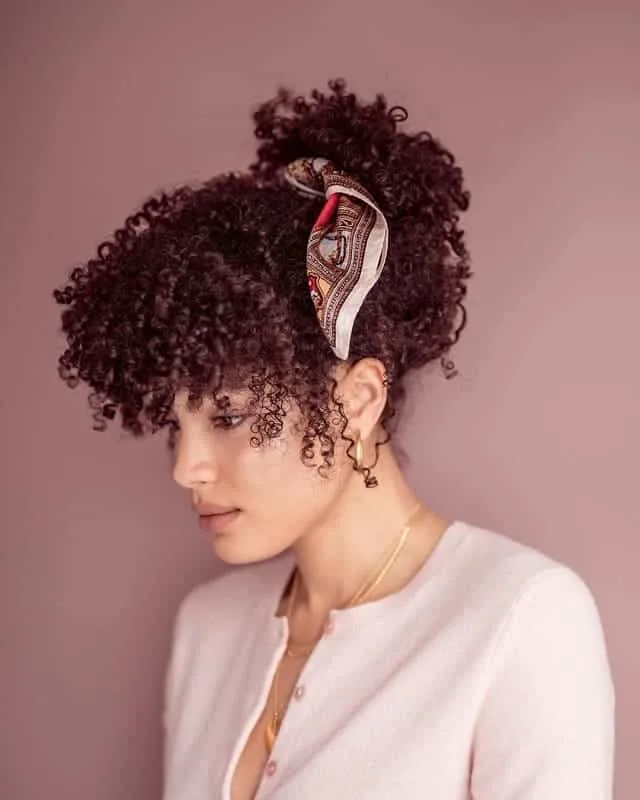 Whether you have natural hair or additions, short curly strands are a marvel to work on. This updo agrees with my statement. Do you see the simple short hairstyle with a bandana?
The front leaves the strands to move freely across the face. It is for those who live on the fast lane with minimum time for a morning makeup.
16. Thick Frohawk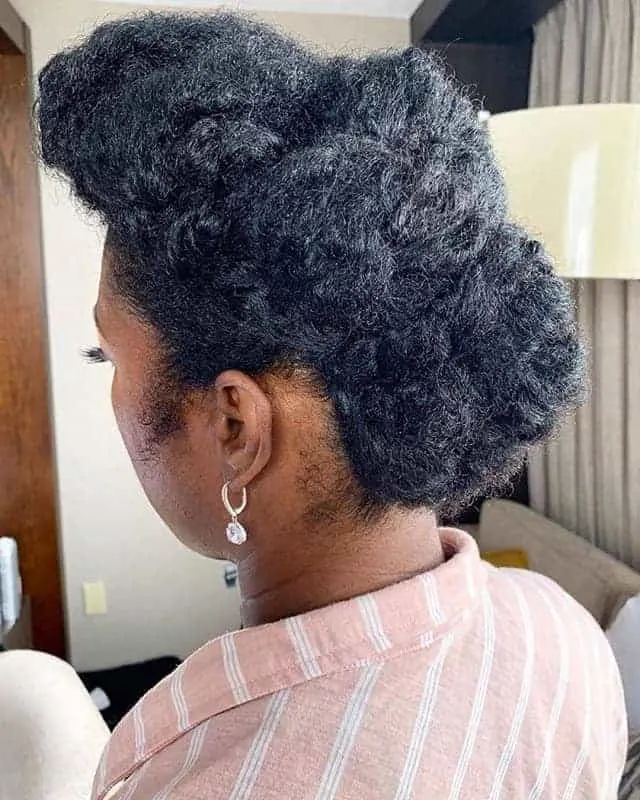 This reinvention from the 80s women's hair is a statement of African feminism. The large interlocking braids form a frohawk that has no side fades. If you can manage bushy thick curls, then this updo hairstyle is for you. The word of caution is, you will need to keep up with its maintenance.
This quick curly updo stands out for its simple arrangement. The bun is bushy and sits on a head that has neatly waxed hair. The contrast is clear, yet the two complement each other.
As you notice, the hairstyle gives you the leeway to showcase your facial features. Well, this updo is for the career women with shorter hair who take their appearance seriously.
18. Mushroom Donut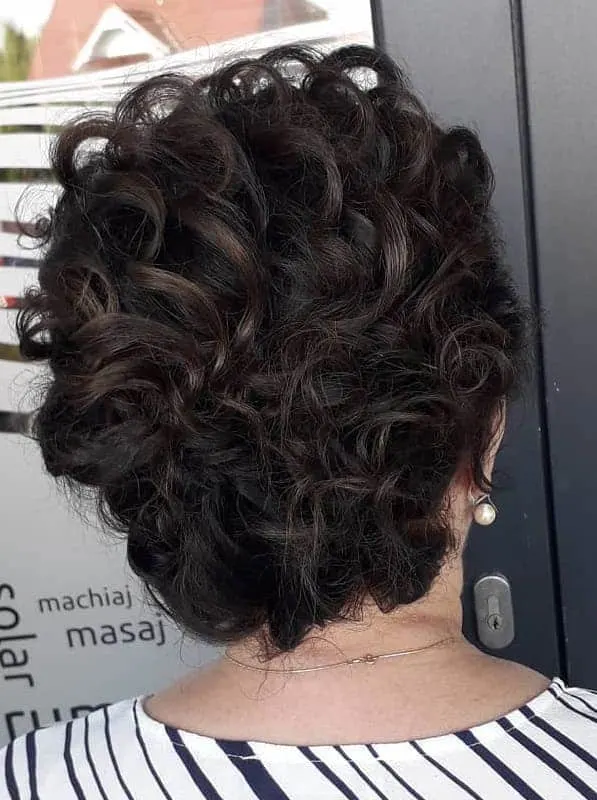 There is little to complain if you have this donut on your head. Its thickness allows moisture to go through it so that it does not dry up.
Again, you get that natural mature, ambitious, and woman of respect figure. You can never go wrong with that. Moreover, it is applicable in any occasion.
19. Reverse Bun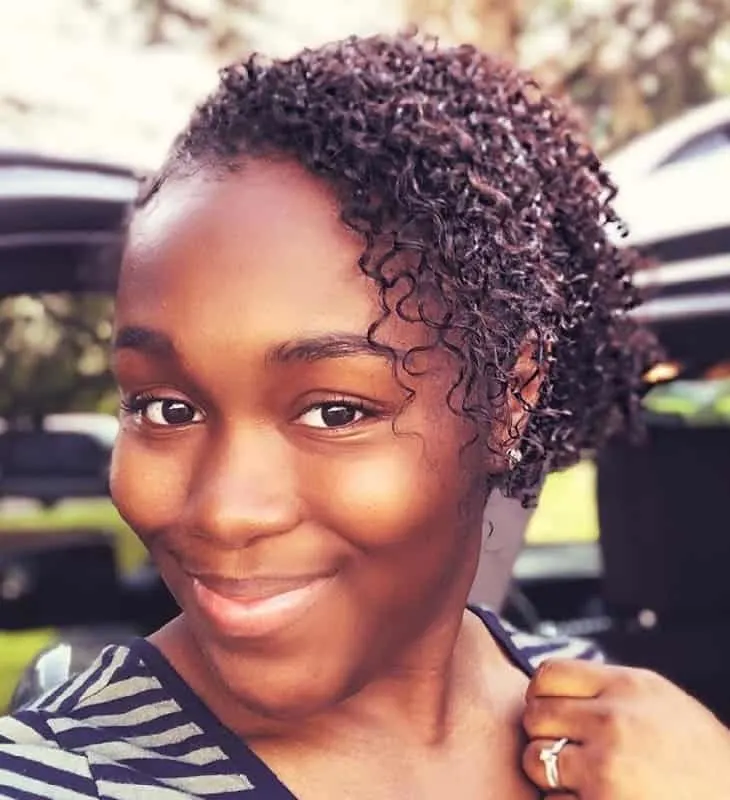 It is incredible how you can relive your childhood years through a hairdo. This curly hairstyle with side part brings back memories of your teenage years. With a short updo on your head, it is easy to make and maintain. If you are young at heart, rekindle your nostalgic memories with this updo.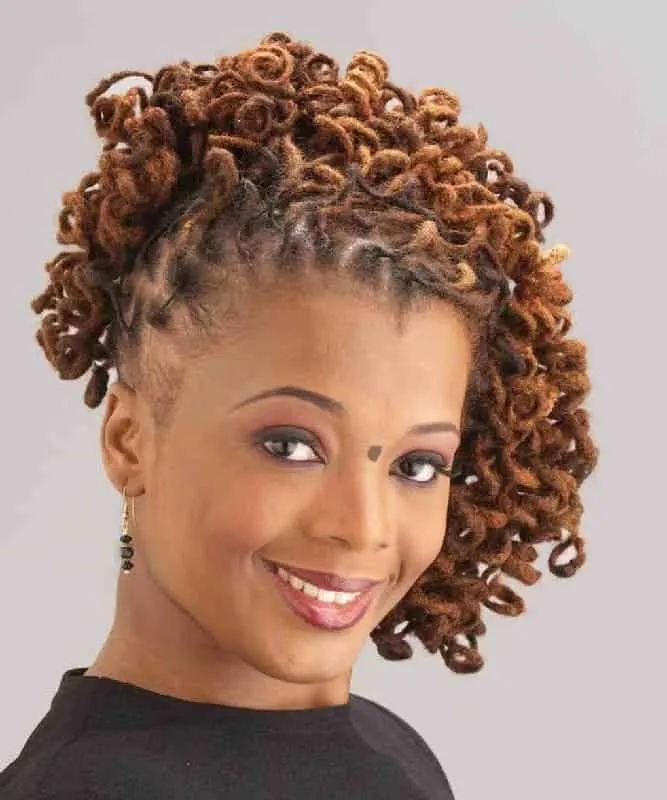 For those who have faux locs or curly natural locks, this will be the easiest way to maintain your short hair. It lets you explore your style without having a permanent look. This gives you the freedom m of expressing your mood daily.
For the trendy lady looking for that perfect look, this is the place for you. With the 20 most fashionable updos for short curly haired women to choose from, you can never be wrong. They are easy on maintenance and equally attractive.