Choosing the best hair color for Hispanic skin is not at all a hard task. If you want to dye your hair at home, you must check if you have warm or cool undertones, and depending on your color, opt for a range of nuances that will suit you.
However, if you want to try something more electric and eye-popping, consider mixing this color with a base shade that suits you.
How to Choose the Hair Color For Hispanic skin
Hair color for Hispanic skin with warm undertones can be a brown nuance, copper, or auburn. Also, you can opt for ombres with darker roots or a brown base with blonde highlights.
On the other hand, if your skin has cool undertones, there is a different color scheme that you should consider. Therefore, paprika nuances and saffron color will make most Latinas look simply stunning.
Anyway, if you are a Hispanic girl trying to discover the best matching hair color for her skin tone, you are in the right place. Scroll down and you will find out the best examples of nuances, shades, and color mixes for women with both warm and cool undertones.
Cinnamon brown nuances are a great choice as hair color for olive skin tone like Latina girls. There are no limits when you have long hair, so you can style and create all your favorite hairstyles. And if you love those careless looks that are also romantic, opt for loose curls and a one-sided part.
Keep the roots in their natural darker shade or paint them in this nuance. If you want to obtain that stunning gradient, the balayage is the technique you need to use to get that impressive ombre that enlightens your hair and gives it that warmer tone towards the ends.
Dark brown hair is always a winner for Latinas. Those finger waves styled out of your baby bangs, and sideburns are so popular these days, especially among Hispanic women. It will be such a shame not to create this hairstyle when you want great framing for your features.
4. White Wavy Hair
As you get older, your pigment starts to fade, and you have more and more white and gray hair. Instead of covering them, we encourage you not to dye your hair. Your skin tone will also become lighter, and your hair will beautifully match your skin color.
If you have naturally curly hair, you can create color blends that highlight each and every ringlet. Get a layered haircut and a mahogany ombre that keep the roots in their natural color and gradually transform your mane into a slightly reddish-brown nuance.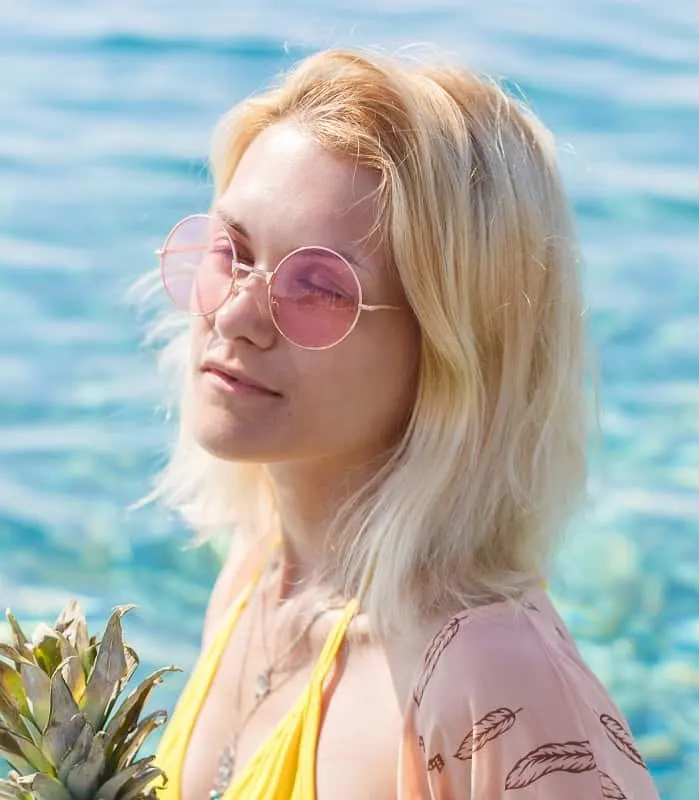 When you have cool undertones, one of the best hair colors for Hispanic skin in a platinum blonde color for the tips. You can opt for a golden touch for the roots, and your hair will always look sun-kissed. Toss the top on one side and wear hippie rounded glasses.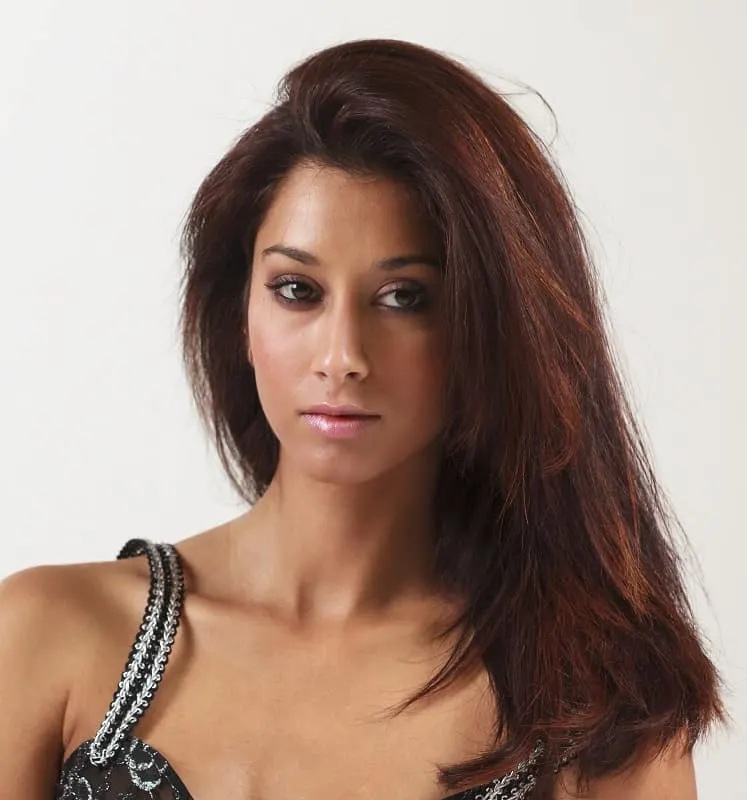 As a Latina girl, you need to find the best hair color for your Hispanic skin. You can opt for a dark brown color that you can spice up with a dark paprika color or a dark copper nuance. Choose the color that suits your personality better because both of them will match your gorgeous warm skin tone.
8. Soft Balayage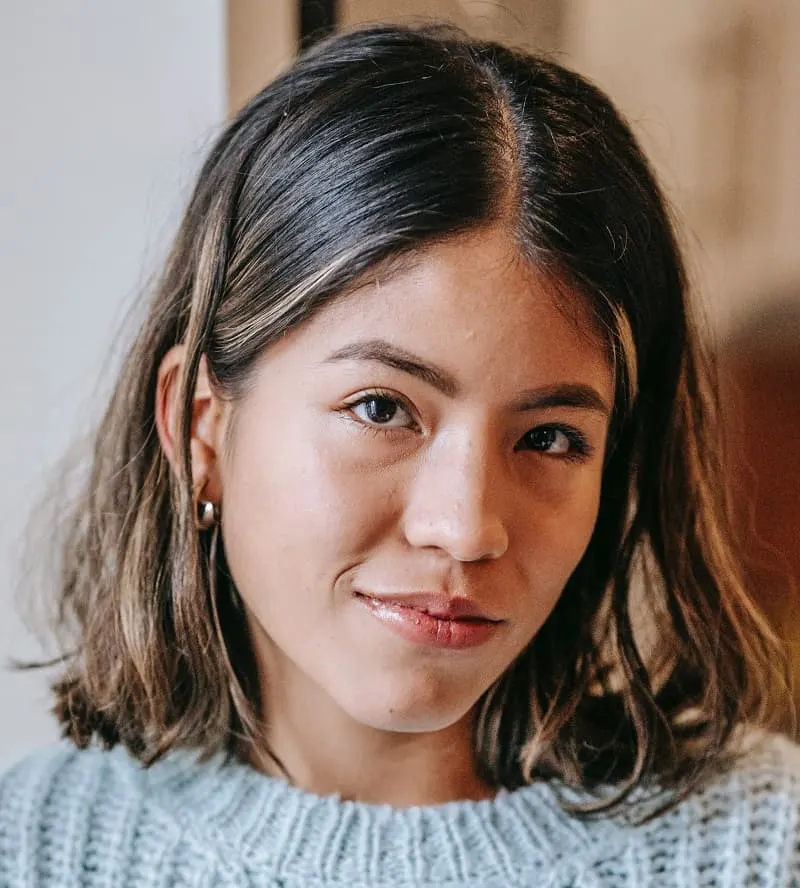 Latina beauties who don't want to overpower their naturally dark hair shade can experiment with a soft balayage. The light blonde streaks appear near the top and concentrate at the ends creating a gorgeous gradient. Try this look with a short wavy bob.
9. Medium Copper Curls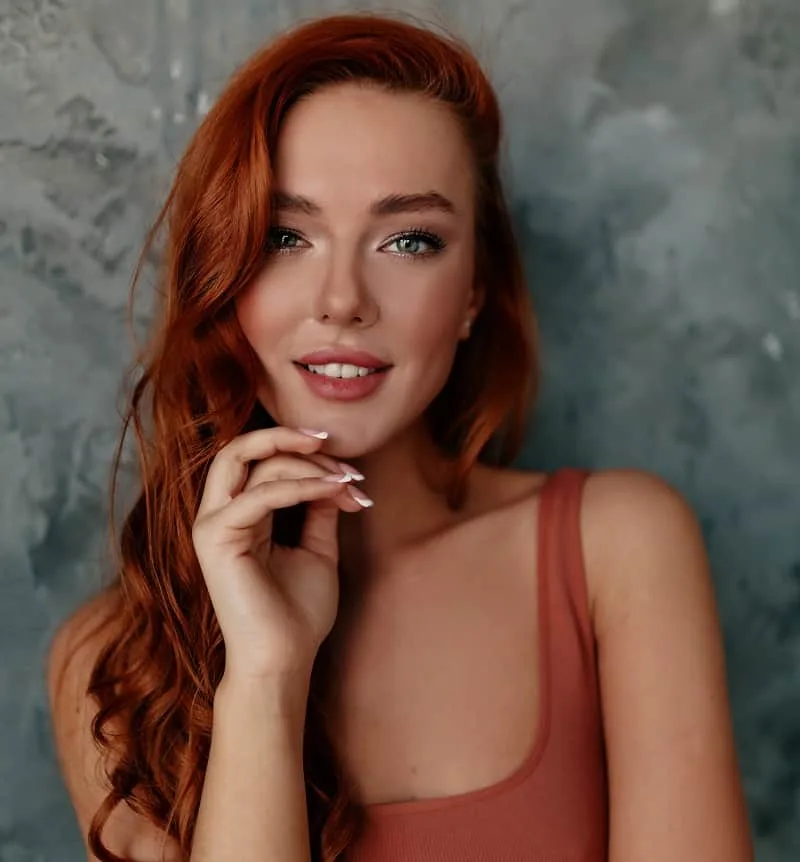 Make a warm skin tone pop with this hair shade. Ask the hairstylist for a light copper color from the roots to the tips with subtle babylights. Go for a romantic appeal by adding curls to the layers and tousling them on one side of the face. Voila!
10. Blonde Beauty
Give your long mane a chic makeover by cutting layers into it and dying it in a light blonde hue that darkens while reaching the tips creating a natural ombre. Add curls and brush them out resulting in loose waves that are sure to attract some attention.
11. Auburn Tresses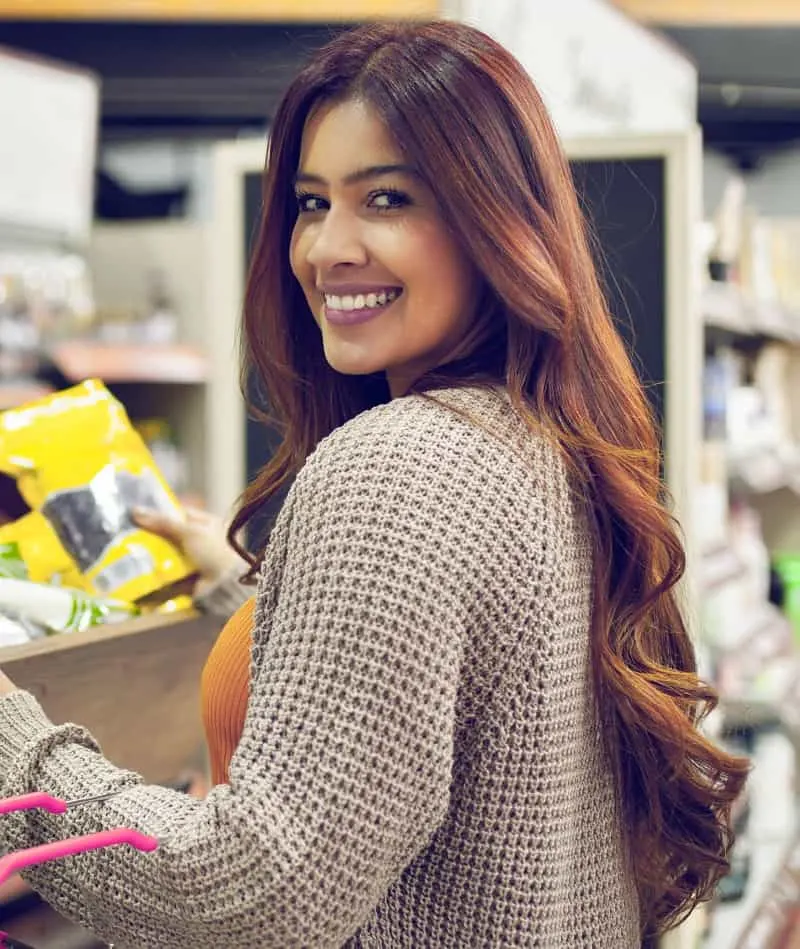 Here is another hair color idea for Hispanic skin. A mix of red and brown hues, auburn makes olive and dark skin tones glow. Go for a monochromatic look or try a balayage with dark brown roots lightening down the ends. Top off with loose curls.
12. Vivid Streaks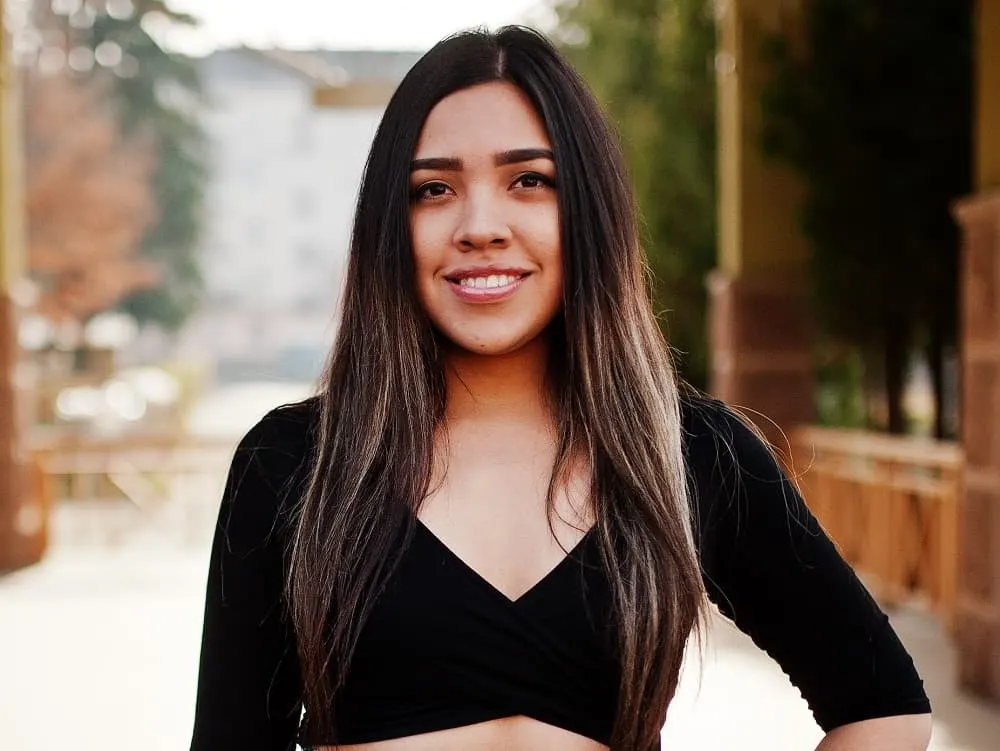 Want to liven up a dark mane without much effort? Check out these highlights. The light blonde streaks contrast sharply with the black-brown hair and appear midway to the ends. This look is low-maintenance as the emerging roots add up to the look.
13. Salmon Pink Mane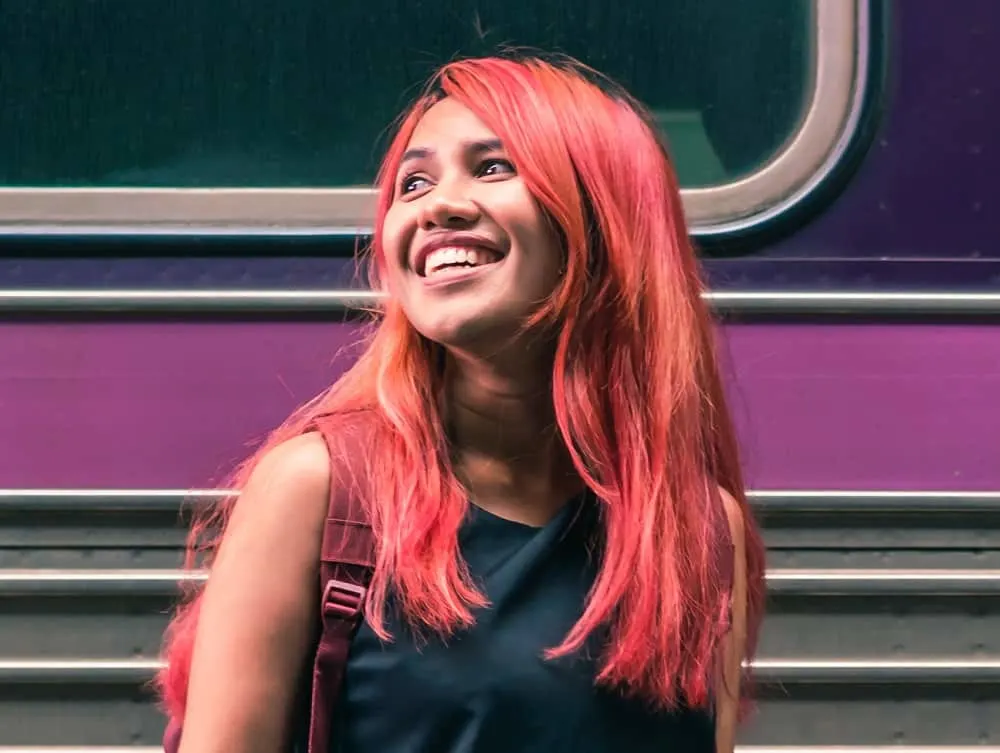 Young Hispanic girls can express their wild side with a vibrant hairstyle. Cover the hair in a salmon pink shade with light orange stripes in between. Although dark roots look pretty with this hairstyle, regular touch-ups are still required to keep the colors bright.
14. Pastel Purple Magic
Soft, magical, and stunning! That's what pastel colors are. Create a dreamy appeal by incorporating pastel purple highlights into a light brown mane. Hand-tousle the natural curls with braids on one side creating a gorgeous mess that won't go unnoticed.
15. Dark Brown Layers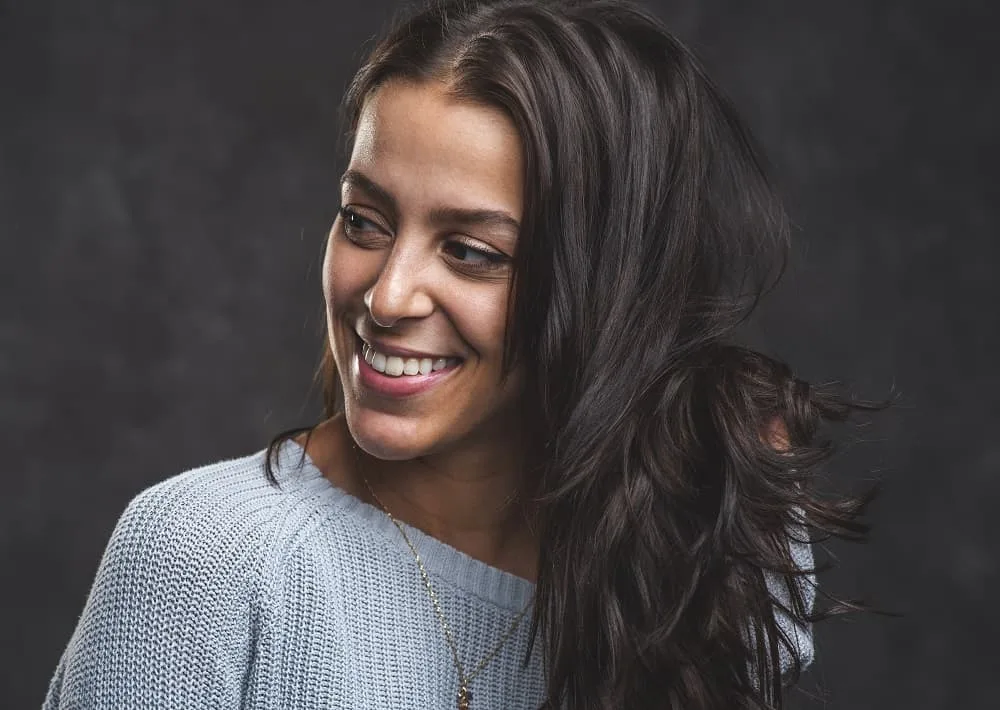 Stay on the darker side by choosing the deepest shade of brown available. Although this nuance does not surprise anymore it is perfect for women having medium skin tones with cool undertones. Add a load full of layers and flaunt them with soft waves. Simply chic!
16. Fiery Orange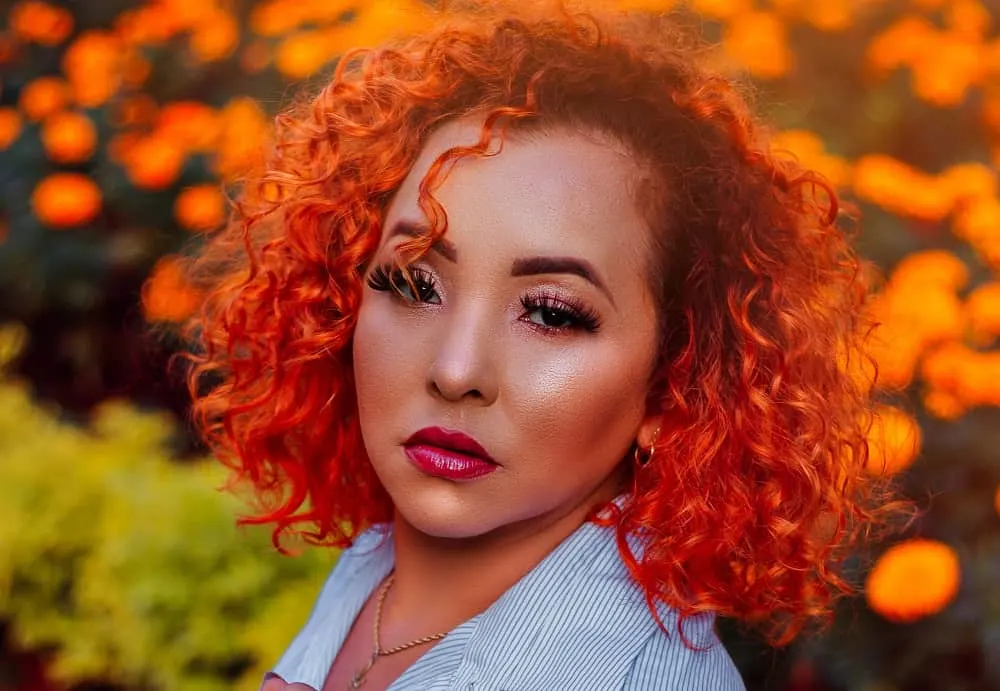 Get noticed from a distance with a short curly bob dangling above the shoulders. Dye the locks in a bright fiery orange shade and get ready to rock the world without fretting about the dark roots as they create a two-toned appeal. It can't get any brighter!
17. A Hint of Powder Blue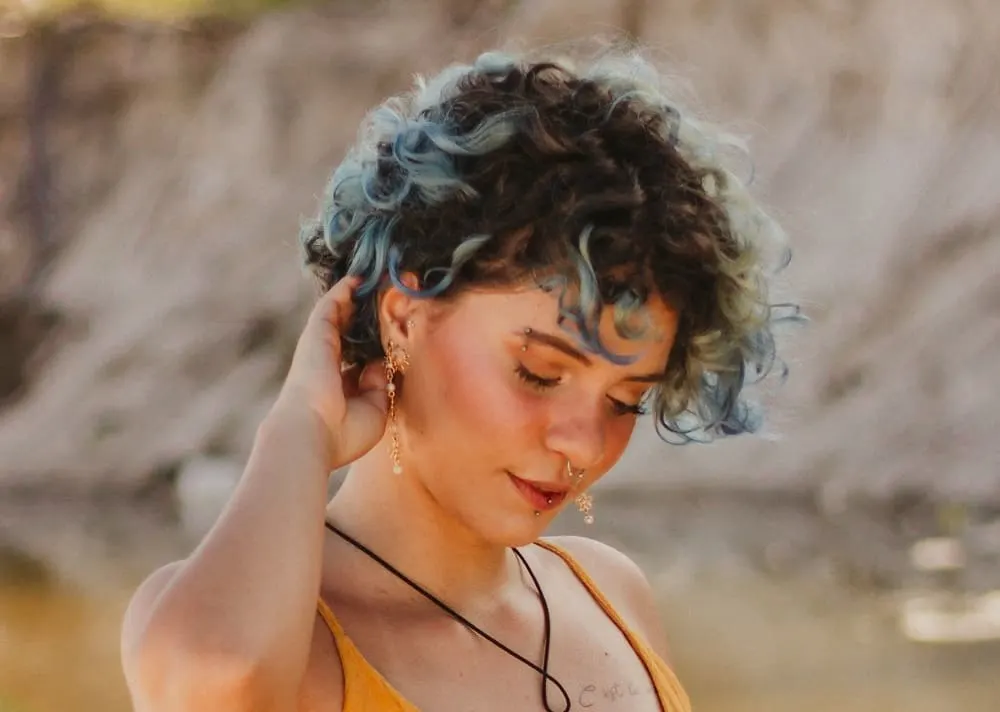 Take part in the blue hair trend by going for a short pixie haircut. The dark roots transition into a powder blue tinge reaching the ends with a touch of light green in between. Add curls, if not natural, and finger-tousle them for a carefree messy appeal.
18. Sun-Kissed Look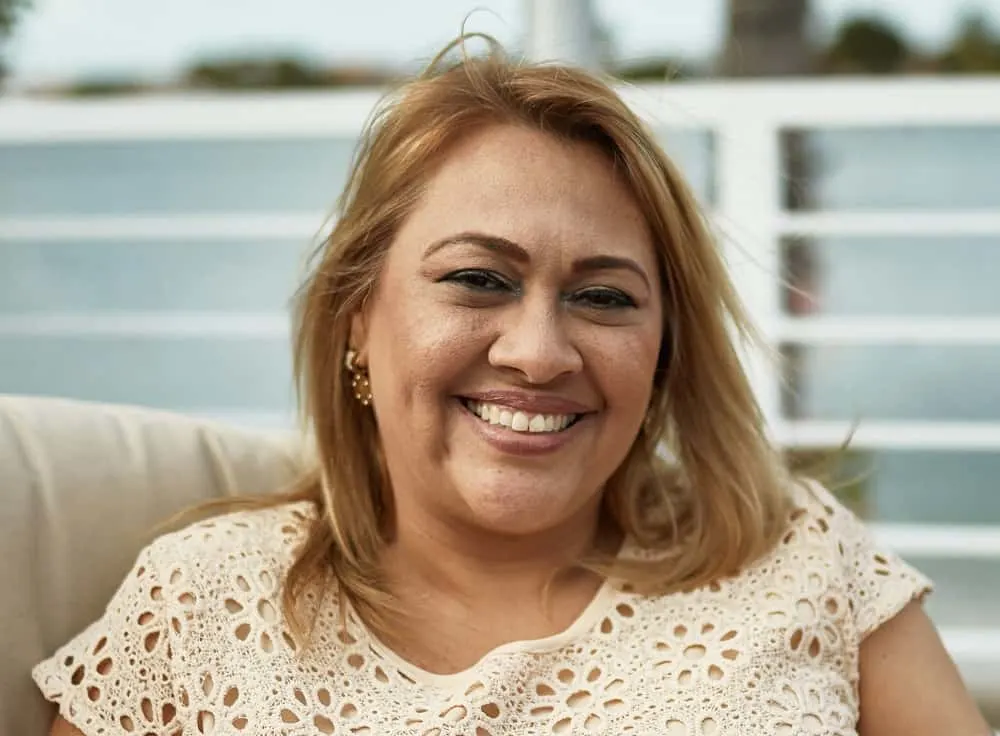 Latina babies! It's time to turn around some heads with a sun-kissed look. Check out this rich honey blonde shade with delicate highlights shining through and adding a soft glow to the face. Accentuate the hairstyle with nude makeup. Elegant isn't it?
19. Reddish-Brown Hues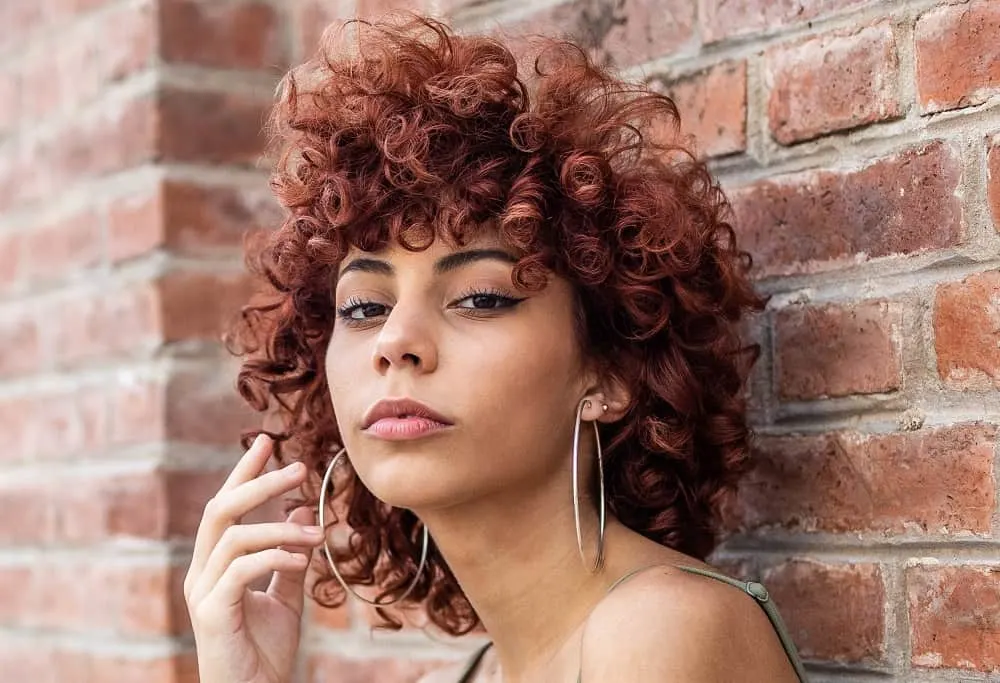 Show off those natural spiral curls with confidence by opting for a deva cut layering the curls to fall flawlessly around the face with curly bangs. Mix together red and brown hues to achieve a rich mahogany hair shade. Amp up the look further with light coppery-red highlights.
20. Violet Night
Make jaws drop wherever you go with this bold look ideal for ladies with straight hair. Style the locks in an A-line bob with micro bangs covering half of the forehead and dye them in a dark violet tinge with hints of indigo blue in between.
21. Sandy Blonde Pixie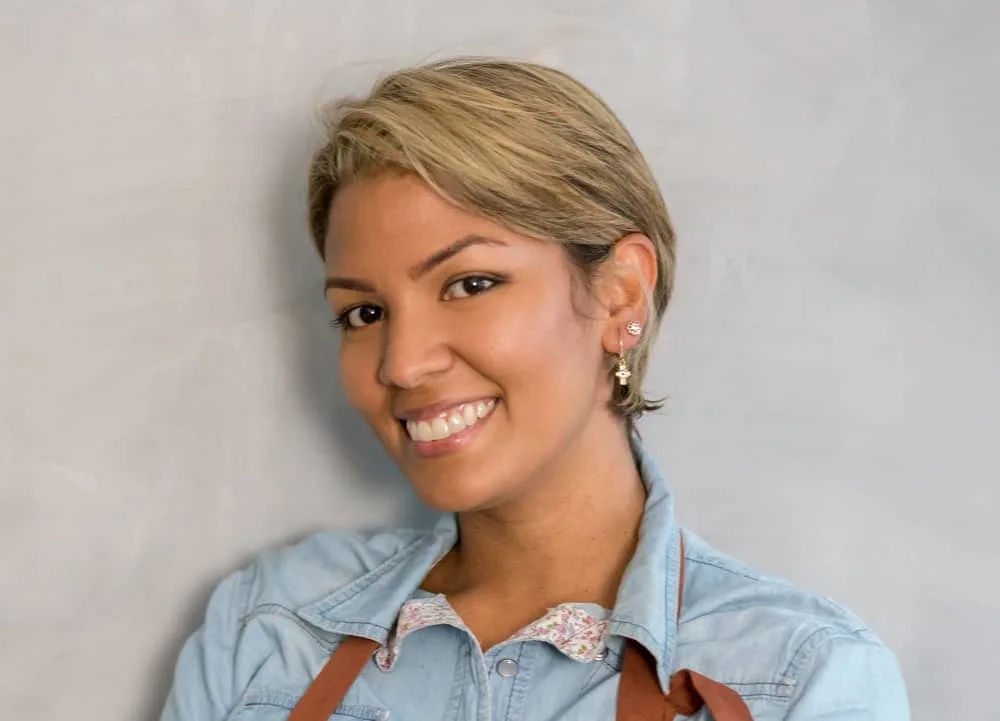 Neither too light nor too dark, sandy blonde is just the best hair color for Hispanic skin. Start fresh with a layered pixie haircut and a side-swept fringe and cover the head in a sandy tinge to accent your naturally tanned olive skin tone.
22. Dip-Dye Hair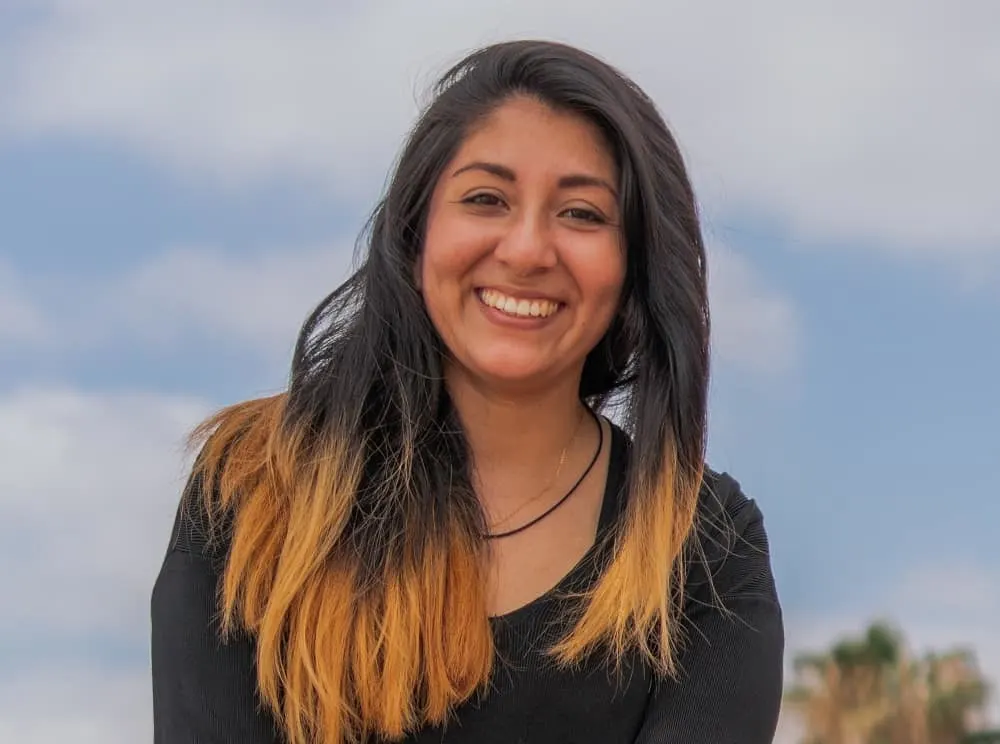 Dark-haired ladies can rock a shade from the opposite color spectrum without overpowering their base shade using the dip dye technique. The ends are bleached and covered in a rich warm golden honey blonde tinge contrasting sharply with the remaining mane creating a dichromatic look.
23. Pop of Color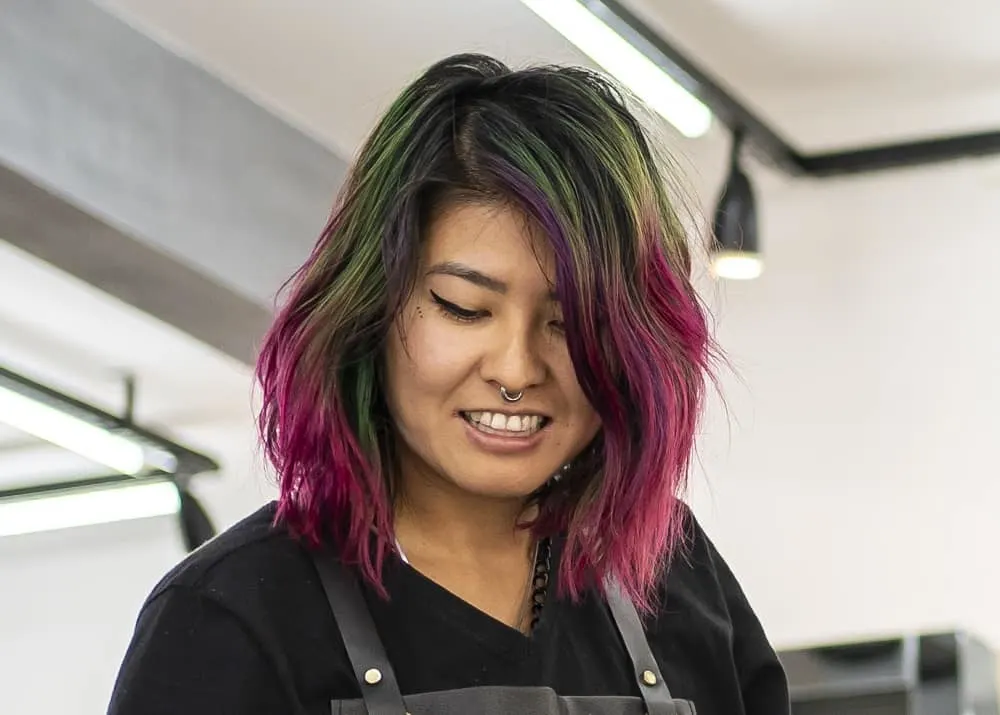 Can't decide on a single hair shade? Rock them all together for a pop of color on the head. Add stripes of green, yellow, hot pink, and purple on a choppy lob and finish off with waves. This style looks great with dark roots too.
24. Natural Glam
The beauty of dark brown-black hair cannot be denied. Both straight and curly-haired women can try this basic look with barely-there highlights for a natural glam on Hispanic skin tone. Finish off with soft layers and keep the tresses loose to sway with the wind.
25. Raspberry Twist
Lastly, bold is beautiful and this eye-popping style proves it. Latina girls can steal the show by choosing the brightest shade of raspberry pink to stand against their mocha skin. Maintain a lively rock star appeal by re-dying the hair regularly.
As a Latina, you probably know that not all nuances suit your skin tone, and you have to be careful when choosing one that will match your olive skin.
However, in the article above, we have presented the best hair color for Hispanic skin, and we are curious to know more about your personal preferences. Therefore, let us know in the comments section which color suits your skin tone best.