As you age, your appearance changes – some women lose their hair volume while some continue to maintain thick tresses. Irrespective of what changes your hair goes through, you should always take time to groom yourself. Focusing on your hairstyle is one of the best ways for women over 50 who are overweight to keep themselves looking their best.
Ideal Hairstyles for Overweight Women Over 50
The right hairstyle can do wonders for your overall look and personality! There are several hairstyles that overweight women over the age of 50 can choose, such as the classic bob or lob, bangs or the layered cut.
If you are in search of some hairstyle inspiration for overweight women over 50, then check out this list of top 23 hairstyles that you can try out depending on your preference, hair length, and hair type.
1. Shoulder Length with Bangs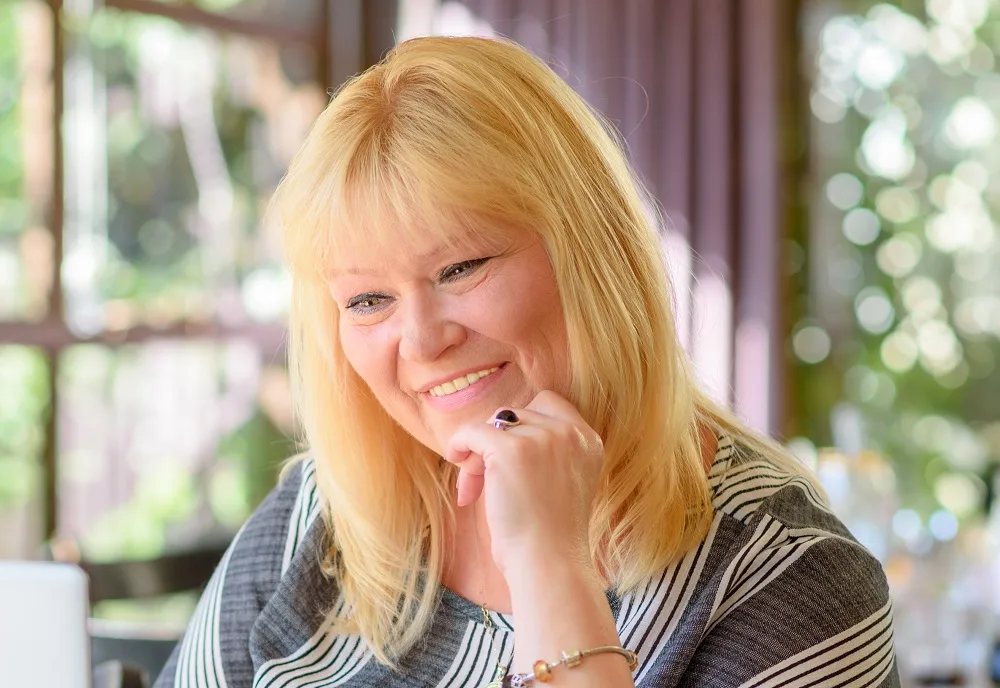 Women who are overweight usually have a round face. This shoulder-length hairstyle is a great way to camouflage some of that chubbiness as it frames your face beautifully. You can even add in some soft bangs to give your overall look a very soft and feminine vibe. This hairstyle suits all hair types.
2. The Classic Ponytail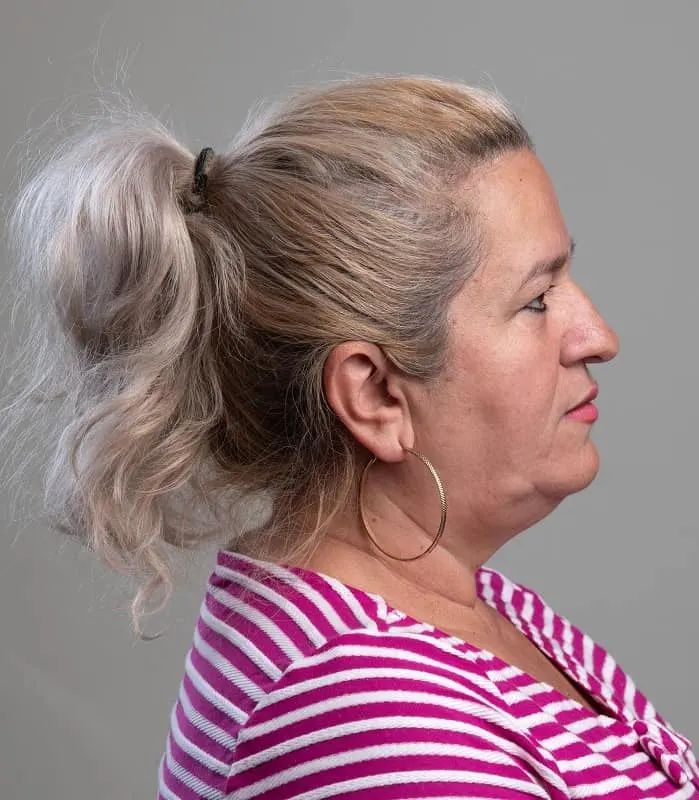 If you are someone who doesn't like to spend too much time on perfecting your hairstyle every day, we recommend this classic ponytail hairstyle. Just gather all your hair back and secure it into a high ponytail. Make sure that you do not tie your hair too tightly and instead keep the ponytail a little loose.
3. Short and Simple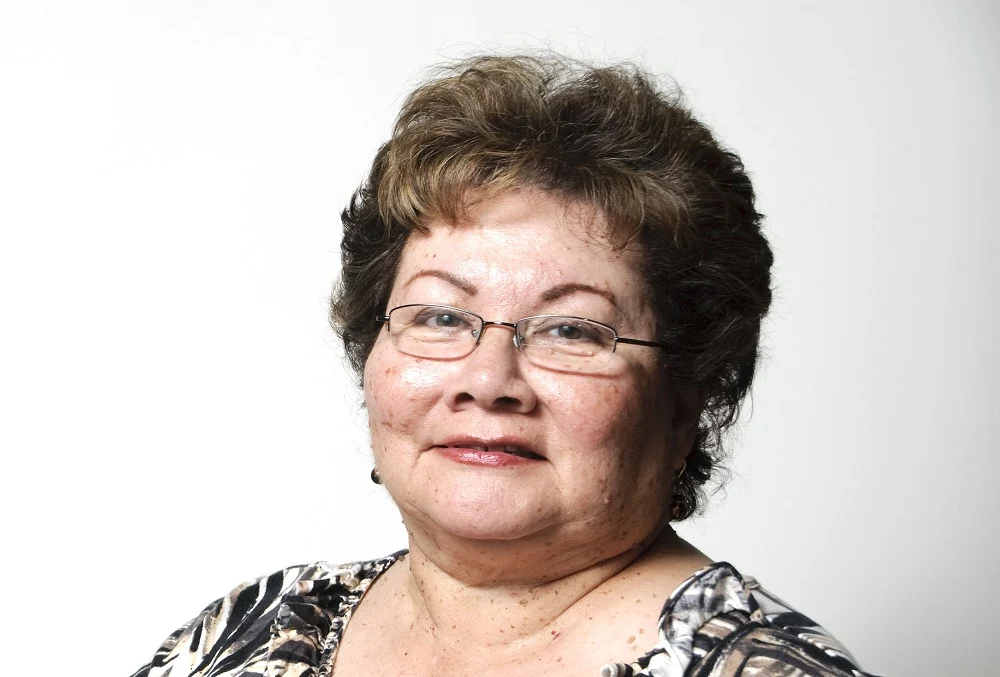 When it comes to hairstyles, if your priority is short and simple, then this is the ideal hairstyle for you. This is a super cute look for plus-sized women over 50 as it gives off a very charming yet sophisticated vibe.
4. Natural Cascading Hair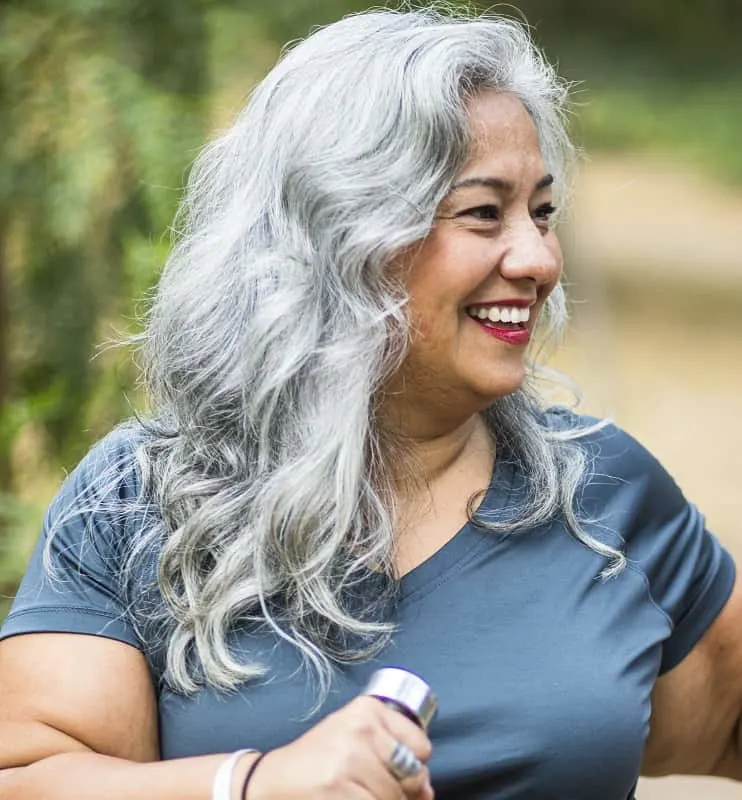 Many women today are embracing their grey hair with grace. If you are one among them and have long, thick hair, we highly recommend you to simply flaunt it! Let those beautiful tresses cascade over your shoulders. Ask your hairstylist to add in some beautiful layers to enhance your hairstyle. Classic grey hairstyle for over 50 women.
5. Feathered Hair Updo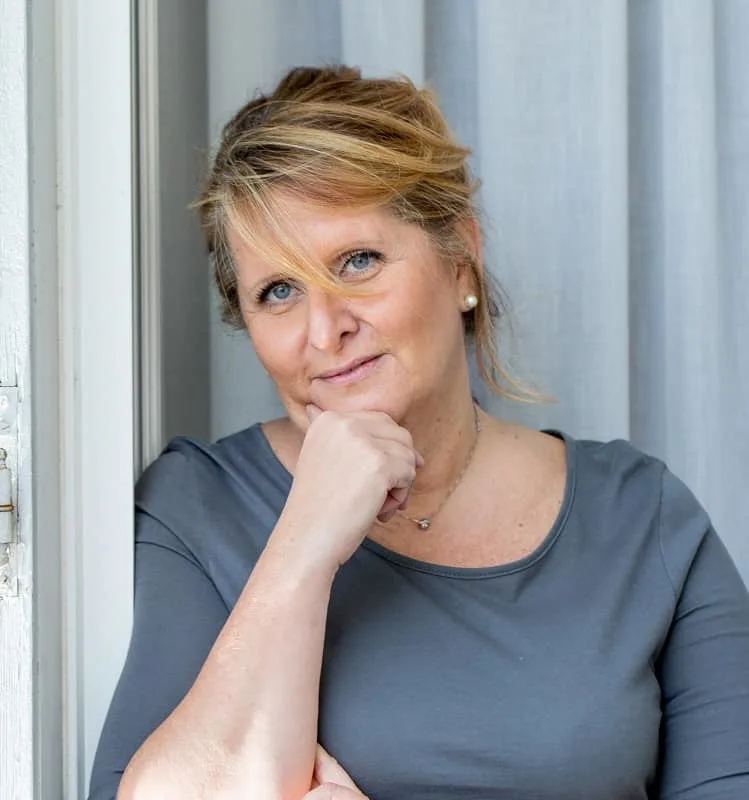 If you have long or medium-length hair, you should ask your hairstylist to add in some feathered layers to your updo. This works exceptionally well when you put up your hair in a simple and messy bun. The feathered layers with bangs over your forehead look really elegant and beautiful.
6. Curly and Curvy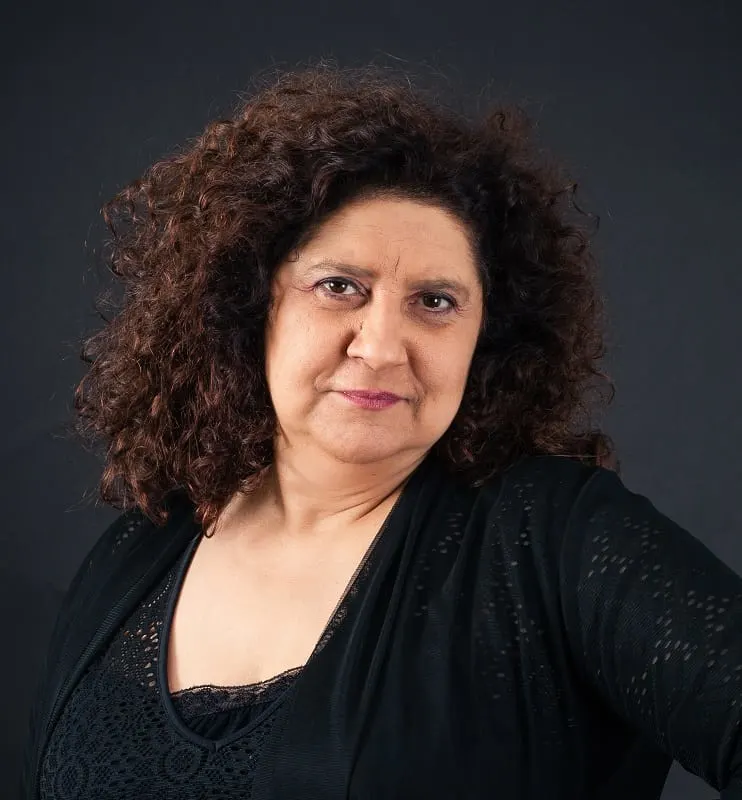 If you are overweight and tired of maintaining your curls, opt for a short hairstyle so that you do not have to spend a lot of time taking care of curls. Short curly hair is easy to maintain or you can simply let the curls flutter over your shoulders. A gel or mousse can help you tame the curls and keep them in place.
7. Swept Back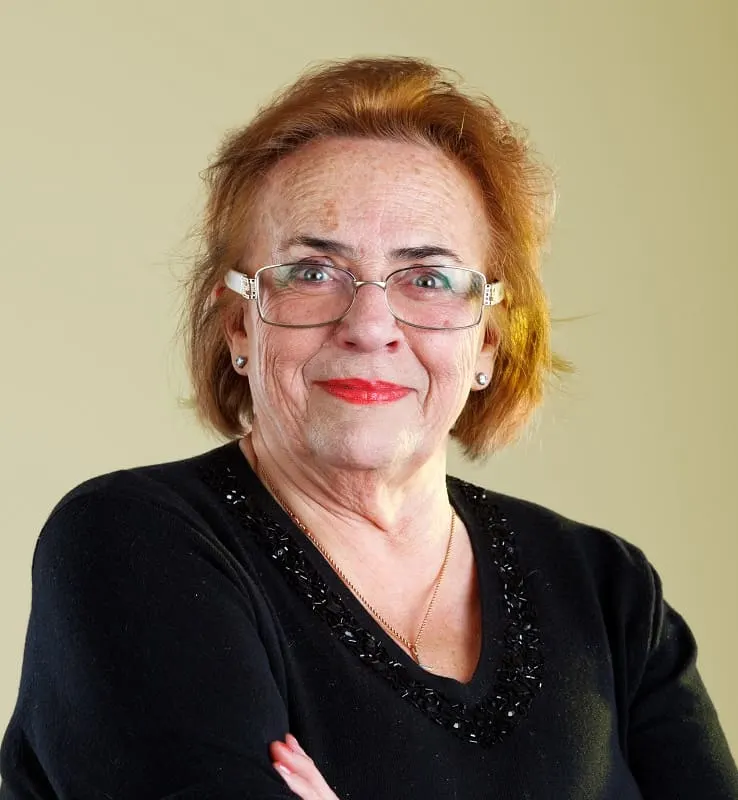 Women over 50 and overweight can try this no-nonsense hairstyle which requires very little maintenance and effort from your side. Ask your hairstylist to give you a short bob haircut. Then, just comb back all the hair and let your face glow and shine.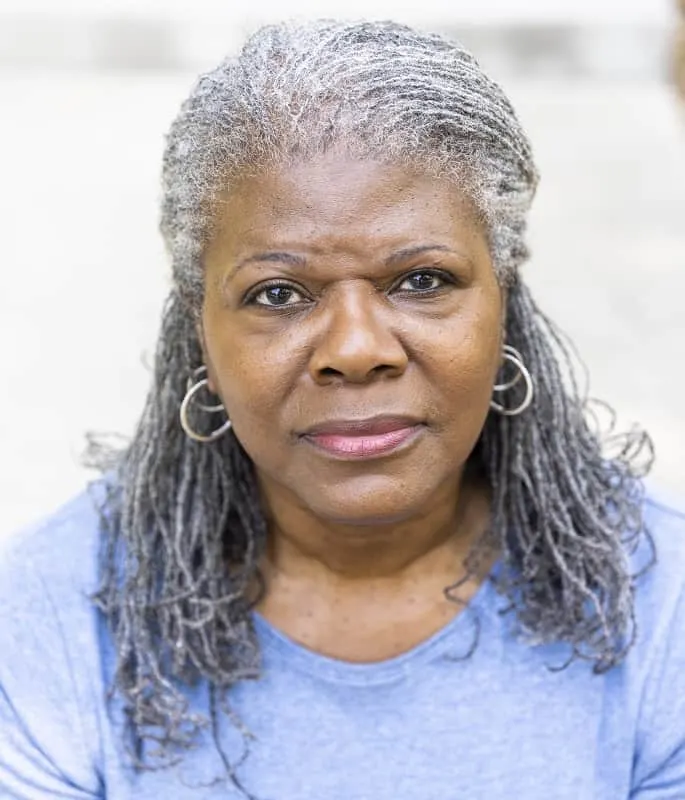 African American women over 50 have the option to choose from a wide range of hairstyles. Micro braided hairstyles are a popular choice! Here is a simple hairstyle which beautifully highlights the contrast between your white, black, and grey hair strands. To achieve this look, take the top section of your braids and pin it behind your head.
9. The Messy Shag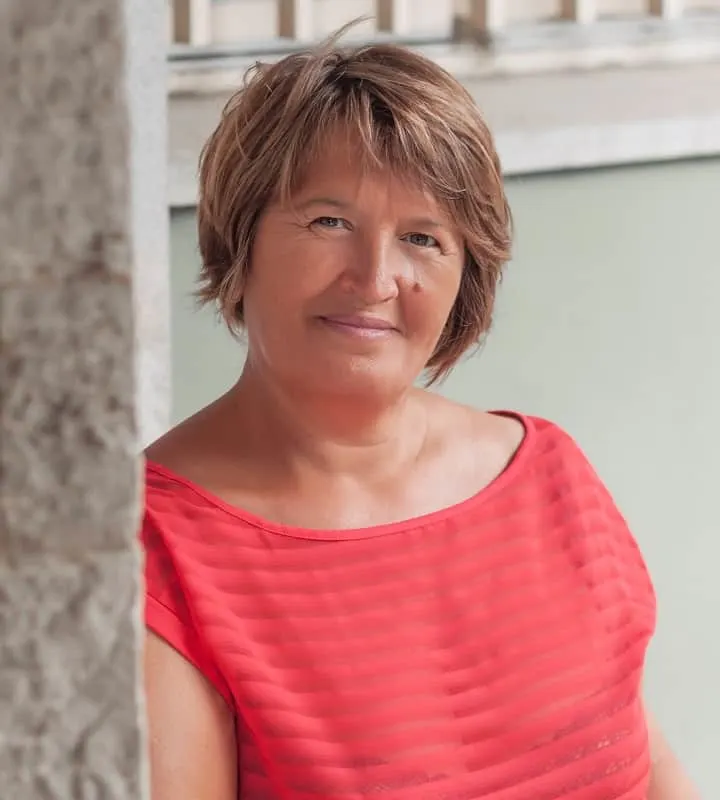 If you were thinking that the messy short shag is only for the modern, young woman, you are absolutely wrong! This hairstyle works well for plus-sized women over 50 for both fine and thick hair. The messy style with its textured layers is one of the best hairstyles that suits women over 50 beautifully.
10. Puff It Up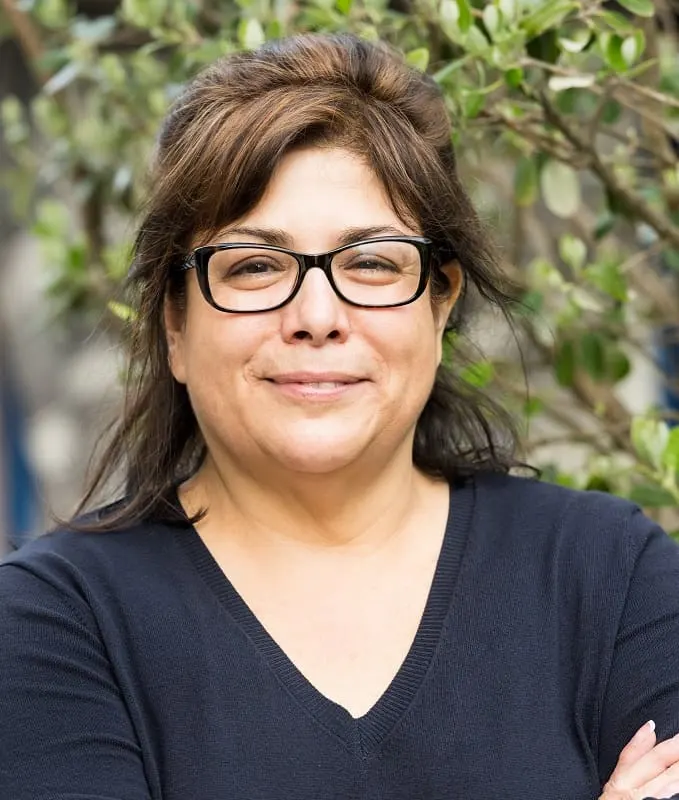 A half-up half-down hairstyle may not be the first choice for most women who are aged 50 and overweight. However, it is a really simple and pretty hairstyle that you can sport every day. You can also add a variation by creating a slight puff with the hair on your crown.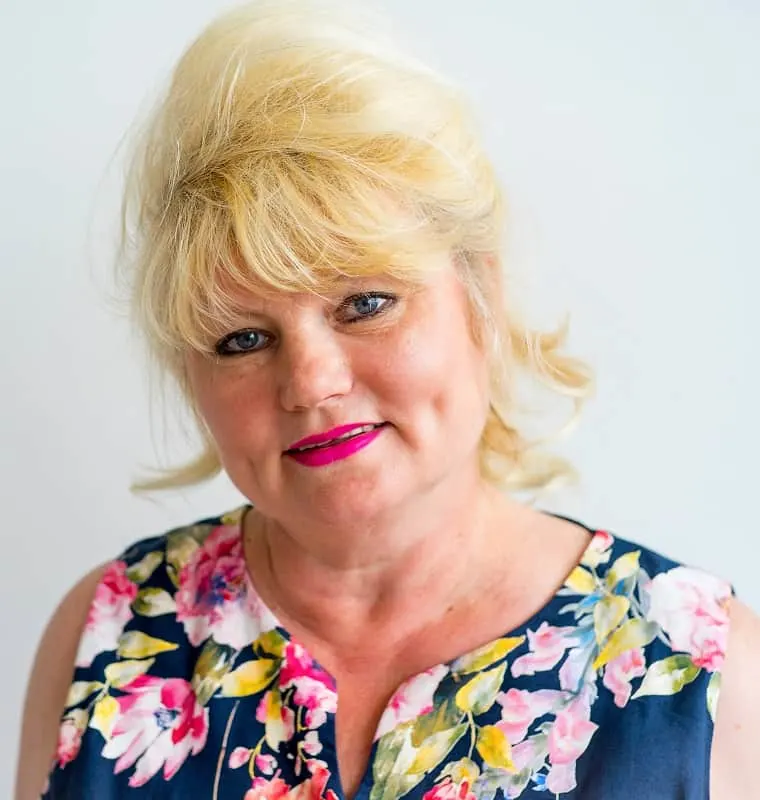 There are several classic hairstyles older women can flaunt. This modern bouffant is one among them. This hairstyle looks beautiful on women with thick hair and is definitely the epitome of elegance and style. A forehead fringe only adds more femininity to the look.
12. Short and Wavy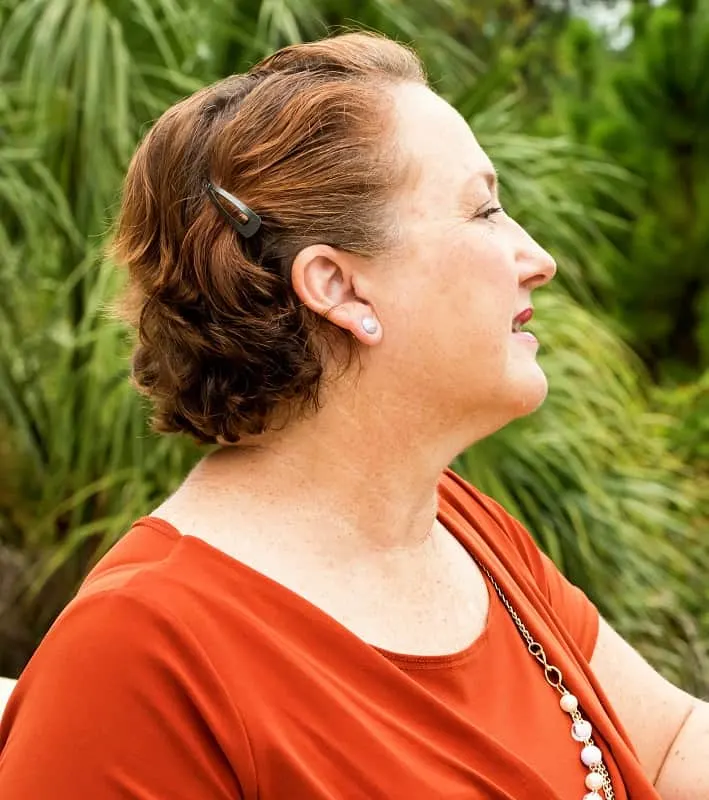 If you have short wavy hair and are looking for a simple, on-the-go hairstyle, then we recommend this hairstyle. All you need to do is just use any hair accessory to keep the hair away from your hair and in place. Use a simple tic-tac clip or opt for an ornamental clip for special occasions.
13. Cute Braid Hairstyle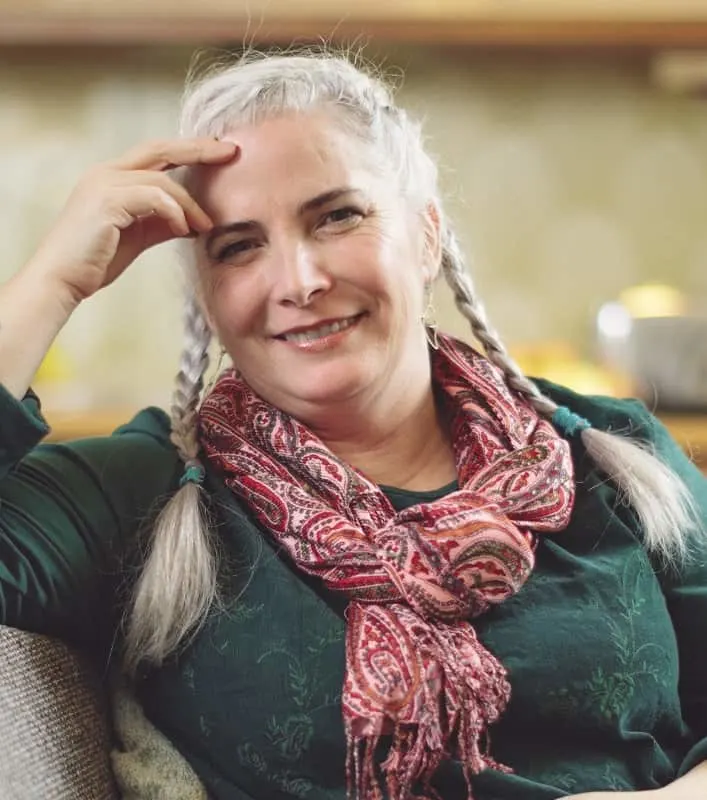 Many overweight older women are hesitant to try a simple two-braids hairstyle thinking that it does not suit their age. We disagree! This is a really cute braids hairstyle for older women that they can definitely sport. You can even try different variations of braids, such as fishtail braids and french braids.
14. Black Basic Bob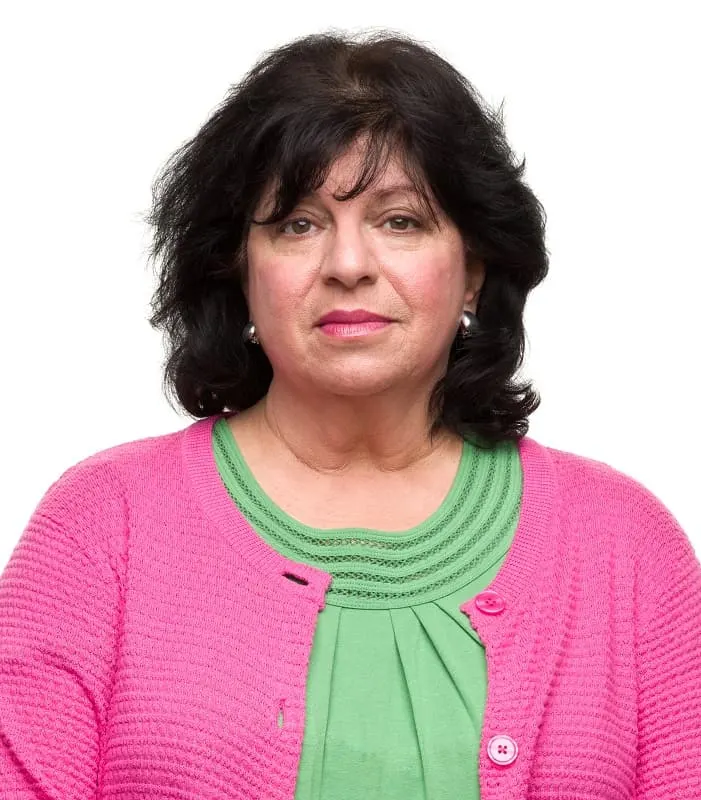 As women age, they prefer less fussy and easy to maintain hairstyles. If you are one among them, then you should try this black basic bob. It is an evergreen look which combined with soft bangs will create a very sophisticated and elegant look. This is one of the best low-maintenance hairstyles for over 50 with overweight.
15. The Sharp and Edgy Hairstyle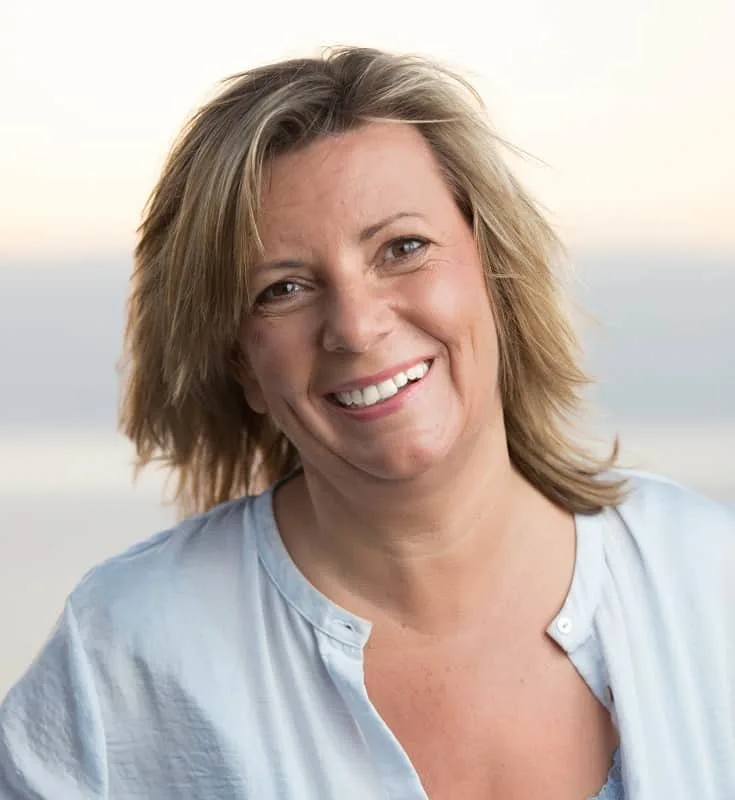 Here is a super fun and edgy look for women who are over the age of 50. In this hairstyle, your hairstylist will have to give you layers with sharp edges. This hairstyle works well for old women with fine hair as it will give their hair a voluminous look.
16. Pulled Back Hairstyle with Hair Clip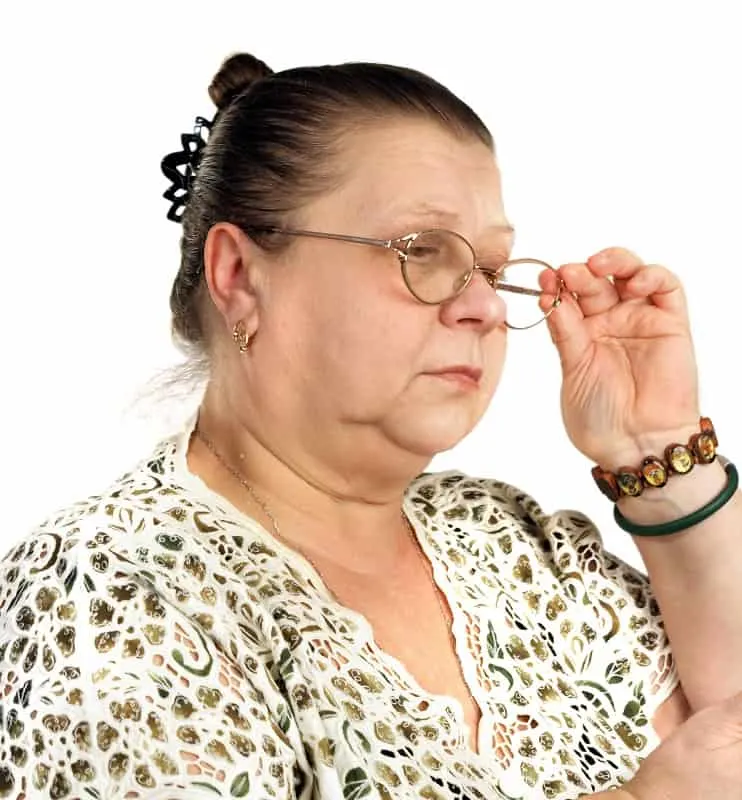 If you want a no-frills hairstyle, then this is a good option for you. You will need to comb back your hair and make a tight bun using any hair clip. You can use a mousse or gel to keep the hair slick and tightly in place.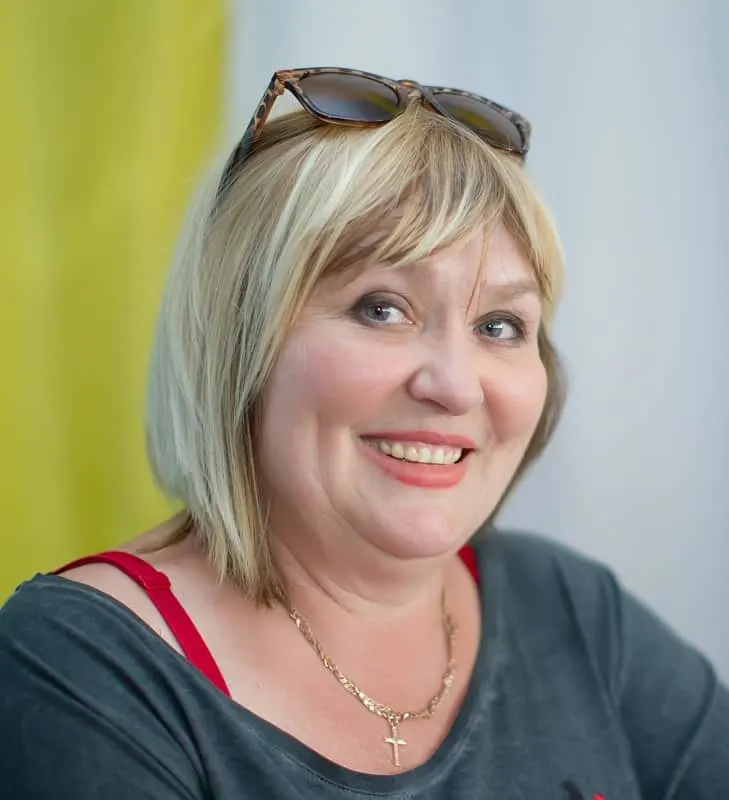 This is one of the most stylish hairstyles for double-chinned women over 50 who love to dye hair. An inverted bob will have shorter hair in the back and slightly longer hair on the sides. You can add soft bangs as well and style them towards one side. To add some more glam to this hairstyle, color some of your hair streaks and be ready to dazzle.
18. Brunette Lob with Half-up Hairstyle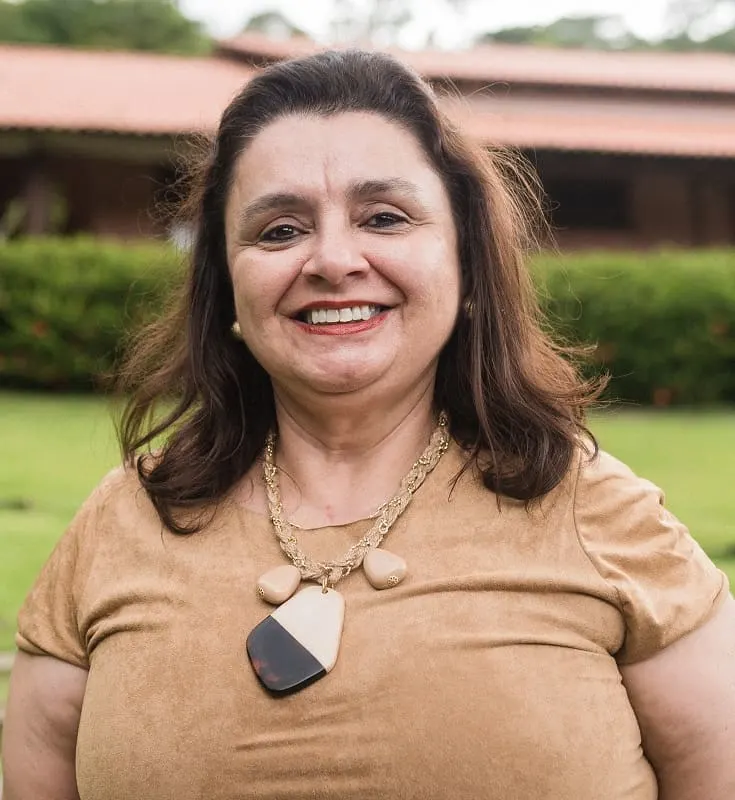 Brunette is a beautiful hair color and a brunette lob is an ideal hairstyle for chubby older women. You can try different hairstyles with a lob, such as a simple half-up hairstyle as shown here. To give your hairstyle a voluminous look, add a slight puff on the crown.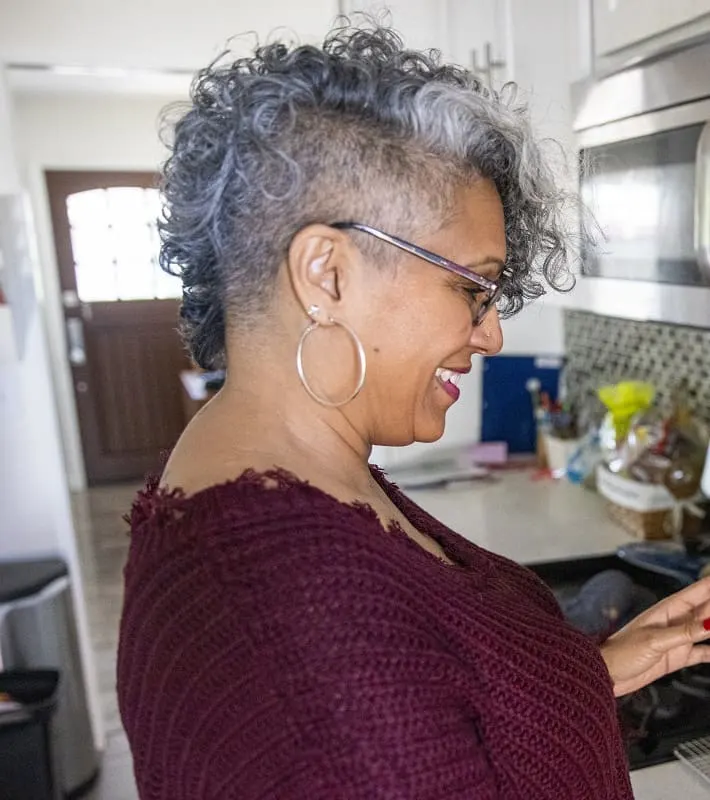 This is by far the edgiest and the sassiest hairstyle on this list. If you are not afraid of trying a bold look, then this is a must-try for you. Ask your hairstylist to shave off your hair on one side and flip the remaining hair towards the other side.
20. Two-toned Shoulder Length Hair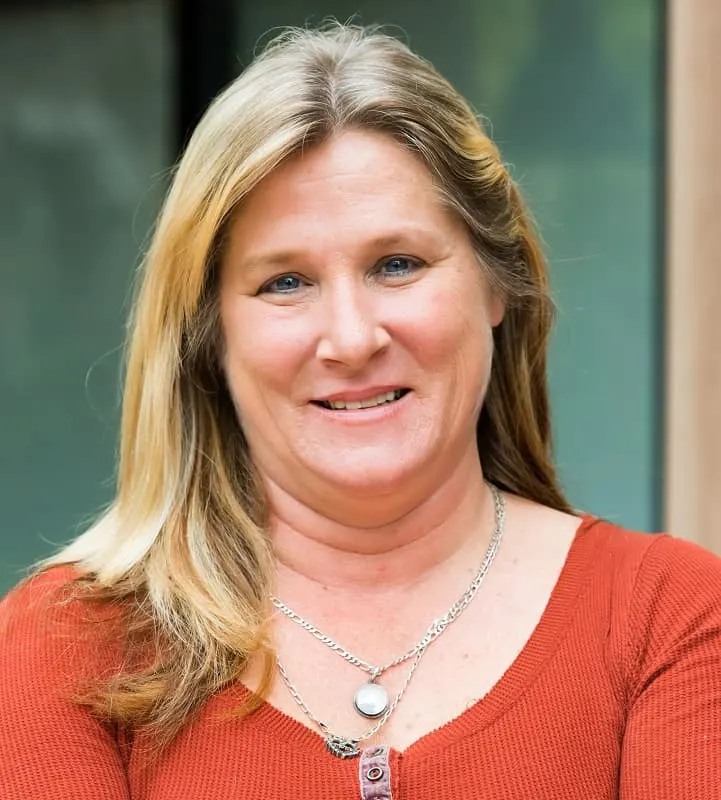 Though it is advisable to avoid coloring your hair too often as you age, you can still try this two-toned hairstyle. The combination of blonde and brown works really well together, as you can see here. You can get a layered haircut which will further highlight the two different colors.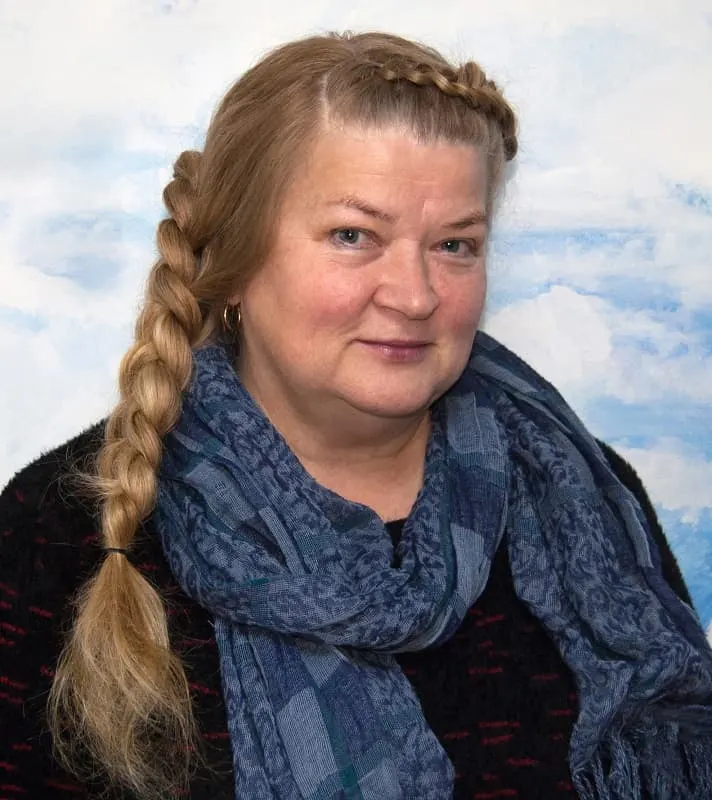 Women over 50 or 60 with chubby faces can try this stunning intricate braid which starts from the top of your head. It, then, goes all the way down over your right shoulder. This hairstyle is ideal for women with long thick hair as it makes them more manageable.
22. Soft Layers for Over 50
This is one of the cutest layered hairstyles for overweight women over 50. This round layered haircut with soft bangs falling over your forehead is a great way to highlight rounded cheeks. This hairstyle will suit women who have thick hair.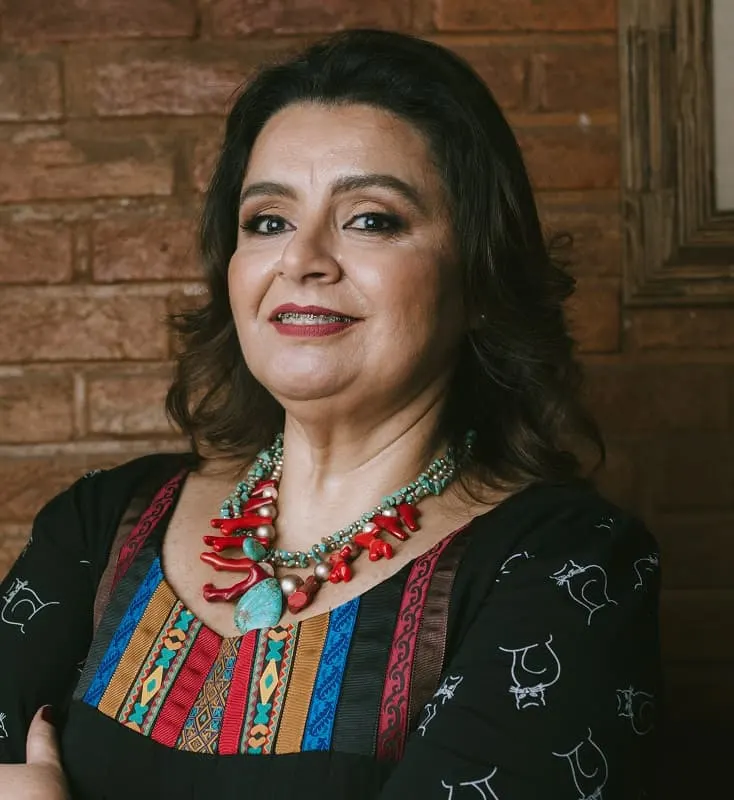 Overweight women who are over 50 and have fine hair should opt for hairstyles which will give the hair an illusion of thickness and volume. This hairstyle can easily be achieved by letting your hair fall gently over your shoulders.
We hope you find your inspiration here in our finely curated list. Do not feel restricted by your age or weight. The ideal hairstyle that you can flaunt everyday awaits you!