Did you see Zac Efron's new haircut? Maybe yes, maybe no, but you must be definitely aware of the classical ASAP Rocky braids as of today. It all started with the initiative of the rappers who have been instilling stylish braided hairstyles for a few years now. ASAP Rocky happens to be that one rapper out of many, who has a wide fan following since 2011.
Here's the deal about ASAP Rocky braids; you look cool, nonchalant, and debonair. What else would a man want? ASAP Rocky has rocked the modeling gigs as well as red carpet appearances in boxed braids, dressed in a sporty ensemble. If you want to do the same, check out the various ultra-stylish ASAP Rocky braid styles.
ASAP Rocky Braid Hairstyles
ASAP Rocky braids for long-haired men have launched the hip-hop style into the world of international fashion. Check out the best of ASAP Rocky braid hairstyles for men that we have handpicked to entertain your hairstyle ideas!
1. Ponytail With Loose Braids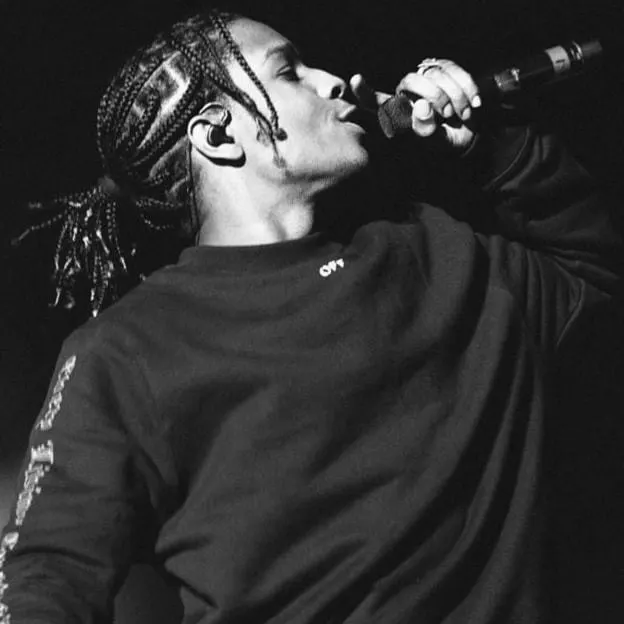 Every celebrity has a signature hairstyle, which is quite often noticeable wherever they go. ASAP Rocky wears his trademark hairstyle that comprises of loose braids tied back in a ponytail very often.
The hair is parted into various boxed sections and the braids are long enough to be tied back in a classy ponytail. No wonder the popular fashion houses as that of DKNY and Dior dote on ASAP Rocky's one-of-a-kind braid style.
2. Parted Cornrows with Bandana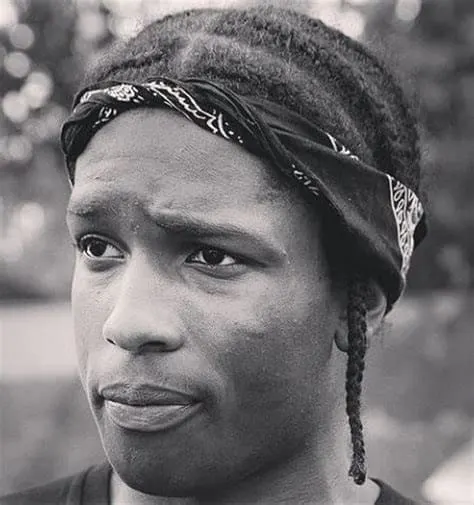 The idea of playing soccer or lifting weights with your hair styled in braids might leave you dazed. But that's not an issue anymore. ASAP Rocky keeps showing the practical and noteworthy braid hairstyle goals for men.
Cornrows are simple in their look, but they are created by tight and fine braiding that stays pretty close to the scalp. ASAP Rocky wears them with a center partition and a dope bandana. Now you can keep the sweat off your face just like that!
3. Thick Centre Parted Cornrows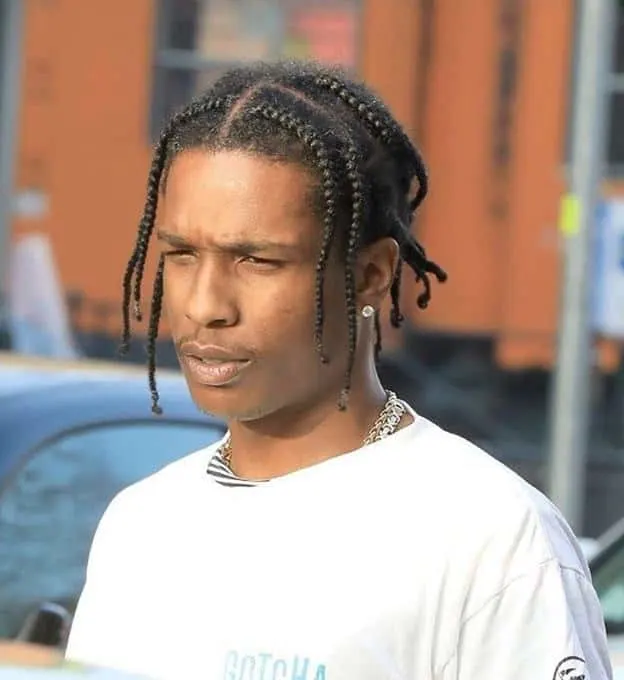 If you are looking forward to a braided hairstyle that wouldn't bother your face for a long time, you might want to try thick cornrows with a center partition. Until you unbraid your hair, the thick cornrows will stay intact. It is a soigné braid style for all the men who travel every now and then or are professional athletes.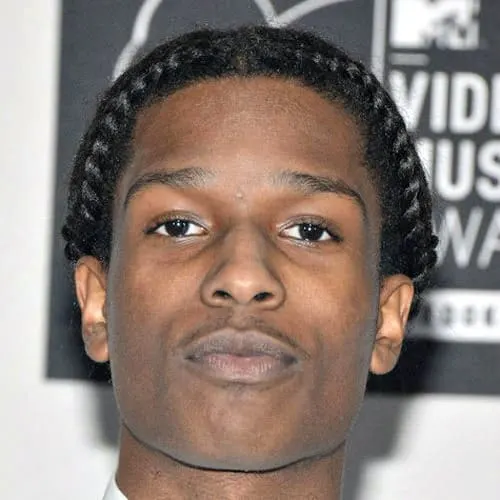 Who said French braid style was only for women? Men can pull off the French braid hairstyle too, thanks to the rock star ASAP Rocky. He knows how to look dapper in various braid hairstyles.
It is nothing to intricate to create. You can either wear two bushy French braids on each side of your head to frame your face cut, or you can wear three French braids on each side with a centered partition.
5. Embellished Cornrows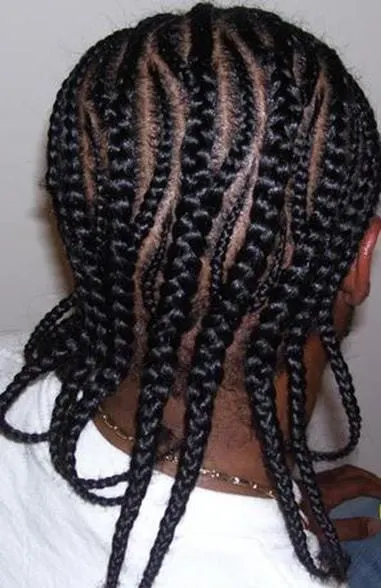 If you don't like simple cornrows then try the embellished cornrows. Cornrows come with a number of intricate designs, that look more stylish than a traditional cornrow braid.
This is a contemporary combination of a few thick braids surrounded with lots of thin braids. You can save yourself from worrying about your long hair, knock off a chic hairstyle and look suave for the rest of the week.
6. Loose Braids Pulled Back in a Bun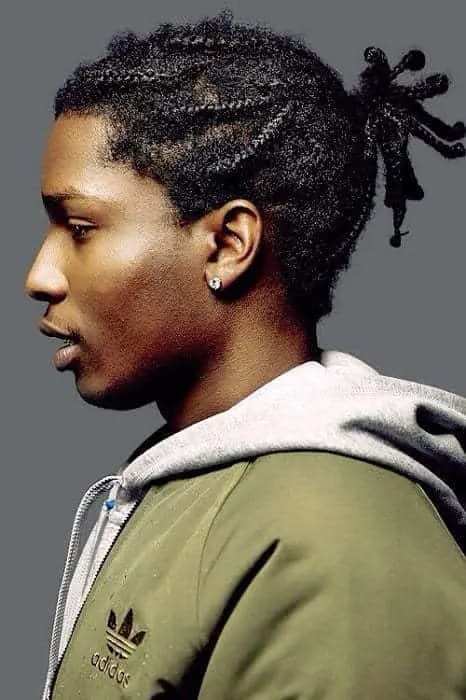 You all know ASAP Rocky's signature hairstyle has to do with loose braids and tied back ponytail. But he is also quite often seen in loose braids pulled back in a bun.
Its true that tight braids appear fresh and modish, but the loose braids have their own charm. For a more low-key and casual attire, loose braids pulled back in a bun is a good-to-go hairstyle.
Versatile Man Bun Braids in Fashion
7. Super Skinny Braids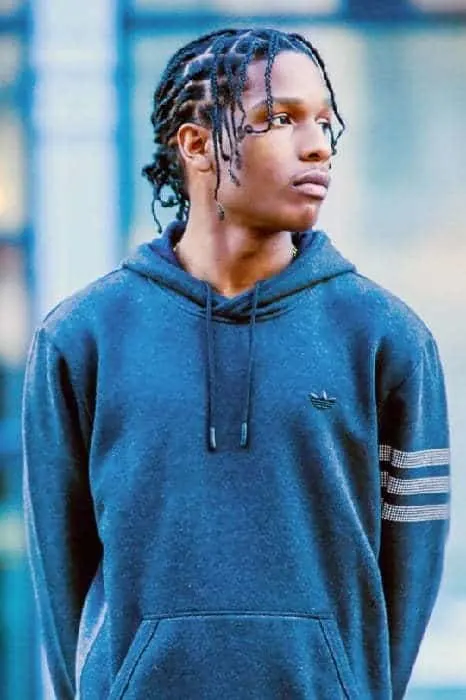 Truth to be told, it takes a huge amount of time to recreate super skinny braids hairstyle. But at the same time, they look incredibly shway. You have the freedom to either tie all of them up in a ponytail, a bun or just let them fall freely.
This would be a great hairstyle option for men who have long hair and would like to style them in a new way inspired by ASAP Rocky.
8. Four Thick Cornrow Braids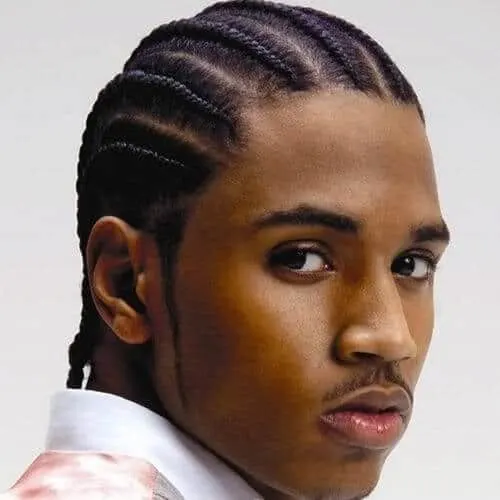 In a hurry but still, want to get ASAP Rocky's unique braid hairstyle done? Opt for these cool set of thick braids, which you can get done quickly and also worry less about your hair whooshing over your face. It only comprises four thick braids on each side of your head. Hair in place, means you're urbane.
Greatest Braided Hairstyles for Black men
9. Triangular Parted Braids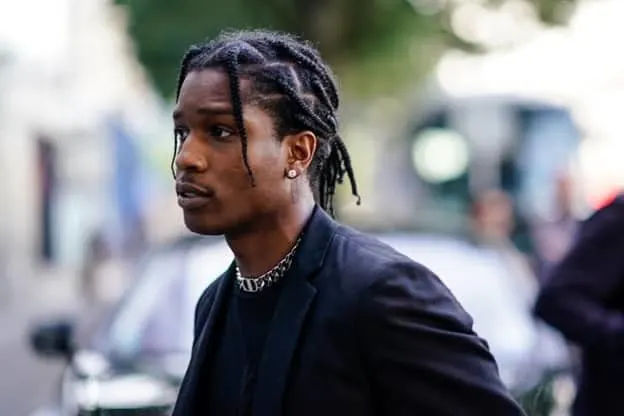 ASAP Rocky usually sticks to the rectangular separations, but you can always primp up this braid style by making triangular parts between the braids. It would take you some time to get it done, but it gives a very cosmopolitan vibe.
10. Hollywood Braids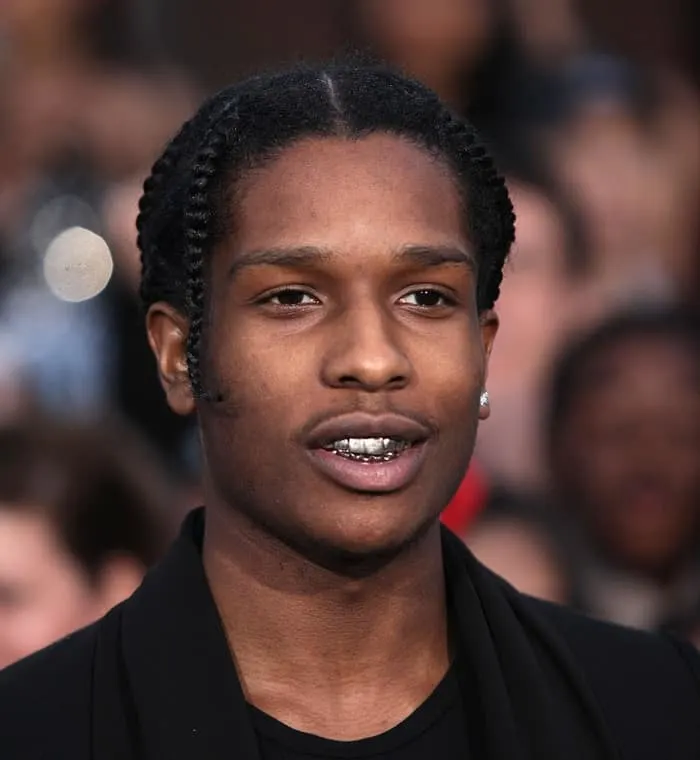 Technically, ASAP Rocky's knits are box braids that he chooses to style totally different than what we're used to. Brushing your hair and creating sections with a tail comb is the first step. As for the second, secure each part and braid it.
11. Braids with Beads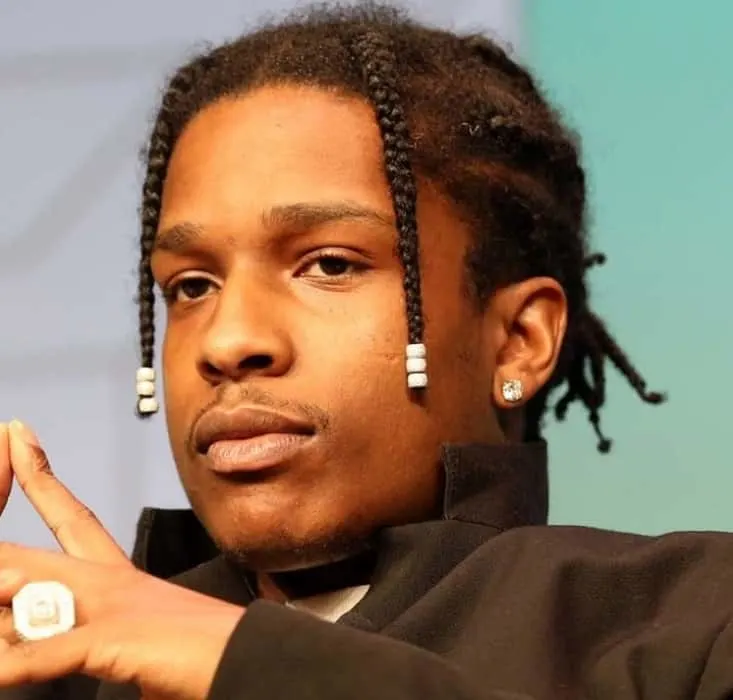 If you want to look like ASAP Rocky with box braids, use petroleum jelly to make that Afro hair more manageable and easy to braid. Lay it down on the root of the hair because it will prevent the fuzziness.
12. Pony with Braids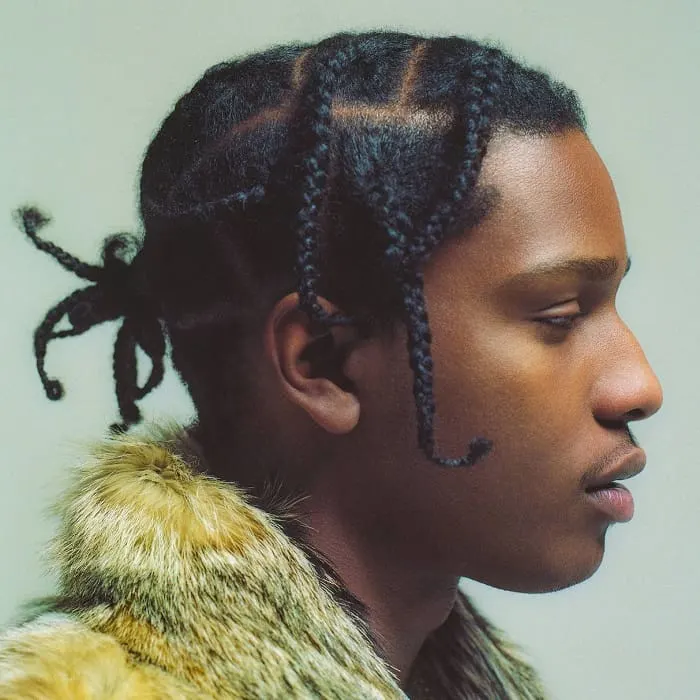 Correctly brush the hair before you start combing. This will prevent all bumps and lumps. Depending on the direction you want the knit to lay, make sure you braid it in that direction.
13. Cornrow Braids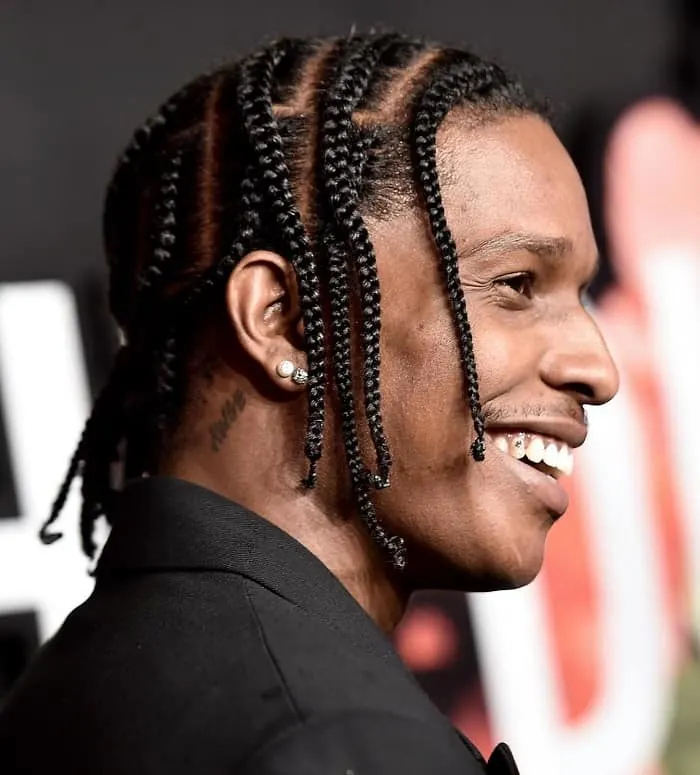 Make sure the hair is properly sectioned and greased all the way through. Build the knits as tight as you can because it will keep them looking fresher longer and prevent the fuzziness.
14. Short Braids
After you are done with the sectioning and hair moisturizers, make sure that while you are braiding, you don't accidentally pull in hair from the other hair parts. Also, all the braids must have the same size.
15. Ghetto Braids
Arm yourself with patience because you might need an hour or two to make these braids look perfect. Go for regular squared sectioning or try the triangle shaped parting if you want a hairstyle with more fuss.
Braided hairstyles come in a wide assortment. To crown it all, when it comes to braided hairstyles for men, ASAP Rocky has been the king of the hill. From short to long, and intricate to basic, he is an inspiration for all the men looking for iconic braided hairstyles. No need to wonder and wander looking for how to do ASAP Rocky braids, this post shall be good enough for you to start with.
Get more hairstyle inspirations from other male celebrities: