Long brunette hair is a truly gorgeous and glamorous choice for women, as long as they take care of it properly. Regular washing and brushing help to keep the hair looking and feeling healthy.
Using a de-tangle brush can help to prevent stubborn knots and tangles. This will leave your hair looking and feeling totally touchable.
Long Brunette Hairstyles
Women with long brunette hair need to use certain tricks to help to make their hair look it's best. Long hair can look limp and lifeless if it does not have volume and texture.
Regular brushing with a special thick brush will help to build volume. Brushing from the roots also helps to boost the volume of the hairstyle.
If your brunette hair is naturally flat, you may also want to have layers put in. Layers can give your hairstyle a boost. We have illustrated this with some gorgeous and glamorous long haircuts.
1. Wavy Long Brunette Hair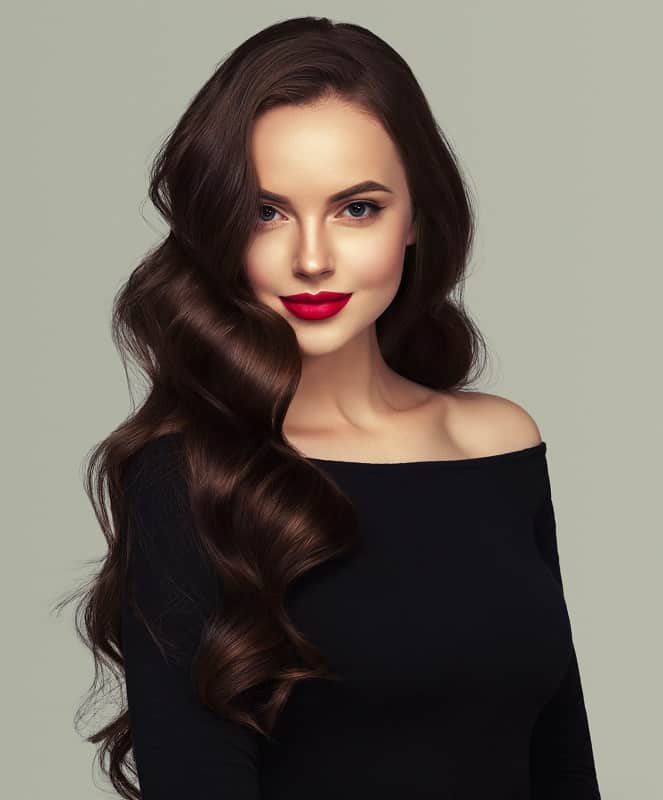 A quarter side part above one of your eyebrows starts this long hairstyle with soft waves. The deep chocolate color complements pale and light skin tones.
2. Long Curly Brunette Hair
For your curly hair, tame it with this high bun shaped with loose tendrils. It's perfect for a session at the gym, a day at the beach, or even for work paired with your favorite suit.
3. Long Brunette Hair with Bangs
The girl next door look is always in style – get it with a half updo for your long hair. Make sure it's layered to get the bottom feathered style and keep bangs straight and at eyebrow level.
4. Layered with a Light Wave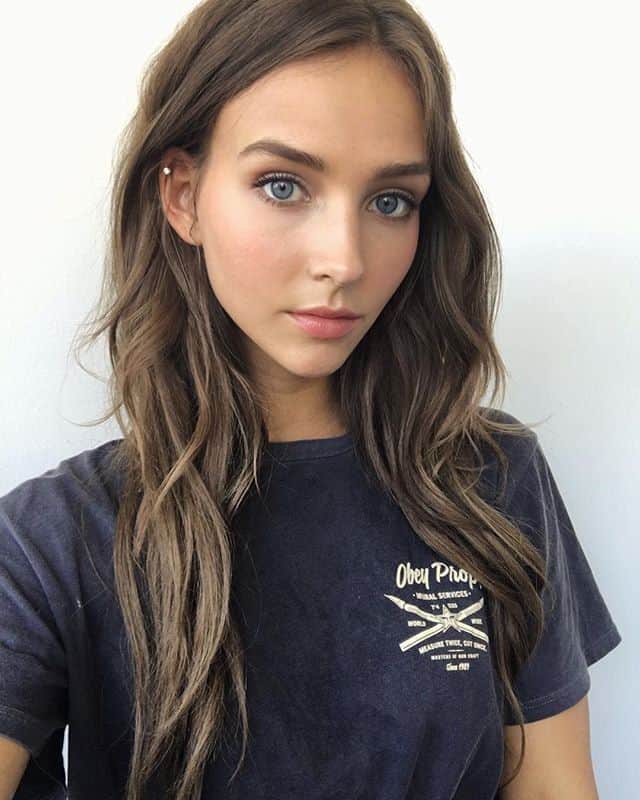 The layered look is great for women wanting something low maintenance yet still feminine. Use a curling iron or a round brush with a blow dryer to get these soft waves. Highlights are a beautiful complement to the color.
Top Brunette Balayage Hairstyles to Copy
5. Long Brunette Balayage Hairstyle
Balayage blends two colors, like this dark brown and light blonde, for a natural look. Long hair with waves parted in the center doesn't need much else to stand out except your favorite little black dress!
6. Long and Sleek Brunette Hairstyle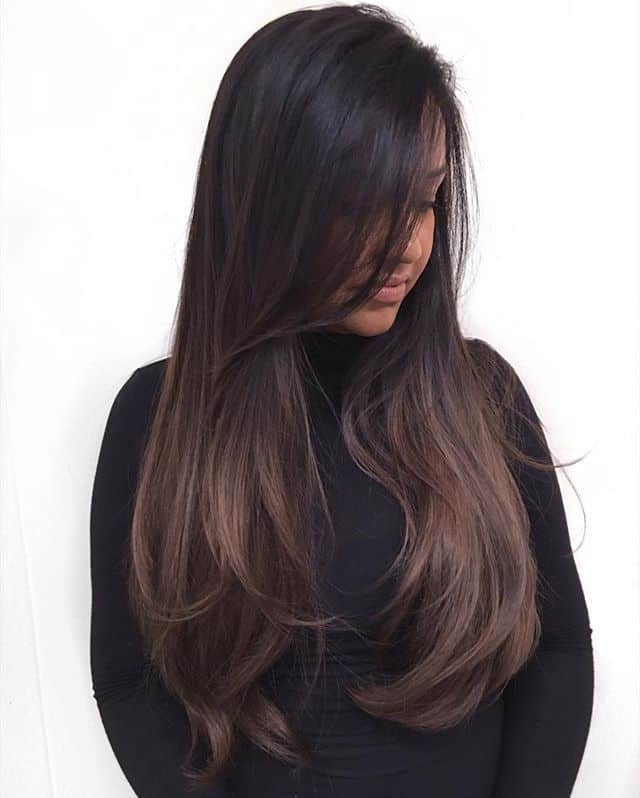 If your hair is naturally straight, you won't have to do much other than run a comb through locks. To keep strands smooth and shiny, use a hair serum to nix frizz.
7. Long Straight Brunette Hair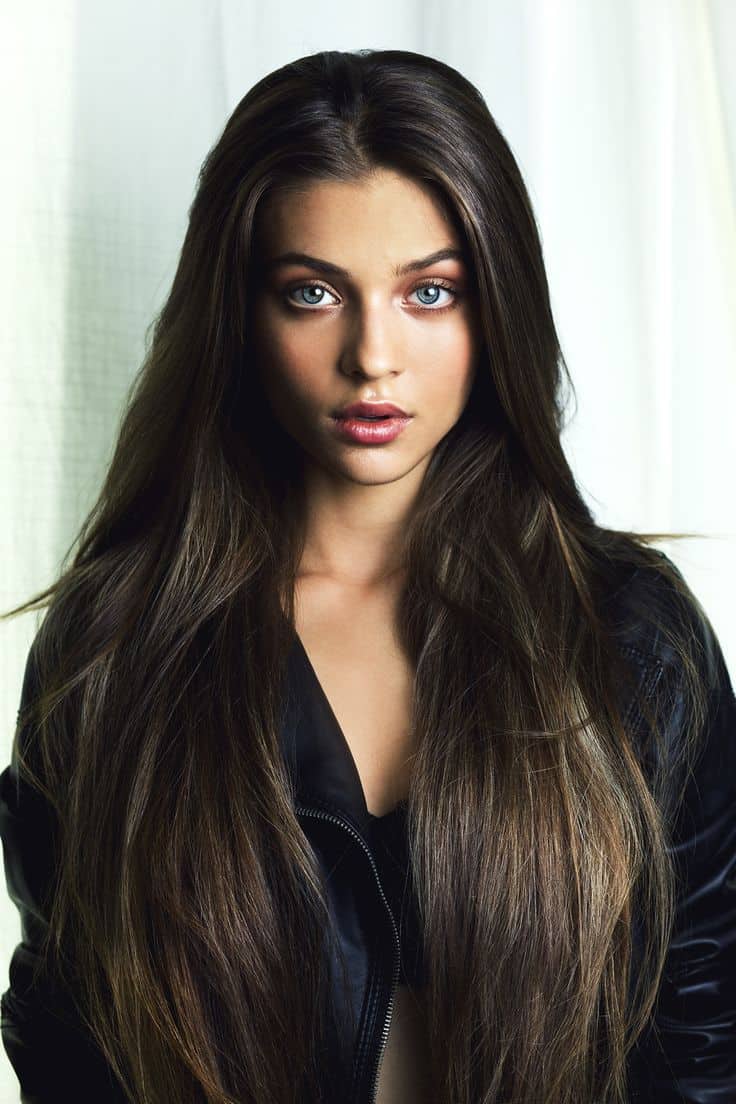 Straight hair is chic on its own when worn down, parted in the center, and draped over shoulders. Left to be an all over brown or with a few blonde highlights, this look is Insta-worthy.
8. Long and Wavy Glamorous Haircut
Do you have a special trip coming up? Long hair that comes past shoulders is especially glam full of waves. Make a side part to create an angle-flattering style with soft volume.
Short Sassy Brunette Hairstyles
9. Waist Length Brunette Hair
While wearing your waist-length hair down is pretty in itself, gathering the top half into a pony is gorgeous as well. This simple style only takes a couple minutes and looks just as cute when slightly messy.
10. Long Brunette Hair with Caramel Highlights
Another simple yet stylish look: a center parted long hairstyle with caramel highlights. Caramel is a universally flattering color so whatever shade of brown hair you have, it'll look amazing.
11. Feathered Hair
Feathering hair creates wispy locks, gorgeous on this long brown hairstyle. Part at the center or wear with a soft side bang. Keep the top smooth and free of frizz with hair cream and spray.
Miss Your Long Hair? Grow Them Faster
Long brunette hair is so versatile. It can be casual or glamorous, depending on what you do with it. Try out some different style ideas from our list.