Black and red ombre hair color is one of the hottest hairstyles to try this year. A combination of black hair and red ombre is out of this world, and it's no wonder why girls are eager to try it out. Are you? This post brings you 30 amazing ideas that are bound to inspire you to try out this hairstyle finally.
How to Do Black to Red Ombre Hair
Girls and women with black hair often think they can't rock ombre, but that's not quite correct. The best thing to do is to see a professional colorist who will choose the ideal shade of red for your skin tone. Also, you need to bear in mind that getting red ombre on dark hair requires bleaching.
The darker your starting shade, the more work it takes to achieve the desired color. This means that getting black to red ombre requires patience and expertise. While you can bleach your hair at home and start coloring, it's more practical to consult a professional to avoid any mishaps.
Watch The Following Video of DIY Red Ombre on Black Hair
Best Red Ombre Styles on Black Hair
Looking for black and red ombre inspiration? We've got you covered; these 30 styles are the absolute hit right now, and you can easily rock them. So, let's start.
1. Black to Bright Red Ombre Hair
Bright red pops in an electrifying way when paired with black. Rock it on thick hair loaded with waves and braids.
2. Black to Red Ombre with Weave
A black to red ombre hairstyle has a tint of purple to it for a feminine, soft look. To get this style, braid hair overnight then undo it in the morning.
3. Black to Dark Red Ombre Hair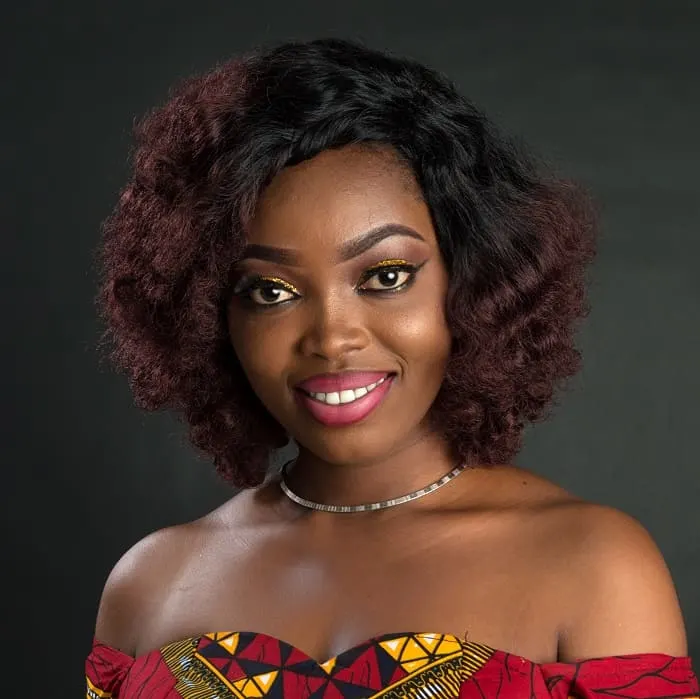 For women with naturally black hair, a black to dark red ombre hairstyle is an easy addition! This is a soft enough look that you can feel comfortable wearing it to work.
4. Black to Red Ombre Box Braids
Medium sized box braids stun with black to red ombre. Truthfully, any color will look gorgeous against dark skin but a dark red is edgy.
5. Black to Red Ombre Braid
While some black to red ombres may cover the whole head, this one is mostly on the top layer of hair. This way it's more noticeable when hair is up, like in this thick braid.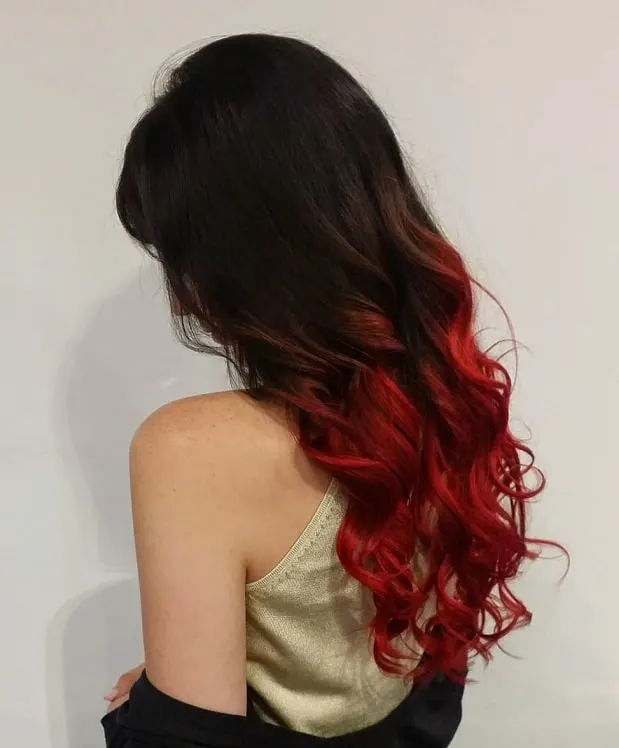 Girls and women who love to stand out may want to try edgy, fire red ombre on black hair that gradually turns into flame thus depicting passion and empowerment, both of which are important for our character. You can wear this style sleek and straight, or you can create long waves.
7. Radiant Red Ombre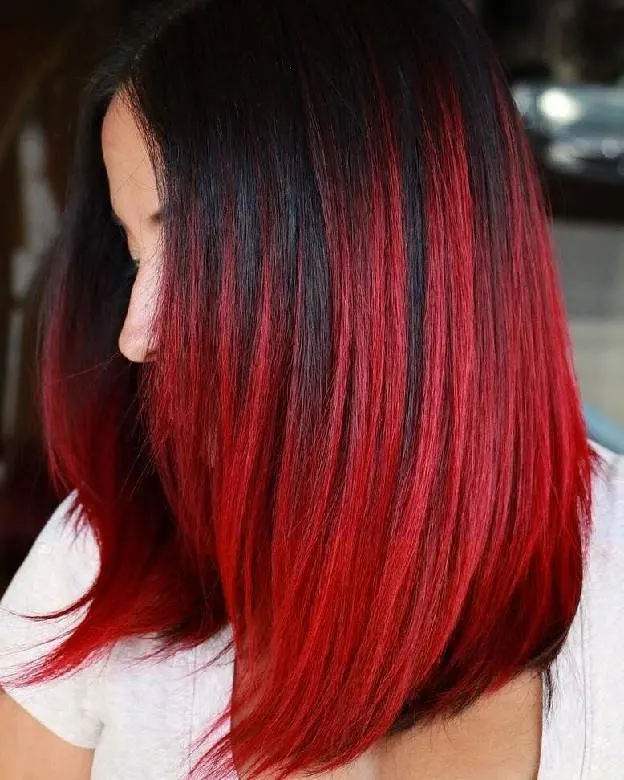 Here's a great hairstyle for all rock chicks and girls who love a dash of edginess in their hair. Radiant black to red ombre is bound to get a lot of attention and make you stand out. It's beyond beautiful.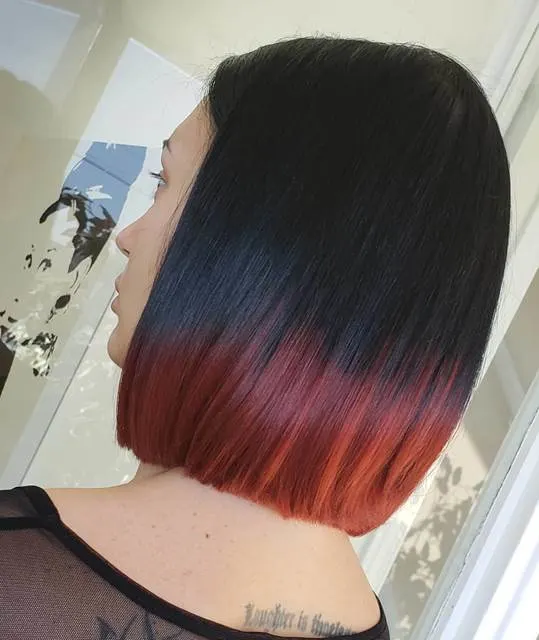 Even though most girls wear black to red ombre, or any other kind of ombre for that matter, on long hair, it's not the only way to rock this style. Ombre on shorter hair can look just as good. Therefore, if you have short hair and want ombre, go for it.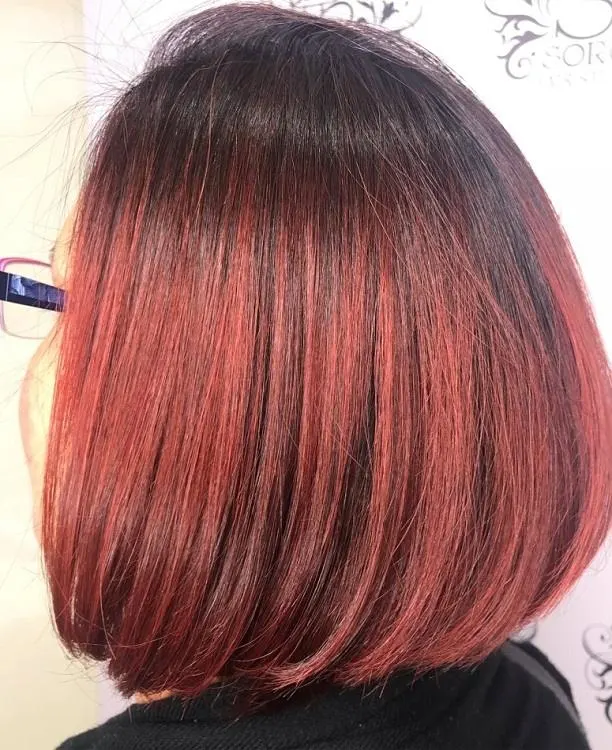 This is yet another way to get red ombre on black hair; nice stylish bob with deep ombre is suitable for both younger and older women alike.
Blow dry your hair to make it elegant and delicate. Red hue will give your hairstyle a nice shine and more structure.
10. Long Red Waves
One of the easiest ways to style red ombre on black hair is to start with a few red highlights on top which flow all the way down.
Your hair appears like a soft yet edgy mixture of black and red. Use the curling iron to get long, sensual waves.
11. Flaming Lob
The long bob with side bangs is a stylish haircut that suits women of all ages. This hairstyle frames your face and accentuates all the lovely features while providing the rejuvenating effect.
Combine your black bob with red ombre, and you'll get outstanding results.
12. Red Ends

What to do in situations when you want black to red ombre hair but you're not really prepared for drastic changes in your hairstyle? You can still rock this style, without the edginess.
For girls and women who don't want an edgy 'do there's a softer alternative. Instead of deep ombre that starts right under your neck and shoulders going all the way down, you can have only ends dyed in a hue of red.
Lighten Red Hair Without Bleach
Red ombre on black hair does not necessarily have to include vibrant colors and fiery strands only. You can opt for wine red hue which will soften your look and bring a dose of sophistication.
14. Red Ombre and Red Bangs
Bangs are IN, and you can easily adapt them to your red ombre on dark hair. Besides red ends, you can go one step further and dye your bangs red too.
This daring look is cute, edgy, yet soft at the same time. You can sweep bangs aside, style them in a sleek manner, part them in the middle, and it's your choice.
15. Ultra-Red Ombre
Show off your adventurous nature with hairstyles such as short bob and super red ombre. Instead of softer tones, you can opt for bold, radiant, and strong colors which give your look the note of edginess.
16. Black to Red Ombre Victory Rolls
The black to red ombre on this vintage Victory rolls hairstyle is an updated twist to an old-fashioned look. Since the hair is short, the red is very noticeable at the neck.
17. Black to Red Rainbow Ombre
Put your own touch on a black to red ombre hairdo by adding in other colors like purple and orange. Wear hair down to display the rainbow!
18. Black to Red Ombre Dreadlocks
Black dreadlocks are already edgy and fierce but you can add some fire with bright red ombre.
19. Black to Dark Red Braids
Not a fan of bright red? Black to dark red ombre is equally as gorgeous. Show off the color with side braids, filling the body with lots of lush waves.
20. Black and Red Ombre on Round Faces
For a round face, sport your black to red ombre on long hair with straight bluntly cut bangs. Concentrate layers near the face to help with framing.
21. Hair in Flames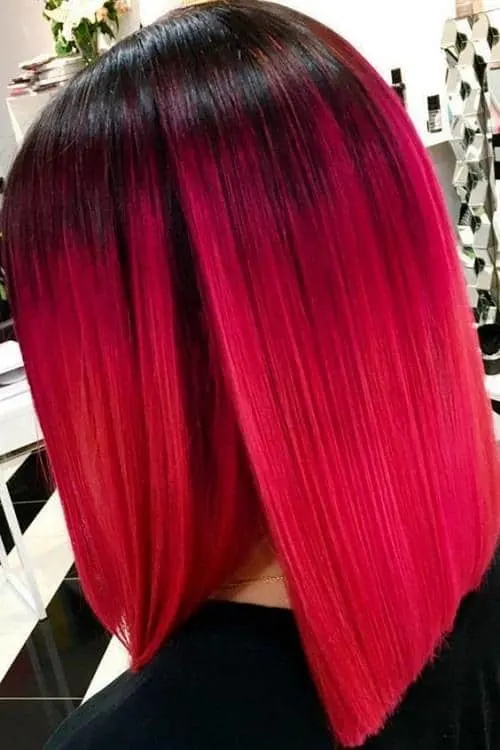 Flame of the fire has magnificent color, and you can channel it with your hairstyle. To stand out in the crowd opted for this black and red ombre and everyone will notice you immediately. Awesome, isn't it?
In order to achieve a soft ombre effect you can opt for timid shades of red. They accentuate your hair and bring more softness into your look.
This is definitely a style you need to try, and you won't be disappointed. These soft hues look particularly good on short hair.
Chic Short Red Hairstyles for Women
23. Long Ombre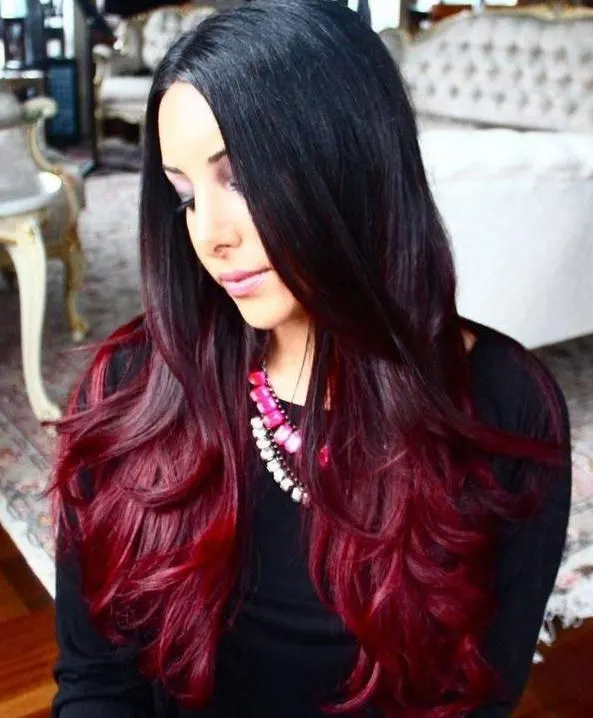 Long black hair is sensual, and you can make it even sexier with soft ombre. You can let your hair flow gently over your shoulders, or you can create long, sexy waves, it's up to you. Just use a good brush to soften your hair.
24. Ombre Locks
Long locks are always a sexy look whether they're black or colored. But, to spice up your look, it's a good idea to opt for maroon red ombre on black hair.
That way your locks will appear even bigger and sexier. This hairstyle is ideal for formal occasions and more relaxed ones too.
25. Sultry Ombre
If you want to achieve the sultry look that will show off your wild and romantic side, then this is the style for you.
Use extensions to add length and volume to your hair, then get black to red ombre which will flow gently over your shoulders. This is a super cute look.
Dark cherry is the softest shade of red for your ombre, and it looks absolutely marvelous on both short and long hair. This way you have tons of options at your disposal to experiment and try different looks.
27. Bright Red Ombre
If you're in the mood for a striking color, then bright red is a must-try ombre style. You can have your hair straight or in long sensual waves.
28. Light Red
Light red is a popular choice among girls and women who want red ombre on black hair thanks to its softness and sophisticated nature. This shade instantly creates a warm glow to your skin.
Light and Dark Red Hair Color Ideas for Modern Women
29. Lovely Long Locks
If you don't want to dye your entire hair red then color tips only for lovely long locks. This is a soft black to red ombre look that suits both girls and women.
The best proof that red hair suits black women is this magnificent style. Long black hair to red ombre, soft color – everything's simply perfect.
FAQs
How long does red ombre last?
There is no "one size fits all" rule here mostly because multiple factors are involved and determine how long ombre lasts. In some cases, ombre lasts between six and nine months, but most hairstylists recommend new treatments in two to four months.
Which skin tone suits with red ombre?
Natural redheads usually have fair skin complexion so red hair, and ombre look best on this skin type.

That being said, there's a perfect shade of red for every skin tone. Based on your skin tone the hairstylist determines the ideal red hue for your ombre.
Red ombre on blonde vs. red ombre on black hair which is better?
Actually, whether black to red ombre or blonde to red is just a matter of personal preferences. Blonde and red ombre will attract more attention due to the unusual style, but the red and black combination is equally edgy and stylish.

Of course, if you have dark or black hair now, it's better to go for red on black rather than lighten your hair which can lead to damage.
Update your look with gorgeous black to red ombre hair that will leave everyone speechless. We found 30 amazing ideas to show you how to rock this hairstyle and look fabulous at all times. You just need to visit a great hairstylist who will introduce you to the black and red ombre world.