Shadow fade haircuts are such a revolutionary moment in the men's hair department. Each season they get better and more interesting. Gentlemen now have so many options on the table, the only thing they have to do is choose. One of the latest trends is known as a shadow fade.
If you still haven't heard of it, we dedicated a whole article that will have you obsessed. Starting with what to get, how to style it, to face shapes, this detailed guide will help you decide.
What Is A Shadow Fade?
This term is used to describe a haircut where there is a very smooth transition between the top part of the hair and the sides. The shadow fade is, of course, done on the sides and it can be high, low or medium. Things get more interesting at the top because these manes are meant for men with many different hairstyles and lengths.
Amazing Shadow Fade Haircuts for Men
The reason why everyone is obsessed with this fade is that it is so diverse. Shadow fade haircuts come in sophisticated, smart, elegant, and laid-back versions. You can now choose your favorite in the huge selection of styles we prepared below.
1. Low Shadow Fade
The low shadow fade works for both curly, African-American and straight hair types. You can see that the fade starts in the bottom part around the ears and the neck. It gradually becomes less apparent and blends with the top.
Ideal for: Oval, diamond, oblong.
How to Style: Just ask your hairdresser for a low version of the shadow fade. You can keep the top long, curly, straight and sleek, or the basic short version.
2. High Shadow Fade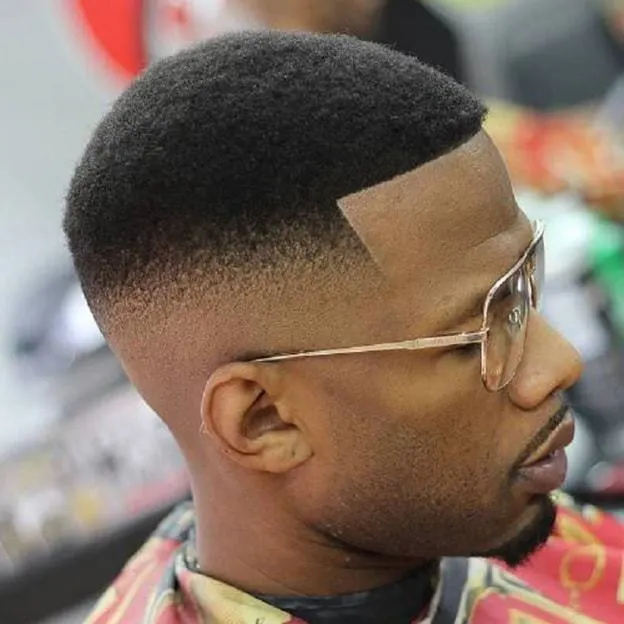 Having a high shadow fade haircut means that the smooth transition starts closer to the top of the haircut. This is a more impactful version of this cool fade mane.
Ideal for: Square, round.
How to Style: Once you get that high fade, you can use the volume on top to create a chic hairdo. If you have straight hair sleek it to the back, while gents with short haircuts will look equally trendy.
3. Medium Shadow Fade
Medium length shadow fade cuts are the most balanced, which means that the transition is equal in all parts.
Ideal for: Oval, round, oblong.
How to Style: Since the medium fade is the most natural-looking style, you should definitely keep the rest of your hair natural just the way it is.
4. Shadow Fade with Waves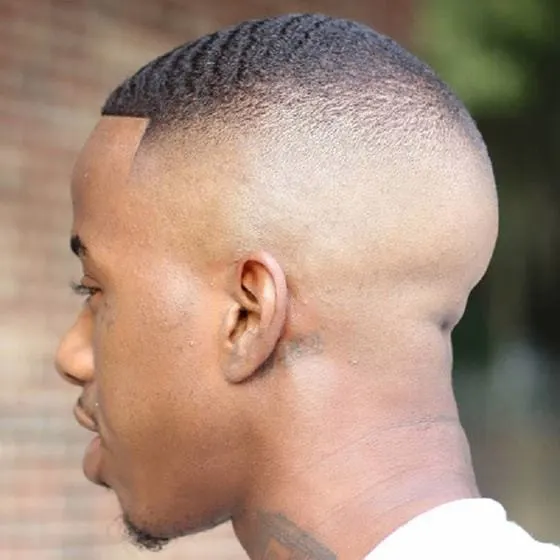 Elevate the fierce waves by making the sides super-short and the top classy as hell. They work perfectly together with a very short, almost-bald fade. Such an easy hairstyle to maintain.
Ideal for: Triangle, diamond.
How to Style: Leave those natural waves be, just upgrade them with a fabulous shadow fade. This example is so cool because it debuts a bald and high fade, that creates a dramatic effect with the waves.
For all the men that have long hair and want to keep it wavy, they can spray it with salt water and style it with a pomade.
5. Shadow Fade Taper
Thanks to the taper fade, you will have the neatest haircut with shadow fade ever.
Ideal for: Oval, oblong, diamond.
How to Style: Next time you visit the hair salon, ask for a tapered shadow fade cut. The hardest decision you'll have to make is whether you want the top curly and natural, or super-short.
A bald fade means that there is barely any hair left. It is perfect for all the gents who want to leave a strong impression.
Ideal for: Square, triangle, rectangle.
How to Style: Since the sides won't be needing any styling, you can dedicate all your attention to the top. Curly and afro hair types don't require any products if they are not too long. The longer ones might need a hair clay to keep the mane natural-looking.
7. Curly Shadow Fade
Natural curls or an afro are the perfect addition to well-done shadow fades.
Ideal for: Diamond, triangle, oval, square.
How to Style: As long as the curls are short, all you have to do is to book an appointment and get a side shadow fade. Once they grow longer, find a mousse or hair oil that works best for you.
Grow out your mane and grab the comb and styling products. These longer, comb-over hairstyles are huge among men at the moment.
Ideal for: Round, triangle, square, oval.
How to Style: Make sure that the top part is always styled to perfection by using a hair wax or clay. These two products will provide just enough hold for your hair to stay put, while also giving a very natural look. Use a fine comb to get a smooth surface.
9. Shadow Fade for Long Hair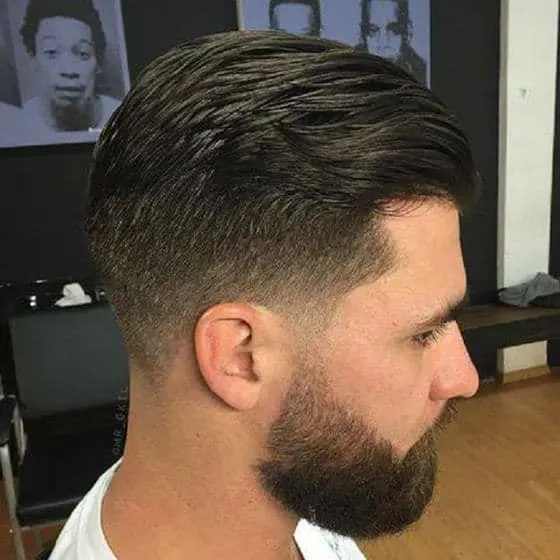 Many men tend to get short haircuts because they are easy to style. The ones that want to grow it out can still rock a shadow side fade. Most men would doubt whether this hairstyle should be combined with a beard.
Although you might think that it's simply too much hair, as long as you keep everything neat, it will be super fashionable.
Ideal for: Oval, round.
How to Style: Get a nice comb and start combing your hair to the back, so that everyone can see the chic shadow fade. Style it with a wax, or an oil-based pomade for special occasions.
10. Classy Sleek Shadow Fade
When you need to look super-classy, always go for the slicked shadow fade. This mane is always great for events where you have to be dapper and elegant. It is the perfect addition to a trendy suit.
Ideal for: Rectangle, oval.
How to Style: The essential product you have to own is an oil-based pomade. You can slick the hair to the side or to the back. Use a very fine comb to achieve the smoothest sleek.
11. Spiked Shadow Fade
All the men who are obsessed with perfectly-styled dos will love this one. It is both edgy and sassy at the same time.
Ideal for: Round, oval, triangular, diamond.
How to Style: It is meant mostly for straight hair types. Try blow-drying your hair up with a brush. Style it with a strong pomade, water-based. Spray some extra hairspray to keep it in place.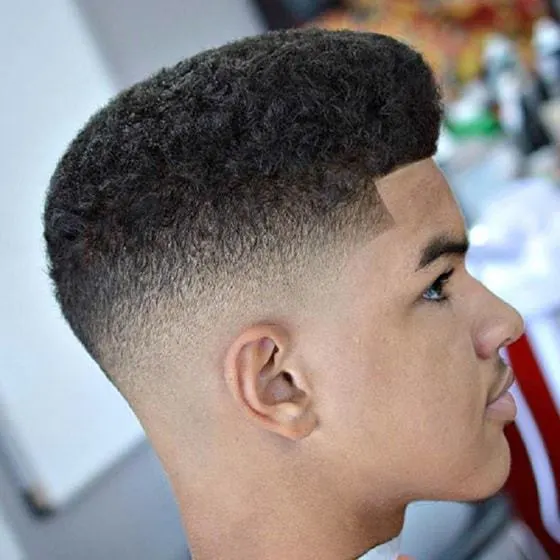 Very natural, with perfectly trimmed and styled sides. Taper medium fade is the way to go.
Ideal for: Oval, square, heart.
How to Style: A high afro top looks so chic combined with shadow fade haircuts. It does not require too much styling, just a skilled barber.
13. Brushed Back Cortex Fade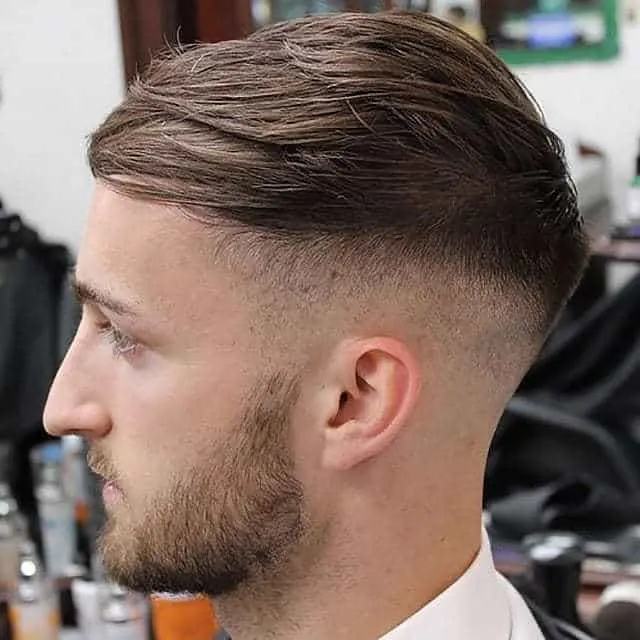 This mane is called cortex because the medium fade starts at the point of the head cortex. If you opt for this hairstyle, barbers would definitely recommend that you grow out the top part.
Ideal for: Square, round, heart.
How to Style: Brush your hair to the side or to the back, to really accentuate the bold shadow fade. Style it with a wax.
14. Shadow Fade with A Side Part
A neat side part is such a flattering feature in a men's hairstyle. If you want to add a fade, make sure that it is low and tapered.
Ideal for: Oval, triangle, round.
How to Style: Use dryer and a round brush to put your hair up while it's still wet. Add some product in it to keep it high, while also accenting the part with a fine comb.
The fabulous pompadour is one of the most popular men's hairstyles of all times. This season there is a new way to rock it. Instead of opting for your regular cut, you can ask the hairstylist for a shadow fade. The sharp lines on the side give such an edgy touch to the look.
Ideal for: Triangle, oval, rectangle, round.
How to Style: Start by growing out your hair and leaving the top part long. Find a skilled barber who will do a flawless side fade. This is the moment when the fun starts. If you choose a fabulous pomp, you will have to style it almost every single day.
For everyday use, you can find a wax or clay that fit your hair type. They leave the hair flawless as if you haven't used a product. For sleeker, more elegant appearance always opt for an oil-based pomade.
16. Shadow Fade with Blonde Hues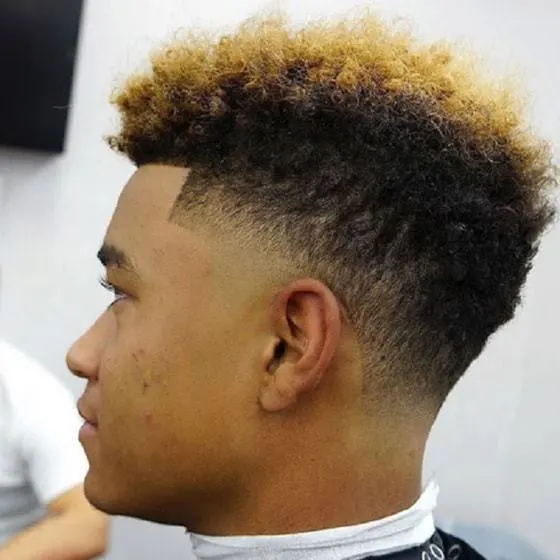 Men who will decide to have longer hair on top can also play with colors. Blonde hues are very popular for curls, and not only with women but wish men as well.
Ideal for: Diamond, heart, triangle.
How to Style: To maintain the curls healthy, you will need to get a hair oil. For styling, you can either use a gel or a pomade. Avoid bleaching your whole hair, because it can look too much.
17. Step Shadow Fade
The step shadow fade is obviously the coolest hairdo on the list. It is such an eye-catching mane, perfect for fashionable men. Be aware that it does require styling and it is not an easy mane to have. You'll have to wake up a bit earlier than usual every morning.
Ideal for: Diamond, oval, round.
How to Style: Set up an appointment with a barber that has mad styling skills. Every single inch of your hair has to be cut to perfection. Once he achieves that step on the sides, you'll fall in love even more with it.
When it comes to the quiff on top, you can leave it messy and deconstructed. A good hair wax should do the job. Definitely find one with higher strength, especially if you have thick hair.
18. Artsy Shadow Fade
When you get bored with the same old hairstyles, that means it's time for a change. The artsy shadow fade is definitely meant for the boldest guys out there. Do the sharp lines on one or both sides, any shape will do the job.
Ideal for: triangle, rectangle
How to Style: The best thing about this hairstyle is that you can literally choose any art that you like and anywhere you like it. Just make sure that you find a quality barber to do it. Curls on top have never looked better.
19. Short Afro with A Shadow Fade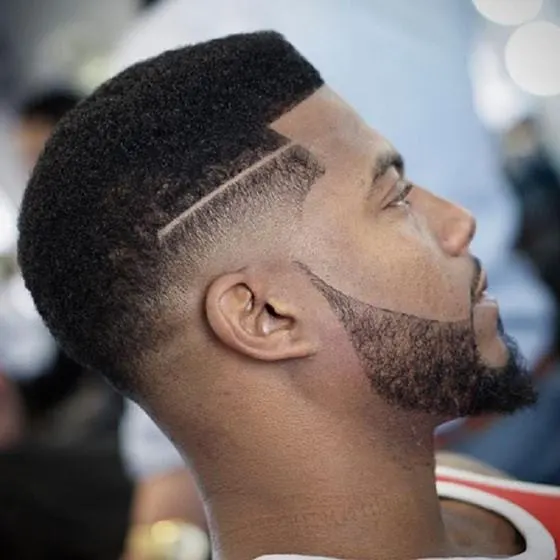 Growing out your afro will require a lot of time styling it. So, why not keep it short and simple?
Ideal for: Square, round, oval.
How to Style: This mane has only one requirement! Scheduling frequent visits to the stylist or barber. The side art is, of course, optional. The thing is that it looks so damn good that you'll want to copy the entire mane.
20. Low Shadow Fade with A Messy Top
The low shadow fade style and messy top are such a winning combo. You will definitely need extra free time on your hands so that your haircut always looks on point. But it is all worth it.
Ideal for: Square, oblong, triangle.
How to Style: That messy top will literally style itself, so you shouldn't be worried. Try blowdrying it backward while your hair is still wet. Use salt water to achieve natural waves. Add some wax during the final touchups.
21. Caesar Shadow Haircut
Shadow fade haircut that combines a modern Caesar's cuts will suit any white guy.
Ideal for: diamond, oval, triangle, square
How to Style: Create a V-shape in the back and maintain a medium skin fade on the backs and sides. The difference between other haircuts is that on the sides, the transition is not smooth at all, mostly around the temple area, therefore, giving the top a more striking look.
22. Man Bun with Shadow Fade
Shadow skin fades are versatile and if you're in the process of growing your hair, section it and tie it in a man bun.
Ideal for: square, oval, triangle
How to style: To make sure the hairstyle looks pitch-perfect, the line that separates the fade from the longer top must be straight, with no threads interfering. Around the ear and in the back you can also do a bald fade to make the hairstyle look sharp and clean.
23. Blonde Asian Pompadour
The flexibility on a shadow fade is enormous because it can enhance even more a Pompadour.
Ideal for: diamond, oval, round, triangle
How to style: Pompadours require some attention and they are often swiped back or one side. The volume and texture are the two factors that make the Pompadour stand out and you should channel your efforts to build that dimension.
24. Short Shadow Fade for Mohawks
Mohawks are edgy, bold and exude energy. If you love closely fades on sides, the trim will probably require retouching and we advise you to let your barber do this procedure.
Ideal for: Oval, round, square
How to style: To pull off an incredible hairstyle with a mohawk, you need to create the parting and determine your mohawk's length and width. If you have Afro hair, we suggest using a change to give those natural curly hair more definition.
25. Top Dreads with Shadow Fade
If you're following the shape of your head, you will win a gorgeous hairstyle that elongates the face. You can even wear the dreads in a pony to build more height.
Ideal for: square, oval, triangle
How to style: Perfectly part the top and pin it into a bun. Using the trimming machine and a razor, build a bald fade on the sides and back, making sure you respect the part you've just created. As for the dreads, if you want them to look like the image above, consider dyeing the tips in a bright blonde nuance.
26. Low Fade
Low fades are closer to the ear than the traditional fade, and they begin just above the hairline. They are perfect matches for men with round faces because they help slim the head down.
Ideal for: Round or heart-shaped
How to style: To make the most out of a low fade, you need a quiff or just to build some height on the top. You will get that necessary balance and an elongated effect.
27. Versace Design
When you want to express your wealth and tastes, it should all start from the top, with the hairstyle, and end with the shoes.
Ideal for: diamond, heart
How to style: A Versace modern reinterpretation of the pattern that is so well known in the fashion business can be styled into a hair side design. As for the rest of your hair, a short fade in the back and well-defined curls will look worthy of everybody's attention.
28. High Fade with Pink and Purple Highlights
If you love bold, electric and fashionable hairstyling ideas, this one's for you, man, especially because it features a powerful contrast between the purple and pink highlights and the platinum white-blonde hair.
Ideal for: Dark skin
How to style: Not only those eye-popping colors make this hairstyle look exquisite, but also the high contrast between the chosen colors and the dark skin tone and beard.
29. Box Braids with Temple Side Fade
To create the braids, you can use Jumbo hair or black textile threads and pin the knits into a ponytail. A goatee will elongate your face, and the golden jewelry will accentuate the hairstyle.
Ideal for: Round faces
How to style: For this hairstyle, you don't need to outline the braids so a hard part is not mandatory. Just make sure the sectioning is correctly done and you are not overstepping into the braided area when trimming.
30. Electric Curly Hairstyle with Design
If you're going for a stylish attention grabber hairstyle, your beard also has to look perfect! Define its shape with a hair fiber powder that matches your natural facial beard color.
Ideal for: Men with fair skin tone, oval face shape
How to style: On sides, the combo between the shadow fade and the freestyle design will make those electric teals, and purple colors pop even more. Work with angles and create sharp edges. Use hair gel to make the curls look wet and well defined.
Men who love following hair trends will be completely obsessed with the shadow fade. There is an option for everyone, no matter the length and hair type. The blending of different hair lengths in a single haircut is definitely the most alluring thing about this fashionable do.
Dapper gents will wear it sleek with a combed-back top, while cool ones will find a messier style. There is a way for everyone to rock a shadow fade haircut, so it is time to make a decision.