Silver Grey box braids are a chic and stylish choice for African American women if you can style it the proper way. These silvery strands look beautiful on women because they seem unusual and mysterious. Grey colored extensions can also be used to temper darker hair colors to give them a subtle dusky look.
Beautiful Grey Box Braids
Box braids are normally inserted as a type of hair extensions. This is especially true if silver-grey braids are desired. When you get this type of braid, your hair stylist will weave the extensions into your natural hair. Thankful, these braids do not require much maintenance. You can also try short, medium, long box braids, colorful or single colored box braids like blue, red, box braids with curly hair or styling with beads etc. Here are 10 handpicked silver grey box braids you can get inspiration from.
#1: Thigh Length
Thigh length hair looks fantastic on both tall and short women. One of the main benefits of box braid hair extensions is that they can be as long as you want!
#2: Green-Grey Braids
Grey looks really special when it is mixed with a hint of green. This dusky shade looks good on women who like to wear yellow, brown or orange shades of clothing.
#3: Space Buns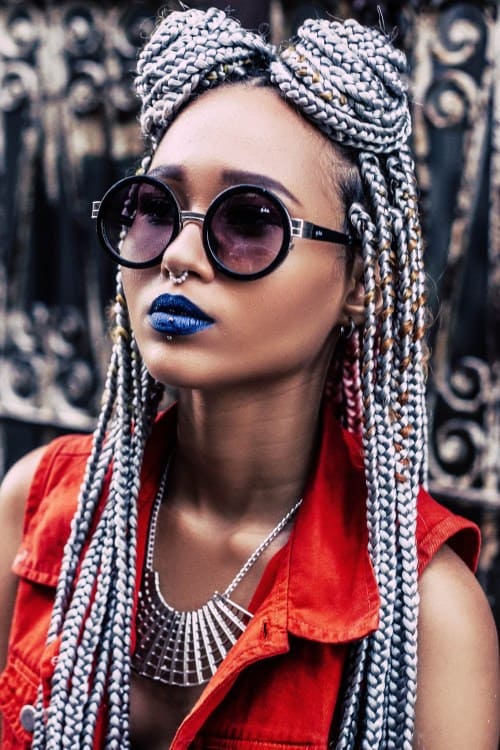 Give your hair a cool futuristic look with grey box braid space buns. Separate your hair into two sections and create knots on each side of your head. Let the rest of your hair hang loose. Here are more bun hairstyles for women.
#4: Run Around
Cover your forehead up with a tight section of box braids. Bring the braids around from the opposite side of your head so that they sit across your forehead like a band.
#5: Pigtails with Traditional Head Covering
Mix two styles together by teaming up a flirty funky look with traditional colorful head coverings. Give your pigtails a playful look by securing them at the top of your head, rather than at the side.
#6: Half Shaven
For a cool punky look, keep half of your hair to a short length. Do not add any braid extensions to this section when you are styling your new look.
#7: High Top Knot
A high top knot is a really cool hairstyle for a woman with amazing box braids. For a fierce look, wrap some of your braids upwards and around into a knotted style at the front of your heads.
#8: Long and Side Swept
Long hair looks amazing when it has been swept over from one side to the other. Changing your parting can really change the appearance of your whole hairstyle. If you love bangs, you can try side swept bangs too.
#9: Thick Top Knot with Thigh Length Hair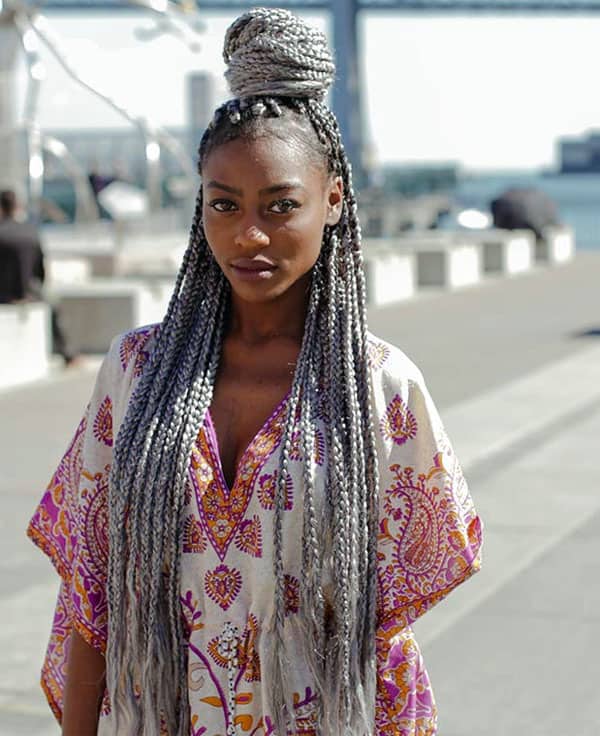 If you have a really long hairstyle, it is possible to create a very thick top knot style. Pull your hair up into a knot and wrap the braids around 4 or 5 times to create a thicker knot.
#10: Grey Ombre
An Ombre style is one that changes gradually from one color to another. Ombre styles that fade from black to grey looks really effective in braided hairstyles.
Grey box braids are a pretty cool style for African American women, but there are plenty of other perfect looks to choose from.