Television stars and famous models can make you love or hate any hairstyle. That's the very reason these high-profile celebrities, and their hairdos, of course, are looked up by most women prior to getting a hair make-over.
Worth mentioning among them are Shailene Woodley's iconic hairstyles. The young American actress has proved herself to be a true hair chameleon switching quickly among various hairstyles, over the years, while making each one of them look perfectly flawless.
So if you're looking for some hair inspiration, this Californian beauty has rocked some of the best hairstyles for you to copy!
Shailene Woodley's Latest Hairstyle in 2023: Blonde Balayage Lob
Shailene Woodley looks breathtaking in her blonde lob haircut. The dark roots of her hair are making the hairstyle look better.
A lobe haircut is a long bob cut that reaches your shoulders, and the hair is cut into equal lengths. It's the perfect hairstyle for Shailene Woodley's face shape.
Now, let's explore the hairstyles donned by Shailene Woodley that inspire women looking for a new hairstyle.
1. Brunette Layered Hair
Brunette hair suits Shailene Woodley perfectly because it complements her eye color. She is flaunting her hair in a long layered haircut. The side part is partially responsible for making this hairstyle look good.
2. Sleek Bun
No matter the occasion, a sleek bun can never go wrong. Shailene Woodley's face immediately gets lifted when her hair is elegant, especially the bun.
3. Layered Bangs
Shailene Woodley has styled her gorgeous layered bangs in an old Hollywood-style way. Her bangs are framing the side of her head while the hair in the middle is backcombed to look lifted.
4. Slick Back Ponytail
Sometimes, a simple hairstyle can also speak volumes about your personality. Shailene Woodley's slick back simple ponytail proves that she can look good in an ordinary hairstyle like this one too.
5. Layered Blonde Hair
Blonde hair makes Shailene Woodley's face sparkle immediately. That's why she isn't afraid to keep her layered hair open whenever possible. The hair has a medium length that reaches till her chest.
6. Blonde Hair with Brown Roots
As Shailene is a brunette, whenever her blonde hair starts growing out, her dark roots start to show. This gives her a perfect opportunity to introduce a new hairstyle. Blonde hair with brown scalp, what a great combo!
7. Baby Bangs
Not many women can say that baby bangs look good on them, but Shailene Woodley absolutely can! Her hair is dyed jet black and pulled into a bun while the bangs put on a great show.
8. Baby Bangs with Hair Down
The baby bangs look great on her brunette hair too. Her hair is down and curled impressively; they give off a natural look.
9. Choppy Bangs with high Bun
It seems like Shailene Woodley loves bangs. In the picture above, she has choppy bangs below her eyebrows. The rest of her hair is pulled up into a high bun. It is a simple but elegant hairstyle for formal and casual events.
10. Low Loose Ponytail
Here, Shailene Woodley's hair is loosely pulled into a low ponytail with a middle part. The hair is not tucked behind her ears; instead, it is above her ears, giving the hairstyle an effortless look. A few strands are pulled out from the front to add elegance to the hairstyle.
11. Under-dyed Hair
Under-dye is a hair coloring technique where only the under sides of the hair are dyed, bringing a pop of color to your hair. Shailene Woodley has dyed the undersides of her hair a darker shade of blonde, while the hair on the top is lighter.
12. Shoulder Hair with Waves
Shoulder cut is a chic hairstyle that mostly suits women with wavy hair. Even if your hair isn't wavy, you can curl it up like Shailene Woodley has done above.
13. Simple Bun
There is no need to style your hair with complex hairstyles because a simple bun can also make you look fabulous and pretty, like Shailene Woodley with the simple bun. Pull your hair up slightly from the middle of the head to make your hair look voluminous.
14. Pinned Bob Cut with Side Bangs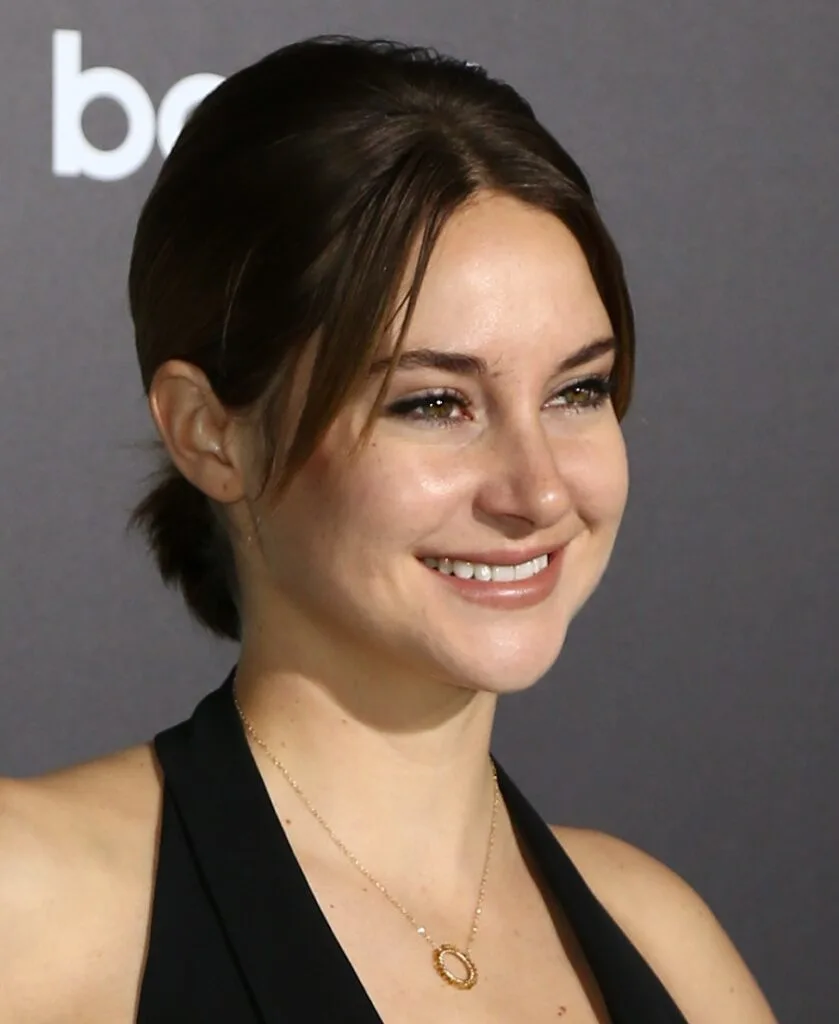 Shailene Woodley has neatly and elegantly pinned her bob cut at the back of her after backcombing the hair a little bit. Her side bangs are doing a great job of making her hairstyle appear more classy.
15. Shaggy Pixie Cut with Braid
Who says you cannot braid your pixie cut? Shailene Woodley has proven that you can braid your shaggy pixie. As the hair on the front is long, Shailene Woodley has styled it into a one-sided braid.
16. Pixie Cut with Side-swept Hair
Shailene Woodley looks beautiful in her pixie cut, where the front hair is styled into side-swept bangs. The hairstyle seems unique, simple, and attractive.
17. Slicked Back Pixie Cut
To make her pixie cut look simple yet perfect, Shailene Woodley slicked her hair back and styled it so the layered haircut became visible. A slicked-back pixie haircut is ideal for women with silky or thin hair.
18. Sleek Side Part Pixie
The front layers of Shailene Woodley's pixie cut are longer, so she has parted her hair from the side to make the hair appear sleek.
19. Choppy Pixie Cut
The choppy pixie cut is a type of pixie in which hair is cut into different lengths to make the hair voluminous. Shailene is flaunting this hairstyle with her dark roots.
20. Long Brunette Hair
Despite dyeing her hair in different colors, Shailene Woodley appears confident in her natural brunette hair. Simplicity is also beautiful, as we can see in the simple hairstyle of Shailene with her hair down.
21. Rolled Bun
It is a simple bun hairstyle where Shailene Woodley has gathered her hair on the middle of her head, rolled it, and pulled it into a bun. Her natural baby hair is at full display on the sides of her head.
22. Simple Braid with Layered Front Hair
It is an effortless and fun hairstyle in which Shailene has braided her hair by gathering them on one side of her head. As the hair on the front of her hair is shorter, they beautifully frame the one side of her head.
23. Messy Low Ponytail
This Shailene Woodley low ponytail has no sense of direction as the hair on top isn't parted neatly. It seems like a messy ponytail that looks elegant and easy to style.
24. Simple High Ponytail
Shailene Woodley has such excellent features that even a simple high ponytail looks good. It seems like she has put her hair in a ponytail without effort and called it a day.
25. Long Hair with Front Hair Pinned Back
There are many simple Shailene Woodley hairstyles that she styled when she was younger because her hair was natural and silky. In the picture above, she has just pinned the front hair at the back while the rest of the hair is down.
26. Low Lights on Dark Hair
Shailene Woodley has done some low lights in her brunette hair that is making the hair look different from her previous hairstyles. The hair is completely down because the low lights are making her hair the center of attention.
27. Loosely Pinned Hair
Here, Shailene Woodley has loosely pinned the front of her hair at the back while the rest of the hair is falling on her back. As she has silky straight hair, she is pulling off this hairstyle easily.
28. Half Down Hair with Curls
Curls look so good on Shailene Woodley's hair. In this hairstyle, the front of the hair is pinned while the rest is perfectly curled and parted so they fall on both of her shoulders.
29. Messy Fishtail Hair
Shailene Woodley has thrown her hair to one side to braid it into a fishtail. Her hair is cut into layers, so the side part makes it look voluminous.
30. Brown Hair with Blonde Highlights
Brown and blonde hair looks good on Shailene, so she incorporated these two shades into one hairstyle. Her hair is almost brown, while some blonde highlights also make her layered haircut prominent.
31. Medium Hair with One Sided Bangs
Shailene Woodley looks gorgeous with her medium light brown hair and one-sided bangs. Her hair is styled in a way that makes it appear messy, but in a good way.
32. Layered Haircut with Bangs
This hairstyle of Shailene Woodley screams the late 2000s because of the full layered haircut. Her hair is light brown with some golden highlights, and the bangs are styled in one direction to give a messy look.
33. Open Hair with Two Braids
Shailene Woodley's hair is down, and the hairstyle looks simple until you see one braid on each side. The braid is styled from the underside so the rest of the hair falls above it.
Shailene Woodley has tried many hairstyles throughout her career that reflect her personality. Out of all the 33 hairstyles above, which of these hairstyles looks the best on Shailene Woodley, and which ones would you like to try on your hair?