Shaggy pixie cuts make a bold fashion statement. They are timeless, versatile and make you stand out in public. This hairstyle works wonders on all kinds of hair textures and face shapes. If you want to pull off a carefree wash-and-go yet sophisticated style, go for this short shaggy cut to flaunt your character.
The year 2023 has brought this messy sexy look back in trend and there are many ways you can experiment with this rebellious hairstyle.
1. Tousled Tresses
This hairstyle is ideal both for aged women and younger ladies. Give your dark hair a pixie cut and highlight your strands with a reddish hue for a two-toned look. Tousle your hair using your fingers and you are ready to rock.
2. Wavy Pixie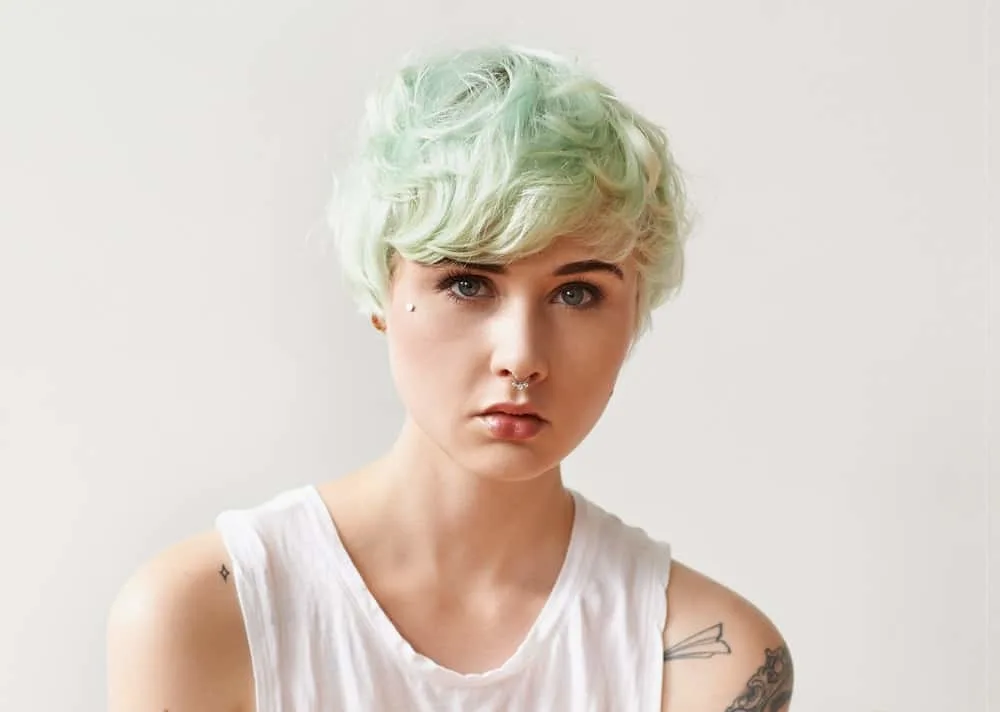 Bring the ocean waves on your head with this cool hairstyle. Get a pixie cut just long enough to cover your ears with beautiful wavy bangs at the front. The minty green hair color will complete your look.
3. Long Cut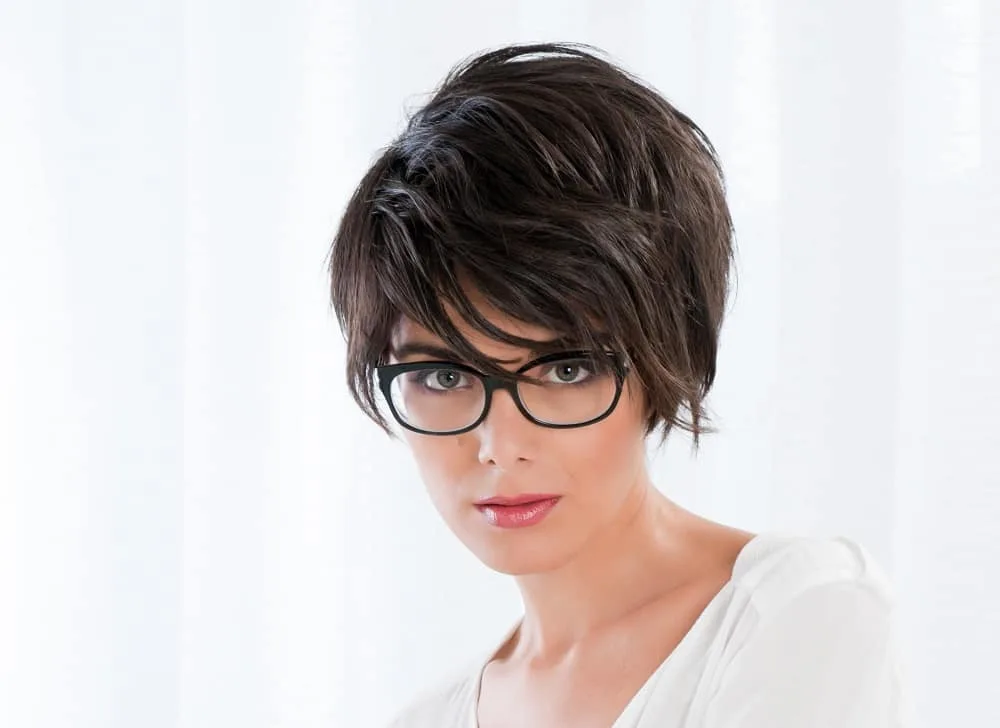 A shaggy pixie does not need to be short necessarily. Get this hairstyle by cutting your pixie to a medium length with long layers. The thick long strands are allowed to fall over the ears and forehead as bangs to give you a more versatile look.
4. Fierce Look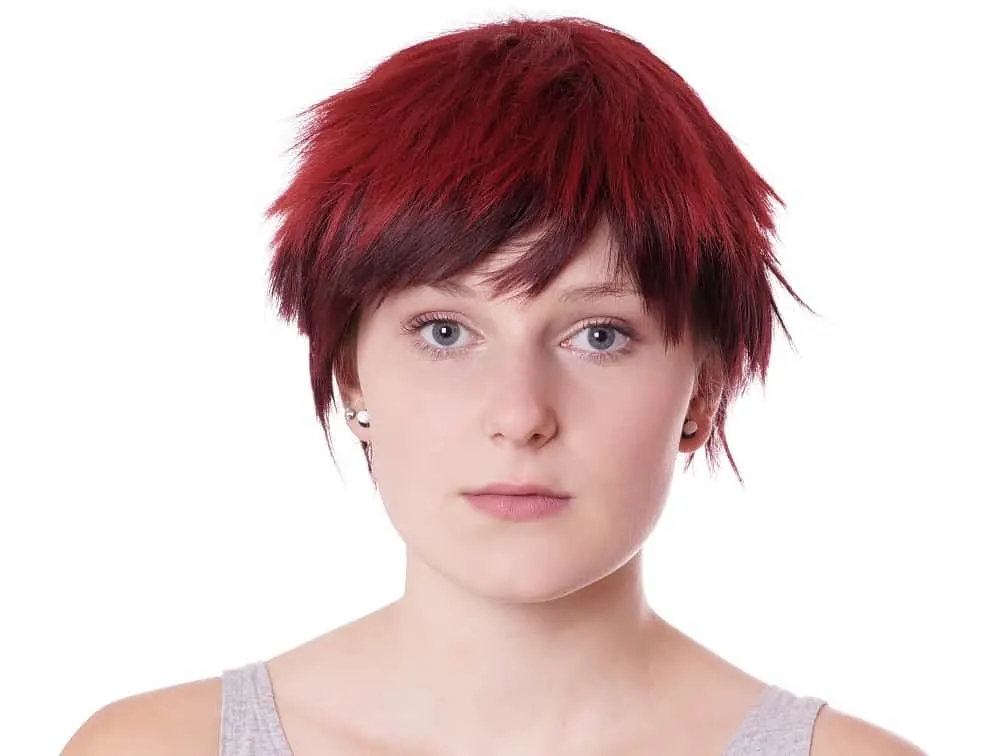 This hairstyle is all about choppy textured ends and layers at the crown. Get this two-toned look by combining bright red color at the crown with a darker red shade below. Cover your forehead with fierce bangs and you are already on fire.
5. Cute Pixie Cut
If you want to keep it cute and simple at the same time this is the look for you. This style is suitable if you have straight silky hair. The strands at the back and front are similar in length while the sides just cover your ears.
6. Silver Shag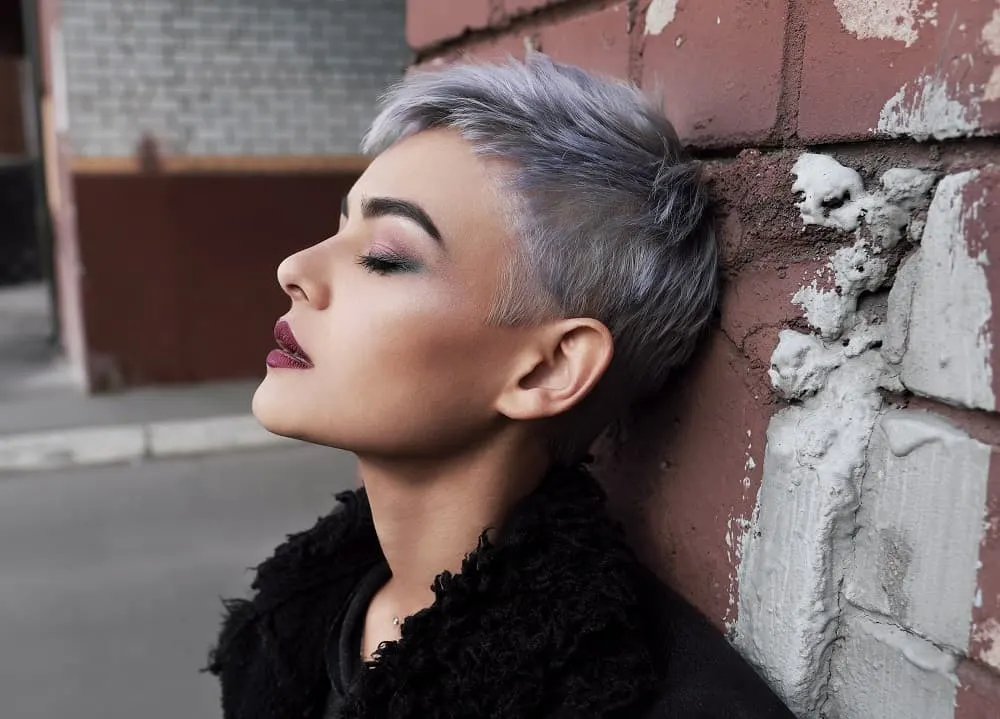 This haircut will surely help you make a style statement. Combine your short pixie with an undercut and dye your hair in a silver hue. Allow your strands to fall over in all directions. This is easily an everyday look for you.
7. Spiked Up
Ready to make a bold move? Stand out with this pixie cut combined with spikes at the top. Keep the strands on the crown longer and lighter and contrast them with a shorter and darker undercut. This style gives you a tomboy look.
8. Blonde Pixie Cut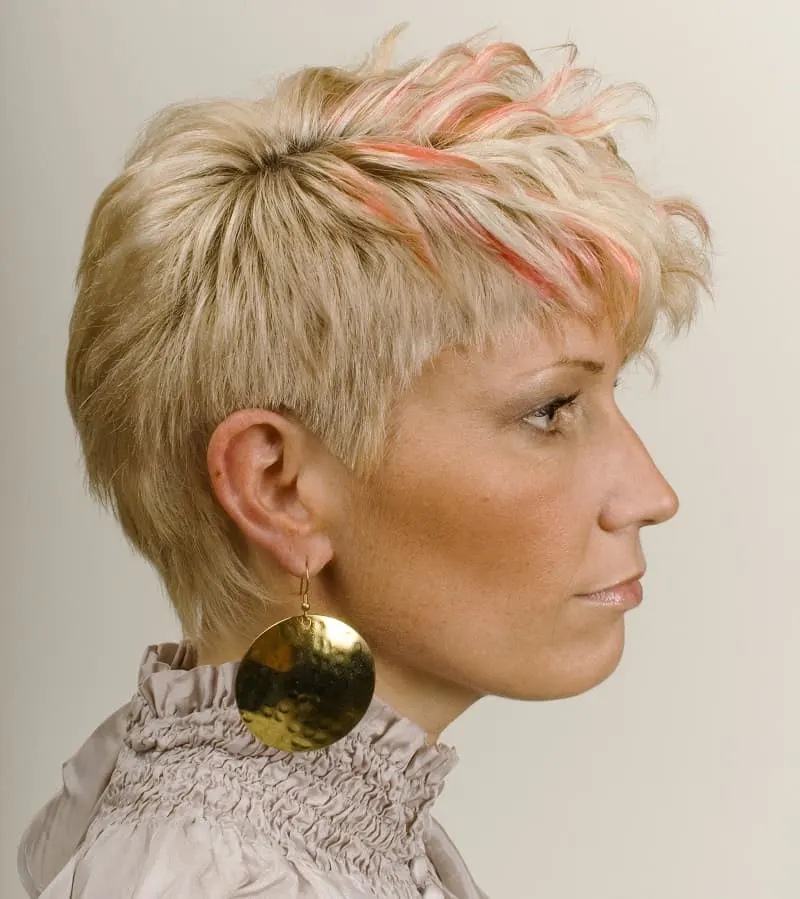 A pixie cut is the best choice if you have blonde hair. The back and sides are neatly brushed down while the top front is wavy and messy. The rusty orange strands peeking through the lighter ones give you a fiery look.
9. Choppy Short Shag
This style is all about chopped layers and texture and is suitable for women with thick hair. The strands near the ears are kept longer. Enhance your messy appearance by dying your strands in a rusty orange hue and you are ready to rock and roll.
10. Edgy Shaggy Pixie
This shaggy pixie cut is for you if you want to keep your hair short and low-maintenance. Add a silvery-gray hue to your strands, give them a tousle and you are ready for any occasion.
11. Pixie Cut with Bangs
Make your light blonde hair stand out in public with this messy pixie cut. This haircut is combined with tousled curtain bangs that complete the look. The layers will surely increase the volume of your hair.
12. Unicorn Pixie
This two-toned pastel pixie cut surely gives you unicorn vibes. The length of the strands is uniform all over and the light waves add to the dreaminess of this style. The pastel pink color contrasts beautifully with the pastel blue hue.
13. Classic Look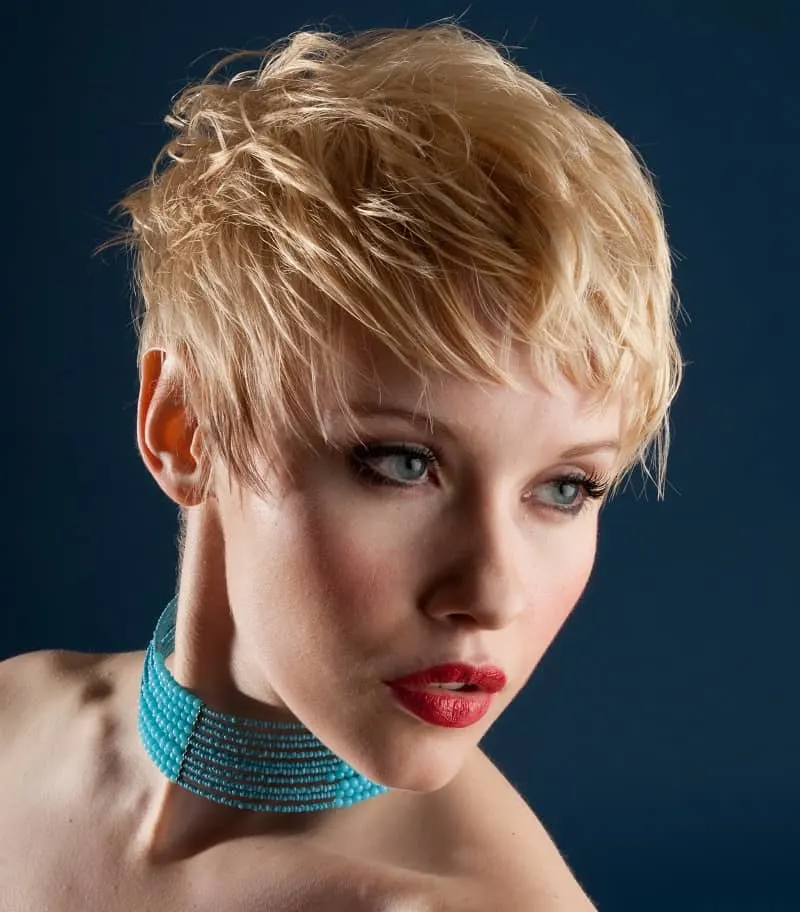 Stay classy by opting for this hairstyle. The hair at the back is short but the sides are long enough the reach the eyes when brushed forwards. The top is tousled and messy. This style gives a carefree stylish look.
14. Feathery Brown Pixie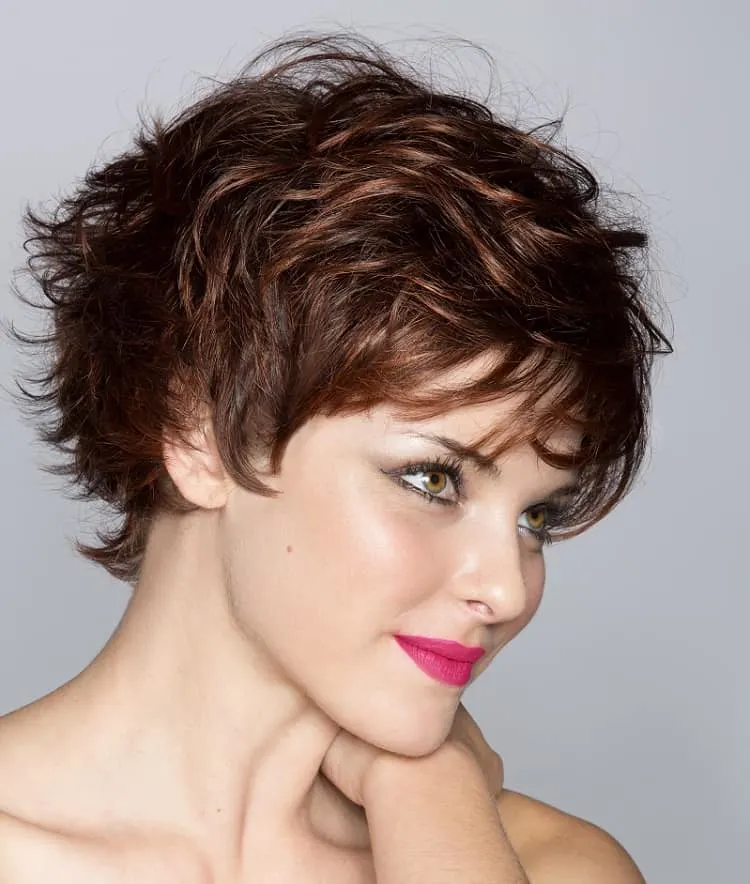 Once you pick a pixie for your thick hair, you won't need anything else. It looks mindblowing, and your tresses will shine and glow. Give the hairdo a tousle and carelessly spread the bangs on the forehead.
15. Blonde Highlights
When you pick a longer shaggy pixie hairstyle, you will have a messy-looking hairdo that is low maintenance and sexy. Create highlights and spikes for the back hair. If you're not in the mood for styling, simply tousle your hair and you are good to go.
16. Shaggy Pixie with Blonde Ends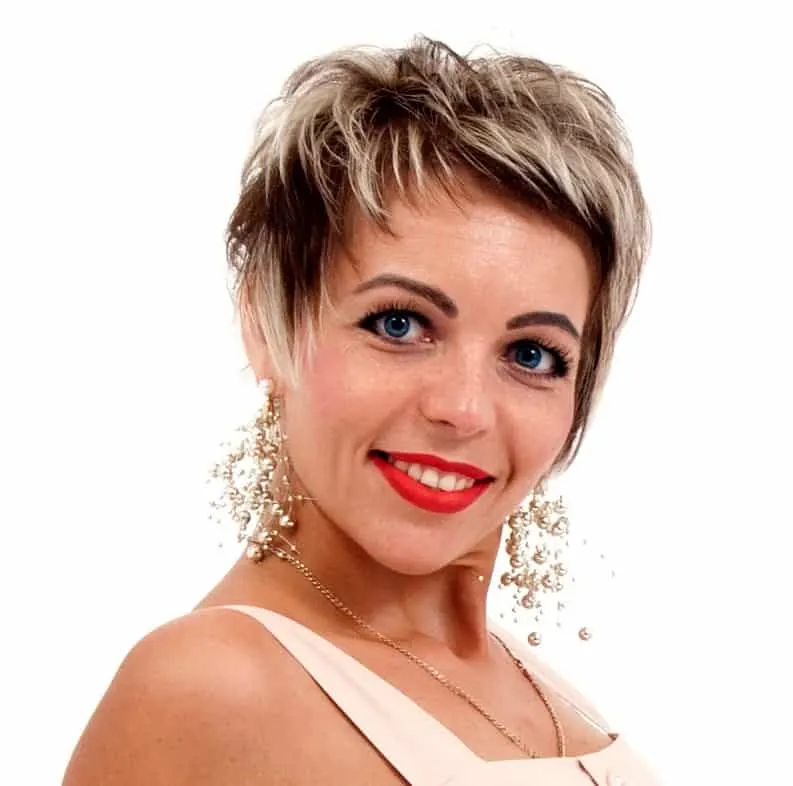 If having fine hair is a real struggle for you, go for a shaggy pixie haircut. Give your hair texture by maintaining your roots in their naturally dark color and dye the tips in a platinum blonde hue. Lift the roots to provide more volume, and you'll look ravishing.
17. Metallic Gray Haircut
If you don't fancy dull, simple looks, a choppy pixie will transform you into a real icon. Get the baby bangs cut in a V shape, opt for a metallic gray shade, and for a more effective look, also dye your eyebrows.
Shaggy pixie cuts work with all face shapes and are also ideal for women who wear glasses. If you are a lady over 50 who wants a low maintenance hairdo, you should definitely consider this option.
19. Pixie with Messy Bangs
A short pixie looks so good when you create a blonde ombre and get some bangs that you can spread on your forehead and lightly toss on one side. You will get a modern chic look that is ideal for girls who don't want to spend too much time in the mirror in the morning.
20. Pastel Pink
A shaggy pixie with bangs and long sideburns will mesmerizingly frame your face. Go for a fringe and dye it in a bright orange color while the rest of the hair is colored in a pastel pink hue. You will not only look chic, but you will get a lot of texture thanks to those layers.
21. Curly Pixie with Highlights
When you have an oval face, any hairstyle suits you, especially a shaggy pixie cut. Get more dimension by styling some thin blonde highlights. Create curtain bangs and you will draw all the attention on your eyes.
22. Messy Redhead
A shaggy curly pixie haircut will give your ringlets bounce and movement and if you pick a dark red color or a burgundy shade, you will be astonished on how it defines your tresses.
23. Two-toned Pixie
A bob with pixie can be dyed in so many ways, including ombres, with highlights, or even half black half red. If you adore goth and rock looks, a hairstyle like this is the thing you need in your life ASAP.
24. Pixie Mullet
In both fashion and hairstyles, trends fade and rise, and in 2023 shaggy pixie mullets are again a hairstyle you'd love to have. Create baby bangs and keep your sideburns long, in front of your ears.
Messy pixie haircuts are ideal for these rough times when we're trying to avoid going to places. This short hairstyle is so low maintenance and looks brilliant if paired with a teal blue shade that you can revive at home.
Shaggy pixie is hot in 2023 and if you want a modern look, you should get one ASAP. If you worry about not looking feminine with short hair, think again! These hairstyles can be messy, modern, and even elegant, depending on your mood so don't overthink this transformation because you will totally nail it!