Ponytail with bangs for black hair looks great on everyone and it works with any hair type, too, which is why it's a favorite among girls who are busy and those who just want something quick and easy for their everyday hairstyle.
It's not easy being a black woman who wants fabulous-looking hair all the time. While there's always the option to style your hair yourself, all that volume and texture is sure to be a challenge. There is one hairstyle, though, that's universally flattering, super easy, and really simple to do and that is the ponytail with bangs.
How to Style Black Girl's Ponytail with Bangs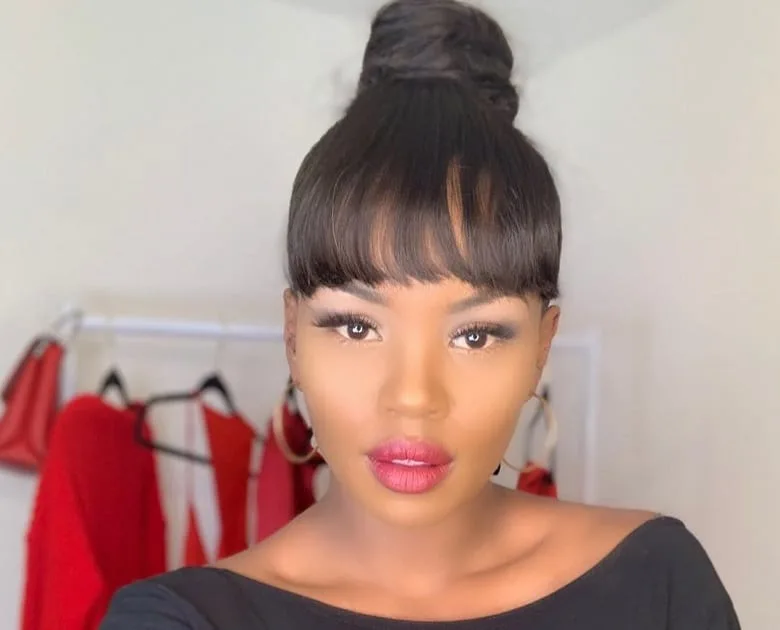 As an African-American woman, your hair is a bit different than that of others. There's more texture (unless you've had it treated) and there's more volume to deal with. This may mean that you'll be needing a hair tool or two for something as simple as a ponytail. Here are a few simple steps to creating a chic ponytail with bangs for black women.
If you have natural hair, you will need a boar bristle brush to smooth out your locks. A fine-toothed comb will come in handy, too, for splitting sections and creating a fine finish. Other stuff you will need to include hair products like gel and hair spray.
The key to getting a sleek ponytail is to make sure there are no tangles in your hair. This will allow you to comb/brush through it with ease when tying your hair up.
Once you've brushed through your hair, get a comb and brush your hair back with one hand, stopping where you want your ponytail to be, while the other holds and gathers it in a bunch. Start from one side and continue towards the other side to make sure every strand of hair is included. Make sure you have a clean line between your bangs and the rest of your hair, too.
Secure your hairstyle with an elastic or whatever hair accessory you prefer to use. You now have the basic pony with bangs for black ladies look but you can always take it further and add braids or create another look using this as your base.
Keep everything look chic and sleek by smoothing the top with gel to tame any baby hairs or stray strands and lock everything in with a good amount of hairspray (optional). This should last you a whole day when done right.
Watch The Following Tutorial to Learn How to Do Weave Ponytail with Bangs for Black Girl
Fabulous Black Ponytail Hairstyles with Bangs
Adding weaves to your hair is a great way to give it more volume and add length to it. It's tricky because you need to be careful about not messing your weave up but it also creates a more beautiful black women's ponytail with bangs that's sure to fit the term "crowning glory." Here are some gorgeous looks you can try.
Got a round face? This look will be perfect for you. The full bangs help create the illusion of a smaller face while the sleek long straight hair elongates it. Having the ponytail with bangs on black hair at the side helps create a slimmer look for your face, too.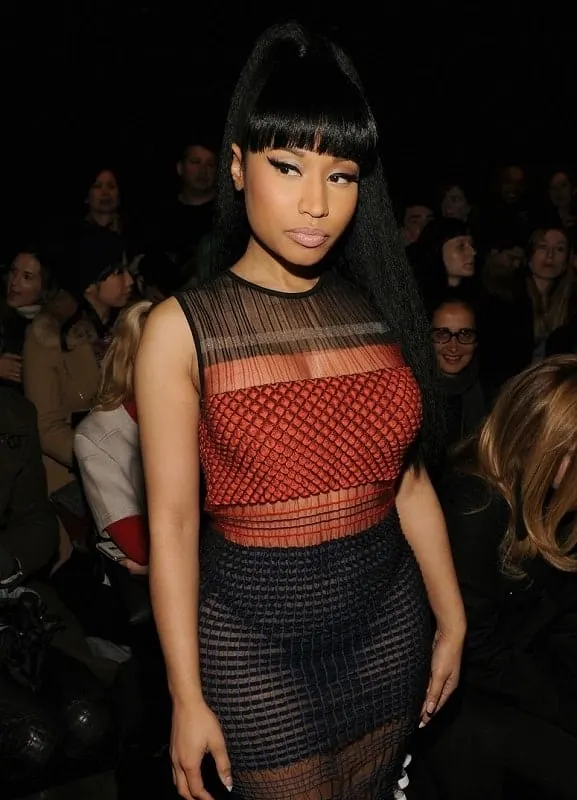 Nicki Minaj is one of those celebrities that's constantly serving up fresh new looks and her hairstyles are one of the things that a lot of us look forward to every time the paparazzi snaps her photos. This black hairstyle, for example, which is a sleek high ponytail with full bangs looks like a nod to Ariana.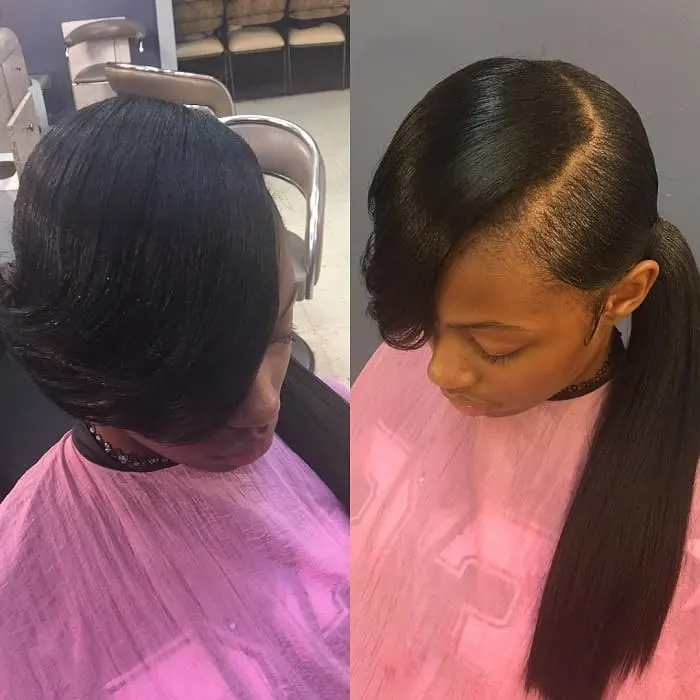 Here's another side-swept black ponytail style with bangs look, this time with wavy, flowy hair and romantic side bangs to boot.
4. Retro Renegade
If there's one beauty icon everyone looks up to for unapologetically fierce looks, it's Rihanna. This retro 80s ponytail with a pouf for bangs for black women takes us back to the era of finger waves and simple updos.
This black bangs is just a quick upgrade to your usual wrap ponytail look. Tie your hair up as usual and then take a section from the "tail" part and wrap it around the base of your ponytail to hide the elastic and give it a more elegant look.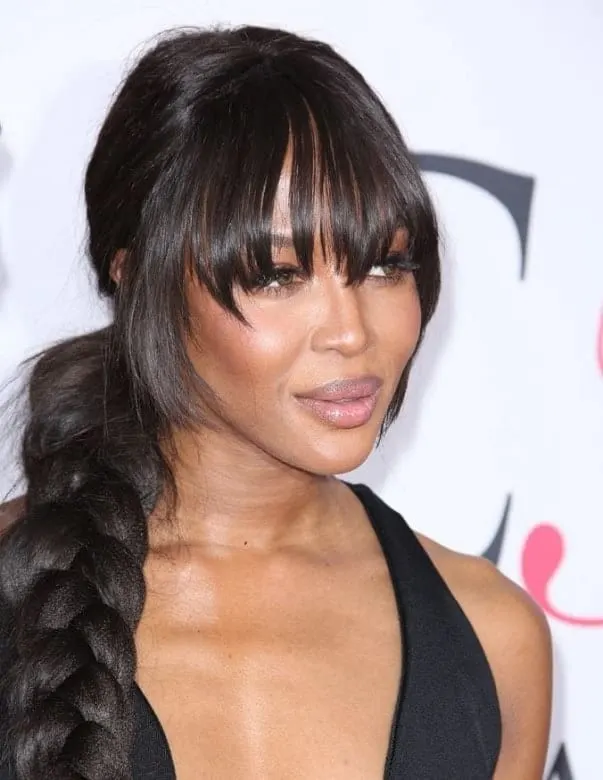 This isn't the usual kind of braid with pony & bangs that black women go for, but it's definitely one that looks good in them. If you like tying your weave up in a ponytail but you're getting sick of the same, old boring look, try braiding the "tail" part for a change.
Check out Zoe Saldana's gorgeous glam black hairdo with her low ponytail with bangs to create volume and texture at the back. Her messy bangs frame her face beautifully, too, and adds an elegant touch to her look instead of making her look tired or haggard.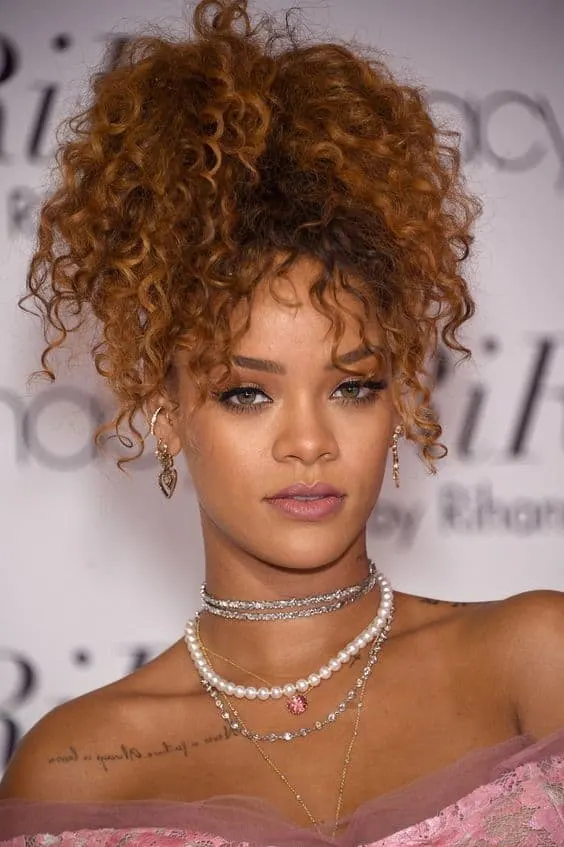 Got weaves but want to achieve the look of natural hair? This afro ponytail complete with curly bangs is a great way to do that for black hair. Check out Bad Gal Riri's look here for inspiration.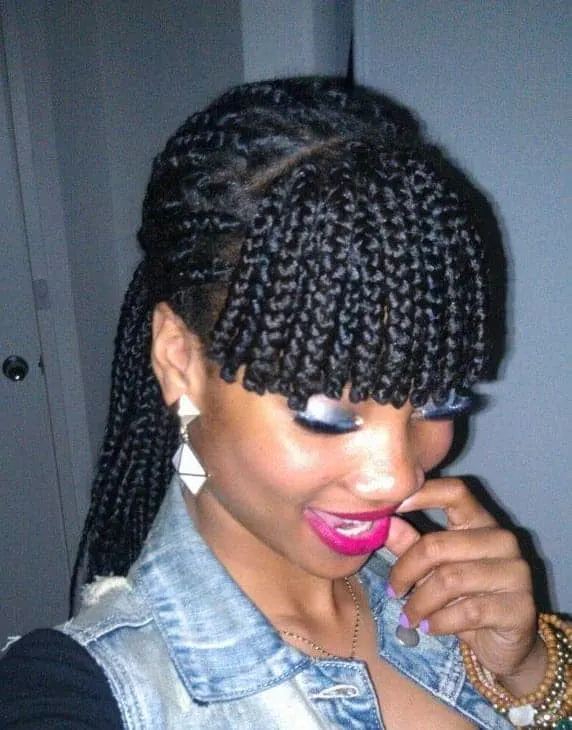 Box braided bangs aren't easy to do which is why most women go to the salon to get it done. It's one of those hairstyles for black women that's not only cute but protective as well, making it perfect for weaves. This black ponytail with bangs all in box braids is a unique one and it's sure to turn heads everywhere.
Does a half ponytail even count? Well, it does if it looks this gorgeous! Great for black women with extra curly weaves, this bangs on ponytail hairstyle is effortlessly chic and really quick to make as well. Add a gold cuff or any hair accessory you feel like sporting and you're good to go.
A ponytail is one of the most basic hairstyles you could ever do on your hair but a ponytail with bangs foe black hair is just next level. Adding bangs is, of course, a brilliant way to spice your look up and frame your face as well. One thing you have to remember, though, is to get the right kind of bangs for your face shape. What do you think about these hairstyles?