Are you thinking of going blonde? Or maybe you want a lighter brunette or black color, but maybe the stages of lightening hair feel intimidating.
Lightening your hair is a major decision that involves an intense chemical process. Whether you are going platinum blonde to black or changing your dark brown to a reddish, blondish brown color, you should know the lightening hair stages so that you don't get lost in the process.
How to Choose the Right Hair Color Level for You?
If you are confused as to what color to choose for your next salon session, here are a few helpful pointers:
Figure out your natural hair color to know where you are starting from
Determine your skin color and undertones, which will help you pick the right shade of each color for you
Look for colors with similar undertones to your skin tone
Find some inspirational photos from social media
Consult with an experienced and welcoming hair stylist
Try out some colors until you find one that works for you
What Are the Stages of Hair Lightening?
The hair lightening stages refer to the spectrum of colors, from darkest to lightest, that your hair can achieve through toning, bleaching, and color mixing.
Hair typically bleaches in 7 to 10 levels. From color mixing, bleaching, developing, toning and so on, there is a lot that goes into achieving the right color. The stages depend on your hair color, how it takes to bleach and developer, and how light you want to go.
The 10-stage method of lightening hair works with the ten pigments chart. The International Color Code (ICC) level system chart determines how many levels you need to lift your hair to get your ideal color. For healthy hair, you should not lift more than four levels of color in a single session.
10 Stages of Lightening Hair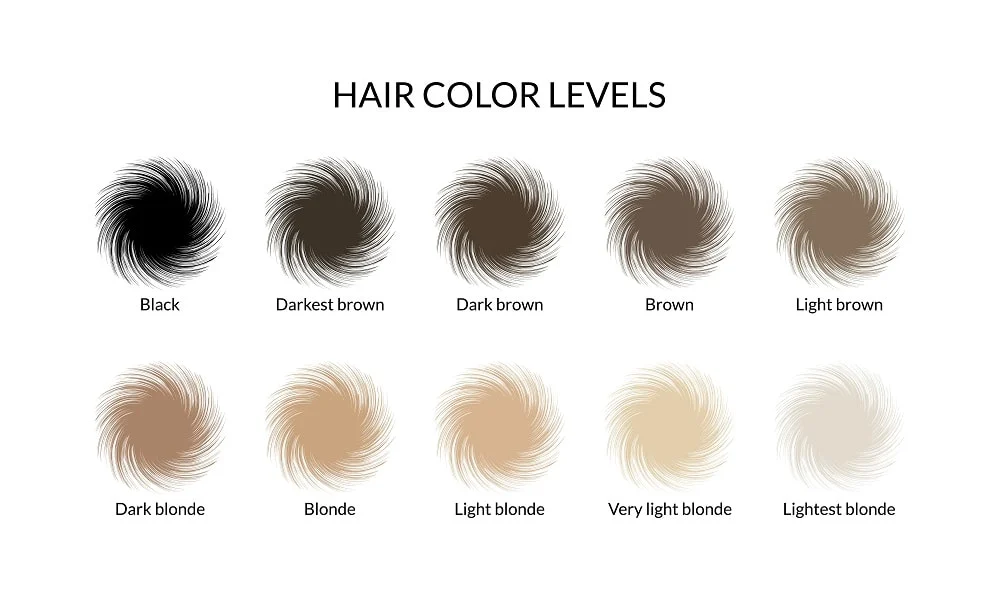 Without further ado, we break down the 10 stages of lightening hair, and how each level can be achieved.
Stage 1: Black (Darkest)
Black is the first hair color level, and it technically is unbleached hair. No amount of bleach or lightening will leave your hair black as bleach and lighteners do not darken.
If you want to go from this stage to light blonde, you must be very careful and have multiple sessions with a professional to prevent hair damage.
Stage 2: Darkest Brown
The next color level is the darkest brown which is just above black. If you have black hair and want to lighten only one level, this is your end result.
You can do this in one session, and it may be hard to tell the difference from black except in natural light.
Stage 3: Dark Brown
Dark brown is the hair color level that's just lighter than the darkest brown. It's noticeably different from black hair, as dark brown is two shades lighter than black. This stage doesn't require much light to see the difference from black.
Stage 4: Brown
The rich and warm color, brown is the fourth stage of lightening hair. It's three levels lighter than black, noticeably different from the black or darkest brown.
Stage 5: Light Brown or Reddish Brown
The fifth stage can go one of two ways: it can be a light brown or it can turn reddish brown, especially if you're using a bleaching kit at home. This level is either almost blonde or almost auburn.
Stage 6: Darkest Blonde or Orange
The sixth hair-lightening stage is where you officially enter the blonde territory. It can be the darkest blonde, similar to light brown, or fully orange, depending on how you lighten your hair.
If you start out with a lower hair color level, such as a one or two, you need to be careful and have multiple sessions to get to this shade.
Stage 7: Dark Blonde
The seventh stage of hair lightening is dark blonde, which can also have orange tints if your hair is not lightened carefully. Just like other stages, if you start at a darker level (lower stage), you need to book multiple sessions.
Stage 8: Blonde
True blonde is a medium golden color, the eighth stage of bleaching. It takes a good deal of work to get to this shade unless you have lighter hair naturally.
Stage 9: Light Blonde
The ninth level is light blonde, a pale golden or sometimes silvery color. Again, to achieve this shade, you must be very careful and have multiple sessions, especially if you start with darker hair.
Stage 10: Lightest Blonde/White (Lightest)
Ten is the lightest of hair and is practically white, if not completely white. You may have some very pale golden or silver undertones, but this is quite close to white.
If you want to lighten your hair to stage 10 hair color level, you need to be extremely careful and use a professional who has experience with this stage.
Things to Consider Before Lightening Hair
So you're thinking of going a shade or ten lighter. Well, here are some things to consider before you decide to lighten your hair:
You Will Need a Stricter Hair Care Regimen
Any chemical process to the hair will 'damage' the hair in some sense. Your cuticle and shaft will undergo a serious process, especially if you are going blond. This can weaken your hair strands and cause breakage.
To avoid this, you will have to stick to a strict and consistent hair care regimen. From masks, deep treatments, oils, and more products, you will have to set aside a lot of time to maintain healthy hair.
Find a Good Hair Colorist
DIY is fun and all but changing your hair color, especially from dark to light, is not a DIY process. Proper training and experience are needed to achieve healthy, lighter hair.
You will need to consult with a good colorist and stylist and let them do the work. They will also give you maintenance tips and product recommendations for your new hair.
Regular Touch Ups
Changing your hair color is not a commitment. But, if you choose to go blond from brunette, you want to enjoy blond for a while. Touch-ups and maintenance are not a joke.
Picking a much lighter color will mean you have to touch up your roots regularly to maintain the color.
More Products and Expenses
Maintaining colored hair is not a joke. Even if you went a few shades lighter, your hair will need a lot of TLC.
You will have to invest a lot of money into some salon-grade products to maintain the health, color, and vibrancy of your hair.
The good thing is that most of these products will last you a few months. However, it is still important to consider the added costs.
Your Hair Texture May Change
Every time our hair goes through a chemical process, the texture changes. The change can be minimal or drastic.
Prepare yourself for a change in texture and thus a change in hair care routine – this is especially noticeable in curly hair.
Your curls may loosen or even turn to waves after several bleaching sessions. Make sure it is not from over-processing and keep up with your moisturizing and protein treatments.
Your Undertone
Different shades of the same color have different undertones. It is why a coppery red will look good on one but too orange on another. Platinum blond may work for them but not you.
Your undertone plays an important role in determining the shade of color you pick for your hair.
Generally, warmer tones need golden hues, and cooler tones work great with silvery or darker hues. However, consulting a color specialist will help you understand which colors work best with your skin tone.
It May Take Longer Than You Think
This is a hard pill to swallow, but it is true. Time spent depends on the depth, hue, and brightness of the color you chose plus the darkness of your hair color.
It can take months to achieve a healthy color change, especially on longer hair. Honesty with your hair stylist, proper hair care and maintenance, plus patience, is the key to achieving a perfect lighter color for your hair.
Steps to Lighten Hair
To ensure you have healthy, lighter-colored hair, here are the steps to follow:
Preparation
Prepare your hair weeks in advance to undergo an intensive chemical process. Stay consistent with protein and moisture treatments, masks, washing, and trims.
Do this under the guidance of a hair professional who is familiar with your hair and its needs. Everyone's hair is different, and preparation will look different for each person.
Bleach and Developer
The first stages of going lighter are aided by bleach and developer. The guides to using developers depend on each person's hair and the stylist's skill level. Your stylist can talk you through every bleach and developer session they do if you want to know more.
If you are doing your lightning yourself, stick to 20 percent developer and it is less likely to cause damage. Once a week for the next seven weeks, apply a developer to your hair.
Keep bleach on your hair for no longer than an hour. Remember to deep condition and use a leave-in protein conditioner between every session.
Toning
Toning is the final stage of any hair lightening – this helps remove any yellowish or brassy look. Toners are purple to counter yellow tones or silver to perfect platinum blonde.
Rinse and Shampoo
After toning blond hair, stylists will let the purple shampoo sit in the hair for a while – this is considered an important step in lightening hair by some stylists.
Blonde hair is also maintained by purple shampoo. Once a week, shampoo your lightened hair with purple shampoo to help maintain the vibrancy of the blonde color.
Root Touch-Ups
Root touch-ups help keep the appearance of natural color. Depending on how fast your hair grows, you will need to touch up the roots.
Ideally, wait for at least two inches of hair for easier lightening without overprocessing already bleached hair – this is the maintenance stage of lightening hair.
Talk to a colorist if your hair doesn't lighten with bleach.
FAQs
Here are the most commonly asked questions regarding the stages of lightening hair.
What are the ways to lighten hair?
You can lighten hair with lightener, bleach, natural ingredients, or henna. You can also pick a lighter hair color from at-home dye boxes and work on it slowly at home.
How many sessions will it take to lighten dark hair?
It depends on how dark your hair is and how resistant to color it is. It can take two to seven sessions to go from dark brown hair to blond. If you are lightening black hair, it could take longer for a healthy, vibrant blond look.
How many levels can I lighten hair in one session?
Hair stylists agree that the most levels to lighten hair in one session is four – this allows your hair to recover and rebuild bonds before you go lighter again.
Will lightening hair damage it?
Yes! Like any chemical process done to the hair, lightening your hair compromises the bonds of the hair. However, if your hair is lightened properly and you follow a good hair care regimen, you can achieve healthy, lightened hair.
Are lightening and bleaching the same thing?
Not really. You can lighten your hair by going a shade lighter – this involves dissolving pigment from your hair. Bleaching is done to already colored hair and lifts pigment off for an even brighter look.
How can I naturally lighten my hair?
Natural bleaching agents include lemon juice, apple cider vinegar, baking soda, chamomile tea, sea salt, peroxide, and honey. They have been proven to lighten the hair with minimal damage.

However, please note that you may not experience drastic changes, especially with darker hair. These natural DIY bleaching agents work best with the sun.
How long between hair lightening?
It is recommended that you wait at least 14 days between bleaching sessions. Between bleaching sessions, be extra careful to follow good hair care practices and monitor how the hair feels.
Conclusion
You can have healthy, bright blond hair, but you must adhere to the rules. Find yourself a professional hair stylist and ask all the questions you need to.
Ensure you are ready for the extra care and love your hair will need once you go blond.