A fade haircut is one of the most famous cuts in the world. Long fade haircuts are gaining momentum due to their versatility and great appearance. Men who aren't afraid to dive into the sea of styling are taking full advantage of such hairstyles.
Long hair fades vary depending on the amount of time you have as well as the skill level you possess. They can be easy to style and fun to wear. Some require a lengthy styling process but look utterly fantastic.
Whatever style you choose, you'll enjoy the amazing glance you'll get from the girls. Any guy who manages to keep a long fade neat deserves a lot of respect.
Popular Fade Styles with Long Hair on Top
A fade long-on-top hairstyle is exactly what you need when you want a shortcut with benefits. While the hair doesn't get into your face and stays neat longer, you can allow your imagination to run wild and come up with various styles for any occasion.
Not many guys have a personal hairstylist, but a lot of them wear long hair fades. What's their secret? They spent some time learning how to deal with their hair. We are offering you 25 options to consider and enjoy.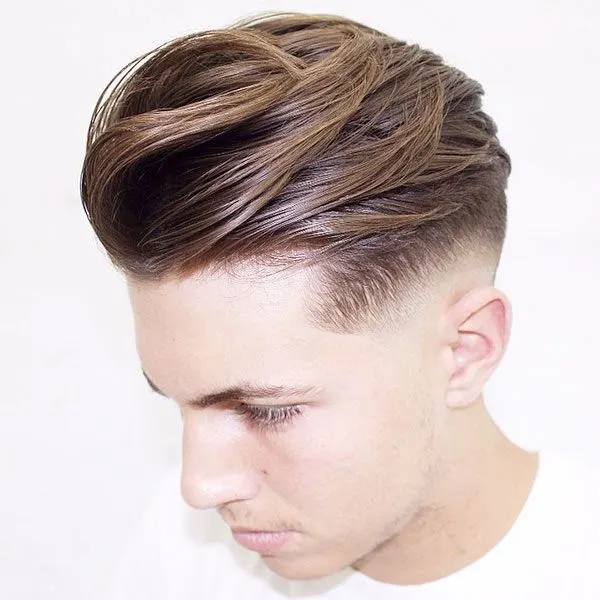 This low fade with long hair on top is easy to make. This is a great choice for guys who don't like to do a lot of shaving. The hair on top is left about 5 – 7 inches long in order to create a comb-over. You can play around with the way you arrange the top part.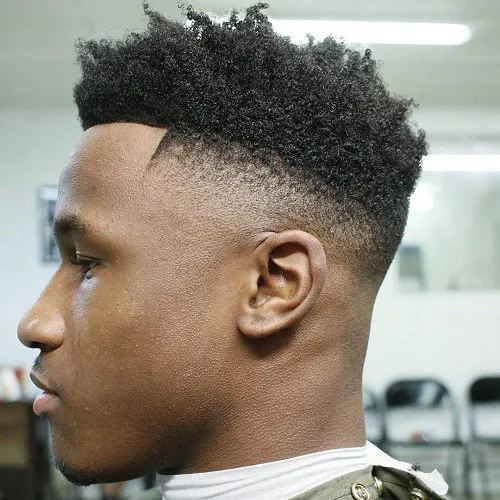 Guys with curls and tough-to-manage hair often choose long hair fade cuts because they look stylish and give them an opportunity to do some interesting styling. A few touches of hair gel can help you shape the top part.
#3. Patterned Long Fade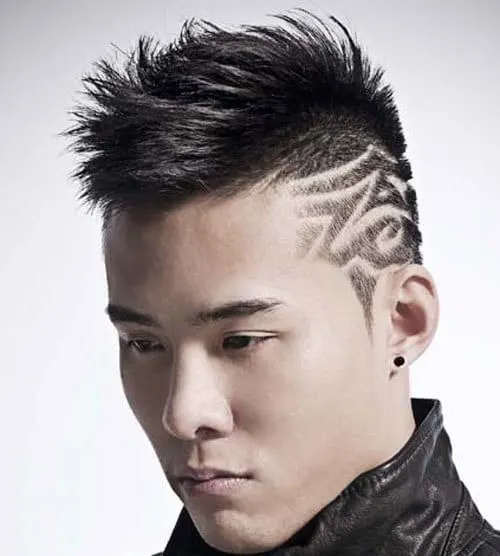 This faux hawk fade looks amazing, thanks to the patterned design on the sides. Whenever there is shaving involved, you can enjoy a striking high long fade with patterns. The top part can be 4 – 5 inches long and styled as spikes.
#4. Soft and Spiky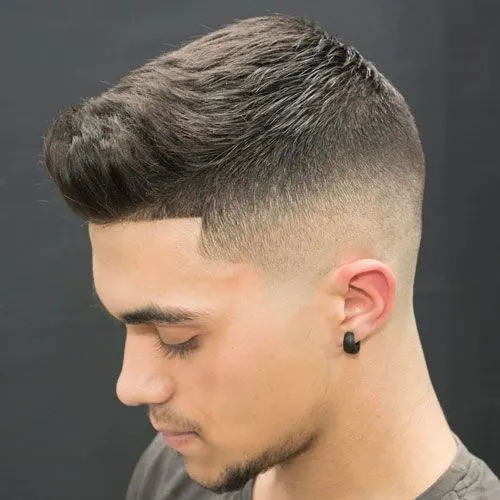 While soft and spiky don't seem like a great mix, the two look great together when it comes to a long hair fade haircut. The high fade makes it easy to take care of the hairstyle, while the top part is easily styled with hair gel.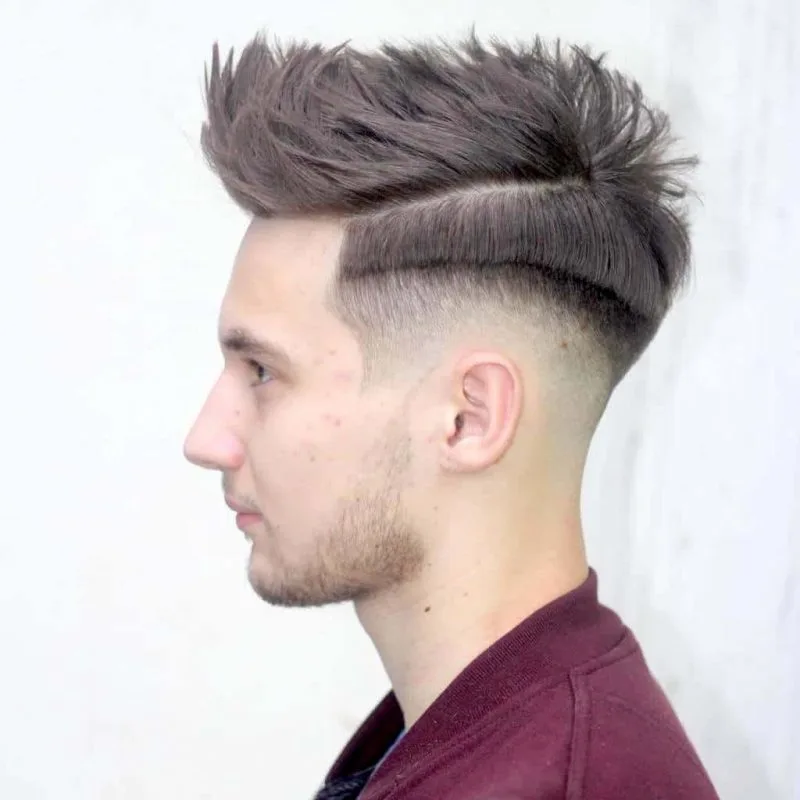 A scissors fade is hard to make, but it looks truly striking. If you add some exciting spiked styling on top, the overall impression this fade-long-on-top style makes will be priceless. Ask your hairstylist for a scissor fade. Only real professionals can do it right. You can also try the popular taper fade cuts.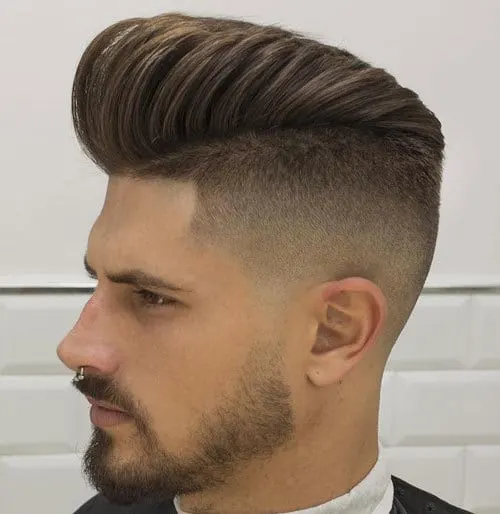 High fades take the hassle out of styling as long as you know what to do with the top part. This hairstyle may seem easy but ask the hairstylist to show you the way first. Once you learn how to do it, you'll become the most stylish guy on the block.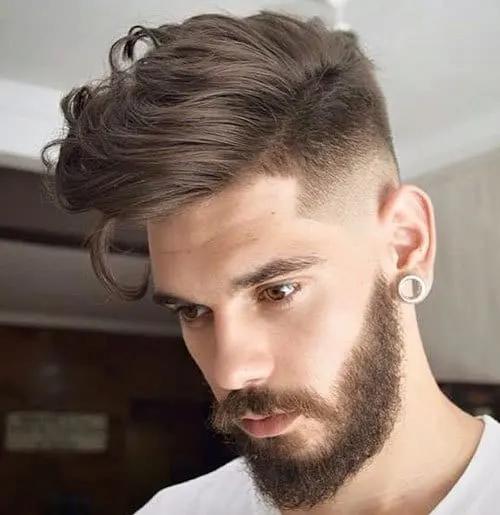 The fade with long hair on top can be styled asymmetrically to the side. In order to give it even more striking fun, consider curling the ends. The drop fade on the sides can differ from medium to low. Both options look amazing.
Fade Hairstyles for Bearded Guys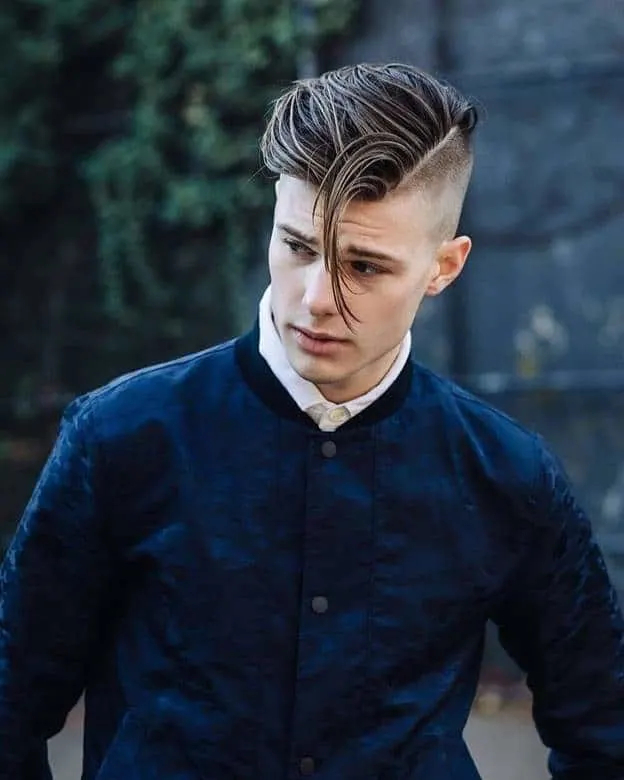 Long slicked back hair is a popular long hair fade hairstyle. For this hairstyle, let your hair grow to a suitable length and then slick them back using some gel and work your fingers through them. Leave a front flick and include a high fade towards the side for added perfection.
#9. High Raised Ginger Hair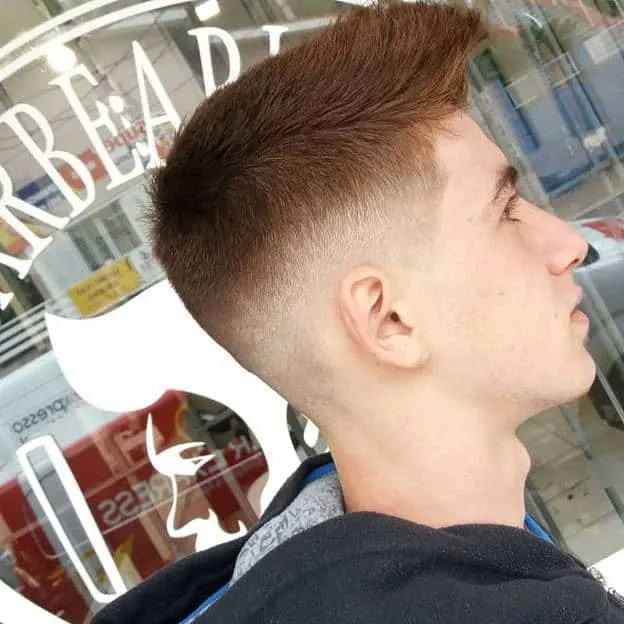 Style your long ginger hair by raising them high at the front and relatively shorter at the back. Add a high fade towards the sides, whose color gradually drops down to light blonde shade. This is an ideal hairstyle for leashing out the stylist in you.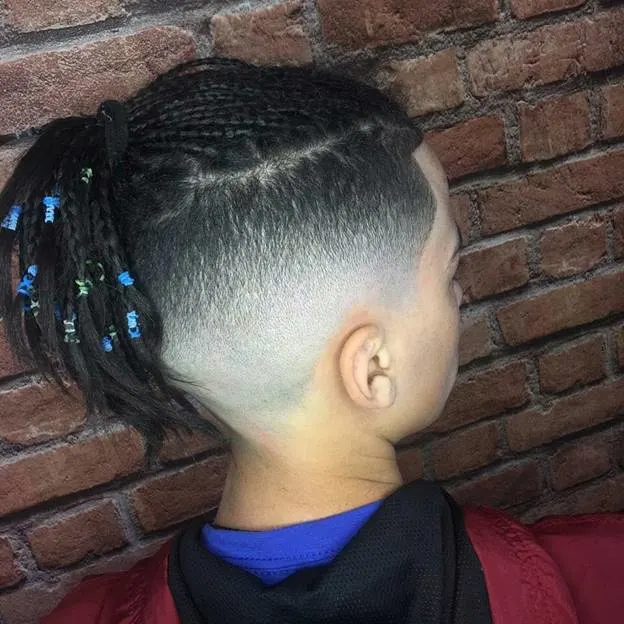 Braids are cool but a braided ponytail is even cooler. Braid all your top faux hawk hair into various thin braids and then tie them at the back. Add some contrast by including a high fade to this fade with a long on top hairstyle. This combination of the faux hawk with a braided ponytail is nothing less than magic.
#11. Long Swept Hair with Temple Fade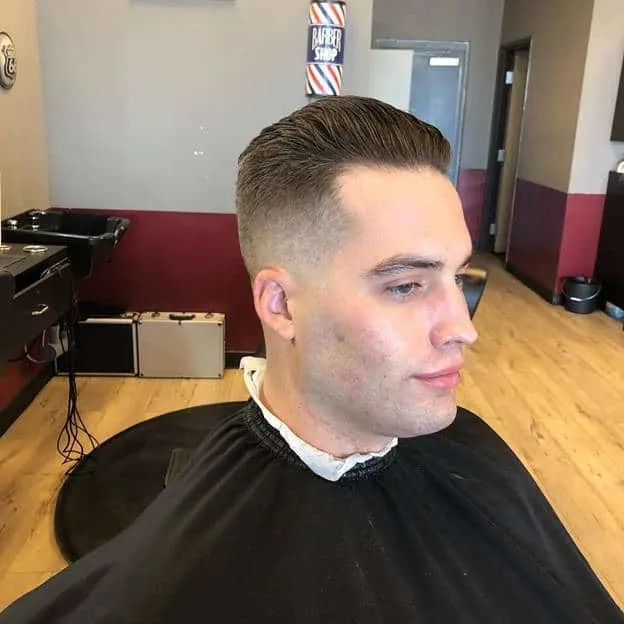 Long hair looks exotic when swept back. So, style your hair this time by neatly trimming the edges and then sweeping them backward. Shave the hair low to the skin on the sides for a temple fade look.
With this hairstyle, you can go everywhere looking and feeling confident.
#12. Messy Topknot with Line Design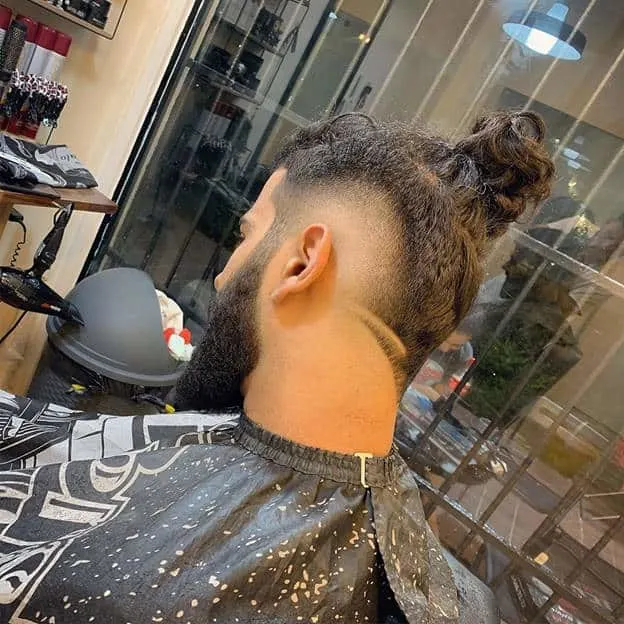 Topknots are ideal for men with long hair. Grab your top hair and tie them into a messy topknot. Cut the hair on the sides and back shorter with assorted fade going down. Add a neat line design at the nape, to sum up your style. Make your messy topknot a hot trend this year.
#13. Slicked Back Hair with Trimmed Sides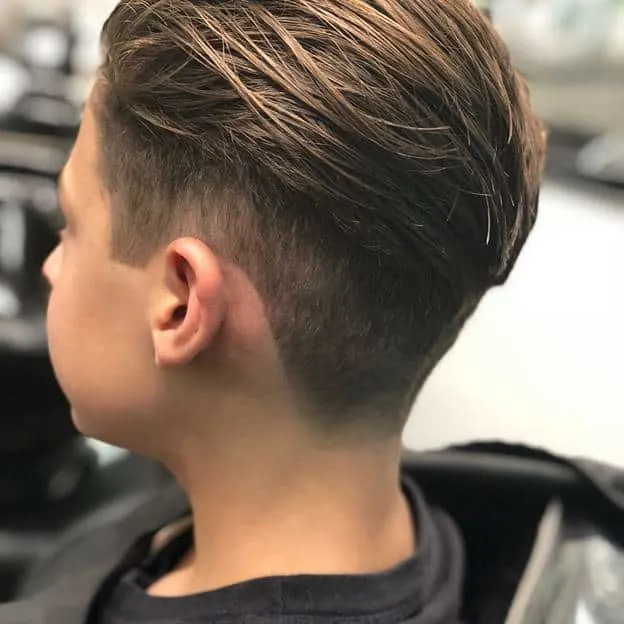 Long slicked back hair can be styled in many ways making it an all-rounder long hair fade cut. For extra style, trim the hair on the sides and back low to the skin to complete the look. You won't regret getting this hairstyle for a refreshing change.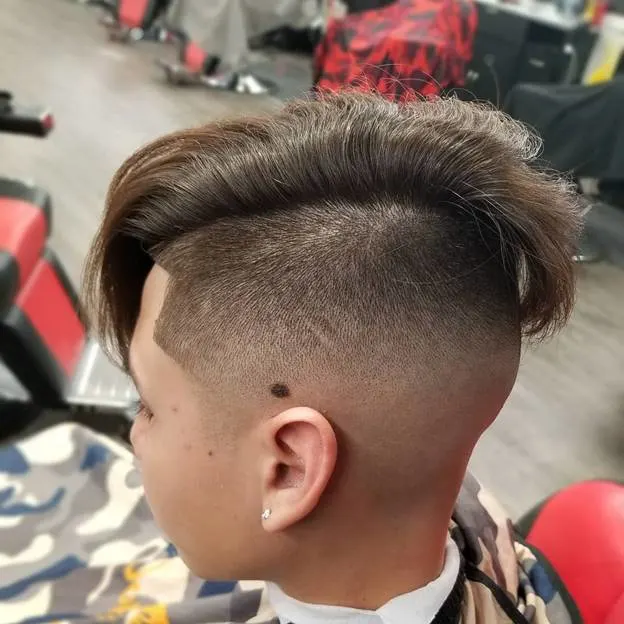 For a two-in-one hairstyle, ask your stylist to leave your hair long on one side and completely shaved to the skin on all the other sides. This haircut makes you look quite different with a style statement.
If you have black hair, it is time to style them by neatly combining them to one side. Add a side trip to the remaining hair to give yourself a style icon look. This classic long fade haircut never fails to put you under the limelight.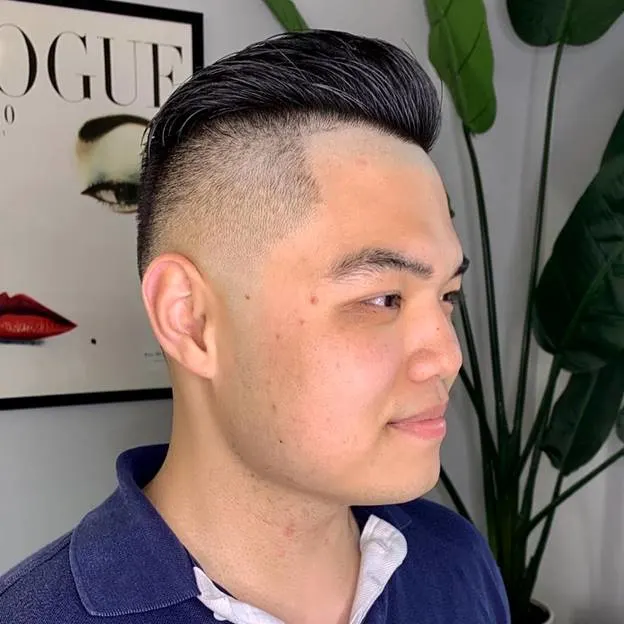 Wanting a faux hawk style isn't difficult with long hair fade. Leave a wide strip of hair on top, which goes down to the back and slick it back while raising it too. Shave the hair on the sides, and you are all set to go.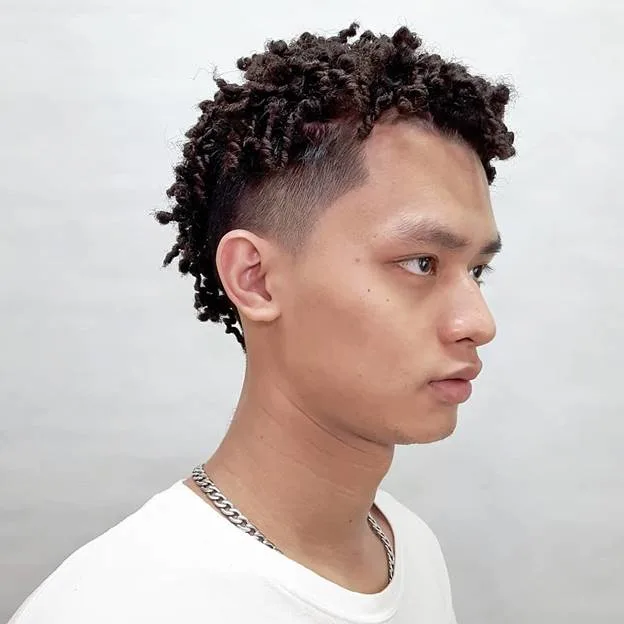 If you are tired of straight hair, then do something different this time by twisting your hair into short twisted curls spreading all over your head. Don't forget to add a temple fade to this fade hairstyle with long hair on top for added perfection.
#18. Rough Orange Hair with Trimmed Sides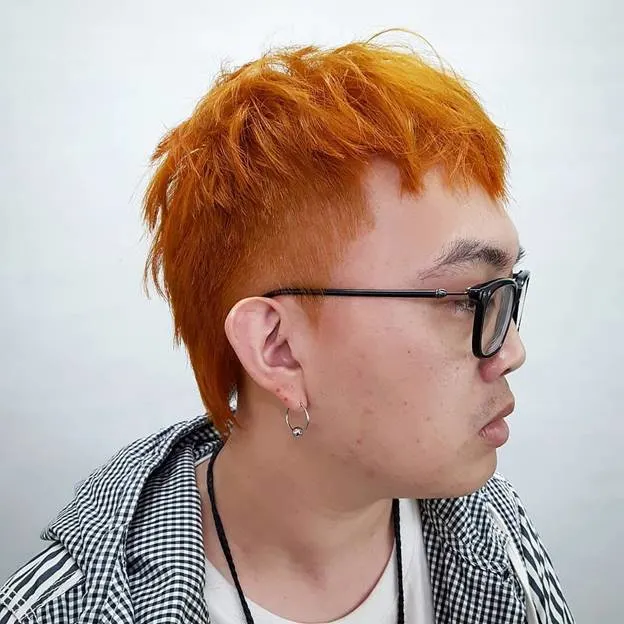 Ask your stylist to dye your hair an exotic shade of orange for a unique and funky look. After dyeing your hair, give them a rough appearance by tousling them. Trim the hair on the sides to finish your new look.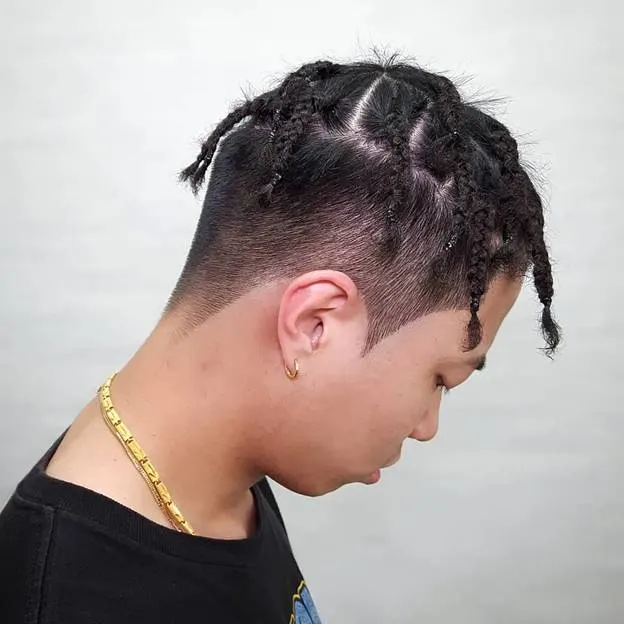 For this hairstyle, leave your top hair long and then divide them into various rectangular sections. Weave each section into a classic thin three-strands braid. Once you are done with the braids, add a high fade to the rest of the hair.
#20. Taper Fade on Long Hair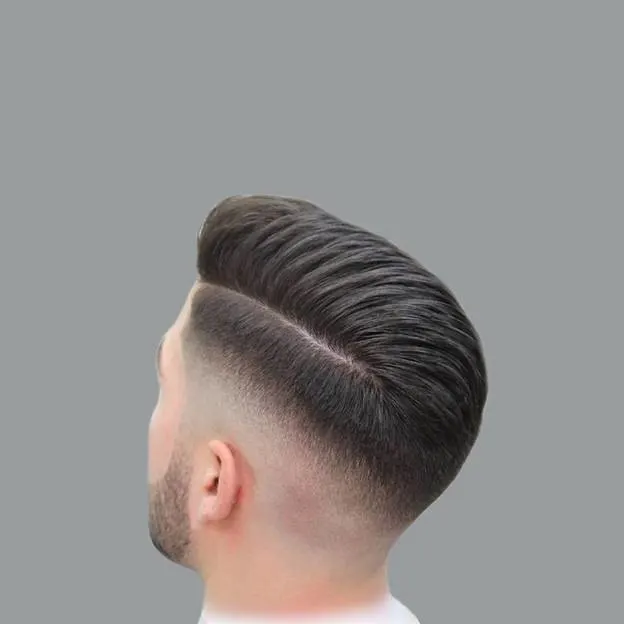 Pompadour hair is your classic route to gentlemanly long hair fade style. To achieve this hairstyle, use some gel to neatly raise your hair high and then slick them down to one side. Add a taper fade to the other side for an envy-garnering look.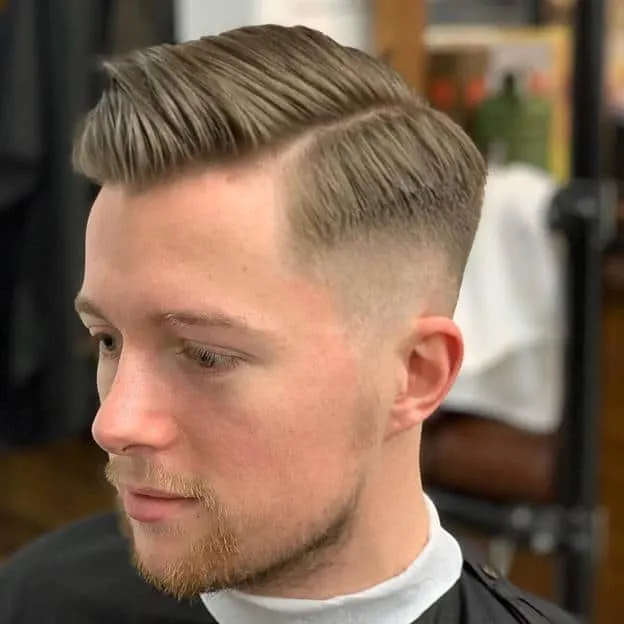 If you are craving a new and refreshing hairstyle, go with a side part hair with mid-fade. This is a classic hairstyle that is also super trendy. Side part your long hair and comb them to one side. Ask your hairdresser to add a mid-fade for an exquisitely flawless look.
#22. Cowlick Hair with Line Design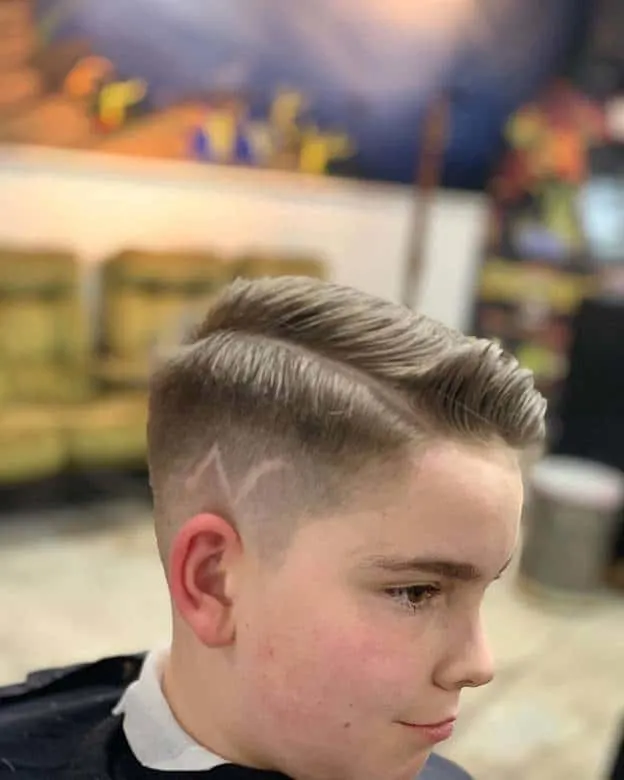 For a long hair fade haircut as exquisite as this, part your hair in the middle and then give your longer front hair an impression of a cowlick style by raising them. Add a middle fade to the other side hair and a line design.
#23. Side Swept Hair with Parallel Line Design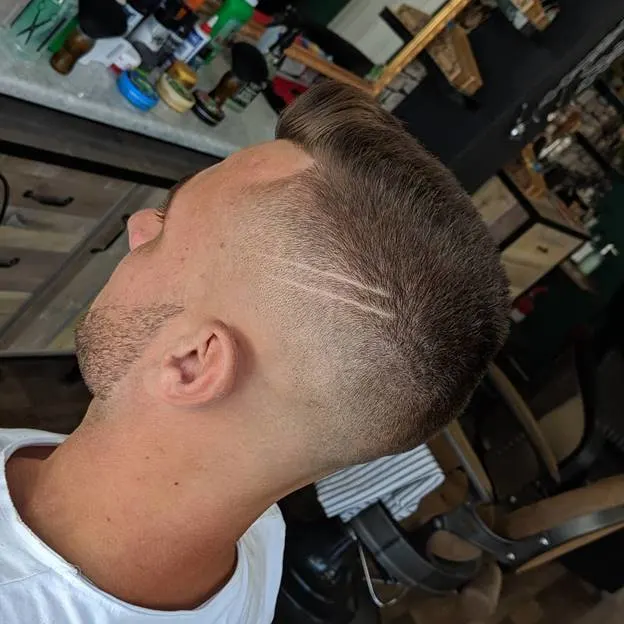 Style your long hair by side sweeping them and adding a high fade to the rest of the hair. Cut a thin parallel line design to the high fade for a pop of perfection. You can wear this hairstyle wherever and anywhere you want.
#24. Wispy Hair with Trimmed Sides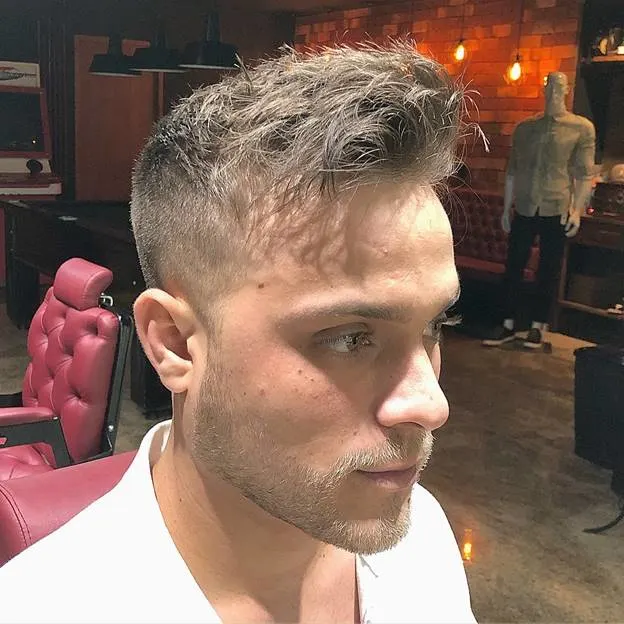 Wispy hair is a unique style on its own. But, if you like to do more with it, raise them high roughly. Trim the hair towards the sides to the skin to add a beautiful contrast to your fade with long hair on top. You are going to make people envy your hairstyle so much!
#25. Sleek Black Hair with Temple Fade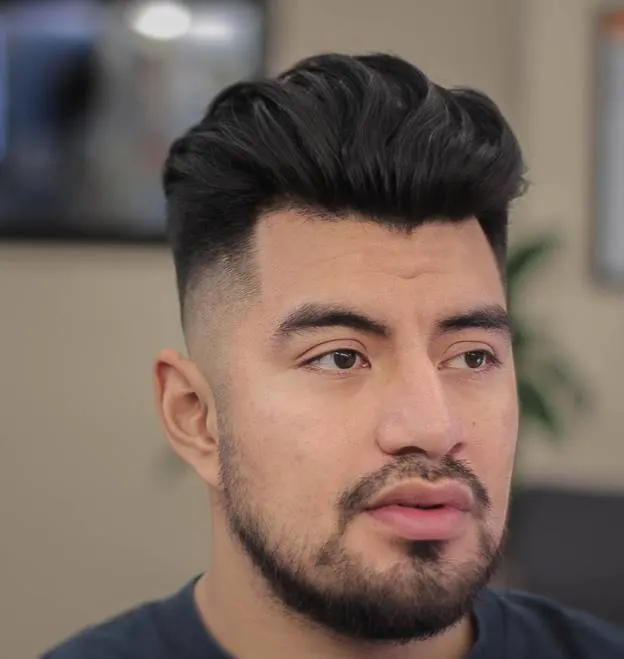 Sleek black hair is a blessing, so style them as beautifully as you can for a majestic look. Raise your black hair high and then work your fingers through them to sweep them backward. Add a temple fade to your long fade hairstyle for added perfection.
We hope these 25 long hair fade styles inspired you to choose the way to go. Even if you didn't find what you were looking for, you can consider creating your unique long fade. The basics are always here for you to check out.