We are used to thinking that black is the best hair color for Asian women. As fashion moves forward, all the standard ideas are left in the past.
Today we are used to seeing Asian girls with all types of hair colors, starting with blonde and ending with bright green. The question is, which hair colors suit Asian women?
Not all of them do. Just as not all hair colors suit dark-skinned or light-skinned girls. If you are an Asian woman and planning a hair color change, you need to do a little research.
How to Choose The Right Hair Color for Asian Women?
Before choosing the right hair color, you need to determine your skin tone. Take a close look in the mirror to understand whether your skin is closer to red, yellow, or dark.
1. Red Skin Tone
Asian girls with reddish skin tones should avoid dark red hair color since it will only amplify the redness. In order to negate the reddish effect, choose dark blond, light brown, dark green or dimmed purple.
Women with yellowish skin tones should think about dark red, raven black, blue, brown, and olive. If you have yellowish skin, forget about the blonde, fiery red, and orange hues. They'll make your face look unhealthily yellow.
3. Dark Skin Tone
If you are an Asian woman with darker skin tone, you have the freedom to create blonde and light brown locks. Go for bright hues and don't hesitate to create beautiful highlights. The best hair color for an Asian woman with dark skin is light brown.
Tips
Smart tip 1: Before dyeing your locks consider the texture of your hair. Thin and dry hair catch the colors easier so you have to choose a color, which is one shade darker than what you want to achieve. If your hair is black and thick, it will absorb color easily. So you have to choose a dye, which is one shade lighter than the result you want.
Smart tip 2: If your locks are already damaged, consider avoiding light colors. They'll look dull. Go for brownish hues instead.
Creative Hair Color Ideas for Asian Women
If you've never tried a different hair color before, you'd be surprised how many hair color options for Asian women you have to explore.
Depending on your wishes, style, hair quality, and time, you can create virtually any hue. Remember, black hair needs bleaching to achieve lighter colors. So you have to get ready for some lock damaging. Don't worry, the results are truly worth the effort.
Since Asian girls usually have fine hair, it needs special care when it comes to dyeing. Make sure to treat your tresses well and they'll say thank you by looking fabulous.
1. Curls and Ombres
One of the best hairstyles for Asian women involves an ombre that features your dark natural color and blonde copper ends. Creating more dimension and texture is also part of this hairdo that gives your hair a glamorous touch.
2. Half Purple Half Pink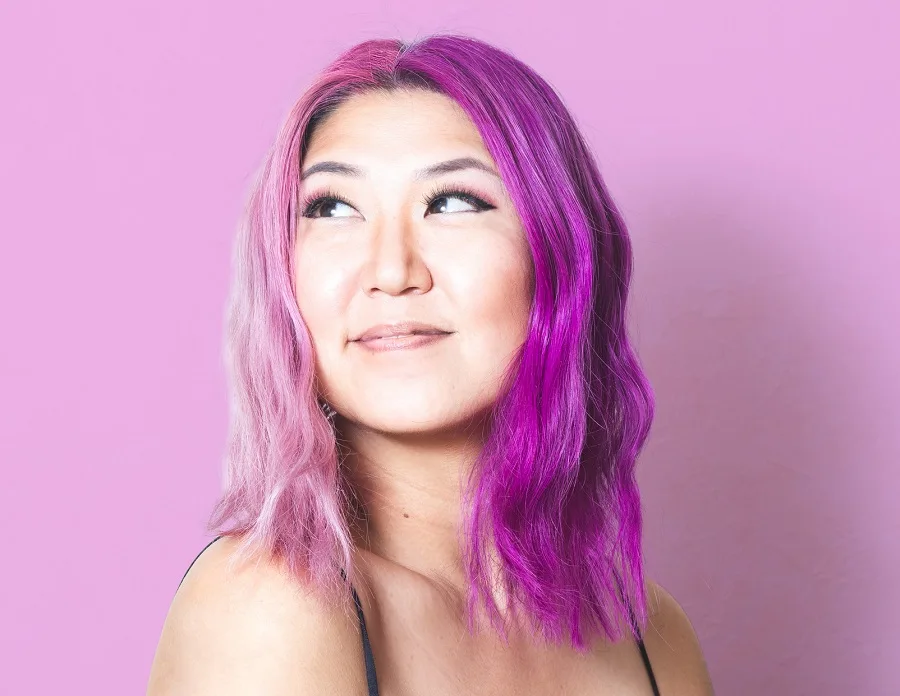 Asian women really appreciate half purple and half pink hairstyles. This bob haircut is also a great idea for women with a chubby face that want an elongated figure. The hair should have the same length and reach the shoulder line.
3. Multicolored Hair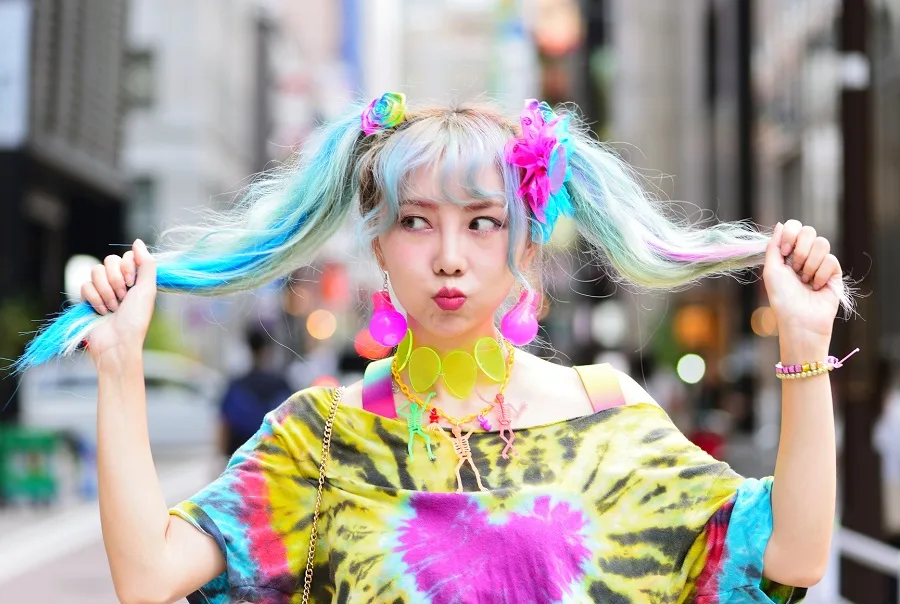 Multicolored hair is a popular hairstyling choice for Asian women. It requires bleach and features multiple pale pastel colors like yellow, blue, and even pink. To make this hairstyle look more childish and fun, create two high ponytails and style bangs.
4. Colored Highlights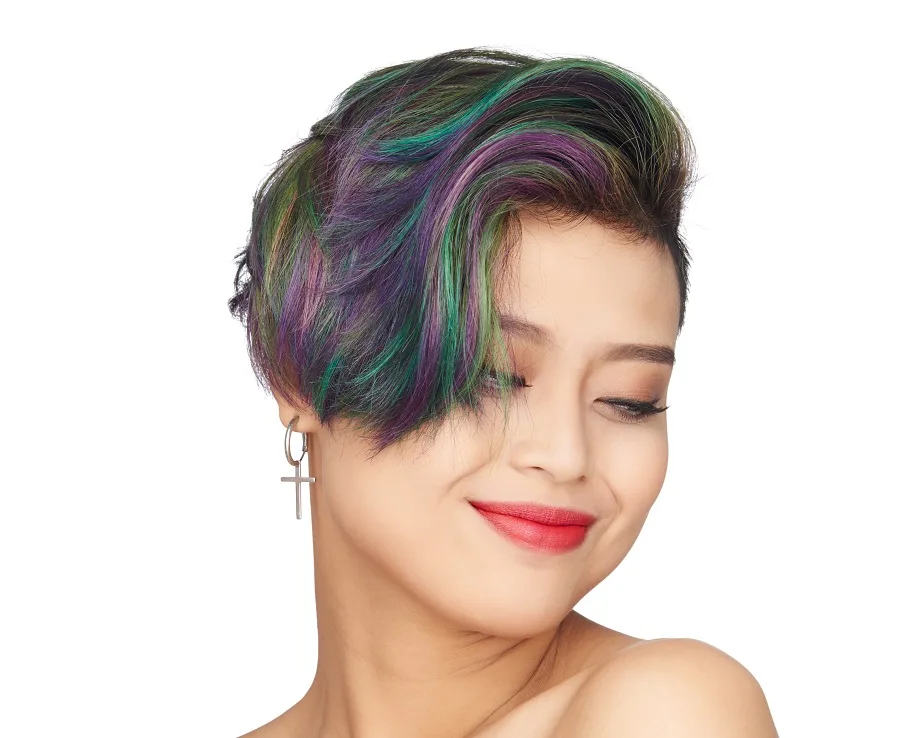 Your highlights can be so much more than a few pieces of blonde hair that are very popular. Instead, try something else and create a gorgeous color combination that will amazingly suit an Asian girl. Go for a pixie cut and combine lighter and darker green shades with purple highlights for a magnificent look.
5. Black and White Ombre Braids
When you want to extend your hair, the best option is to use braids. They look cool and are easy to attach, even if the whole procedure is repetitive and time-consuming. But the outcome is gorgeous and your look will draw all the attention.
6. Ginger Long Hair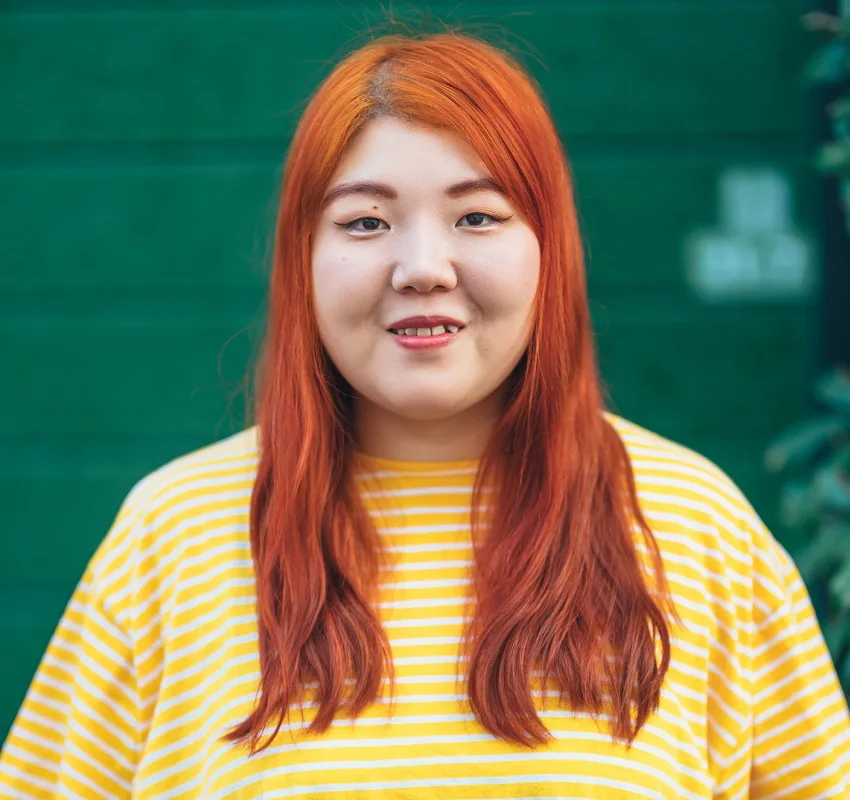 If you want to be part of the redhead's team, you must know that these colors are quite fastidious, and you'll be putting a lot of effort into maintaining it. So even if it looks gorgeous, make sure you can handle such a challenge. On the other hand, the color is lovely and a real head-turner.
7. Braids and Colors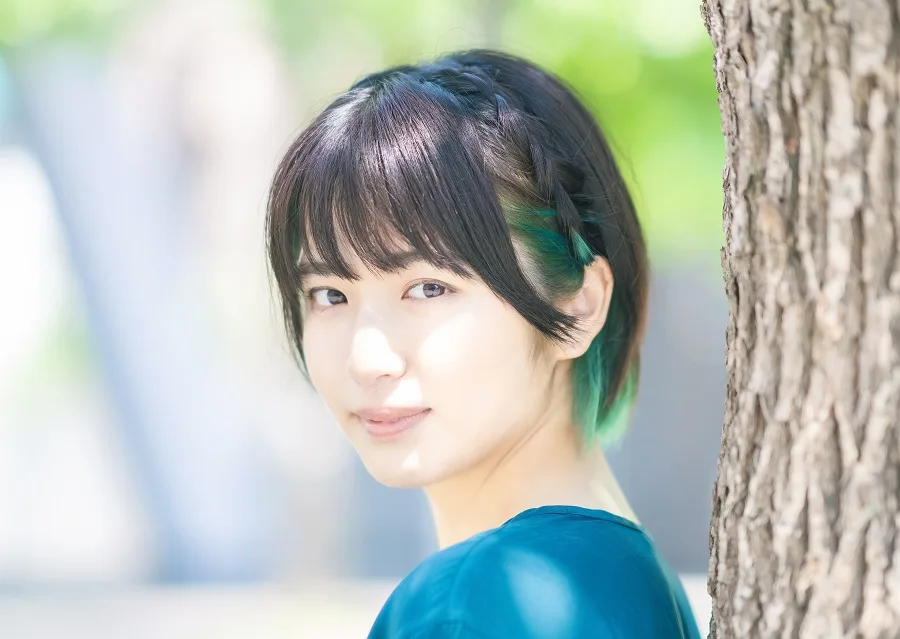 One of the best hair colors for Asian women with dark hair is green. Create a lower section of hair, bleach it and dye it in a dark emerald color. Every time you pin your hair up or in a ponytail, those colors will stand out.
8. Blue Ombre
Opt for a pale ashy purple shade for the top and create an ombre that turns into a fire indigo blue at the ends. Use layers to give your long hair a shape and long curtain bangs. Style a middle part so that the fringe can contour your face.
9. Purple Yellow and Red Hair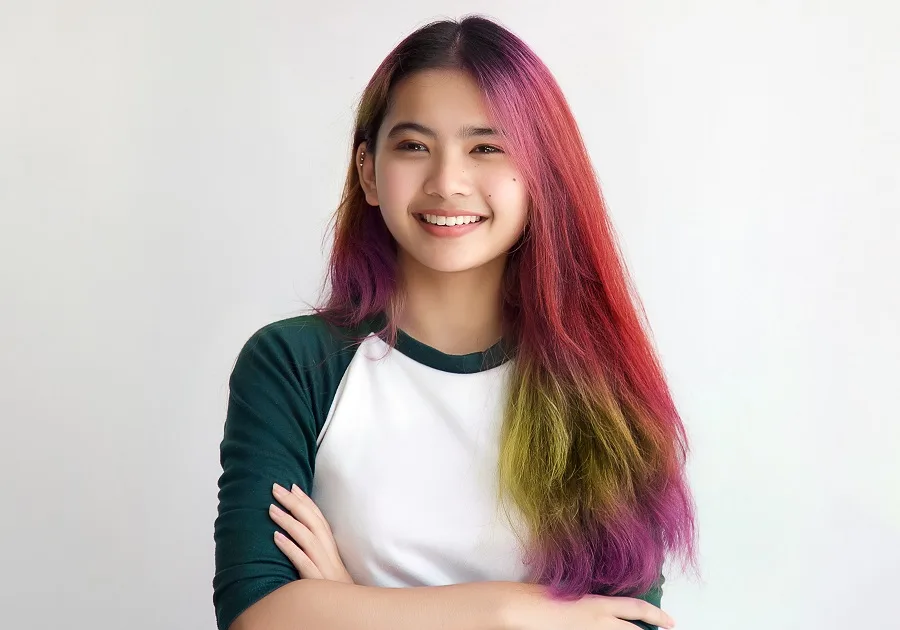 If you adore multicolored looks, you can go throw the bleaching process and create the best canvas for your colors. Once you embark on this colored journey, you will need commitment because these nuances are high maintenance and require regular touch-ups.
10. Blonde Nape Hair
If you want a pop of color that works with everything, blonde is the right pick for you. This is among the most requested hair colors and hairstyles for Asian women because it's cool and can be easily covered. Wear your hair loose and some people won't even notice the color difference.
11. Pastel Blue Hair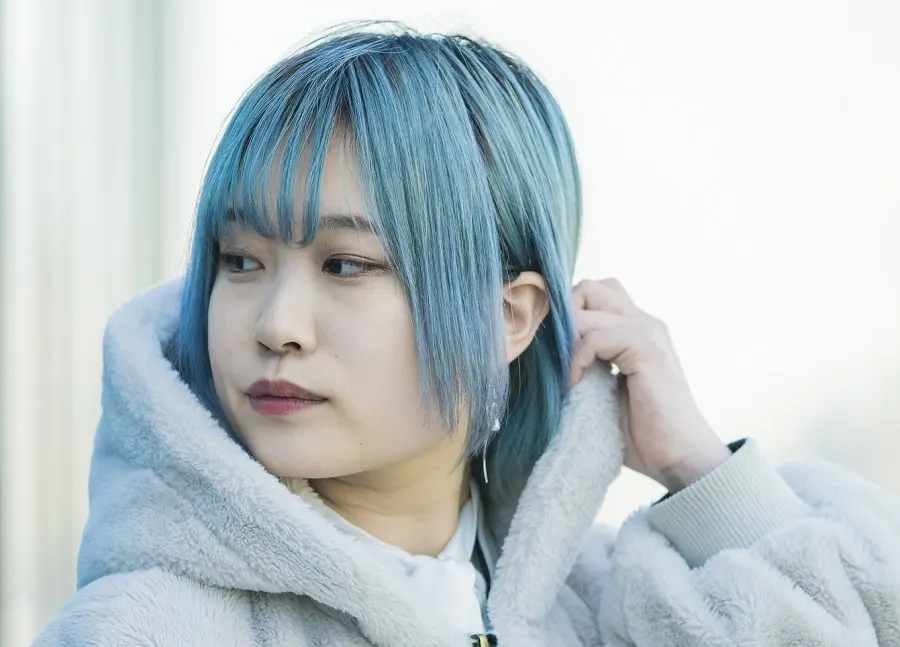 Many Asian women have pale skin, and that means bright and bold hair colors will pop beautifully. Try a light blue on a short bob with front layers and short wispy bangs.
12. Two Tone Hair Color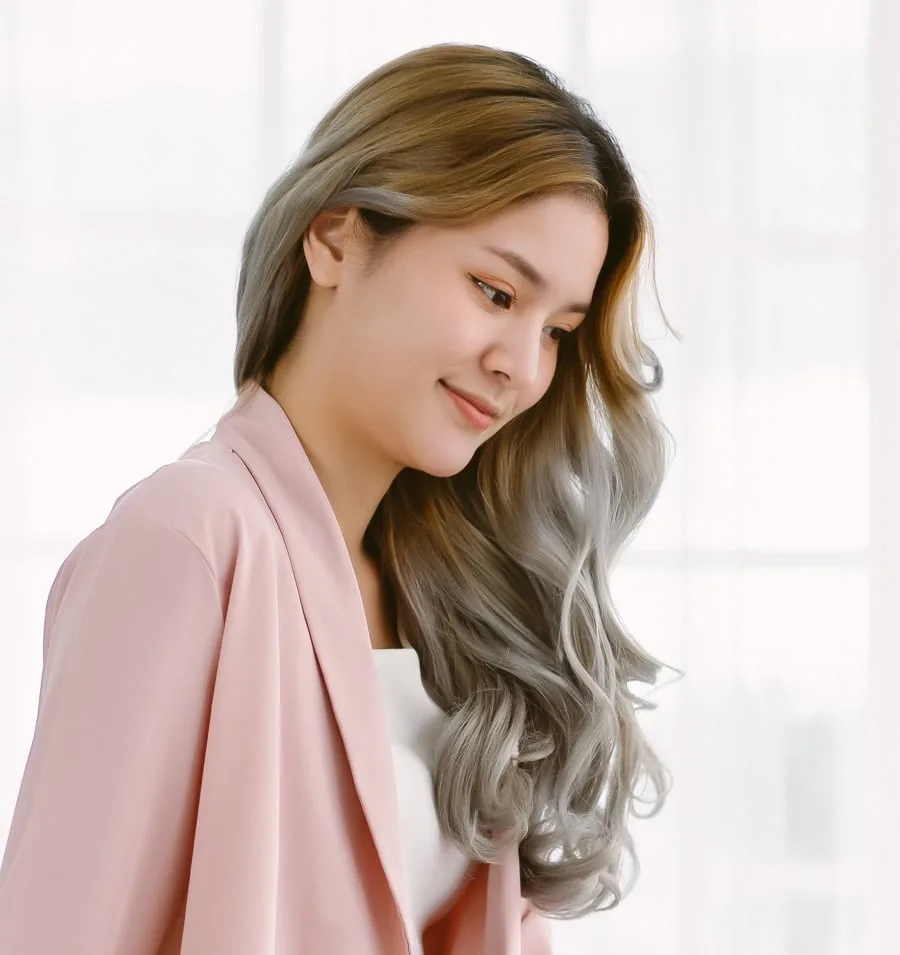 Typically we see a dark color at the roots, but this long wavy hairstyle features golden blonde that leads the way to super light blonde. The warm color stops at the eyes, which means it'll accentuate your eye color perfectly.
13. Faded Purple Bob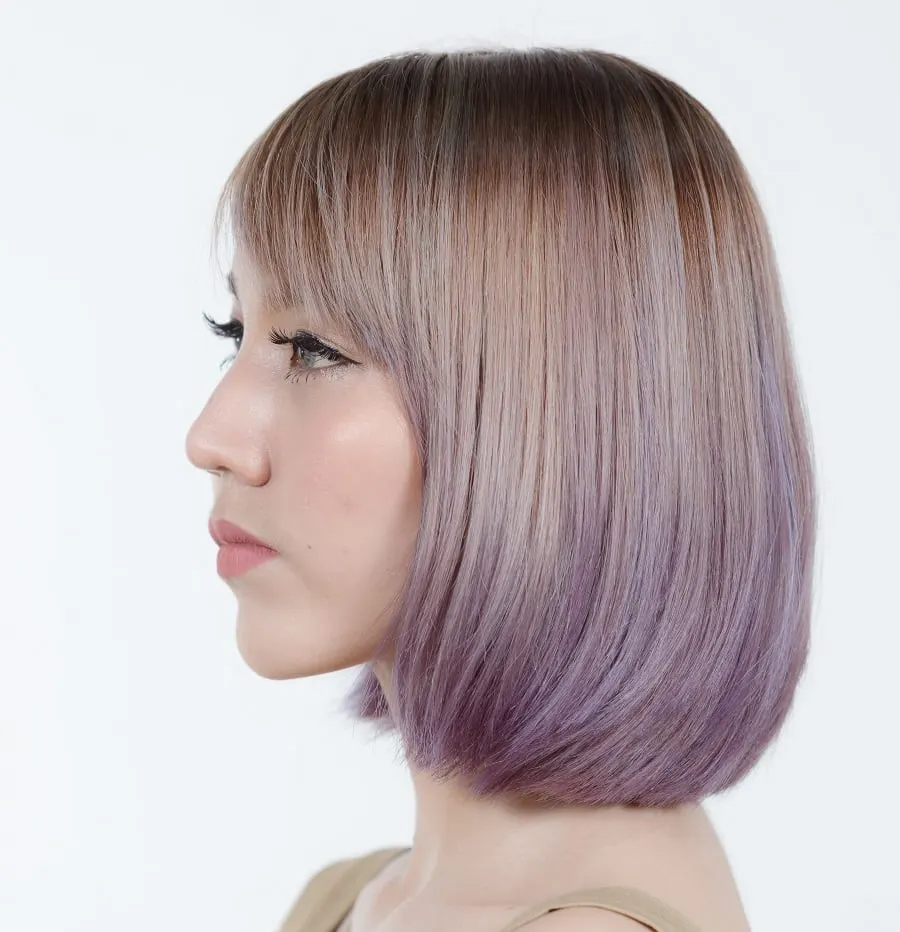 Another fun, flirty hair color to try for Asian women is this beautiful light purple. Rock it in a straightened bob with bangs as an ombre with medium blonde and light blonde streaks. The style is super easy to maintain.
14. Strikingly Red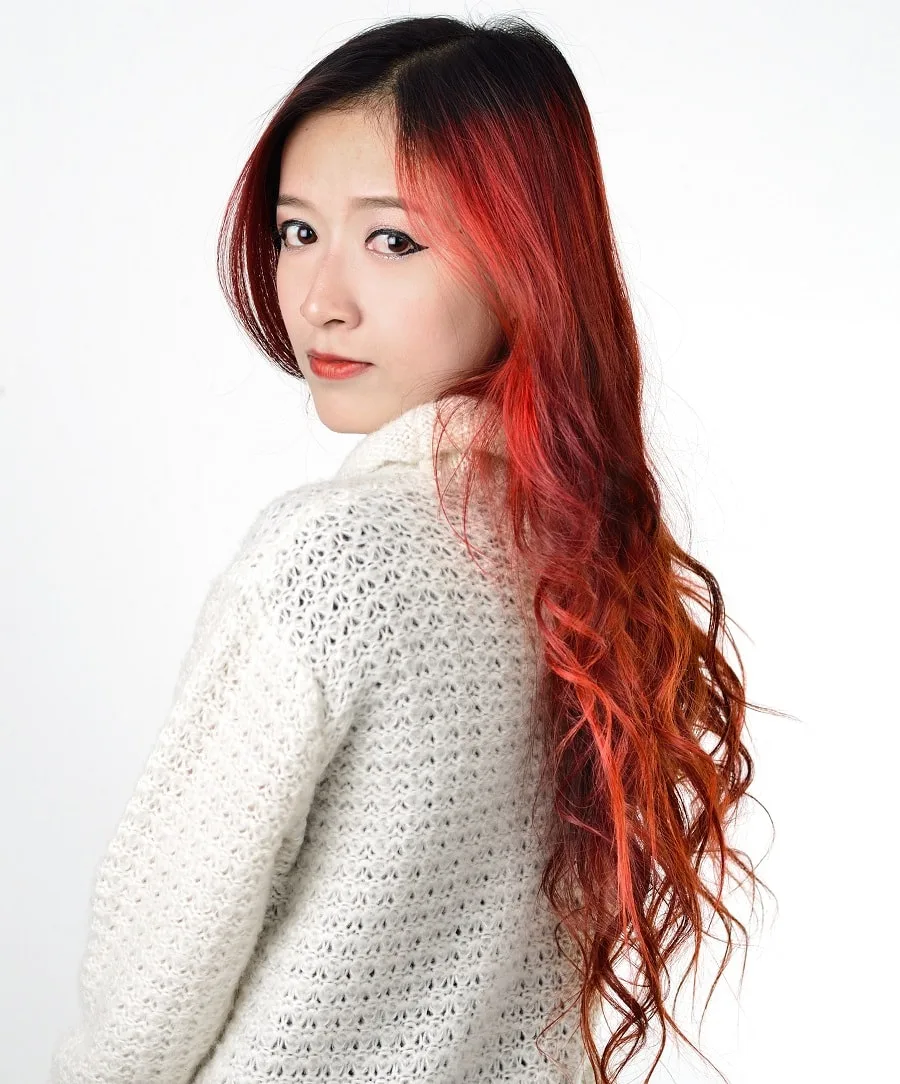 If you have a yellowish skin tone, this red hair color is bound to make you appear fantastic. Asian girls look amazing with wild colors. Start with red and then go further to other outrageous hues. You'll love them!
15. Reddish auburn
The darker your skin tone is the more fabulous reddish auburn looks. When you opt for such a color, you have to reconsider your makeup. Lighter hair dims your features slightly so you need brighter makeup.
16. Wild Ombre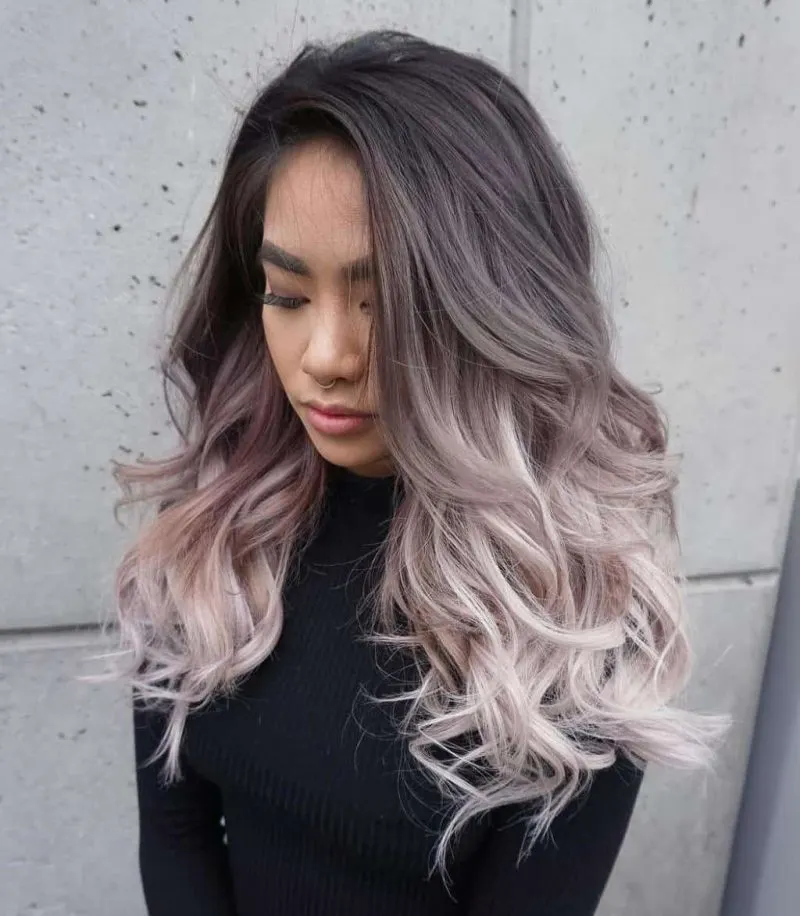 Purplish hues on top and white locks on the bottom look amazing on Asian women. Of course, you'd have to go through some bleaching but at least you won't have to worry about dyeing the roots every month.
17. Golden brown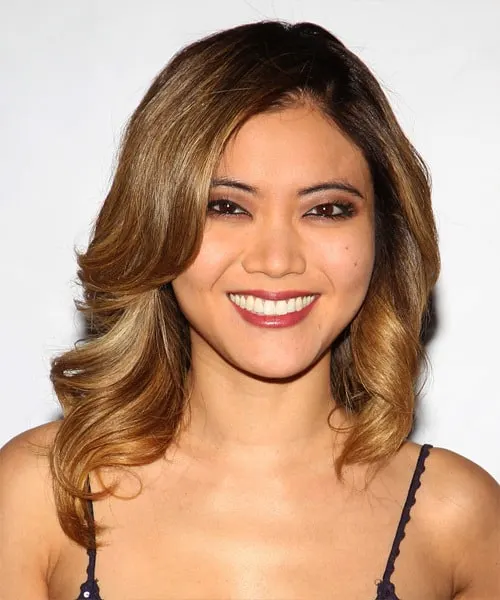 Golden brown hair color looks amazing on Asian women since it has very natural hues. This color should be avoided if you have yellowish skin tone. Meanwhile, it complements reddish skin tones rather nicely.
18. Peachy red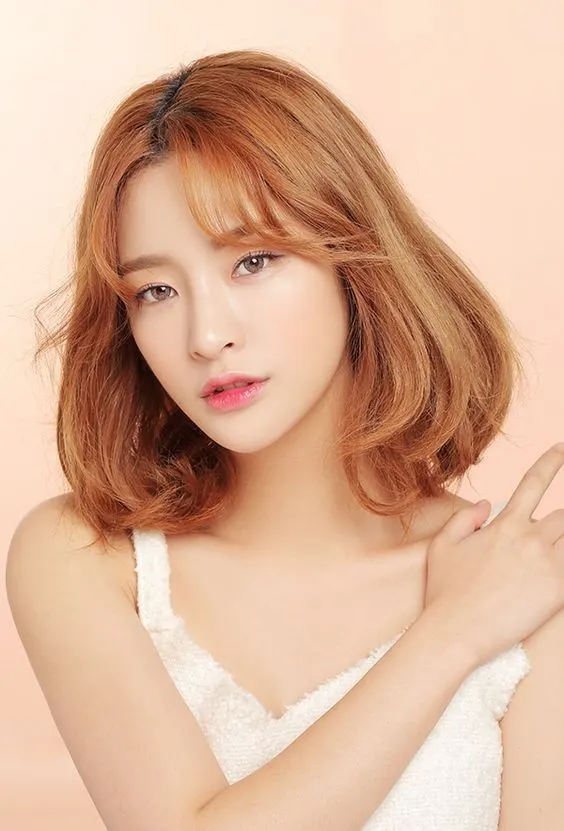 This peachy red hair color is a real find for girls with light skin tones. They make the skin appear even whiter while brightening up the overall image. With the right makeup, this hair color for Asian women is a real find.
Coolest Short Haircuts for Asian Women
19. Dark brown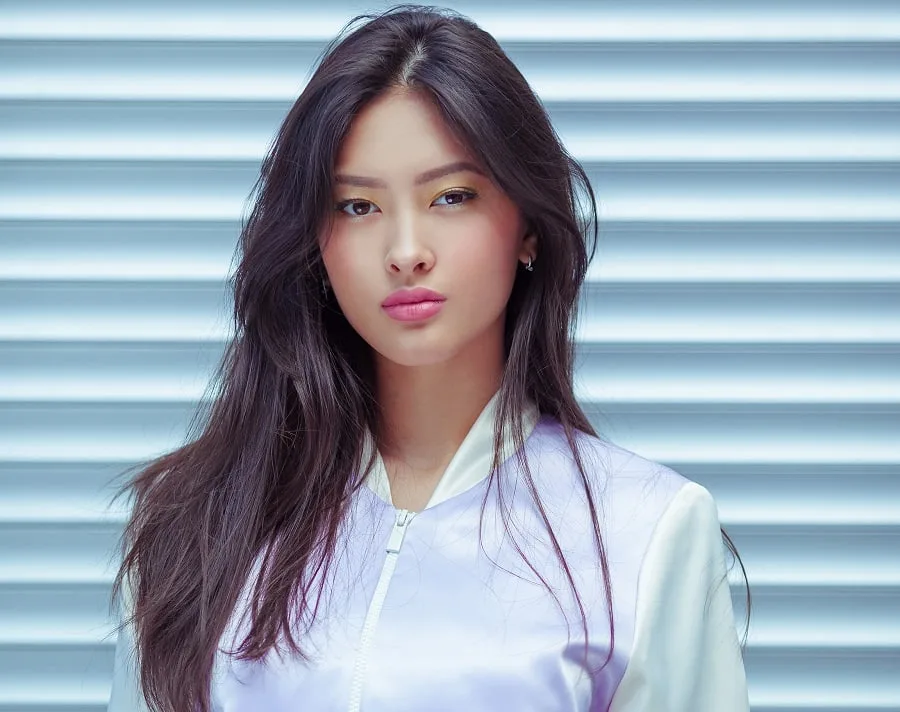 One of the best hair colors for Asian women. If you are not ready for hair damaging bleach process, you can consider brightening your hair up slightly with brownish tones. Dark brown is a wonderful natural hair color that makes Asian women look fabulous.
20. Sparkling silver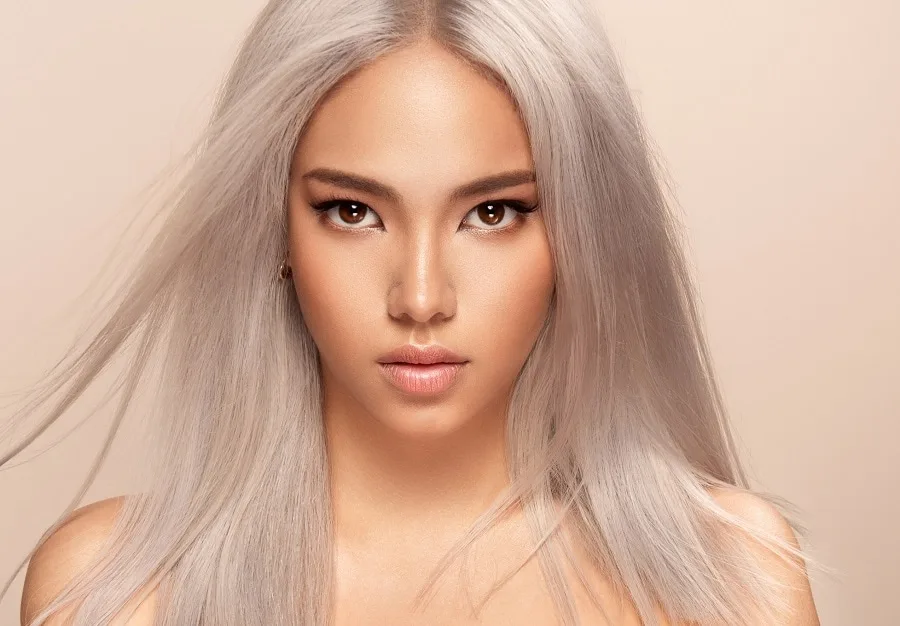 Only a truly brave Asian woman can go for such a hair color since it involves a lot of bleaching. Meanwhile, white and silver locks are in style so it makes sense to make some sacrifices. After all, it's just hair. It grows fast.
21. Wild green
This is too hipster and wear only if you are brave enough to get everyone's attention and mixed reaction. Light green colors are fabulous for girls with reddish skin tones. If you are one of them, don't hesitate to go for greenish hues. We'd recommend trying a wig first to figure out whether you are ready for such a step.
22. Blue and icy
Blue and purple are wonderful colors especially when you feel like standing out of the crowd. They look great with black and white hair, so you can choose this shade when your hair starts graying.
23. Bright auburn highlights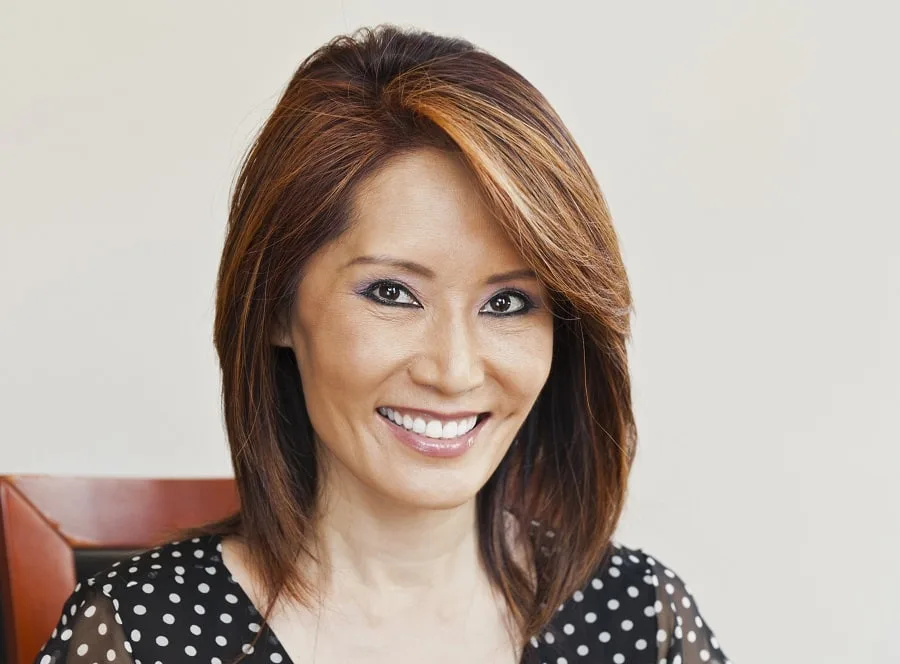 Using auburn hair color to brighten up your locks is a wonderful idea. Auburn is one of the most suitable hair colors for Asian women who have yellowish and dark skin tone. Perhaps you'll like so much, you'll want to go further.
Medium brown Asian women's hair color is one of the most popular options. It brightens your hair better than dark brown while not allowing the roots to show too much. Medium brown is a great place to start your dyeing journey.
25. Natural black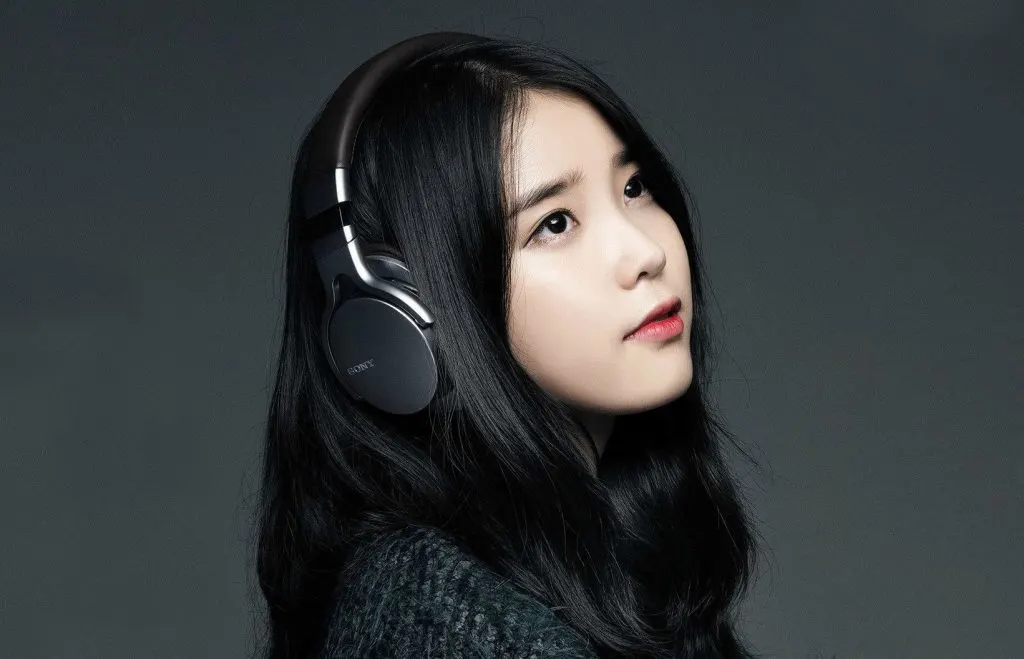 Sometimes it makes sense to just leave things as they are. If you have naturally black hair and light skin tone, you can enjoy the natural way your locks look. If you can't live without changes, opt for highlights.
26. Raven black
If you want to outline your facial features without doing too much damage to your locks, opt for raven black hair color. Asian women have naturally dark tresses but making them even darker amplifies the mystery effect.
27. Reddish brown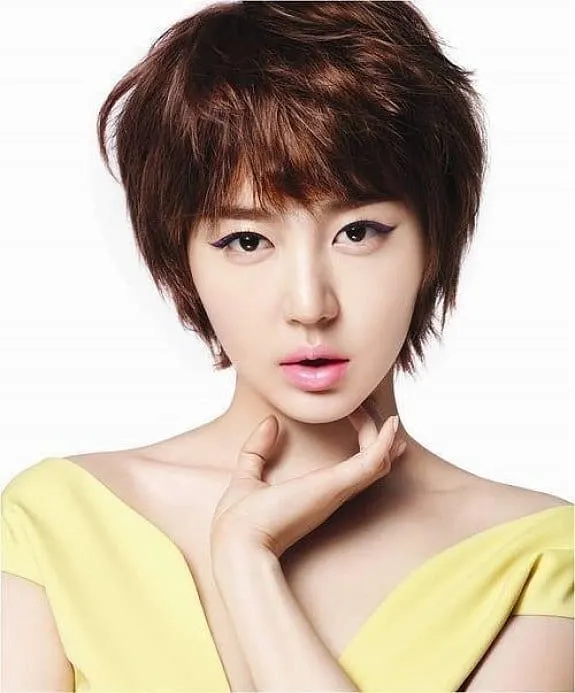 Consider reddish brown hues for your next dyeing session but be smart about the process. Doing partial highlights can save your hair from extra damage and create a great effect. Dye the bangs and frontal strands.
28. Brown ombre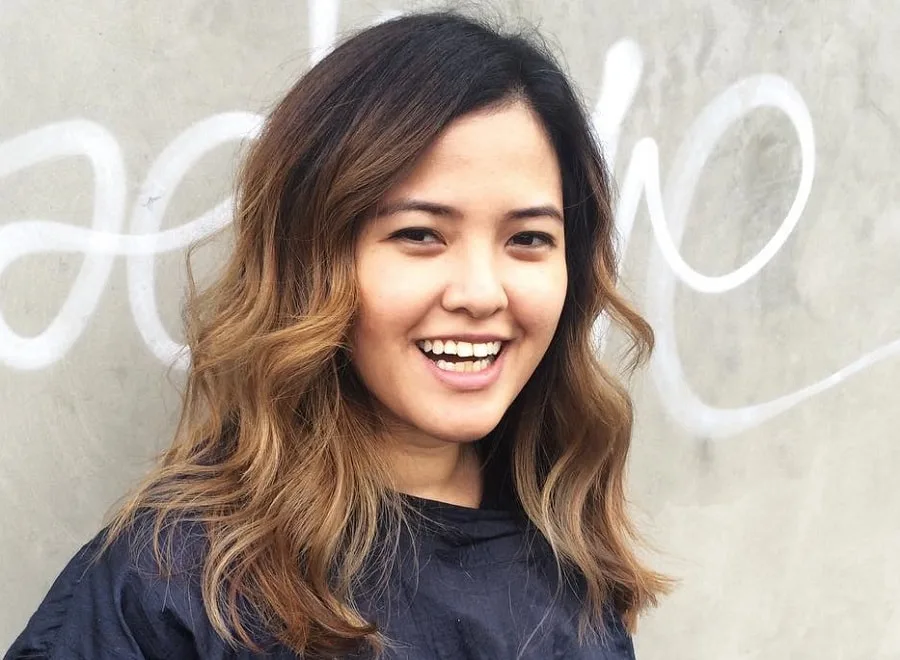 Ombre is a perfect way to play with hair colors of the Asian women. Leaving your naturally black hair on top and dyeing the locks brown on the bottom creates a brighter image without too much hassle and frequent maintenance.
29. Blonde and brown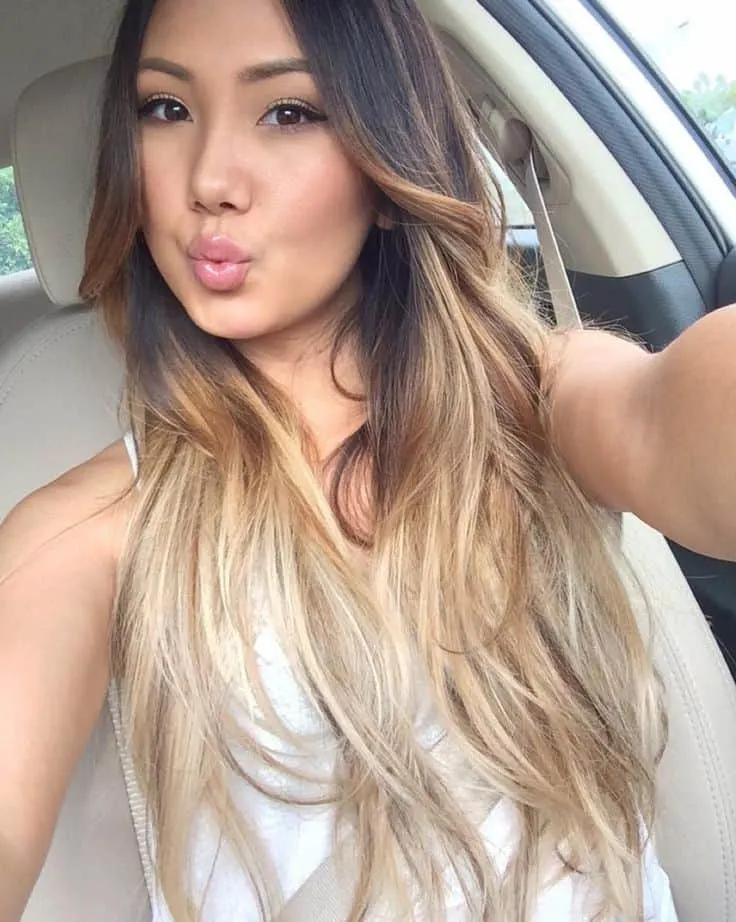 Another ombre option for Asian girls is mixing blonde and brown. These two colors always look great together so you can't go wrong. Get ready to do some bleaching to achieve light shades on the bottom.
30. Caramel blonde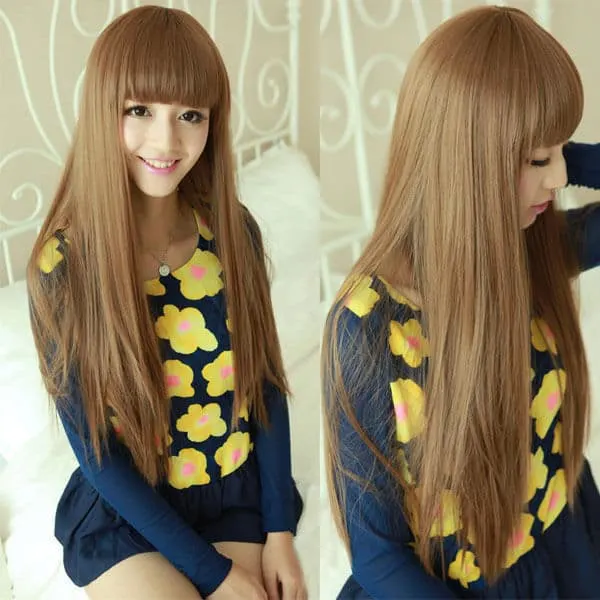 Unless you have the yellowish skin tone, this caramel blonde hair color is a perfect pick. It looks so beautiful and smooth that it seems it's worth any effort. Get ready for some serious maintenance and awed glances.
31. Rich brown hues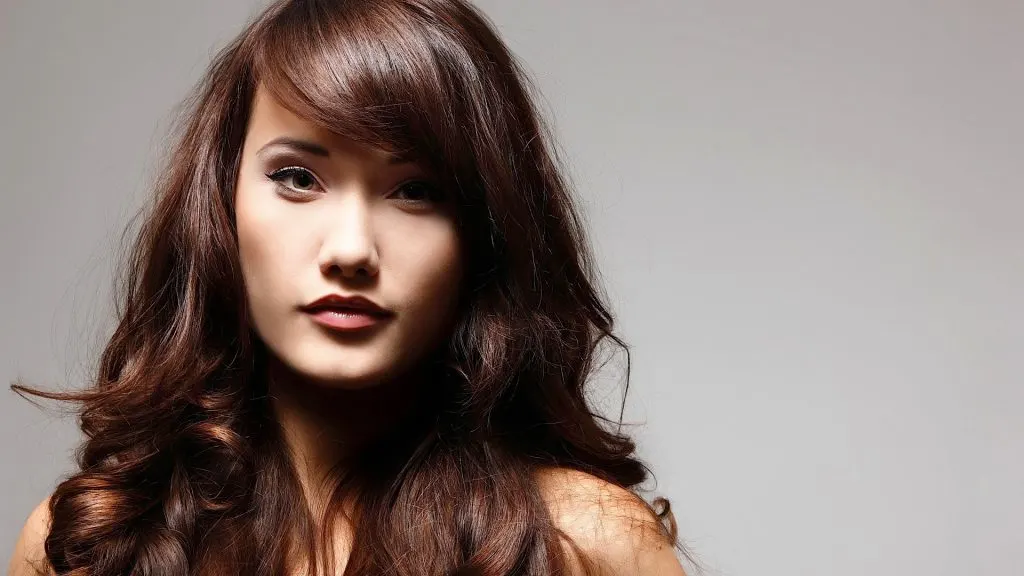 Asian women can't go wrong with brown hair colors. Try them all. Rich brown shades look especially appealing and natural while producing an amazing brightness and a special ambiance.
32. Totally pink
Another outrageous pinkish hair color for Asian women who love pink. If you are into making impressions, pink locks can definitely help you do the job. Maintaining them is a hassle. But when did it stop you?
33. Going blonde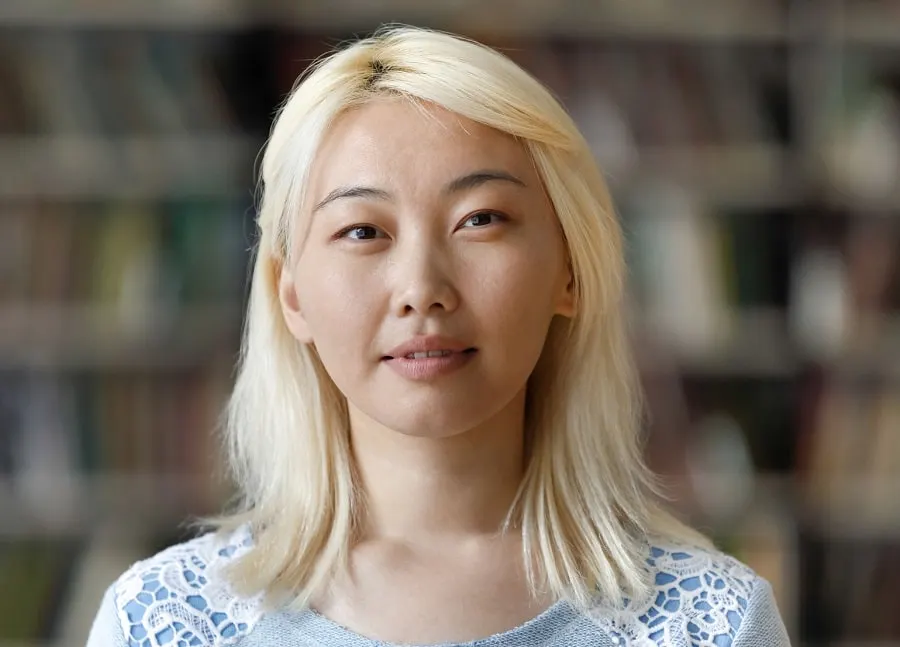 More and more Asian girls are choosing blonde hues. This color is so unexpected that it creates a special impression. If you are not afraid of bleaching and frequent touch-ups, going blonde is a great idea.
As you can see there are many different hair colors options from which the Asian women can pick the suitable one. Whichever one you choose, it should look fabulous. Just don't forget to consider your skin tone. Good luck!
FAQs
Do Asians have brown or black hair?
Despite what many people believe, most Asians have really dark brown hair that looks like black. Some of the Asian population has a naturally light brown hair color.
What hair color looks best on Asian skin?
Asian skin tone can be a variety of skin tones – from cool to warm and neutral – which means they don't need to be too picky or worried about choosing the wrong color. Those with fair skin tend to do better with bold hair colors like dark blue, green, and red.
What is best color to cover gray hair for Asians?
To cover gray hair, opt for dark brown or burgundy.
What products are best for Asian hair?
A shampoo with tea tree oil or any product in the Shiseido Tsubaki brand is good for Asian hair. For conditioner, try Shiseido Ma Cherie.