All the Ladies out there, you don't need to settle for boring hairstyles simply because you're 35. A change in haircut can make you look and feel your best.
At this age, you know yourself and what you want. You've ditched the naivety of youth and gained elegance. And with that change, your hair deserves an upgrade too.
There are tons of classy, youthful styles right for your mid-30s. Whether you want to highlight your features, add some body, or try something new, the perfect haircut will fulfill all your requirements.
Therefore, we've got a few haircuts for women aged 35 which are age appropriate and will also make you look much younger.
35-Year-Old Women's Trendy Haircuts
Try any look from the following list with confidence as long as it suits your face shape, hair texture, and personality of course!
1. Classy Bun with Bangs
Keeping all those tresses safely away from the face into an elegant bun is the easiest way to get through a hectic day with style.
If you want to look younger, like a woman in her 20s, spare the flyaways to maintain a carefree appeal while bangs can help hide a big forehead and its wrinkles.
2. Half-Up, Half-Down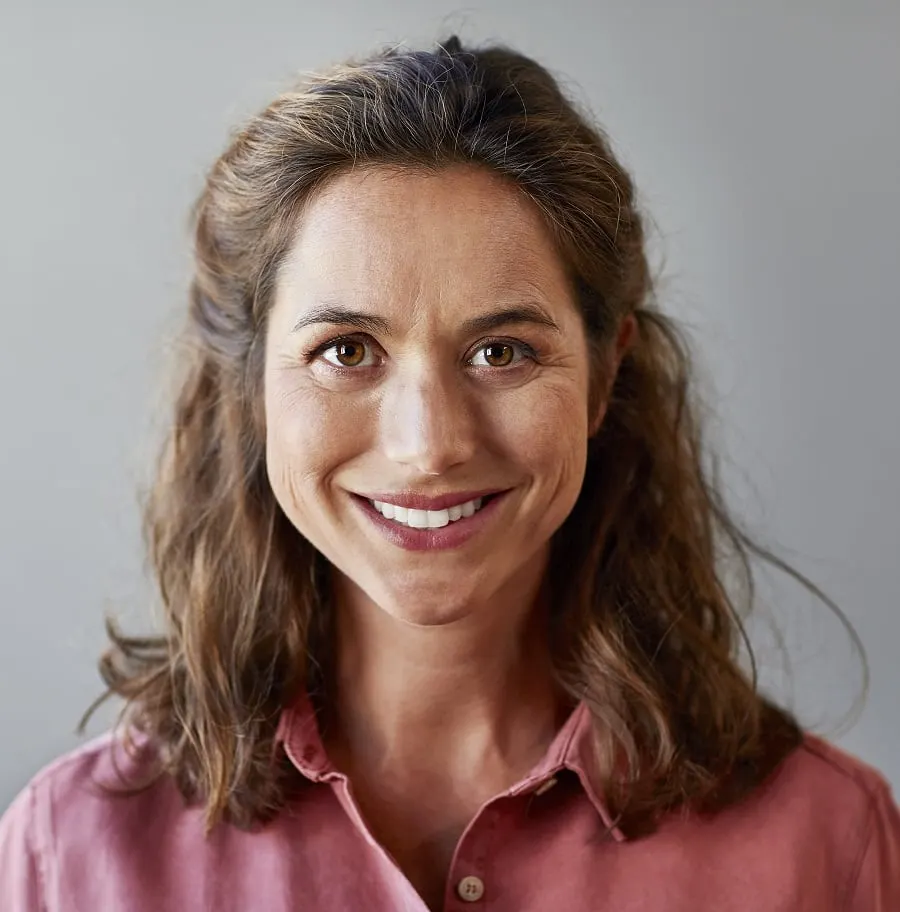 Half-up half-down hairstyles are perfect for 35-year-old women as they're never going to fall out of trend.
Keep it simple with a claw-clip half updo or show your quirky side with a groovy top knot bun or a ponytail instead. Whatever you like!
3. Sexy Bob
Going short for once is a must when hitting your mature years and you won't find anything better than a classic bob haircut.
Try one without bangs with tapered ends that naturally bend inward to hug that gorgeous face. Throw in some highlights for further brightness.
4. Balayage Beach Waves
Looking for something low-maintenance to suit your busy routine? Experiment with a wavy hair perm to achieve an on-the-beach look all the time without the effort.
Spice it up further with an icy blonde balayage that'll look even better once those dark roots begin to emerge.
5. Curl-By-Curl Cut
Most women learn to understand and embrace their natural hair texture when hitting the age of 35 or above.
Curly beauties can put their bouncy kinks on full display by getting them layered, when dry, to frame the face with or without a fringe. Keeping the hair well-moisturized is the key!
6. Ombre Lob
Lobs are the most risk-free hairstyles for women who are 35 years of age, as they're neither too short nor too long but just enough to frame the face flawlessly.
Make a statement by opting for an angled snip with stacked layers at the back and a seamless blonde ombre to drop some jaws.
7. Carefree Top Knot
Gone are the days of getting dolled up all the time! Keep it messy yet sexy with this carefree top knot hairdo and you'll still stand out from the crowd.
Bow down to assemble all the hair in a ruffled bun and pull out two chunks on both sides of the face.
8. High Ponytail
High ponytails never disappoint as they've the ability to lift up the face creating a youthful appeal almost instantly.
Use gel to slick back the strands in a super high pony or take advantage of that greasy scalp to get through an oily hair day with style.
9. Long Black Bob
Bobs are ageless, timeless, and flawless! Say goodbye to those dry brittle ends by asking the hairdresser for a shoulder-grazing chop.
Go all black for a change and try layers stacked at the back, side bangs, or a blunt cut instead. Simply stunning!
10. Feathered Layers
Talking of layers, those with feathered ends are truly a show-stopper when done right. They create the illusion of thick roots with light airy tips making them a must-have for those with thinning tresses.
Set the look on fire with a good blowout and that's it!
11. Pompadour Pixie
Choose an androgynous hairstyle this year to celebrate your 30s like never before.
Copy this edgy pixie haircut featuring short smooth sides and a long textured top tapering towards the back that's brushed up into a glamorous pompadour and it won't go ignored.
12. Platinum Buzz
Thinking of going bold? Try this quirky hairstyle perfect for 35-year-old women to start fresh with their mane.
Buzz off all the hair equally all over the head or keep the top slightly longer than the sides to achieve a little dimension. The cool platinum blonde hair shade is a must-have too!
13. Pineapple Updo with Bandana
Keeping those god-gifted curls on the loose all the time might seem a little impractical especially, during a busy routine.
Toss them high up at the back to fall all over the face at the front. Couple your pineapple updo with a silk bandana and jumbo earrings for a chic finish.
14. Unique Senegalese Twists
Black beauties can keep it traditional yet modern by going for super long Senegalese twists on top coupled with neatly buzzed sides.
Style the knits in a high ponytail with a chunky side braid or keep them loose to dance with the wind.
15. Wavy Blonde Locks + Highlights
Give yourself a style shake-up by going deep blonde this season. Add a handful of light blonde highlights to impart a sun-kissed radiance on the face making those pretty green eyes truly pop.
Achieve movement, bounce, and body with soft beach waves.
16. Curly Bob with Fringe Bangs
Short haircuts and bouncy curls are the best combination to make a thin mane appear healthy and thick.
Try a chin-length French bob full of layers and curls with cropped yet straight curtain/fringe bangs to express your funky side. Delicate babylights would make a huge difference too!
17. Rainbow Shag
This colorful shaggy long bob is exactly what you need to brighten up your dull days.
Ask for choppy layers with blunt ends and choose your favorite hair shades like green, purple, and pink to be painted onto the hair in whatever symmetry you like. Bold and beautiful!
18. Sun-Kissed Caramel Curls
Change your hair care routine after all those years of heat-styling and you'll be amazed how beautiful your naturally curly tresses can be!
Opt for a soft caramel all-over hair color with a nice trim to get rid of all those damaged ends.
19. Butter Blonde Lob
Cutting the hair short adds a subtle youthfulness to the face. Go for a shoulder-level lob and brighten up your look further with a buttery blonde hair color.
Incorporate it as an all-over hair dye, highlights, or a balayage instead to make those gorgeous peepers really pop.
20. Elegant Chignon
Elegance is mostly the main target when looking up hairstyles for 35-year-old women.
And what can be more graceful than a basic low chignon bun resting on the nape? Try side braids for a more detailed appeal before twisting up the rest of the hair at the back. Or don't!
21. Dreamy Crown Braid
Wear your tresses like a crown on the head with a braided updo. Create two Dutch braids and wrap them around the hairline or start entwining the chunks while moving around the head.
The center parting is optional while adding flowers is just perfect to achieve a dreamy allure.
22. Asymmetrical Bowl Cut
Let go of all the seriousness and relive those wild carefree days with a funky asymmetrical haircut.
Take this look as an example featuring cropped blunt bangs and a bowl cut on one side with a long mane on the side of the face. Unique, isn't it?
23. Timeless Cornrows
Cornrows have been here for ages and will probably always be among the most sought-after protective hairstyles suitable for African-American ladies.
There are so many ways to rock these scalp braids; you can try straight-back ones, zigzag ones, chunky or fine ones, and colorful ones of course!
24. Edgy Mullet
The 70s mullet haircut is still in trend and a must-try for ladies who are looking for some extra drama.
The layers are short at the front and top with longer chunks balancing them out at the back. The shaved sides are sure to attract some attention.
25. Vintage Victory Rolls
Go retro with this vintage hairstyle ideal for 35-year-old ladies and older to steal the show at any formal gathering.
Wrap the front chunks around your fingers and secure them in place with pins to end up with a couple of chic victory rolls. Finish off with Hollywood-style curls.
26. Pink Pop Elfin Haircut
Take a break from long periods of hair styling by chopping off that mane into a groovy elfin/pixie cut with a wind-swept long top. Trim one side of the head while buzzing the other to throw off the balance for a change.
Add a hint of bright pink to celebrate your womanhood with pride!
27. Easy Low Pony
A low ponytail may seem too basic and boring at first but can become a high-class fashion statement when done right.
Add soft curls before assembling them at the back along with an off-centered parting. Pull out some chunks to frame the face and voila!
28. Wavy Bob
If you haven't tried out a bob haircut since entering your 30s then you're truly missing out!
A chin-length blunt one with choppy layers and sexy beach waves will lift up your face like nothing else. Set it on fire with a fresh dirty bronde hair color. Zero regrets guaranteed!
29. Over-The-Top Bun
Who needs a high-maintenance hairstyle when a simple one does the job? Keep it classy with a basic top knot and wispy chunks framing that pretty face.
Soft eyes and bright lips along with the right dress up are the key to achieving that successful woman-like appeal!
30. Twist-Back Ponytail
This intricate hairstyle is a lifesaver at fancy events for 35-year-old ladies.
The trick lies in twisting and wrapping two chunks around one another with a knotted pony at the back. A little mess will add up to the look.
31. Pretty-In-Pink Box Braids
Lastly, do not forget the good old box braids that are loved by women all over the world regardless of their age and origin.
Get the brightest pink extensions and incorporate them into your knits. Assemble them further into one jumbo braid and adorn it with shiny hair cuffs. Tada!
Although hairstyles for 35-year-old women are mostly expected to be practical, low-maintenance, and contemporary, yet, they can be anything from subtle and elegant to dramatic and wild. It all depends on your choice, styling routine, and the extent you want to go to change your look.
Trending Topic