Short in front long in back hairstyles are also known as hairstyles with bangs or a fringe. These hairstyles have recently gained significant popularity. This fringe hairstyle can be styled in numerous ways based on how long you like your bangs to be. This hairstyle is known to make a women's appearance much younger and also provide more shape and dimension to it.
Best Short in Front Long in Back Hairstyles for Women
Below are 35 of the best short front with long back hairstyles of the season for women to rock.
1. Braided Pony with Bangs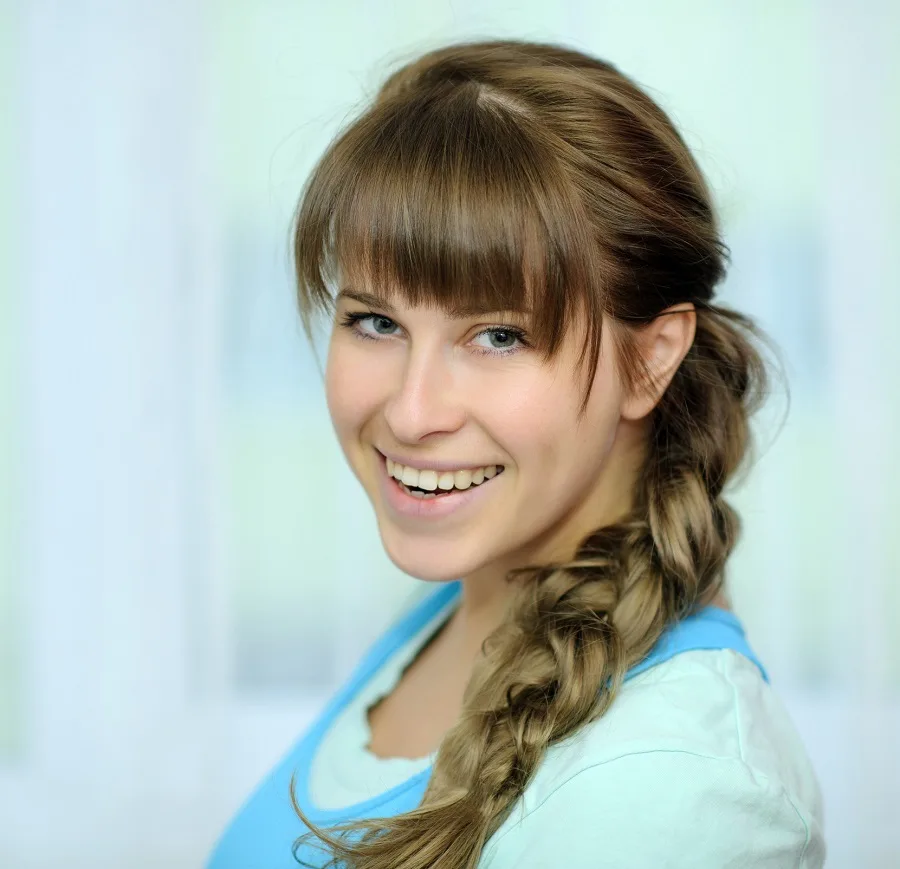 Short in front long in back hairstyles are cute and can make any woman feel confident. This simple look is easy to recreate; all you need is bangs and a ponytail that you will messily braid. Straighten the bangs and keep longer strands on the corners of the forehead.
2. Wedding Hairstyle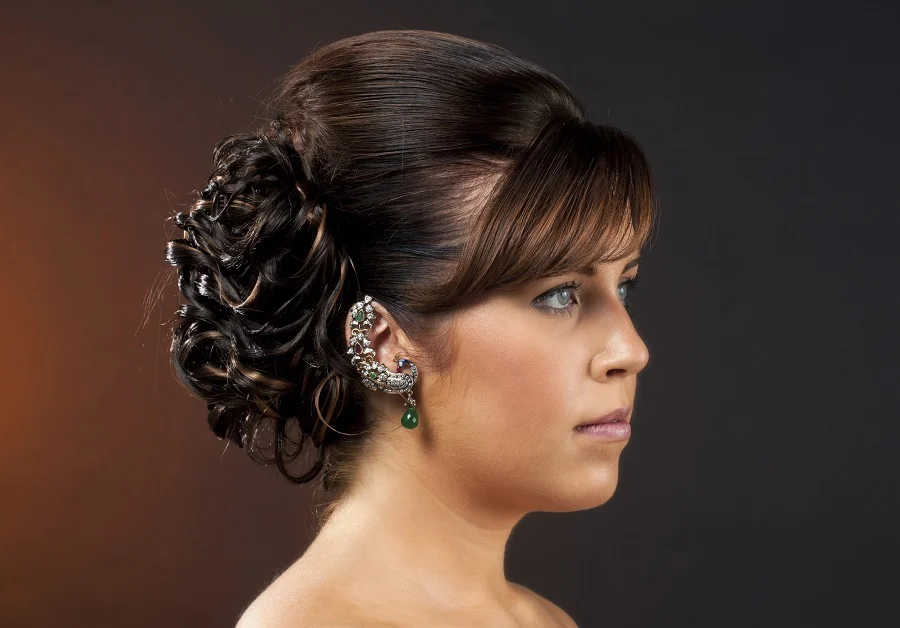 This short in front and long in back wedding hairstyle will certainly get all the attention it deserves. Style bangs that you will wear on one side. Gather all the hair in the back and make sure the combing is perfectly done. Curl your hair and create a voluminous bun.
3. Space Buns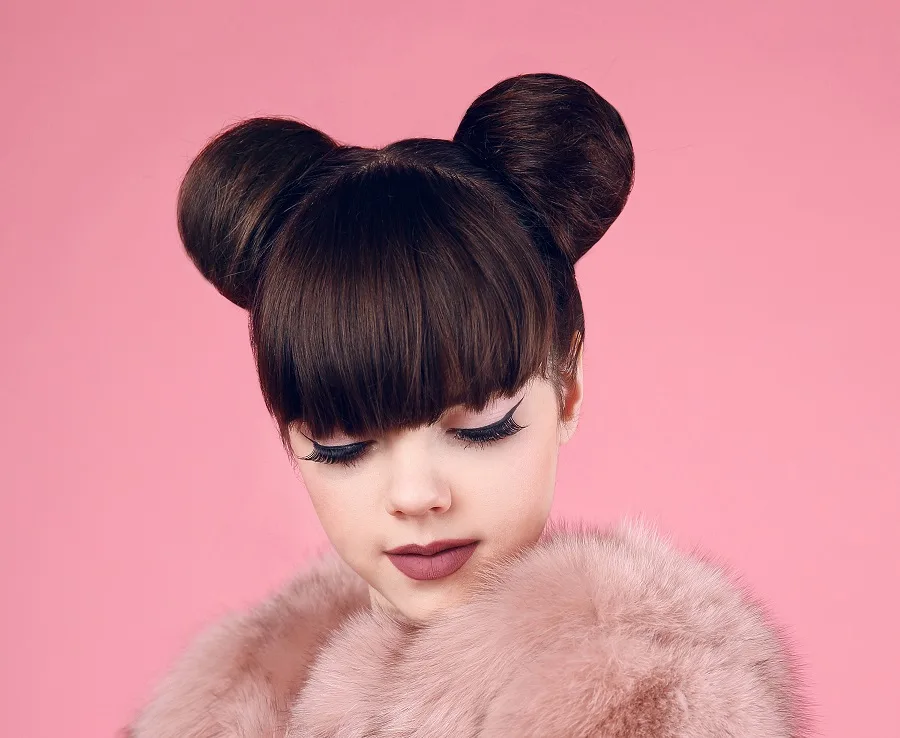 Space buns are cool and make any girl look fresh and hot. They are an ideal short in front long in back hairstyle for parties or events where you want to show off your glamorous style. Get straight bangs that cover your forehead and eyebrows and draw all the attention to your eyes. Create a thick black line to highlight them.
4. Hairstyle for Older Women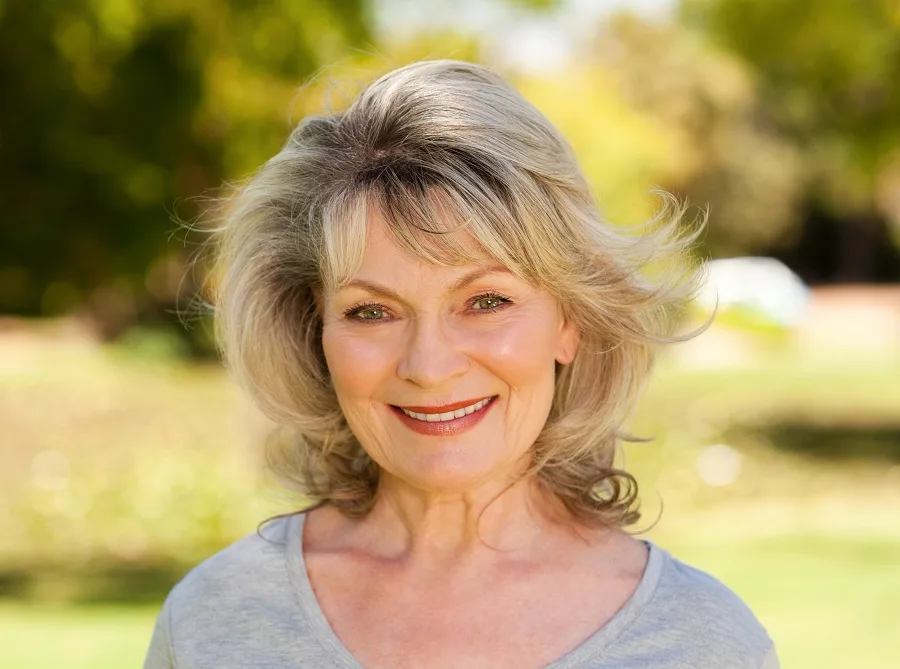 As an older woman, a short in front long in back hairstyle will add a lot of value to your look. Get bangs and a layered haircut. Keep the roots darker and sport a blonde balayage. This dyeing technique doesn't only look gorgeous, but it will also help you hide, and better blend the gray and white hairs for a longer period.
5. Stylish Ponytails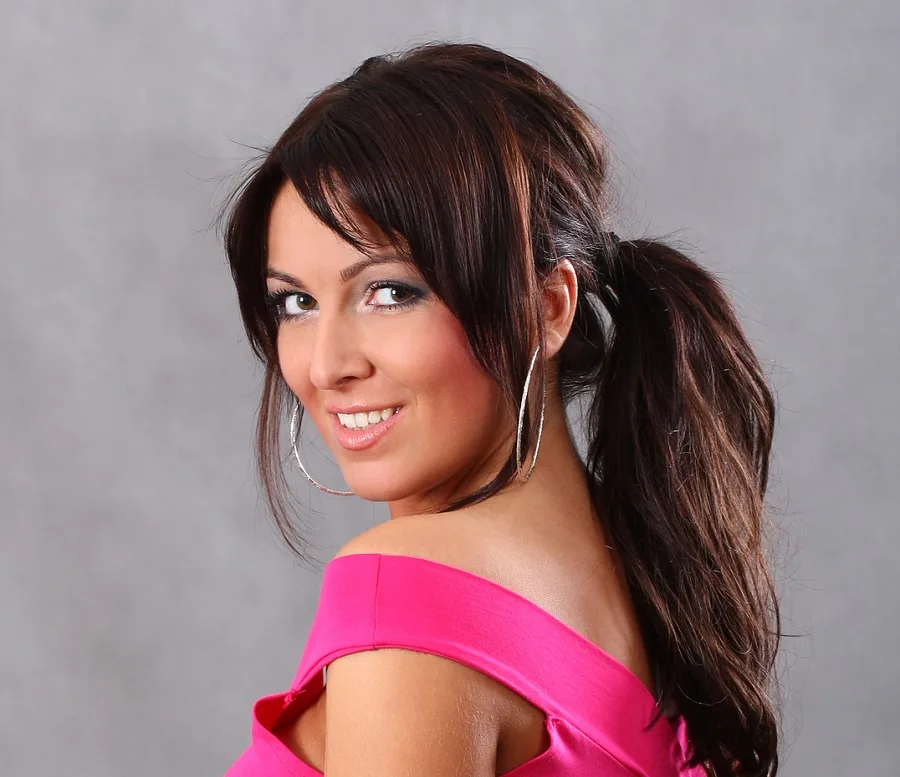 This is such a common look for girls with long hair. It features rounded bangs that gradually grow on sides, creating a stunning frame for the face. The mane is pinned into a messy ponytail. To obtain that volume, you have to create a bump on the top of the head. Do so by gently pulling the hair.
6. All Messy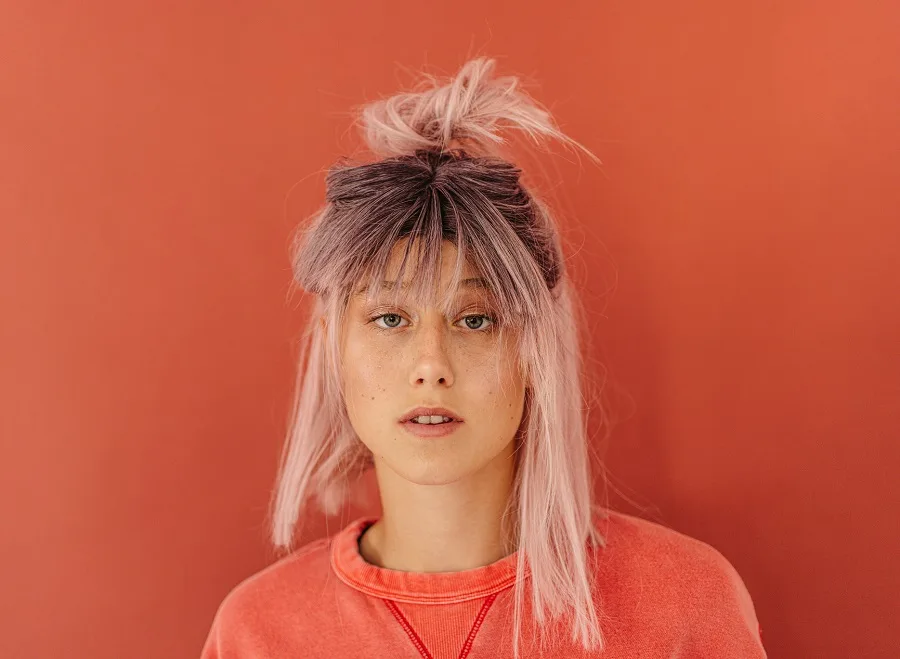 Some girls love completely messy hairstyles. In this case, if you don't want to bleach and dye, you can opt for a wig with a bob shape and bangs. Gather the front hair up in a top knot. Leave the rest untied. Depending on the quality of the wig, this hairstyle can look natural or not.
7. Hairstyle for Heart Shaped Face
This hairdo is one of the cutest options for a girl who wants a short in front long in back hairstyle. This combines a stunning pixie haircut for the top with a mullet and it looks unexpectedly good. The waves give the hairstyle texture, and the short bangs create a nice frame.
8. Waves and Bangs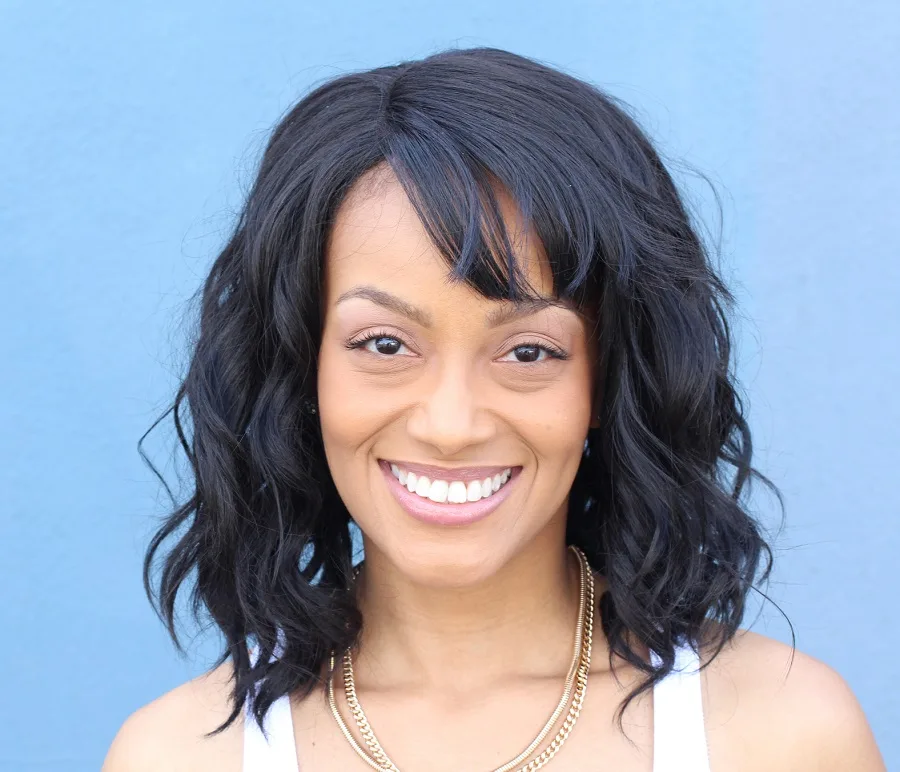 If you don't have rich hair, you can always find hair extensions that will help you master a gorgeous look. Use clip-ins or tape-in extensions to get more volume. Also, wigs are always an option. Find one that looks exactly how you want, preferably made out of human hair.
9. Orange Half Top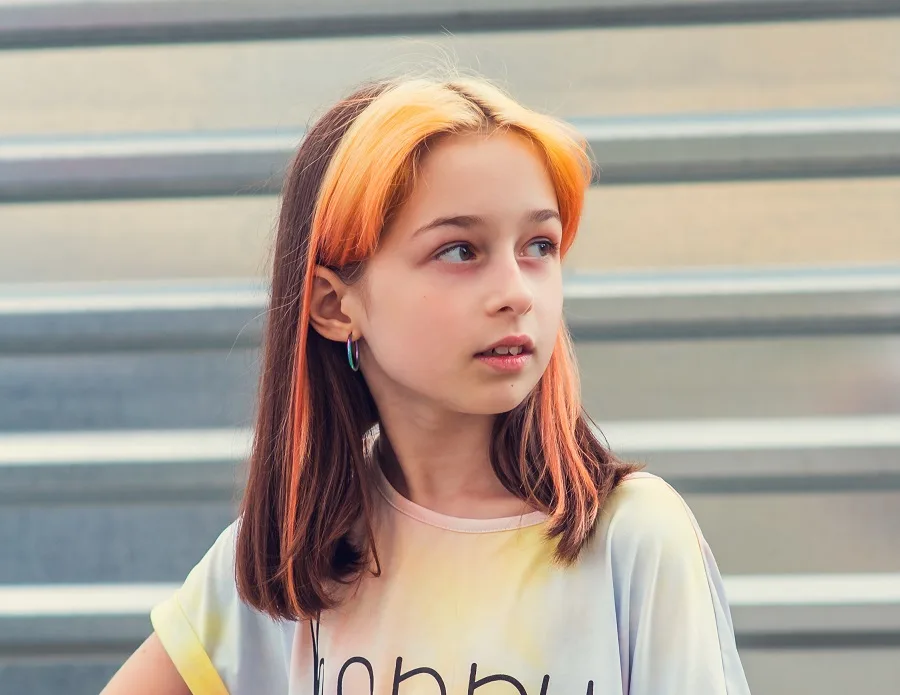 That pop of color is exactly what you need if you want a cool hairstyle. All you have to do is create bangs and bleach only half the top of the head into a brighter color. If you don't want to get a fringe, you can always tuck the front strands over the ears.
10. Sandy Blonde
This shaggy haircut is one of the best examples of short in front long in back hairstyles. Create bangs and loads of layers that you will wave and curl with a straightening or curling iron or even a round brush and air drier.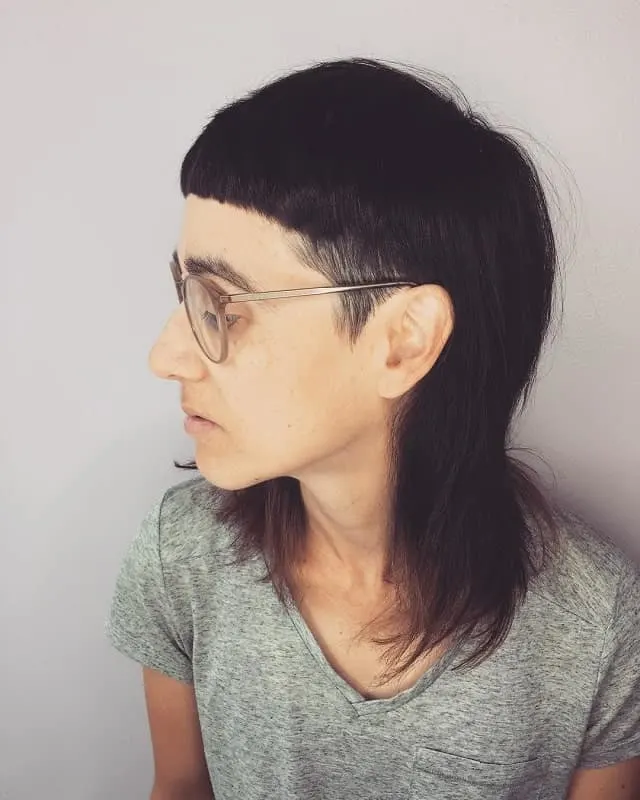 This chopped short bangs hairstyle is perfect for anyone who loves looking edgy, gender-neutral and to some extent emo as well. The front of the hairstyle gives off a mullet vibe while the long hair in the back is more a feminine vibe. If you are into something that's out of the box, this haircut is a great idea.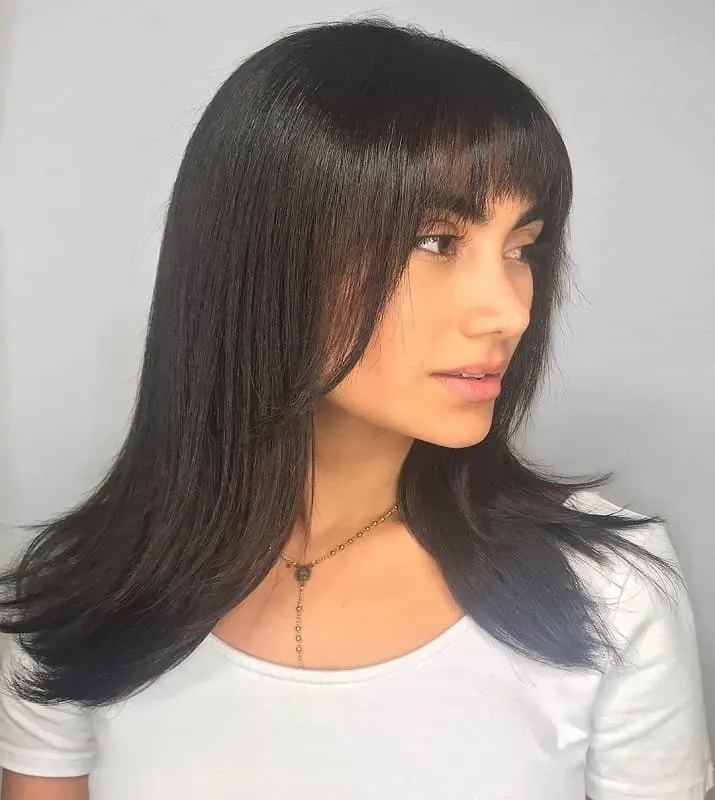 This hairstyle is perfect for women with naturally long straight hair. The hair length is manageable, and the fringe falls above the eyebrows. This hairstyle is sophisticated yet sexy. If you need something to wear to work that's low maintenance but looks breathtaking, this is it.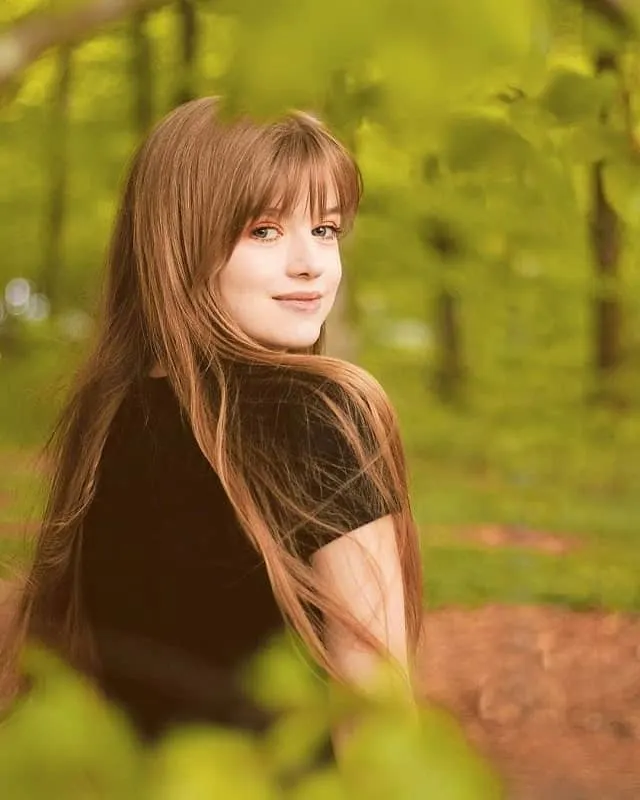 This short in front long in back hairstyle is perfect for girls with big forehead because the long fringes are a great way to cover them. This hairstyle will make your forehead appear smaller and provide a more symmetrical shape to your entire face.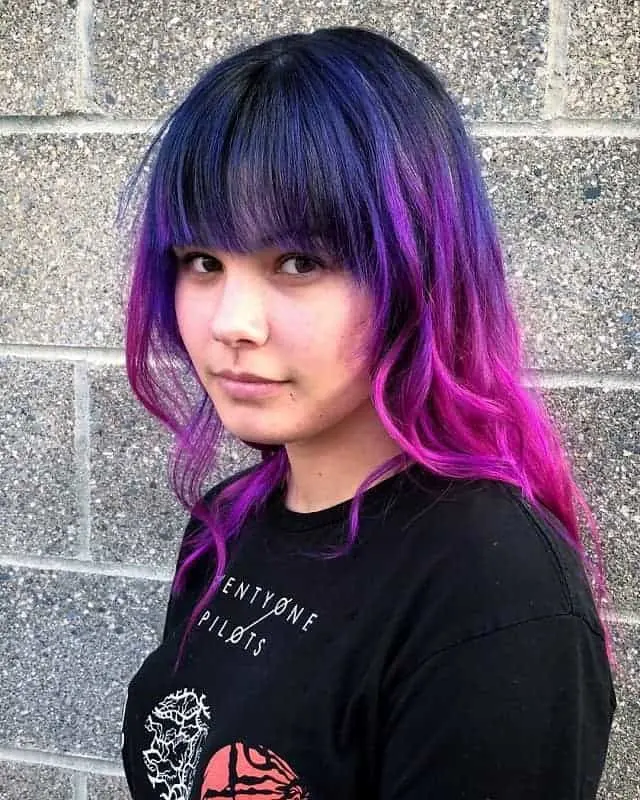 Opting for a fringe hairstyle and bright color hair is a great combination. The reason behind this is that the fringe mellows down the look and makes you look more innocent and younger.
This, in turn, balances out the bright hair color. This blue-purple pink fringe hairstyle is great for someone who loves playing around with their hair.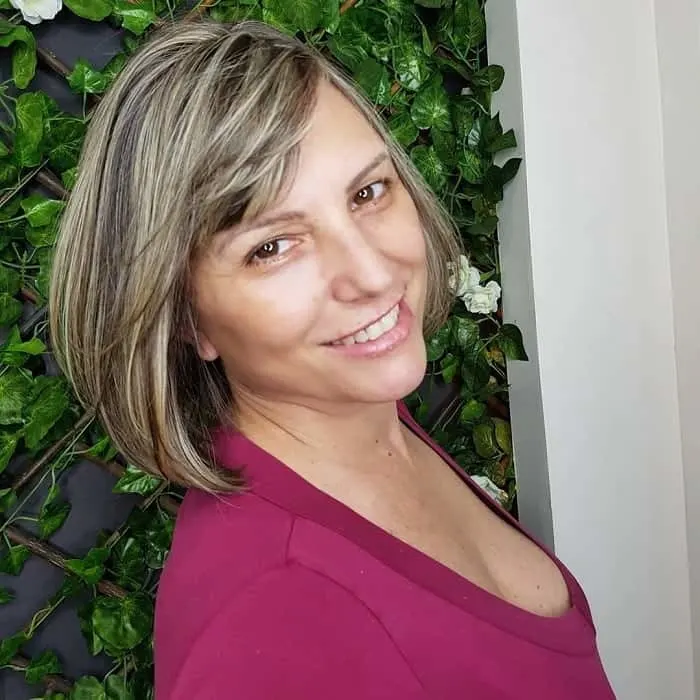 A side fringe and bob haircut have been paired together for decades. Elderly women can wear this haircut since it looks age-appropriate short in front hairstyle. At the same time, a lot of young women are starting to wear this functional hairstyle as well. The side fringe adds a little oomph to the bob, making the look come together.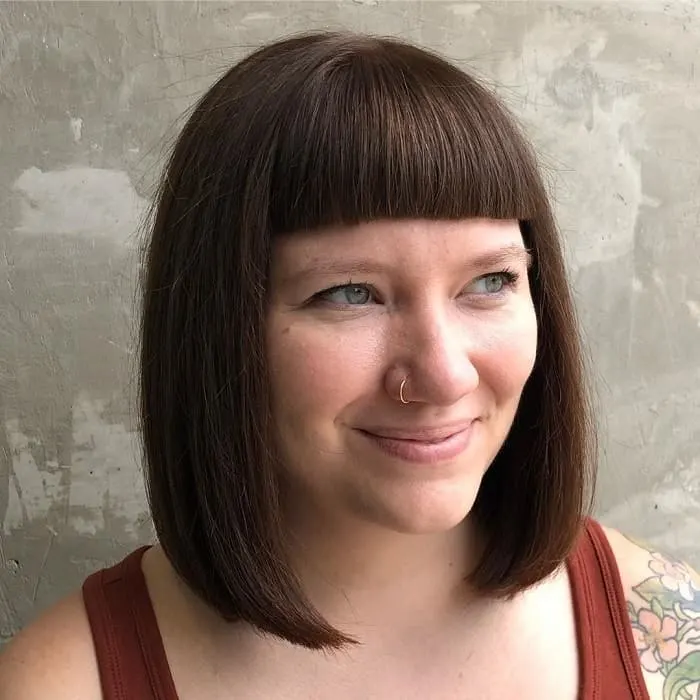 This straight-cut short fringe has been taking the world by storm. The chopped hair look depicts something of an anime character, which is why it has been recently liked a lot.
This hairstyle is a good idea for someone who doesn't have too much time styling their hair but yet wants to look significantly put together.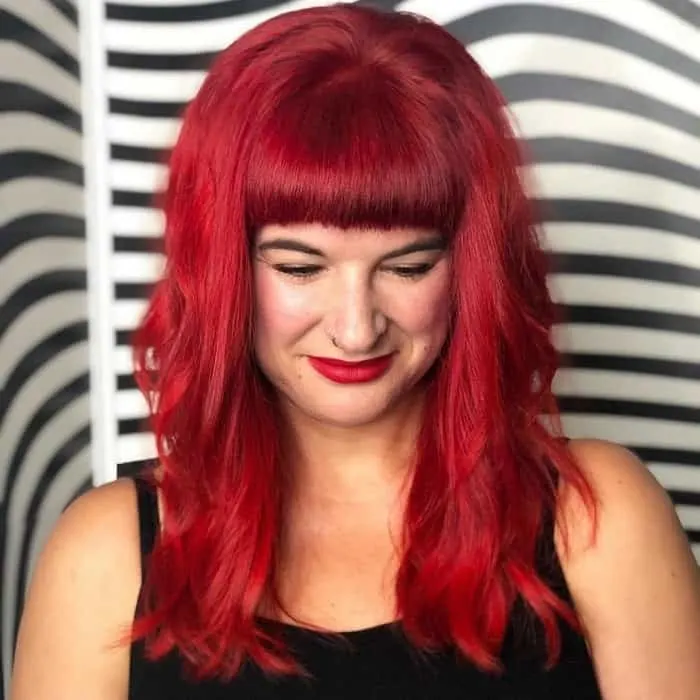 Having to complex hair textures together results in breathtaking hairstyles. This wavy hair length complements the short fringe in front perfectly because of that very reason. Having colored hair can sometimes be difficult to style. This long in back haircut is a great option because it required no extra heat or effort.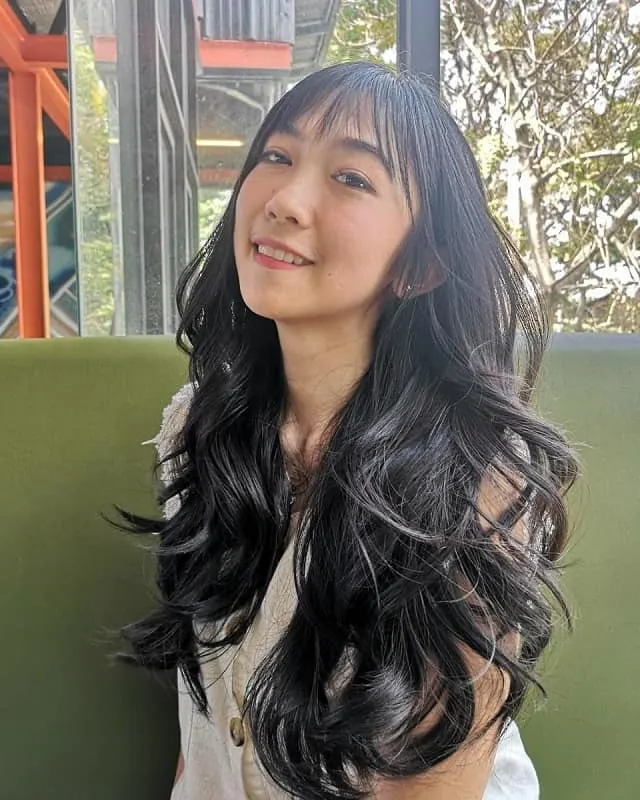 If you have long luscious locks, this short in front hairstyle is is for you. The thin fringe in the front adds a great subtle kind of spice to the long thick curly hair towards the bottom. This easygoing hairstyle is the perfect way to style your hair for a fun evening out.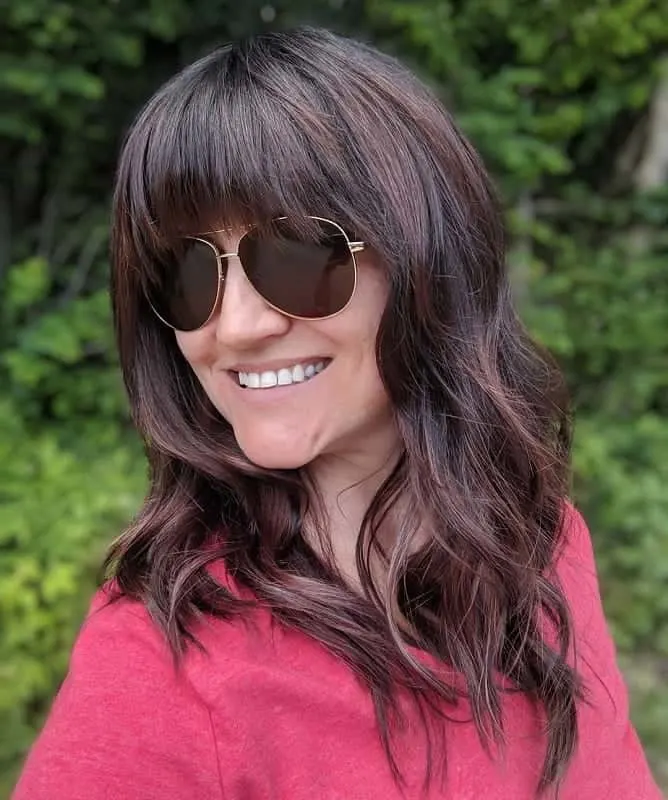 Two characteristics that describe this short in the front long in the back hairstyle is laid back but sleek. These brow bangs have been thinned out towards the end to make them appear longer than they are.
The short hair with texture and layers adds to the look bringing it together. The result of this hairstyle is truly stunning.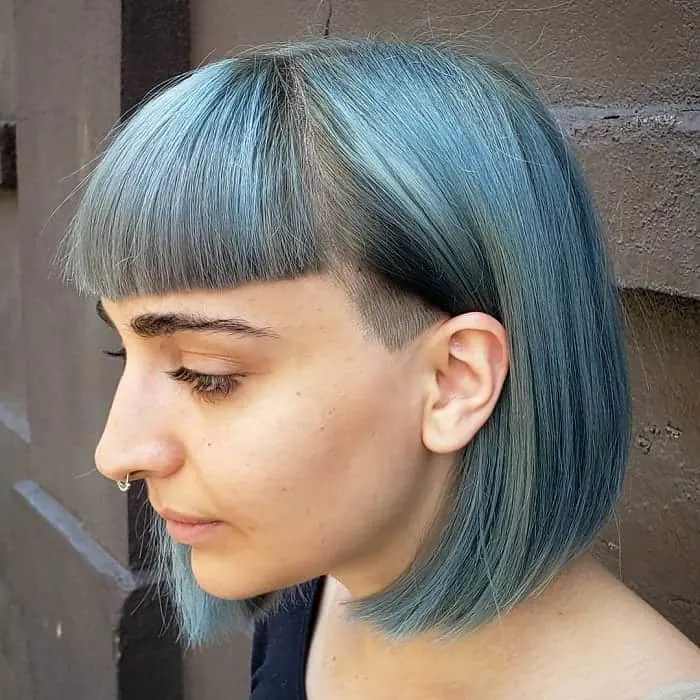 Light blue hair color has been on the radar in the fashion industry. The color is electrifying and intriguing. If you are looking for hairstyles that will match your blue hair color, this hairstyle can be your next one.
The bob and the straight cut fringe is pulp fiction inspired with a fun modern twist. Having your hair cut this way won't require much styling. If you have straight hair, it would not require any styling at all.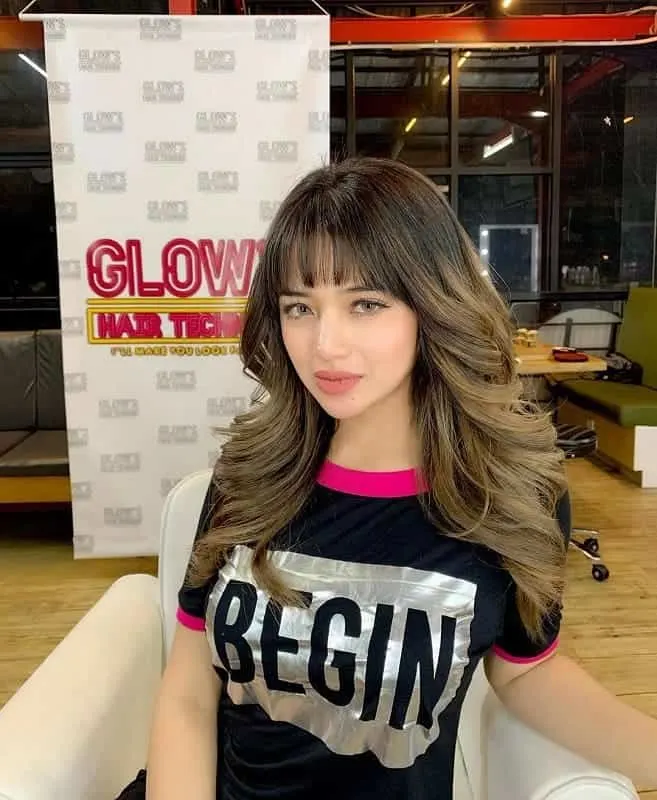 If you are into a voluminous hairstyle, this hairstyle is something that you need to try. The hair towards the bottom is curled out while the fringe is contrasting and straight.
This long back hairstyle is a perfectly natural yet dressed up kind of style. You can wear this style to any event, and it would complement your outfit perfectly.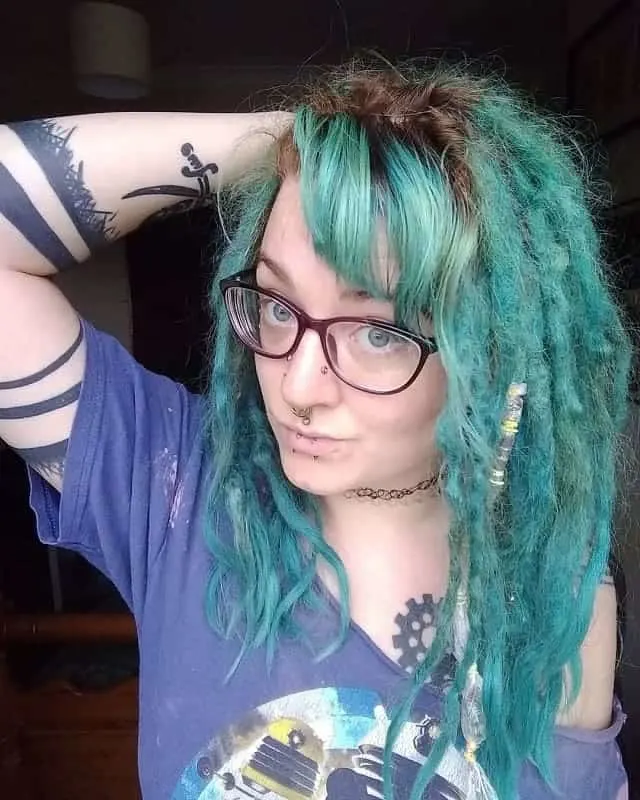 Short in front long in back hairstyle doesn't always have to be straight, curly or wavy. These dreads are a great unconventional way of styling a fringe. The side fringe brings out more character in the entire hairstyle and also a more adorable element as well.
Short In Back and Longer In Front Hairstyles
23. Candy Cane Inspired Hairstyle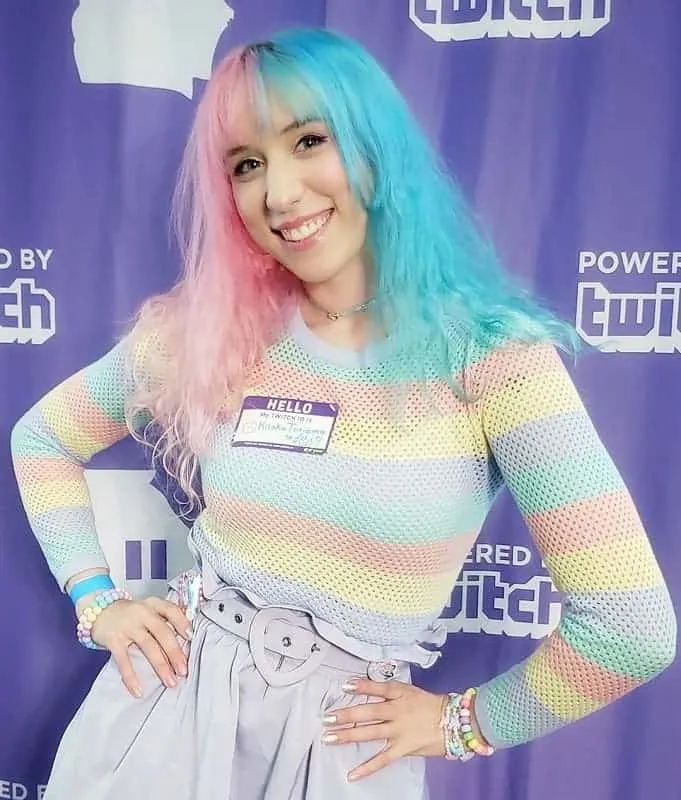 To mix up a regular hairstyle candy cane inspired color is a perfect alternative. The baby pink and baby blue hair color go well together. If you don't mind stepping outside the box or are in the mood to go for something playful, this fringe hairstyle with two complementing colors is the way to go.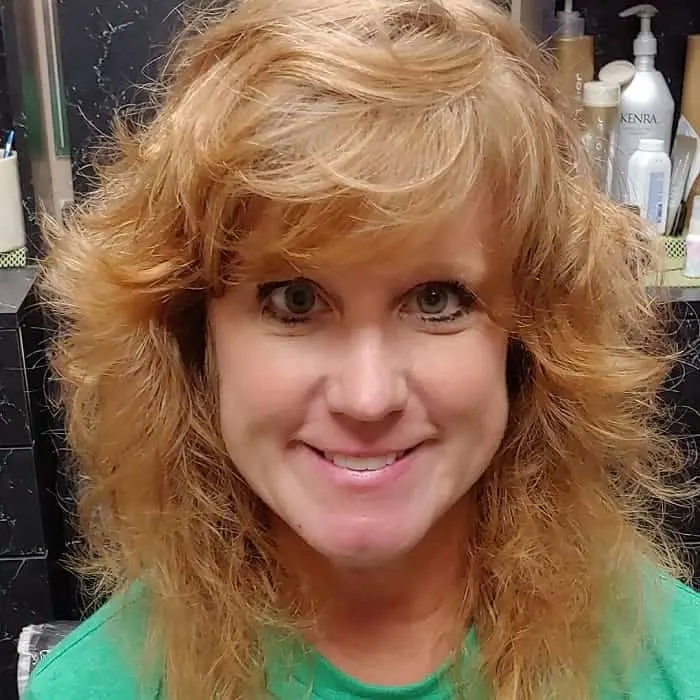 Even though for the most part, fringe or bangs are worn straights, it's not the only way to wear them. If you have naturally wavy hair, you can still opt for bangs.
This short in the front hairstyle has longer hair in the back which looks playful yet tamed into something sophisticated. Its versatility makes it perfect, especially for older women.
25. Side Bangs and Perfect Curls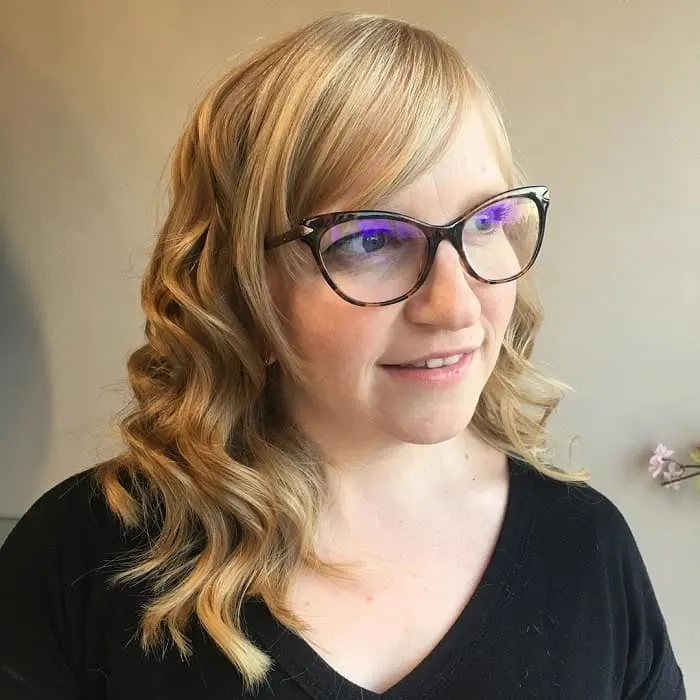 This hairstyle has the ability to look casual as well as dressed up, depending on the clothes you choose to wear. It's perfect for events like winter formal where you don't want to go overboard but still want to dress it up a bit.
26. Kinky Curly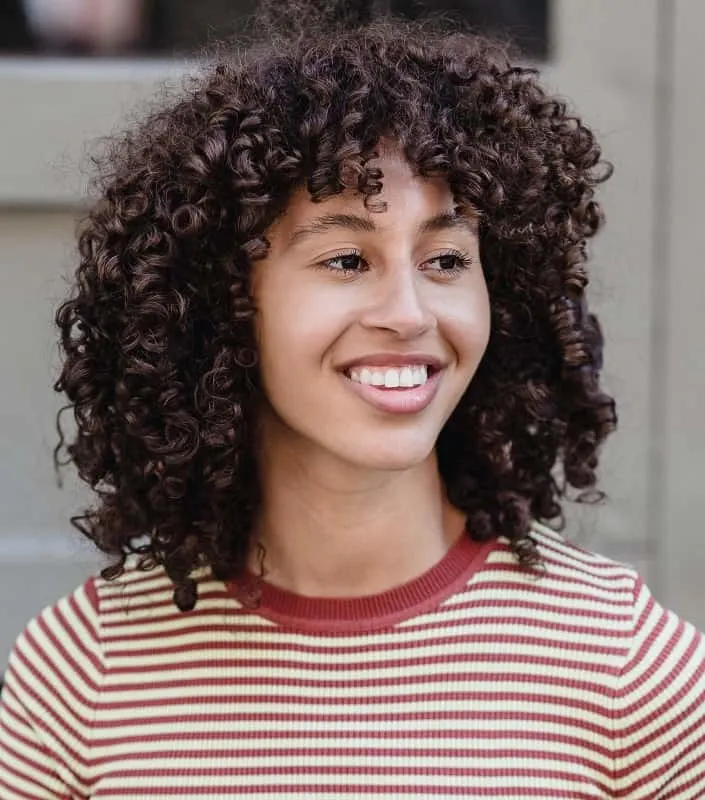 If you struggle against your kinky curly hair, just leave it down but cut it to shoulder length. Adding in bangs will create a nice framing as well.
27. Crazy Colorful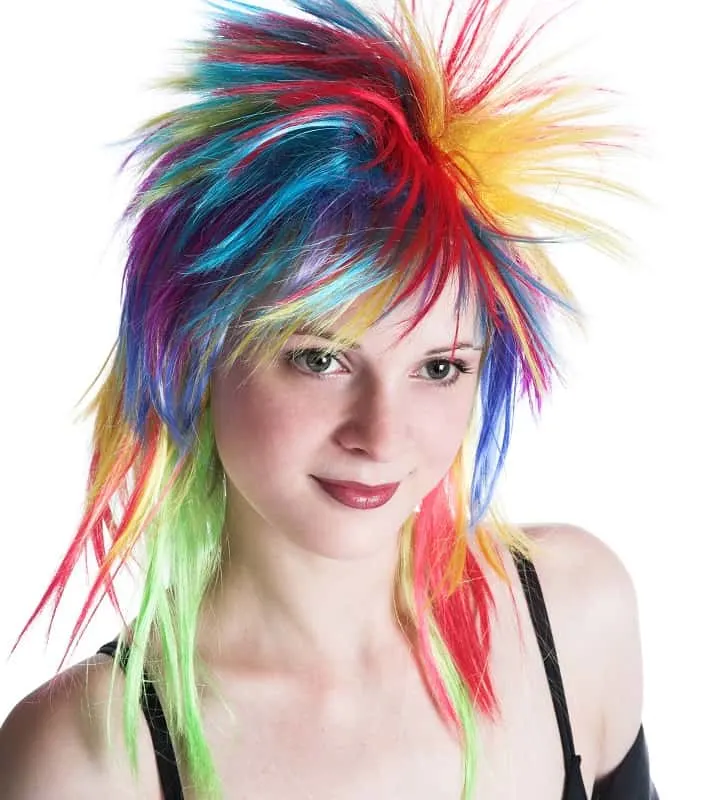 This straight hair with multiple colors is almost so wild it looks like a wig! Alas, if you love playing with color and texture, you'll love this mix of short front and long back with every color of the rainbow.
28. The Long Halle Berry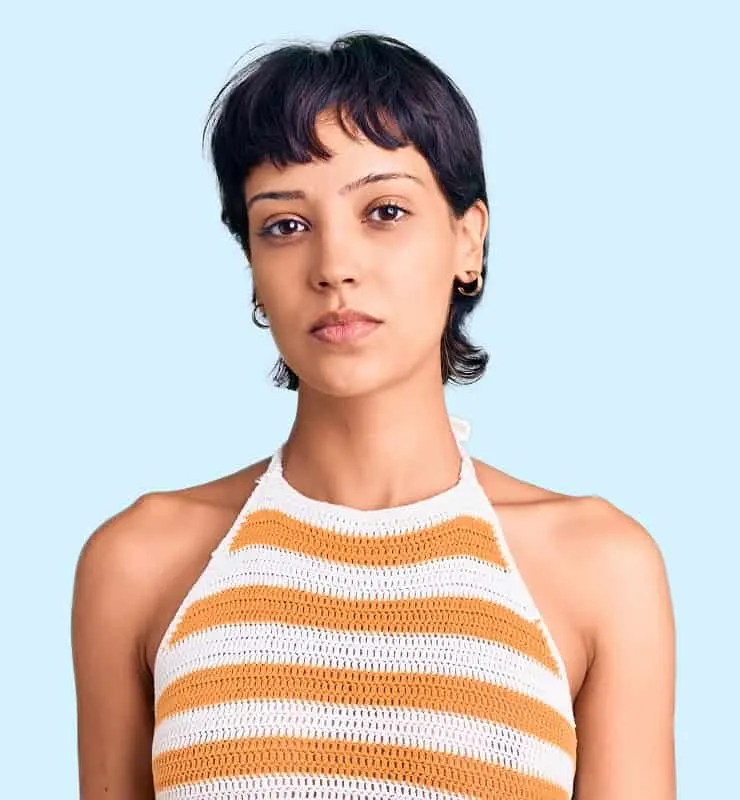 Remember Halle Berry's famous short pixie? This cut still features that chic short hair up front but a longer level of hair at the neck.
29. Messy Bun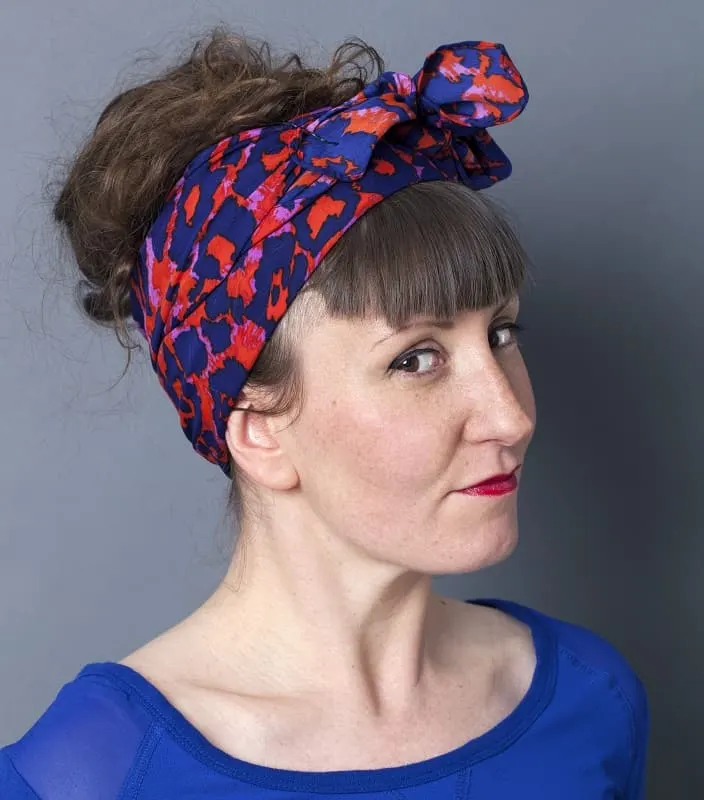 A vintage style is easy to get when you add a printed bandana to a messy bun. In a flash you can take your long hair and gather it into an updo with short blunt bangs.
30. Super Short Bangs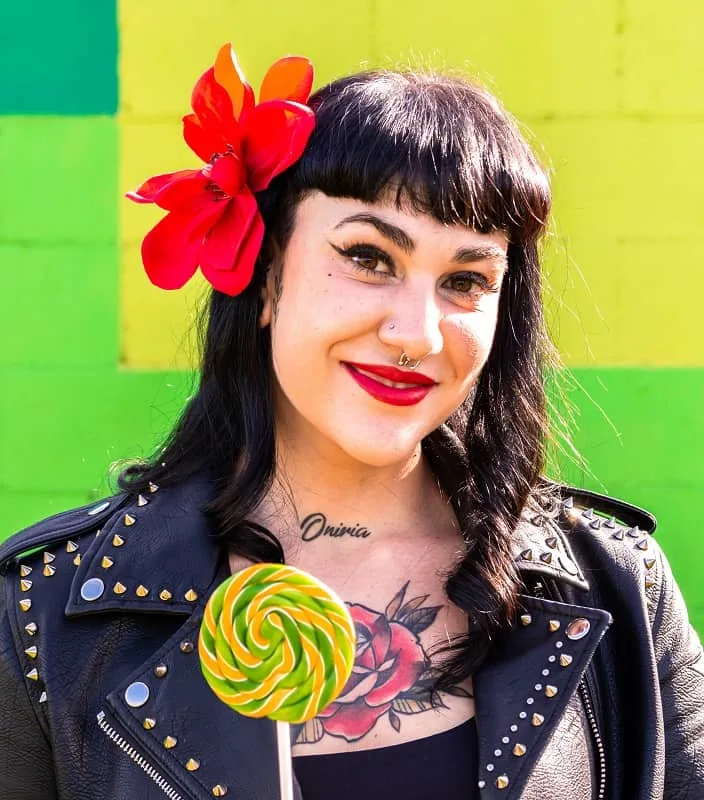 We love this woman's style: it's pin-up meets modern the way she sports super short blunt straight bangs with long wavy hair. An oversized colorful flower is the final accessory to bring this look together.
31. Punk Pony
Short front and long back takes on a new meaning when you pair a feminine ponytail with shaved sides and blunt bangs. Flaunt that femininity but keep it punk!
32. Short with Layers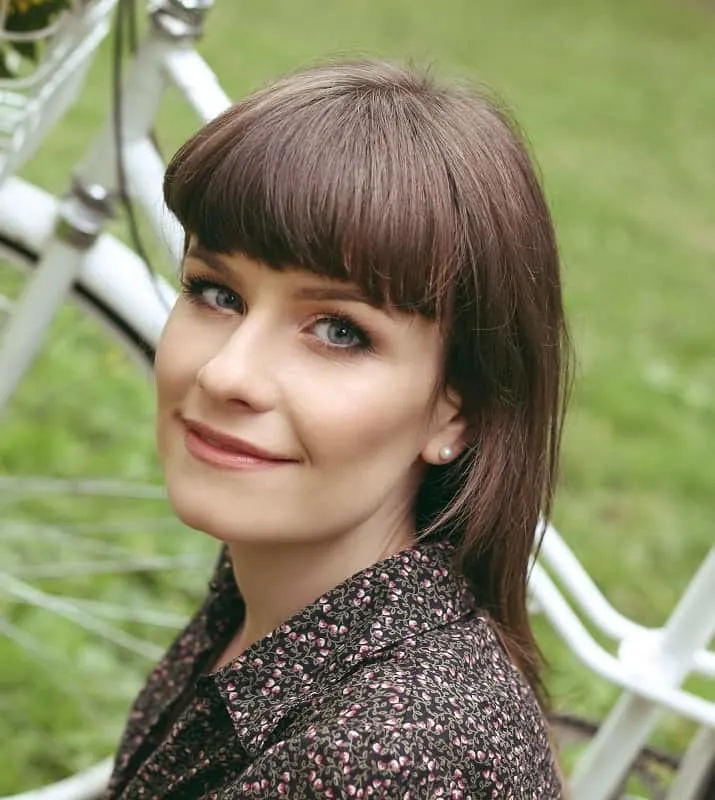 A short bang with a rounded cut to it is the perfect complement to short layered hair. Whether you wear your hair down or up in a ponytail on the weekends, this look will be your new fave!
33. Short and Curly Meets Long
Throw it back to the 80s with this hip hairstyle. A short curly front is slightly messy but totally natural. The long back is mostly straight-textured but a manageable length.
34. Short Spiky Front with Shaved Designs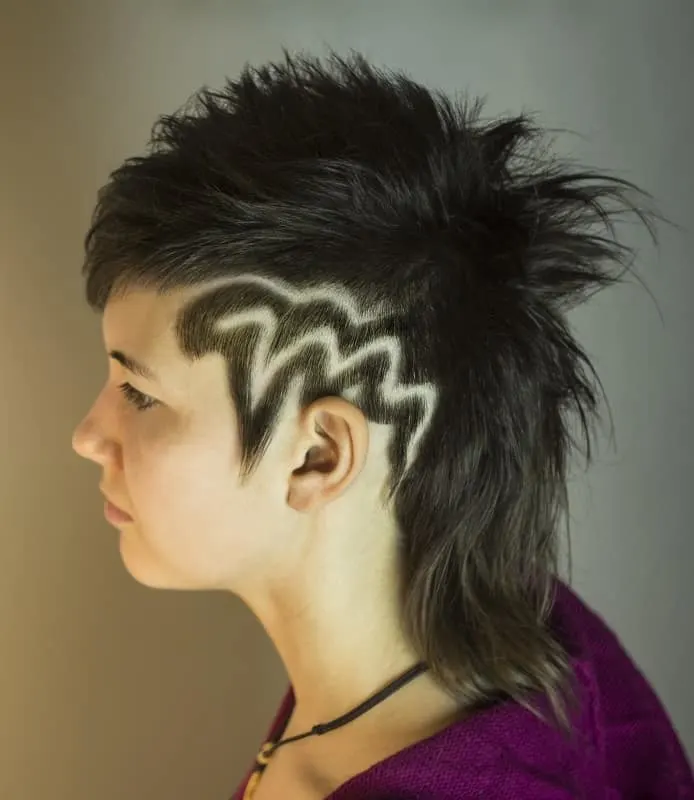 Make your short in front, long in back hairstyle one of a kind by shaving in zig zags on the sides, layering the back, and spiking up the front.
35. High Buns and Short Bangs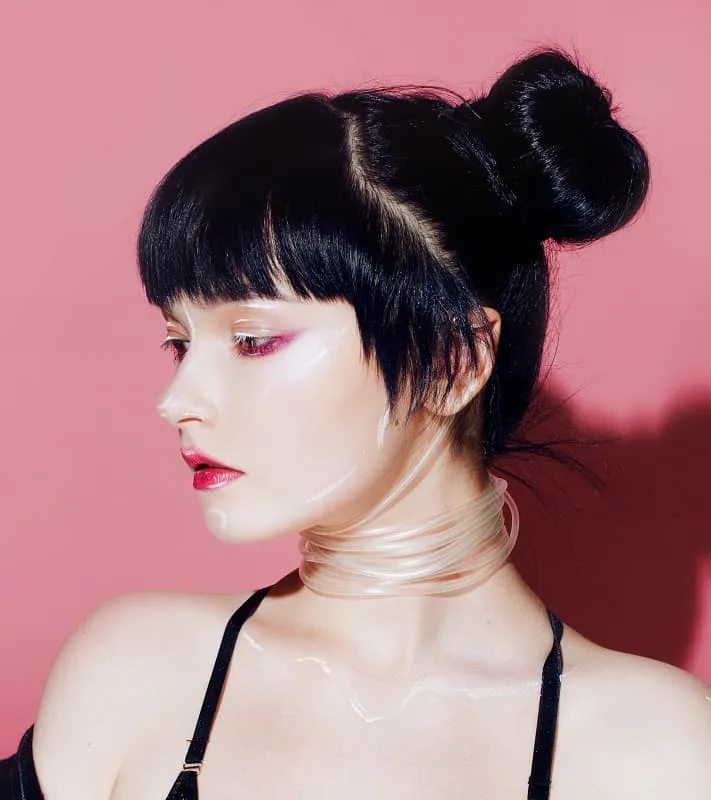 Put long hair into a cute updo with two high buns secured tightly at the top of the head. A short blunt bang with longer sides over the ears completes the look. Of course, this hairstyle with bold makeup levels you up.
Short in the front long in the back hairstyles are a great way to style any women's hair irrespective of their age. The styling doesn't require much time or heat, making the process healthy for your hair. These hairstyles can be a switch from casual to formal, which is why you need to try some of them.