If there is one era that has truly made its mark in terms of clothing to hairstyles to music to dance forms, it is definitely the 90s! So, it is not surprising to see many of the 90s hairstyle trends making a big comeback. One such trend is the 90s black hairstyles.
Sported by all the top black celebrities of the decade, these hairstyles were a statement in themselves. From Toni Braxton's chic pixie to SWV singers' uber-cool hairstyles Lauryn Hill's voluminous dreadlocks, there was no shortage of inspiration.
Bringing Back the 90s Black Hairstyles
It's time to bring out your inner 90s vibe as we bring you the top 20 hairstyles for black women that will surely have you feeling like a diva from the 90s era!
1. Glamorous Afro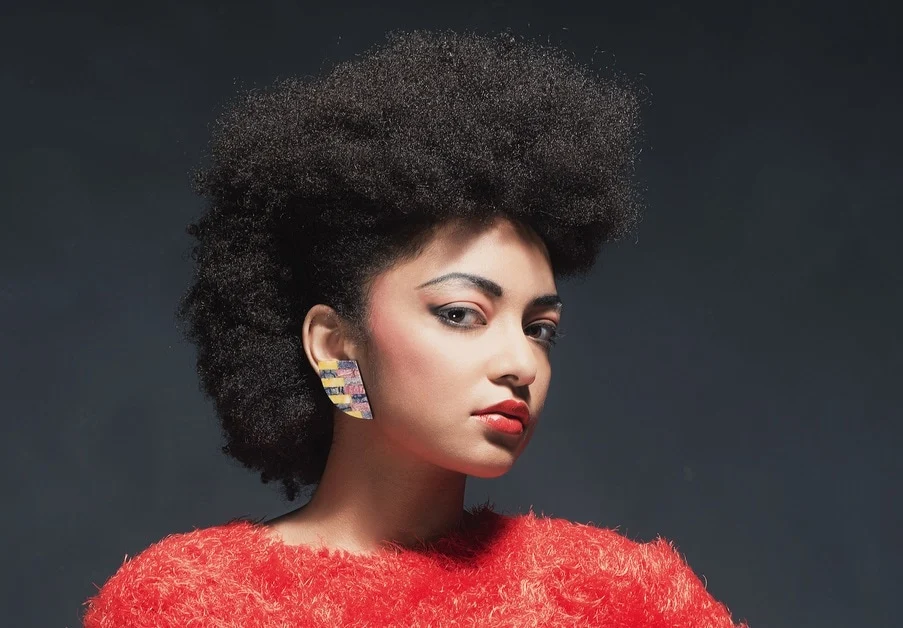 Afros have always been one of the most popular black hairstyles, and it was the same in the 90s as well.
Sporting a glamorous Afro hairstyle like this is a sure-shot way of making a powerful and stunning entry at any party.
2. Vintage Finger Weave
A finger weave like this is considered as one of the most timeless hairstyles from the 90s era. The S-shape on the crown area adds just the right amount of sass and oomph to your overall look.
You can also opt for a floral accessory to complete the look.
3. Multiple Space Buns
Space buns immediately conjure up an image of a fun and peppy hairstyle. This 90s hairstyle for black wopmen is a hit with women and young girls.
This multiple buns style is an amazing hairstyle for you to try out if you have a fun party coming up.
4. Elaborate Updo Bun
Classy, vintage, stylish – this elaborate updo bun is all of this and more. A true resemblance to the 90s era, we love the flamboyance of this hairstyle.
The combination of dark and light-colored hair strands brings out the elegance of this hairstyle even further.
5. Natural Curly Bob
The 90s black hairstyles and curls go hand-in-hand! Curls were one of the preferred styles during the era and you can add a modern twist to it by opting for a short bob haircut and letting your natural curls do what they are best at – making you look glam!
6. Long Box Braids
Over the years, hairstyles involving braids have evolved a lot. The 90s saw some amazing braided hairstyles with different types of braids, such as this box braid.
These long and chunky braids can completely transform the way you look.
7. Top Knotted Bun
Looking for a simple yet powerful black women's hairstyle? We highly recommend this top-knotted bun! The 90s showed us how a simple hairstyle with minimal effort could do wonders for you.
This is an easy-to-create hairstyle; just ensure that you use sufficient hairspray to maintain the sleek look.
8. Straight Black Box Braids
Here's yet another box braids option to give off the perfect 1990 vibe. These straight, black box braids are quite versatile and you can style them in different ways.
You can either let them hang loosely around your shoulders or even try a half-up, half-down hairstyle.
9. Braided Wrap
The 90s hairstyles are often known for their complexity, and this braided wrap hairstyle is a testament to it.
To achieve this look, you need to first make thin braids, make a low bun with these braids, and then gently wrap your braids around your head and the bun.
10. Vintage Inverted Bob with Bangs
Want to flaunt a classic 90s movie star look? Try this stunning inverted bob with bangs. This hairstyle is suitable for women of all face shapes and can be easily styled on a daily basis.
11. Side Low Bun with Streaks
This side low bun is a beautiful hairstyle to try if you have a sophisticated evening planned. The stylish low bun with the hair swept over one side is further enhanced with the blonde streaks starting at the crown.
This hairstyle for black ladies is sure to have all eyes on you!
12. Classic Pixie with Fringes
Our list of top 90s hairstyles for black ladies is incomplete without this classic pixie cut with side fringes. This is a great hairstyle that shows off your beautiful neckline as well as your facial features.
This is a low-maintenance hairstyle that exudes really cool and chic vibes.
13. Natural Mid-Partition Long Hair
This mid-parted, long hair is ideal for black women who do not want to spend too much time styling their hair; yet want to stick close to a 90s-inspired hairstyle.
To complete the overall look, go for some big, shiny hoops with beautiful golden eyeshadow and winged liner.
14. Curly Two Bun Look
Your search for the ideal retro look comes to an end with this hairstyle! This curly-haired, two-bun hairstyle is the most quirky and fun hairstyle on our list.
A simple hairstyle that can be easily styled in no time, we recommend you finish off your 90s look with a pair of round-framed glasses.
15. Slick and Elegant Updo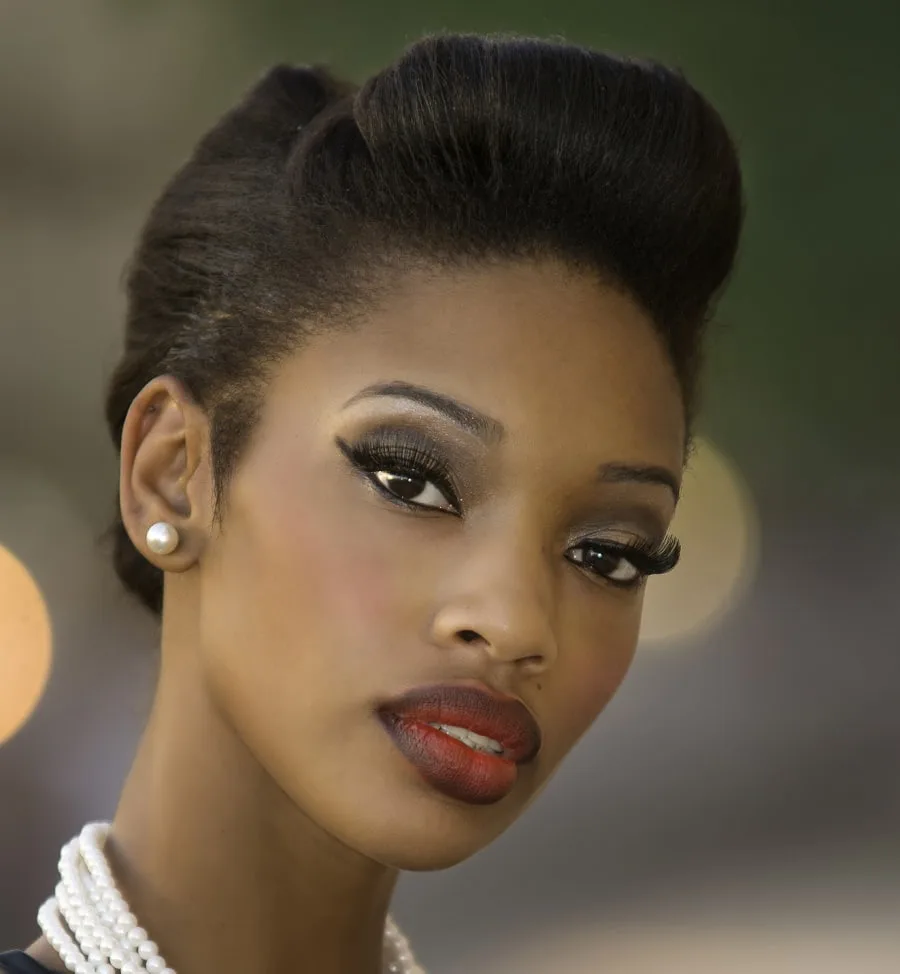 Everything about this updo hairstyle translates to elegance and sophistication. The slicked-back hairstyle with a chignon bun and an elegant pouf on the crown oozes understated style and glamor.
16. Medium Length, Pushed Back Hair
The 90s hairstyles were known not only for their complex and edgy styles but also for such cute and simple ones which could be sported on a daily basis.
This pushed-back hair with its outward ends and a simple bandana was quite a popular African-American hairstyle in the 90s.
17. Simple Buns with Hair Down
Buns are not just for black women with medium or long hair! Even women with short, curly hair can flaunt the two-bun hairstyle.
All that's needed is a little twist. Instead of tying up all your hair into buns, just use small sections on either side for the buns and leave the remaining hair loose.
18. Natural Tight Curls with Highlights
If au naturel is your style, then this retro hairstyle with tight curls are best suited for you. All you need to do to make your hairstyle pop is highlight the lower lengths of your hair, leaving the crown its original dark tint.
19. Long Dreadlocks
Dreadlocks are quite synonymous with the 90s black hairstyles, so here is a simple side-swept dreadlocks style for you to try out.
To make your long dreads shine, you can accessorize them with silver or golden cuffs.
20. Dreadlocks with Hair Accessories
Yet another dreadlock hairstyle with hair accessories to finish off our list of the top 90s hairstyles for black ladies.
To achieve this hairstyle, thicker dreadlocks are what you need and then adorn them with golden cuffs, wooden beads or any other accessory you'd like.
These hairstyles from the 90s are excellent for black women to look gorgeous but remember, some of these styles require a lot of time, effort, and care as well. Speak to hair professionals and seek their help in getting complicated hairstyles with as much less personal hassle as possible.
Also, do not forget to follow all the after-care instructions to ensure that your hair remains strong and healthy. We hope this list of top 20 hairstyles inspires you to embrace and flaunt this trend!