We've seen many Hollywood actresses of different ethnicities and hair textures rock blonde hair and brown eyes. This combination has become a source of inspiration for many fans.
Not all actresses style their hair in a similar fashion. Also, there are many different shades of blonde hair and brown lenses.
Even those actresses blessed with natural blonde hair and brown eyes sometimes choose to dye their hair or use lenses for a different look.
Beautiful Actresses With Blonde Hair and Brown Eyes
You will find a lot of blonde actresses of all ages in Hollywood. But as you're particularly interested in blonde hair colors and brown eyes, here are some actresses who have beautifully paired the two:
1. Alona Tal – Strawberry Blonde Lob
The beautiful singer cum actress has a warm strawberry-blonde hair with some copper undertones. And Alona's hairstyle is an overgrown lob that falls just below her shoulders.
Her hair is slightly straightened but keeps its natural texture and complements her chestnut brown eye color.
2. Billie Piper – Sandy Blonde Side Part
Billie Piper's hair is neatly tucked into an updo, with her fringe slicked back without any use of gel to keep a dry and voluminous look.
The shade of the 40-year-old blonde actress's hair is closer to sandy blonde and there are hints of brown, specifically around the roots. She wore transparent lenses to make her eyes look hazel brown.
3. Brie Larson – Sleek Ash Blonde Hair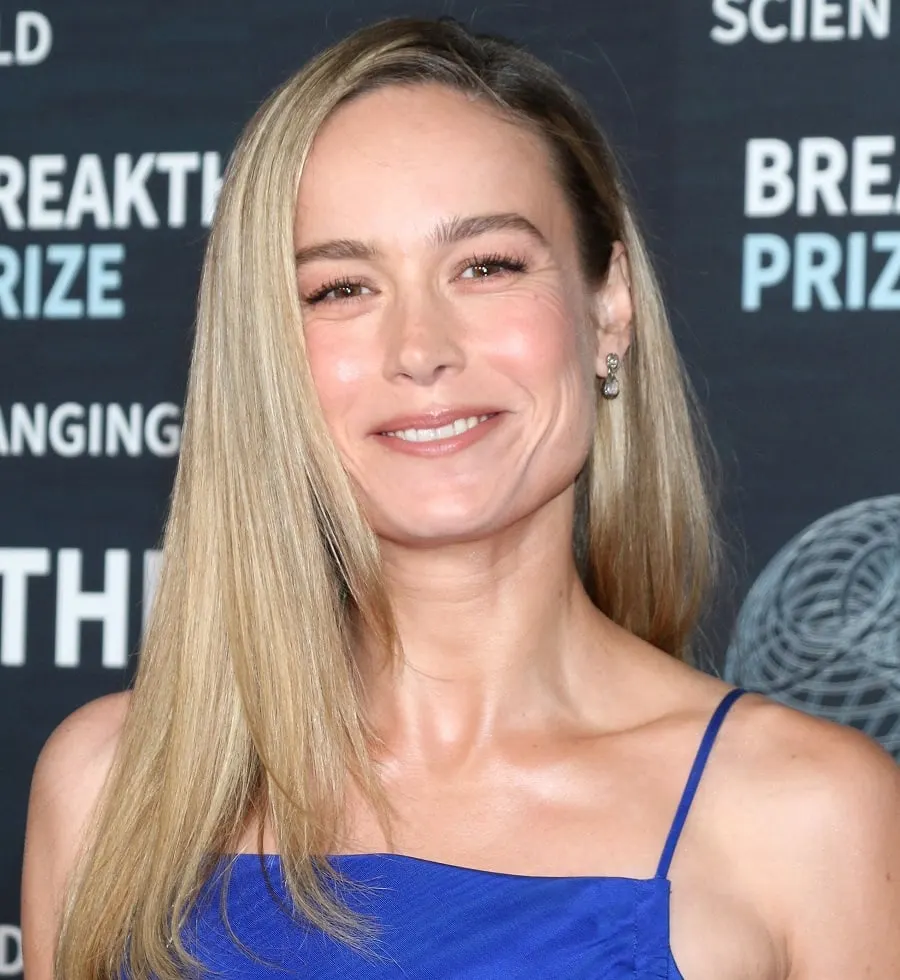 The Captain Marvel actress is a natural blonde with brown eyes. The blonde actress is in her mid-30s and her ash-blonde hair is cut into layers and straightened with an inward curl.
She has a side part for this style that shows darker roots, and her hair is tucked behind her ear from one side.
4. Carey Mulligan – Honey Blonde Bob
Carey Mulligan's bob haircut ends just below her chin and keeps a consistent length all around. Her hair has a honey-blonde color with darker roots that are visible because of her middle part. She doesn't tuck her hair behind her ears so they frame her face.
5. Dianna Agron – Red Blonde Updo
Her eye color is mostly hazel because of the greenish hue, and her hair is a warm-toned blonde. Here, she has styled it into a retro updo with wispy bangs along her forehead. The color also includes highlights that give the hair some added texture.
6. Elle Macpherson – Caramel Blonde Waves
The Australian blonde actress Elle is in her late 50s and she has styled her hair into loose waves that show off the different shades in her hair color.
Most of her hair is caramel blonde, but there are some touches of light golden blonde and even dirty blonde in some sections around the bottom.
7. Halston Sage – Strawberry Blonde Face Framing Layers
Actress Halston Sage has strawberry-blonde hair and brown eyes. The hair is cut into layers, and her eyes are a light hazel color that appears green under bright lights. Her face-framing layers are styled by straightening and curling them inward at the end.
8. Hilary Duff – Ash Blonde Curtain Bangs with Textured Updo
Child star-turned-actress Hilary Duff is wearing her hair in a messy updo with loose strands around the sides of her face and soft curtain bangs.
Her ash-blonde hair has brown lowlights that are more prominent around the crown for added texture.
9. Julia Roberts – Red Blonde Waves with Side Part
For this look, Julia Roberts wears her hair down with a curved side part and has tucked her hair behind her ear from one side.
Matching her amber-brown eyes, her hair is a fiery red blonde and is styled into loose waves along the entire length.
10. Julia Stiles – Golden Blonde Lob Haircut
Her eyes are a rich chocolate brown, which has a similar warm tone to her golden blonde hair color. The ends of Julia's lob hairstyle fall curl outward and fall on her shoulder. And she has a side part with both sections framing the face.
11. Katherine Heigl – Sunflower Blonde Retro Curls
Katherine's retro curls take you back to the past as they give the actress's sunflower blonde hair much-needed definition and enhance her warm brown eyes.
Though the tight pin curls take away some of the length from her hair, they end just below the chin.
12. Kimmy Gatewood – Platinum Blonde Pixie Cut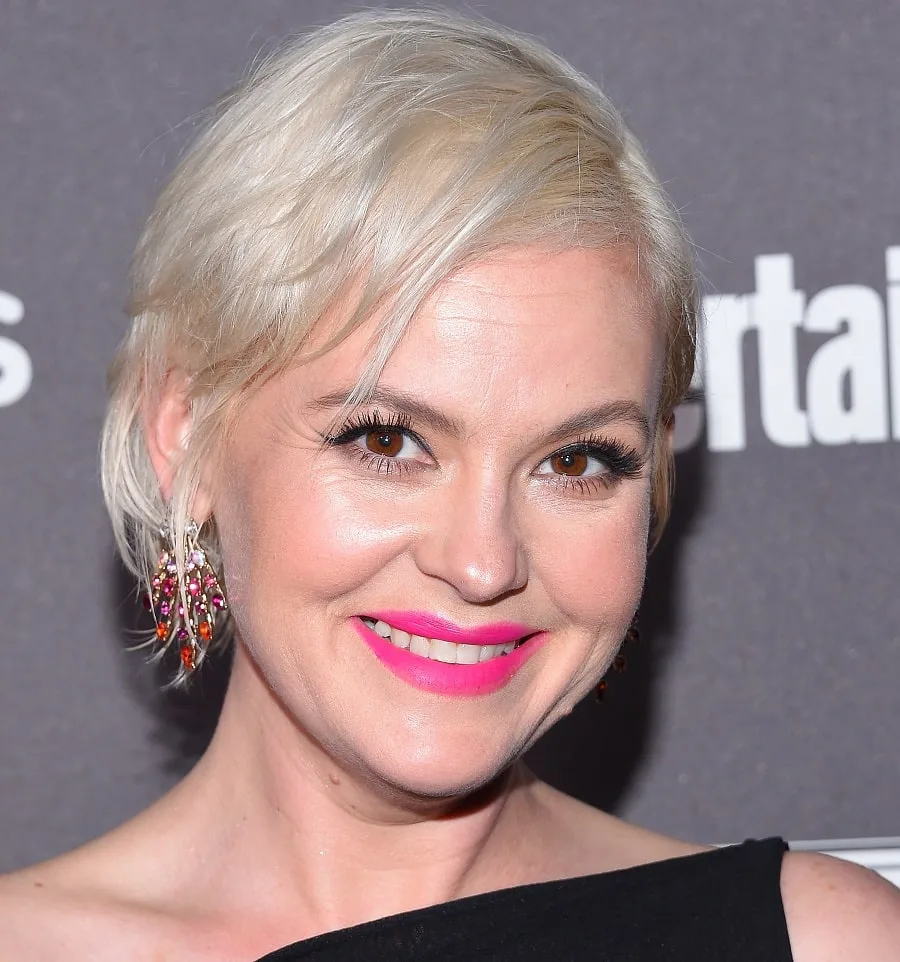 Her hair's natural texture is quite thin, so it appears to be styled in a feathered pixie cut to give it additional volume and depth.
Actress Kimmy Gatewood's cool platinum blonde hair contrasts with her russet-brown colored eyes, which have an orange tinge.
13. Leighton Meester – Sleek Blonde Ombre Hair
Actress Leighton's eyes are a cool dark brown, while her blonde hair is the opposite, with both warm and cool tones.
The top half of her ombre dye job includes shades of dark brown with light blonde highlights, while the bottom is reddish blonde.
14. Marguerite Macintyre – Light Ash Blonde Pixie Cut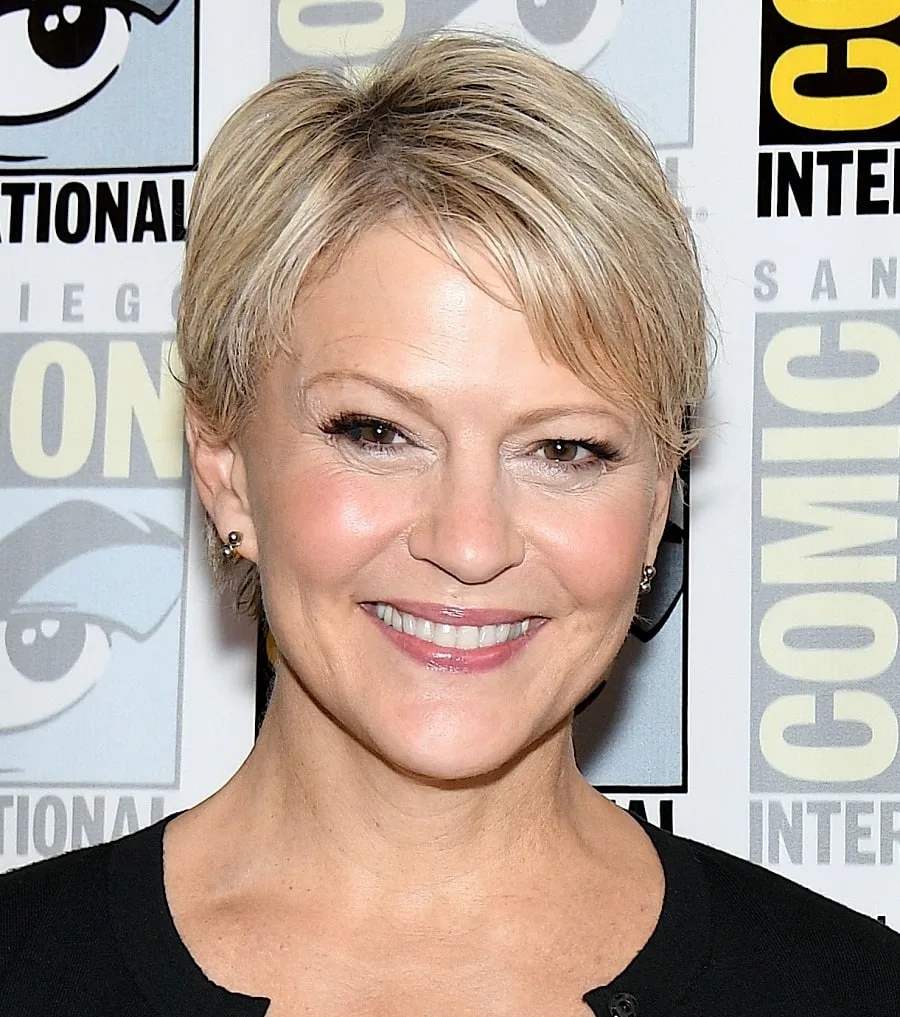 This pixie cut has a well-defined side part with short fringes along the forehead, and the color is a cool ash blonde.
Her fringe is cut in steps for a smooth finish, and her brown eyes complement the dark shade of her brown roots.
15. Mia Wasikowska – Light Blonde Sideswept Fringe
Mia Wasikowska's hair is light blonde along the length and she has hazel brown eyes. But most of the hair closer to her scalp retains its brown color.
Here, she has a sideswept fringe with a delicate curl on her forehead, with the rest of her hair cut close to the head for a neat pixie cut.
16. Michelle Williams – Light Blonde Hair with Deep Side Part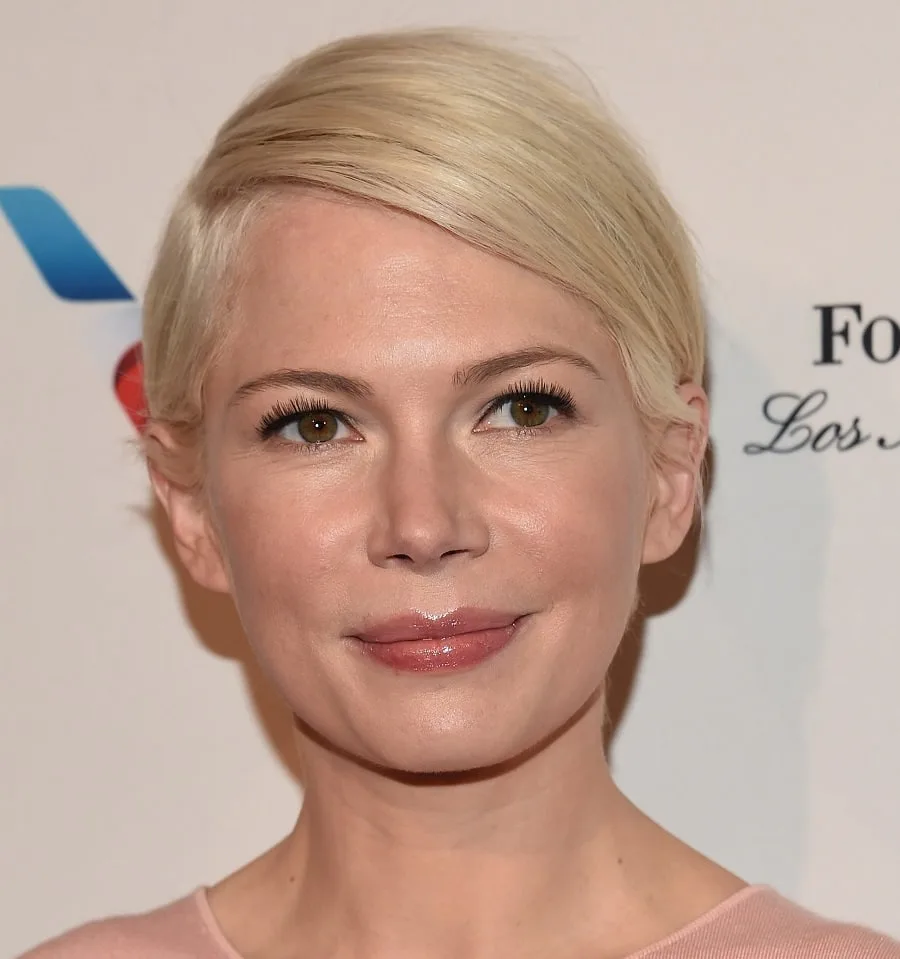 She's wearing her light blonde hair in a deep side part to resemble a combover style.
Her hair color has a consistent blonde color, even in sections that are closer to the scalp. Michelle carefully combed her side part for a defined style and neatly tucked away any stray hairs.
17. Natasha Bassett – Golden Blonde Highlights
Natasha has a widow's peak hairline, and the actress has golden blonde hair with a middle part and hazel brown eyes.
Though the top of her hair length is brown, the bottom has a blonde balayage with hints of a red blonde as well.
18. Olivia Holt – Slicked Back Honey Blonde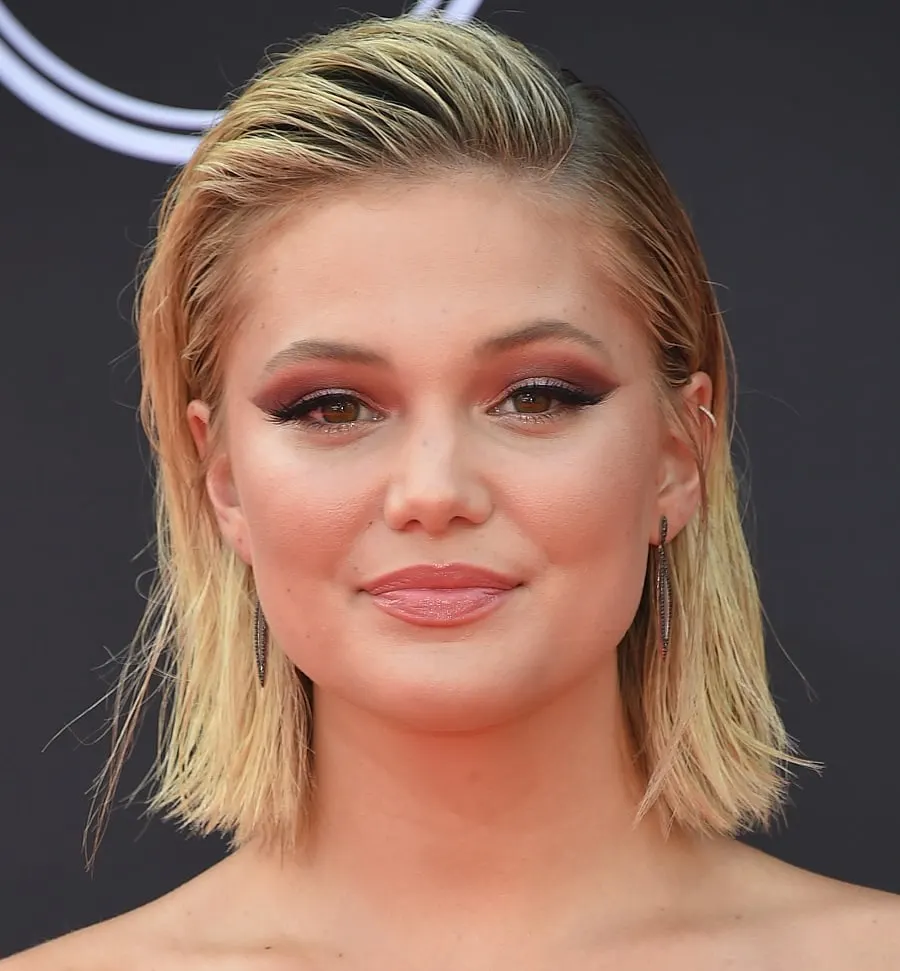 Olivia's fringe is twisted and slicked back with a side part for this wet-look hairstyle. Though the edges of her hair have a honey-blonde color, it's darker near the scalp. It's cut in a lob style that ends below the base of the neck and has a straight edge from all sides.
19. Rebel Wilson – Light Blonde Low Ponytail with Middle Part Bangs
Rebel Wilson has middle-part bangs for this hairstyle, and they're quite similar to a curtain fringe that ends near the ears.
The rest of her light blonde hair is brushed back and tied into a neat low ponytail, which is curled at the ends.
20. Stacy Keibler – Golden Blonde Half-Up and Half-Down Hairstyle
In this style, much of the top half of Stacy's hair has a brown shade because it's close to the hairline. The half-up style backcombs her hair into a pompadour at the top, while the rest of her golden blonde hair is left in loose waves.
21. Tamsin Egerton – Sandy Blonde Twists with Messy Braid
Tamsin has a side part for this look, with her fringe twisted and tucked behind her ear on one side. Her sandy brown hair is tied in a messy three-strand braid from one side and sits on her shoulder.
So, if you want to style your blonde hair in a unique way that complements your brown eyes, these actresses can give you some ideas. And if you want to change your blonde hair color by adding highlights or lowlights, this list includes plenty of styles.
Trending Topic