Are you a 40-something looking for some blonde hair inspiration? Maybe you're already a blonde and want to change up the tone of your hair or you're a brunette ready to lighten things up.
Whatever the case may be, there are so many stunning blonde actresses in their 40s that can serve as your blonde inspo. Whether you're in your early 40s, mid 40s or late 40s, there is an actress who proves that blonde hair can brighten up your complexion and give you that youthful, gorgeous glow you've been missing.
Does Blonde Hair Make You Look Younger?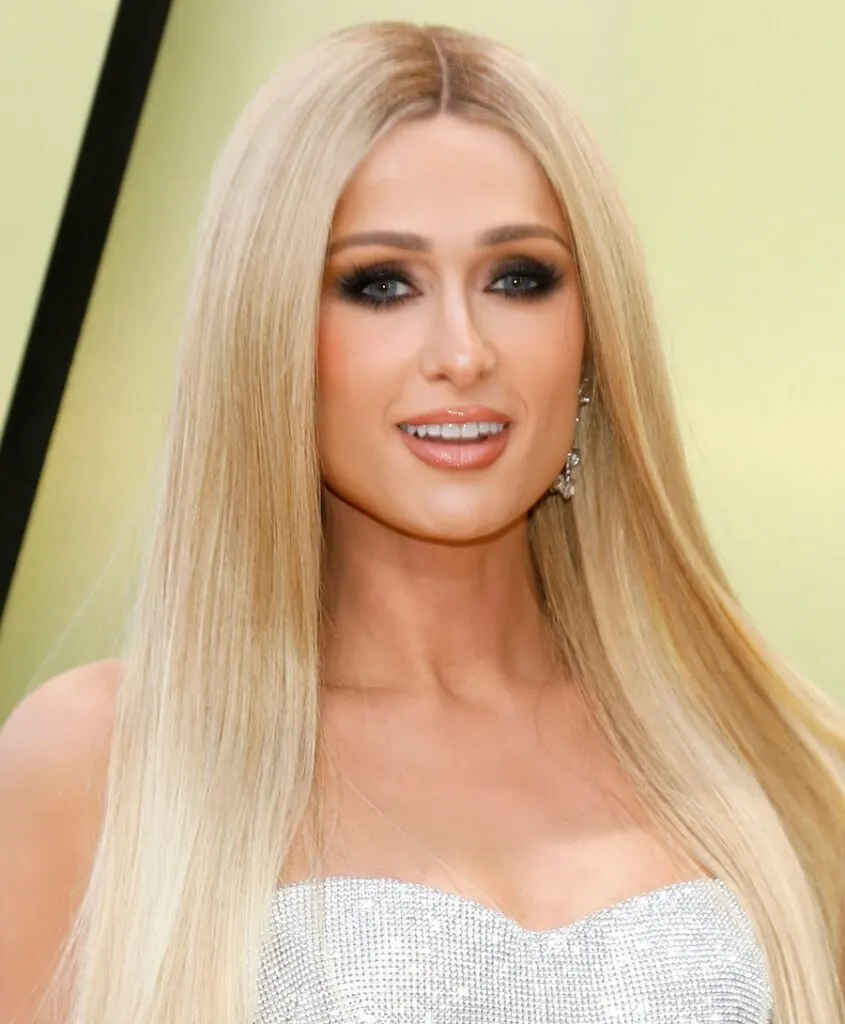 The answer is yes! Blonde movie stars in their 40s have known this for ages but we'll let you in on their secret, blonde hair can make you appear younger!
Blonde hair gives a youthful appearance by warming up your skin's complexion(it's also a great way to disguise grays). No need for that 20-step skincare routine, what you really need are some highlights!
But before you run to the salon for that full foil, keep in mind that the tone of your blonde hair matters. You'll notice all of the actresses below have warm tones in their blonde hair.
When blonding your hair in your 40s, you'll want to stick with warm tones such as honey, gold, strawberry blonde, or champagne. You'll want to stay away from ashy tones which can wash you out and actually make you look older (no thanks!).
Our Favorite Blonde Actresses in Their 40s
1. Kate Bosworth – Golden Blonde Layers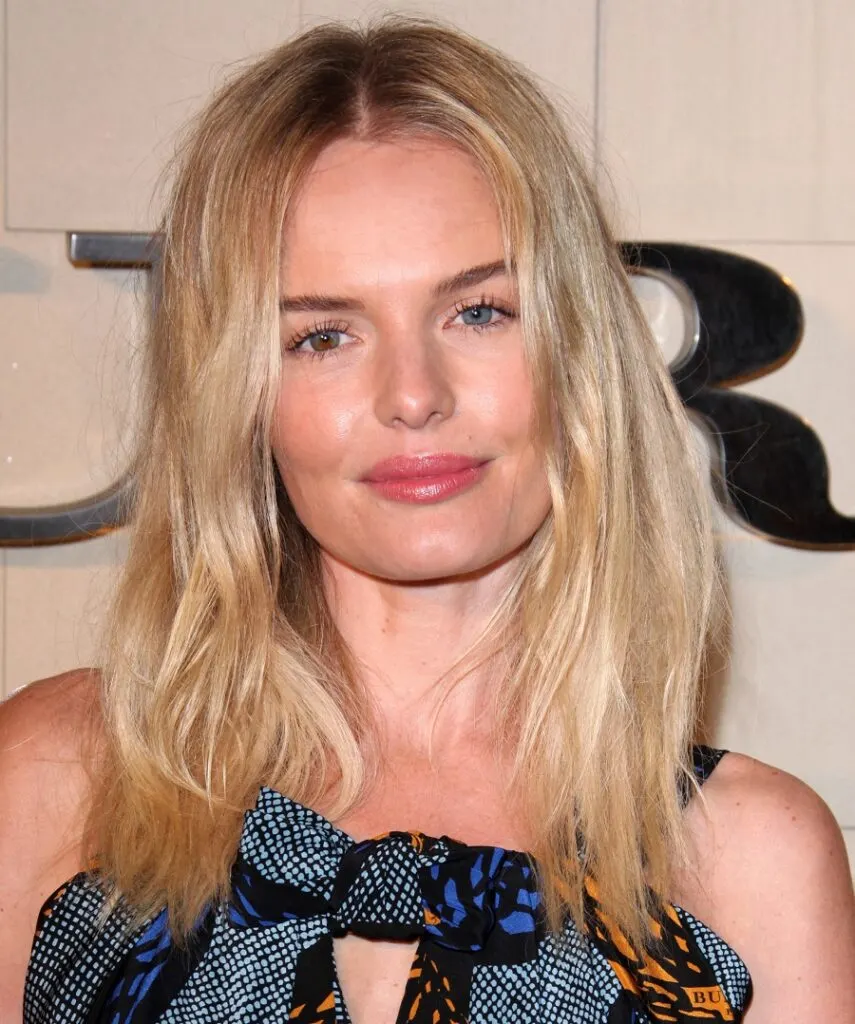 This beachy, golden-blonde Kate Bosworth is the epitome of California cool. We love the slightly darker root and the sun-kissed ends.
2. Emily Blunt – Beige Blonde Hair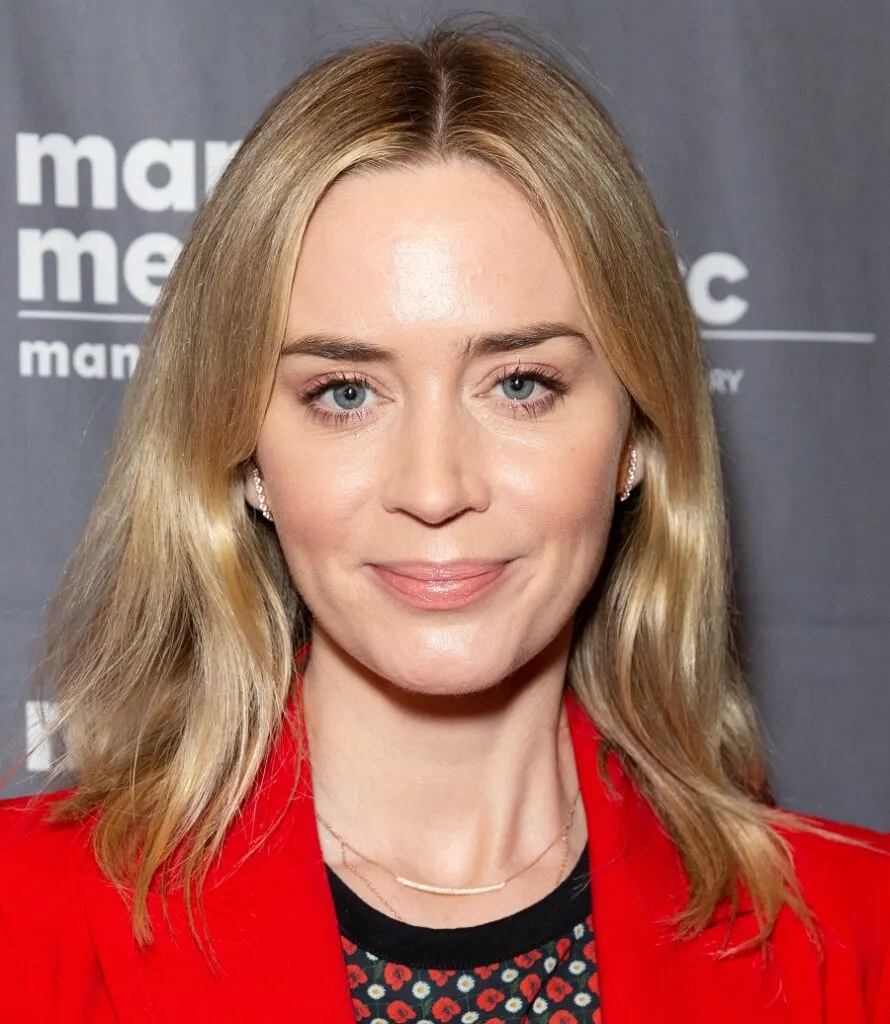 Emily Blunt looks positively radiant with this golden beige hair color. The subtle face-framing pieces make this color look expensive and red carpet ready.
3. Sienna Miller – Dark Underneath Hair
Our boho queen Sienna Miller is glowing while rocking a very light blonde with the perfect amount of gold tones. We love the darker blonde pieces peeking out from underneath which add dimension and interest to the overall look.
4. Kirsten Dunst – Sleek Long Hair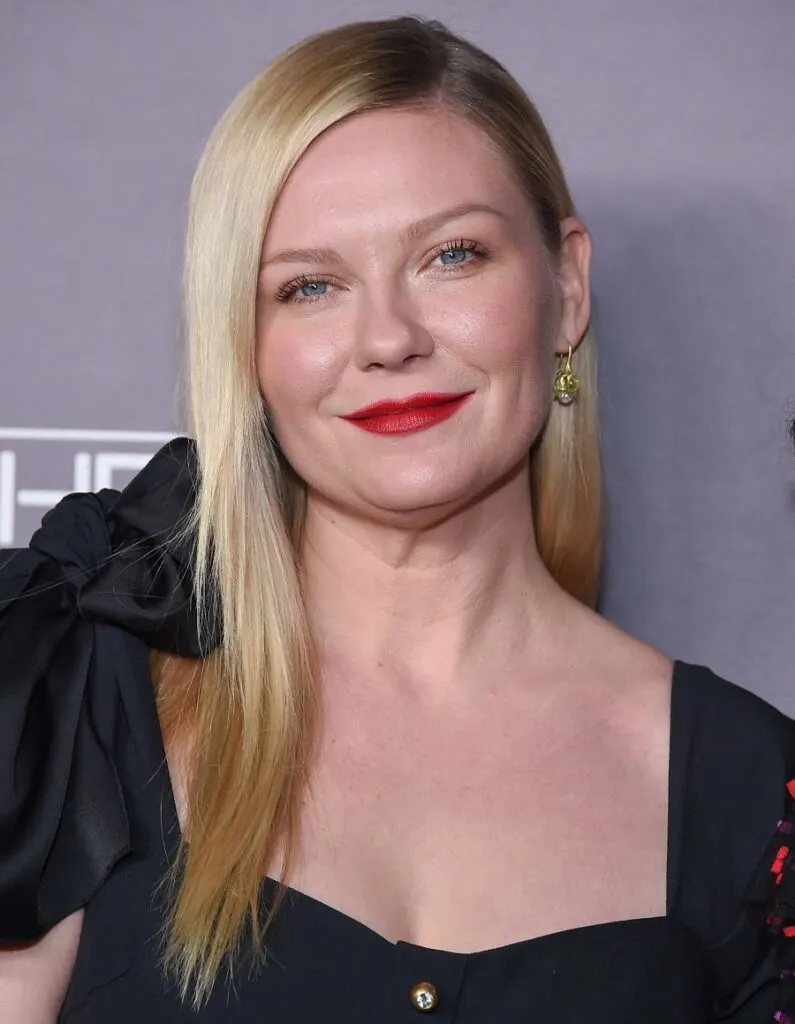 What's more classic than shiny, long blonde hair! We love how simple yet stunning these golden locks are on Kirsten Dunst! Sometimes the key to a youthful look is to keep things easy and classic.
5. Paris Hilton – Shoulder Length Waves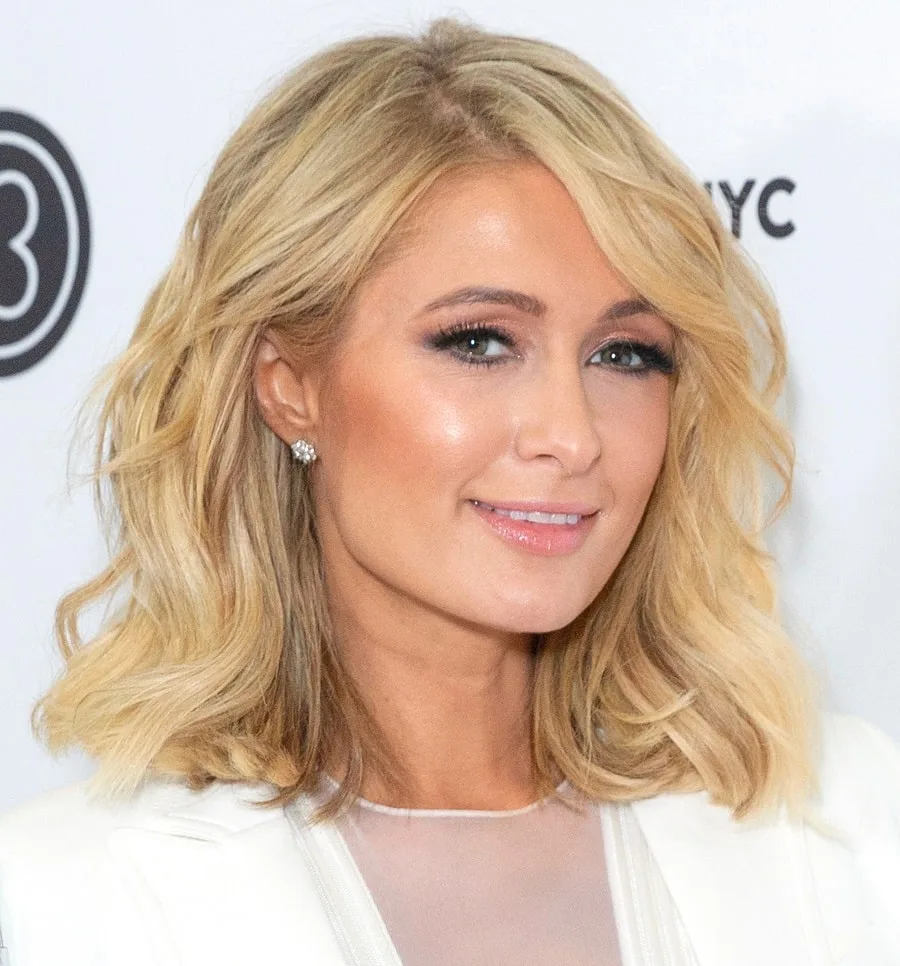 Blonde hair color fit for an heiress! Paris has made the transition from party girl to sophisticated business women with this gorgeous, golden lob.
While the look is sophisticated, the color makes her look just as youthful as she did in her party-hopping days.
6. Julia Stiles – Layered Lob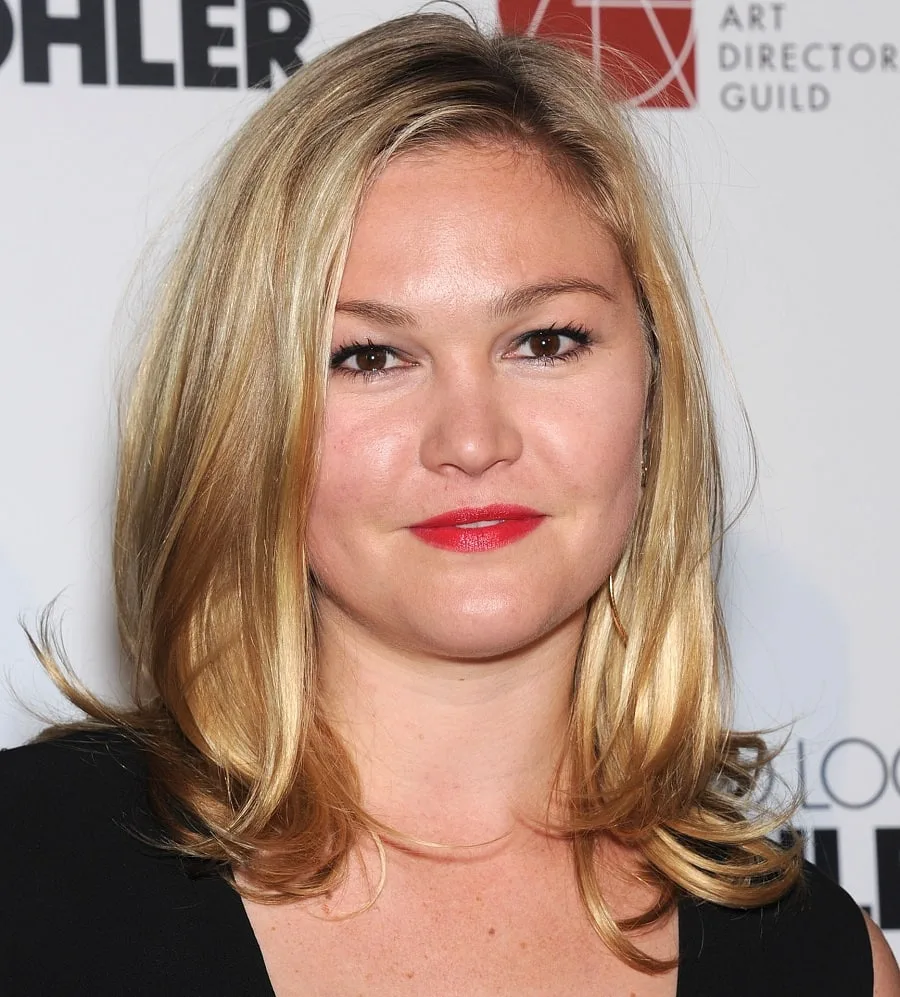 Everyone will be saving the last dance for you if you use Julia Stiles' adorable golden lob for your hair inspiration. The golden hues really stand out in this hair color and make Julia's brown eyes look bright and fresh.
7. Busy Phillips – Loose Waves
Adding loose waves to your hair, like Busy Phillips, makes blonde hair even more youthful. Busy's honey-blonde hair is the perfect inspiration for all the 40-year-old beach babes out there.
8. Rebel Wilson – Side Swept Locks
Rebel Wilson's all-over champagne blonde is a perfect example of how a more solid blonde (a blonde with little dimension) can really elevate your overall look and turn you into a red carpet queen. We love this sleek and shiny hair on Rebel.
9. Kate Hudson – Blonde Curls With Dark Root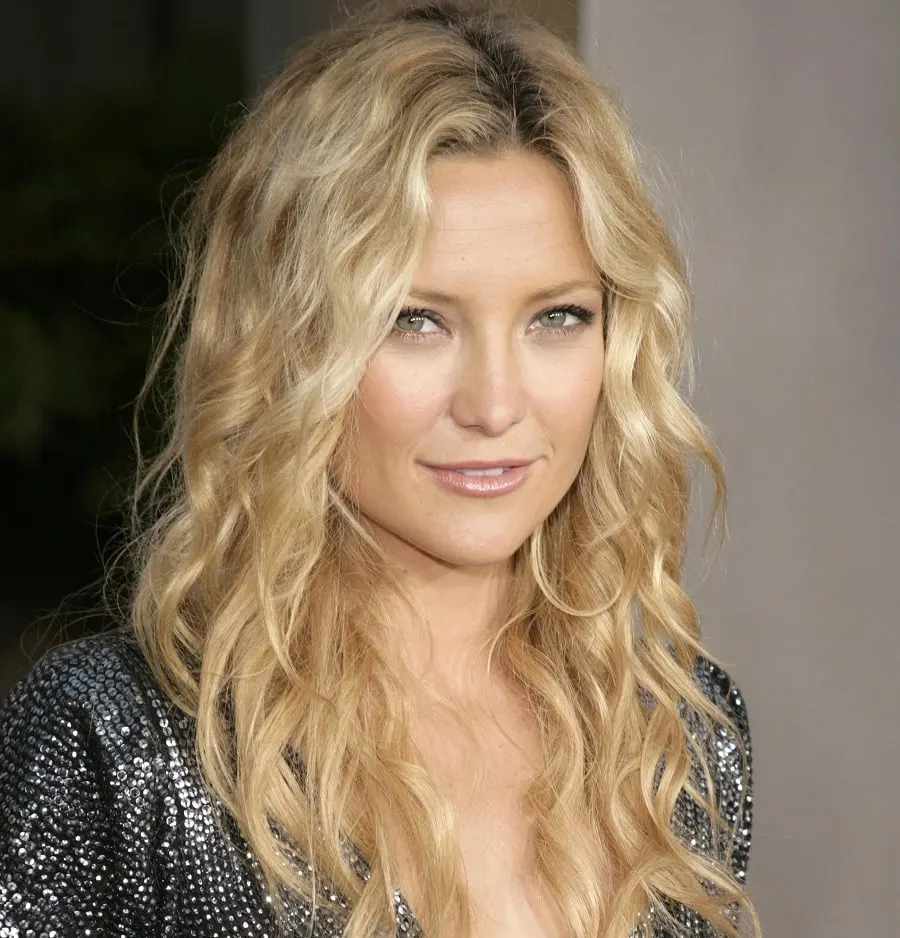 The darker root of Kate Hudson's creamy, dreamy blonde makes it very modern and approachable. Having a darker root and with lighter ends is a great option for those who need frequent root touch-ups for grays.
10. Natasha Lyonne – Messy Shag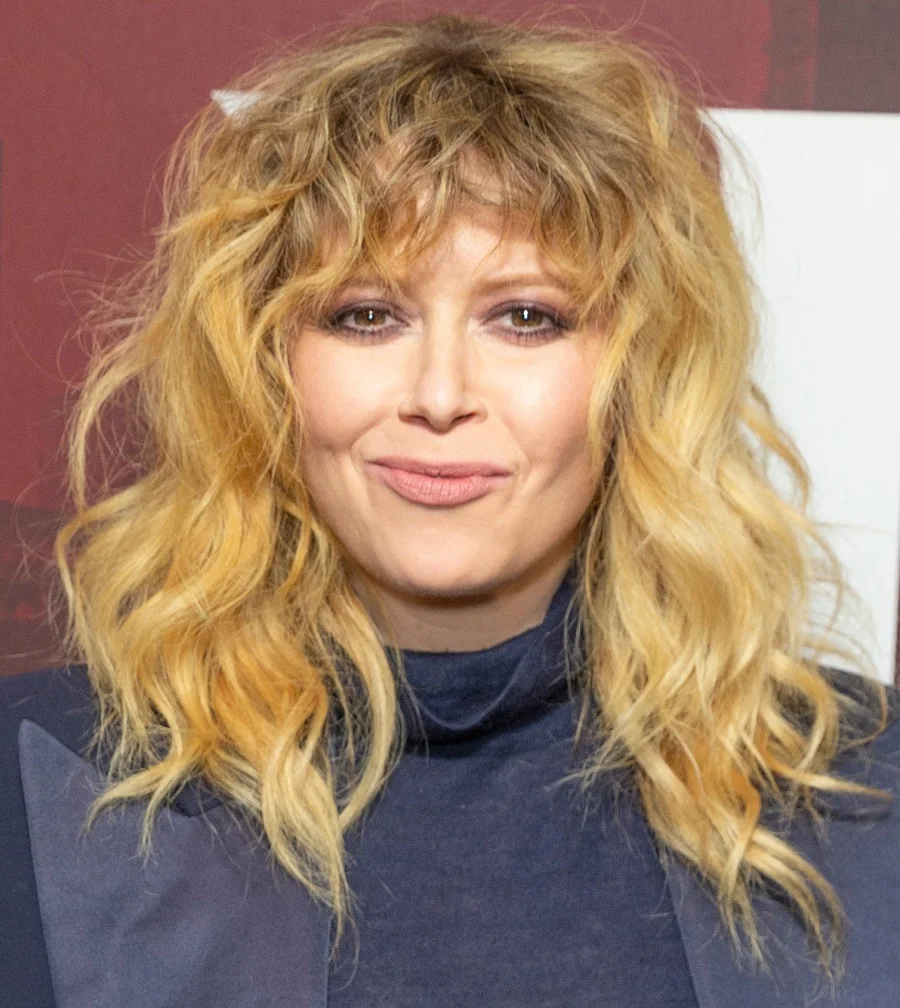 How fun is Natasha Lyonne's curly, blonde shag? The strawberry blonde tones are really poppin' and we absolutely love the bangs and shaggy cut. This is for all our funky fresh 40-somethings out there!
11. January Jones – Middle Part Bob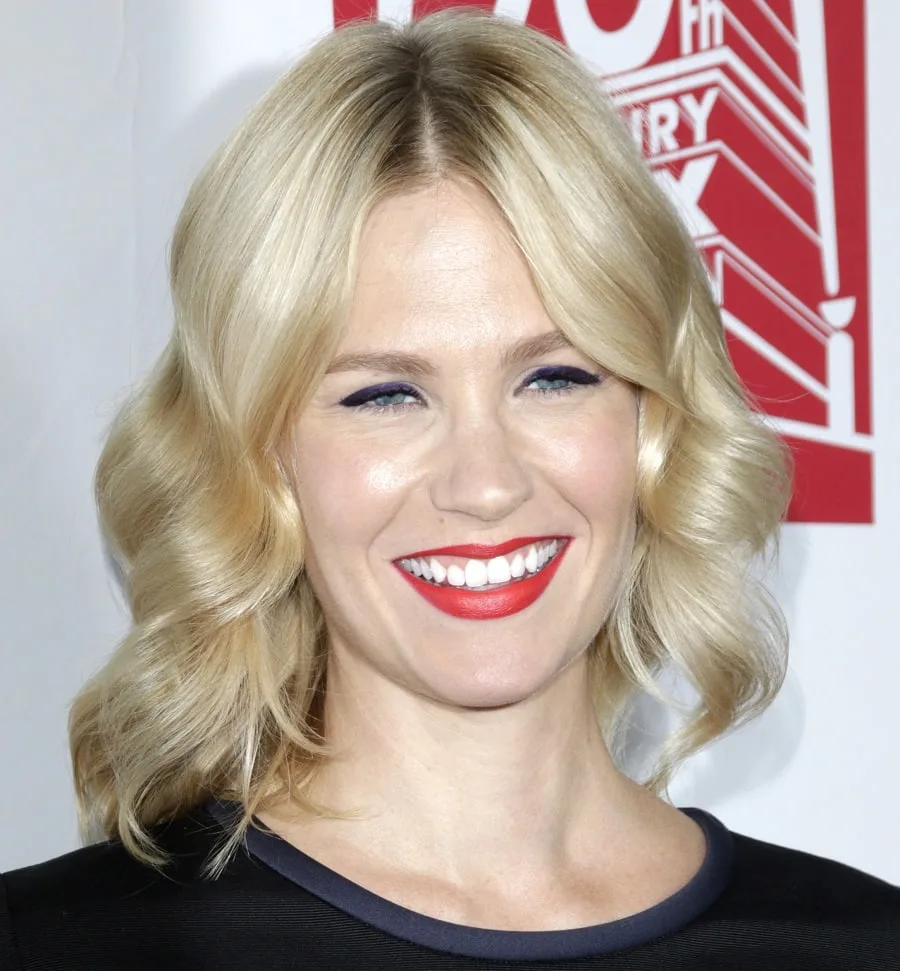 January Jones' hair has all the youthful elements we love. From the loose waves to the lob haircut to the gorgeous champagne tone of the blonde, we love it all.
12. Malin Ackerman – Long Curtain Bangs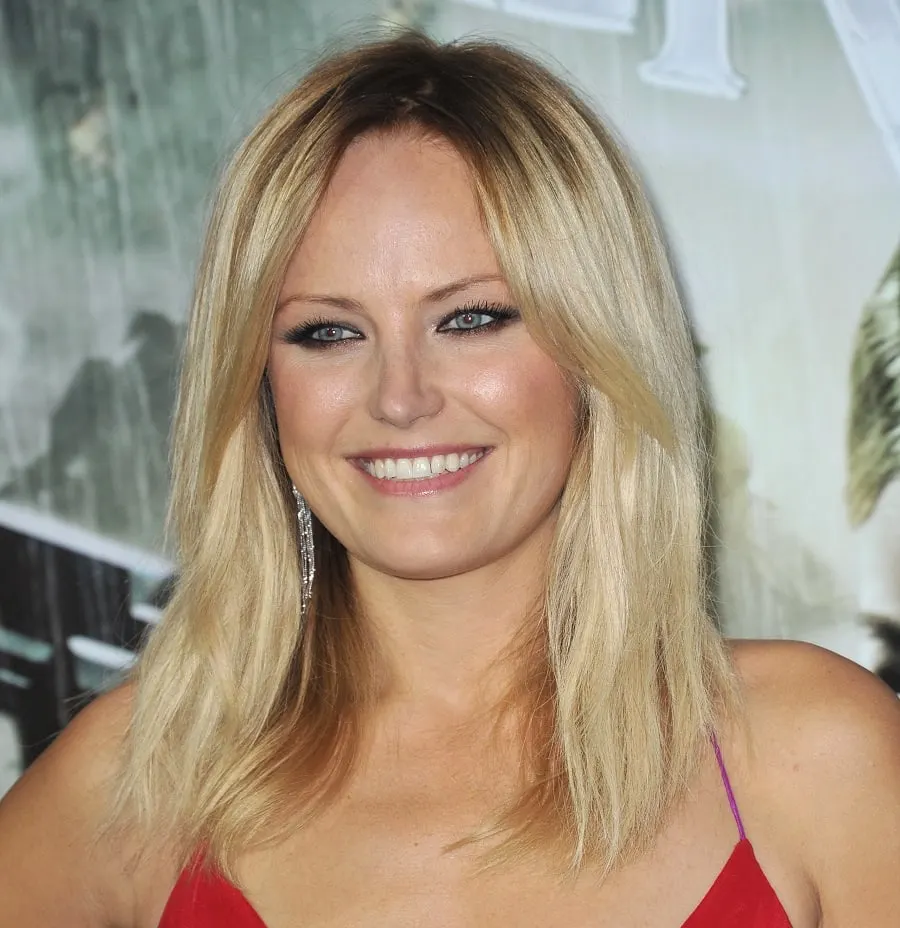 Malin Ackerman's punky, cleamy blonde hair is so cool. How could you not feel young and fun with hair like this? She is one of our favorite blonde celebrities out there.
13. Alicia Silverstone – Long Luscious Locks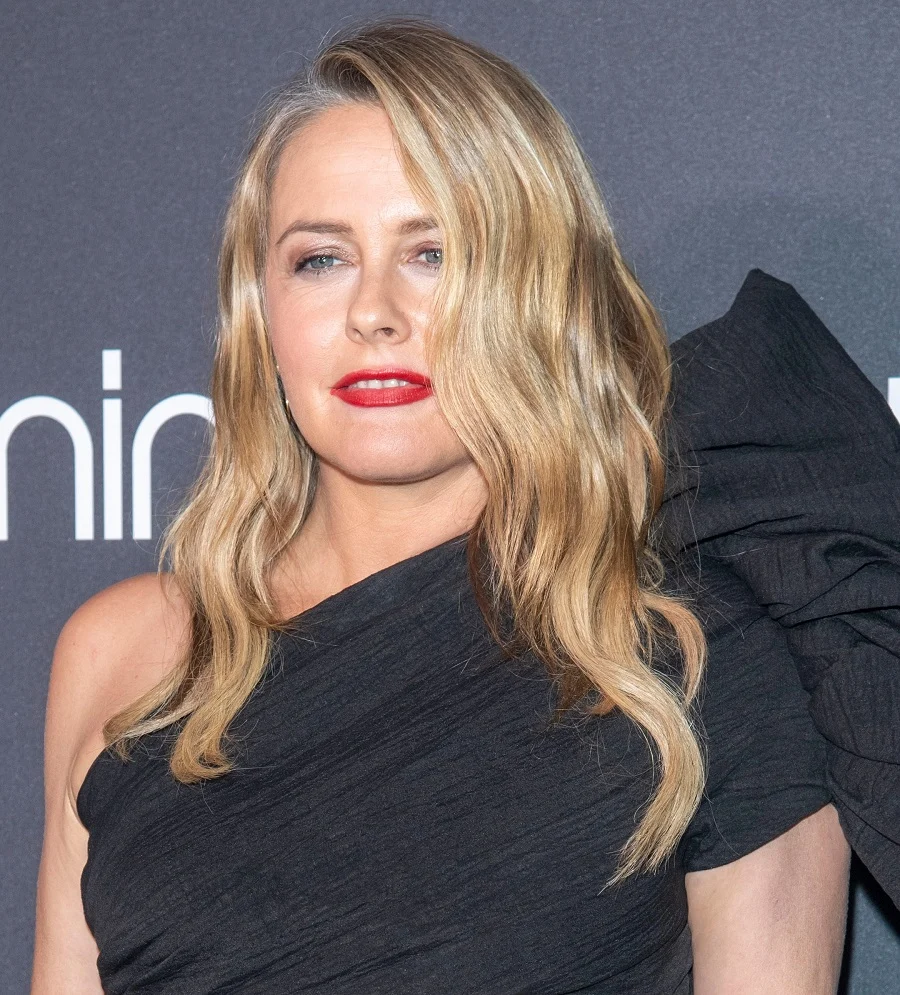 Alicia Silverstone reminds us that blonde hair can still have lots of depth and dimension. This dark blonde, multi-dimensional hair color is any 40-something's dream hair. Doing a darker blonde can also be gentler on the hair, creating less damage and allowing for long, luscious locks just like Alicia's.
14. Sarah Michelle Gellar – Wispy Bangs
Sarah Michelle Gellar looks radiant while wearing her honey gold hair in the cutest half up half down hairstyle. Don't forget that certain hairstyles (like the half up half down) can shave years off your appearance and give off all the youthful vibes.
15. Reese Witherspoon – Voluminous Waves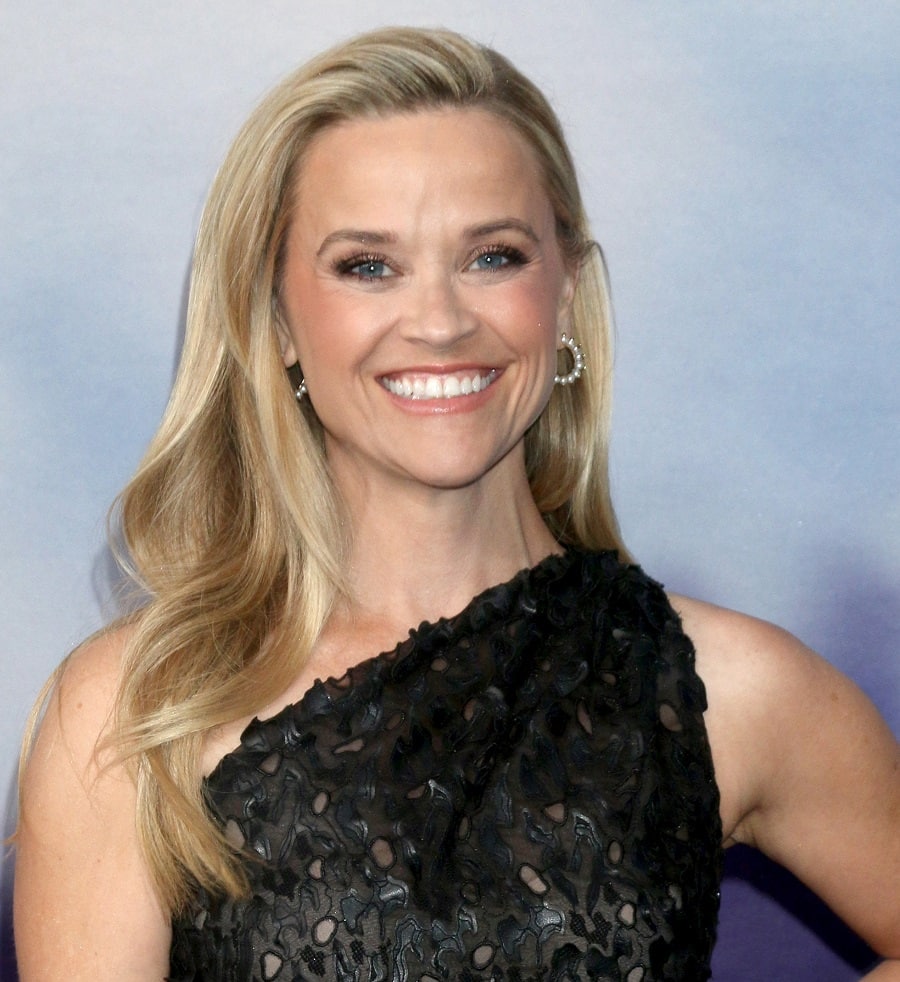 Reese is one of our favorite blondes of all time. She looks incredible with this voluminous, classic beige-blonde hairstyle. You may be in your 40s, but you shouldn't shy away from wearing your hair off your face just like Reese. It looks polished and perfect…we love it!
16. Ali Larter – Face Framing Highlights
If you are worried that being blonde will be too high maintenance, let Ali Larter's dimensional, face-framing dark blonde highlights be your guide. Choosing a darker blonde with lots of dimensions will show less root and let you go longer between salon appointments… and its drop-dead gorg!
17. Drew Barrymore – Tousled Hair
Drew Barrymore looks effortlessly cool wearing this tousled, buttery blonde hairstyle. Choosing an easy, breezy hair color and style will make you look and feel youthful.
18. Sarah Paulson – Middle Part Bob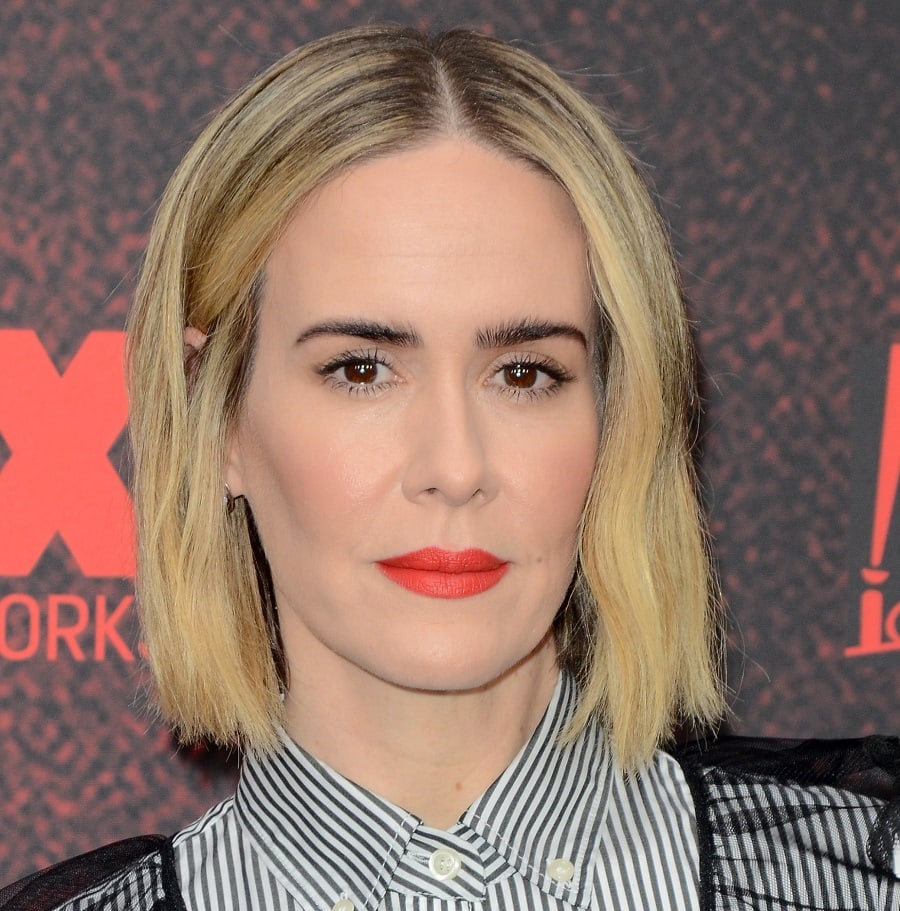 Sarah Paulson's bright blonde bob is a show-stopper. It exudes confidence and class, this haircut and color would work so well in any professional setting and leave you feeling ready to conquer anything.
19. Kristen Wiig – Pixie Bob
Are you wondering if short-haired ladies in their 40s can look youthful? Kristen Wiig shows us it absolutely can be! This super short honey-blonde bob is so cute and sassy.
20. Elizabeth Banks – Wheat Blonde Locks
We are obsessed with Elizabeth Banks' wheat blonde hair color. The darker root looks amazing with the dimension of the blonde highlights and lowlights.
So many of our favorite actresses in their 40s have chosen gorgeous warm blonde hair colors, use their hair for inspiration!
Key Things to Remember
Blonde is a great option to add a youthful glow to your complexion
Warm tones work best for women in their 40s. Warm tones include gold, honey and champagne
There are many options for warm blonde shades, you'll be able to choose the perfect one for you.
Trending Topics