If you are rocking some bouncy locks, you probably need some great ideas of a braid perm. This is the best place to find it because we have the 10 braided perm hairstyles for all lengths and events. Some feature French, other Dutch styles, but all are equally fashionable.
Chic Braid Hairstyles for Perm Hair
These are the trendiest braided perm hairstyles that any women can rock regardless of their hair length and texture.
1. Horizontal Side Braid
By doing a single small braid on one side you can look like a famous star on the red carpet.
Ideal for: You don't have to worry about whether you'll look good with this French braid perm, everyone does.
How to Style: Do a small side French braid that is right next to the ear. Extend it all the way back. That way you create a fake dramatic side part.
Whenever you are in the need of a classier mane, you should definitely try the Dutch braid combined with a low messy bun.
Ideal for: Great for when you want an updo that is not too glamorous. It can also serve you well when your braided perm hair are not at their best.
How to Style: Start with a Dutch crown braid. Make it bigger by pulling it with your fingers. Finish with a messy low bun on one side. You can also leave some curly strands here and there.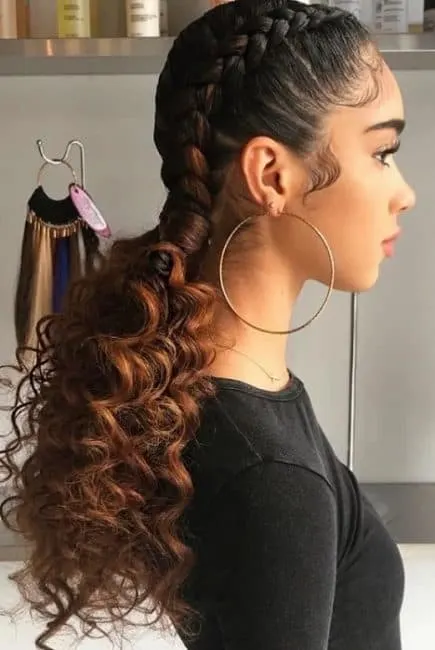 Opt for two Dutch braids, which also do not require perfection. This type is much cuter when deconstructed and with a curly vibe.
Ideal for: Great for gals who are always in the need for very simple hairdos that are trendy and chic. The Dutch braid perm is so easy to learn, you'll only need one try.
How to Style: Divide the hair in two with a middle part that goes all the way to the neck. Braid two Dutch braids, and secure them with hair ties. Leave the curls free and bouncy in the bottom parts.
Ladies with curly perm hair find it very hard to control it, so doing an easy braid is one of the easiest ways to achieve that. This pull-through braid is so simple and great for any length.
Ideal for: Ladies of all ages can work this hairstyle. It's appropriate for a day at work and a night out as well.
How to Style: Start by getting a section of your perm hair which you will braid and put it in a half-up pony. Do the pull-through braid by using small hair ties. Let the rest of the hair bouncy and free.
5. Braided Crown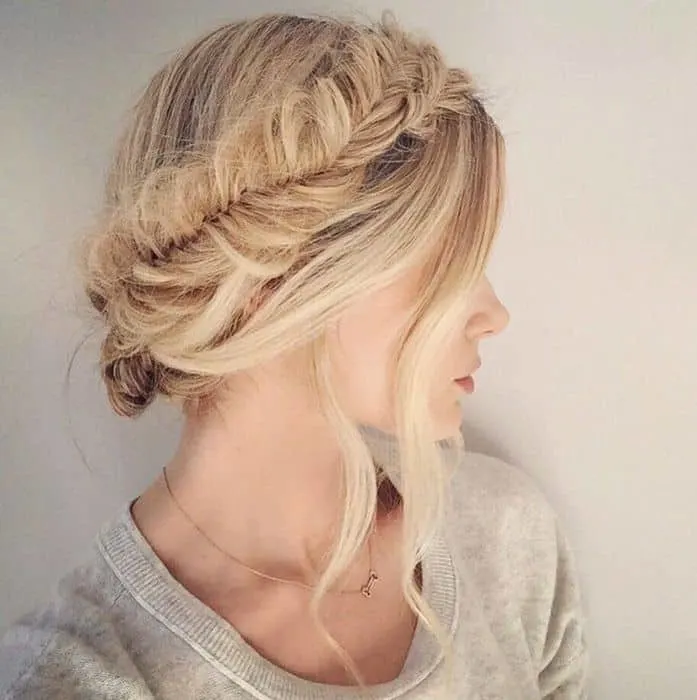 Control your locks in a fun, messy fishtail crown braid. For anyone who wonders, it's such a fun braid style to do with perms because it's messy and wild.
Ideal for: Ideal for everyone, both long and short hairstyles. If you've been looking for a braided perm that is easy and doesn't have to be perfect, this is the one. You'll especially love this mane for an event or an occasion.
How to Style: Do the fishtail braid first, then put the rest of the hair in a low bun. Leave some curly strands in the front.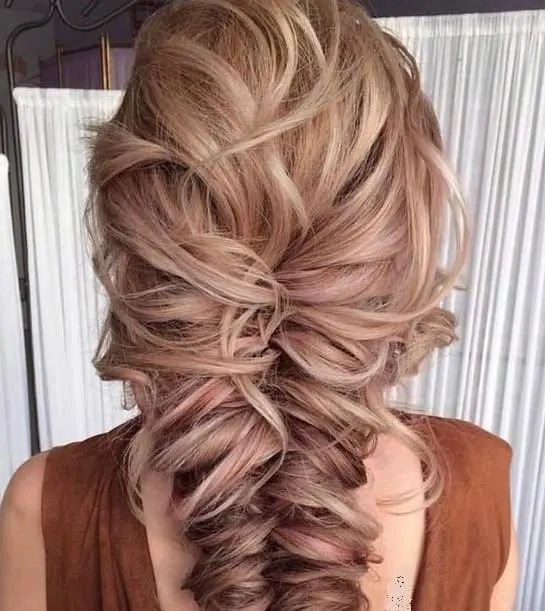 This is probably the prettiest braided hairdo on the list. The voluminous fishtail braid perm will leave you breathless.
Ideal for: It's such a great type of braid for perms because they give plenty of volumes. Fishtail braids are much prettier when they are messy. It will be even better if you have long hair.
How to Style: Braid your whole hair in a fishtail and leave plenty of loose strands around. Pull the hair so that it becomes even more un-done. You won't have any trouble with recreating the look.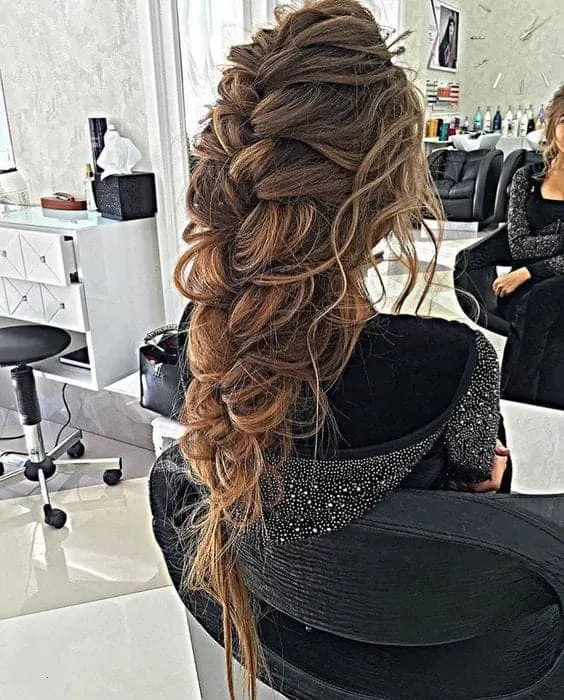 Make the braid large, messy and with a boho finish. That should be very easy if you're already rocking a perm.
Ideal for: It would be ideal for long perms, and for certain events. Think of summer weddings, bridesmaids or summer parties by the pool.
How to Style: All you need to copy this mane is to know how to do a French braid. The bigger it is the more attention it will attract.
Officially the easiest way to tame down your perm. There isn't a lady out there who doesn't know how to do a French braid.
Ideal for: There are no limits when it comes to who can rock this gorgeous braid on perm hair. The fact that it's so simple to copy makes it ideal for all women.
How to Style: Just braid your whole hair in a large French braid. You can finish it all the way down, or finish in the neck area. That way you get a curly low pony full of volume.
Are you ready for one edgy hairstyle? The side braided perm is such a fun idea for when you're getting ready for a night out.
Ideal for: This hairdo will work for all lengths. It's recommended for younger ladies who have a bold sense of dressing up.
How to Style: Do several French braids on one side and leave the rest voluminous and big. If you have another favorite type of braids you can definitely try them out.
Half-up curly hairstyles are officially the best. When you have a perm you can use all the ideas out there to elevate the hairdo in many ways.
Ideal for: Great for ladies with short hair, who want to spice up their everyday look. Even the ones with long manes can get creative with this mane.
How to Style: It can be a Dutch, French or even a fishtail braid. This braid perm hairstyle gives you so much space to experiment. Do it only on one side for a cool asymmetric vibe.