British haircuts are a big hit with men who like both classic and modern styles. These hairstyles can seriously flip your look depending on what you're vibing with.
A traditional British haircut typically features shorter hair on the sides and back, with longer hair on top. The top hair is brushed forward, and the sides can sometimes get a bit shorter as they go down.
But now it's not all about the traditional short hairstyles. You will find British hairstyles that play with different lengths, textures, and styling techniques while maintaining that iconic British touch.
British Haircuts and Hairstyles For Men
British haircuts are diverse, dynamic, and stylish. You can choose classic British haircuts like those sported by the Peaky Blinders or modern hairstyles like British celebrities. There's a cool British haircut for every guy, no matter your age or face shape. Let's take a look at some top picks.
1. Spiky Crew Cut
The crew cut is very popular among professional British men because long hair might not always fit in at work. This haircut trims down the sides and keeps the top bit short, which really brings out the face.
If you've got blue eyes or wear blue contact lenses, this haircut looks even cooler. And if you think it's too neat-looking, you can grow a bit of stubble to mix it up.
2. Preppy Haircut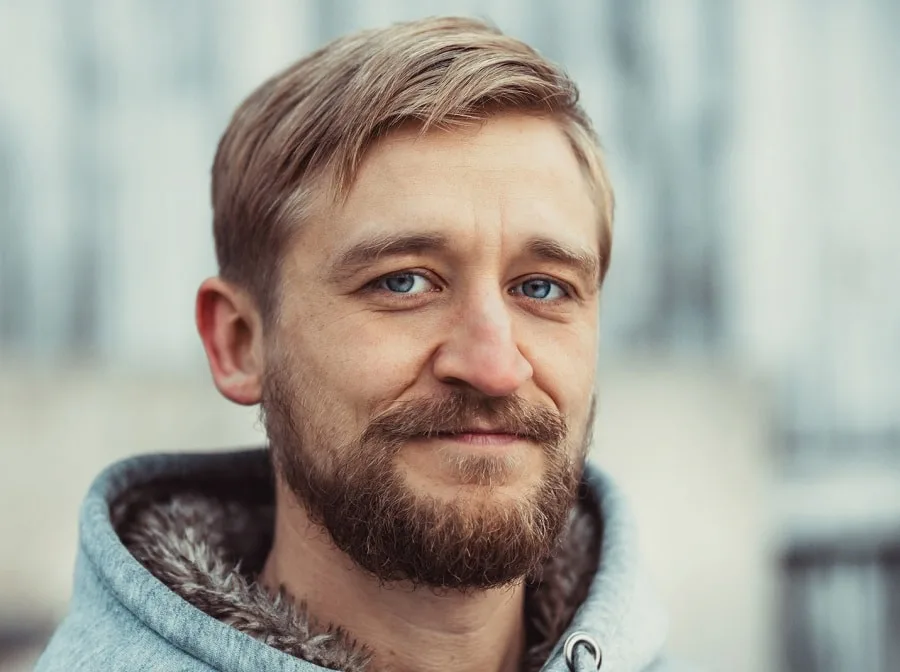 Here is a British hairstyle that's a bit longer than a crew cut. The hair on the front and top is long enough for you to sweep them to the side. The red beard and blonde hair provide a messy yet classy look.
3. Comb Over Undercut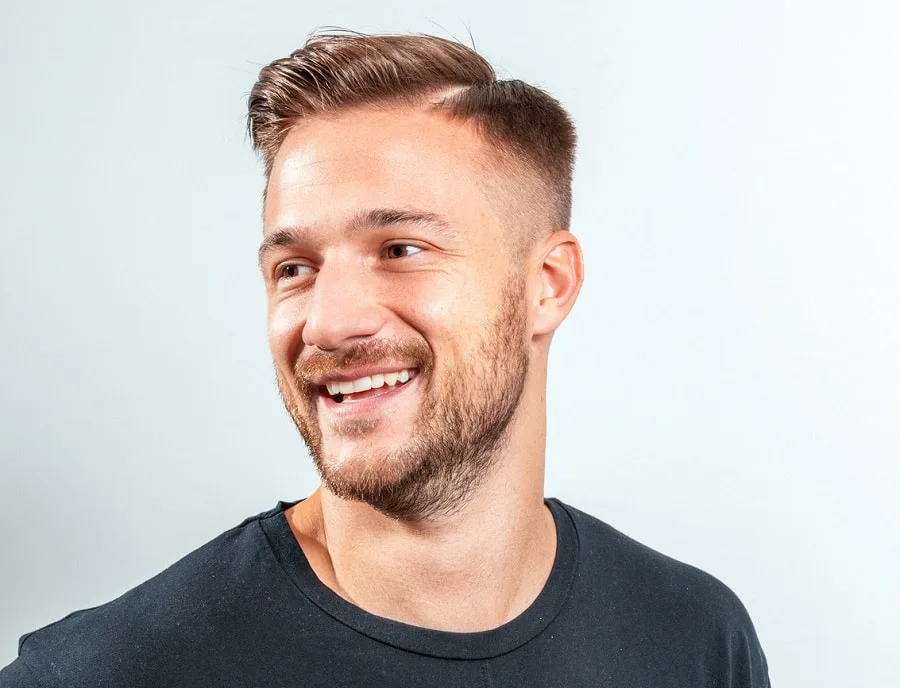 You can instantly recognize this comb-over low fade undercut from the way the front of the hair is combed to the side with a part separating the fade and short hair from the long hair.
4. Messy Ginger Hair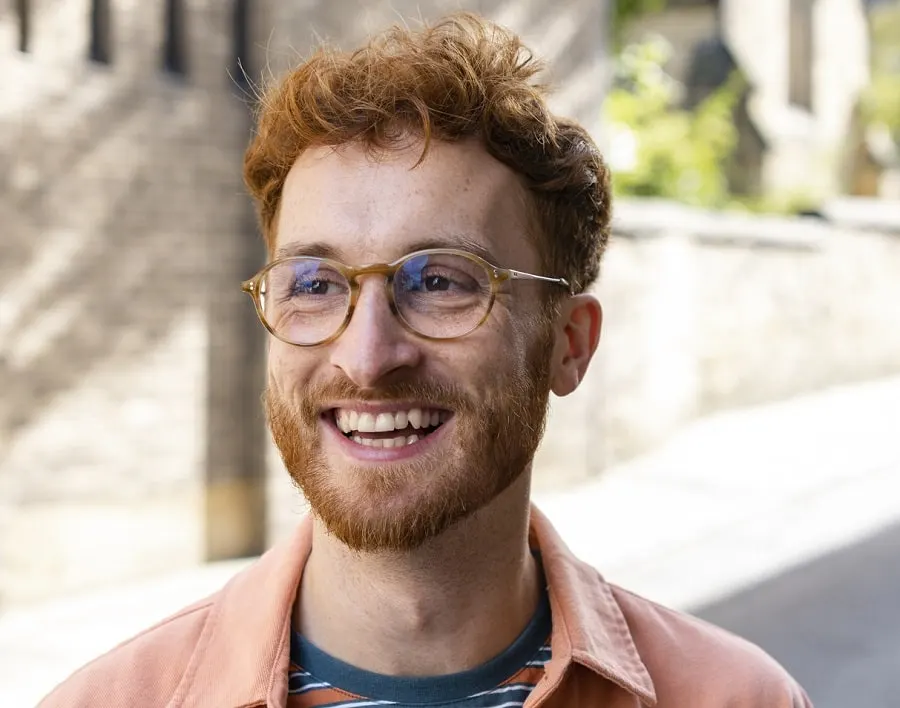 A short messy haircut with curls might not look like a style that you'd spend hours on, but you should have other ways to stand out.
You can attract more attention by wearing glasses with your hairstyle. The leopard print pantos glasses have hues of light red to match the color of the hair, and the round lenses look good on a square face.
5. Buzz Cut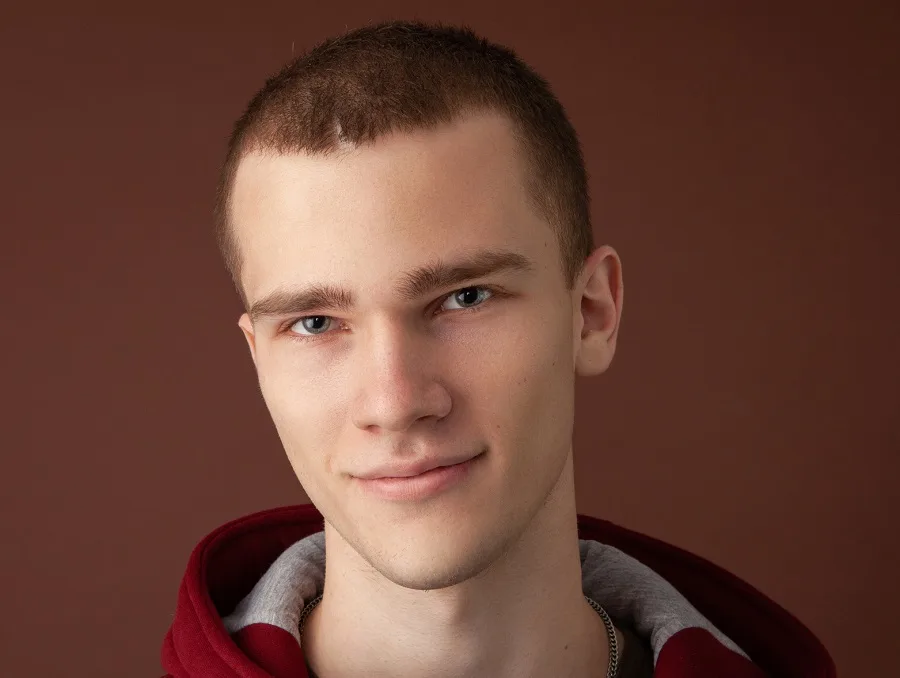 All the haircuts described previously pair well with a beard. But what about British guys who aren't fans of facial hair? If that's the case, you should consider the short buzz cut with a clean-shaven face.
Keep the hair on your head short and even in length. It's also an excellent choice for British men with receding hairlines.
6. Messy Undercut
Now, this British haircut is going to test how brave you are with your lifestyle choices. The undercut hairstyle has short sides and back with very long curly hair on top.
The sides haven't been clipped close to the skin. The patchy beard outlines the face and gives this style a unique personality.
7. Short Grey Business Cut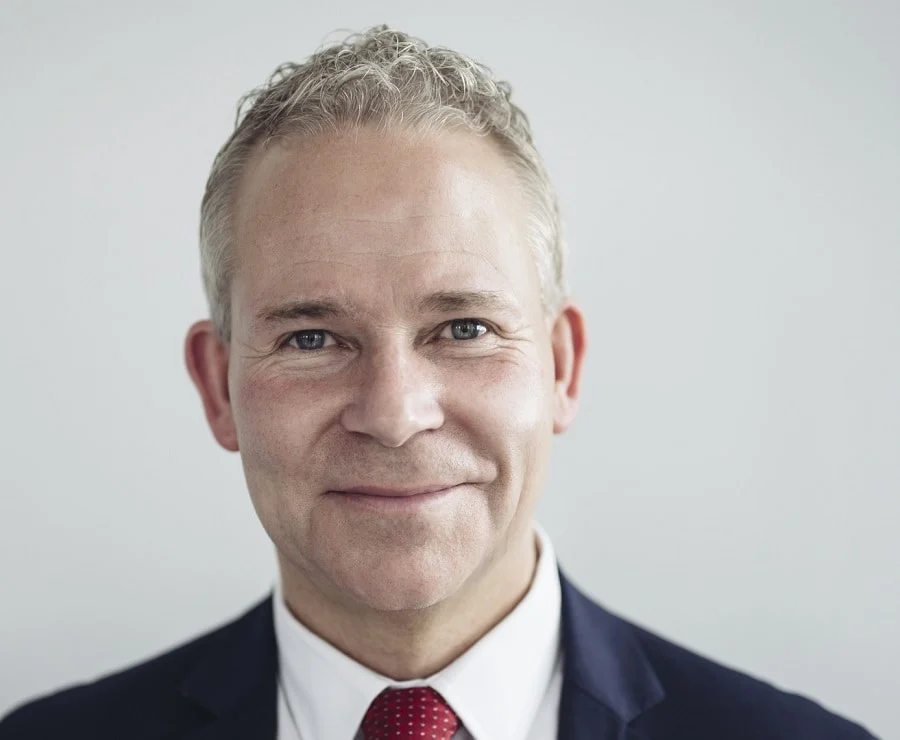 This is the look you should be aiming for if you are a businessman. Cut your grey hair short to get a clean look. The hair on top is slightly longer whereas the sides are properly tapered for a business look.
8. Shadow Fade
If you think short haircuts come off as too formal or give off a military vibe, consider this mid-shadow fade haircut. Just trim the sides shorter and keep the hair on the top and front a bit longer.
The medium fade will make the face look a bit longer, but pairing it with a short-boxed beard can balance things out.
9. Blond Tapered Quiff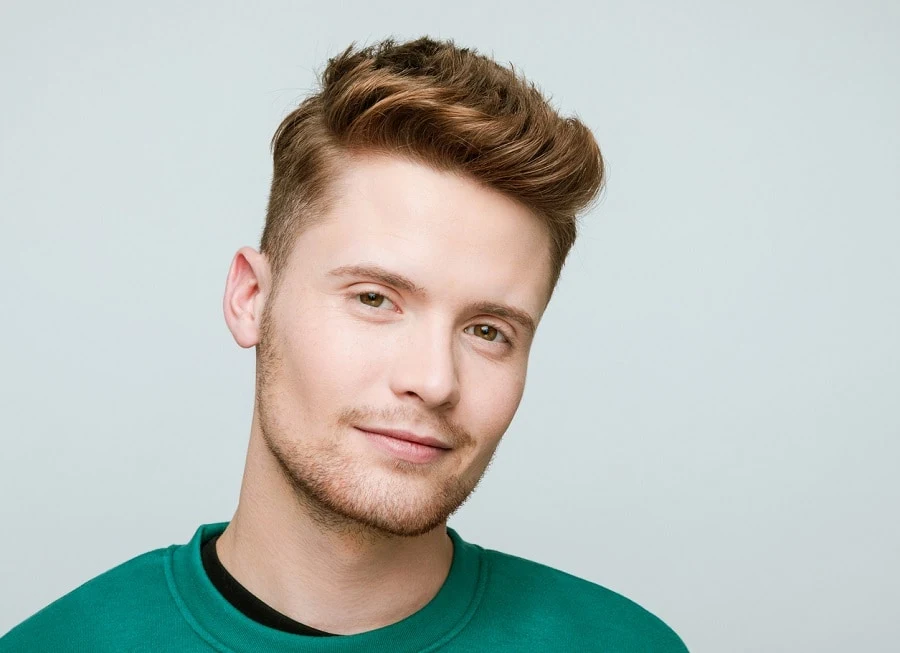 The blond quiff hairstyle is ideal for British men with strong jawlines and square or rectangular face shapes. The tapered sides offer a refined finish that complements the voluminous top.
10. Ivy League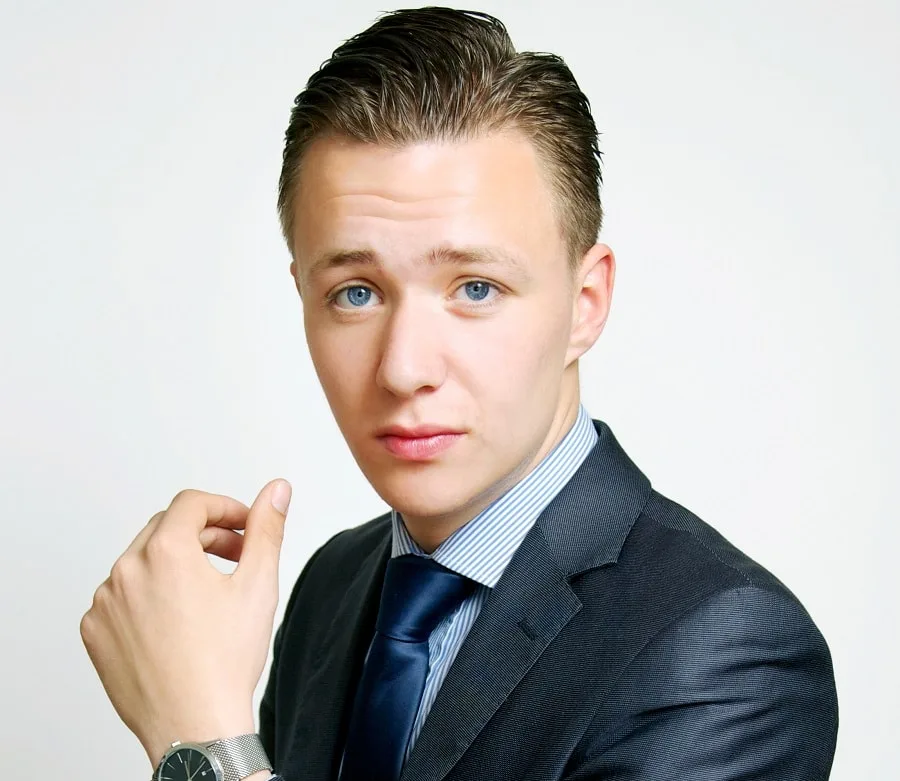 Do you want to look like a true professional with everything organized in life? If yes, you'll surely admire this Ivy League haircut.
Brush your hair side and back and use some gel for your hair to look textured. Since this style is for professionals, shave off your beard and mustache.
11. Military Haircut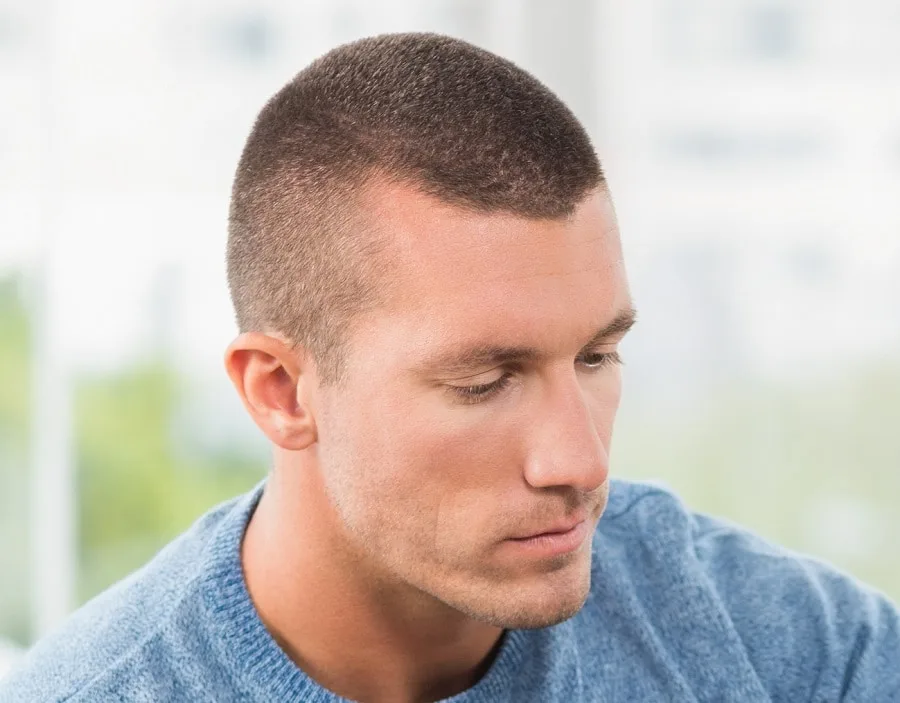 Styling short hair isn't everyone's cup of tea. If you fall in this category, you'll surely adore this British military haircut that's as close to a buzz cut as you can get.
The hair is short throughout with only a few millimeters added to the hair on top. The 5 o'clock shadow on the face keeps the look consistent.
12. Princeton Cut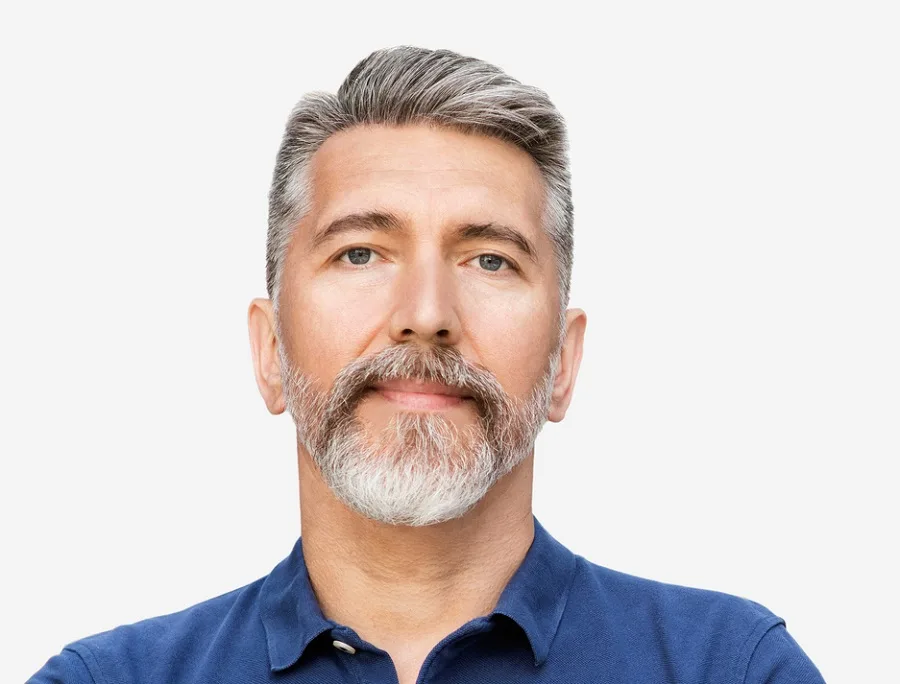 Princeton cut isn't just for the young and trendy. Older men, with their refined short sides and a touch of length on top, can rock it too.
In this case, the style looks better due to the mix of black and white hair. The grey beard and the salt and pepper mustache make this combo even more attractive.
13. British Mod Haircut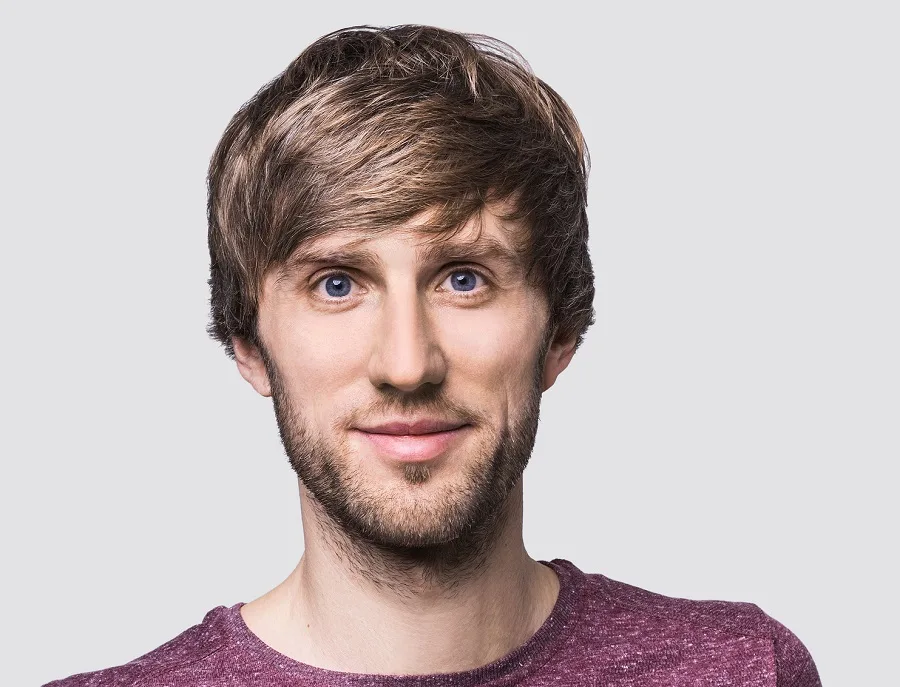 The mod haircut can also be referred to as layered bangs. Characterized by a neat, medium-length cut, often with a fringe, this haircut became immensely popular among British men in the '60s.
While this hairstyle is versatile, men with rectangular or oblong faces should definitely try this style as it makes the face appear shorter and less elongated by covering the forehead.
14. Tapered Pompadour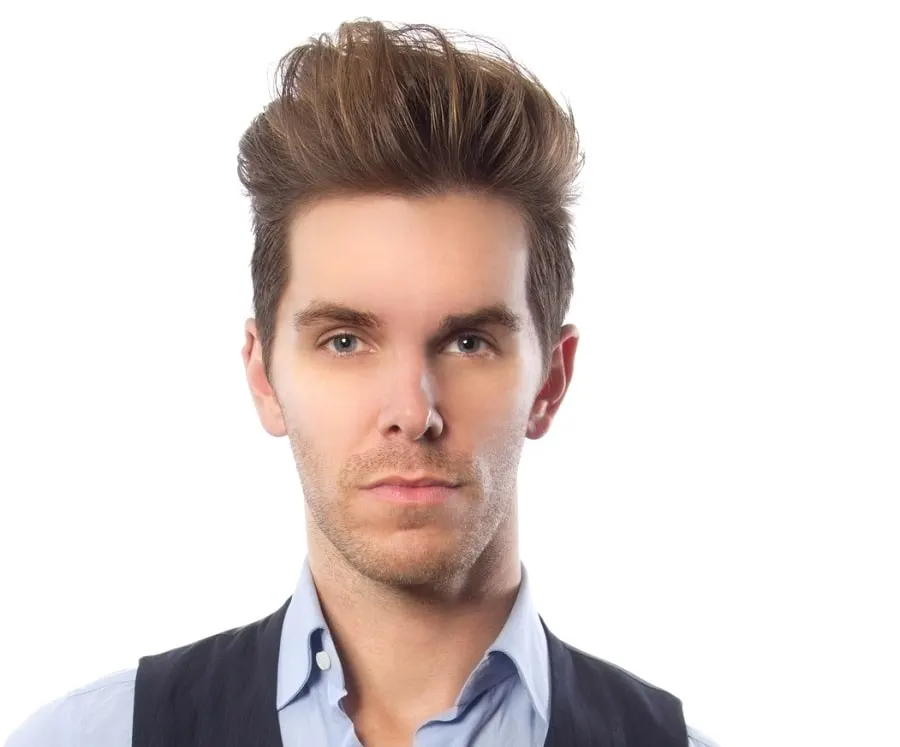 Here is a unique pompadour hairstyle for British men. With its volume and prominence, it will make your face look a bit longer.
A blowout is necessary for adding height and sweep to this style. Keep the sides shorter to make the top stand out more.
15. Tri-Tone Hair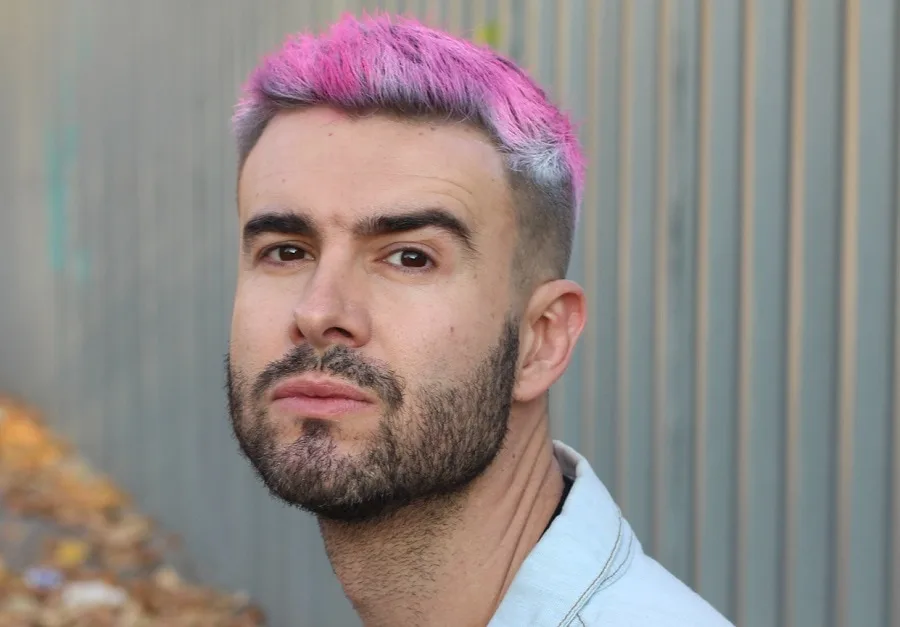 If a typical British haircut isn't doing it for you, a quick way to become recognizable is to color your hair. You can keep the sides intact and pick your favorite color for the longer hair on top.
Dye your hair on the top with light pink and add some white streaks with it. It's a fun and cool combination that'll definitely get you noticed.
16. Wavy Bangs
Teen years are the best time for you to grow long hair, like these mid-length bangs that are naturally layered.
The bangs are long enough to cover the ears and the nape. Sweeping the front to the side makes them look stylish whereas a hairless face is typical for a teenager.
Go for this style while you're still not dealing with a receding hairline.
17. Slicked Back Undercut
Slicked-back hair has been around for a long time, but you can give it a new definition by going for an undercut.
So, you'll have very long hair only on the top whereas the sides and the nape will have short hair. Interestingly, your beard will align with the sides of your head with a 15-day stubble.
18. Messy Bowl Cut
There should be no doubt in your mind that a bowl cut is quite risky to pull off, let alone a messy one as it might make you look like a homeless man.
However, a messy bowl cut with blonde hair can look stylish when paired with a cleanly shaven face, a shining nose ring.
19. Long Curly Curtains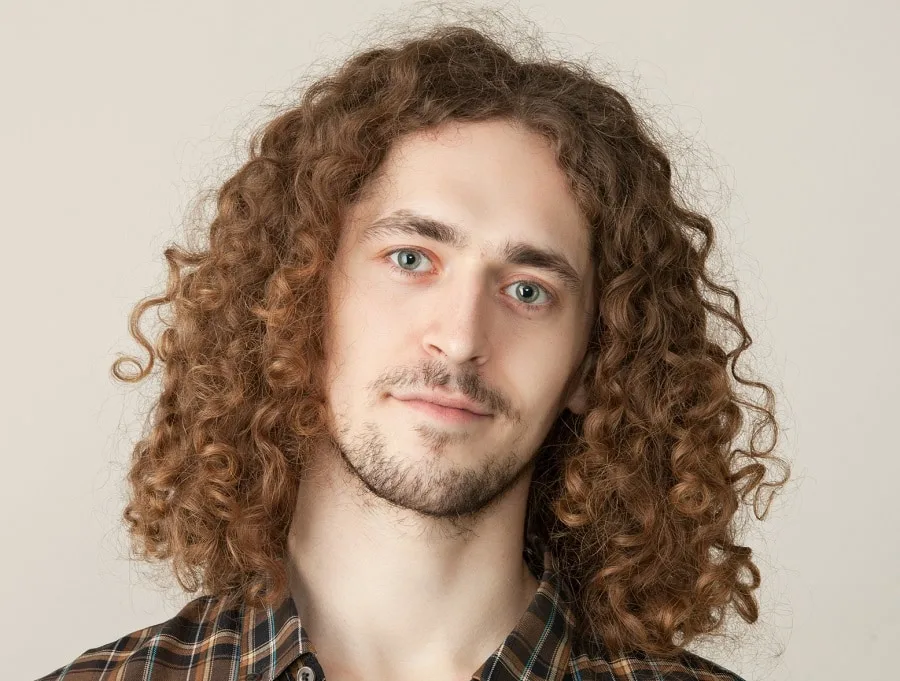 This British haircut isn't for every man because only a few grow hairs this thick and curly. Part the hair in the middle and let your curly long hair fall on both sides of the face to take care of an oval face.
Let the stubble be there, even if it is uneven because it will make your face look slightly less oblong.
20. Messy Man Bun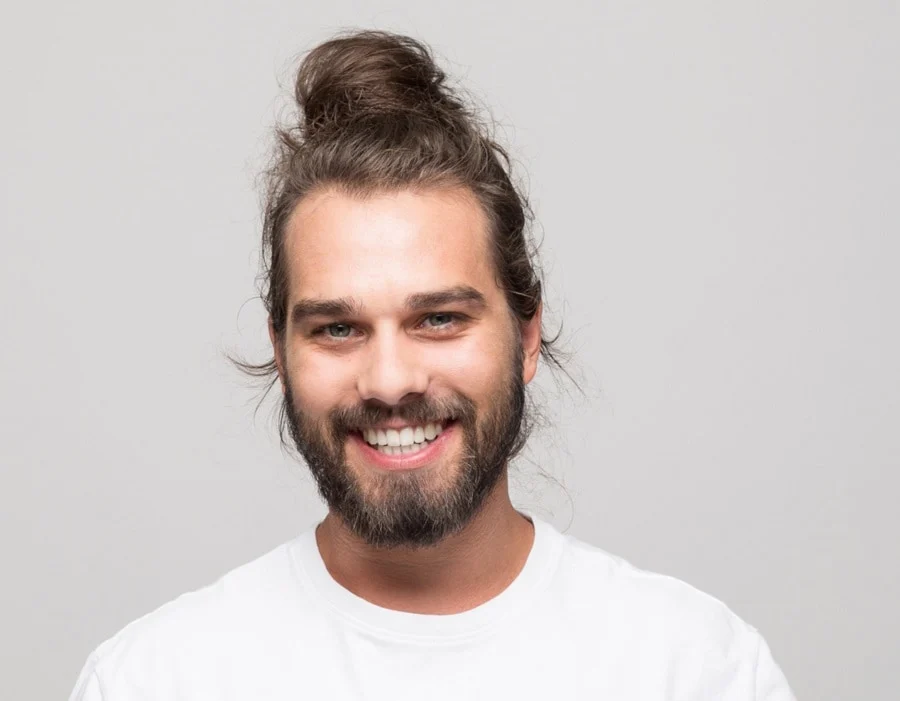 If you are in the creative industry you can rock a messy man bun. This is not a traditional British haircut but we have seen modern British celebrities like David Beckham tied their hair many times to create a bun.
21. Side-swept Long Hair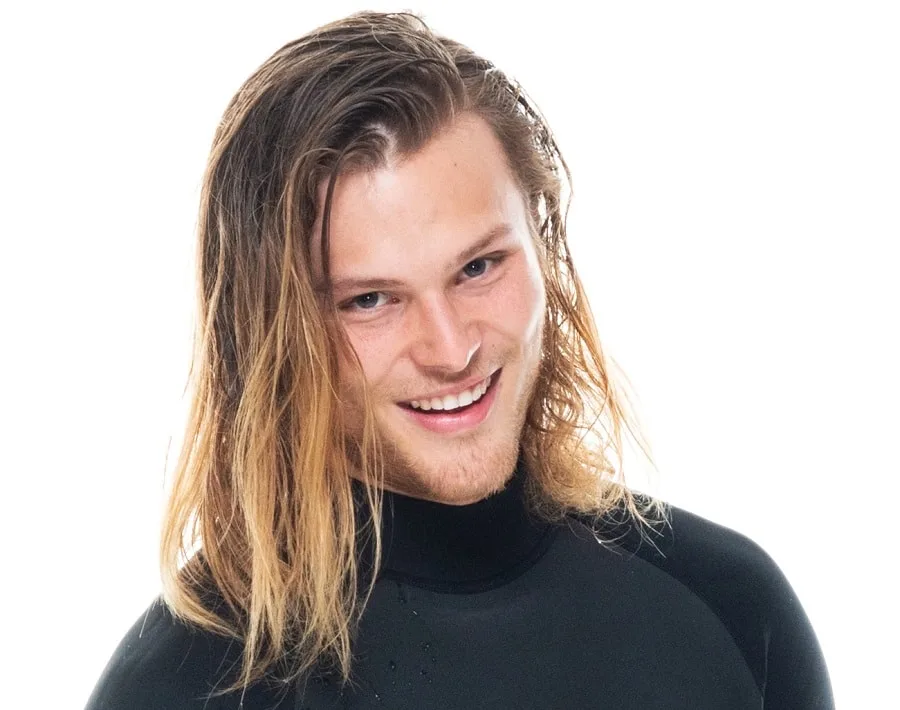 Just because you have long hair doesn't mean you always have to opt for curtains. Rather than parting them in the middle, you can sweep a big chunk to one side for an uneven look.
The swirl created on the forehead because of the side sweep only adds to the style and makes you recognizable when you can grow blonde stubble with it.
22. Mushroom Cut
A mushroom haircut is just like a bowl cut, which seems as though you got a haircut after placing a bowl on your head.
Yet again, it's not an easy-to-pull-off style, but you shouldn't think too much if you're still a teenager. With small whiskers or no beard at all, the style will still look good on you if you're young.
23. Robert Pattinson Haircut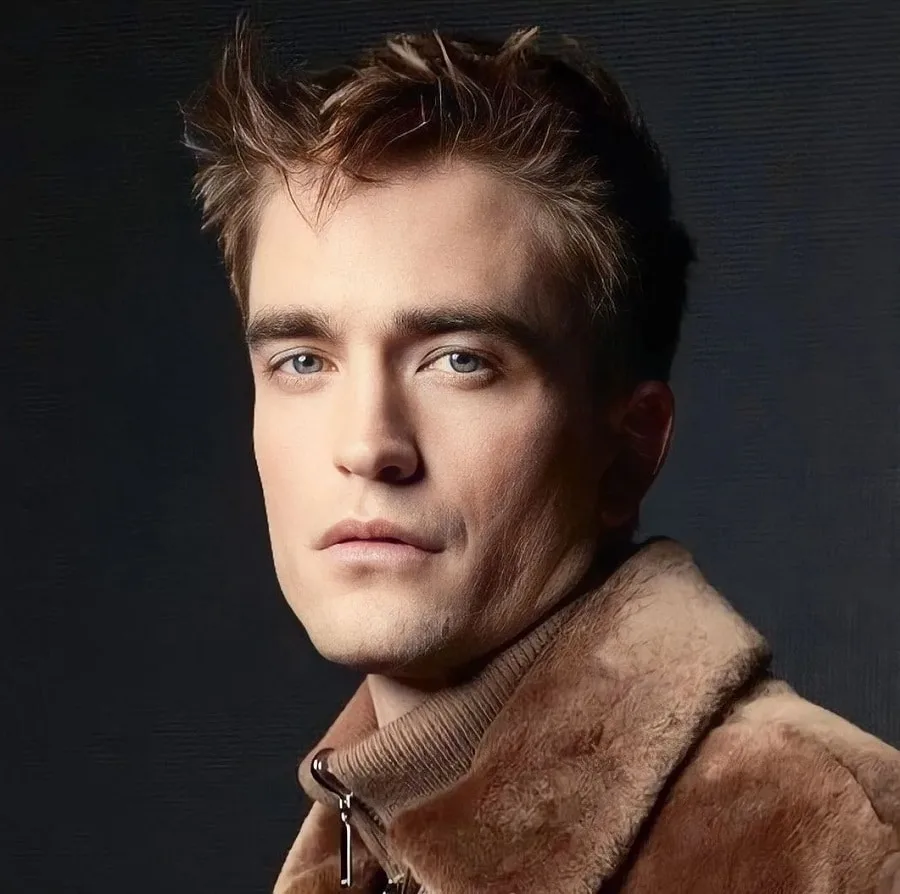 The famous British actor, Robert Pattinson is an inspiration for those who want a British haircut and have a square face with a prominent jawline.
It's a combination of a messy haircut with spiky fringes with an uneven look. When you have pointy features, you don't have to hide them with a big beard or a huge mustache.
So, pick your favorite British haircuts from this list and show it to your barber on your next salon visit.