Women can sometimes have a lot of problems when it comes to their natural hair. And same goes for short hair as well. They get dry, frizzy, and sometimes difficult to style. Knowing some protective hairstyles for short natural hair can be super beneficial for you!
Easy Protective Styles for Short Natural Hair
Whether you have extra short hair or have decided to cut your long hair short, with these protective hairstyles, you've got an answer to your short natural hair problems! No more excuses for rocking the cropped look!
1. Bantu Knots
Bantu knots are always trendy and make a statement when it comes to protective hairstyles for short hair. It is such an elegant look that will have heads turning everywhere you go.
Easy to maintain, the growth and elasticity your natural hair will have after putting them into multiple mini buns will have you blown!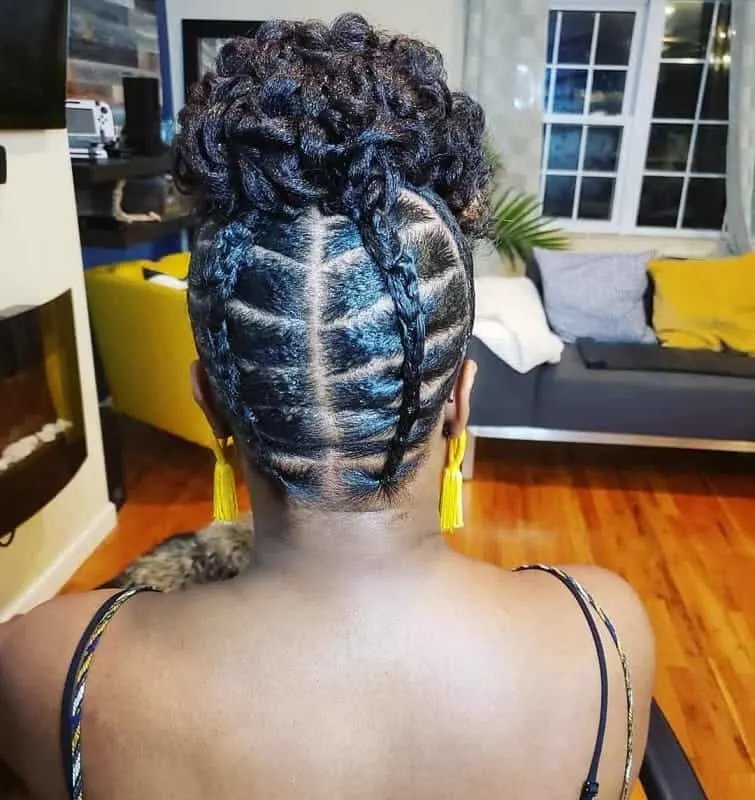 Flat twists are an amazing hairstyle when it comes to protecting your natural hair. They give you texture, without being too heavy on the head. Take it into a high – top bun for finishing this hairstyle off in a classy way. You have to try it to know!
Box braids are some of the most in-demand and trendy protective hairstyles for black women with short natural hair. Combining it with a box braided updo is an absolute genius move. To recreate this look, don't forget to add in the gold ring detail. It's a hairstyle that is clearly a head-turner.
Twists are great on their own but, combine them with dreads, and you have something unique to show-off. To try out this protective hairstyle for yourself, all you need to do is side part your short twisted hair and let your dreaded hair hang naturally.
Big boxy twisted braids have always managed to make anyone sporting them look younger. They look beautiful and carefree. Since they are easy to do, it is suggested that you give them a try for your short natural hair. The big twists also ensure that your hair has enough room to breathe while you give it space to grow.
6. Half Cornrows
Protective braids are the greatest option for women with short natural hair when you want to keep those trasses tamed. Knit the cornrows on a slight diagonal, pinning down only the bangs and crown hair. The hair will have volume in the back and beautifully compliment the braids.
7. Braided Bangs
Inspired by African heritage, this hairdo uses braids that are cut to reach the shoulder line. The knits from the top should also be trimed to create bangs. Decorate each knit with translucent beads.
8. Ultra Thin Twists
Wigs are so convenient when you have short hair that you want to protect and grow faster. So knit your locks and get a wig in a color that complements your skin tone. If you work in a company with strict regulations, pick something more formal.
9. Multiple Puff Braids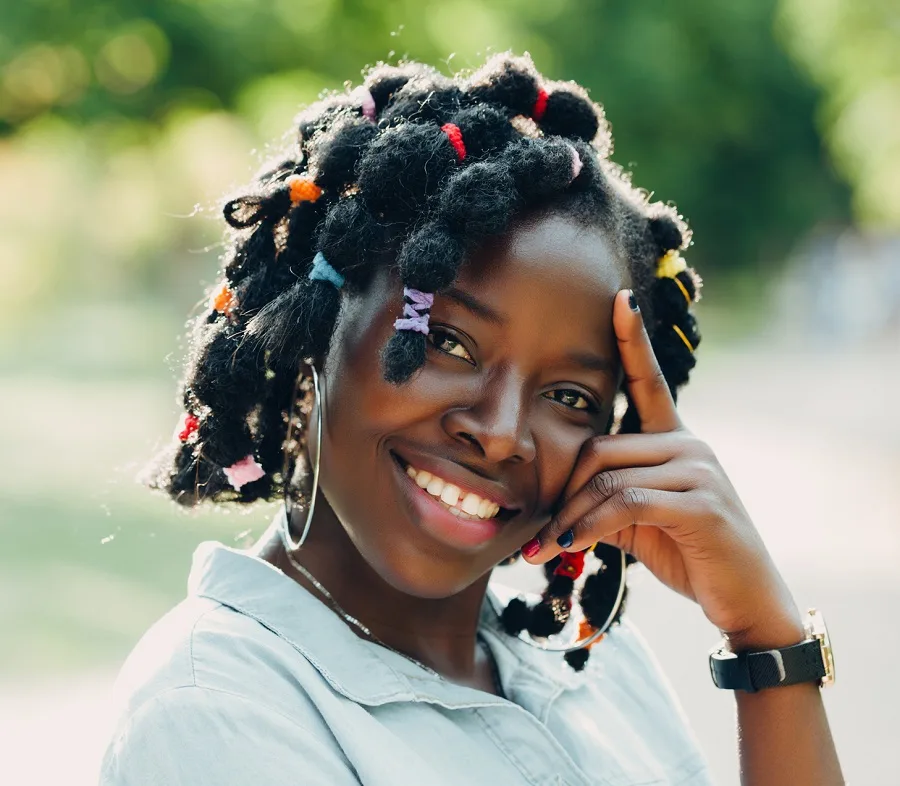 Many black women love hairstyles that channel their young childish vibe. And if you are one of them, section your mane into small parts. You will need more than a dozen hair elastics to style your small puffs. Make sure they are multicolored and you keep the same distance between the wraps.
10. Straight Bob Cut
Cornrows are among the ideal protective hairstyles for women with short natural hair because they allow you to use sew-in extensions. You can pull off any hairdo you want by attaching the hair pieces, from bob haircuts to long styles, colored in your favorite nuances.
11. Side Thin Dreads
If you have short hair and don't want a permanent protective hairstyle, consider adding pre-knitted dreadlocks. You can easily attach them to your short hair and take them off when your hair grows, or you simply when you got bored of this hairdo.
12. Top Curly Palm
As a small girl with short hair, you might want a protective hairstyle that helps your hair grow faster. So opt for cornrows or box braids that you can feed-in with curly hair extensions. Pin the whole resulting mane in a top palm ponytail and use a scarf over the knits.
13. Curly Chocolate Hair
Crochets are one of the best protective hairstyles for women with short natural hair. Braids keep your crochet hair tightly secured and allow you to use sew-in extensions. This way, your locks are protected from external factors, and at the same time, you get the look you always wanted without too much fuss.
14. Two Puffs with Braids
We know that sometimes having natural coarse hair can be quite a struggle for both men and women, but there are so many hairstyling options out there that will compliment your texture. So go for Fulani braids in the front section, decorate them with beads and use the remaining hair to get two puff ponytails.
15. Finger Waves
Finger waves hairstyles were so popular in the 20s, and if you are thinking this hairstyle for natural hair is out of trend, you better reconsider. Cause if you loved this look, you better know that numerous Hollywood stars are pulling it off again on the red carpet. You'll need a comb to shape the waves and a strong fixing hair gel.
The '90s are back big time, and it's a fact. So why not bring in a 90's bangs look to our list. This short hairstyle will surely have heads turning your way. The tight curly bangs are a classic protective way to show off your natural hair. With the elaborate waves at the back, we love this look for many reasons!
For us, there's no better way to do summer than getting a full-blown crop! To make it look sharp and elegant, you can recreate this look exactly. With the clean-cut edges and a wonderfully done fade, there's no way you can wrong with this short protective hairstyle for natural hair.
18. High Full Bun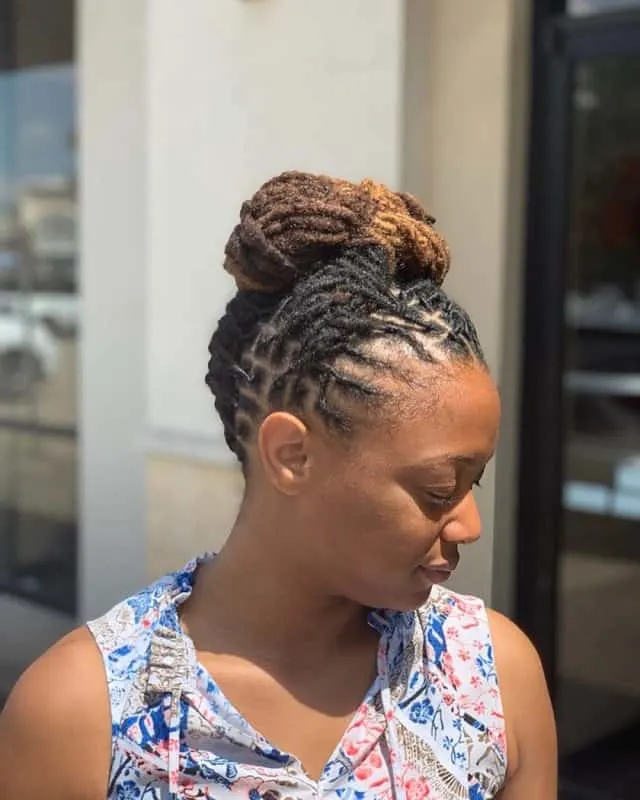 One of the most popular protective hairstyles for black women are these twists braids. You must have heard about box braids, but these box twists will leave you coming back to them again and again. They are not only intricate, forcing people attention to it but also elegant and good for your short natural hair!
Protective short hairstyles don't always have to look over the top. If you intend to go with a smoother and professional look, these finger waves are perfect for black women. Set in a sleek way, they say glamour and beauty. It's the best way to wear your natural hair for important events and dates!
20. Weave Bun
An eye-catching intricate hairstyle is something nearly every girl dreams of. If you want, this gorgeous updo can be on your head too! Feather weaves look beautiful on everyone. Unlike the picture here, you can also opt to leave the rest of your hair open or into smaller coils and braids.
21. Criss-Cross Ponytail
Women's dreads are an all-time favorite when it comes to protecting short natural hair. To spice up your twisted dread game, we suggest that you give the crisscross braids a try too. The tight coils ensure flexibility and elasticity while you let your hair breathe and grow!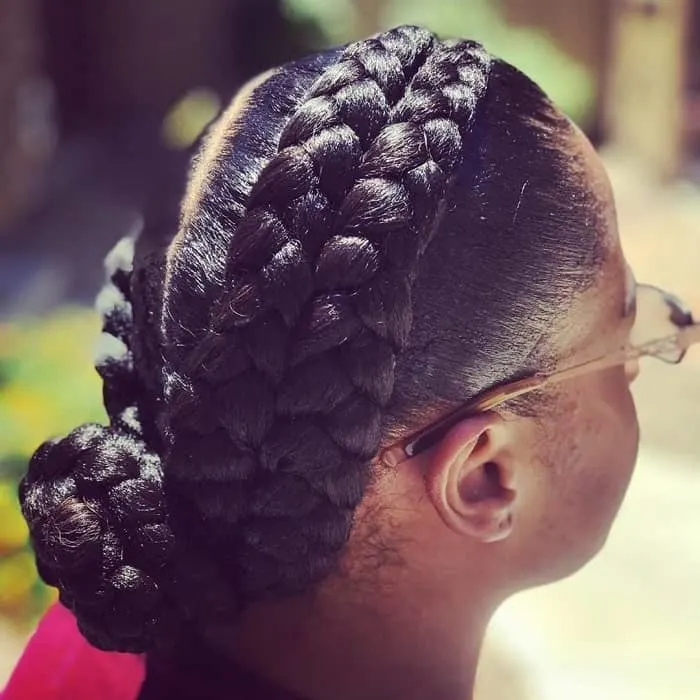 Dutch braids are easily one of the easiest braids. You can do this at home too. With some help and practice, you will be able to plait your hair inside out for this look. Take your double braids to the next level by putting them in a tight bun at the nape of your neck.
If you've decided to keep your short hair natural, it will probably be one of the best things you do for your hair's health. To give it elasticity and the freedom to grow healthily, you can try opting for thinner weaves. It will help you keep your face out of the way and look stylish at the same time!
24. Colored Bantu Knots
We have talked about Bantu Knots before in this list, but let us bring to you colorful Bantu knots. It is an amazing way to step up your Bantu game. The color here is purple, and it manages to look elegant and majestic at the same time!
25. Crisscross Thin Coil + High Pony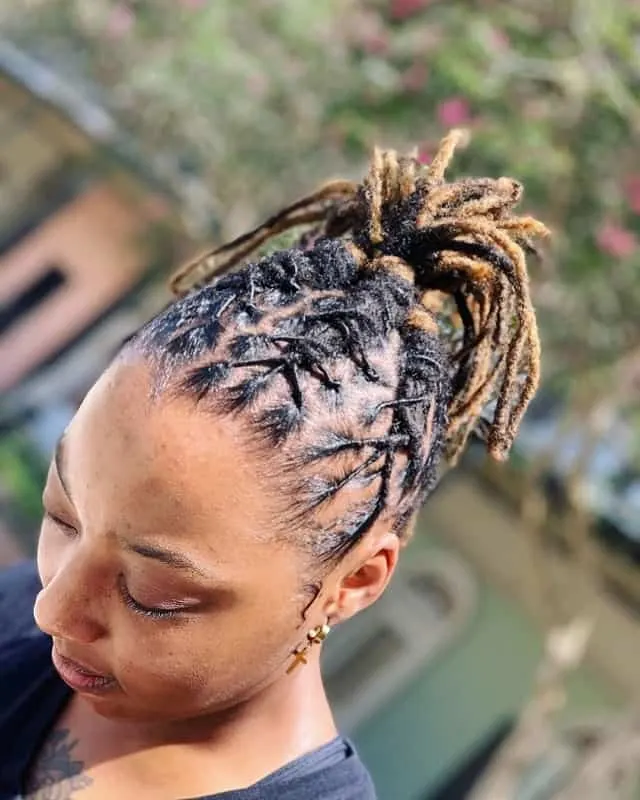 Crisscross patterns are usually gorgeous but intricate and require you to put in a lot of hours. If you're up for that, then a good protective hairstyle for you should be something like this.
Cute, detailed and classy it is one way to ensure that your hair is the talk of the town! This is one of the classiest natural hairstyles.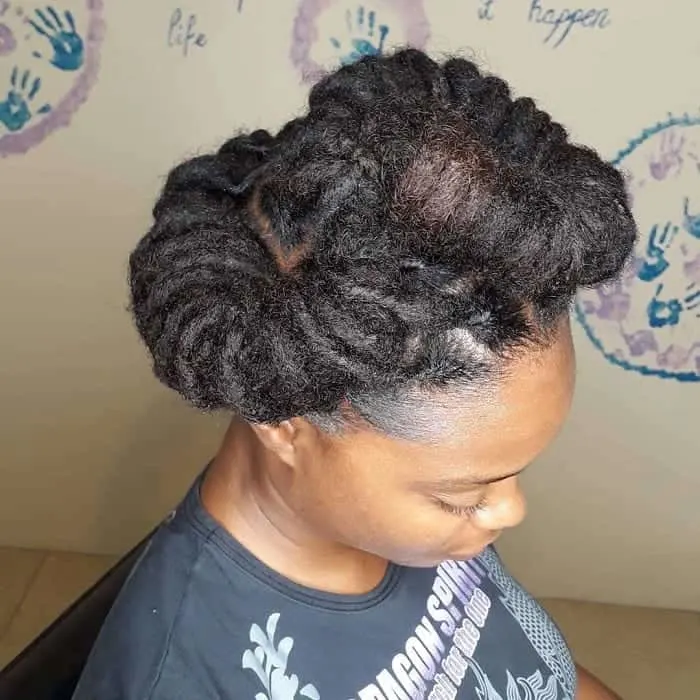 If you are trying to make your long hair look manageable and tidy, the best way to go is by wrapping them around your head. This big wrap around the hair can be braided, twisted into tight or loose coils, and set into place with some oil or hairspray.
Thin twists are great in protecting shorter natural hair. They can be your go-to hairstyle anytime. But thin weaves or coils are common. To make them stand out, you can opt for a top that is anything but that.
Space buns were all the rage in 2015! But, who says it is just a trend that touched and go? Bring space buns back in with this cute natural TWA hairdo. It works not only for short hair but also for long hair as well and looks good on anyone.
Boxed twists are the new thing. Everyone's trying them out, and it is becoming one of the trendiest hairstyles there is. Short-haired girls wanting to keep your hair natural can surely opt for this casual and stylish look.
Thin finger coils have always been one of the favorite protective hairstyles. They are easy to maintain and become a favourite for women's natural short hair who are looking to grow their hair.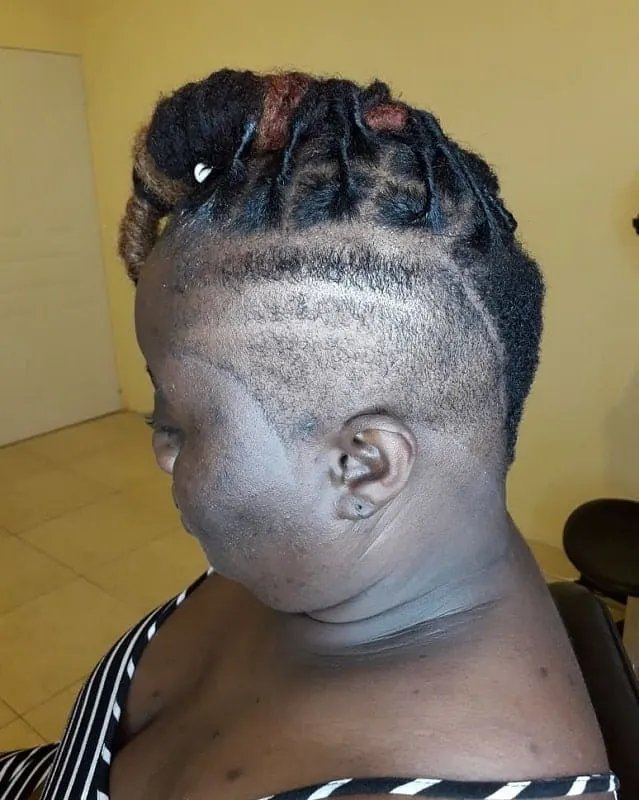 Box weaves are good on their own but when you add in a side shave, and a top coil you have a winning hairstyle to protect short hair. Easy to maintain till your side shave grows back, this hairstyle is something unique and completely out of the page!
Protective hairstyles don't have to be boring. Now know that even you have tons of different hairstyles to experiment with. Short hair, when kept natural is the easiest and cutest to pull off!