Do blondes really have more fun? We can't know that for sure, but what we do know is that they can have a lot of fun styling their hair. If you're looking for different ways to style your straight blonde hair, you came to the right place. Scroll down to see how to rock your lovely blonde hair without too much effort.
Popular Straight Blonde Hairstyles
It's not uncommon for girls and women to believe straight hair is no fun because waves give it more bounce and playfulness. That's not quite correct.
Blonde straight hair can be as fun as curly when you know how to style it. Let's see some of the best styles you can rock.
Blonde Hairstyles for Short Straight Hair
These are amazing ideas to wear short straight blonde hair like a pro.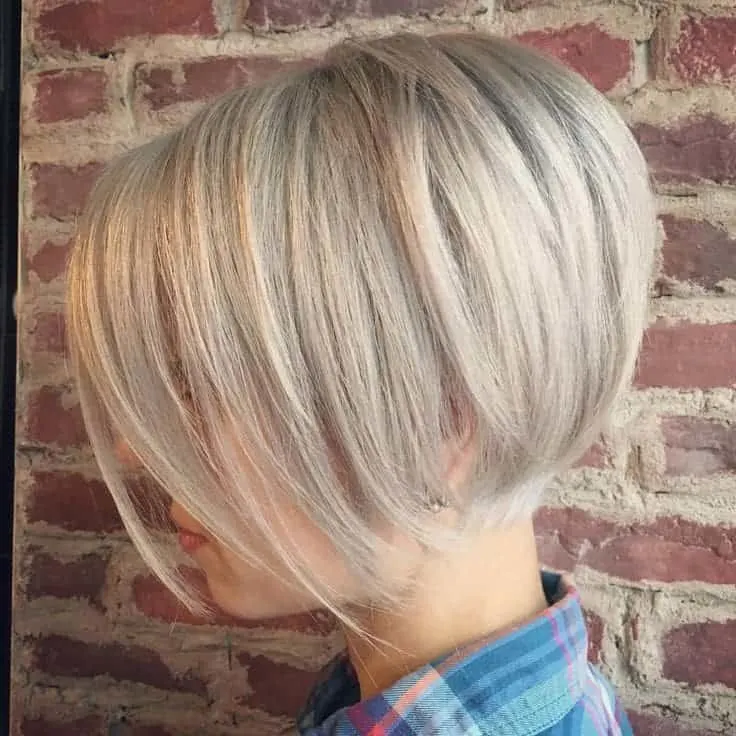 Short style gives more volume to your hair, especially when you opt for bob. This cute bob style gives your hair fullness and elegance that we always want to achieve. Bob looks great with bangs, but instead of short and straight bangs, you can choose longer ones.
2. Cute Pixie Cut
Pixie is one of those styles that will never cease to be fashionable. If you've never rocked this haircut before it's time to make it happen finally.
On the other hand, if you already have pixie then rock your straight blonde hair with side bangs which give more volume and texture to your style.
Instead of graduated bob, you can simply opt for a classic and chic look that would ooze a Parisian vibe.
Your short straight blonde hair will look absolutely amazing, regardless of the shade. Take a look at this platinum straight bob, it's super stylish and oh so girly.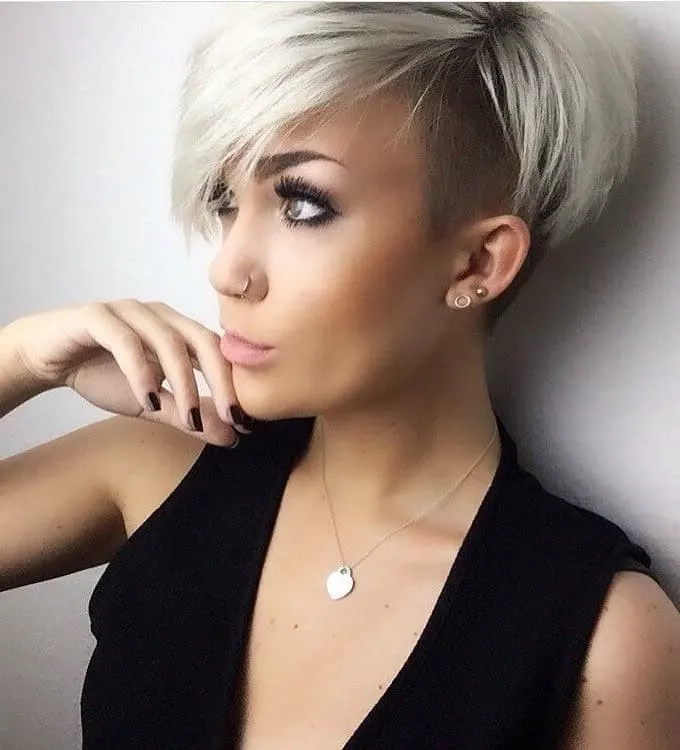 Adventurous girls who prefer edgy hairstyle may want to try combining their short straight hair, blonde pixie, and an undercut.
Fashionable, yet edgy and creative at the same time – this style will turn heads for sure. For extra volume and texture sweep your long bangs to the side.
5. Mushroom Cut
This haircut resembles a mushroom head and hence the name. The sides and back are clipped short with a long top falling over them.
Add subtle layers to create some movement with side-swept bangs at the front. Top off with chic earrings.
6. Dark Roots
Dark roots are trending again! They are easy to maintain making them ideal for busy ladies. Rock a cool platinum blonde hair shade with black roots for a two-toned appeal. It gets even better with time as the roots continue to grow adding up to the look.
7. Chic Pomp
Who says pompadours and quiffs are for men only? Women rock them equally well and this style proves it. The sides and back are buzzed with a long top that is brushed back using a hair dryer and a round brush. Finish off with an ashy blonde hair shade.
8. Split Dye Technique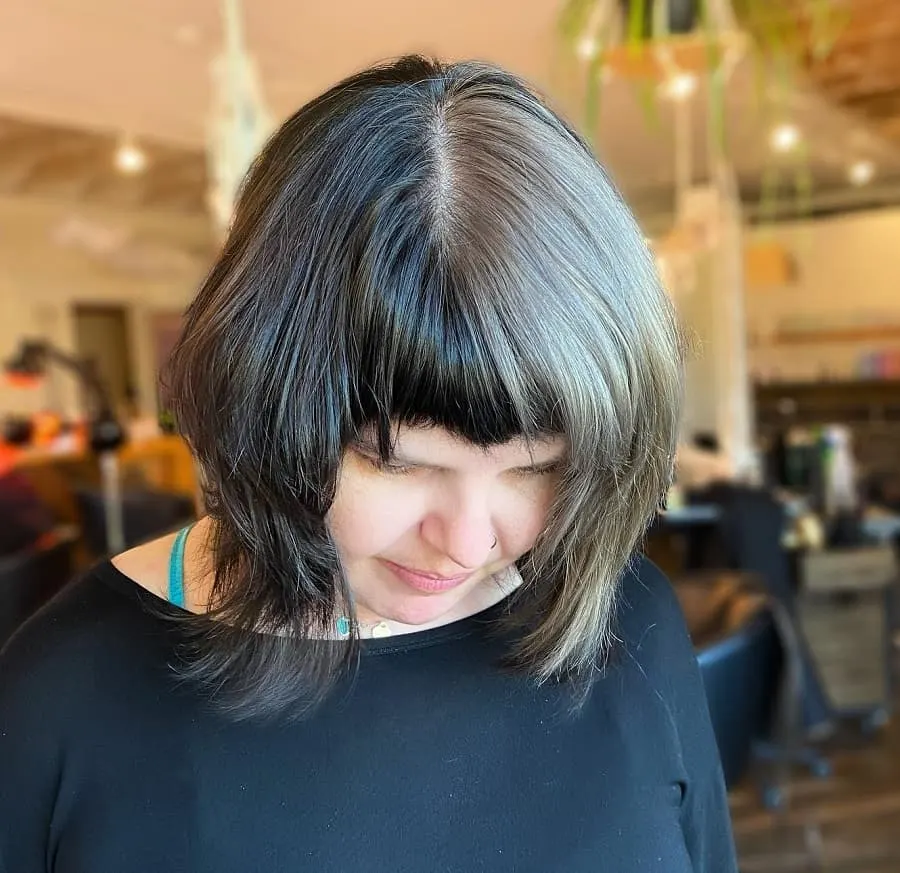 Another blonde hairstyle for short straight hair that is sure to turn around some heads. It is achieved using the split dye technique where half of the head is dyed blonde while the remaining is pitch-black. Try this look with a feathered A-line bob and micro bangs for a gothic appeal.
9. Gorgeous Babylights
Those who are blessed with gorgeous blonde tresses can amp up their look further with babylights. These are more delicate than highlights and blend seamlessly with the remaining hair creating a natural allure.
Trim the strands into a medium bob with a chin-length fringe framing the face.
10. Pixie-Bob
The fashionistas who don't mind a cropped haircut should give this look a try. A pixie-bob is longer than a pixie and has the shape of a bob.
The strands end near the jawline featuring subtle blonde highlights adding a soft gleam to the face. Chic, short, and low-maintenance!
Blonde Looks with Long Straight Hair
Aren't these long straight blonde hair are a beauty? Check out to draw inspirations.
11. Classic Braid
A classic look that never gets old. The side locks are pinned back while the remaining long blonde tresses are plaited in a simple braid dangling at the front or back. This style is ideal to protect your hair from any damage during the day and even at night.
12. Elegant Updo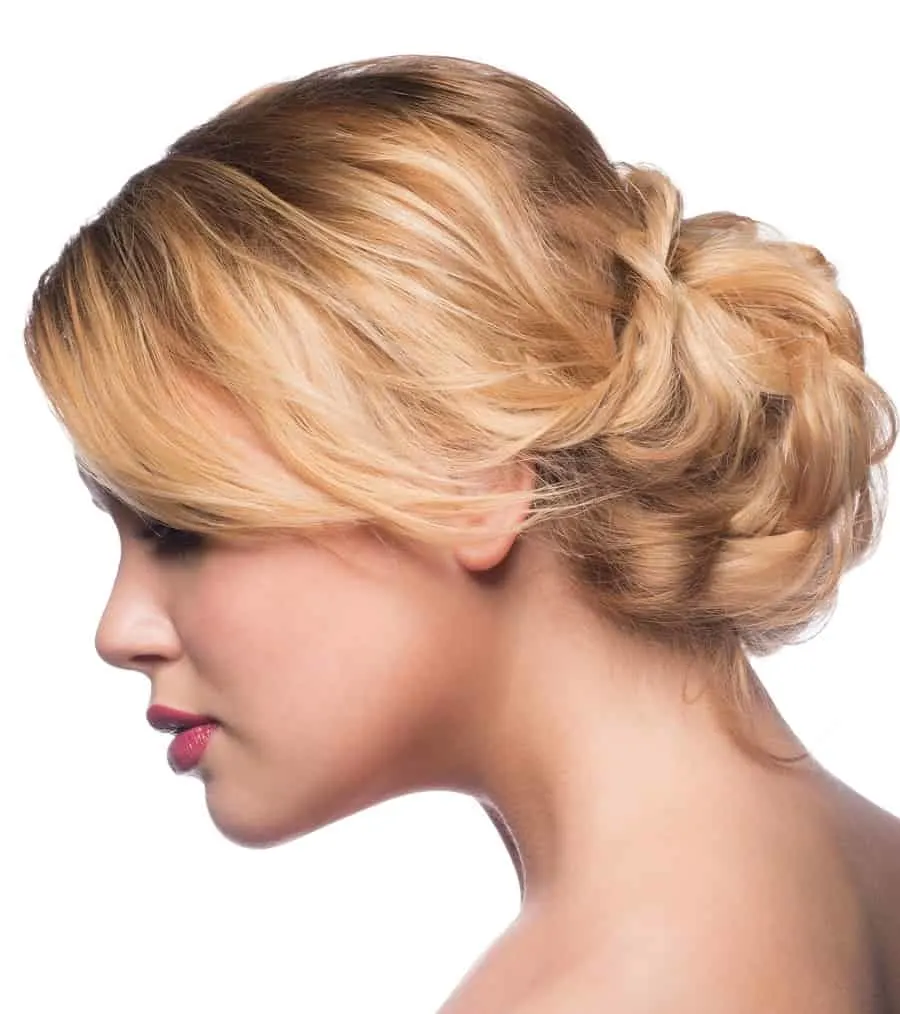 Steal the show at a formal event with an elegant updo. The hair is braided loosely and wrapped around at the back to be secured with pins.
Pull out some strands and curl them lightly to accentuate the side-swept fringe at the front. Done!
13. Space Buns
Space buns look playful and save an oily hair day. Spare the bangs to cover the forehead while the remaining locks are secured into ponytails that are wrapped around, creating two funky buns sitting on the top of the head. Try this look without bangs too.
14. Twintails
Nostalgic isn't it? Every girl has rocked high ponytails during her childhood days. Show off your long hair length by styling it in twintails with a straight or zigzag middle parting. Top off with hairspray and let the ponytails dangle to and fro all day long.
15. Side Bun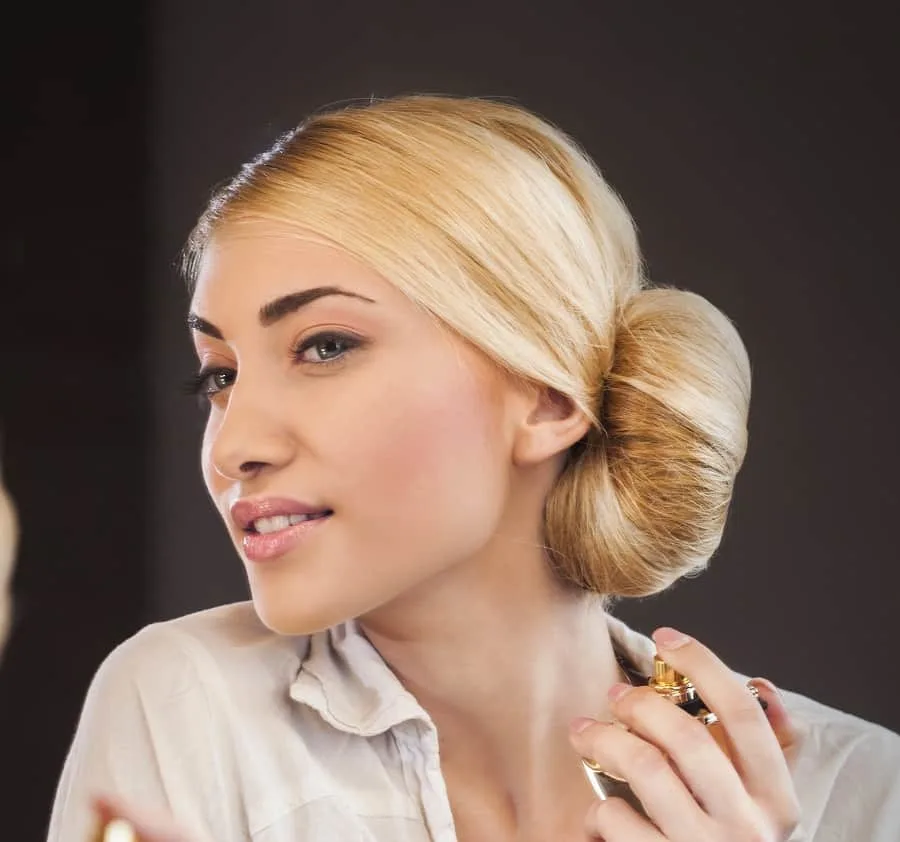 Fun and flirty, a side bun is suitable to tame a long mane. Go for a deep side part and slick down the front with pomade. Gather the hair behind one ear and use a hair donut to create the perfect bun. Secure with pins and off you go.
16. Crown Braid
Have a look at yet another blonde hairstyle for long straight hair that will turn anyone into an ethereal goddess.
It features a ponytail in the center whose strands are interconnected with the crown braid along the circumference of the head. Seek professional help to recreate this style exactly.
17. Simply Chic
Make a style statement by slicking back the blonde mane in a high ponytail. Tease the strands and wrap them around resulting in a messy stack of hair sitting on the top of the head. Top off with a hair accessory matching the jewelry and outfit.
18. Braided Pigtails
French braids are classy and keep hair away from the face. Instead of rocking a single braid section the blonde tresses with a middle part and plait both sides from the front to the ends for a funky appeal. Add beads or cuffs to the braided pigtails for a fancy finish.
19. Side Ponytail with Bangs
Popular since the 1980's, side ponytails are still rocked by many television stars. It is one of the easiest hairstyles to achieve.
Side-tousle the hair and secure it in a low ponytail falling on one shoulder. Straight bangs add an adorable touch to this simple look.
20. Hipster Appeal
Bold ladies can show off their hipster personality with this hairstyle. It is defined by a barely-there dark to light blonde ombre, a middle-parted puff, and a face-framing fringe with baby braids at the front. The remaining hair is styled in two fishtail braids falling forward on the shoulders.
21. Try a Weave
African-American ladies can rock a blonde hair shade without adding a drop of hair dye to their mane. How? Try a weave. Choose one in a rich caramel shade to accentuate your skin tone and put it on using help from a professional. Swoop down the baby hairs and voila!
Girls with straight long blonde hair can simply let their smooth hair gently flow down their shoulders and back for a sexy look.
Use a high-quality conditioner to nourish your hair because blonde shades usually require bleaching which could damage it.
Buns are always fun and stylish, but you don't have to use all your hair to create them. Make a low messy bun and let the loose remainder of your hair for a chic boho style. This particular style looks both elegant and casual.
Fishtail braids are cute and romantic. Use the advantage of long, straight blonde hair and make a braid which you will decorate with a ribbon or bow for a girly vibe.
25. Sleek and Straight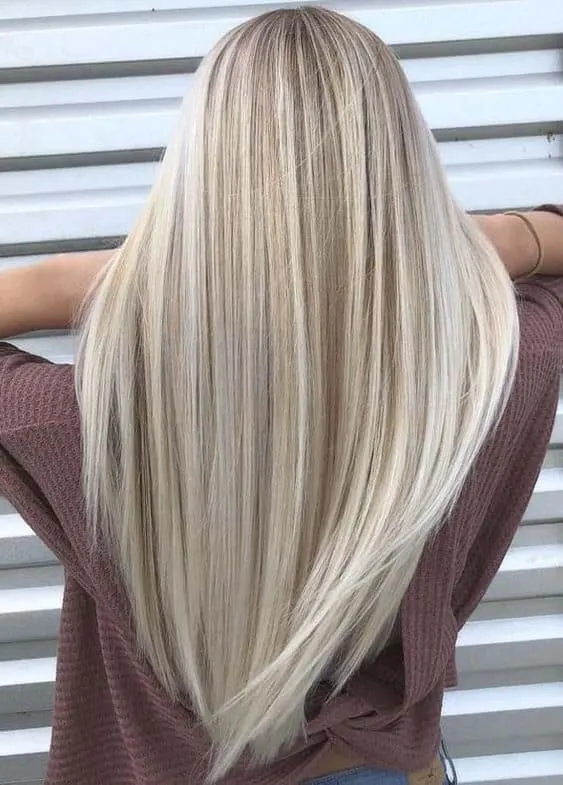 Keep your long straight blonde hair symmetrical and smooth for a bouncy and elegant look. This style is easy to pull off, and you can always pull it up in a bun or ponytail for an instant outfit change.
Amazing Medium Straight Blonde Hairstyles
Following are the trendy medium straight hair with blonde hair color ideas for women.
26. High Ponytail
Look amazing even on busy/lazy days with a chic high ponytail that goes with all face shapes and hair types.
Gather the hair as high as you wish and secure it with a hair tie. Leave the flyaways for a carefree appeal or swoop them down for a sleek finish.
27. Flipped-Out Bob
Blonde women getting on in years can retain a lively appearance by opting for a feathered bob haircut and wispy bangs with highlights adding a subtle natural shine to the hair.
Complete the classic look by flipping out the ends using a round brush and hair dryer.
28. Soft Natural Ombre
This straight blonde hairstyle is to die for! Ask the hairstylist for a straight-cut lob with the dark top transitioning seamlessly into a sandy blonde hue reaching the ends. Keep the hair straight and get ready to drop jaws wherever you go.
29. Metallic Hues
A straight lob without layers is sure to attract some attention. Turn your hair metallic by choosing a light ashy blonde color with a hint of silver.
This look however requires regular root touch-ups. Remember to take care of the hair afterward to keep it healthy-looking.
The easiest way to rock your straight blonde balayage hair in medium length is just to let your bob grow out or cut your long hair to shoulder-length.
No bangs, or anything. This simple look is ideal for girls and women who favor minimalistic styles and sophisticated appearance.
Here's a cute style that will make you feel cute and girly – mid-length blonde and see through bangs. You can style your bangs in different ways such as sweep them to side, part in the middle, rock blunt bangs, options are endless really.
Sometimes we want to look polished and chic, but in other cases, we'd like to pull off the bed head look.
With this blonde straight hairstyle, you can easily do that! Shaggy style and asymmetrical cut will make you look effortlessly fashionable which are why we love this look.
33. Bouncy Hair
Straight hair can be bouncy too, just check this style and you'll see what we mean. This medium balayage blonde straight hairstyle has a lot of texture and movement.
The best thing is that you can wear it sleek and straight or create locks and waves, depending on your mood and preferences.
Straight Blonde Hair Vs. Wavy Blonde Hair
Straight hair does not have signature waves and curls associated with wavy hair, but at the same time, it's still sexy and sensual.
Wavy blonde hair can require more processing and styling to keep the locks and curls looking perfect at all times. On the flip side, women with wavy hair tend to straighten it in order to switch things up a little bit.
Wavy hair frames your face and gives hair more playfulness and bounce, but if you want to achieve the same thing with straight hair, you just need to choose the right cut. When it comes to which one to choose, it all depends on you and your personal preferences.
FAQs on Straight Blonde Hairstyles
Can bleaching blonde make my hair rough?
Yes, bleaching can change the hair texture and make it rough. That's why the best, and the safest, thing to do is to see a great hairstylist who will give you a perfect shade of blonde while preventing severe damage.
Can straightening damage my fine thin hair?
Yes, it can. Straightening relies on heat to make hair look straight and shiny, but the effect is only temporary, and the whole process leads to significant damage in the long run.

Straightening can make hair rough, dull, and brittle due to the fact it strips your locks of lipids, protein, and it dries out the cuticles.

Try to avoid heat styling as much as possible, especially when your hair is blonde because it required a lot of processing (bleaching) to achieve the desired shade in the first place.
Now that you've seen all the amazing styles for straight blonde hair all you need to do is to choose which one you'll rock. Dare to experiment and try out different lengths and styles to determine what works best for you and your hair. Good luck.