Do blondes really have more fun? We can't know that for sure, but what we do know is that they can have a lot of fun styling their hair. If you're looking for different ways to style your straight blonde hair, you came to the right place. Scroll down to see how to rock your lovely blonde hair without too much effort.
Popular Straight Blonde Hairstyles
It's not uncommon for girls and women to believe straight hair is no fun because waves give it more bounce and playfulness. That's not quite correct. Blonde straight hair can be as fun as curly when you know how to style it. Let's see some of the best styles you can rock.
Blonde Hairstyles for Short Straight Hair
These are amazing ideas to wear short straight blonde hair like a pro.
Short style gives more volume to your hair, especially when you opt for bob. This cute bob style gives your hair fullness and elegance that we always want to achieve. Bob looks great with bangs, but instead of short and straight bangs, you can choose longer ones.
2. Cute Pixie Cut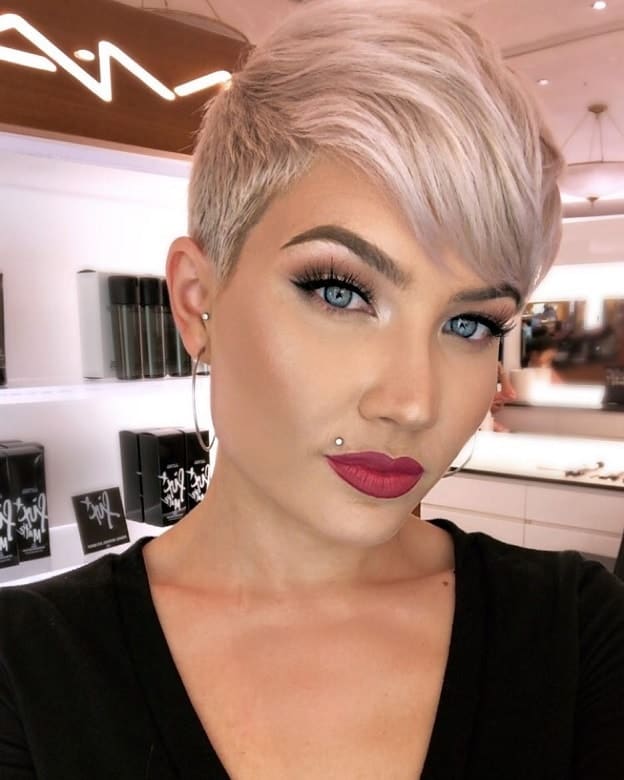 Pixie is one of those styles that will never cease to be fashionable. If you've never rocked this haircut before it's time to make it happen finally. On the other hand, if you already have pixie then rock your straight blonde hair with side bangs which give more volume and texture to your style.
Instead of graduated bob, you can simply opt for a classic and chic look that would ooze a Parisian vibe. Your short straight blonde hair will look absolutely amazing, regardless of the shade. Take a look at this platinum straight bob, it's super stylish and oh so girly.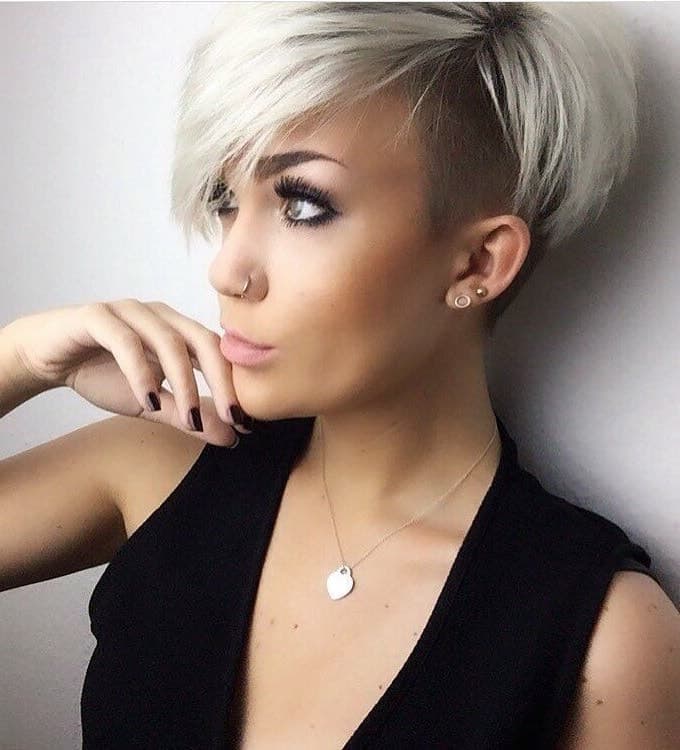 Adventurous girls who prefer edgy hairstyle may want to try combining their short straight hair, blonde pixie, and an undercut. Fashionable, yet edgy and creative at the same time – this style will turn heads for sure. For extra volume and texture sweep your long bangs to the side.
Amazing Medium Straight Blonde Hairstyles
Following are the trendy medium straight hair with blonde hair color ideas for women.
The easiest way to rock your straight blonde balayage hair in medium length is just to let your bob grow out or cut your long hair to shoulder-length. No bangs, or anything. This simple look is ideal for girls and women who favor minimalistic styles and sophisticated appearance.
Here's a cute style that will make you feel cute and girly – mid-length blonde and see through bangs. You can style your bangs in different ways such as sweep them to side, part in the middle, rock blunt bangs, options are endless really.
Sometimes we want to look polished and chic, but in other cases, we'd like to pull off the bed head look. With this blonde straight hairstyle, you can easily do that! Shaggy style and asymmetrical cut will make you look effortlessly fashionable which are why we love this look.
8. Bouncy Hair
Straight hair can be bouncy too, just check this style and you'll see what we mean. This medium balayage blonde straight hairstyle has a lot of texture and movement. The best thing is that you can wear it sleek and straight or create locks and waves, depending on your mood and preferences.
Blonde Looks with Long Straight Hair
Aren't these long straight blonde hair are a beauty? Check out to draw inspirations.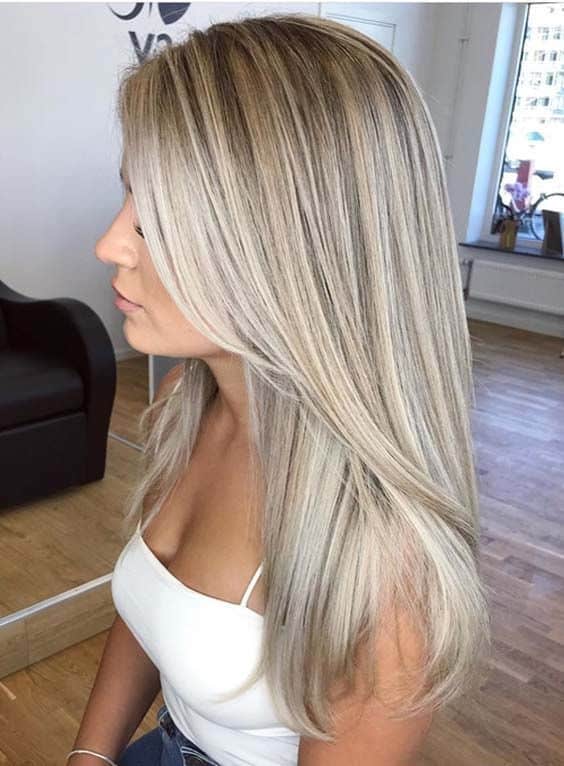 Girls with straight long blonde hair can simply let their smooth hair gently flow down their shoulders and back for a sexy look. Use a high-quality conditioner to nourish your hair because blonde shades usually require bleaching which could damage it.
Buns are always fun and stylish, but you don't have to use all your hair to create them. Make a low messy bun and let the loose remainder of your hair for a chic boho style. This particular style looks both elegant and casual.
Fishtail braids are cute and romantic. Use the advantage of long, straight blonde hair and make a braid which you will decorate with a ribbon or bow for a girly vibe.
12. Sleek and Straight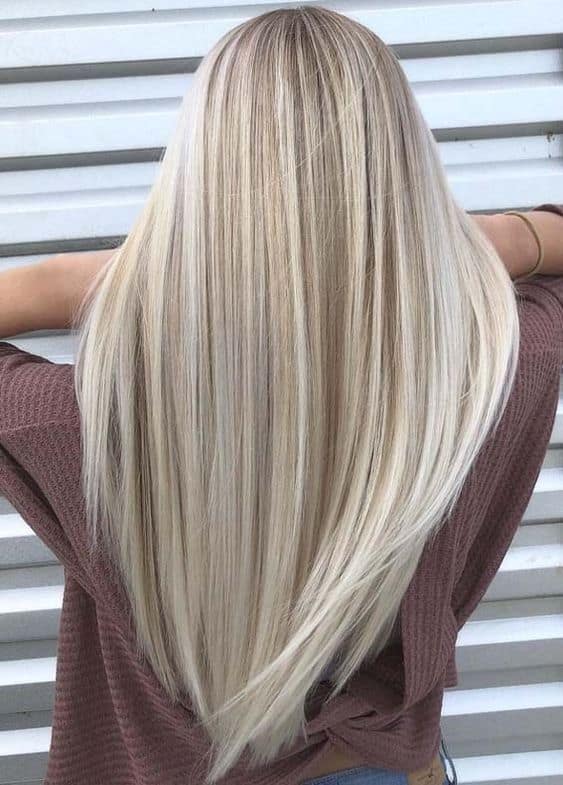 Keep your long straight blonde hair symmetrical and smooth for a bouncy and elegant look. This style is easy to pull off, and you can always pull it up in a bun or ponytail for an instant outfit change.
Straight Blonde Hair Vs. Wavy Blonde Hair
Straight hair does not have signature waves and curls associated with wavy hair, but at the same time, it's still sexy and sensual. Wavy blonde hair can require more processing and styling to keep the locks and curls looking perfect at all times. On the flip side, women with wavy hair tend to straighten it in order to switch things up a little bit.
Wavy hair frames your face and gives hair more playfulness and bounce, but if you want to achieve the same thing with straight hair, you just need to choose the right cut. When it comes to which one to choose, it all depends on you and your personal preferences.
FAQs on Straight Blonde Hairstyles
Q. Can Bleaching Blonde Make Your Hair Rough?
Ans: Yes, bleaching can change the hair texture and make it rough. That's why the best, and the safest, thing to do is to see a great hairstylist who will give you a perfect shade of blonde while preventing severe damage.
Q. Can Straightening Damage Your Fine Thin Hair?
Yes, it can. Straightening relies on heat to make hair look straight and shiny, but the effect is only temporary, and the whole process leads to significant damage in the long run. Straightening can make hair rough, dull, and brittle due to the fact it strips your locks of lipids, protein, and it dries out the cuticles. Try to avoid heat styling as much as possible, especially when your hair is blonde because it required a lot of processing (bleaching) to achieve the desired shade in the first place.
Now that you've seen all the amazing styles for straight blonde hair all you need to do is to choose which one you'll rock. Dare to experiment and try out different lengths and styles to determine what works best for you and your hair. Good luck.